Want to whip up a tasty fall dessert?  Try this dairy free pumpkin dip!  It's delicious served with gingersnaps, graham crackers, or sliced apples.  Plus, it's super easy to make with just four ingredients.
How to make this recipe
This is the perfect quick fall dessert, because you only need four ingredients (plus whatever you want to dip in it, of course).  Here's what you'll want to gather up:
Pumpkin puree
Pumpkin spice
Dairy-free whipped topping (I recommend CocoWhip; TruWhip Vegan is also another option)
Instant dry vanilla pudding mix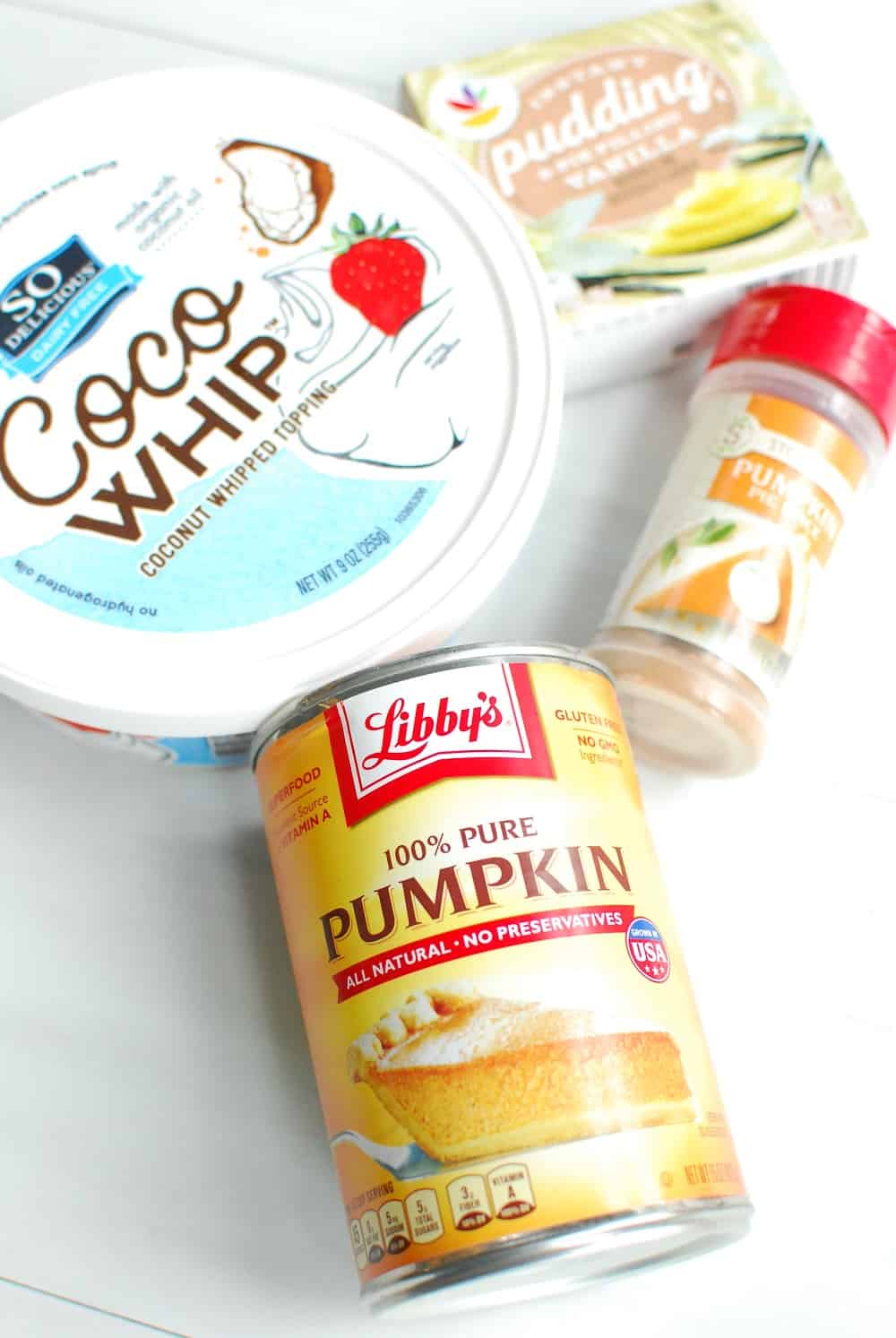 Despite the fact that many of us would think instant dry pudding mix contains dairy, I've found most varieties on the market are actually dairy free!  The boxes themselves are typically just sugars, flavors, and thickeners.  Not necessarily the healthiest ingredient out there, haha, but awesome to use for recipes like this.
Of course, always double check the label to ensure the pudding mix is definitely dairy free.
Once you've gathered up your four ingredients, you just need to mix 'em together and your dip is done!
Suggestions for serving
Here are a few of my favorite dippers for this recipe – as always, double check allergens based on your needs:
Gingersnaps
Graham crackers
Sliced apples
Cinnamon pita chips
Biscoff cookies
Pretzels
Oreos
Sliced pears
Snickerdoodle cookies
I personally love to include this dip on my Halloween dessert charcuterie board!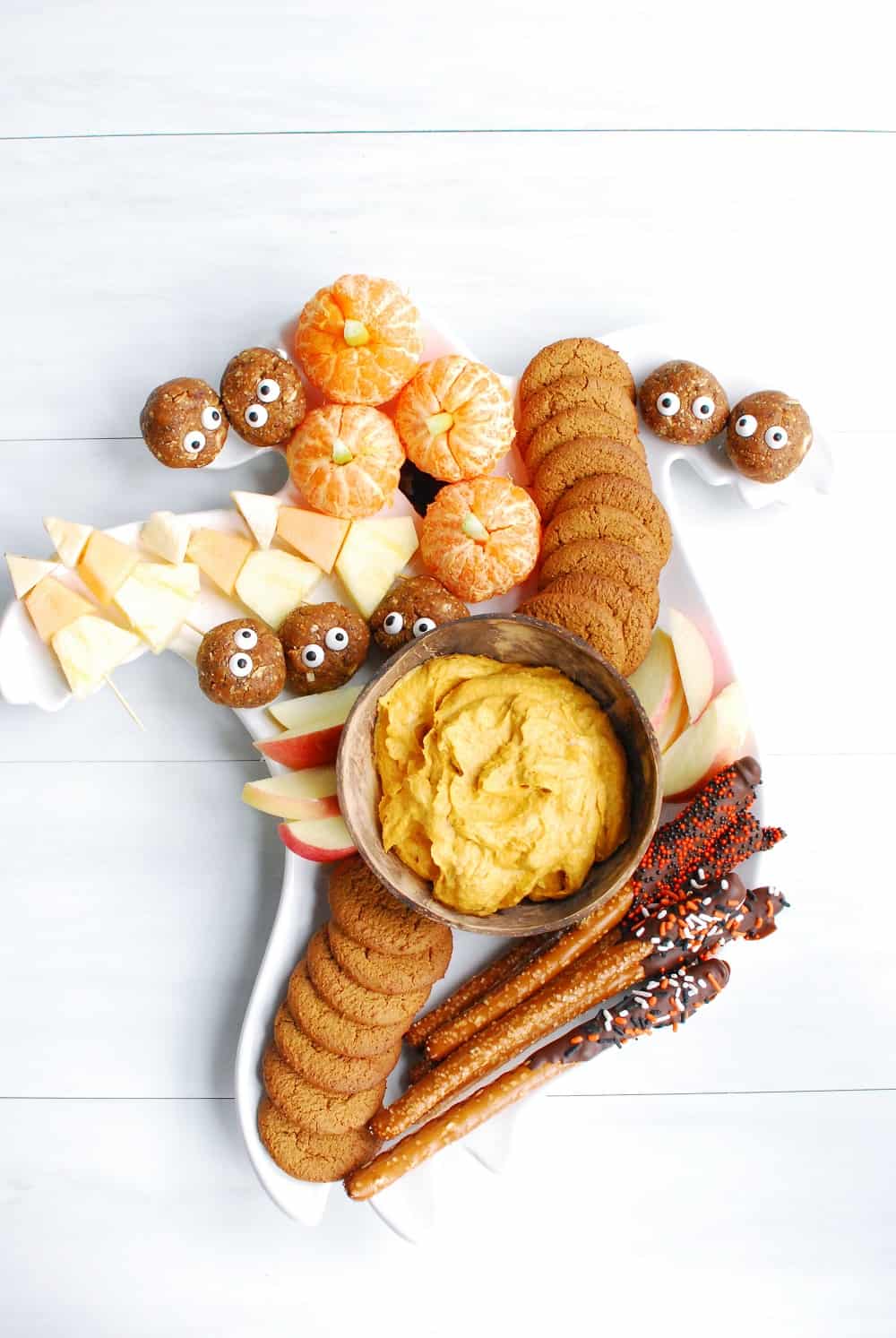 Recipe FAQ
Here are some common questions that may come up as you make this recipe:
What's the best way to store this?  Store extra dairy free pumpkin dip in the refrigerator.
How long does this last?  Stored properly in the refrigerator, it will last for 4-5 days.
Can you freeze this dip?  I don't recommend freezing, as I find the texture changes a bit.
Can you use canned pumpkin pie filling instead of plain pumpkin puree?  You can, though it changes the flavor a bit as it's already sweetened and seasoned.  If you use pumpkin pie filling, try just mixing that with the CocoWhip and 1 tablespoon of the vanilla pudding mix.  Give it a taste – if it needs more sweetness, you can add more pudding mix; if it needs more seasoning, you can add a few shakes of pumpkin spice.
Can this be made vegan?  It actually is as long as you use a vegan instant pudding mix!  According to this reference, Jello Cook & Serve Vanilla Pudding and Pie Mix is vegan.  Since that's one of the most common brands out there, it should be easy for you to track down.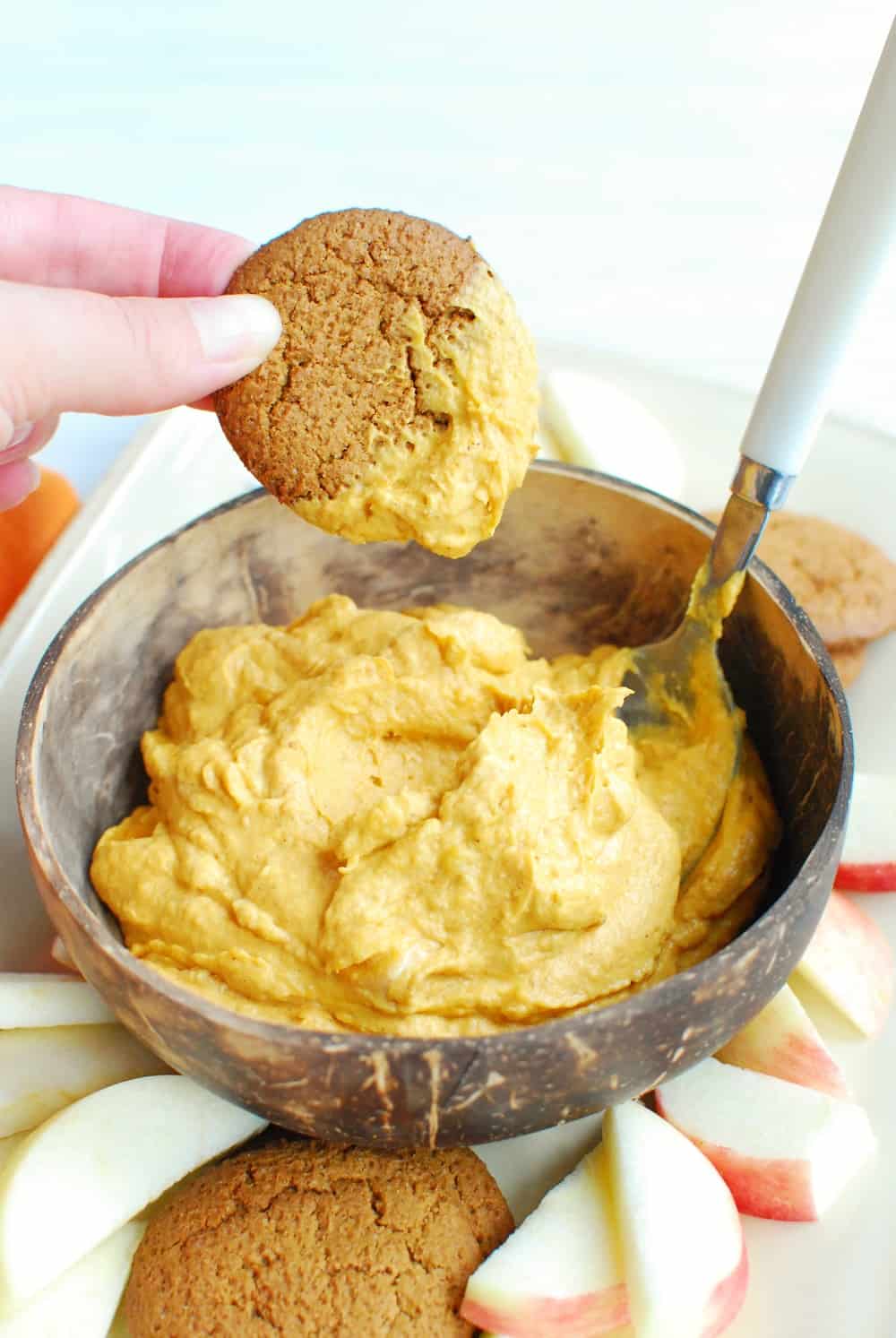 Allergens in this recipe
Disclaimer:  Always double check ingredients and labels yourself prior to making a recipe.  While I try to check all ingredients for allergens, there's always the chance I may miss something or manufacturer formulations can change.
This pumpkin pie dip is dairy free.
As long as your instant vanilla pudding mix did not contain allergens, this is also peanut free, egg free, and wheat/gluten free.
It does contain coconut (in the CocoWhip) – most people with tree nut allergies can safely consume coconut, but I know some can't.  If you are one of the people that cannot, be sure use TruWhip instead (note that TruWhip contains soy).
Of course, you'll also need to check the allergens in anything you use to dip in this pumpkin goodness.  Choose options that fit your needs.
More dairy free pumpkin recipes
Looking for other fall pumpkin recipes that fit your needs?  Try one of these delicious options: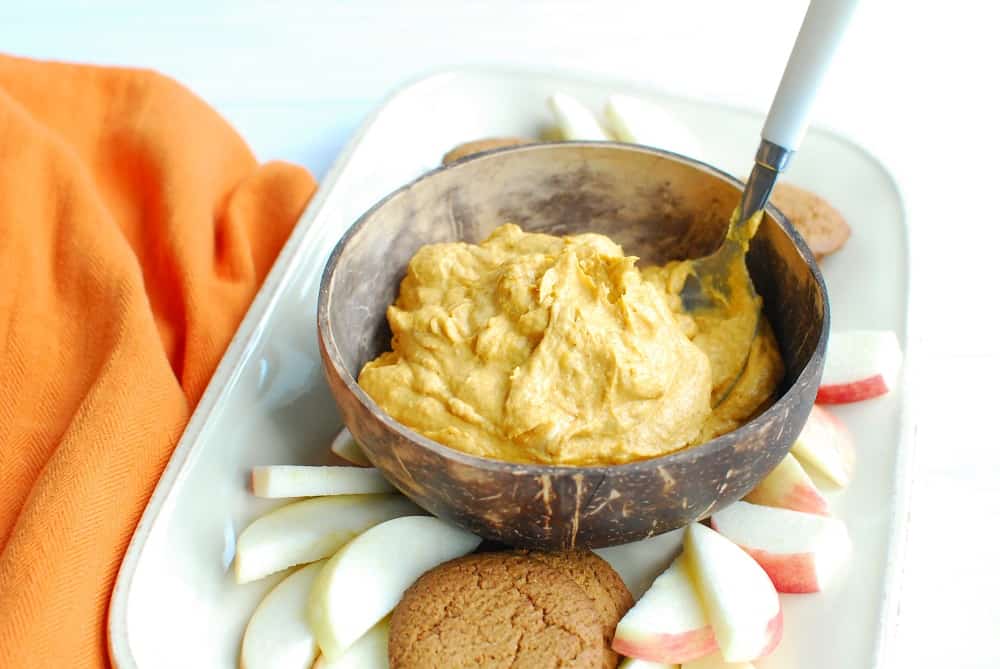 I hope you enjoy this easy fall dessert!  I could snack on this pumpkin dip with gingersnaps all day long. 😉  If you get a chance to try it, feel free to leave a recipe rating or comment below.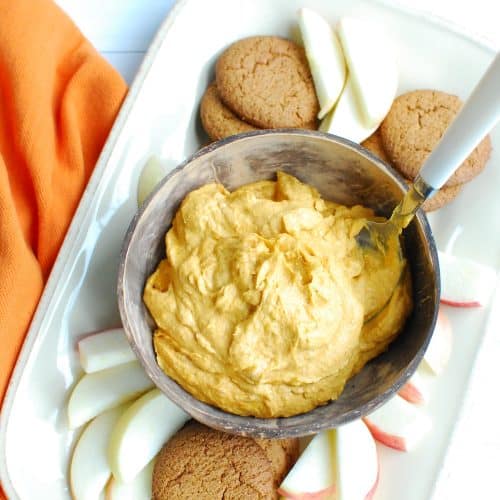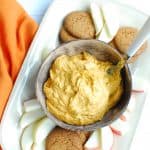 Dairy Free Pumpkin Dip
This dairy free pumpkin dip is a delicious fall dessert! Serve with gingersnaps, apples, pretzels, or any other dipper that you'd like.
Ingredients
1/2

container

SoDelicious CocoWhip

3/4

cup

pumpkin puree

(plain)

3

tbsp

instant dry vanilla pudding mix

1/2

tsp

pumpkin spice
Instructions
Use a hand mixer or stand mixer to combine the coco whip, pumpkin puree, vanilla pudding mix, and pumpkin spice. Serve with your preferred dippers like gingersnaps or sliced apples.
Recipe Notes
If you're serving a large crowd, you can change the proportions to 1 full container of CocoWhip, a full 15-ounce can of pumpkin puree, a full box of instant vanilla pudding mix, and 1 teaspoon of pumpkin spice.
Nutrition analysis (approximate per serving): 75 calories, 3 g fat, 90 mg sodium, 13 g carbohydrate, 0.5 g fiber, 9.5 g sugar, 0 g protein, Calcium: 1%, Iron: 1%, Vitamin D: 0%, Potassium: 2%, Vitamin A: 47%
Share:  What's your favorite dairy free pumpkin recipe?