We're in full swing of pumpkin season, and I'm embracing it – how about you?  If you're an aficionado of all things pumpkin, I am pretty sure these easy pumpkin cinnamon rolls are going to be the most magical discovery of your fall season.
These perfect little bites of autumn are:
Made with less than 10 ingredients
Require no rising time
Are done in under an hour
Dairy free
Vegan-friendly
Just 125 calories each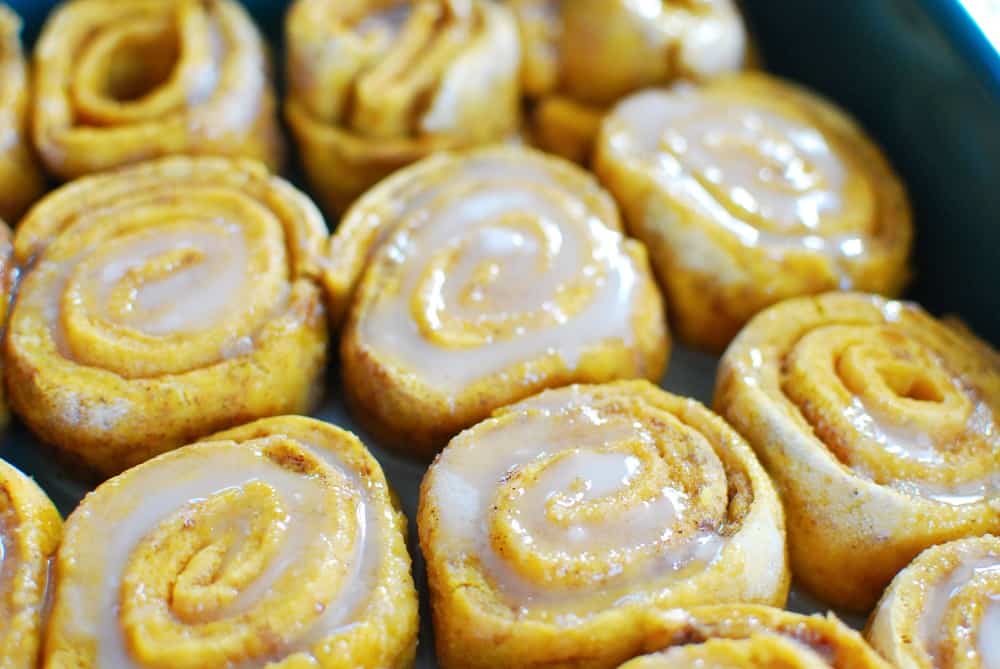 Just how easy are easy pumpkin cinnamon rolls?
Let me put it to you this way – my 3 1/2-year-old can pretty much make these.  (Side note, he's also obsessed with them.)  I mean, I have to give him the right measuring cups and help him roll/cut, but it's really just a few easy ingredients and steps.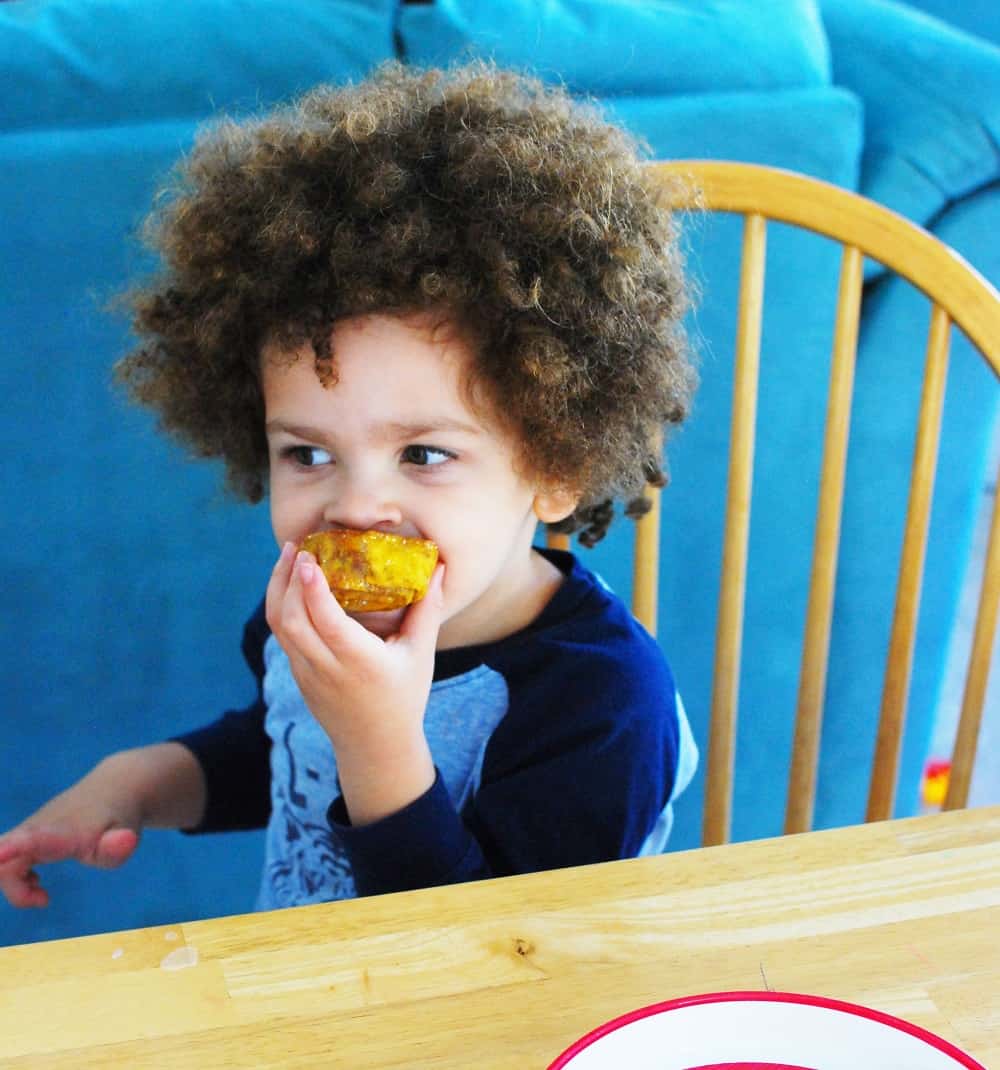 You'll start by making the dough.  The base of the dough is two simple ingredients:
Self rising flour
Canned pumpkin
Then you'll mix in a few spices to flavor it up.  I used cinnamon, nutmeg, and cloves – but you can also just add a teaspoon of pumpkin spice instead and call it a day.
And that's it for the dough!
From there, it's as easy as 1-2-3:
1. Roll it out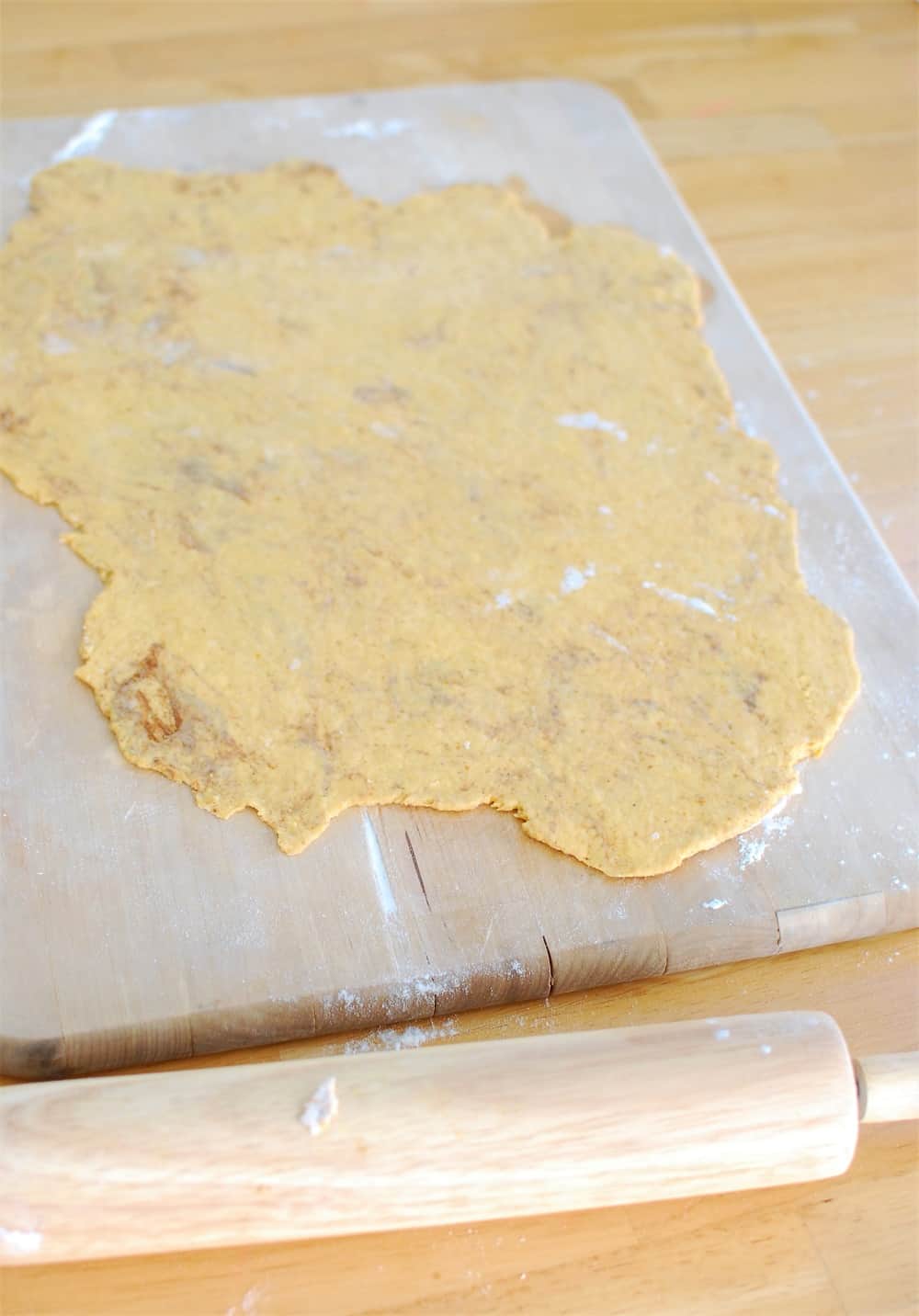 2. Combine non-dairy butter spread (or regular butter if you just stumbled on this recipe and you're not dairy free) and brown sugar, and spread it on the dough.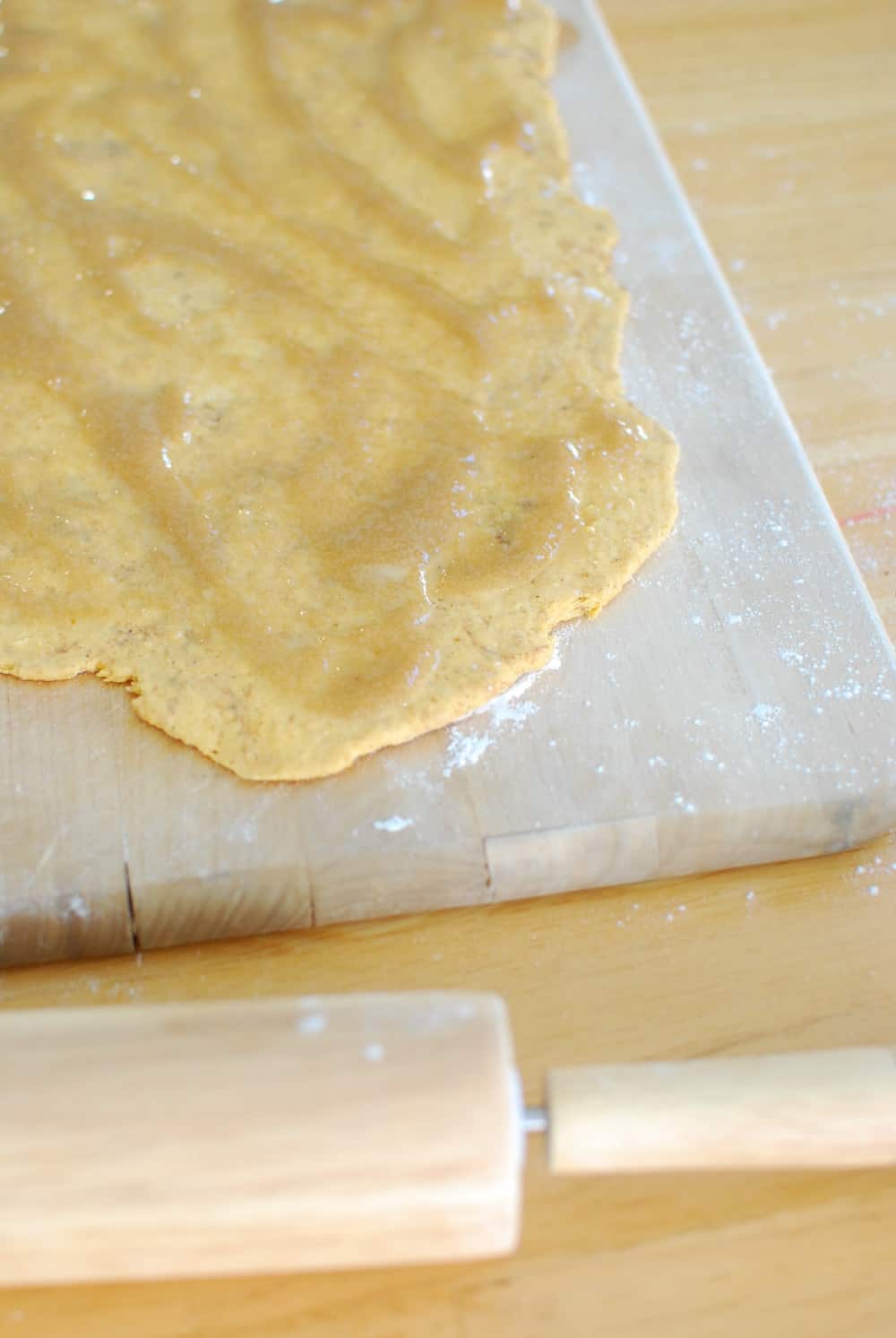 3. Roll it up, slice it, and bake it!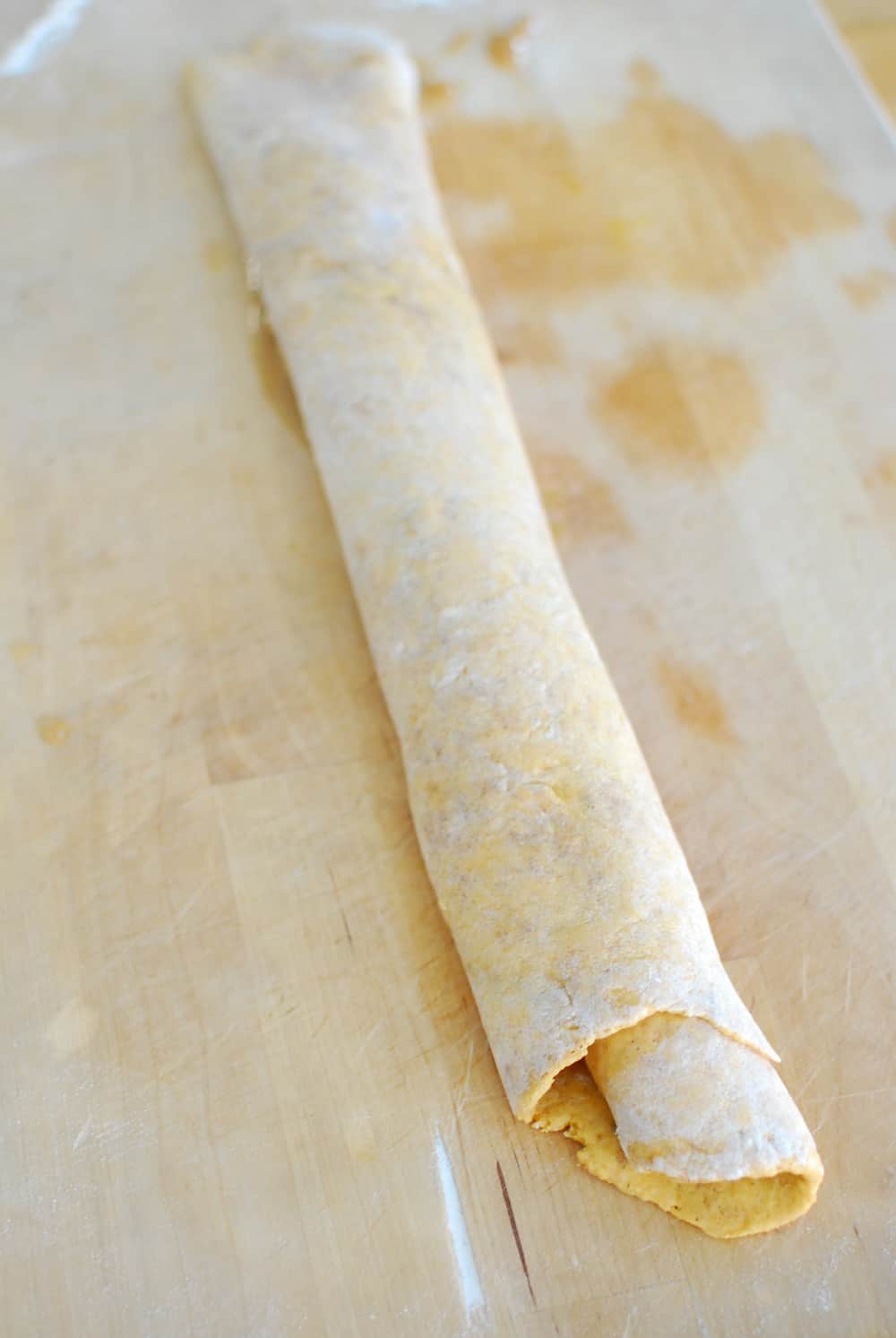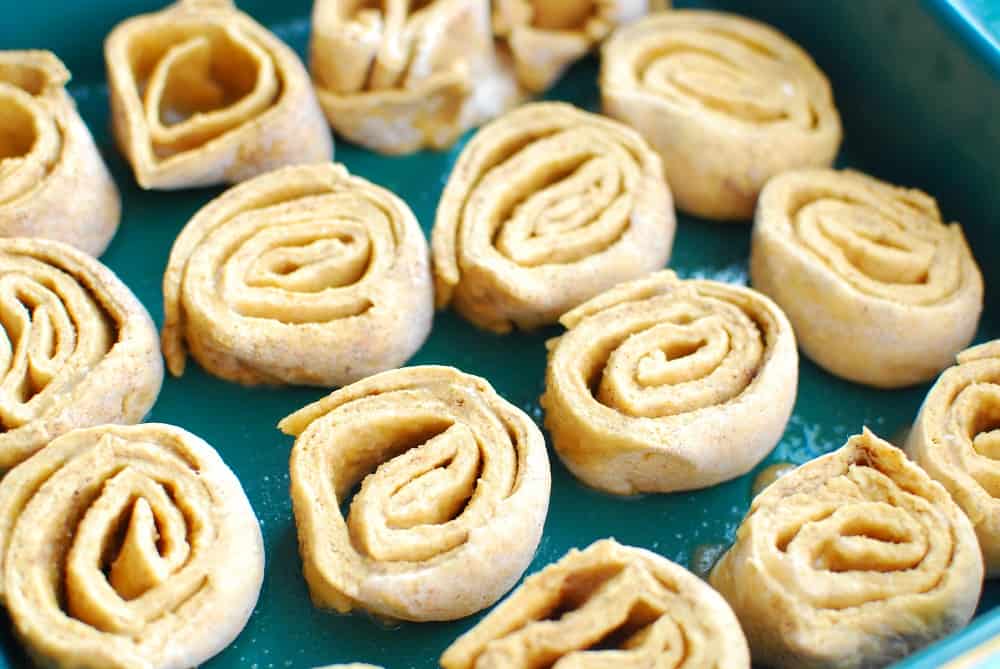 I like to add icing on top when they come out of the oven, so I suppose we should add (4) to above, which is to simply mix powdered sugar with a splash of milk alternative and drizzle it on after they come out of the oven.
Regular pumpkin cinnamon buns vs. these easy pumpkin cinnamon buns
These easy pumpkin cinnamon buns aren't going to be all giant and fluffy style, like if you make a proper yeast-based dough and waited for it to rise.  That's the trade-off here.  But they still rise a little and come out insanely delicious.
Plus, if you guys are anything like me, sometimes you just want to make something quickly.  I don't always have time for a 2-3 hour baking escapade.  And that's why I love these.  They're done in under an hour, start to finish.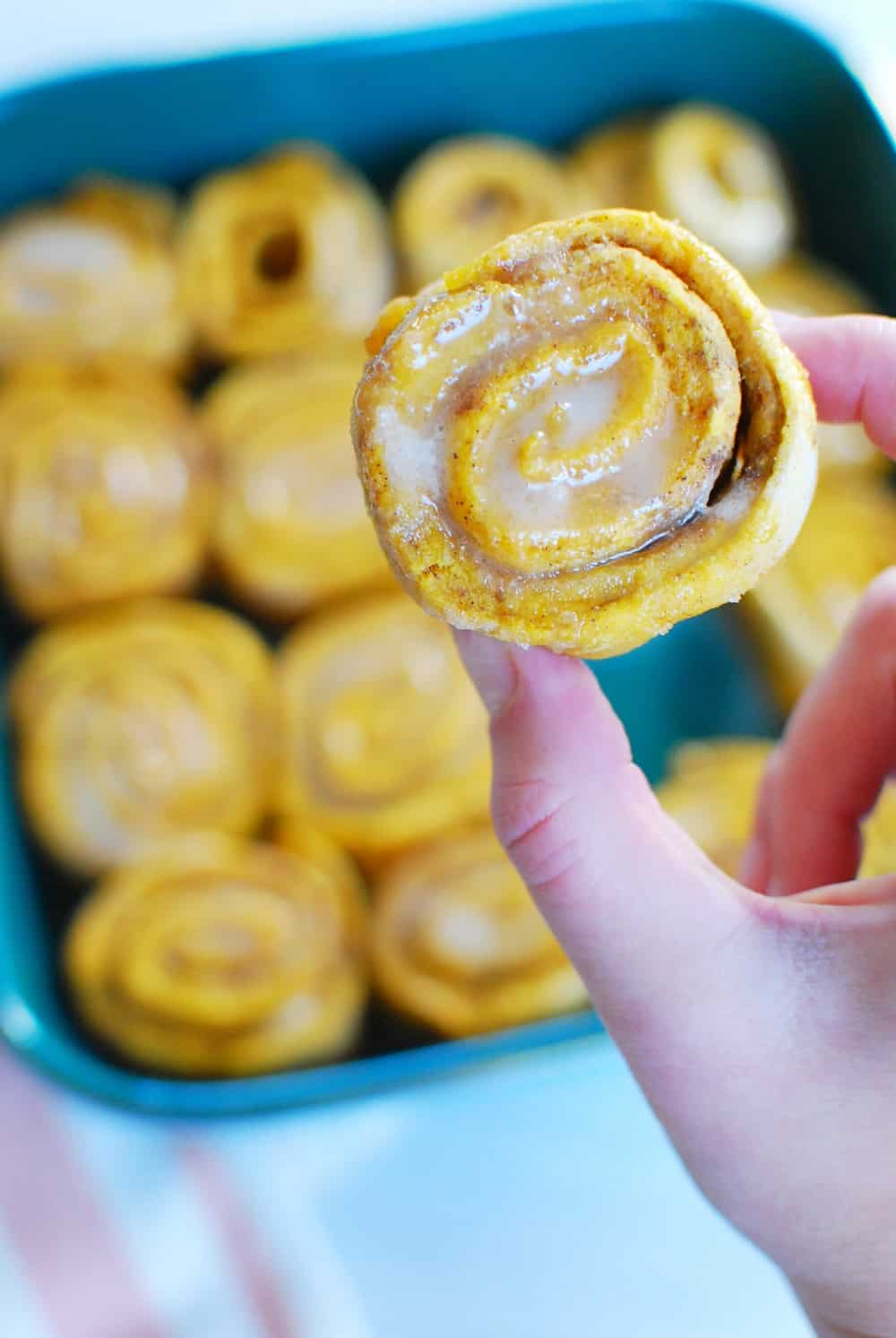 I think you will be a huge fan of this recipe – and it's too easy not to try asap!  You've probably got almost everything in your kitchen already. 🙂
If you do try these out, be sure to rate the recipe and leave a comment to give me your thoughts.  And don't forget to share with your other pumpkin-lovin' pals!
PS – Looking for other dessert recipes?  Check out these almond butter oatmeal cookies.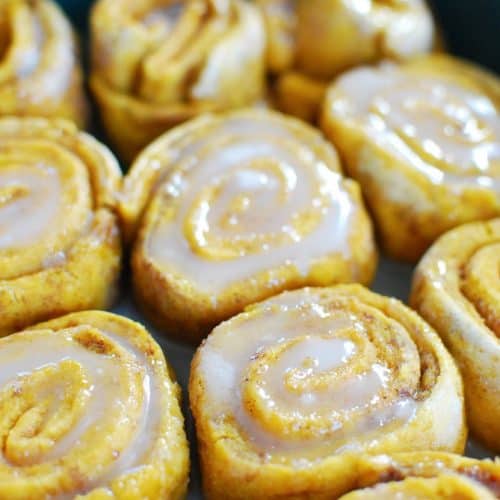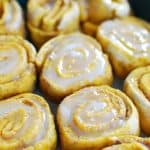 Easy Pumpkin Cinnamon Rolls
These easy pumpkin cinnamon rolls are made with just a few simple ingredients from scratch - and are done in less than 45 minutes!
Ingredients
Dough:
2

cups

self rising flour

1 1/3

cup

canned pumpkin

3/4

tsp

cinnamon

1/4

tsp

nutmeg

1/8

tsp

ground cloves
Filling:
1/3

cup

dairy free butter spread (Earth Balance)

(if not dairy free you can use butter)

1/3

cup

brown sugar
Icing:
1/3

cup

confectioners sugar

Few splashes of vanilla almond milk

(or coconut milk, rice milk, etc)
Instructions
Preheat oven to 350 degrees.

Combine the flour and pumpkin in a large bowl. Stir together for a few seconds.

Add cinnamon, nutmeg, and cloves. Stir dough a few more times, then use your hands to fully incorporate all ingredients into a ball of dough.

Place the ball on a lightly floured surface. Using a floured rolling pin, roll it out into a rectangular shape (no need to be perfect). Try to get it about the size of a large cutting board; or about as thin as you can get the dough without it breaking.

Now make the filling: melt the dairy-free spread in a bowl in the microwave for 15-20 seconds, then stir in the brown sugar. Spread this mixture over the rectangle of pumpkin dough.

Starting at one end of the rectangle, roll the dough down tightly, forming a long rolled up log of pumpkin cinnamon roll dough.

Grease a square baking dish. Use a sharp knife to cut approximately 1 inch segments from the dough, and place cut side down in the baking dish. You should get about 16 cinnamon rolls; arrange 4x4 in the baking dish.

Bake at 350 degrees for 25 minutes.

Remove from oven and let cool for a few minutes. Meanwhile, make icing: add confectioners sugar to a bowl and add a few splashes of vanilla almond milk (or your preferred milk alternative). Add just enough to create your preferred icing texture. Drizzle icing on the cinnamon rolls, then enjoy!
Recipe Video
Recipe Notes
Nutrition Facts (approximate per cinnamon roll; assumes 16 rolls per recipe):
125 calories, 4 g fat, 1 g sat fat, 240 mg sodium, 20.5 g carbohydrate, 1 g fiber, 8 g sugar, 2 g protein, Vitamin A: 64%, Vitamin C: 1%, Calcium: 7%, Iron: 6%
Share with me:  Are you all about the pumpkin, or ready for this season to be done?  What's your favorite pumpkin treat?  Did you try these easy pumpkin cinnamon rolls – and if so, what did you think?