I love cutout cookies as much as the next person – and have a delicious sugar cookie recipe I'll be sharing here soon!  But sometimes, you just don't want to deal with refrigerating the dough, rolling it out, doing all the cookie cutters…you might just want something a bit simpler.  That's where these dairy free sugar cookie bars come in!
They've got all that classic sugar cookie flavor, but all you have to do is make the dough, press it into a pan, and bake it.  You'll top it all off with a quick and easy homemade frosting – and maybe a few sprinkles if you feel so inclined.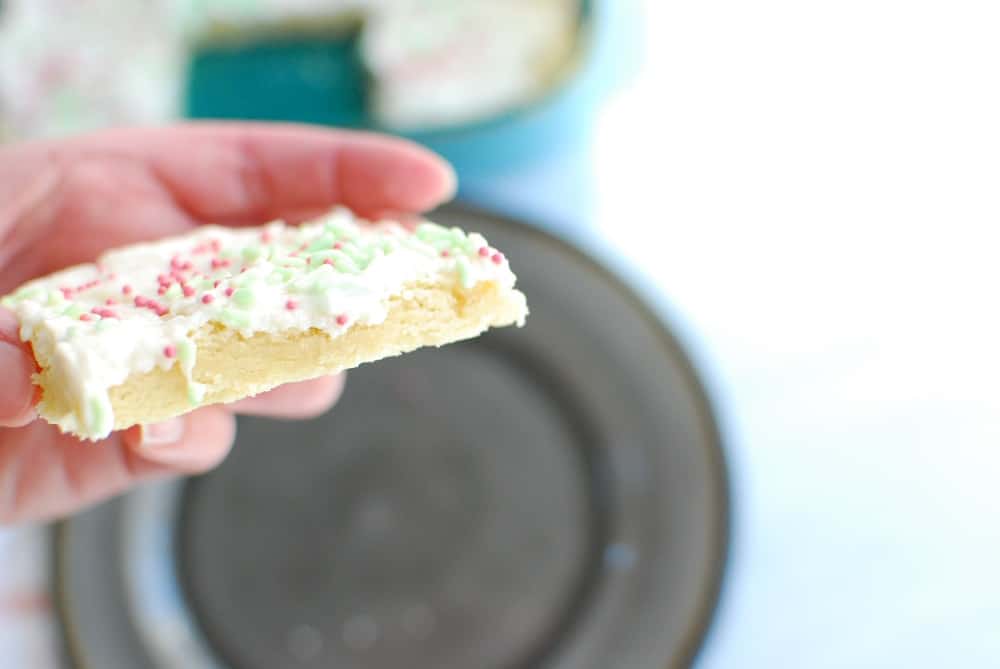 How to make dairy free sugar cookie bars
This recipe is incredibly easy!  You only need 9 simple ingredients, and I bet you've probably got them on hand already:
Earth Balance dairy free spread — I always get the red box which is also soy free!  You can also substitute for another dairy free butter substitute of your choice.
Sugar
Egg
Vanilla
Flour
Baking Powder
Salt
Powdered Sugar
Oat milk – or whatever milk alternative you have on hand!
Optionally, you can add sprinkles as a 10th ingredient to make these a bit more fun – totally you're choice.
To make the sugar cookie bars, you'll combine Earth Balance, sugar, egg, vanilla, flour, baking powder, and salt into a cookie dough.  It'll look like this: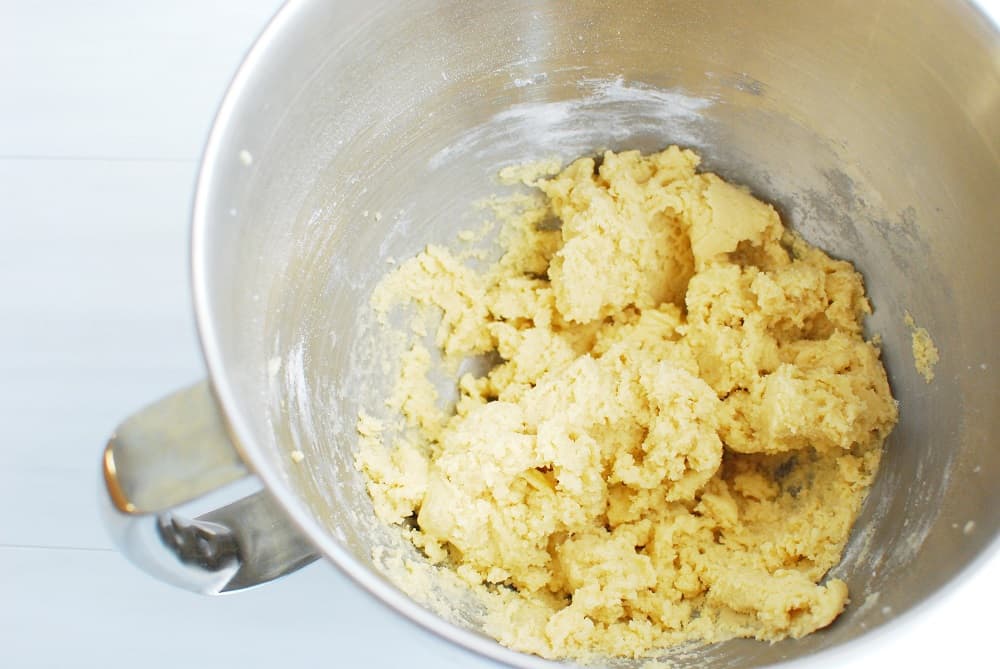 Then, you'll press that into an 8×8 pan and bake it.  When it's done, wait for it to cool all the way – I'm I'm looking at you, impatient friends! 😉 – because if you put the frosting on while they're warm the frosting will melt.
So, once those bars are cool to the touch (you can put them in the fridge to speed it up) – make your frosting.  You'll beat some Earth Balance with powdered sugar, vanilla, and a splash of oat milk until it's nice and fluffy.
I highly recommend using the whisk attachment on a stand mixer for this, as it's so much easier than trying to do it by hand.  Of course, if you want a little arm workout, feel free to go for it on your own.
The frosting will look like this when it's ready: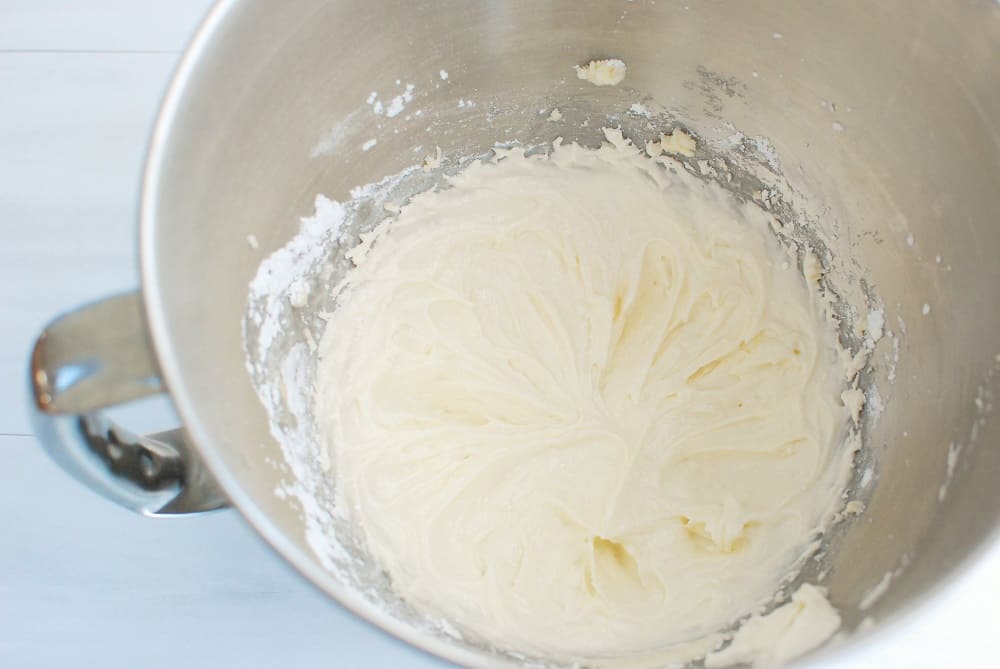 Spread that on your sugar cookie bars, top with sprinkles if desired, and voila – insanely good sugar cookie bars!
Allergens in this recipe
This recipe is naturally dairy free and tree nut/peanut free!  The only major allergens in the dough/frosting part of this recipe are wheat and eggs.
If you're soy free as well, keep in mind that the base and frosting are all soy free.  However, if you use sprinkles, many store-bought versions contain soy. You'll need to check the ingredients on the packaging.
Soy free sprinkles
Disclosure:  There are Amazon affiliate links below. As an affiliate, I earn a commission on qualifying purchases.
You can definitely find soy-free sprinkles online if you can't find them at the store.  I'm personally a fan of Supernatural sprinkles, which are dairy and soy free – and are also naturally colored.  They're a little more expensive than you'll find your normal grocery store ones are, but it's not like you're using sprinkles everyday – it's worth it to grab some safe ones for a special occasion!
You could also try Quality Sprinkles, which are both dairy and soy free, and are also naturally colored.  I haven't used that brand before but it seems to have good reviews on Amazon!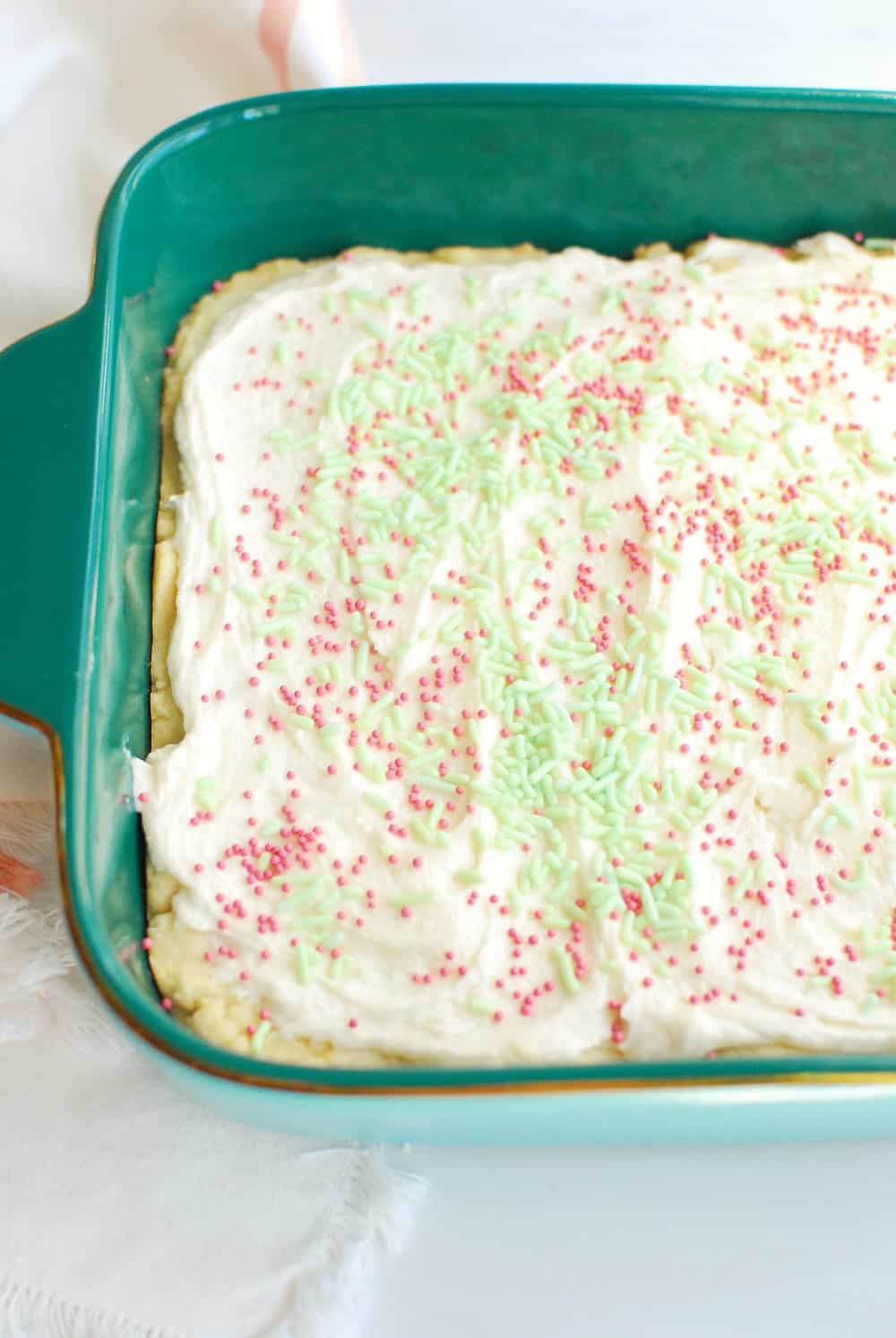 Other dietary modifications
If you need to modify this to make it free of eggs or wheat, here are some suggestions:
Wheat-free:  Use a gluten free all-purpose blend.  I haven't tested it out but good quality blends should work fine in this recipe.
Egg free: *Update* – I have heard that a few people have tried subbing the egg for applesauce with good results!** Try adding an extra 1/4 teaspoon of baking powder plus an extra 2 tbsp of oat milk (or another milk alternative).  You could also try a commercial egg replacer, or use 2-3 tbsp of aquafaba.  I haven't tested these yet so if you try, be sure to let me know how it comes out in the comments.  (My usual egg replacer for baking is a flax egg, but that doesn't work as great in sugar cookies).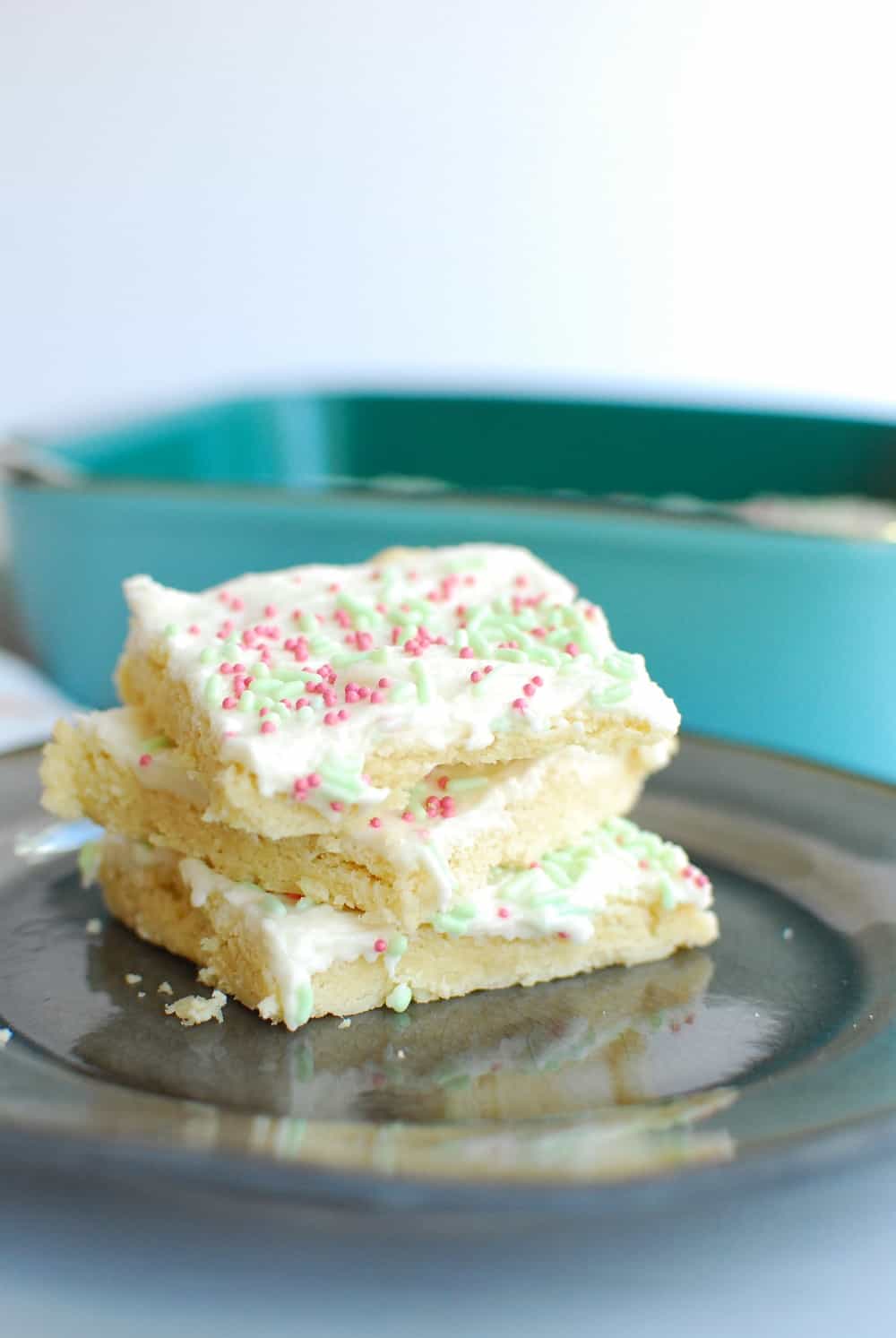 Looking for more dairy free desserts?
Try one of these delicious options – a few are my own recipes and a few are from some of my other favorite bloggers:
I hope you'll give these dairy free sugar cookie bars a try.  If you like them, don't hesitate to leave a comment or share with your friends!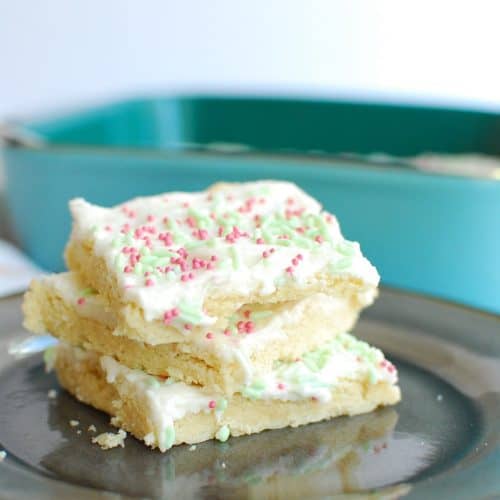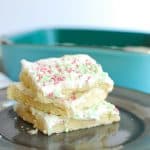 Dairy Free Sugar Cookie Bars
These dairy free sugar cookie bars are insanely delicious - no refrigerating or rolling required!
Ingredients
Sugar Cookie Bars:
1/3

cup

Earth Balance

(or anther dairy free butter substitute)

2/3

cup

sugar

1

egg

1

tsp

vanilla

1 1/2

cups

all purpose flour

1/2

tsp

baking powder

1/4

tsp

salt
Frosting:
1/3

cup

Earth Balance

(or another dairy free butter substitute)

1 1/3

cup

powdered sugar

1

tbsp

oat milk

(or another milk substitute)

1/2

tsp

vanilla
Instructions
Preheat oven to 375 degrees. Grease an 8x8 baking dish and set aside.

In a large mixing bowl, combine Earth Balance (or another dairy free butter spread) and sugar. Beat until well-combined. (I recommend using a stand mixer or hand mixer for this).

Add the egg and vanilla and beat until combined.

Stir in the flour, baking powder, and salt. Stir until everything is just combined and your cookie dough forms.

Press your cookie dough into your 8x8 dish. Flatten it out using your hands so it's evenly dispersed throughout the dish. Place in the oven and bake for 13-15 minutes, or until cooked through and very lightly golden on top.

Let the cookie bars cool. Once cooled completely, make the frosting: add earth balance, powdered sugar, milk, and vanilla in a large bowl and beat until a nice fluffy frosting has formed. (I recommend using either a stand mixer or hand mixer for this).

Spread frosting over cooled cookie bars, and optionally top with sprinkles. Cut into 9 bars and enjoy!
Recipe Notes
Let the cookie bars cool completely before adding the frosting or the frosting will melt.  This frosting is more sensitive than normal butter-based frosting.
If frosting is not spreadable enough, add another 1 tbsp of oat milk.
Nutrition analysis (approximate per bar):
331 calories, 14 g fat, 3.5 g sat fat, 224 mg sodium, 48 g carbohydrate, 3 g protein, Vitamin A: 1%, Vitamin C 0%, Calcium: 3%, Iron: 6%
Share:  Have you ever made sugar cookie bars?  What's your favorite sweet treat to snack on?