There's one sweet treat that always seems to be calling my name – and that's cookies.  When I had to be dairy free back when I was nursing my son (he had MSPI), I tested quite a few dairy free cookie recipes.  These almond butter oatmeal cookies were by far one of my favorites.
The cookies are nutty and chocolatey, yet are still relatively healthy.  Would you believe there's only a third a cup of maple syrup that sweetens this whole batch?!  It's awesome to find healthier alternatives to traditional favorites.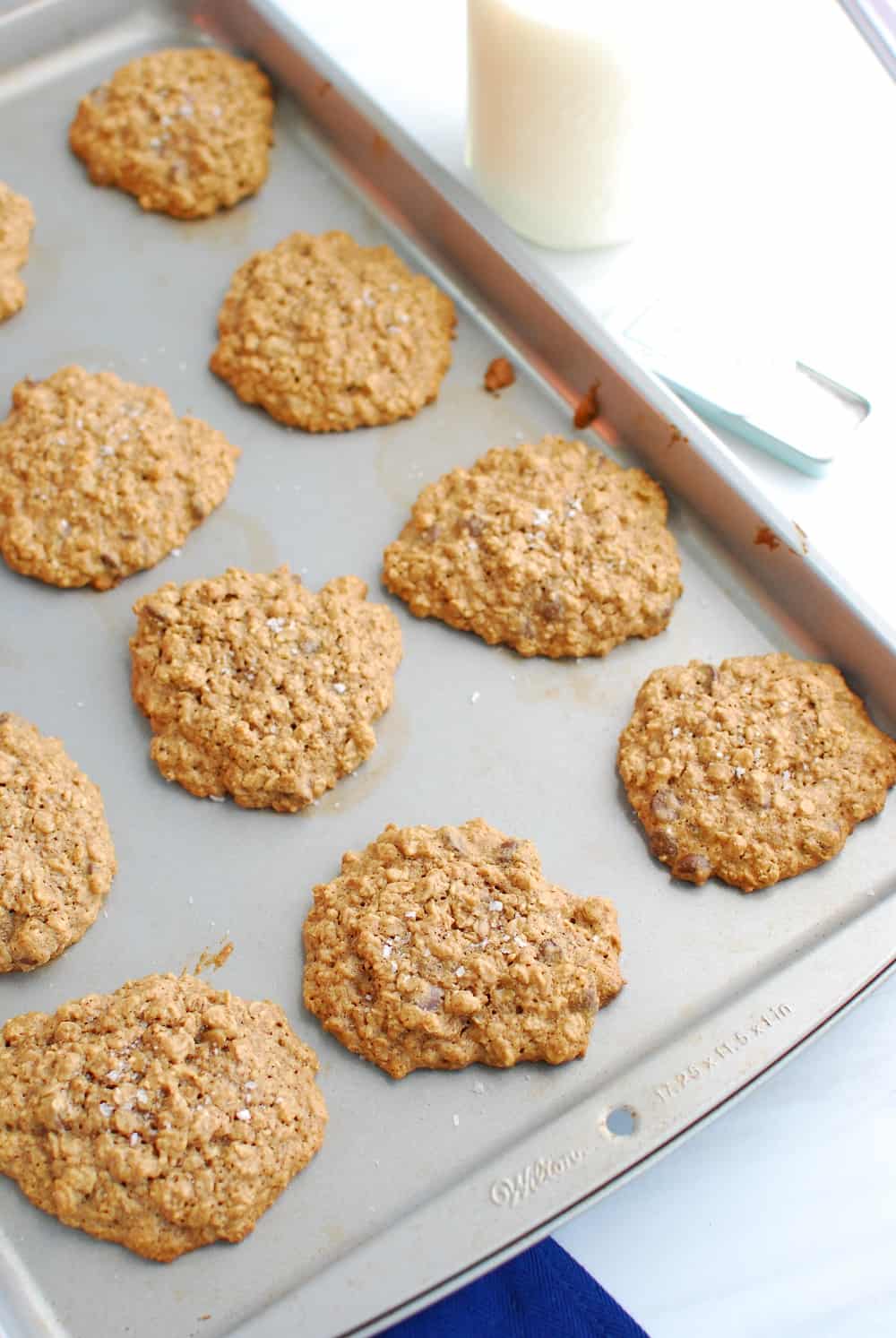 How to make almond butter oatmeal cookies
One thing I love about these cookies is that they are really quite simple to make, and only use a few ingredients – most of which you probably already have in your pantry.
You'll need:
Almond butter
Coconut oil
Maple syrup
Egg
Vanilla
Oats
Salt
Baking Soda
Chocolate chips (dairy free)
Aside from pulsing some of the oats in a food processor (or blender) to create a coarse flour, the rest of the recipe is basically just mixing everything together and tossing it on a cookie sheet!
One helpful note for this recipe – the batter will be a bit thinner than other cookie doughs that you might be used to.  That's OK!  It's primarily because you're using a liquid syrup (maple syrup) rather than a refined sugar product.  Here's what they'll look like before cooking: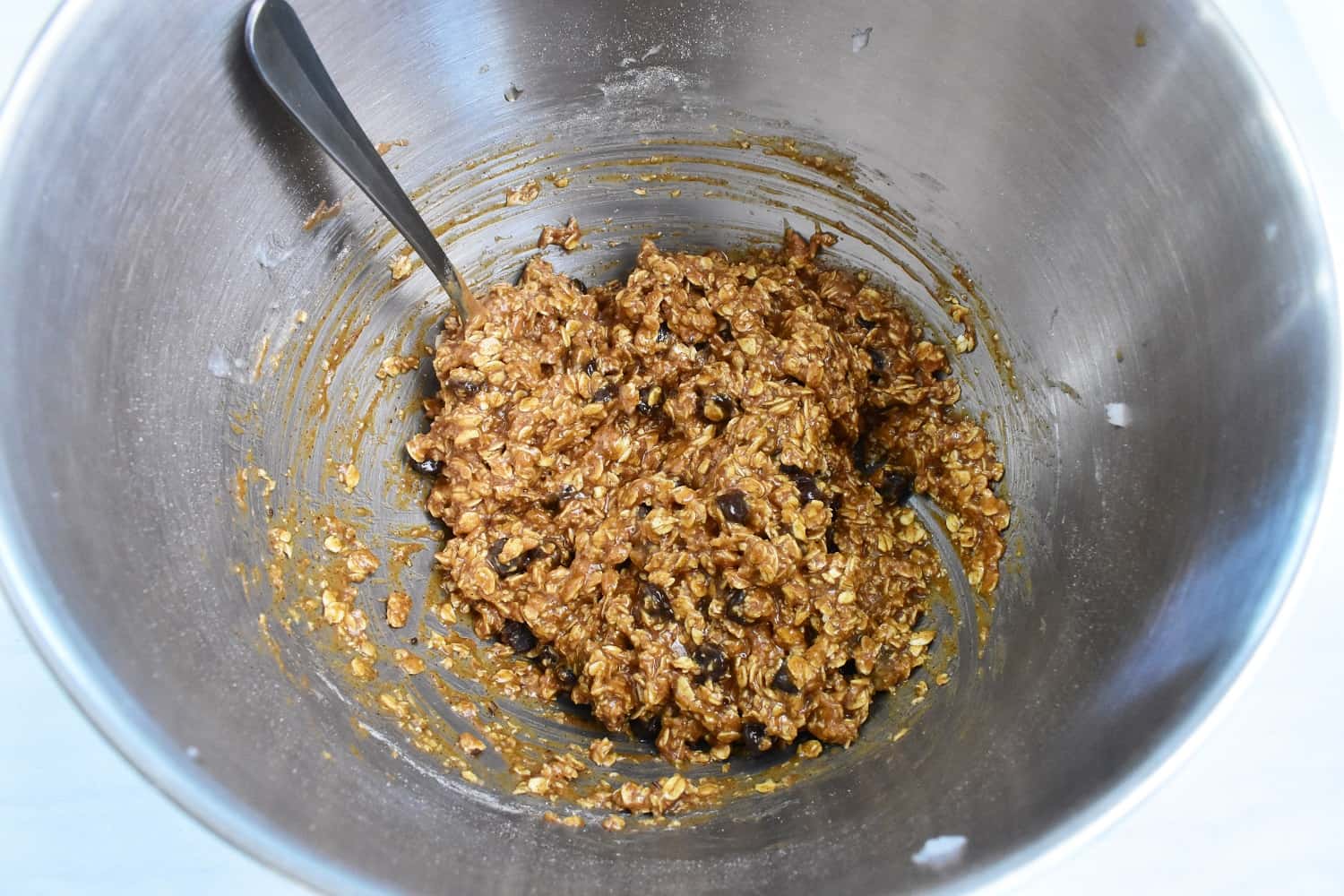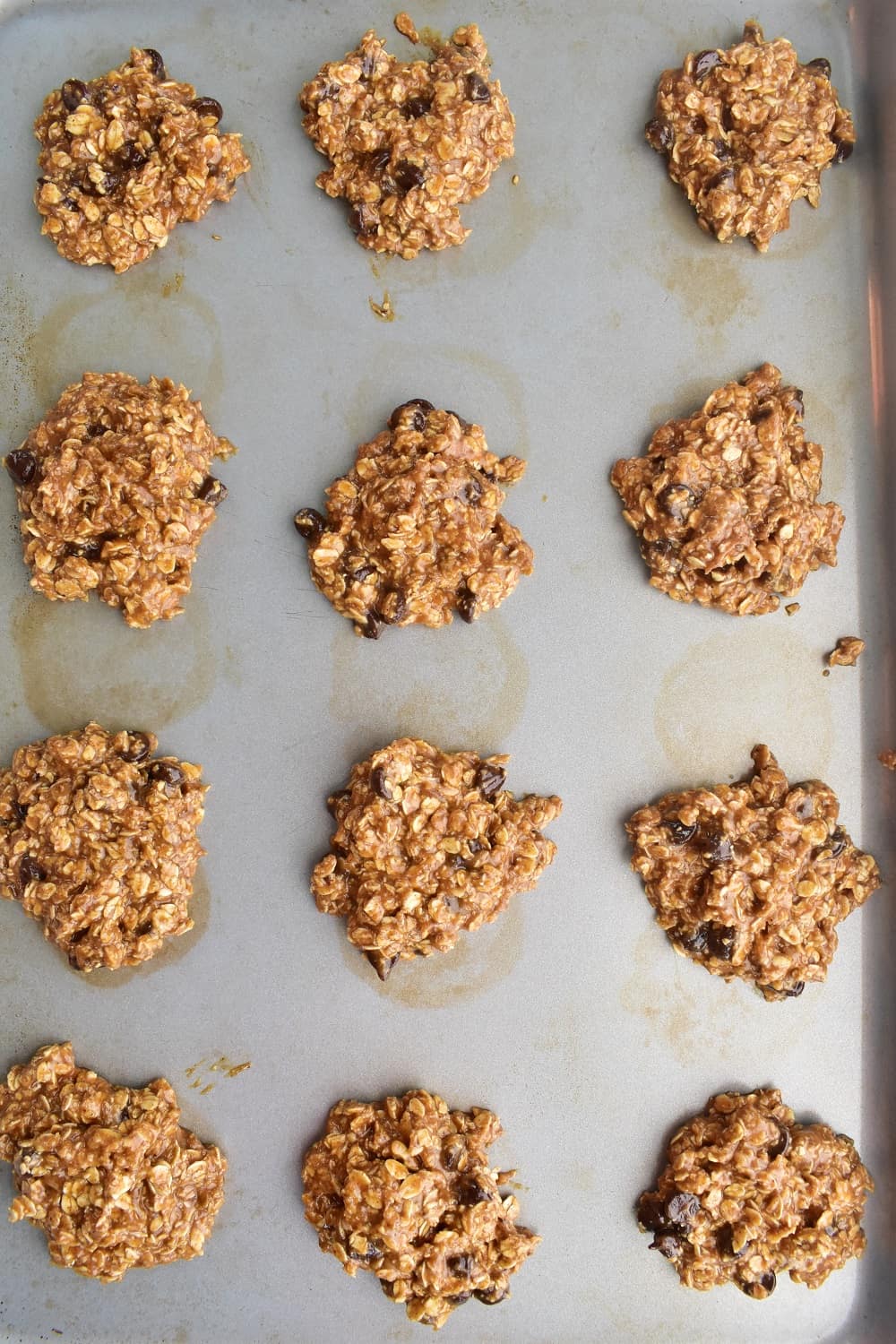 But don't worry, the cookies won't spread all over the place or anything.  The cookies will be very soft, but that's part of what I like about this recipe!
As an optional bonus, you can also sprinkle the cookies with coarse sea salt right when they come out of the oven.  It adds a whole additional level of flavor!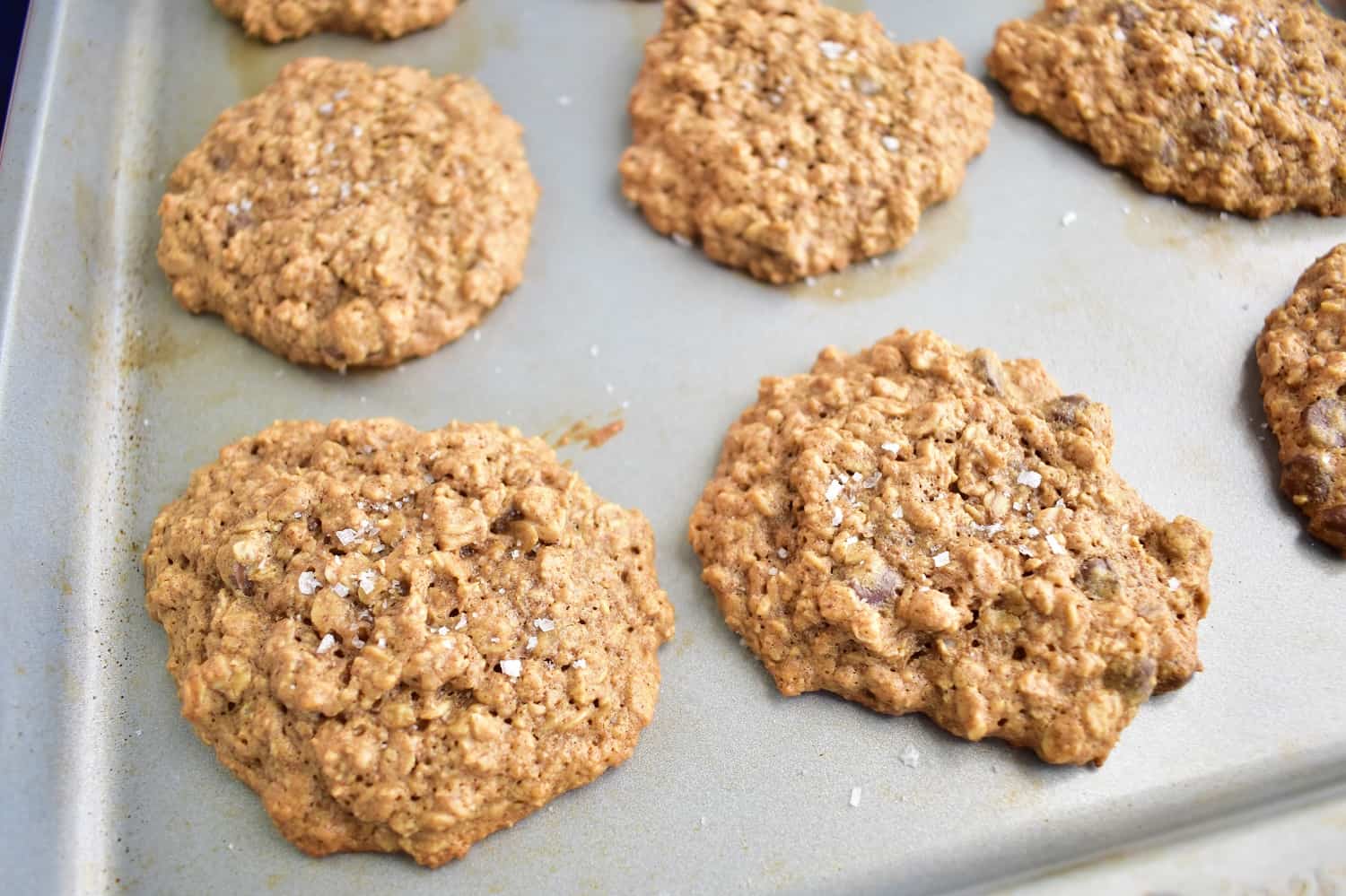 Allergens in almond butter oatmeal cookies
For those of you making these who have intolerances or allergies, here's what you need to know.  These cookies are:
Dairy free (as long as you choose dairy free chocolate chips, like Enjoy Life or Pascha)
Soy free
Peanut free
Wheat free (and gluten free as long as you select certified gluten free oats)
Of the top 8 allergens, these *do* contain tree nuts (almond butter) and eggs.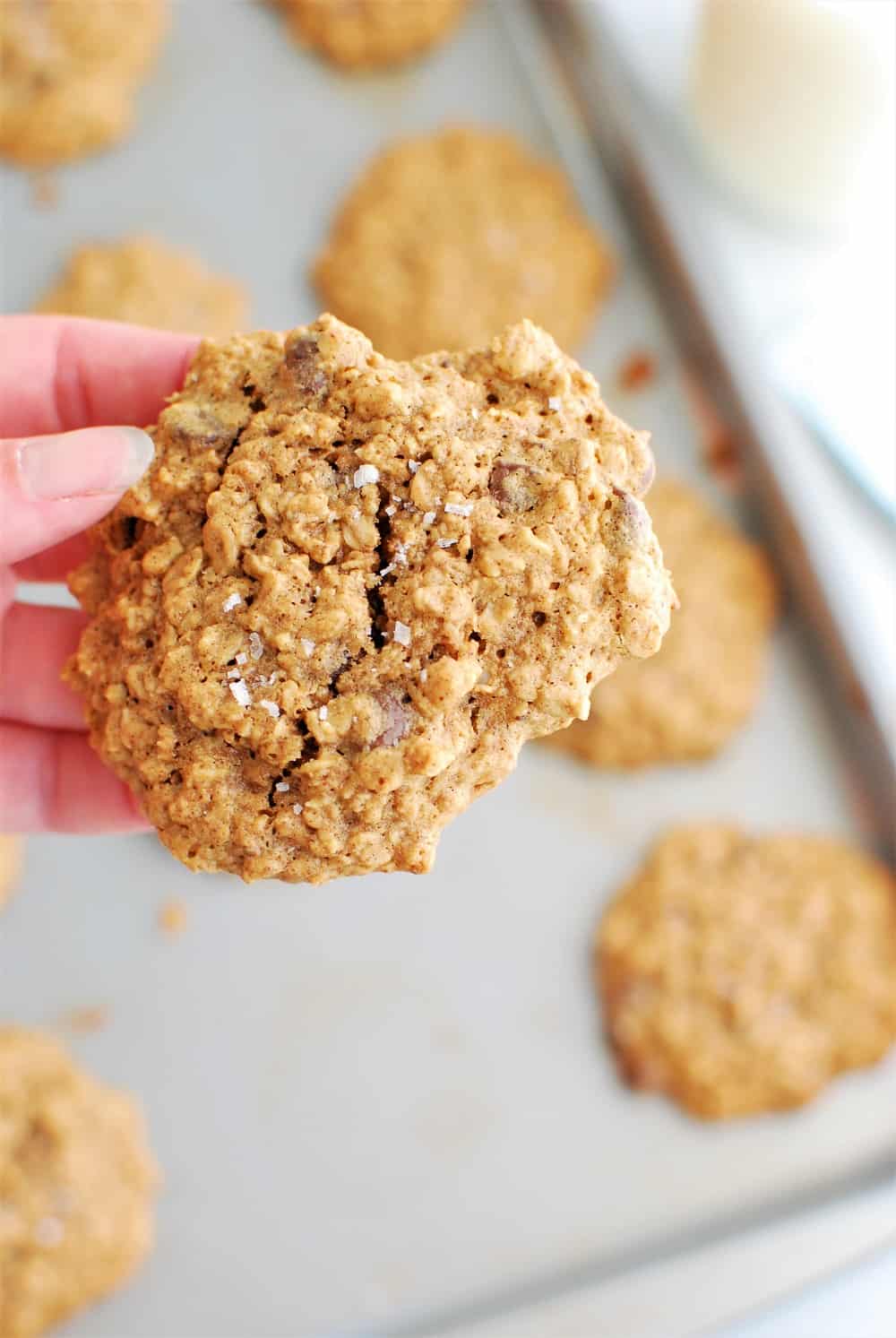 I hope you get a chance to try these almond butter oatmeal cookies ASAP – and if you do, be sure to pop back over here and let me know what you think!  And if you're looking for more cookies, you can check out this list of twenty dairy free cookie recipes.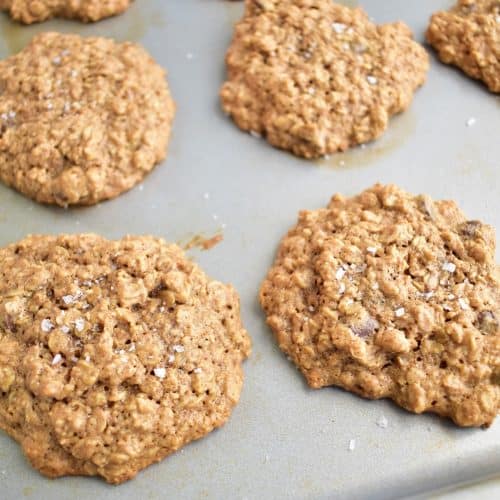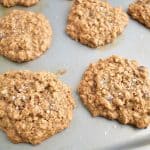 Almond Butter Oatmeal Cookies
These scrumptious almond butter oatmeal cookies are nutty and chocolatey, and are sweetened naturally with maple syrup! Dairy free and gluten free.
Ingredients
Ingredients for Cookies:
1/2

cup

almond butter

2

tbsp

coconut oil

1/3

cup

maple syrup

1

egg

1/2

tsp

vanilla

1/2

cup

rolled oats, pulsed into oat flour

1

cup

rolled oats, as-is

1/4

tsp

salt

1/4

tsp

baking soda

1/3

cup

dairy free chocolate chips

(i.e Enjoy Life)
Instructions
Preheat oven to 350 degrees.

Combine the almond butter, coconut oil, maple syrup, egg, and vanilla together in a large bowl. Whisk until well combined.

Take half a cup of oats and add to a blender or food processor. Pulse a few times to create a coarse oat flour.

Add the oat flour, rolled oats, salt, and baking soda to the bowl. Stir until everything is just combined. Fold in chocolate chips.

Spoon cookie dough onto a baking sheet (you should have enough batter for about 12 cookies). Bake at 350 degrees for 10 minutes, or until cookies are a light golden brown color. If desired, sprinkle with a little coarse sea salt when you remove them from the oven.

Let the cookies cool on the baking sheet for at least 5-10 minutes before removing.
Recipe Notes
Notes:
-If gluten free, be sure to use certified gluten free oats.
-As these cookies use maple syrup rather than regular sugar, the consistency of the cookie is quite soft. If you are looking for a crispier cookie recipe, this is not an ideal choice.
-Do not cook these on a silicone baking mat – I have found that they do not cook correctly. Use a regular metal baking sheet for best results.
Nutrition Analysis (approximate per cookie):
179 calories, 10.5 g fat, 3.5 g sat fat, 83 mg sodium, 18 g carbohydrate, 1.5 g fiber, 8 g sugar, 3.5 g protein, Vitamin A: 0%, Vitamin C: 0%, Calcium: 4%, Iron: 6%
Share with me:  What's your favorite kind of cookie?  Have you made any dairy free cookie recipes?  Do you think you'd love these almond butter oatmeal cookies?