This vegan black eyed peas recipe is one of the best you'll ever have!  Cajun season, coconut milk, and pineapple salsa bring tons of flavor to black eyed peas and quinoa.
One of the things I struggled with most when I was dairy free for nursing was finding delicious recipes that weren't boring.  Yes, I know that grilled chicken and steamed broccoli were both dairy free – but goodness, I was hungry and wanted something hearty and packed with flavor!
As such, I started experimenting with recipe development using different flavors and seasonings.  This vegan black eyed peas recipe became a staple for my family!
Of course, you don't have to be nursing a baby with a food intolerance to enjoy this recipe too.  It's ideal for anyone that's following a dairy free diet or vegan diet, or anyone that is simply looking for a nutritious and tasty meal.
[bctt tweet="These vegan black eyed peas are incredible! Made with a spicy cajun seasoning, rich coconut milk, and a sweet pineapple salsa." username="chrissytherd"]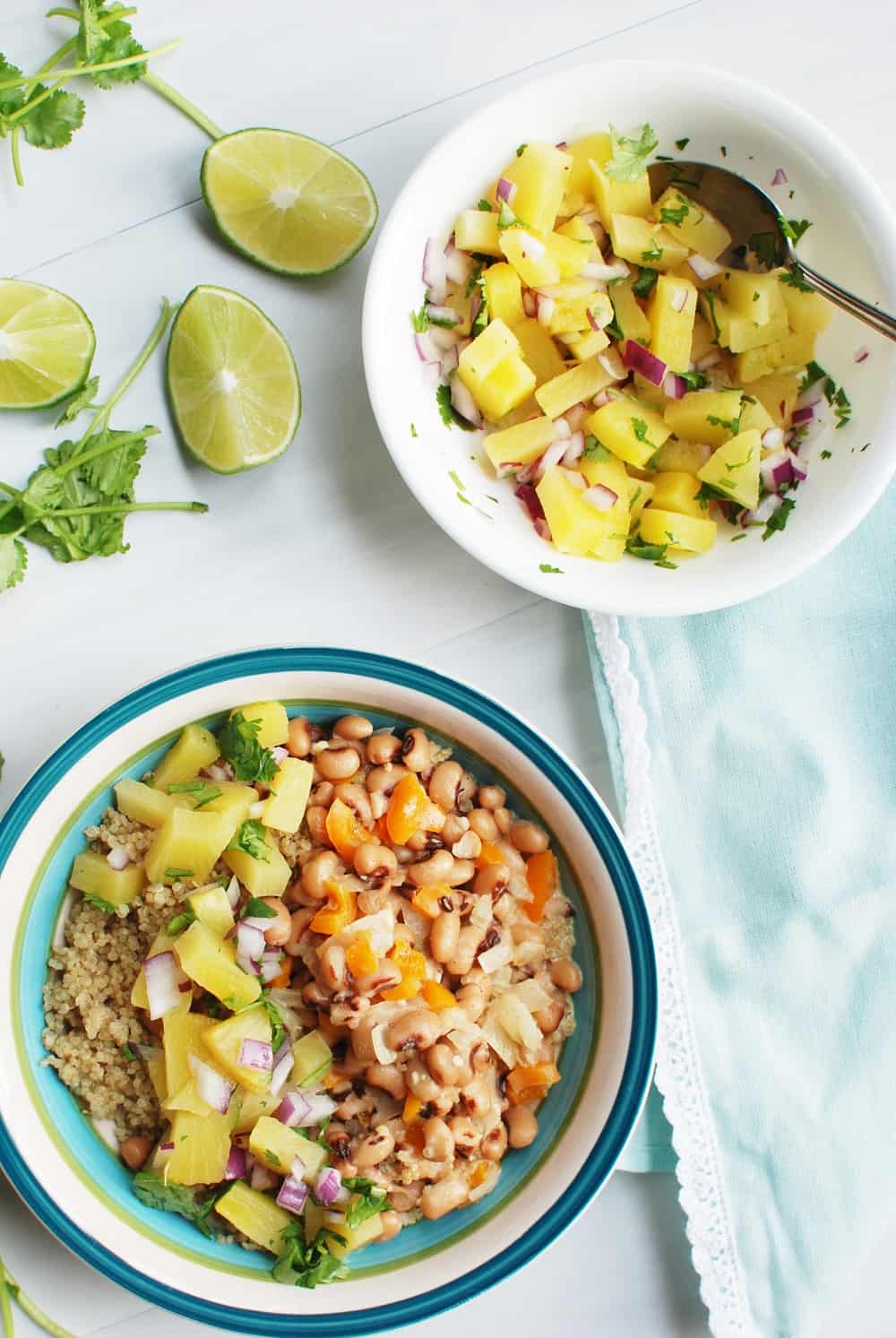 Flavors in Vegan Black Eyed Peas
The black eyed peas are cooked in coconut milk along with garlic, onions, and peppers – creating a layers of flavor and a sweet richness.  You'll add Cajun seasoning to this to really spice things up and elevate the dish.
You'll serve the black eyed peas on top of quinoa, and then top everything with a pineapple and red onion salsa.  The pop of pineapple adds a sweetness that works well with the coconut milk, and is balanced by both the spice in the Cajun seasoning, the punch that the red onion adds, and some herbaceous cilantro as well.
Tip:  I have always used this store bought Cajun seasoning (affiliate link) in my meals, but you can also use a homemade Cajun season recipe like this if you'd prefer.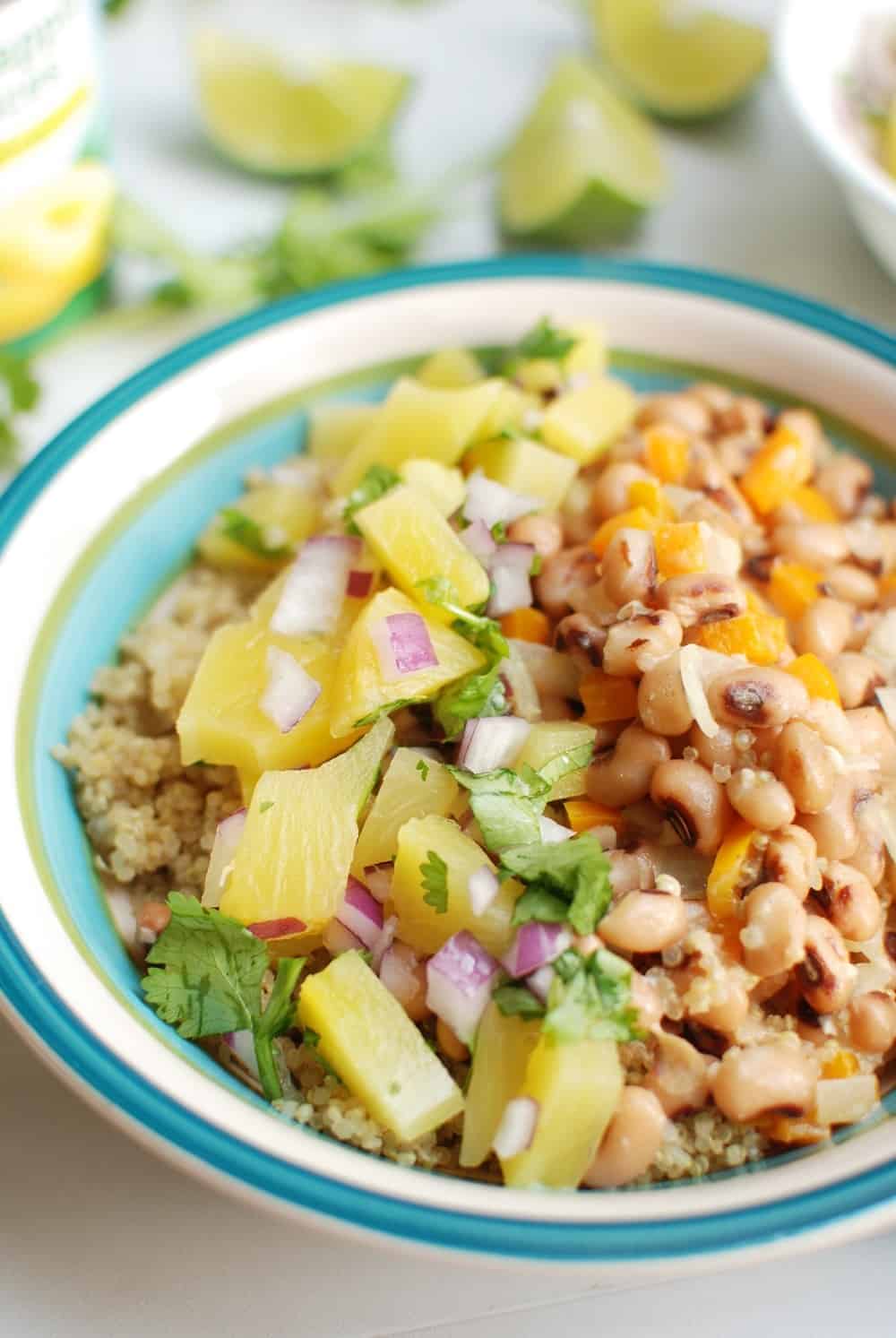 Why I Love This Recipe
Not only is this recipe delicious, but it's healthy too!  Here's why I love it whether you're eating it for yourself or serving it to your kiddos:
Each serving of these Cajun black beans with quinoa provides 10 grams of fiber – a nutrient that almost all Americans fall short on!  We all know that fiber helps us with digestion, but it's also involved in regulating cholesterol and keeping you full longer.
It provides more than 60% of your daily Vitamin C intake – key for everyone's immune system.
You'll get tons of folate, which is essential for any ladies out there with a bun in the oven.
One serving has 30% of your recommended iron intake; a nutrient important for learning and energy.  If you've got kiddos that are picky with meat, try this dish to increase their iron intake!
It contains 19% of your daily potassium needs, which helps to regulate blood pressure. (More potassium than a banana!)
Have I convinced you to give it a whirl yet? 😉
Be sure to try it and then pop back over here to let me know what you think.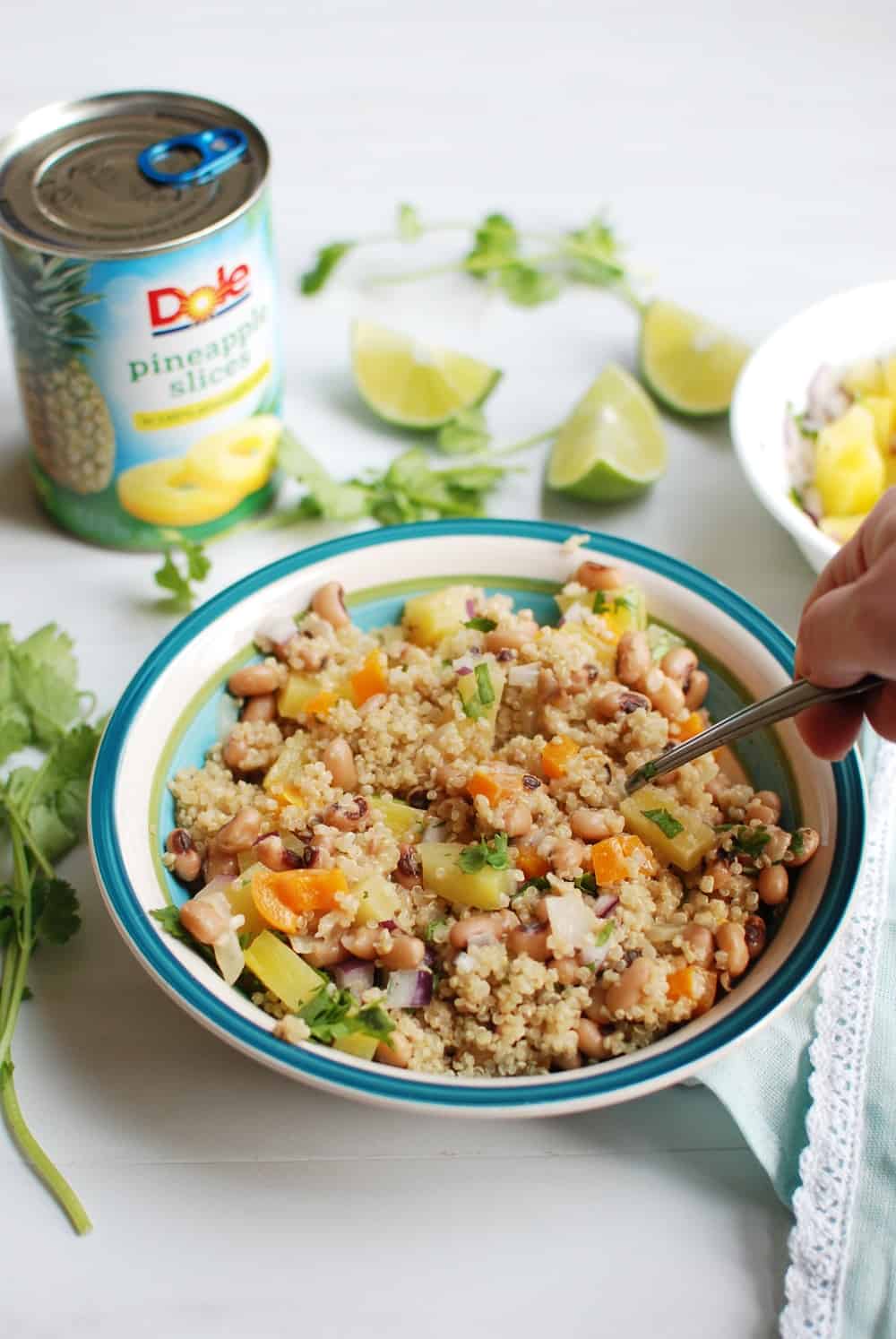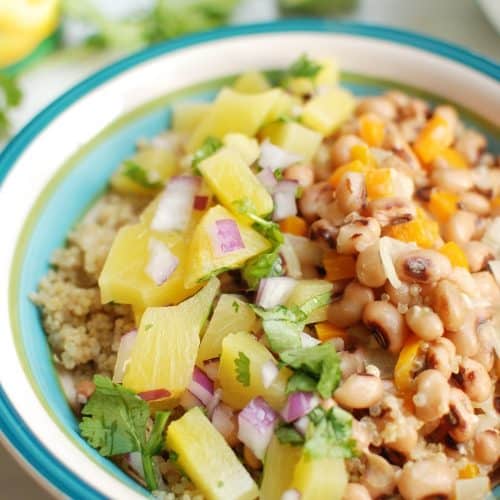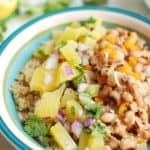 Vegan Black Eyed Peas and Quinoa with Pineapple Salsa
This vegan black eyed peas recipe is one of the best you'll ever have! Cajun season, coconut milk, and pineapple salsa bring tons of flavor to black eyed peas and quinoa.
Ingredients
Pineapple salsa:
1 1/2

cups

canned pineapple chunks in 100% Juice

(*reserve juice)

1/4

cup

diced red onion

1/4

cup

cilantro, chopped & loosely measured

1

lime, juiced
Cajun Black Eyed Peas and Quinoa
1

cup

dry uncooked quinoa

2

tsp

olive oil

1/2

cup

yellow onion, diced

1

medium bell pepper, diced

2

cloves

garlic, minced

2

15-oz

cans of black eyed peas

(about 3.5 cups; can also use dried beans that have already been soaked)

1

cup

canned coconut milk

1/4

cup

pineapple juice

(reserved from canned pineapple in salsa)

1-2

tsp

Cajun seasoning
Instructions
Prepare the pineapple salsa by combining the pineapple chunks, red onion, cilantro, and lime juice in a bowl. Set aside in the fridge until the rest of the meal is ready.

Cook 1 cup of dry quinoa according to package directions. When done, remove from heat and set aside.

Meanwhile, heat olive oil over medium-high heat in a medium pot. Add onion, bell pepper, and garlic. Cook for 3-4 minutes, or until vegetables start to get a bit tender.

To that pot, add black eyed peas, coconut milk, pineapple juice, and Cajun seasoning. Let simmer for 5-10 minutes.

Divide quinoa evenly among bowls, then top with black eyed pea mixture. Add pineapple salsa and enjoy!
Recipe Notes
Nutrition facts (approximate per serving; assumes 6 servings):
360 calories, 12 g fat, 8 g sat fat, 150 mg sodium, 53 g carbohydrate, 10 g fiber, 13.5 g protein, Vitamin A 14%, Vitamin C: 67%, Calcium: 6%, Iron: 30%, Potassium: 19%, Folate: 71%, Magnesium: 35%
Share with me:  Did you love these cajun and coconut vegan black eyed peas?  What's your favorite flavor-packed, filling meal?