Get ready because this cake batter dip is about to rock your world!  Not only does it taste reminiscent of those 1990's packages of Dunkaroos (who remembers those?!) – but this version is also dairy-free and can be made vegan friendly.  Yes, please!
How to make dairy free cake batter dip
You only need three simple ingredients to make this crazy good dip:
Dairy-free vanilla yogurt – I recommend using Forager Project Vanilla Cashewmilk Yogurt for this. They gave me a few free product coupons and I really liked the product, and it worked perfectly in this recipe.  Their whole line of products are plant-based and made from simple ingredients!
Dairy-free frozen whipped topping – You can find two great options on the market. So Delicious makes Original Coco Whip, which I find has an extremely similar texture to the traditional dairy counterpart.  It's my go-to, and is vegan-friendly too. Truwhip also makes a vegan version of their frozen toppings (but they produce dairy-based versions too, so you'll just want to make sure you select the vegan one if you're shopping for it).
Dairy-free confetti cake mix – While not every brand is dairy-free, many actually are! Dunkin Hines Signature Confetti Cake Mix (red box) did not contain any dairy ingredients at the time of purchase, nor did Annie's Confetti Cake Mix.  While I'm not personally vegan, at quick glance these appear to be vegan friendly too (by ingredients).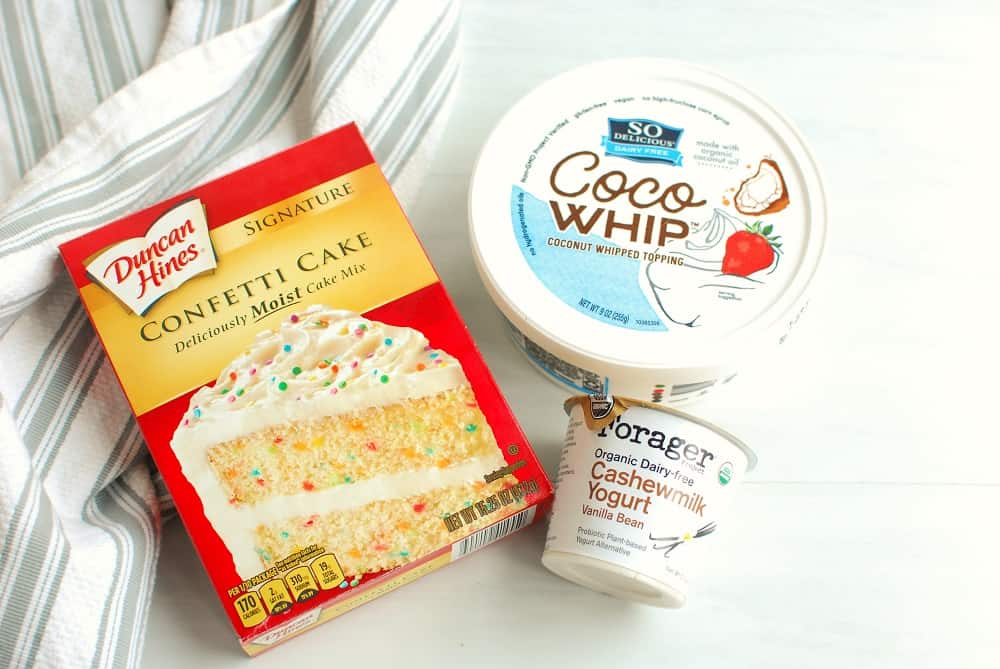 That's all you need!  To make the mix, you're going to start by heat treating the cake mix (see next section below for why to do this).
Once that's done, you just mix together the three ingredients and enjoy!
You can serve this cake batter dip with animal crackers, sliced apples, strawberries, pretzels, or any other dairy-free snack of your choice.  Of course, double check ingredient labels on any processed food you're using to dip.  And if you're vegan, make sure anything you choose fits your needs.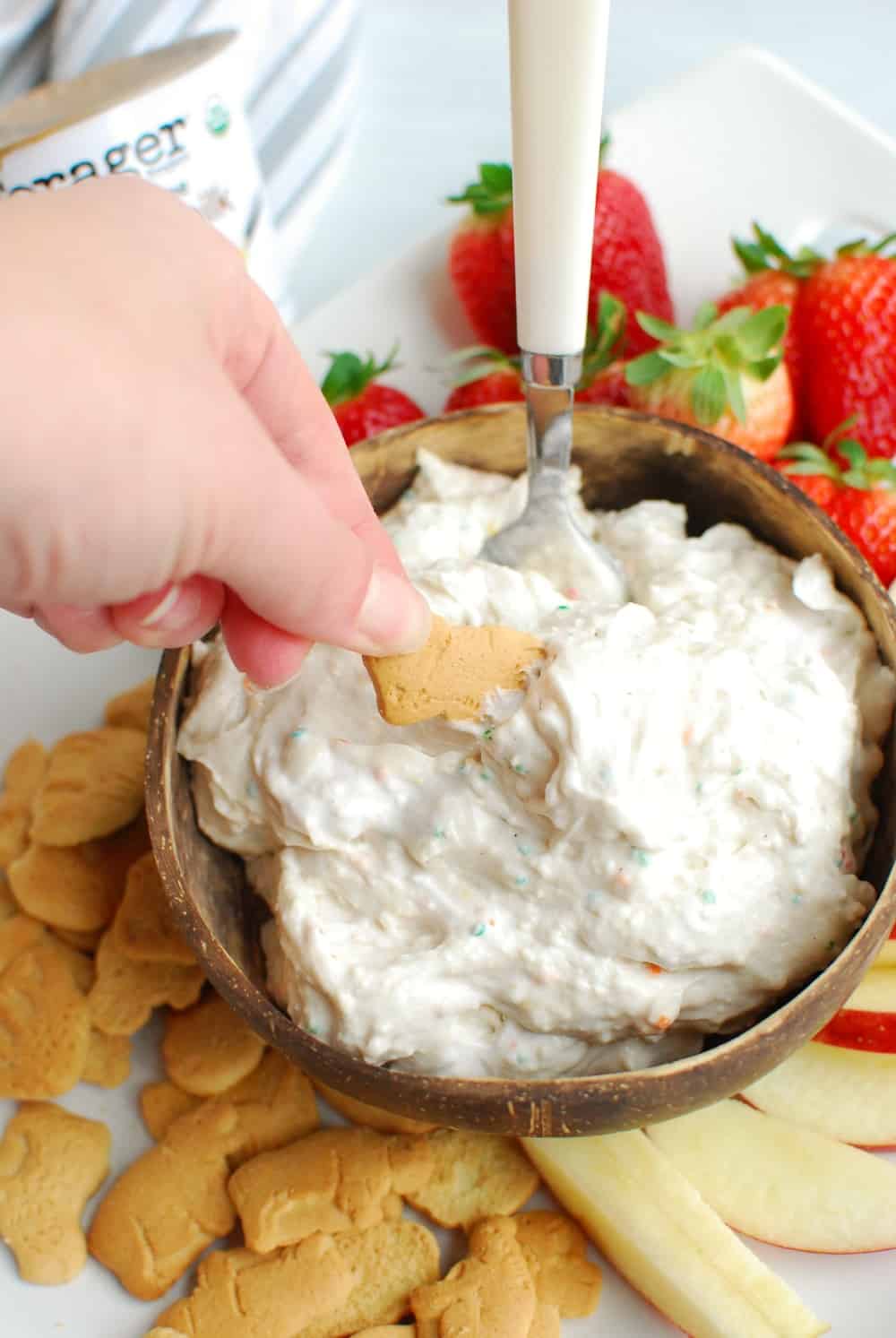 Why and how to heat treat cake mix
Many online recipes for cake mix dip call for just mixing a cake mix directly into any accompanying ingredients.  However, there's a food safety issue here.  Raw flour (which is present in almost all cake mix) has been known to occasionally be contaminated with bacteria.  The CDC put out an advisory about "saying no to raw dough" – not only because of raw eggs in traditional doughs, but also because of this flour risk.
However, there's an easy workaround here.  All you need to do is heat treat the cake mix!  When you do this, it brings the flour to a high enough temperature that should kill off any bacteria that could have been lingering in the mix.
I generally prefer heat treating in the oven – a technique I learned from my fellow RD pal and chef, Abbie Gellman.  She taught me that if you spread the cake mix on a baking sheet and bake at 375 degrees for 5 minutes, it should bring it to a high enough temperature to then use in dips (or edible cookie doughs, or any other use you'd like).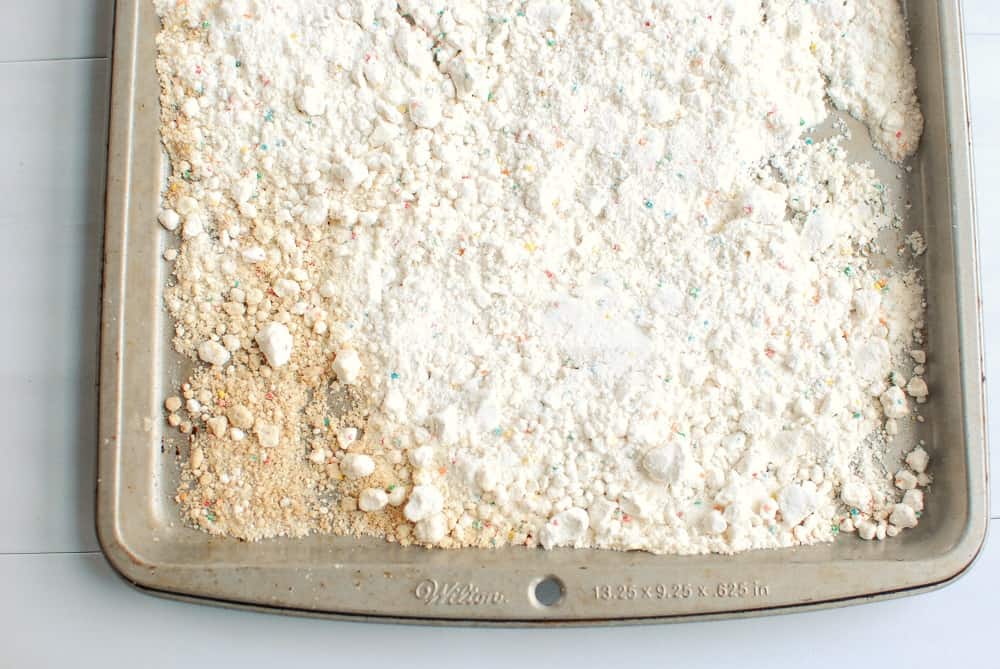 Keep an eye on it closely when using the oven, as sometimes oven temperatures can be slightly off. If there are a few darker spots, you can just spoon them off and toss that, retaining all the good stuff to use. If it's getting quite dark at 375 degrees, though, toss that batch and try baking another batch for 5 minutes at 350 degrees.
I like this oven method best because it almost toasts the mix, adding some depth of flavor.
But I also figured out that you can also heat treat the cake mix in the microwave if you're in a rush.  Place it in a bowl and microwave for 30 seconds.  Remove and stir, then cook an additional 30 seconds.  Use a food thermometer to take the temperature from the deepest part of the bowl – if it's at least 165 degrees, you're good.  If it's not there yet, keep using 20-30 second intervals until it reaches that temperature.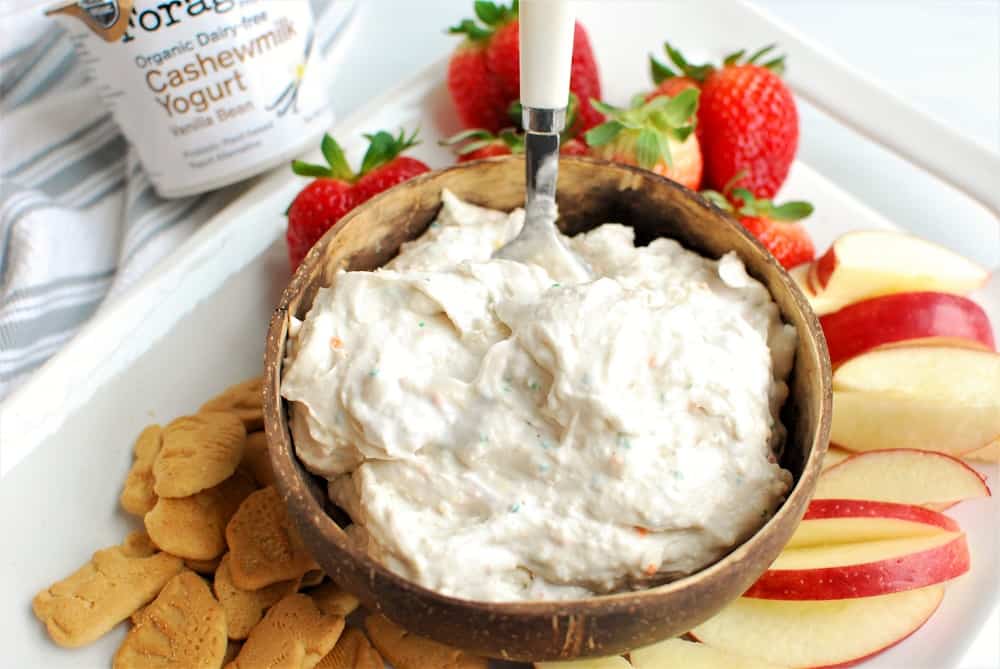 Allergens in this recipe
Disclaimer:  I try to note potential allergens in all recipes – but as you know, manufacturers can change ingredient formulations or I may miss something.  Always double check ingredients and labels prior to consuming if you have an allergy.
This recipe is naturally dairy free and egg free.
This recipe does contain wheat/gluten (in the cake mix) and tree nuts (in the yogurt).  Depending on the cake mix, it may contain soy.
Here are some suggested modifications for these needs:
To make soy free: Depending on the ingredients you choose, this recipe can also easily be made soy free.  The Dunkin Hines cake mix that I personally used for this does contain soy, but if you choose the Annie's confetti cake mix, that appears to be soy-free.  You would also want to make sure that your yogurt is not soy-based, and that you use SoDelicious Coco Whip (rather than TruWhip which contains soy).
To make gluten free:  If you need to make a gluten-free version, you'll need to find a gluten-free cake mix to use.  It can be difficult to find a confetti cake mix that is both gluten-free and dairy-free – however, you can easily substitute a gluten-free vanilla cake mix (like Simple Mills) in this recipe to make it gluten-free.  You can add sprinkles if you'd like!
To make nut free:  If you need to make a nut-free version, you can use a vanilla oat milk yogurt instead of cashewmilk yogurt.  If you cannot tolerate coconut as part of your nut allergy, you would want to swap out the SoDelicious CocoWhip for the TruWhip.
I hope you enjoy this recipe as much as my family did.  Seriously, my kiddo could not stop eating it, as you can see from the photo below – haha!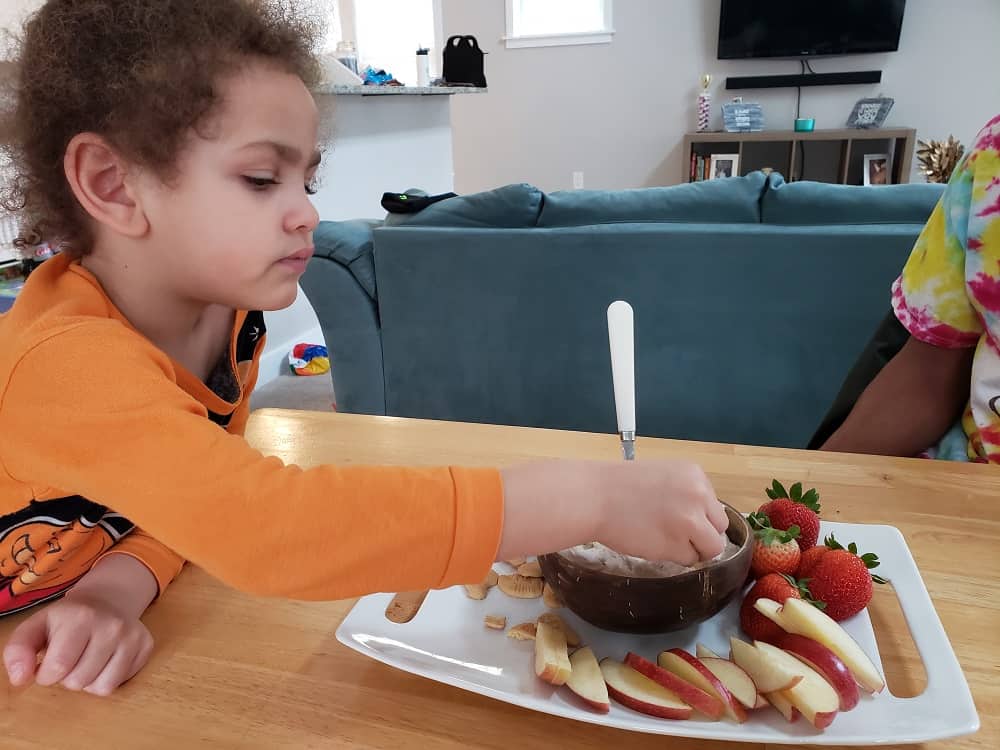 If you get a chance to try it, leave a recipe rating or comment below and let me know your thoughts.
PS – If you liked this recipe, you might like my dairy free sugar cookie bars too!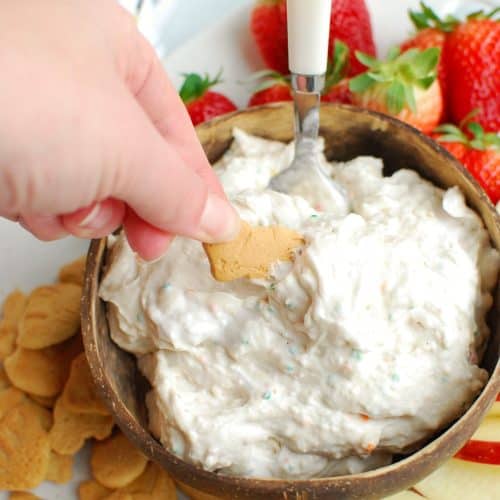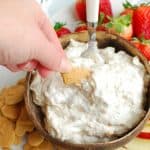 Cake Batter Dip
This cake batter dip is reminiscent of that dip from a container of Dunkaroos - but this version is also dairy free and vegan friendly!
Ingredients
1

cup

dairy-free confetti cake mix

5.3

ounce

container dairy-free vanilla yogurt

(I recommend Forager Project vanilla cashewmilk yogurt)

1 1/3

cups

dairy-free frozen whipped topping

(I used SoDelicious Coco Whip – this is about half of a 9-ounce container)
Instructions
Preheat the oven to 375 degrees.

Spread the confetti cake mix on a baking sheet, and bake for 5 minutes, monitoring closely*. Remove from the oven. If there are a few spots of cake mix that have gotten overly toasted, just spoon them out and discard. Let cool completely.

Mix the cake mix with the vanilla dairy-free yogurt and the dairy-free frozen whipped topping. Serve with fruit, animal crackers, pretzels, or anything else you'd like to enjoy with this delicious dip.
Recipe Notes
Notes:  *Remember, not every oven is calibrated equally. If your cake mix over-browns when baking, toss it and do a new batch at 350 degrees for the same amount of time. Each box of confetti cake mix generally contains around 3 cups of mix, so you have enough to work with if you need to repeat!
Nutrition analysis (approximate per serving):  136 calories, 6 g fat, 2.5 g saturated fat, 100 mg sodium, 20.5 g carbohydrate, 11.5 g sugar, 1 g protein, Vitamin A: 0%, Vitamin C: 0%, Calcium: 2%, Iron: 4%
Share:  What's your favorite indulgent snack?  If you tried this dairy free cake batter dip, what did you think?