This delicious vanilla gluten free dairy free cake recipe is perfect for birthdays, holidays, or just a special anytime dessert.  It comes together quickly and easily, and is made with common ingredients.
*Disclosure:  This post contains Amazon Affiliate Links. As an affiliate, I earn a commission on qualifying purchases.
How to make a gluten free dairy free cake
You might be surprised that this recipe is actually made with simple ingredients.  If you already follow a gluten free dairy free diet, you've probably already got all these on hand already.  If not, the few "specialty" ingredients are easy to find at any major grocery store!
For the vanilla cake, here's what you'll need:
Vanilla almond milk
Vinegar
Sugar
Brown sugar
Honey
Vanilla
Egg
Canola oil (or another oil of your choice)
Gluten free all-purpose flour
Cornstarch
Baking soda and baking powder
Salt
If you're just starting a gluten free diet, you may be wondering what type of flour to buy.  You want to look for a gluten free all-purpose flour substitute.  These are generally a blend of several different types of flour, and measure cup for cup like regular all-purpose flour.
For this particular recipe, I used NOW Foods Gluten Free Flour, which is a blend of White Rice Flour, Brown Rice Flour, Organic Tapioca Flour, Potato Starch, Potato Flour, and Cellulose.  But you can also use another blend of your choice, including a few of my other favorites – Jovial Gluten Free Flour or King Arthur Gluten Free Flour.
(Side note – NOW is a client I work with often, so if you need to order anything from them, like flours, protein powders, or anything else, you can use code CHRISSYNOW10 for $10 off a $40 purchase on their website!).
Alright, once you've got your ingredients, you only need a few minutes to mix up your batter.  You'll start by making a homemade dairy free "buttermilk" by mixing the almond milk with the vinegar.  Let that sit for a few minutes.
While that's sitting, beat together you sugar, brown sugar, honey, vanilla, egg, and oil.  I used canola oil here but you can really use whatever neutral oil you'd like, or you can also use softened dairy-free butter.
After that, stir in your flour, cornstarch, baking soda, and baking powder.  If you want to do it true baker style you can mix those in another bowl first, but honestly I always just directly add everything into the bowl with the wet ingredients and it always comes out fine.
Add your almond milk mixture, stir everything until it's combined, and your batter is ready!
You'll want to pour this into two greased 9-inch cake pans.  That size works best for this recipe, but if you only have 8-inch cake pans, you can use them.  You'll need to probably adjust the baking time a little bit to bake a smidge longer.
Bake 'em up and you've got yummy vanilla cake.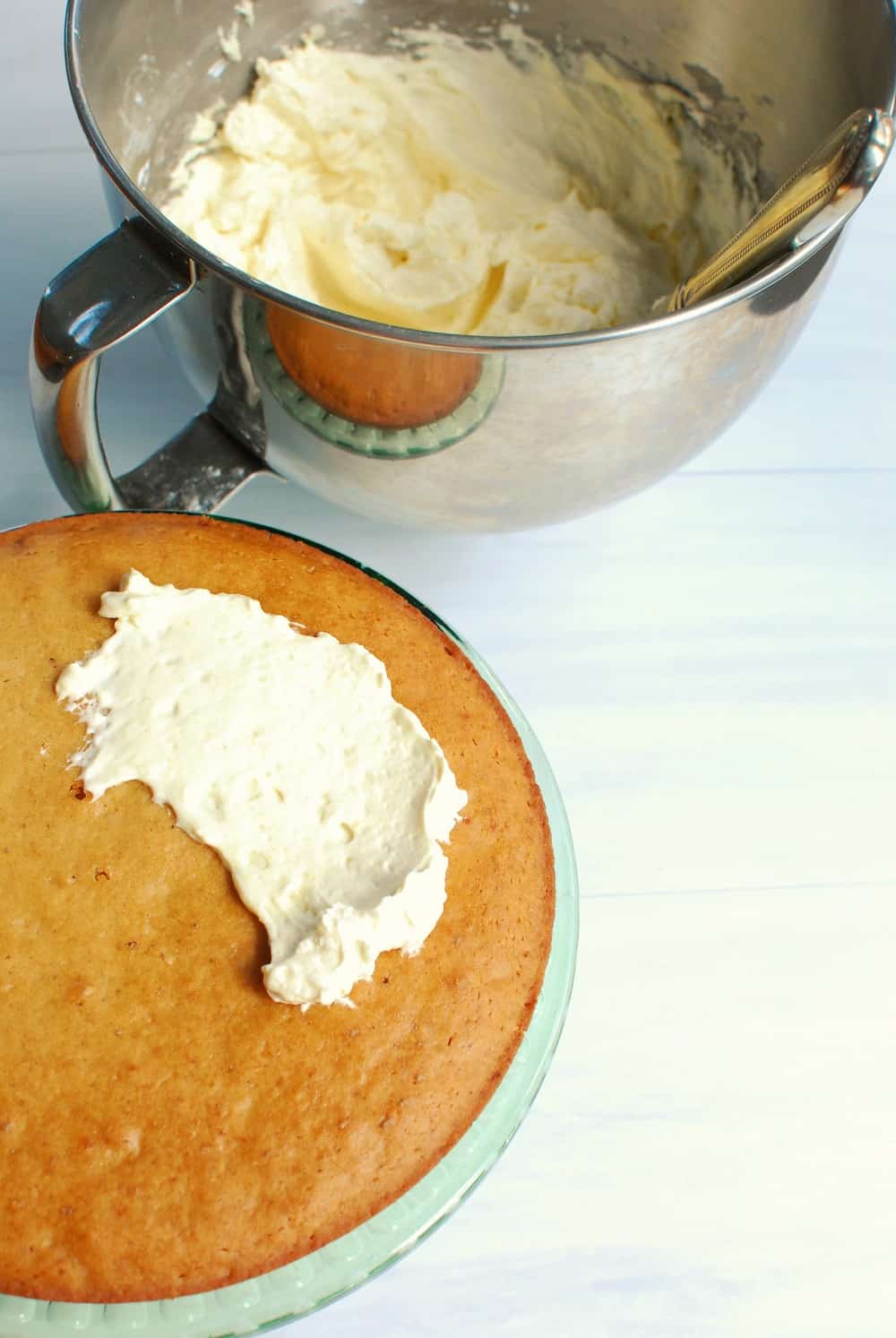 How to make vanilla buttercream frosting
The last step is to make the vanilla buttercream frosting.  For this, you'll need:
Dairy-free butter (like Earth Balance or country crock plant butter sticks)
Powdered sugar
Vanilla almond milk
Vanilla extract
You want to wait to frost the cakes until they're completely cool.  If you frost them while warm, this frosting will melt.  Heed that warning from my own past failures, friends! 😉
To make the frosting, you'll just combine the ingredients in a bowl and whisk them together with a stand mixer or hand mixer.  You want the consistency to be very light and fluffy, so give it a minute or two to really incorporate air and help get that texture.
Once it's ready, you'll frost the first cake, then layer the second one on top like this: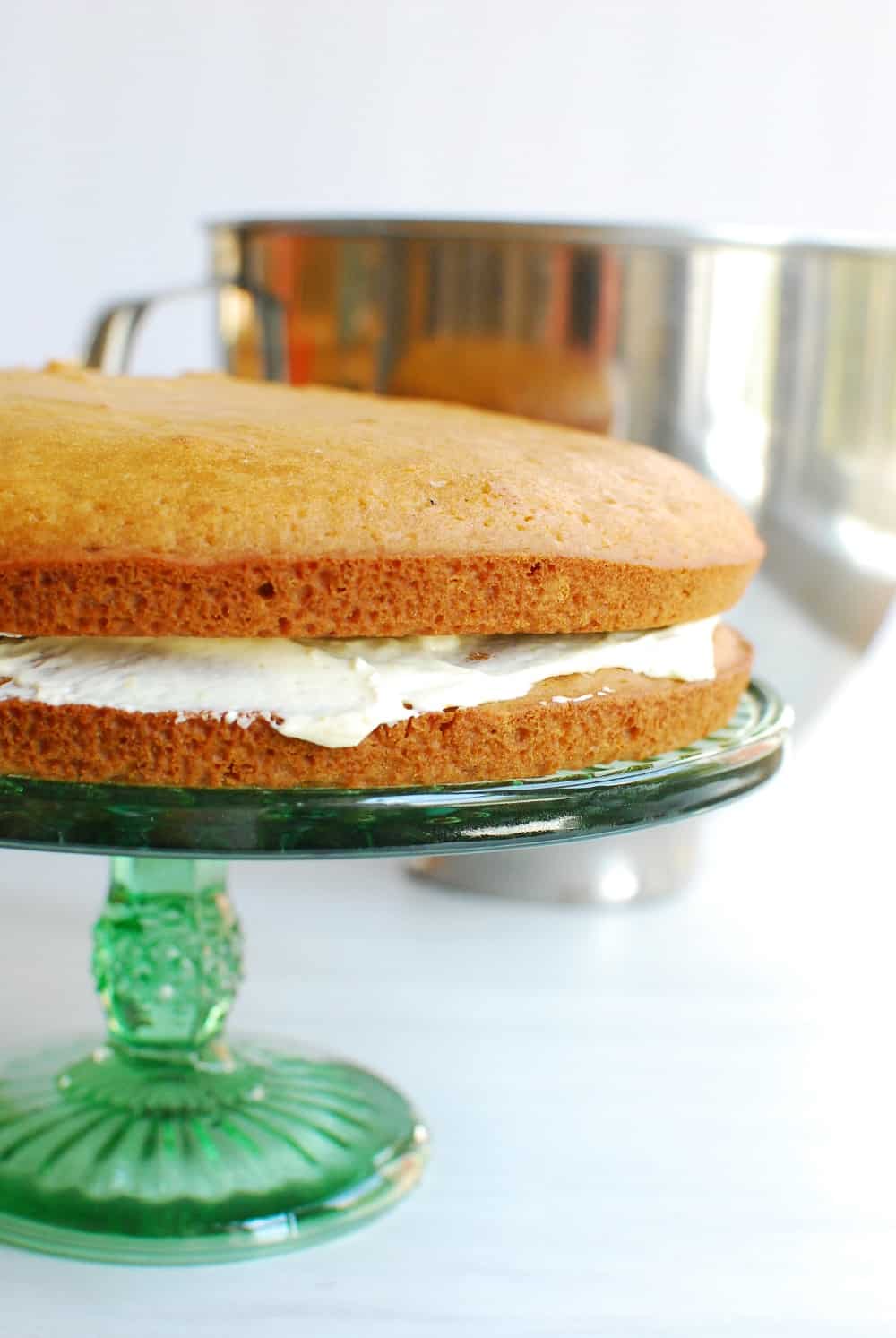 Then, frost up the top and sides of the entire cake.  YUM!
Allergens in this recipe
Disclaimer:  I try to note potential allergens in all recipes – but as you know, manufacturers can change ingredient formulations or I may miss something.  Always double check ingredients and labels prior to consuming if you have an allergy.
This recipe is dairy free and gluten free.
As long as you choose a flour that is soy-free (like the NOW Foods brand that I used and mentioned above) and a vegan butter that is soy-free (like the red tub of Earth Balance) – it's also a soy-free recipe.
This recipe does contain eggs and tree nuts.  The egg is fairly essential to the structure here, so it may be tough to try to modify that.  If you do and find a way to do it successfully, feel free to leave a comment!
Removing tree nuts from this recipe is easy though – just use vanilla oat milk in place of the almond milk, and you've made the recipe nut-free.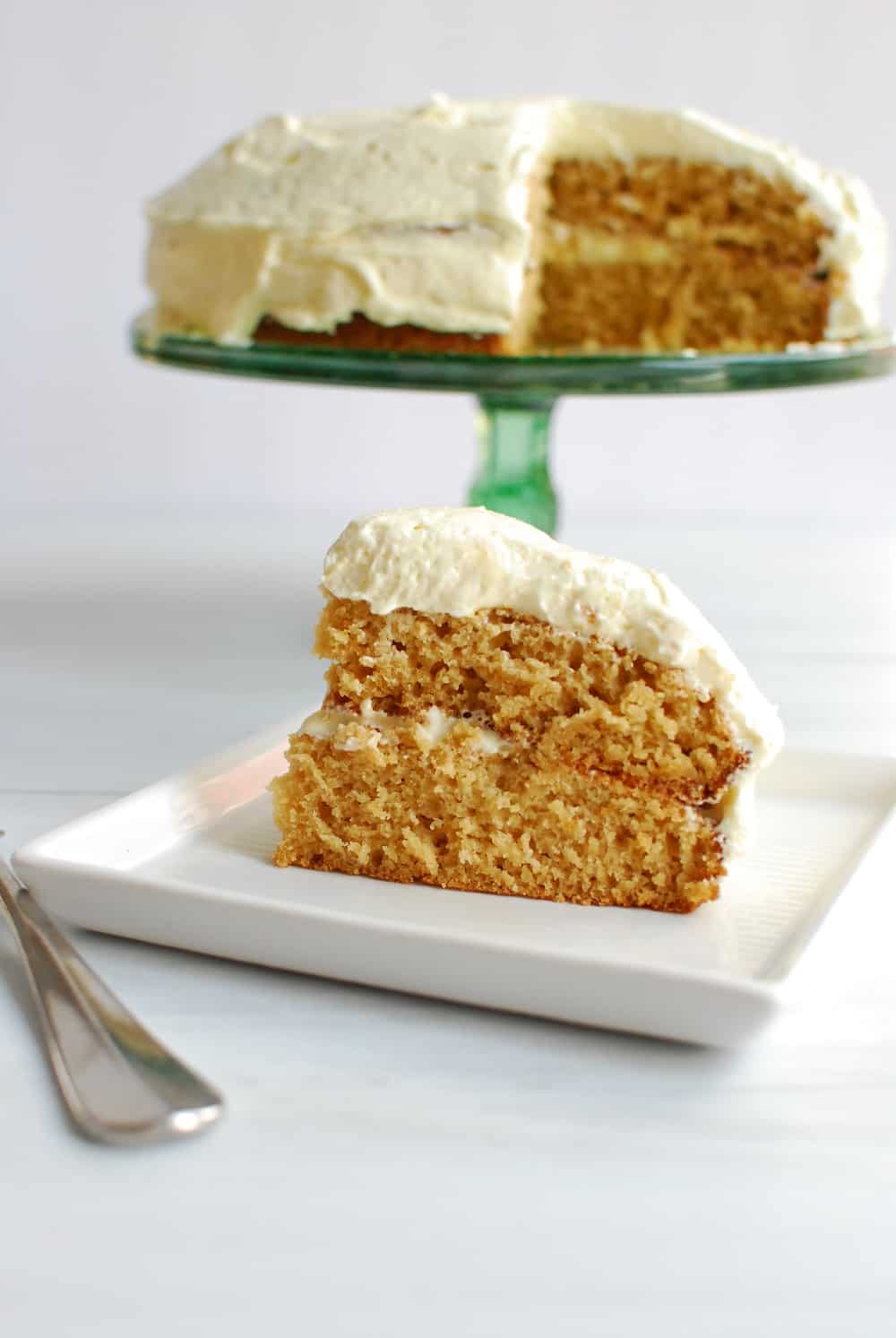 More Gluten Free Dairy Free Desserts
If you want more delicious desserts that fit your dietary needs, here are a few ideas!
I hope you enjoy this dairy free cake as much as my family does!  If you get a chance to try it, be sure to leave a recipe rating or comment below.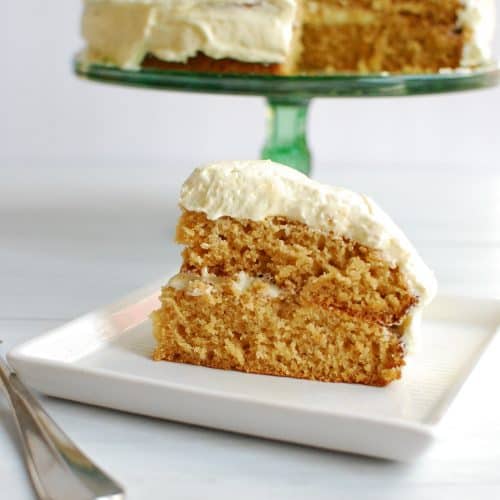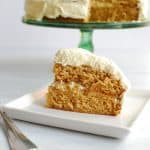 Vanilla Gluten Free Dairy Free Cake
This delicious vanilla gluten free dairy free cake is perfect for birthdays, holidays, or any time you need a special dessert!
Ingredients
Vanilla Cake:
1 1/2

cups

vanilla almond milk

2

teaspoons

vinegar

3/4

cup

granulated sugar

1/4

cup

brown sugar

2

tablespoons

honey

1

tablespoon

vanilla extract

1

egg

1/2

cup

canola oil

(or another oil of your choice)

2

cups

gluten-free all-purpose flour

3

tablespoons

cornstarch

1

teaspoon

baking soda

1

teaspoon

baking powder

1/2

teaspoon

salt
Vanilla Buttercream Frosting:
2/3

cup

dairy-free butter

(i.e. Enjoy Life red tub or another option; double check to ensure gluten-free)

3 1/2

cups

powdered sugar

1

tsp

vanilla

2 to 4

tablespoons

vanilla almond milk
Instructions
Preheat the oven to 350 degrees. Grease two 9-inch cake pans with canola oil.

Combine the almond milk and vinegar in a glass. Let sit for 5 minutes.

In a large bowl, combine the granulated sugar, brown sugar, honey, vanilla, egg, and oil.

Add the gluten-free flour, cornstarch, baking soda, baking powder, and salt to the bowl. Pour in the almond milk mixture, and stir everything until combined.

Pour the batter into the pans and bake for 22 minutes, or until a knife pulls out clean from the center. Let the cakes cool for about 15 minutes in the pan, then place a plate on top of each pan and invert to remove each cake.

When the cakes are completely cool, make the frosting. In a large bowl, combine the dairy-free butter, powdered sugar, vanilla, and 2 tablespoons almond milk. Beat using the whisk attachment on a stand mixer or hand mixer until light and fluffy.

Spread the frosting on top of one cake, then place the other cake on top. Frost the top and sides of the layered cake. Enjoy!
Recipe Notes
Nutrition analysis (approximate per slice): 432 calories, 16.5 g fat, 2.5 g saturated fat, 315 mg sodium, 69 g carbohydrate, 3.5 g fiber, 1.5 g protein, Vitamin A: 2%, Vitamin C: 0%, Calcium: 9%, Iron: 1%
Share:  What's your favorite kind of cake?  If you tried this dairy free gluten free cake, what did you think?