Craving a peanut butter sweet treat?  Try these insanely good almond flour peanut butter cookies!  They're vegan friendly (yep, dairy free and egg free!) and are also gluten free – yet these are still packed with rich flavor and sweetness in a perfectly soft cookie.
Disclosure:  This post may contain affiliate links.  As an Amazon affiliate, I earn a commission on qualifying purchases.  It does not affect your user experience in any way.
How to make almond flour peanut butter cookies
These cookies are super easy to make.  You'll start by making a "flax egg" – aka ground flax seed mixed with hot water.  Just mix these together in a small bowl and then let it sit for a few minutes.  The consistency becomes a bit gelatinous, similar to the consistency of an egg.  This works very well in many baked goods as an egg substitute.  Here's what it looks like: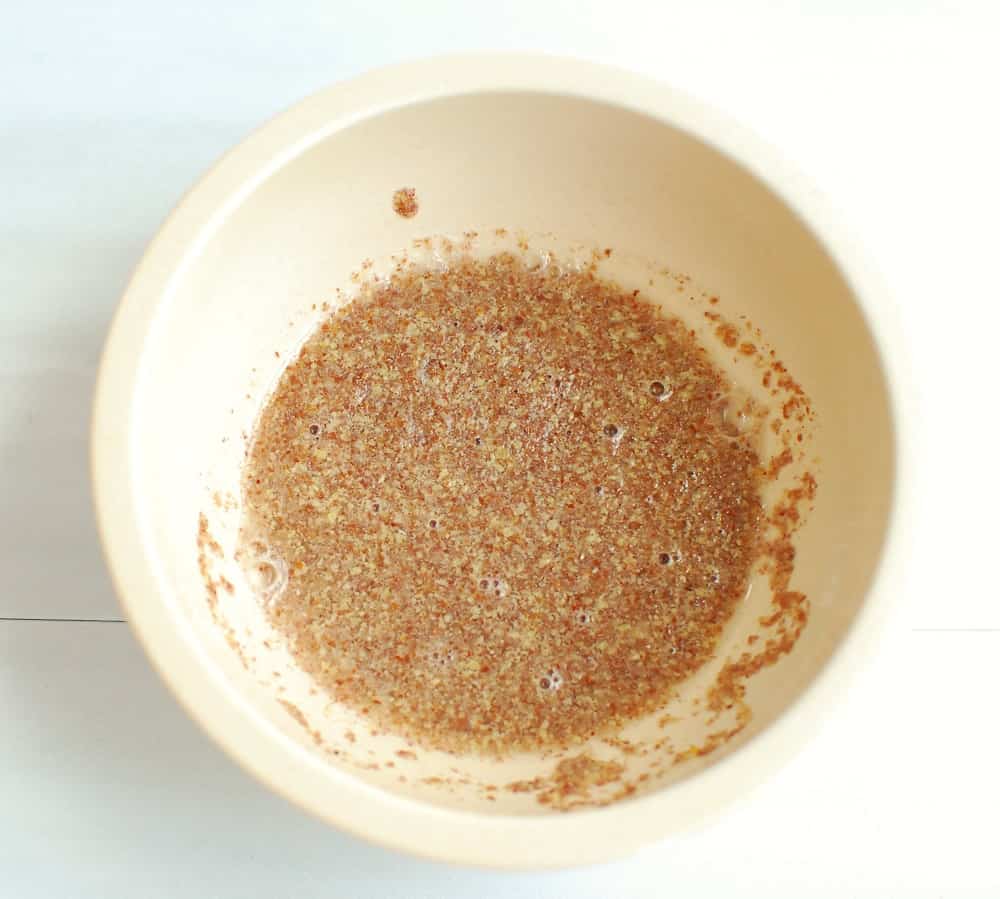 After you make your flax egg, you'll mix together the rest of your ingredients along with that.  Here's the other ingredients you'll need:
Peanut butter
White sugar
Brown sugar
Almond flour
Baking soda
Salt
Almond milk (or another milk alternative)
Your cookie dough will look like this: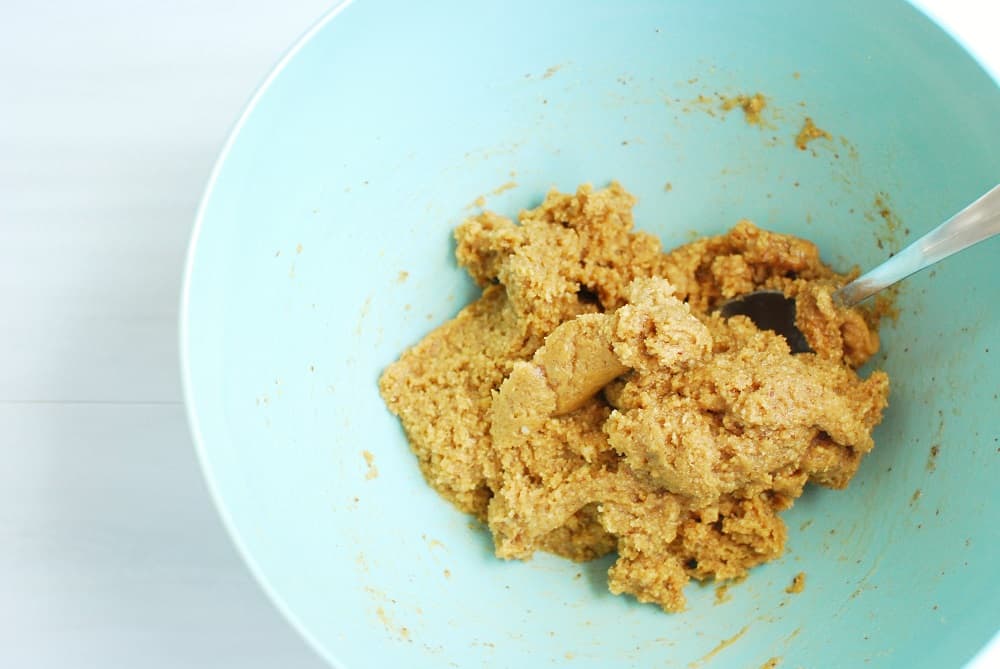 Then just spoon out 12 balls of cookie dough, place them on your baking sheet, and bake them in the oven!  I recommend using either parchment paper or a silicone baking mat on your cookie sheet.  I have these silicone baking mats and use them all the time.  They're very convenient.
After 10-12 minutes, you'll have delicious almond flour peanut butter cookies.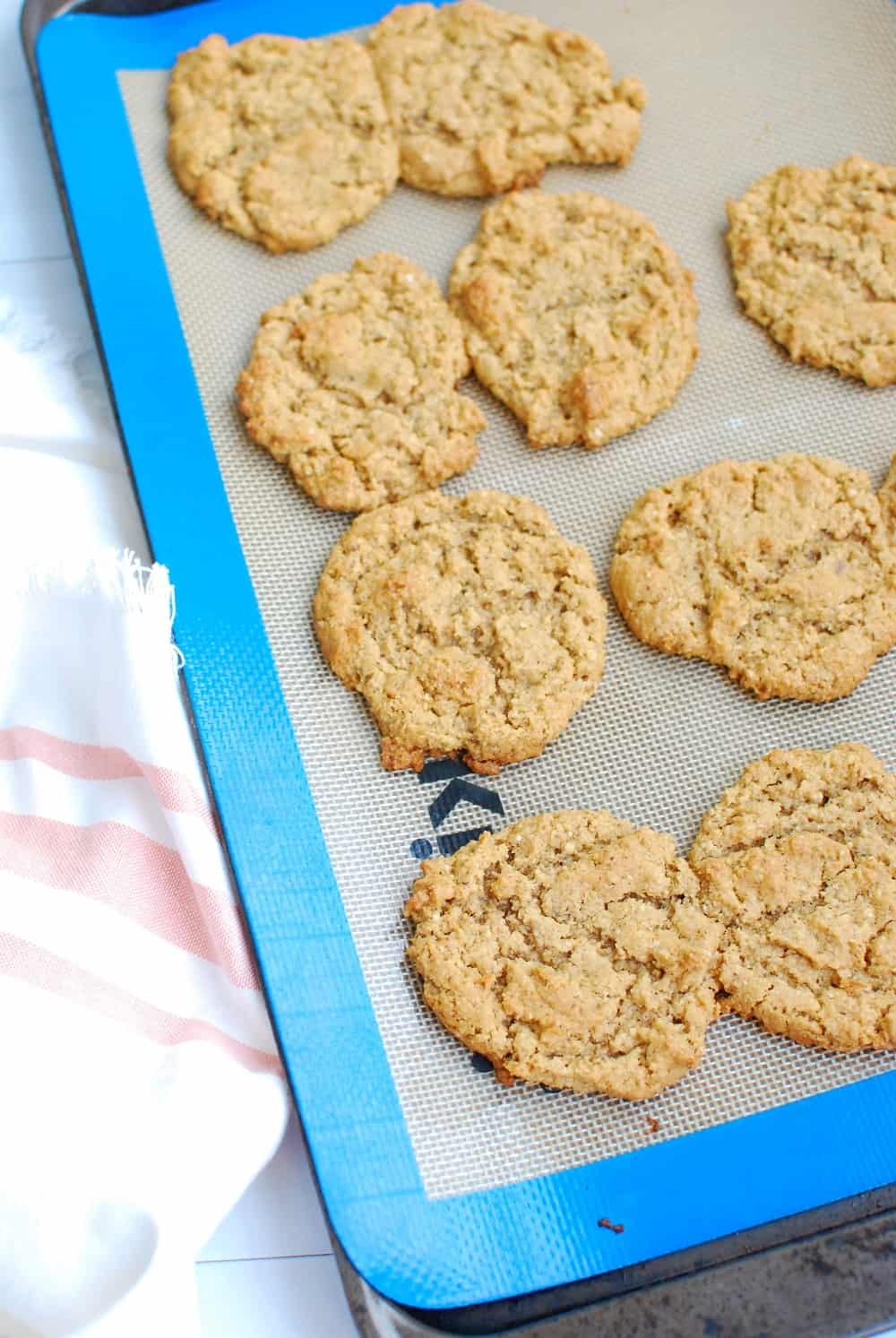 Helpful tips:
–Super important – after your cookies have baked, you want to let them cool completely on the cookie sheet before you take them off to eat them.  If you try to remove the cookie from the sheet only a few minutes after you pulled them from the oven, the cookie will fall apart in your hands.  I have learned this from experience. 😉  But if you allow them to cool for about 30 minutes completely, they'll hold together well.
–Also, although I didn't showcase it in the photos, you can also dip these peanut butter cookies in dairy free chocolate if you'd like.  I do that around the holidays (ya know, when I'm trying to make things extra fancy, haha) and they are just extra delicious that way.
–These taste delicious with a glass of vanilla almond milk or oat milk on the side!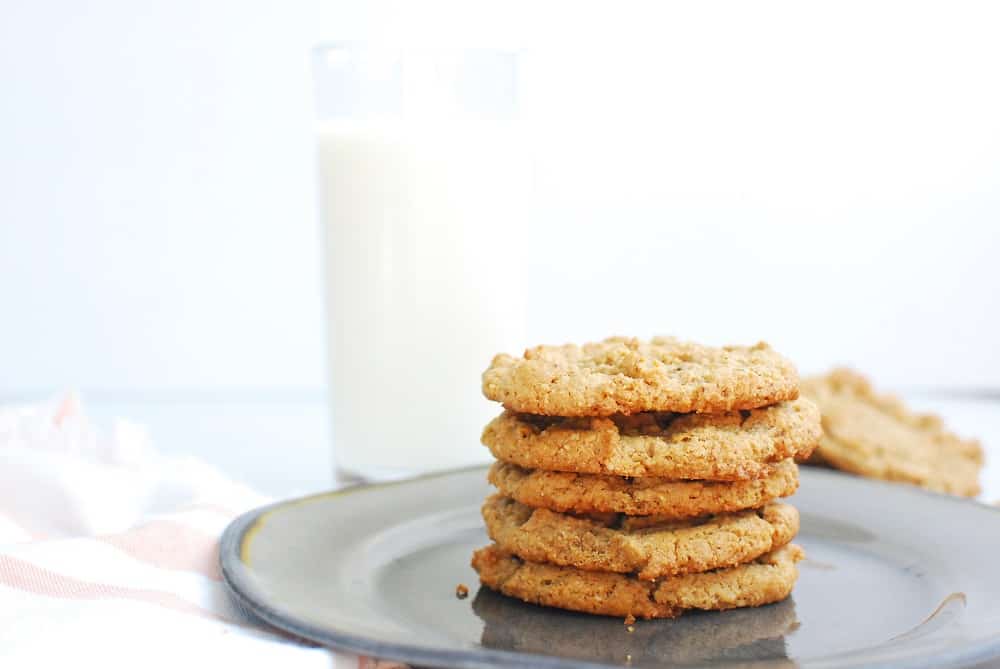 Allergens in these vegan peanut butter cookies
This recipe is naturally dairy free, egg free, and gluten free!  It does contain peanuts (hopefully obvious as they're peanut butter based, haha) and tree nuts (from the almond milk).
If you have a tree nut allergy but can tolerate peanuts, you can easily just sub the almond milk for oat milk to make this recipe.
If you have a peanut allergy, this recipe is probably not the best choice for you.  You might be able to try making it with sunbutter though I've never tried it that way.
A note on sugar for vegan eaters
If you are a strict vegan that avoids all animal byproducts, you'll want to keep an eye out for vegan-friendly brands of white sugar and brown sugar.  Some brands of sugar are processed using a filtering system that involves bone char from animal bones.  If you avoid all animal products and want to avoid that as well, simply look for vegan-friendly brands of sugar that are processed differently.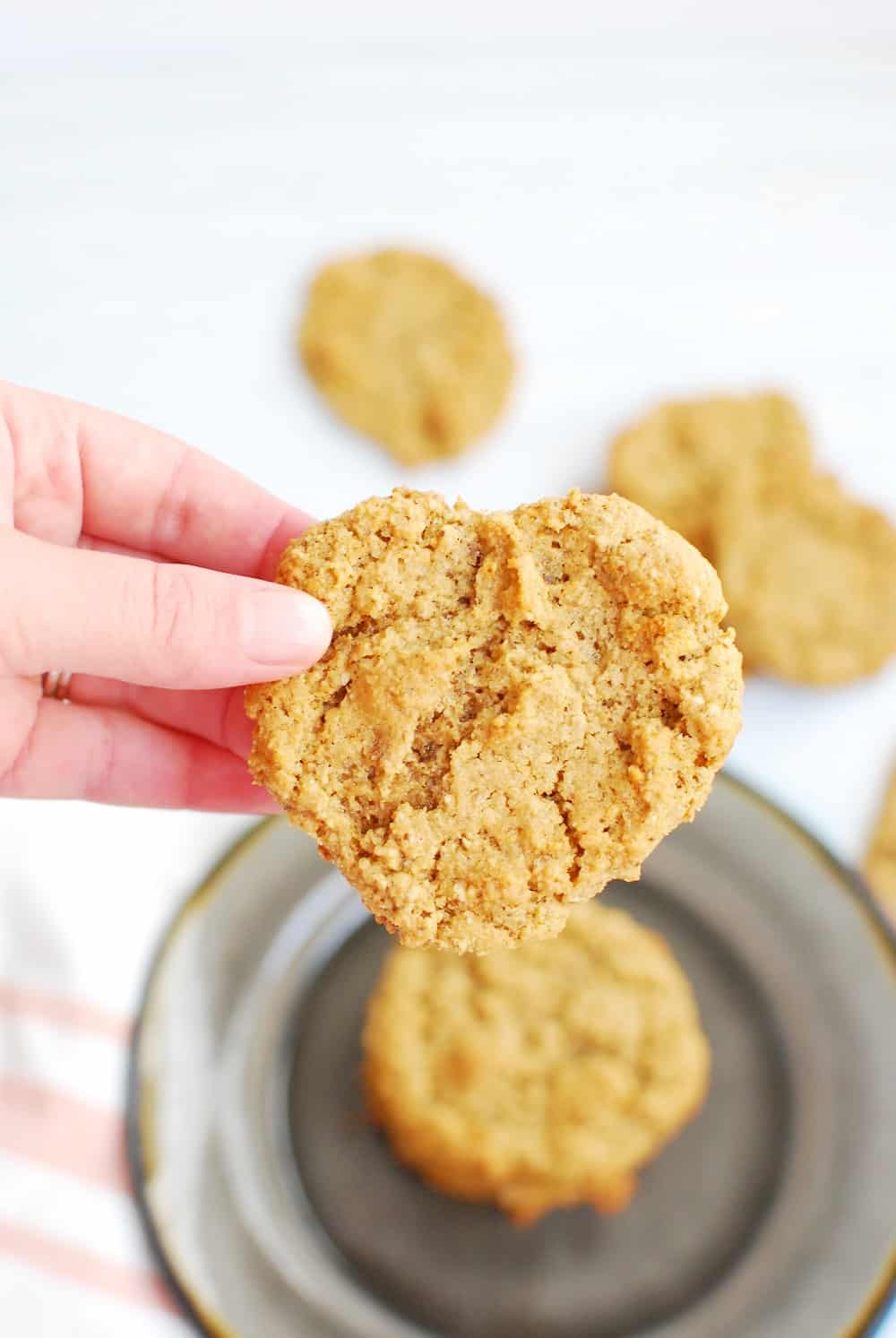 Don't feel like baking today?
If you're not in the mood to bake, here's some store-bought peanut butter cookies that are dairy free and vegan-friendly.
Note that some of the cookies contain soy and wheat, and some may have cross-contamination warnings for dairy (important if you have a severe allergy).  I've provided the allergen info I could find below but always review the package label before purchasing or consuming.
Even though you've got those store-bought options available, I highly encourage you to give these delicious almond flour peanut butter cookies a try!  I think you'll love 'em.
Looking for more vegan dessert recipes?
If you're looking for more vegan desserts, try one of these other great options from the site:
Enjoy!! 🙂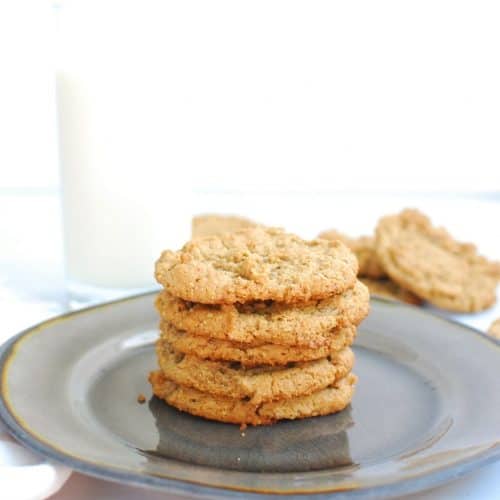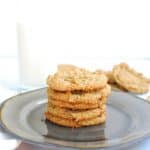 Vegan Almond Flour Peanut Butter Cookies
Craving a peanut butter sweet treat?  Try these insanely good almond flour peanut butter cookies! 
Ingredients
1

tbsp

ground flax seed

2 1/2

tbsp

hot water

1/2

cup

peanut butter

1/4

cup

white sugar

1/4

cup

brown sugar

1/3

cup

almond flour

1/2

tsp

baking soda

1/4

tsp

salt

2

tsp

almond milk
Instructions
Preheat the oven to 350 degrees. Line a cookie sheet with a silicone baking mat or parchment paper.

Combine the ground flax and hot water in a small bowl. Set aside for 5 minutes.

In a large mixing bowl, stir together the peanut butter, white sugar, and brown sugar. Next, mix in the almond flour, baking soda, salt, almond milk, and flax/water mixture.

Portion out the dough into 12 cookies on the baking sheet. Bake in the 350 degree oven for 10-12 minutes, or until they look golden brown near the edges.

Let cool completely before removing from the cookie sheet. Enjoy!
Recipe Notes
If desired, you can also dip these into dairy free chocolate after they've cooled completely.
Nutrition facts (approximate per cookie):
118 calories, 7 g fat, 1 g sat fat, 150 mg sodium, 12 g carbohydrate, 1 g fiber, 10 g sugar, 3 g protein, Vitamin A: 0%, Vitamin C: 0%, Calcium: 2%, Iron: 2%
Share:  What's your favorite kind of cookie?  If you tried these vegan almond flour peanut butter cookies, what did you think?