Whether you have a food allergy, an intolerance, or simply choose to follow a gluten-free, dairy-free diet, finding snacks to fit your needs can be tricky. In this post, you'll find more than 40 gluten-free dairy-free snack ideas to get you started!
From easy snack pairings to store-bought snacks to homemade recipes, we've got all the options here.  You'll also learn what ingredients to avoid in packaged products and find tips for building satisfying, filling snacks.
How to Shop for Dairy Free Gluten Free Snacks
Luckily these days, there are actually a lot of dairy free gluten free snacks on the market, as well as recipes you can make yourself.  If you're just starting to eat with these restrictions, you might feel a little overwhelmed though!  Here are some tips when you're shopping for snacks at the store:
First, let's start with dairy, because that's the easier one.  Dairy is one of the top 8 food allergens, so it must be listed on a food label – either in plain language or in a "Contains: Milk" statement.
If you don't see any dairy in the ingredients or in an allergen statement, you can rest assured that it should be fine to eat.  Just don't forget to thoroughly look at the ingredients – manufacturers do not have to use the contains statement as long as it is clear in the ingredients.
Gluten is a little trickier, because manufacturers are not legally required to label for gluten itself (though they do have to label for wheat, so if you see that listed, it's easy to exclude those).  The Gluten Intolerance Group has a complete list of ingredients to avoid, as well as a handy reference card that you can also download and use when eating away from home.
If you are avoiding gluten due to celiac disease or a sensitivity, look for the following options when shopping:
Whole-foods – for example, fruits, veggies, nuts, seeds, etc.
Products that are minimally processed with no gluten ingredients, and that are unlikely to be cross-contaminated – for example, plain canned tuna or peanut butter.
Processed foods that are labeled as "certified gluten-free." If a manufacturer uses this claim, they must comply with the FDA definition that the product has less than 20 parts per million (ppm) of gluten.
Also, be aware of products that include a statement about possible cross-contamination. Just because a product doesn't include ingredients with gluten doesn't mean that the product has not been contaminated with gluten during processing.
With both dairy and gluten, don't be afraid to reach out to the manufacturer either.  They'll often be able to give you more details about cross-contamination or clarify questions you have about a label.
20+ Store-Bought Gluten Free Dairy Free Snacks
Let's start with some options that are easy for grab-and-go snacking.  All of these can be found at either a major supermarket, or online at Amazon.
*Disclosure:  This section contains Amazon Affiliate Links. As an affiliate, I earn a commission on qualifying purchases.
*Disclaimer:  This list is for informational purposes only and should not be construed as medical advice. At the time of publication, I believe these foods do not include dairy or gluten ingredients. However, food manufacturers can change their formulas and manufacturing processes at any time, or it is possible I may have missed an ingredient.  You should always double-check the labels prior to consuming.
Bars
Chips, Crackers, & Salty Snacks
Cookies, Graham Crackers, & Baked Goods
Dairy-Free Yogurts
Fruits, Veggies, Nuts, and Other Options
Remember that any whole, unprocessed fruit or veggie is a safe snack!  Experiment with new options you may have skipped over in the past – maybe a pomegranate, sugar snap peas, or starfruit is next to try!
Dried fruit – Raisins, dried mango, dried pineapple, and dried apples are all easy sweet treats that are great for kids and adults alike.
Nut butter packs – I can't be the only one that gets those little Justin's cashew butter and almond butter packs and just eats 'em out and about, right?!  Perfect to toss in your purse for a satisfying snack.
Pickles and olives – Both are great for a salty but still healthy snack!  Plus, you can find these at literally any grocery store – no specialty shopping needed.
Applesauce – Again, easy to find anywhere and great for kids and adults.  I'm cheap so I generally get a big 'ol tub for the fridge, but you can grab the little single-serve packs or pouches too.
NOW Foods honey roasted pecans – I work with NOW regularly – I seriously love these pecans!  For snacking or salads or granola, they're so good.
10 Simple Homemade Snack Ideas
Of course, outside of pre-made store-bought snacks, you can easily create your own delicious and healthy snack combinations.  Here are a few simple quick ideas, and then you'll find more in-depth recipes below!
1. Nut or seed butter with rice crackers. There are so many nut and seed butters to choose from, so this snack is very versatile. Switch it up with pumpkin seed butter, pecan butter, sunflower seed butter, or even watermelon seed butter. You can also make your own by grinding nuts or seeds in a food processor. If your rice crackers are flavored, make sure they don't have any dairy in the seasoning.
2. Roasted chickpeas. Chickpeas, or garbanzo beans, are an all-in-one snack! They're packed with fiber, protein, and carbohydrates. You can make your own at home by tossing chickpeas (drained and rinsed) with a little oil and gluten-free seasonings, then roasting at 400°F for about 20-30 minutes.
3. Dairy-free yogurt with gluten-free granola. There are so many options for dairy-free yogurt today, so pick your favorite! Popular non-dairy yogurts are made from coconut, soy, almonds, and even cashews. Pair with certified gluten-free granola (or make your own!) for a nice crunch.
4. Cucumber slices or zucchini slices and hummus. Get in a whole serving of veggies with this snack! Cucumber or zucchini slices make the perfect vessel for hummus, which packs a punch of protein. You can make your own hummus by blending canned chickpeas (drained and rinsed), tahini, lemon juice, garlic, olive oil, and a little salt in a blender or food processor. Store-bought hummus is also a convenient option!
5. Stovetop Popcorn. Did you know that popcorn is a whole grain? A gluten-free diet makes it trickier to get in those whole grains, so popcorn is a great option. Try popping your own corn kernels in a large pot on the stove with a little oil, then sprinkling with salt. Nutritional yeast is also a delicious dairy-free cheese-flavored topping, or you can get creative with other seasonings too (I love chili lime).
6. Tortilla chips, veggies, and guacamole. Tortilla chips may be the first thing that comes to mind when you think of guacamole, but veggies also make excellent dippers and provide some extra fiber and vitamins.  Choose whichever you prefer, and dig into that avocado goodness.  To make guac at home, I usually just mash an avocado with lime juice – but you can also add in jalapenos, chopped tomatoes, and seasonings too.
7. Rice cake with nut or seed butter and banana slices. Rice cakes are an easy gluten-free option and can be found in most grocery stores. However, they don't do much to fill you up when eaten alone. Make it a snack by pairing with your favorite nut or seed butter for protein and banana slices for carbohydrates and fiber.
8. Smoothies. Combine a liquid base (like dairy-free milk, juice, or coconut water) with frozen fruits and leafy greens and you've got an easy, nutrient-packed snack!  Smoothies are just about the only way my 4 year old will eat kale or spinach, so I'll take what I can get! 😉  You can add in other things like nut butters, chia seeds, flax seeds, coconut, beets, carrots…the list is endless.
9. Overnight oats. Oats aren't just for breakfast!  Overnight oats made with certified gluten-free oats and dairy-free milk can also make a great snack. Experiment with add-in's, such as chia seeds, berries, nut or seed butter, or mashed banana.
10. Hard-boiled egg. Y'all remember that little jingle about the incredible edible egg?!  It's totally true – eggs are packed with nutrition, including protein and essential vitamins and minerals. Grab one for a quick small snack, or pair it with something else for a more complete balanced snack.
12 Gluten Free Dairy Free Snack Recipes
If you really want to get fancy, try whipping up one of these tasty gluten free dairy free snack recipes.  They take a little more time and effort, but are delicious!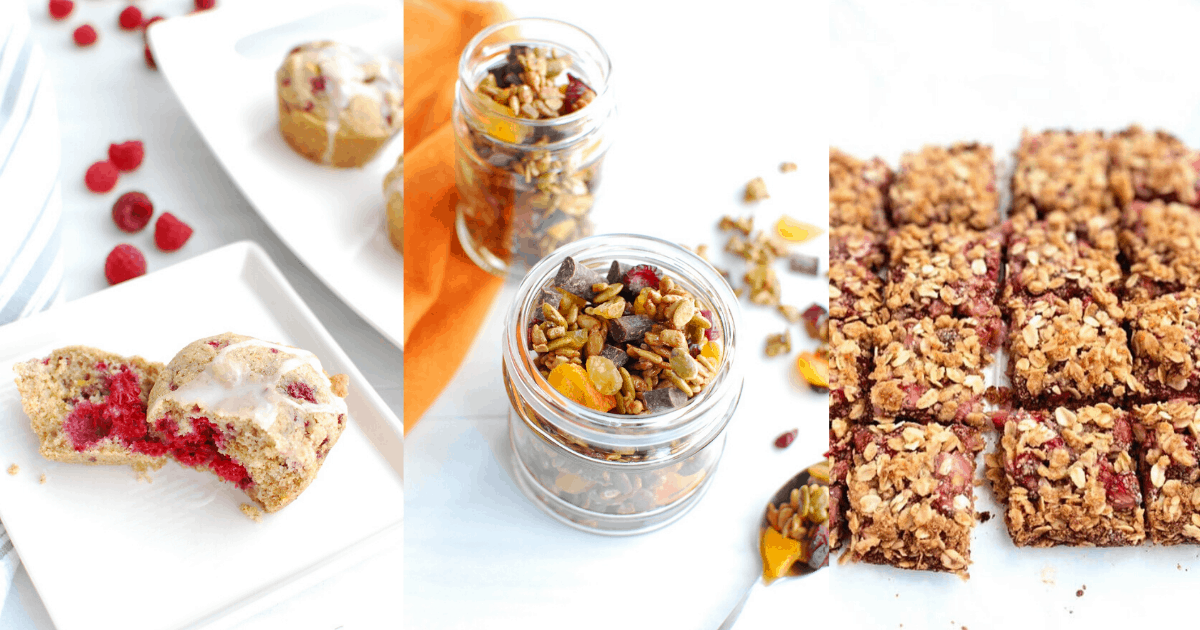 1. Gluten Free Raspberry Muffins – After picking some raspberries at a local farm, I was inspired to make these tasty muffins!  They're sweet and delicious and are topped with a lovely little lemon glaze.
2. Maple Glazed Trail Mix – This homemade trail mix is quick to make and is top-8 allergen free.  It's a great option to prep ahead on the weekend and then enjoy all week long by the handful.
3. Strawberry Oatmeal Bars:  These Strawberry Oatmeal Bars are delicious! They're gluten free, vegan, and easy to make-perfect for a nourishing dessert or whenever you're craving a little something sweet.  The recipe calls for a low-sugar sweetener called Swerve, but you can also just use regular sugar.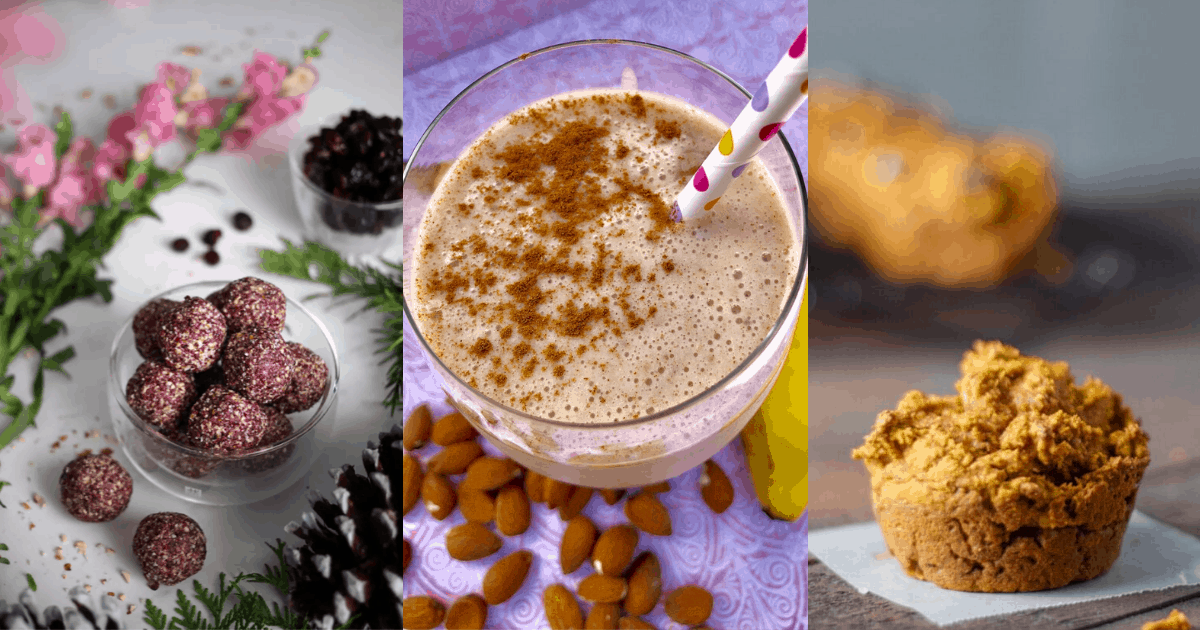 4. No-Bake Cranberry Energy Bites:  These 4-ingredient no-bake cranberry energy bites are gluten – and dairy- free, taste heavenly, and make an ideal snack before dinner or post-workout.
5. Banana Nut Smoothie:  Not sure what to do with all of your ripe bananas? Freeze them to have on hand when you have a hankering for a healthy snack. This banana nut smoothie can be mixed in minutes, is packed full of good nutrition, and actually tastes like a milkshake!
6. No-Added-Sugar Pumpkin Muffins: These pumpkin muffins are an easy recipe featuring oats, pumpkin, dates, and eggs. They make a perfect snack for mom or baby!  Just be sure to use certified gluten-free oats if needed.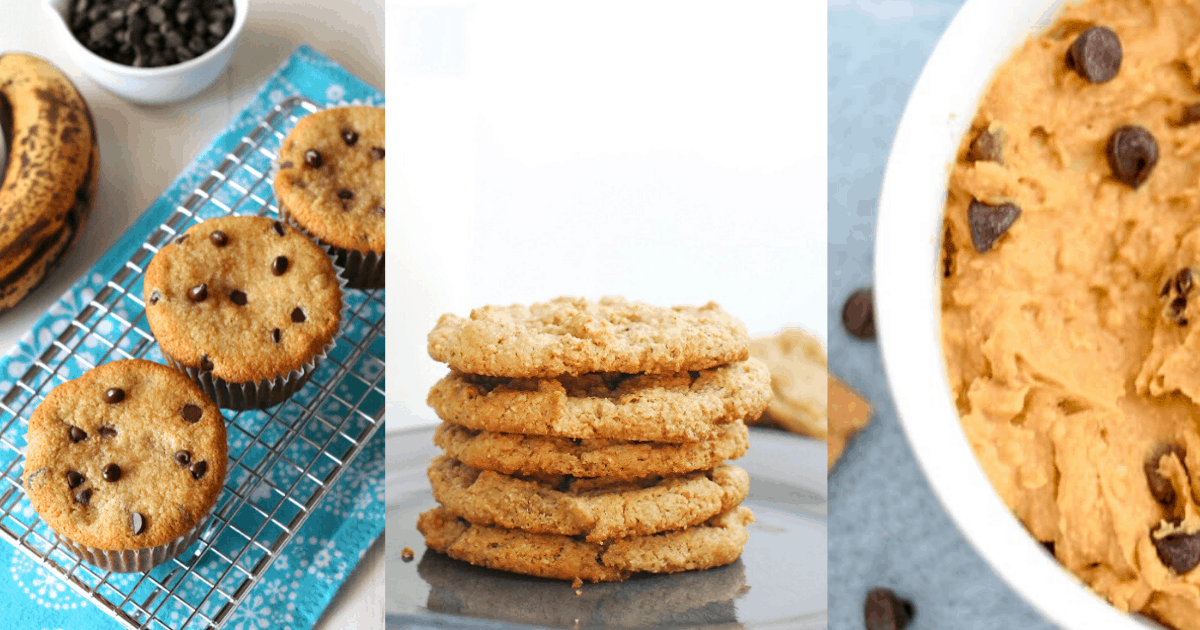 7. Banana Chocolate Chip Muffins: No one will miss the gluten or dairy in these gluten-free, dairy-free banana chocolate chip muffins! They're perfect for breakfast, a snack, or even in your kids' lunch boxes!
8. Vegan Gluten Free Peanut Butter Cookies:  Though these don't have gluten or dairy (or eggs) – they're packed with delicious flavor and that classic chewy peanut butter cookie texture!
9. Sweet Potato Vegan Cookie Dough: This is the perfect appetizer for your sweet tooth. This no-bake cookie dough is made with all natural ingredients and goes perfectly with fruit, chocolate, and gluten-free graham crackers, making it one of the best healthy vegan desserts!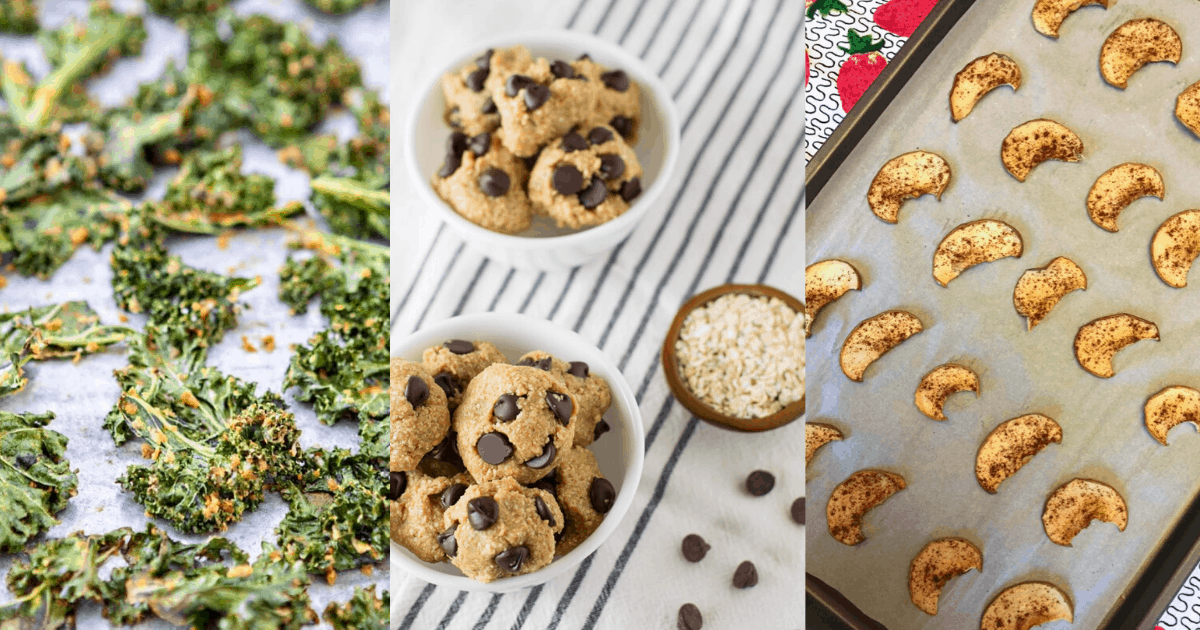 10. Kale Chips: These "Cheesy" Kale Chips are a great, healthy way to satisfy your cravings for something salty and cheesy. Nutritional yeast gives them a nutrient-rich cheesy flavor without any added dairy.
11. Almond Butter Protein Bites: These bites have a lot of good things going for them…they're portable, sweet enough without loads of added sugars and offer a good source of protein to help you stay fuller longer!
12. Baked Apple Chips: Healthy apples turn into healthy chips! These apple chips are made with pure apple slices sprinkled with cinnamon.  I haven't tried these yet but can't wait to give 'em a whirl.
I hope this list provided you with some tasty snack ideas to get you started! Be sure to save or pin this post so you can refer to it later.
Share:  Do you have any other delicious gluten free dairy free snack ideas?  If so, share 'em below!