These gluten free vegan raspberry muffins are perfect for a Sunday brunch or for sweet snack during the day.  Made with easy, simple ingredients – you'll love this allergy-friendly recipe.
We were lucky to go raspberry picking last weekend to get some fresh raspberries, which is what inspired this recipe.  If you've never gone before, I highly recommend it.  You'd be amazed at how much sweeter the berries are when picked fresh compared to what you usually get at the grocery store.  I couldn't believe how many berries the farm still had left this late in the season!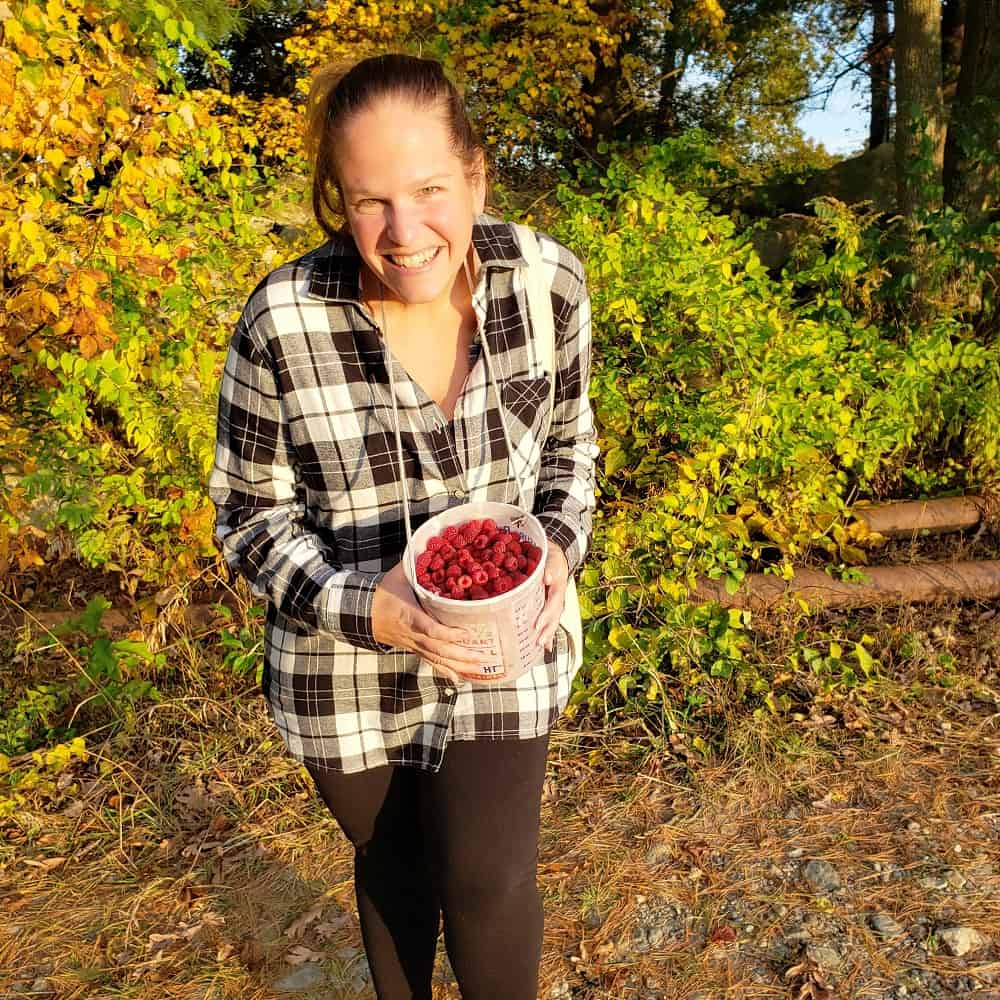 How to make gluten free vegan raspberry muffins
Let's get cooking!  You probably have most of what you need to make these already in the pantry or fridge.  Let's start with the ingredients you'll need for the muffins themselves:
Ground flaxseed
Lemon juice & zest
Sugar
Almond milk (or oat milk)
Vegetable oil (or oil of your choice)
Gluten free flour
Baking powder
Baking soda
Salt
Raspberries
You'll start by making a "flax egg."  This is made by combining ground flaxseed and hot water together.  When you let it sit for a few minutes, the texture becomes very similar to that of an egg.  This will help bind the ingredients together and prevents the muffins from being too crumbly.  Here's what it looks like: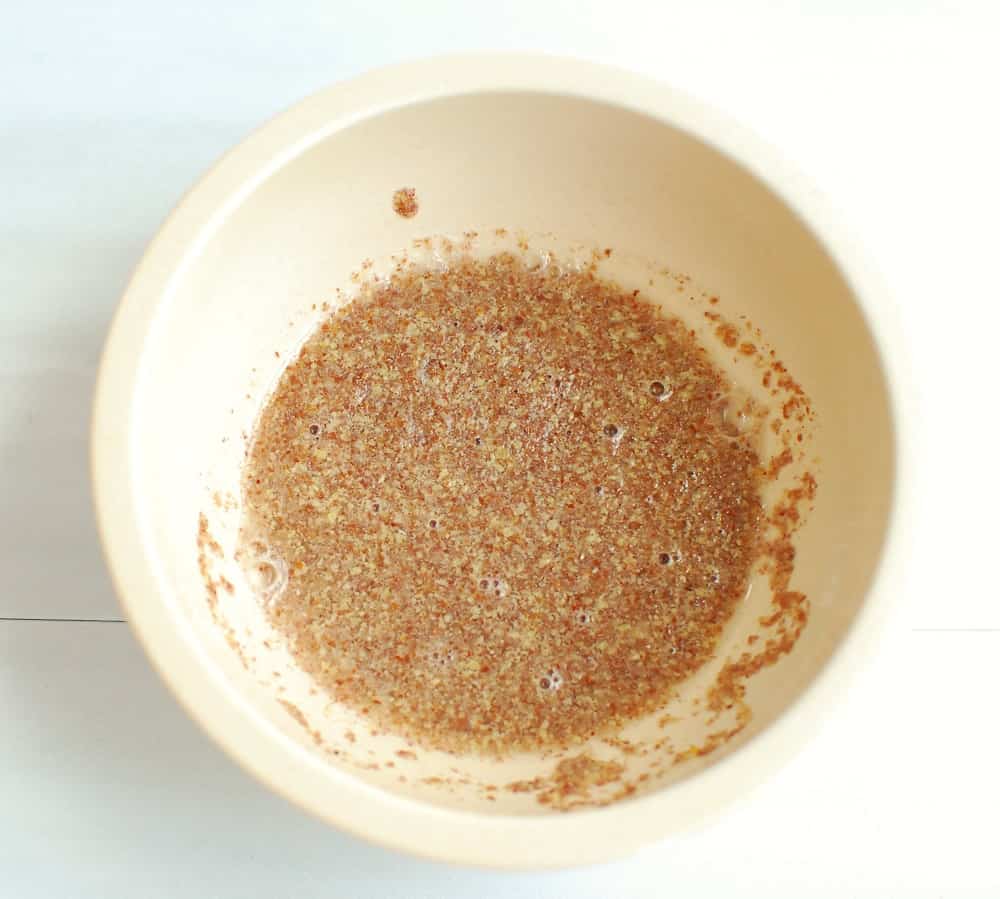 While your flax egg is set to the side for a few minutes, you'll get out another large mixing bowl and combine the lemon juice, zest, and sugar.  You want to mix this quite well to thoroughly combine these ingredients.  This will help the oils and flavor from the lemon zest become evenly distributed throughout the muffins (so you have that lovely berry & lemon flavor in each bite).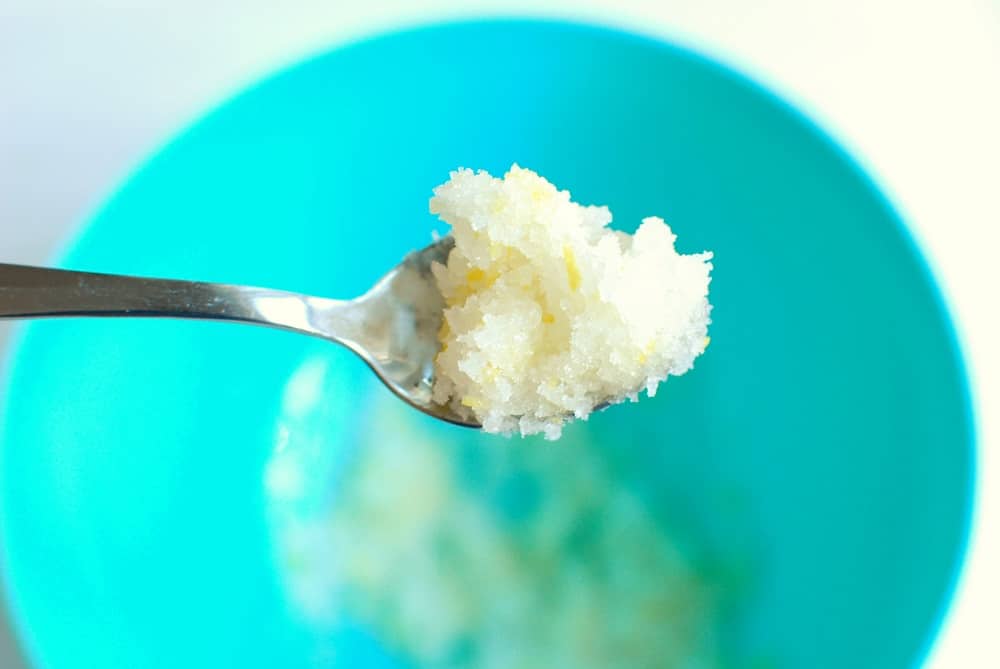 Now, go ahead and add your flax egg to that bowl, along with your almond milk and vegetable oil.  Stir or whisk everything to combine it.
Next you'll add your dry ingredients – the gluten free flour blend, baking powder, baking soda, and salt.  Give everything a few stirs to make sure it's all mixed together, but don't overmix.
Lastly, fold in your raspberries, then pour the batter in a muffin tin and bake 'em!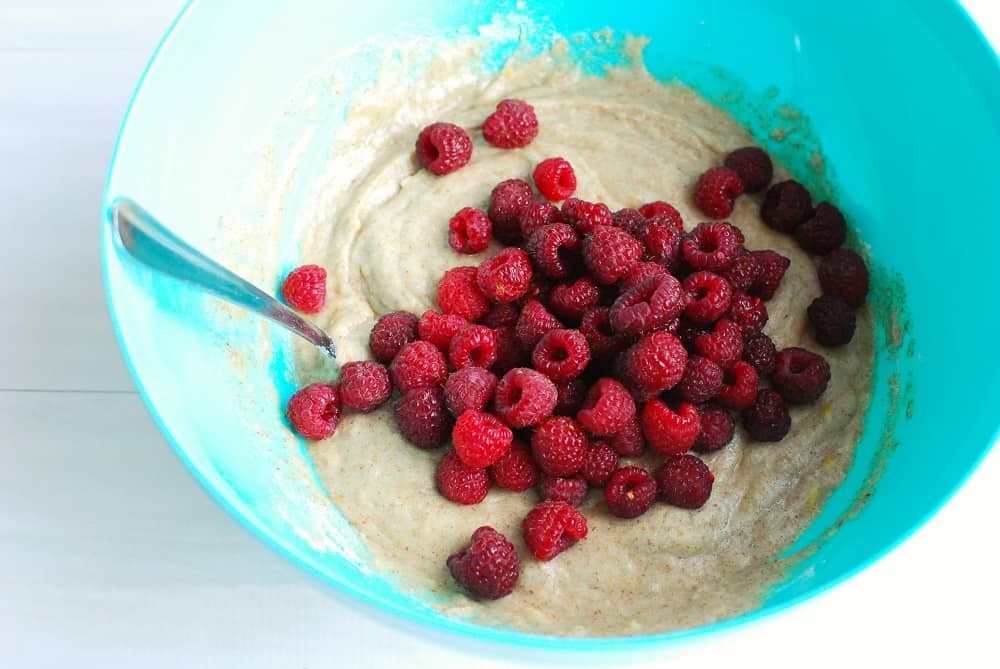 Once your muffins are done, you'll want to let them cool down before removing them from the pan.  While they're cooling you can whip up your glaze.  You only need two ingredients for this:
Powdered sugar
Lemon juice
Stir these together in a bowl and they'll form a lovely, slightly tart but oh-so-sweet glaze.  You can drizzle this on top of your muffins.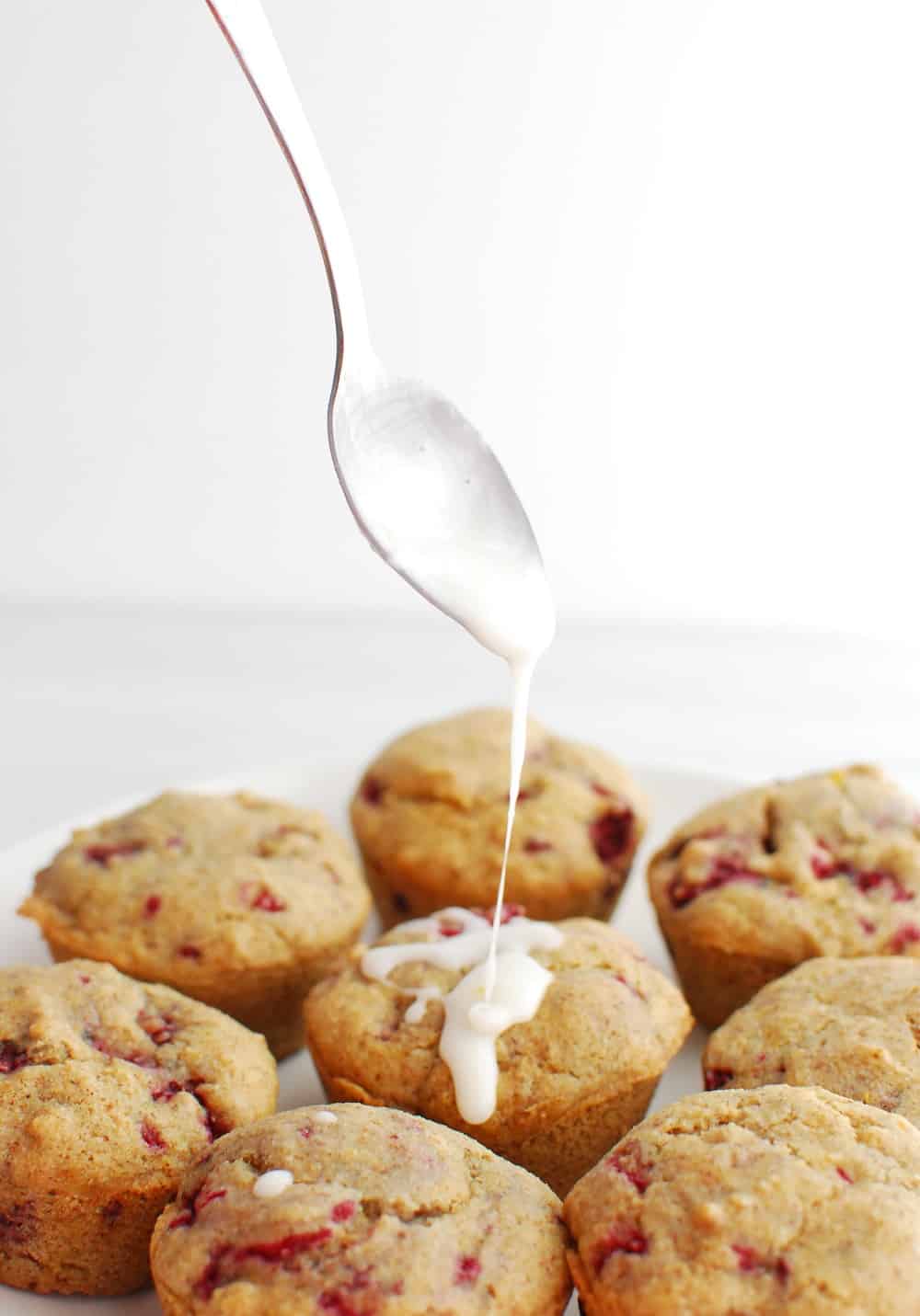 Now just try to stop yourself from digging in!
Helpful tips
Keep your ground flaxseed in the refrigerator between uses; it will last longer that way.
Don't have a zester?  Neither do I!  Instead, use a peeler to remove the outer part of the lemon.  You want to try to get just the yellow part of the peel; not the white pith underneath.  Once you've got several slices of peel from the lemon, chop it up finely into small pieces with a chef's knife.  Boom – zest!
If you're new to gluten free flour blends, I highly recommend either Jovial's whole grain gluten free pastry flour, or King Arthur's gluten free flour blend.  Both work very well in this dish.
If it's not in-season for raspberries, you can definitely use frozen ones instead of fresh.  You don't even need to defrost them; just toss 'em in the batter still frozen.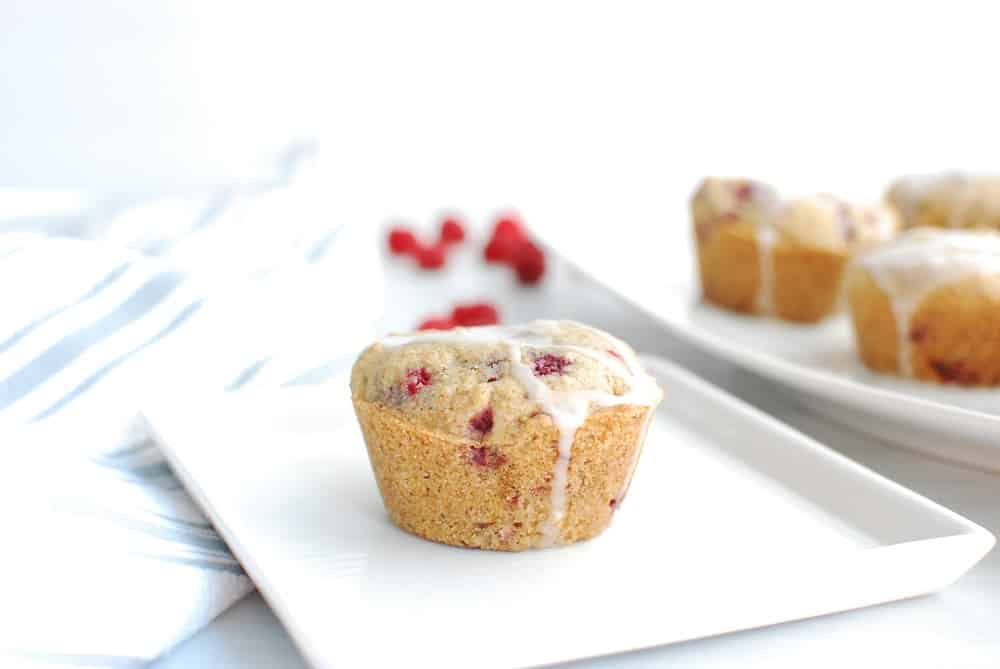 A note on sugar for vegan eaters
If you are a strict vegan that avoids all animal byproducts, keep in mind that some brands of sugar are processed using a filtering system that involves bone char from animal bones.  If you want to avoid all animal byproducts, you'll want to shop for vegan-friendly brands of white sugar and powdered sugar for this recipe. (I believe Wholesome is one brand that offers vegan-friendly versions).
Allergens in this recipe
Disclaimer:  I try to note potential allergens in all recipes – but as you know, manufacturers can change ingredient formulations or I may miss something.  Always double check ingredients and labels prior to consuming if you have an allergy.
As written, this recipe is:
Dairy free
Egg free
Wheat / gluten free
Peanut free
It does contain tree nuts (almond milk) and soy oil (which many people with soy allergies choose to avoid).
Also, keep in mind some gluten free flours may contain soy or have a cross contamination warning for soy.  For example, the gluten flour blend I use – Jovial's Whole Grain Gluten Free Pastry Flour – does have a cross contamination warning for soy.  If you had a severe soy allergy, you might want to look for another gluten free flour blend produced in a dedicated soy-free facility.
However, it is easy to modify the ingredients slightly to make this a top-8 free recipe:
To make nut free:  Use vanilla oat milk rather than almond milk
To make soy free:  Use coconut oil, canola oil, sunflower oil, or light olive oil.  Ensure your gluten free flour blend does not contain soy.
You can see that as long as you are choosing ingredients (i.e. oil, milk alternative, gluten free flour) that fit your family's allergy needs – this recipe can fit just about anyone's needs.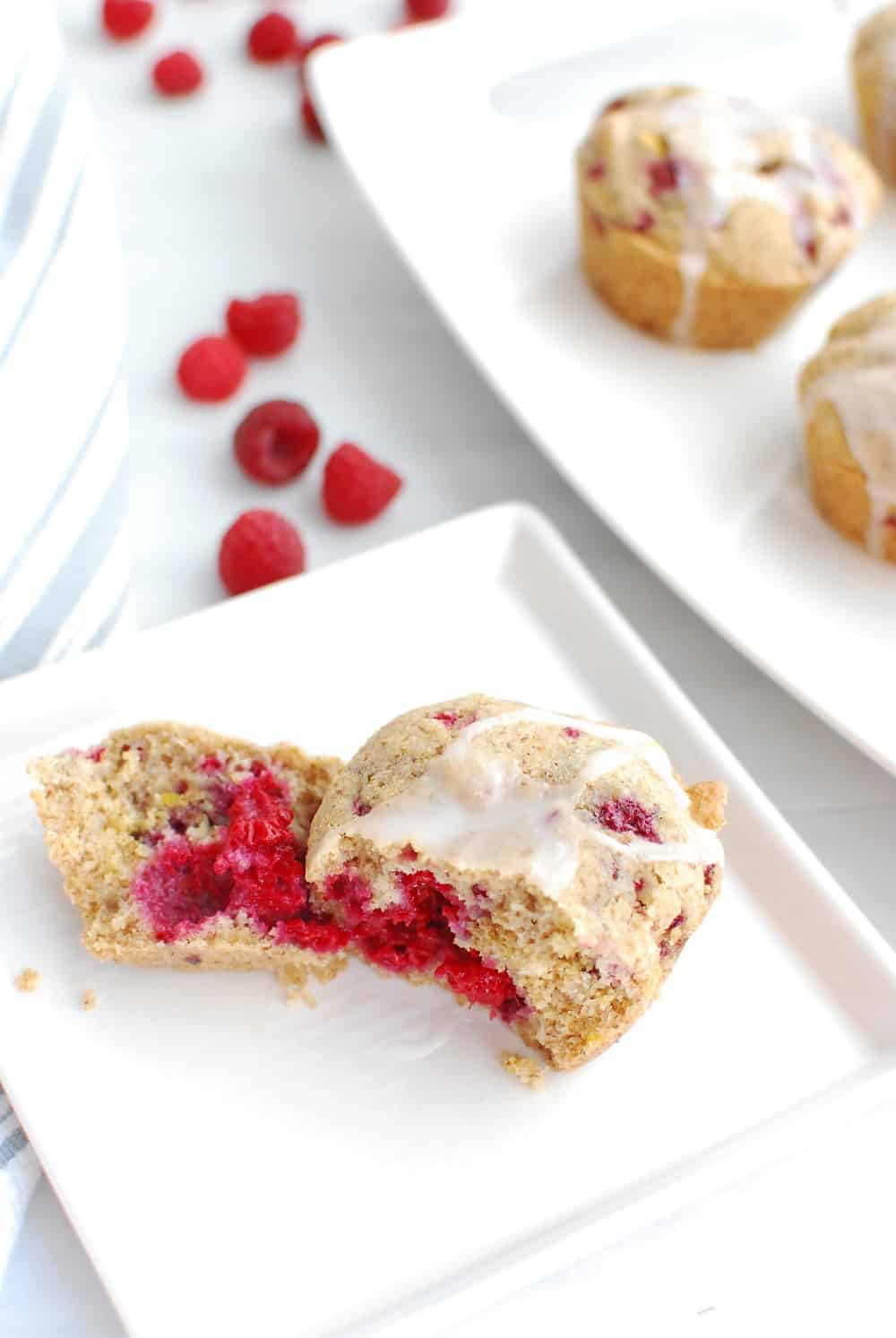 I hope you love these muffins like my family does.  If you get a chance to try them, be sure to let me know how you liked 'em with a comment or recipe rating.
PS – Looking for more gluten free vegan treats?  Be sure to try these vegan gluten free gingersnap cookies or these almond flour peanut butter cookies!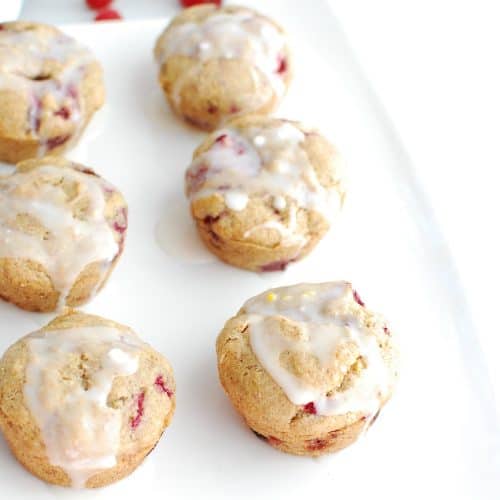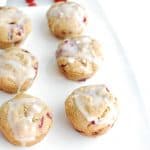 Gluten Free Vegan Raspberry Muffins
These gluten free vegan raspberry muffins are perfect for a Sunday brunch or for sweet snack during the day.
Ingredients
For the muffins:
1

tbsp

ground flaxseed

2 1/2

tbsp

hot water

1

tbsp

lemon juice

1

tbsp

lemon zest

3/4

cup

granulated sugar

3/4

cup

vanilla almond milk

(or oat milk)

1/3

cup

vegetable oil

(or oil of choice)

2

cups

gluten free flour blend

(I used Jovial)

1

tsp

baking powder

1/2

tsp

baking soda

1/4

tsp

salt

1 1/2

cups

raspberries
For the glaze:
1

cup

powdered sugar

2-3

tbsp

lemon juice
Instructions
Preheat oven to 375 degrees. Grease a 12 count muffin tin and set aside for now.

To make a flax egg, combine the ground flaxseed and water in a small bowl and set aside for now.

In a large mixing bowl, combine the lemon zest, lemon juice, and granulated sugar.

Add the almond milk, vegetable oil, and your "flax egg", and stir to mix everything.

Add the gluten free flour blend, baking powder, baking soda, and salt. Stir until everything is combined (but don't overmix).

Fold in the raspberries. Pour the batter into your prepared muffin tin.

Place the tin in the oven and bake at 375 degrees for 19-23 minutes, or until a knife/toothpick inserted into a muffin comes out clean.

Let cool completely in the muffin tin before removing and placing on a plate/platter.

Prepare the glaze by combining the powdered sugar and lemon juice. Drizzle the glaze over the muffins and let sit for a few minutes to set. Enjoy!
Recipe Notes
Nutrition analysis (approximate per serving; assumes about 20% of glaze mixture drips onto plate and does not stay on muffin): 
224 calories, 6.5 g fat, 1 g saturated fat, 150 mg sodium, 39 g carbohydrate, 2 g fiber, 22 g sugar, 2.5 g protein, Vitamin A: 1%, Vitamin C: 10%, Calcium: 7%, Iron: 4%
Share with me:  What's your favorite baked good to make with raspberries?  If you tried these gluten free vegan raspberry muffins, what did you think?