Enjoy a butter-free take on the traditional classic quick bread with this dairy free banana bread recipe.  This loaf is packed with banana flavor and has the perfect level of sweetness.  It's got a tender fluffy crumb, yet is still somehow rich at the same time.  Bake this up, sit down with a cup of coffee, and relish in a few (hopefully peaceful) minutes of snacking.
Swaps for a dairy free banana bread
Banana bread is one of the easiest recipes to modify for a dairy free diet.  There's only one ingredient usually used that contains dairy – and that's butter.  For most recipes, all you need to do is swap out the butter for an equivalent amount of oil (vegetable oil, coconut oil, etc) or dairy free butter (like Earth Balance).
As long as there are no other add-ins like milk or chocolate, that's really the only swap you need to make, and the majority of recipes should turn out just fine.  (And if it does have milk, you can substitute oat milk, and if it has chocolate, use dairy free chocolate chips).
So if you have a family favorite, feel free to experiment this way by using your own recipe and making these easy substitutions.
Of course, I'm going to give you our family favorite here, and I hope you'll give it a try!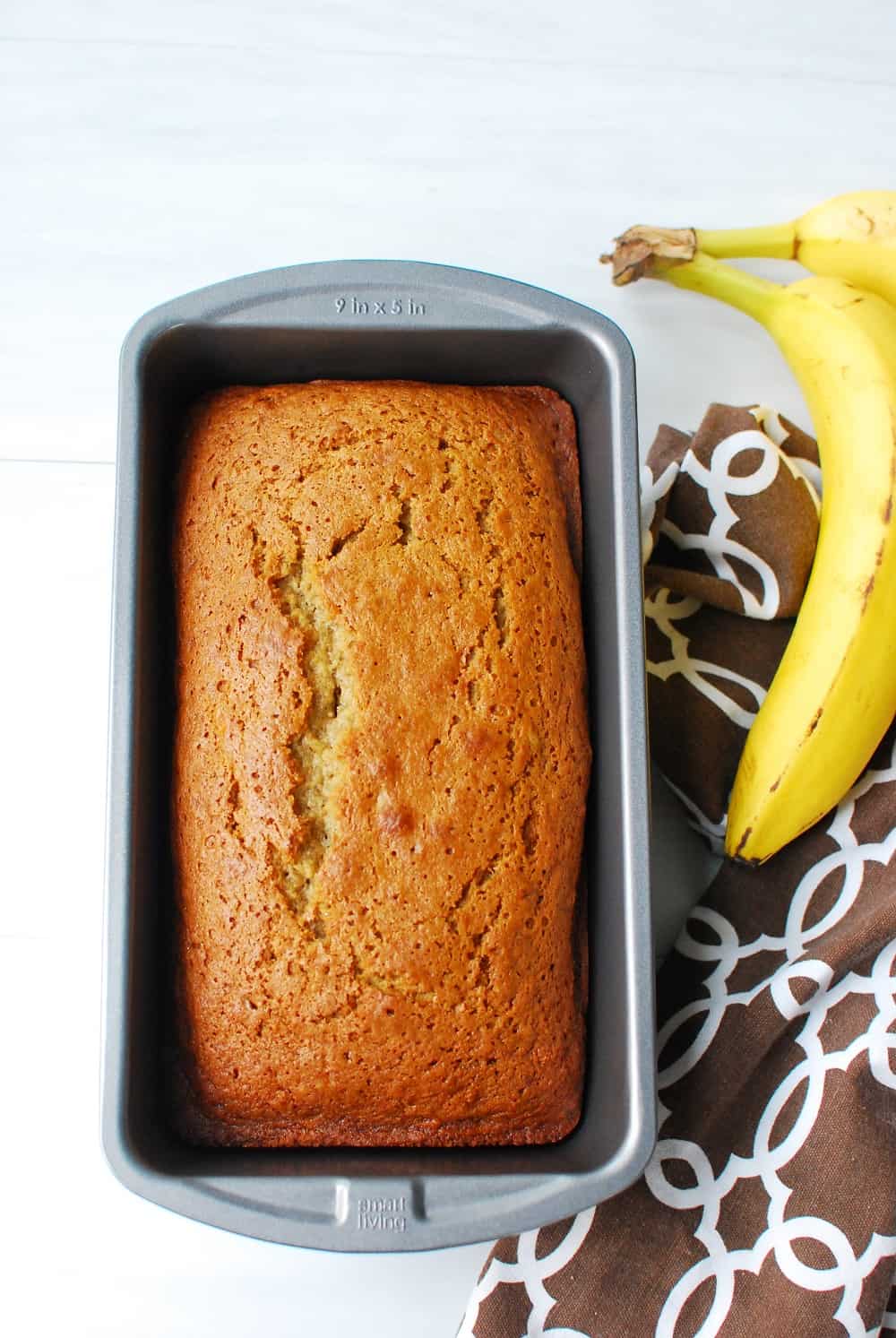 How to make dairy free banana bread
Here are the ingredients you'll need to make our version.  I'm betting you have all of this – or at least most of it – already in your kitchen right now:
Bananas
Vegetable oil (or another oil of choice)
Granulated sugar
Eggs
Cinnamon
Vanilla
Flour
Baking soda
Baking powder
Salt
You'll start by mashing your bananas and combining them with the oil, sugar, eggs, cinnamon, and vanilla.  You'll want to whisk it up until everything is good and mixed.  It's totally okay if there are still random chunks of bananas in there.
Next, you'll add in the dry ingredients – flour, baking soda, baking powder, and salt.  Stir it up until everything is combined.  Don't overmix here; it can make the bread less fluffy.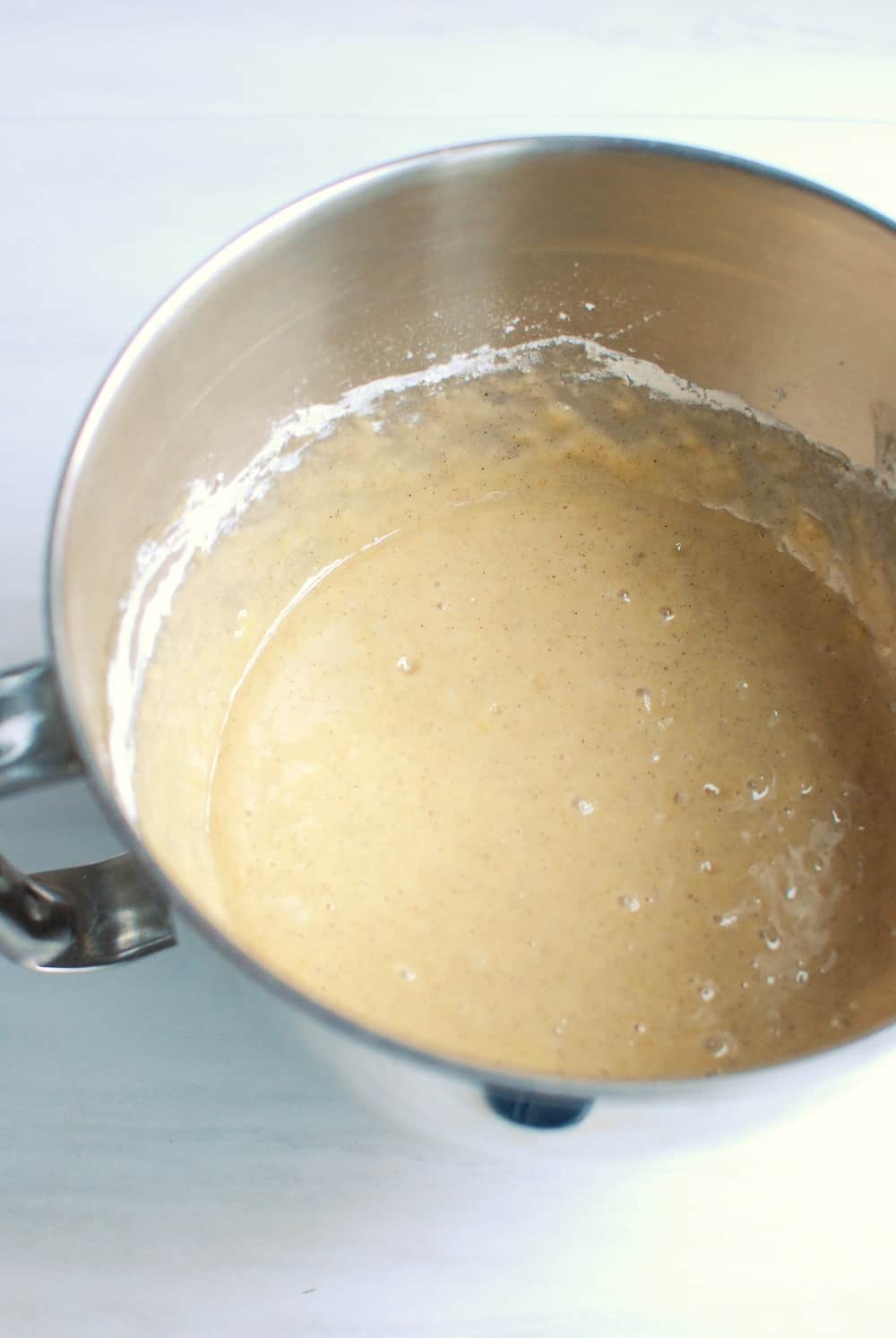 Now all you need to do is pour it in a loaf pan and pop it in the oven for about 50-60 minutes.
One quick tip – you want to bake this in the center rack of your oven.  If you bake it too high or too low, it will cause either the bottom or top to brown too much before the center has finished baking.
Can you freeze banana bread?
Yes!  After you've made your banana bread, I recommend cutting it into individual slices.  Wrap each slice well in plastic wrap or tin foil.  This will help prevent the cold freezer air from affecting the taste and texture of the bread.  Then, put all of these slices in a zip top bag and put it in the freezer.
When you're crazing a slice of dairy free banana bread, just remove one piece from the wrap or tin foil, place it on a plate, and microwave it for about 30-60 seconds (depending on the thickness of your slice; start at 30 seconds).
Individual well-wrapped slices will stay safe indefinitely in the freezer, but quality does decline over time.  I recommend using them within 1-2 months.
You an also freeze loaves whole, but I find this to be less optimal because then you'll need to defrost and eat the whole loaf at once (best quality is within a day or two).  This would work if you were saving it for company though!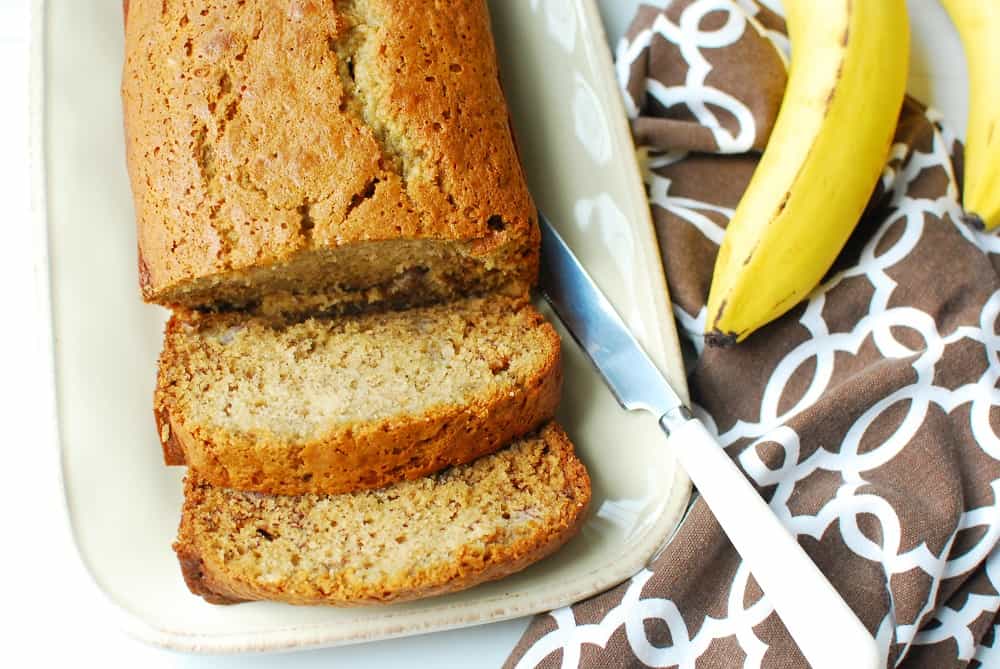 Can this recipe be made into muffins?
Yes!  Just pour the batter into a 12 count muffin tin rather than a loaf pan.  I recommend changing the oven temperature to 350 degrees for muffins and cutting the cooking time down to around 20-25 minutes.
What to serve on your banana bread
Don't get me wrong, a warm slice of this dairy free banana bread is pretty much all you need for a happy tummy.  But if you want, it does tastes delicious topped with dairy free spreads like:
Dairy free butter
Dairy free whipped pumpkin honey butter
Peanut butter
Almond butter
Cashew butter
Honey
Apple butter
Peach butter
Whipped coconut cream
As a heads up, you can also use leftover banana bread from this recipe for one of my favorite breakfasts – French toast!  Use the slices of banana bread to make French toast rather than traditional bread.  Serve with sliced bananas and maple syrup (or dairy free caramel), of course.  Did breakfast ever sound so delicious?!
(I generally just throw together my own French toast mixture with eggs and almond milk, but you can also use a recipe like this if you like having something to follow).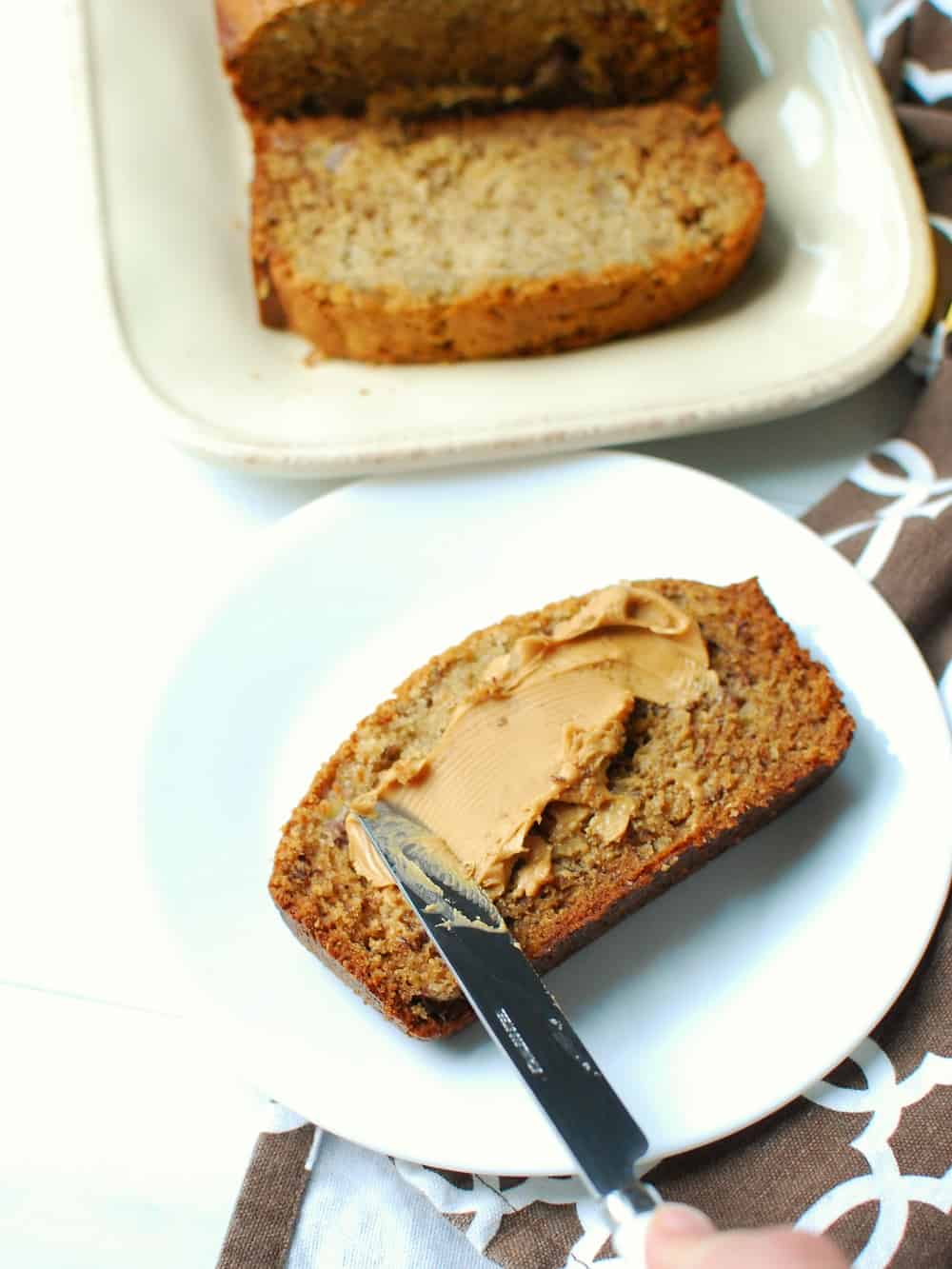 Allergens in this recipe
Disclaimer:  I try to note potential allergens in all recipes – but as you know, manufacturers can change ingredient formulations or I may miss something.  Always double check ingredients and labels prior to consuming if you have an allergy.
By ingredients (not including any optional toppings), this recipe is dairy free and nut free.
Depending on the oil you use, this can easily be made soy free as well (just use coconut oil or canola oil instead of soy oil).  Keep in mind some people with mild soy allergies can tolerate vegetable oil.
This recipe does contain wheat and eggs.  Because this recipe is heavy on bananas, I wouldn't do an egg free version using the same ingredient amounts here.  I think it would collapse.
If you wanted to try a gluten free version, you could test this out with a gluten free all-purpose flour.
Keep in mind you'll want to check ingredients on any toppings or spreads you use to ensure they meet your allergy needs.
I hope you enjoy this dairy free banana bread!  If you get a chance to try it, leave a recipe rating or comment and let me know your thoughts.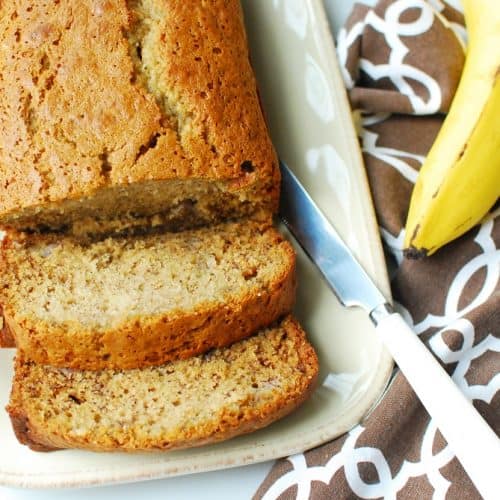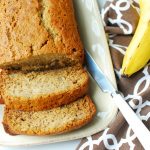 Dairy Free Banana Bread
This delicious dairy free banana bread is perfect for a sweet breakfast treat or an indulgent snack.
Ingredients
3

bananas, mashed

1/2

cup

vegetable oil

(or oil of choice)

1

cup

granulated sugar

2

eggs

1

tsp

cinnamon

1

tsp

vanilla

1 3/4

cups

flour

1

tsp

baking soda

1/2

tsp

baking powder

1/2

tsp

salt
Instructions
Preheat oven to 325 degrees.

Add the mashed bananas, oil, granulated sugar, eggs, cinnamon, and vanilla to a large bowl. Whisk until everything is well combined.

Add the flour, baking soda, baking powder, and salt. Stir until just combined.

Grease a loaf pan. Pour the batter into the pan. Bake at 325 degrees on a middle rack for 50-60 minutes, or until a knife or toothpick pulls out clean.

Enjoy as-is, topped with dairy free butter, or topped with peanut butter!
Recipe Notes
Nutrition analysis (approximate per slice):  252 calories, 10 g fat, 1.5 g saturated fat, 235 mg sodium, 37.5 g carbohydrate, 1.5 g fiber, 20.5 g sugar, 3.5 g protein, Vitamin A: 1%, Vitamin C: 4%, Calcium: 2%, Iron: 6%
Share:  What's your favorite way to eat dairy free banana bread?  Toppings or no toppings?