Looking for an easy vegan quick bread recipe?  Try this 5-ingredient vegan banana bread!  Because you only need a few ingredients, this recipe comes together quite fast.  It's delicious as part of your breakfast, for a sweet snack, or even for dessert.
How to make vegan banana bread
Since many banana bread recipes contain dairy and eggs, you'll just need a few easy modifications to substitute for those in order to make a vegan version.  In this case, we're keeping it simple to make a tasty, basic bread.  Here's what you'll need:
Ground flaxseed
Hot water
Overripe bananas (you want them to be browning – or even a bit black – for the sweetest banana bread!)
Vegan butter
Vegan brown sugar
Self-rising flour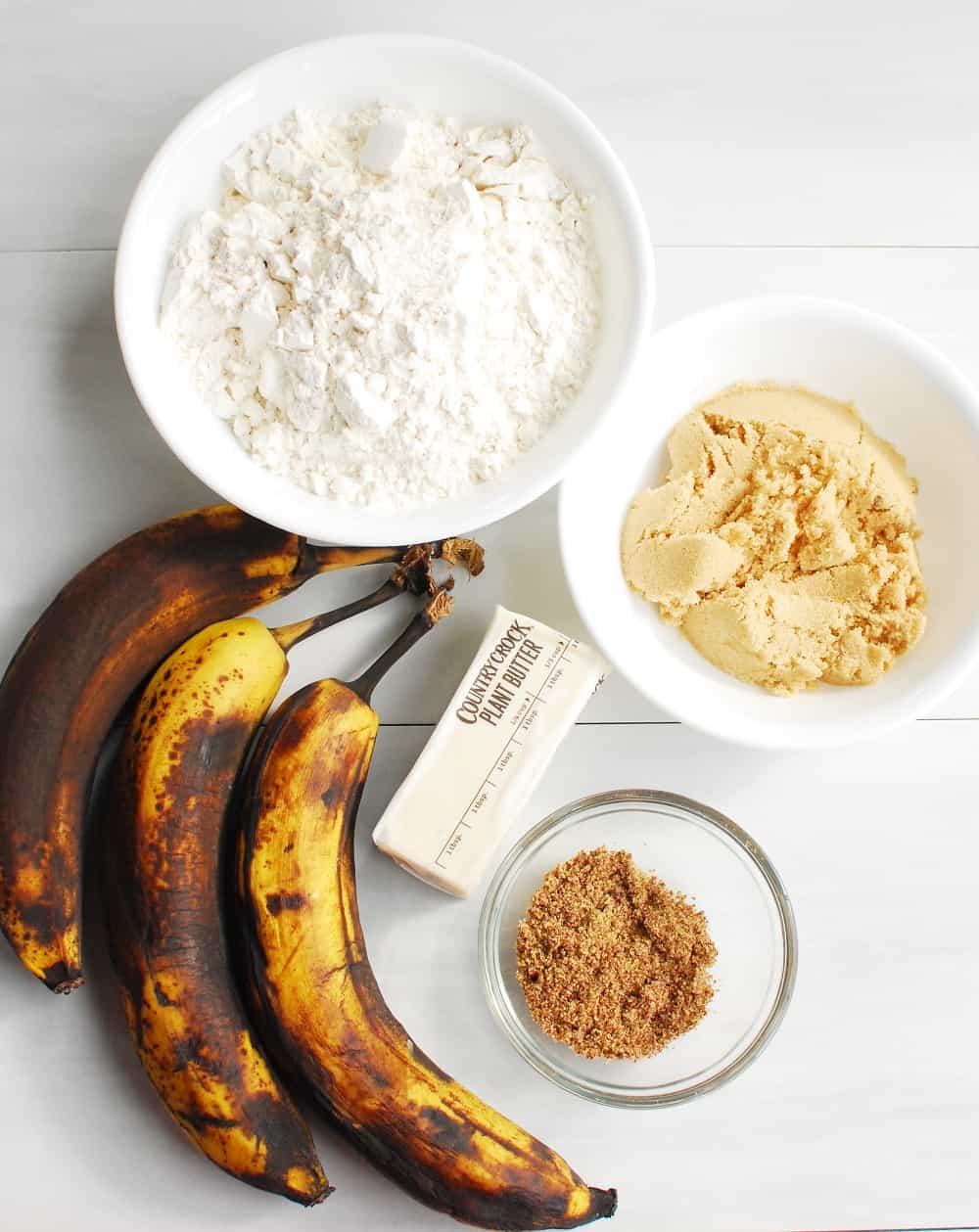 You'll start by mixing your flaxseed with the hot water.  This helps it become a little gelatinous, kind of like the texture of an egg, which will help bind the ingredients together.  You will add a little more water than usual for this "flax egg" in order to get the right consistency of the batter.
Next, you'll mash up your bananas and then mix in the butter and brown sugar.  Then you'll stir in your flax-water mixture and self-rising flour.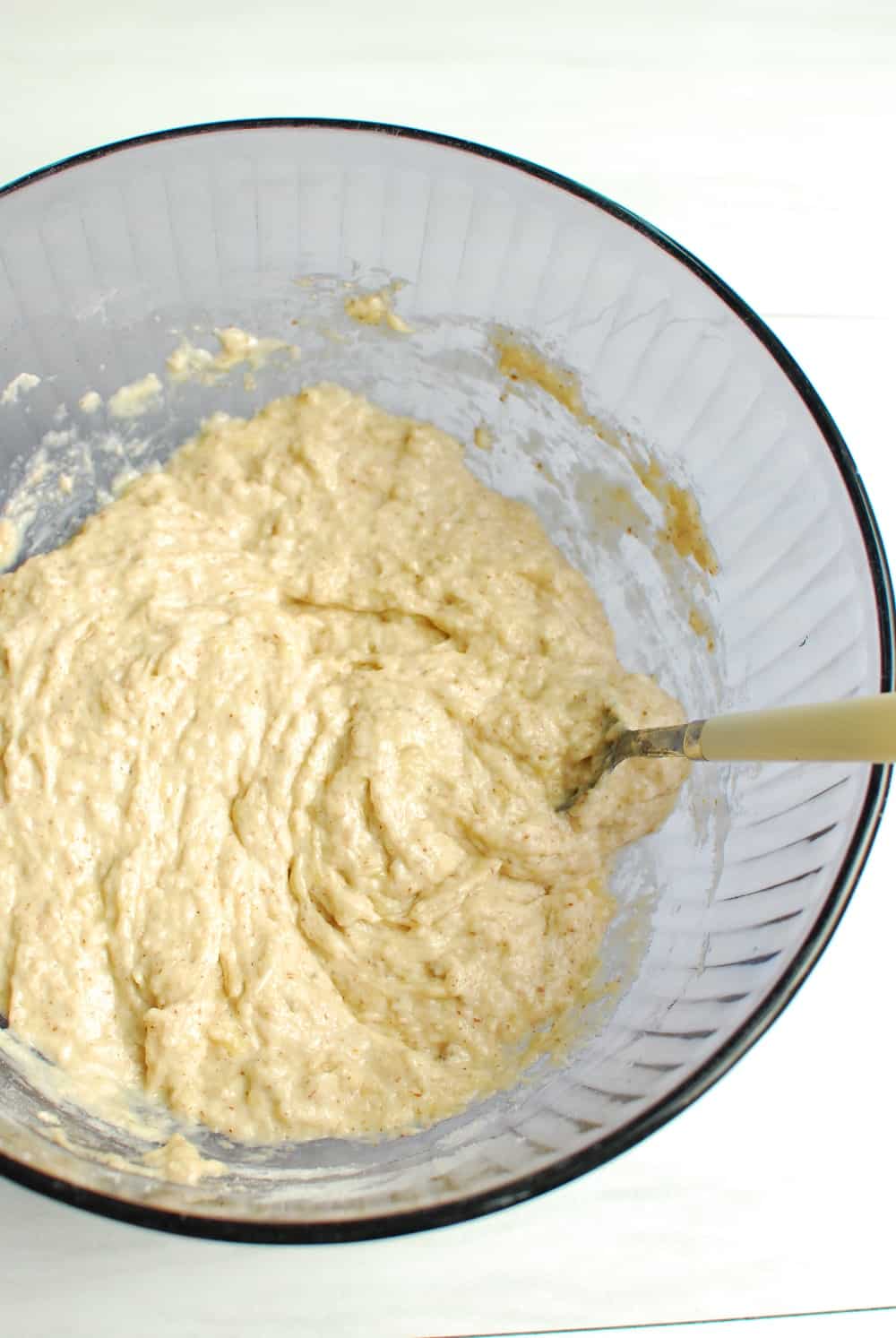 You'll probably notice the batter is much thicker than other banana bread recipes you may have used in the past.  This is OK!  It will bake up just fine.  If it's overly thick (sometimes this happens if the flour is packed in rather than spooned in and leveled off) just add another tablespoon or so of water.
Then just pour your batter into the loaf pan and bake it up!  It only takes about a half hour to bake, as this is a smaller loaf.
Recipe FAQ
Here are some common questions that may come up as you prepare this 5 ingredient vegan banana bread recipe:
What if you don't have self-rising flour?  No problem.  For the 1 1/2 cups of self-rising flour, you'll substitute 1 1/2 cups of all purpose flour, plus 2 teaspoons of baking powder and 1/4 tsp salt.
What exactly is "vegan" brown sugar?  Some sugar products are processed using a filtering system that involves animal bones.  If you strictly avoid animal products, you'll want to look for vegan-friendly brands of sugar that are processed differently.  This article has a list of vegan sugar brands that you can look for.  (If this isn't a concern for you, just use regular brown sugar.)
My loaf didn't rise to the top of the pan.  What's wrong?  Nothing at all!  This recipe is for a smaller loaf of banana bread, so it's normal that it won't rise to the top of the pan.  It should still rise a bit, and you should notice the traditional loaf shape (where it's a bit higher in the center than the sides).  If it didn't rise at all and is pancake flat on top, it could be that your accidentally substituted all purpose flour instead of self-rising flour (and didn't add extra baking powder) OR that your self-rising flour was old (the baking powder in it can lose its potency over time).
Optional Mix-Ins
I generally just make this recipe plain since it's so fast to whip up, but you can also use some tasty mix-ins!  Try one of these ideas:
Vegan dark chocolate chips
Blueberries – I'm a big fan of wild blueberries because they pack in extra antioxidants. They're nice for baking too; since they're smaller you get a more even distribution of the blueberries throughout so you end up with some in each bite.
Cranberries (if adding these, you may want to add a little extra sugar to account for the tartness depending on personal preference)
Red currants (same as above regarding tartness)
Walnuts
Pecans
Spices like cinnamon, nutmeg, and allspice
Pureed pumpkin – you can sub out 1 of the bananas for 1/3 to 1/2 cup of pumpkin puree for a fall spin on this treat.
Orange zest
Shredded zucchini
Crushed pineapple
Shredded coconut
Dried fruit (dried cranberries, mango, etc)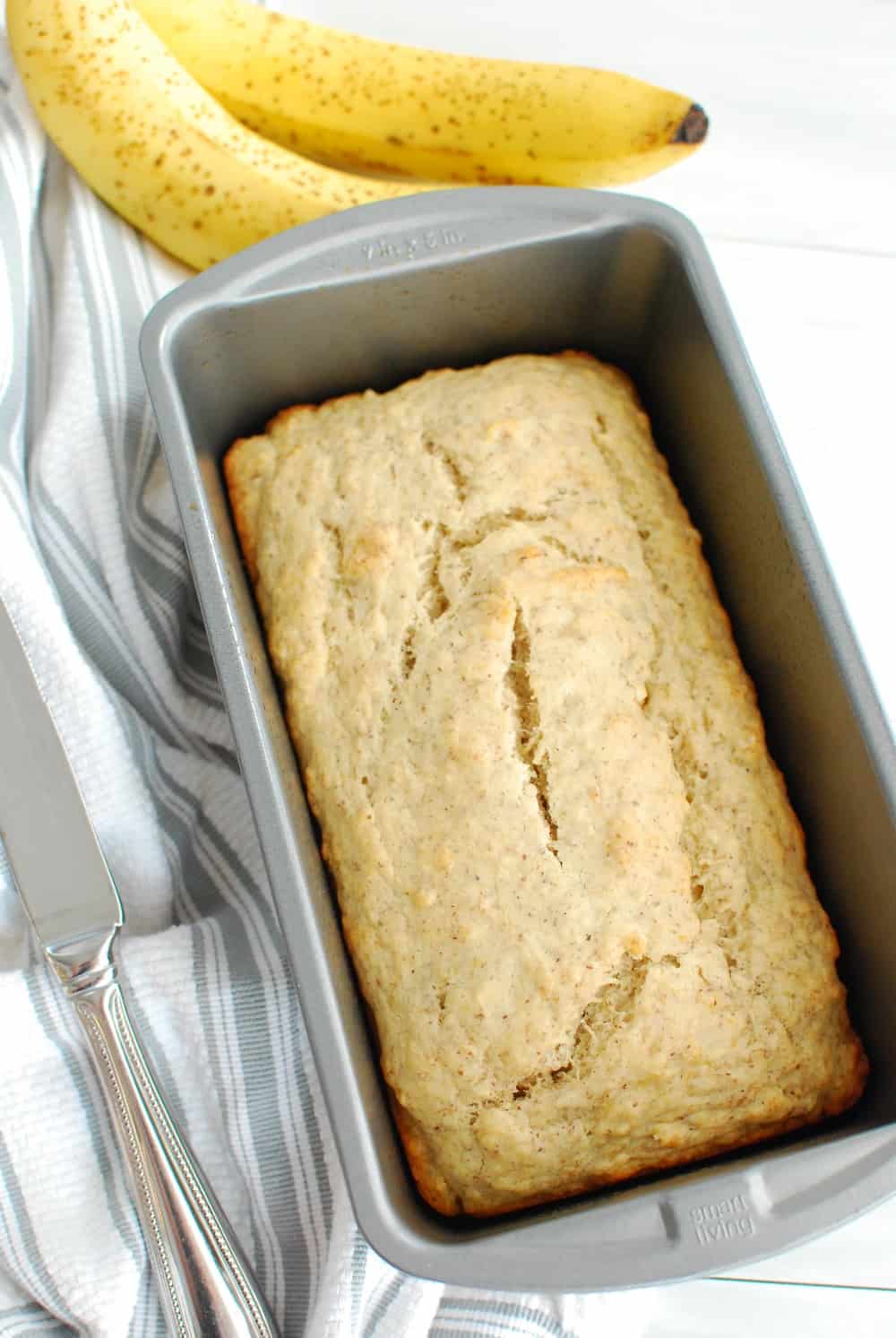 What to serve on your banana bread
A straight-up slice of this is all I need to make my tummy happy!  But you can also add to the deliciousness with one of these spreads:
Dairy free butter
Vegan whipped maple butter (just beat together some vegan butter, a little maple syrup, and some cinnamon until it's light and fluffy)
Peanut butter
Almond butter
Cashew butter
Apple butter
Peach butter
Whipped coconut cream
Dairy free yogurt
If you want to get really creative, you can also take your leftover banana bread and use it in place of regular bread in your favorite vegan French toast recipe.  Top it off with sliced bananas, walnuts, and maple syrup, and you've got a heavenly breakfast right there!
Allergens in this recipe
Disclaimer:  I try to note potential allergens in all recipes – but as you know, manufacturers can change ingredient formulations or I may miss something.  Always double check ingredients and labels prior to consuming if you have an allergy.
This recipe is dairy free and egg free as written.  It does contain wheat (gluten).
Depending on the vegan butter substitute you choose, it may contain other allergens like soy or nuts.  For example, I used the Country Crock plant butter sticks made with almond oil to make this, and as such it contains nuts. However, you can easily select a nut-free/soy-free vegan butter, like the soy-free Earth Balance (the one that comes in the red container).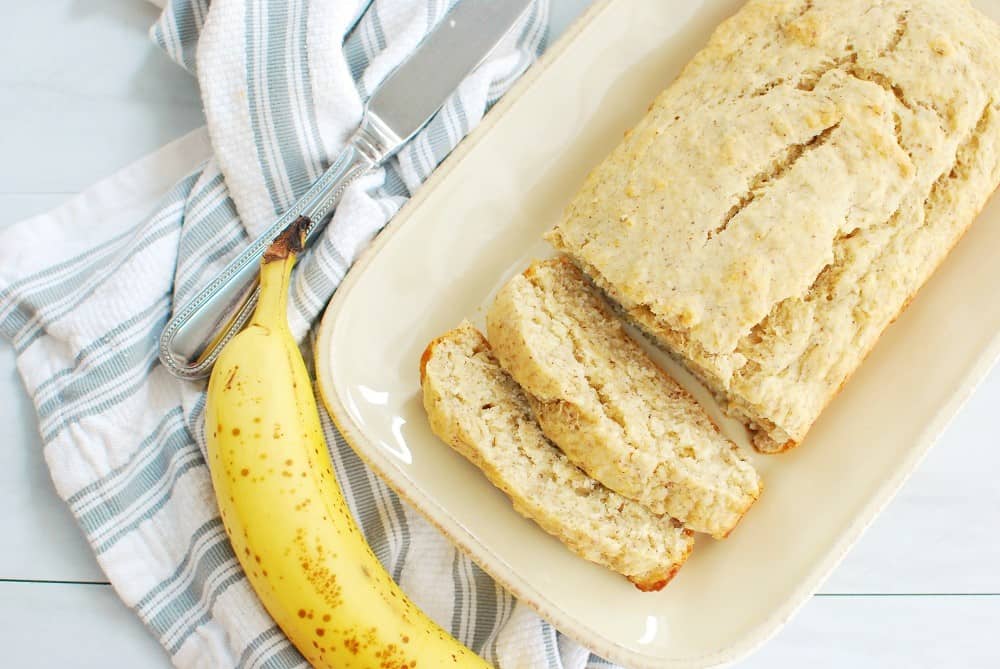 I hope you enjoy this 5-ingredient vegan banana bread!  My family is a big fan; I think they like it better than some of the other more ingredient-heavy recipes I've made in the past.  If you get a chance to try it, don't hesitate to leave a recipe rating or comment to let me know your thoughts.  (PS – looking for more vegan treats?  Try my vegan orange cranberry muffins or this these vegan lemon cookies.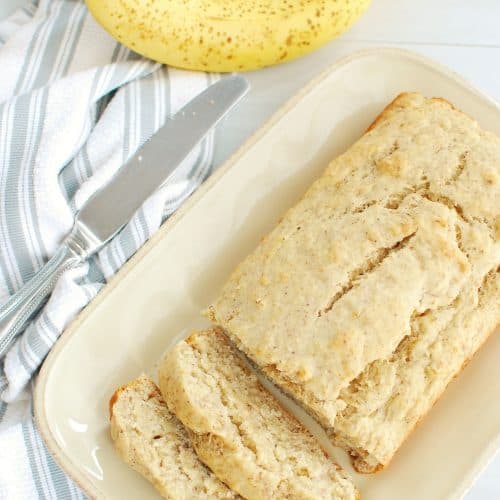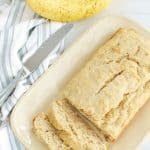 5 Ingredient Vegan Banana Bread
This 5 ingredient vegan banana bread is the easiest quick bread recipe to make - and tastes delicious for a snack or part of breakfast!
Ingredients
1

tbsp

ground flax

4

tbsp

hot water

3

overripe bananas

1/3

cup

vegan butter, melted

1/3

cup

vegan brown sugar

1 1/2

cups

self-rising flour

(or 1 1/2 cups all purpose + 2 tsp baking powder + 1/4 tsp salt)
Instructions
Preheat the oven to 350 degrees F. Grease a loaf pan.

In a small bowl, mix the ground flaxseed with the hot water. Set aside for now.

In a large bowl, mash the bananas. Stir in the vegan butter and brown sugar. Add the self-rising flour, as well as the flax mixture. Stir until just combined – the batter will be thick; this is normal.

Pour the batter into the greased loaf pan. Bake at 350 degrees for 32-36 minutes, or until the bread is a light brown color and a knife pulls out clean.
Recipe Notes
If the batter seems too thick and appears dry, add another 1-2 tablespoons of water. Usually this occurs if the flour is packed too much while measuring it, rather than spooning it in the measuring cup and leveling it off.
The bread may be lighter in color than other banana bread recipes you've made; this is normal.
If you are using bananas that are more on the just-starting-to-brown side (and as such, aren't as sweet as really overripe bananas), you may want to increase the sugar content up to 1/2 cup if you prefer a sweeter banana bread.
Nutrition analysis (approximate per serving): 227 calories, 8 g fat, 3.5 g saturated fat, 350 mg sodium, 36.5 g carbohydrate, 2 g fiber, 14.5 g sugar, 3 g protein, Vitamin D: 0%, Calcium: 9%, Iron: 7%, Potassium: 6%
Share:  Do you like your banana bread as-is, or do you prefer adding mix-ins or spreads on top?