From chocolate chip to peanut butter, classic cookie recipes are always a welcome treat.  But this week, try mixing things up a bit with these amazing vegan lemon cookies!  They've got a ton of tart lemon flavor, balanced by a rich and sweet cookie base.
How to make vegan lemon cookies
Here's what you need to make this recipe:
Vegan butter
Granulated sugar (see notes on vegan sugar below)
Applesauce
Vanilla Extract
Lemons (juice and zest)
Flour
Baking powder
Baking soda
Salt
You'll start by creaming together the vegan butter and granulated sugar.
For this recipe, I used the Country Crock plant butter sticks.  You can also use Earth Balance, or another one of your favorite dairy-free butter substitutes.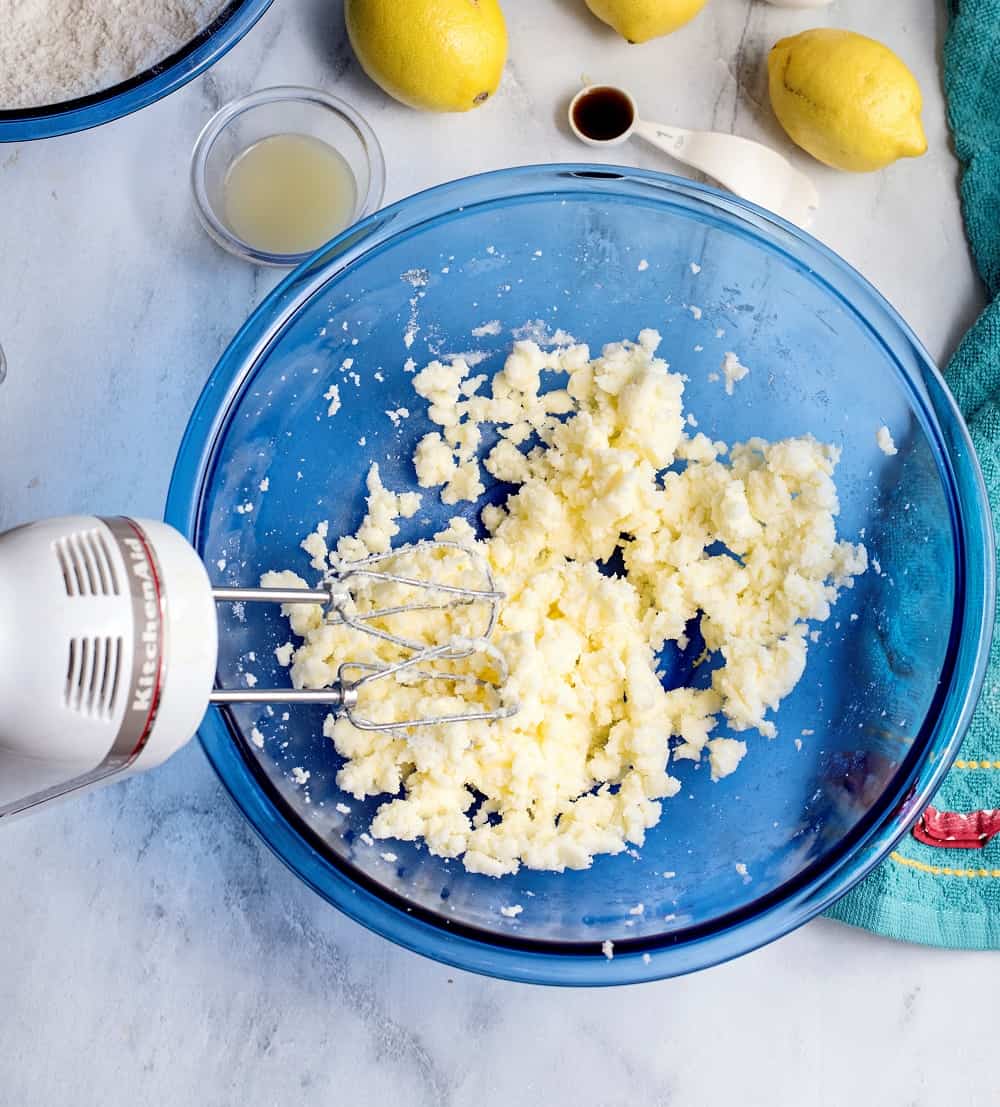 Then you'll mix in the applesauce, vanilla, lemon juice, and lemon zest.
After that, you'll mix in the dry ingredients – the flour, baking powder, baking soda, and salt.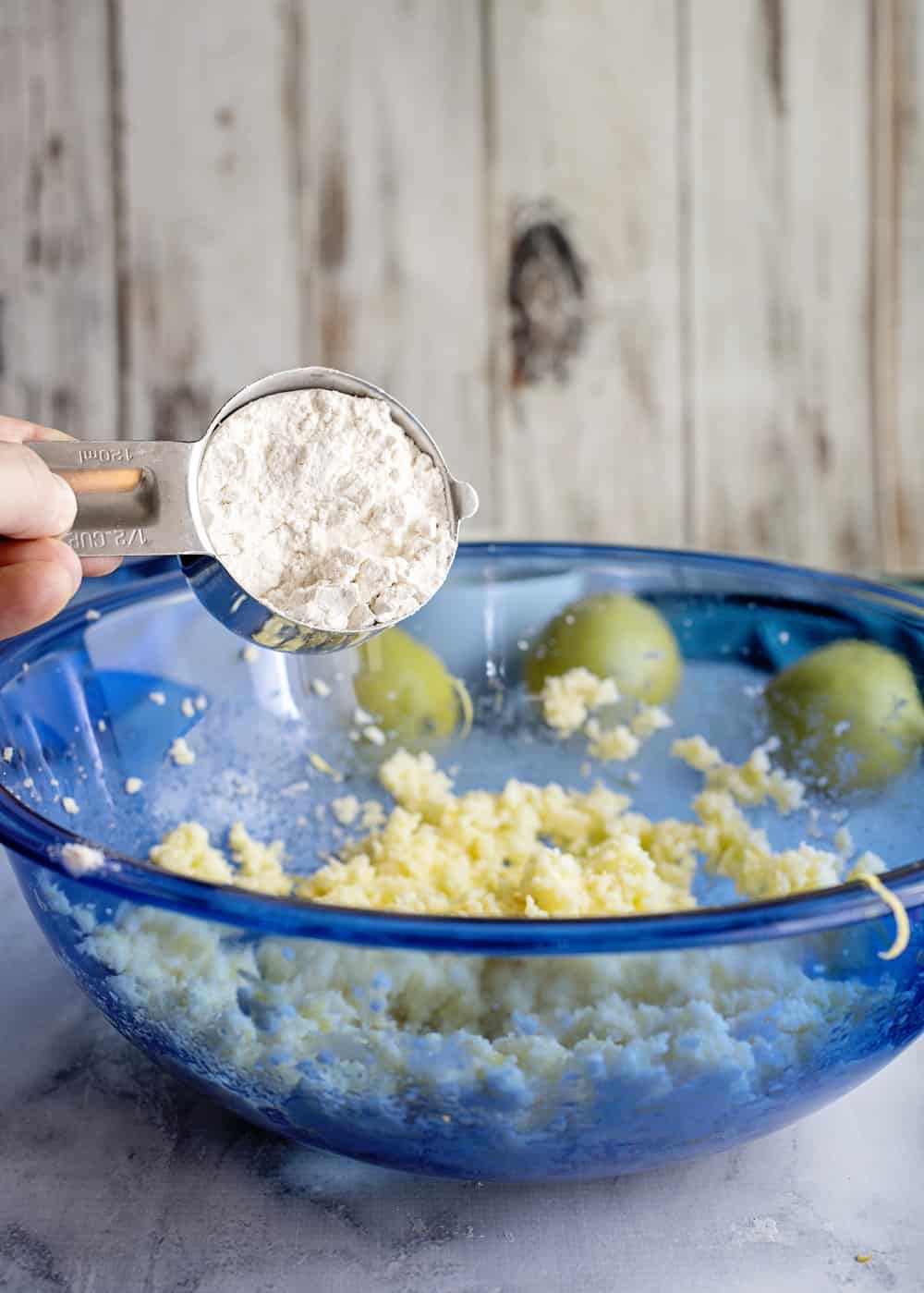 You'll notice that the dough is a little thinner and softer than some other cookie doughs.  This is because of the high vegan butter to flour ratio in this recipe.  It's OK – the cookies will still bake up fine and hold their shape!  It just results in a really great combination between that classic rich butter cookie flavor and the bright, citrusy lemon.
Next step is to scoop out balls of cookie dough, and roll them in a little extra sugar and lemon zest.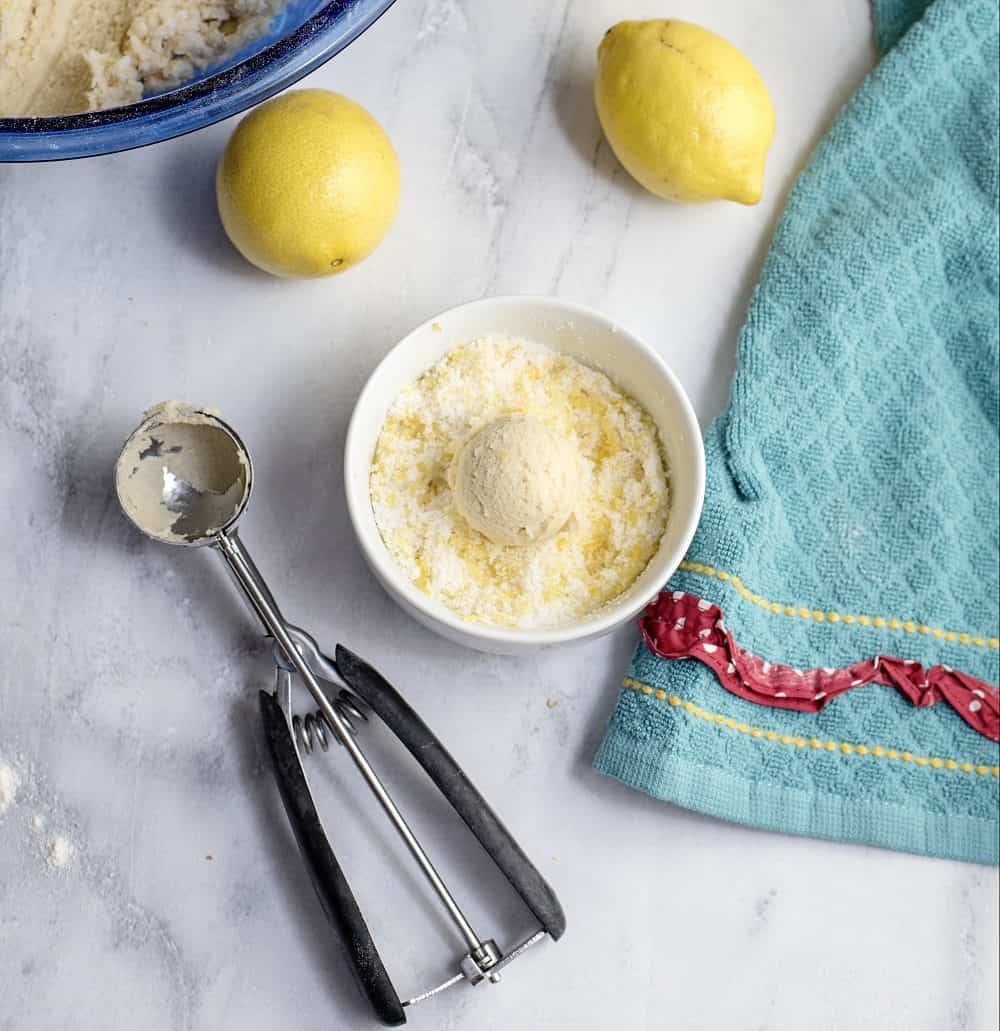 Now all you need to do is bake them off, wait for them to cool, and then bright into that yummy lemony goodness.
Information about sugar in vegan recipes
If you are a strict vegan that avoids all animal byproducts, you'll want to keep an eye out for vegan-friendly brands of white sugar and brown sugar.  Some brands of sugar are processed using a filtering system that involves bone char from animal bones.
If you avoid all animal products and want to avoid that as well, simply look for vegan-friendly brands of sugar that are processed differently.  This article has a list of vegan sugar brands that you can look for.
Allergens in this recipe
Disclaimer:  I try to note potential allergens in all recipes – but as you know, manufacturers can change ingredient formulations or I may miss something.  Always double check ingredients and labels prior to consuming if you have an allergy.
This recipe is naturally dairy free and egg free.
Depending on the vegan butter substitute you choose, it can also easily be nut free or soy free. For example, the Country Crock plant butter sticks are free of any nuts and overt soy ingredients, though some do have a "may contain soy" warning.  If you need to strictly avoid soy, you can choose the red tub of Earth Balance to use in this recipe.
Though these options don't contain nuts, a few select vegan butters do contain nuts, so just be sure to check the labels if you have any concerns about nut allergies.
These cookies do contain wheat/gluten, as I've used regular flour.  I haven't tested these with a gluten free flour.  If you follow a gluten free diet, you can always try it out with a gluten free all-purpose blend and let me know how it goes!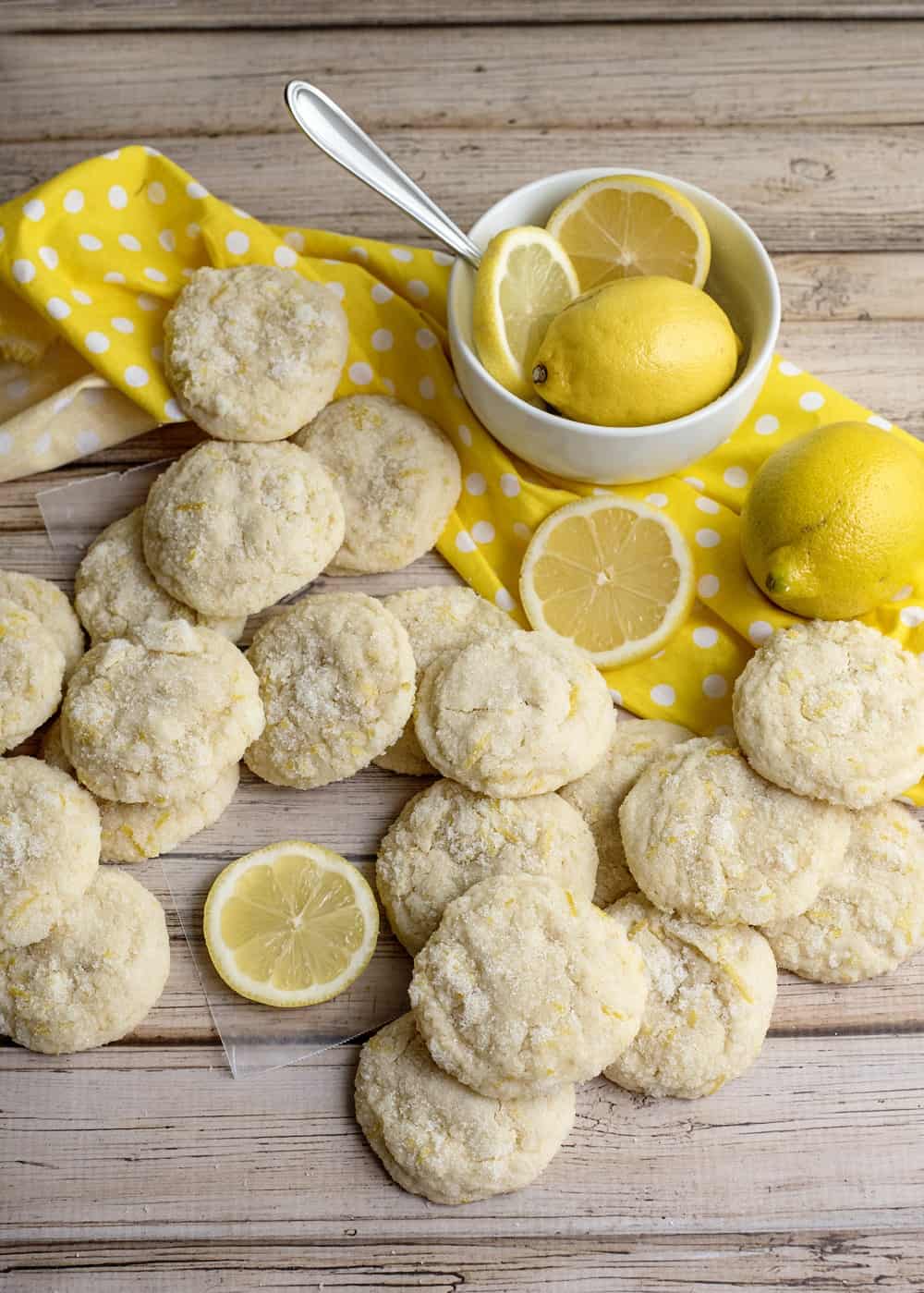 Looking for more vegan cookie recipes?
Try one of these delicious options: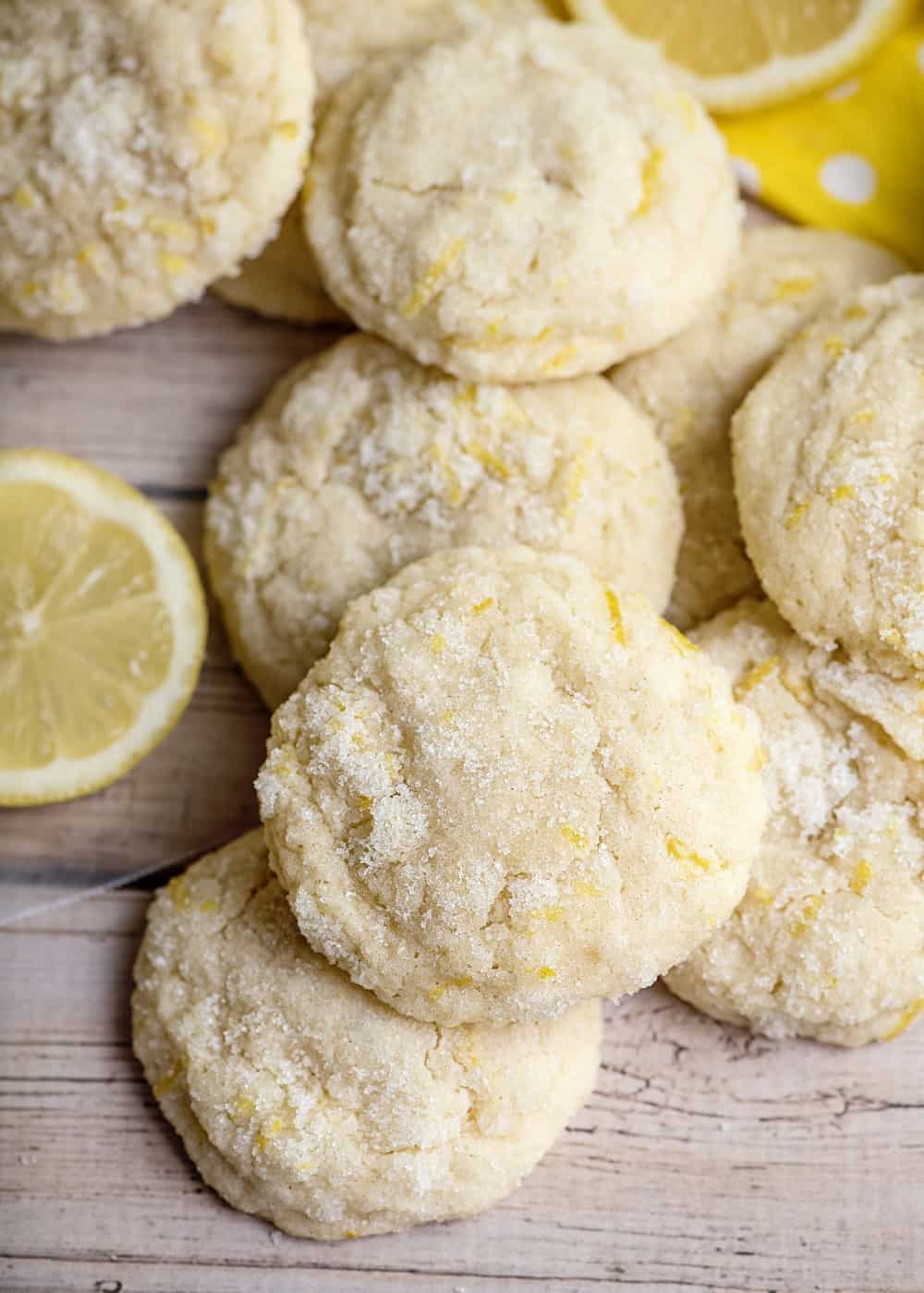 I hope you enjoy these as much as my family does!  (Especially my hubby – these are his fav!).  If you get a chance to try them, be sure to leave a recipe rating or comment below.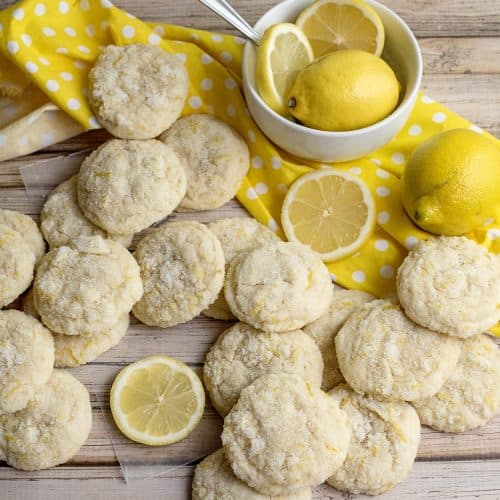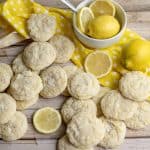 Vegan Lemon Cookies
These vegan lemon cookies have the perfect blend of tart citrus with rich buttery flavor (with no dairy or eggs!).
Servings
24
large cookies
Ingredients
For the cookies:
2

sticks

vegan butter

(1 cup)

1

cup

granulated sugar

1/4

cup

unsweetened applesauce

1

tsp

vanilla extract

2

tbsp

lemon juice

Zest

of 1 1/2 large lemons

(you'll use the remaining lemon half for rolling below)

2 1/2

cups

all-purpose flour

1

tsp

baking powder

1/2

tsp

baking soda

1/4

tsp

salt
For rolling:
Zest

of half a lemon

1/2

cup

granulated sugar
Instructions
Preheat oven to 350 degrees. Line 2 cookie sheets with parchment paper or silicone baking mats.

In a large mixing bowl, beat the vegan butter and 1 cup sugar until the mixture is light and fluffy. Add the applesauce, vanilla, and lemon juice, mixing well. Stir in the lemon zest (from 1 1/2 lemons).

Pour the flour, baking powder, baking soda, and salt in the bowl. Stir until everything is combined well.

In another small bowl, combine the 1/2 cup of granulated sugar and the zest from half a lemon. Scoop out enough dough for one cookie, roll it in the lemon/sugar mixture, then place it on the baking sheet. Repeat for all the cookies, placing each about 2 inches apart on the baking sheet.

Bake for 11-13 minutes, until the tops are no longer wet looking and cracks start to form. Allow the cookies to cool completely before eating. Enjoy!
Recipe Notes
Nutrition facts (per cookie): 157 calories, 7.5 g fat, 150 mg sodium, 21 g carbohydrate, 0.5 g fiber, 10.5 g sugar, 1.5 g protein, Vitamin A: 4%, Vitamin C: 2%, Calcium: 1%, Iron: 4%
Share:  What are your favorite kinds of cookies?  If you tried these vegan lemon cookies, what did you think?