If you're craving a big plate of comfort food, this dairy free beef stroganoff is where it's at!  Made with ground beef, it comes together quickly and easily.  You'll have this delicious dinner on the table in 30 minutes flat.
Two key ingredients
You might be thinking it's darn near impossible to create the same rich, creamy flavor as a traditional stroganoff – but I promise, this recipe has it!  That's thanks to two key ingredients: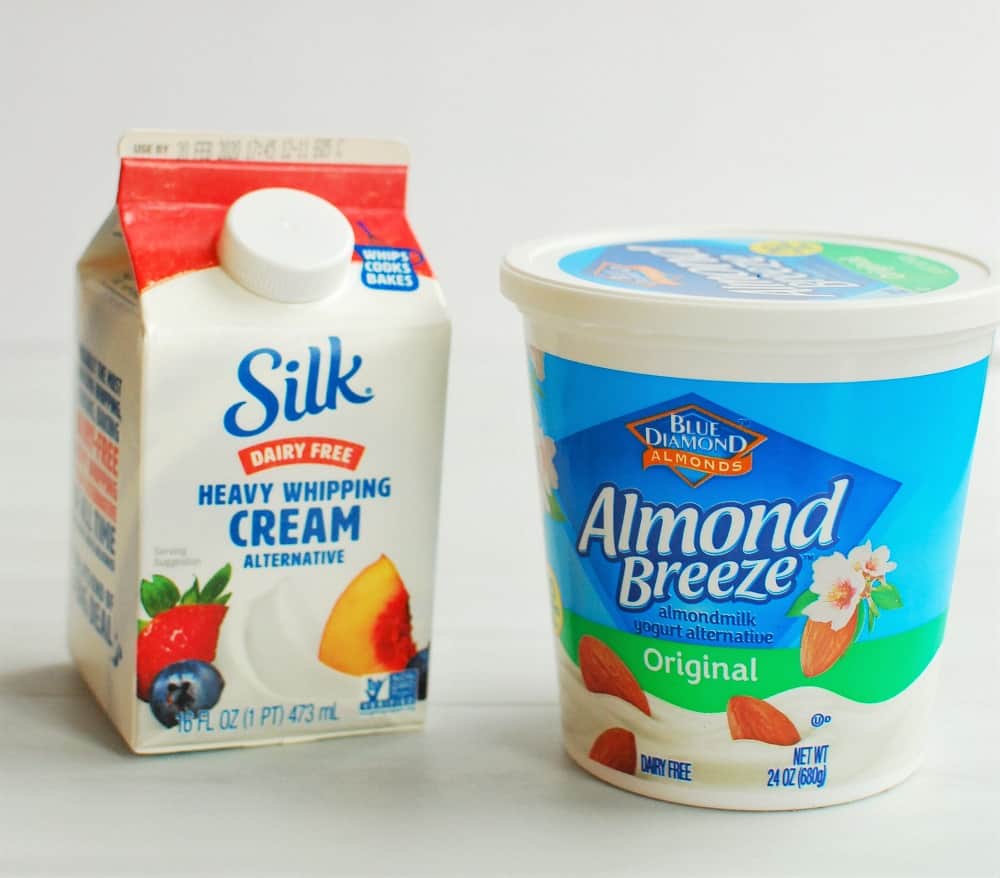 Dairy-Free Heavy Whipping Cream – This product, made by Silk, is a game changer for dairy free meals!  Until now, you really had to rely on either a homemade cashew cream or coconut cream as a substitute.  But this new product makes it much easier to substitute heavy cream in certain recipes. (*See allergen section below for important info on the cross contamination warning.)
Plain Almond Milk Yogurt – I'm going to be honest, I don't like this stuff just plain for snacking (feel free to check out our post on dairy free yogurts for more details about the different types for snacking!).  But I use this quite often for savory recipes (think dips and whatnot).  In this case, it adds a great creaminess to the recipe – without adding sweetness like other yogurt bases, like coconut, would add.
How to make dairy free beef stroganoff
Alright, ready to cook?  Here's everything you'll need, including what I mentioned above:
Egg noodles
Ground beef
Onion
Mushrooms
Garlic
Flour
Beef broth
Worcestershire sauce
Salt & pepper
Almond milk yogurt
Dairy-free heavy cream
You'll start off by cooking your egg noodles according to the package directions.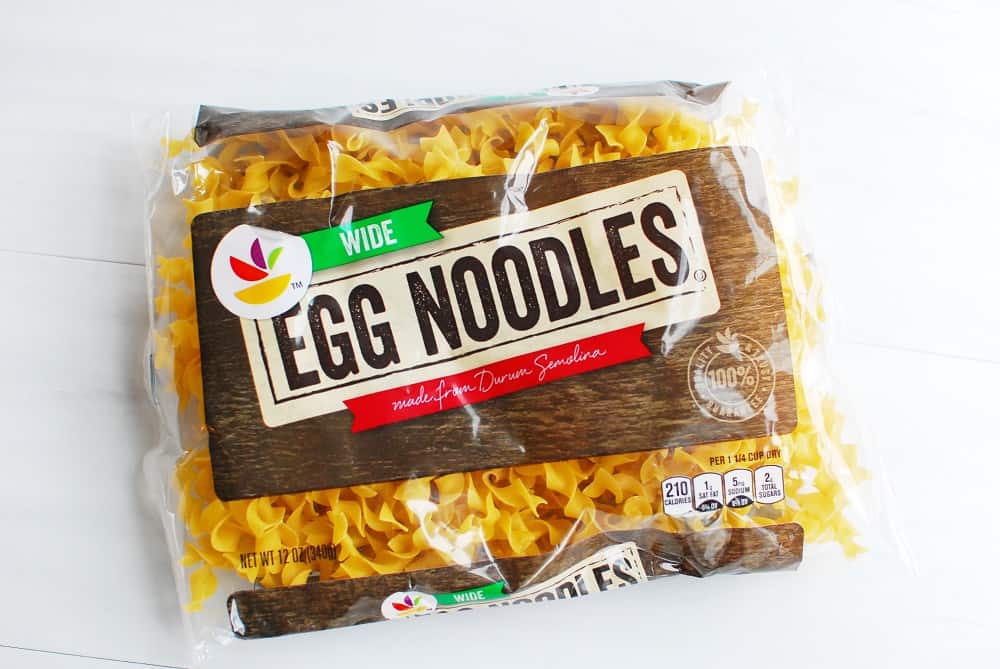 While those are cooking, you'll toss your beef, onion, and mushrooms in a pan.  Cook that until the beef is browned and the mushrooms are tender.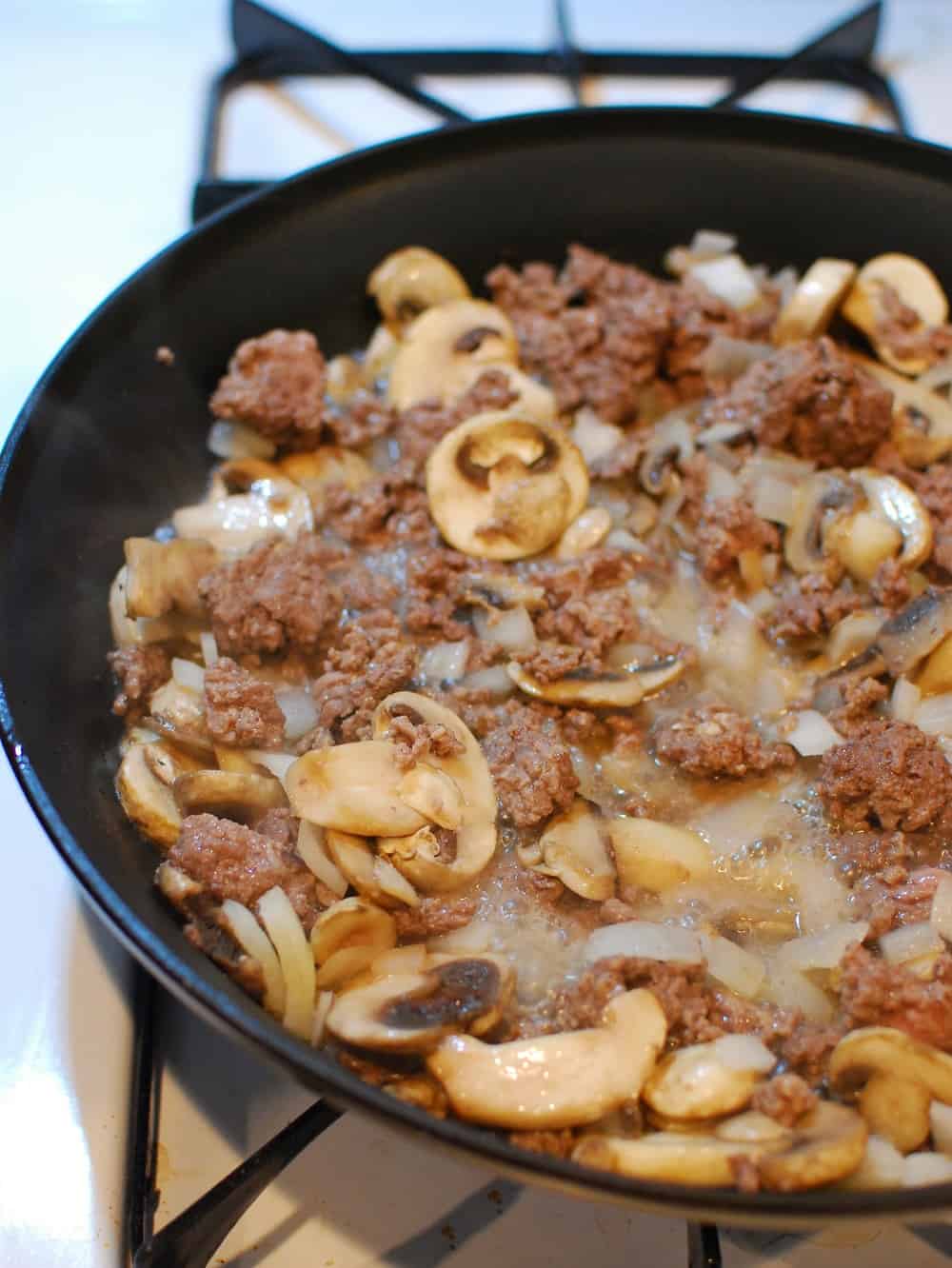 Next, you'll stir in garlic and flour, and cook that for a minute.  Then add your broth, Worcestershire, and seasonings.  Let that cook for a few minutes.
Last step – remove it from heat and stir in those last two key ingredients (the dairy free cream and yogurt).  Toss it all up with the egg noodles and enjoy!
Recipe tips and variations
You can use sirloin steak or tenderloin instead of ground beef for this recipe, which more closely resembles traditional Russian versions.  That said, the ground beef is often easier and foolproof to cook right!  Ground beef is also a great option when you're making this for little ones who are relatively new to table food, as it's easier for them to chew compared to a chunk of steak.
If you'd prefer, you can skip the egg noodles and serve this recipe over cooked rice, mashed potatoes, or roasted potatoes.
While this is a hearty dish as-is, some great sides for dairy free beef stroganoff include roasted asparagus, braised red cabbage, roasted broccoli, or sautéed green beans.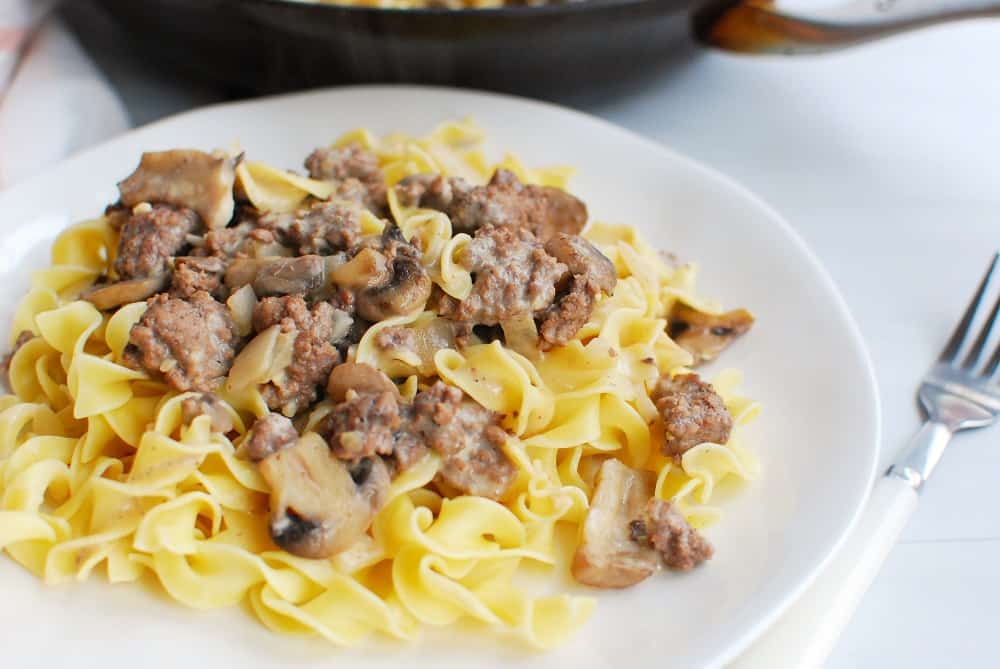 Allergens in this recipe
Disclaimer:  I try to note potential allergens in all recipes – but as you know, manufacturers can change ingredient formulations or I may miss something.  Always double check ingredients and labels prior to consuming if you have an allergy.
This recipe is naturally dairy free.  *However, the Silk heavy cream does carry a voluntary warning that it is produced a facility that also processes dairy, soy, and tree nuts.*  If you have a severe anaphylactic reaction to dairy, soy, or tree nuts, you may wish to avoid this.  In that case, try subbing in an equal amount of canned coconut cream (assuming you can tolerate coconut cream).
As long as you choose a soy-free brand of Worcestershire sauce (i.e. Lea and Perrins in the United States), and double check the labels on your other ingredients, this recipe should be soy free.
This recipe does contain wheat (gluten) and nuts.
To make this recipe wheat/gluten free, you can use gluten-free egg noodles in place of traditional egg noodles.  You can either leave out the flour all together, or you can substitute with rice flour, or substitute with half the amount (1/2 tablespoon) of cornstarch.  You should also make sure you're using a gluten-free Worcestershire sauce.  In the United States, I believe Lea and Perrins was currently gluten free at the time of publish.
The almond milk yogurt in this recipe helps to add a distinct creaminess, but obviously that adds nuts.  If you cannot eat nuts, you can try substituting for a plain soy yogurt.  You could also try leaving the yogurt out and adding more cream to the recipe.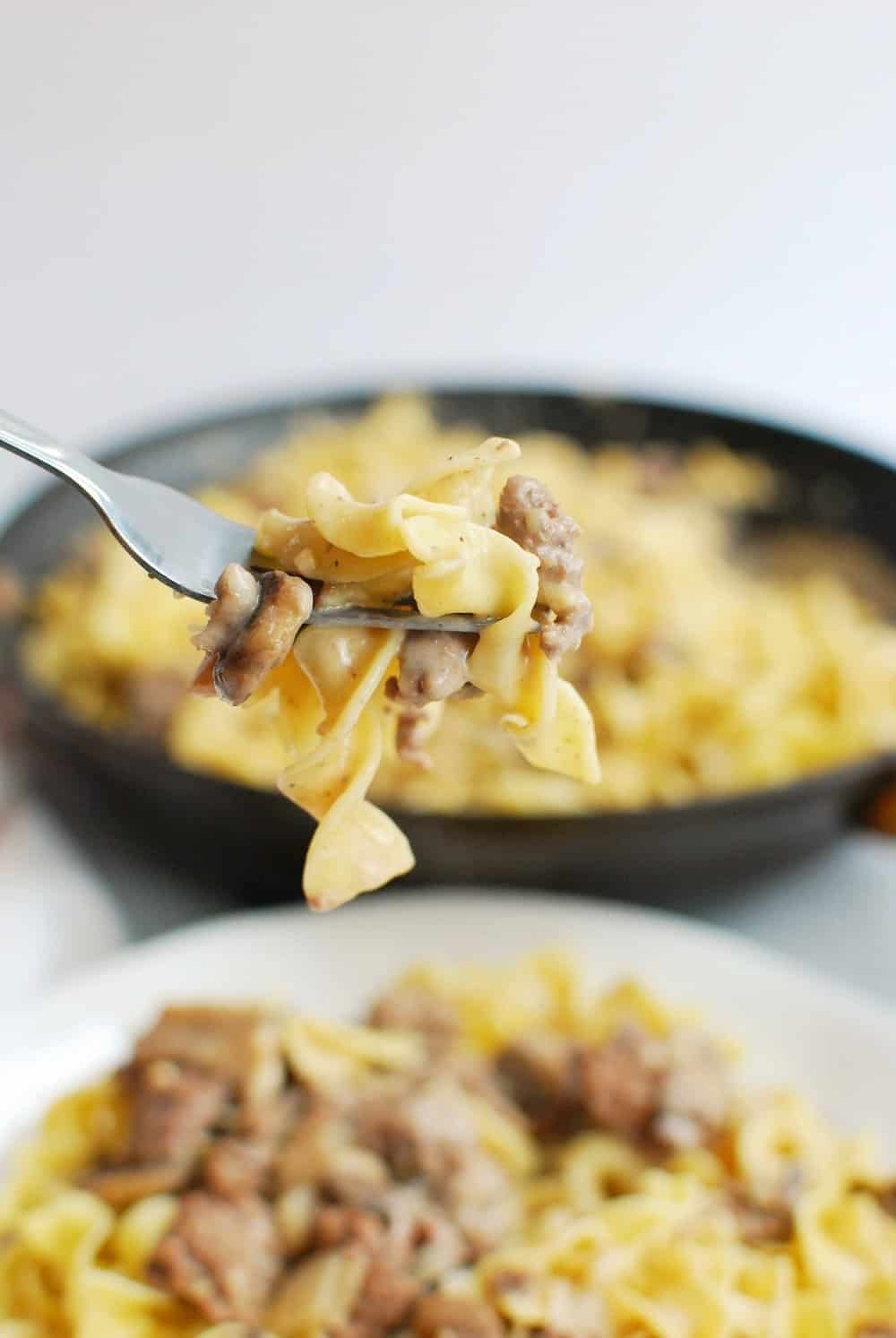 I hope you enjoy this meal!  If you get a chance to try it, be sure to leave a recipe rating or comment below and let me know what you thought.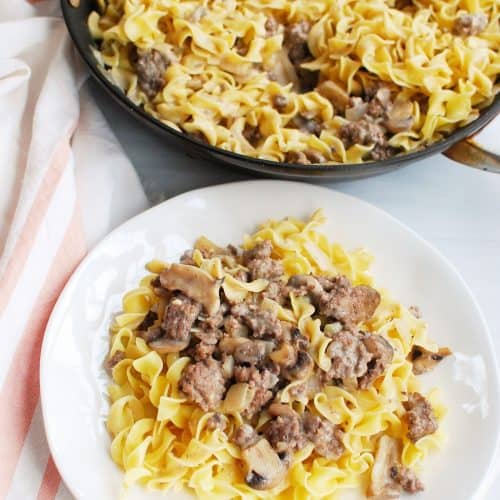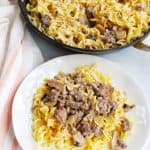 Dairy Free Beef Stroganoff
This dairy free beef stroganoff is delicious comfort food at its best!
Ingredients
12

ounces

dry egg noodles

1

pound

ground beef

1

small onion, chopped

8

ounces

white or baby bella mushrooms, sliced

2

tsp

minced garlic

1

tbsp

flour

1

cup

beef broth

1 1/2

tbsp

Worcestershire sauce

1/2

tsp

salt

1/4

tsp

pepper

1/2

cup

plain almond milk yogurt

(or plain cashew milk yogurt)

1/2

cup

Silk dairy-free heavy cream
Instructions
Cook the egg noodles according to package directions.

Meanwhile, add the beef, onion, and mushrooms to a large skillet. Cook until beef is browned and vegetables are tender, about 8 minutes. If there's a lot of extra fat in the skillet, drain it off at this point (a little left in there is fine).

Stir in the garlic and the flour. Cook for 1 minute. Add the broth, Worcestershire, salt and pepper. Bring to a boil and cook for about 3 minutes.

Remove from heat and stir in almond milk yogurt and dairy-free heavy cream. Toss with the cooked egg noodles and enjoy.
Recipe Notes
Notes:  If you cannot find the Silk heavy whipping cream, you can also try making this recipe with canned coconut cream. 
Nutrition Analysis (approximate per serving):  505 calories, 21.5 g fat, 9.5 g saturated fat, 470 mg sodium, 46 g carbohydrate, 3 g fiber, 3 g sugar, 30.5 g protein, Vitamin A: 1%, Vitamin C: 5%, Calcium: 6%, Iron: 28%
Share with me:  What's your favorite dinner recipe lately?  If you tried this dairy free beef stroganoff, what did you think?