These vegan cranberry orange muffins are fluffy, flavorful, and perfect for brunch or snacking.  You can make them with fresh or frozen cranberries; the tartness playing nicely off the sweet muffin matter and orange zest.
It feels a little weird to be posting cranberry recipes in March – but when I hit up the grocery store the other day, cranberries were the only frozen fruit left!  So I thought why not grab some and get creative?! Muffins were the first thing I thought of, because I knew I could freeze half of them after making to save for another time.
How to make vegan muffins
I'm not personally vegan, but I create a lot of food-allergy-friendly recipes here that tend to be vegan.  To modify most regular muffin recipes, you only need to do a few things:
Swap out regular butter for vegan butter
Skip the egg and play around with other substitutes, like dairy-free yogurt, flax eggs, and slightly different proportions of leavening agents (the specific substitute will depend on the type of recipe)
Ensure the sugar you choose is a vegan sugar. Some sugar is processed using a bone char filtering system, while others are not.  If you avoid all animal products, choose one that does not use any animal products in processing.
Those are really the only three things you'll need to change for most recipes!
Of course, I'm not going to leave you hanging here – I've got a delicious recipe for these vegan cranberry orange muffins.  For this particular recipe, you're going to use these ingredients:
Vegan butter
Sugar (vegan-friendly)
Vanilla dairy-free yogurt
Flour
Baking powder
Baking soda
Salt
Orange zest and juice
Water
Cranberries (frozen or fresh)
You'll start by mixing up these ingredients.  You'll notice the batter is pretty thick and you might be worried – but don't be.  It won't be dense; on the contrary these muffins are actually very light and fluffy.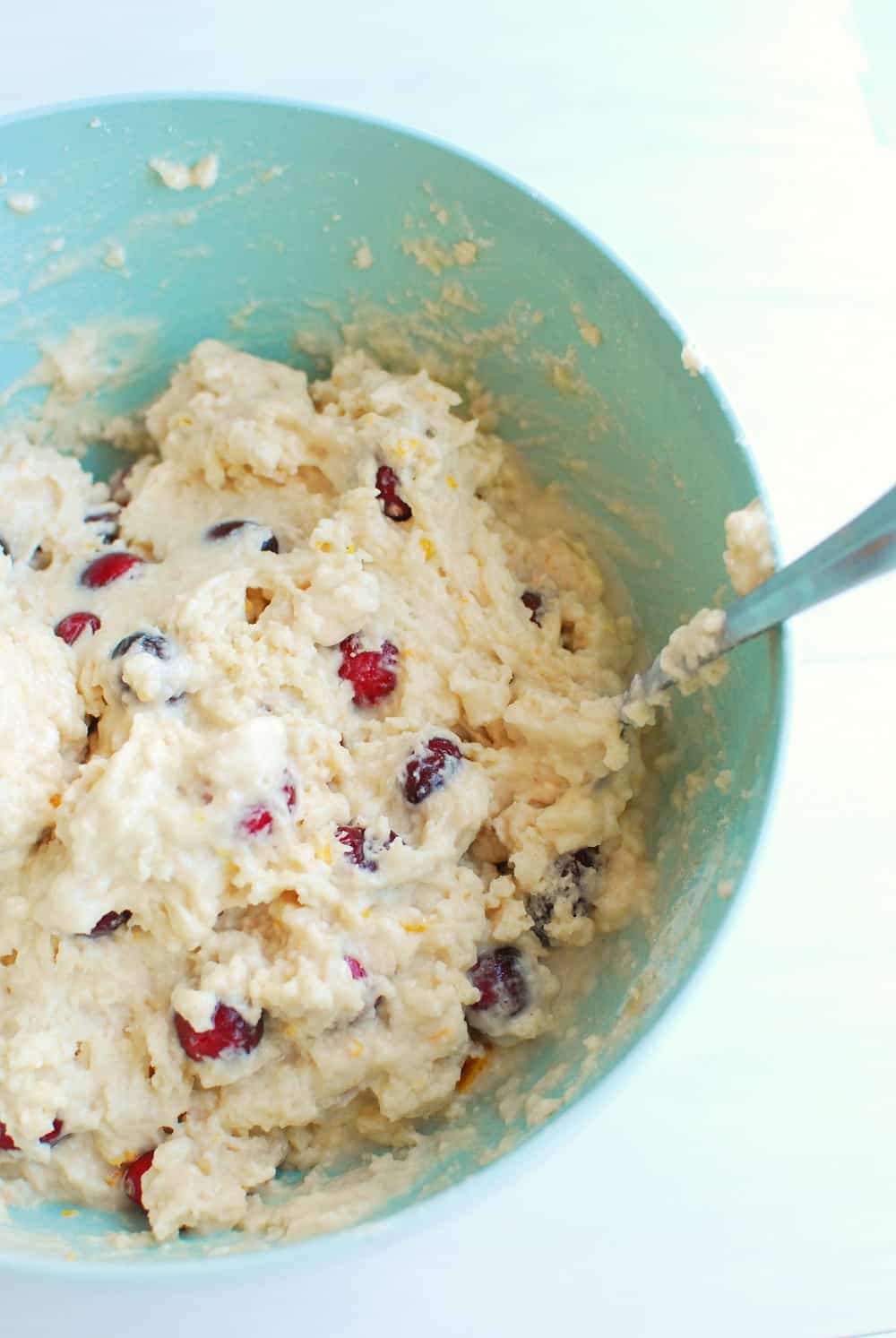 Once the batter is ready, just pour it in the muffin tin.  Then bake, let cool, and enjoy!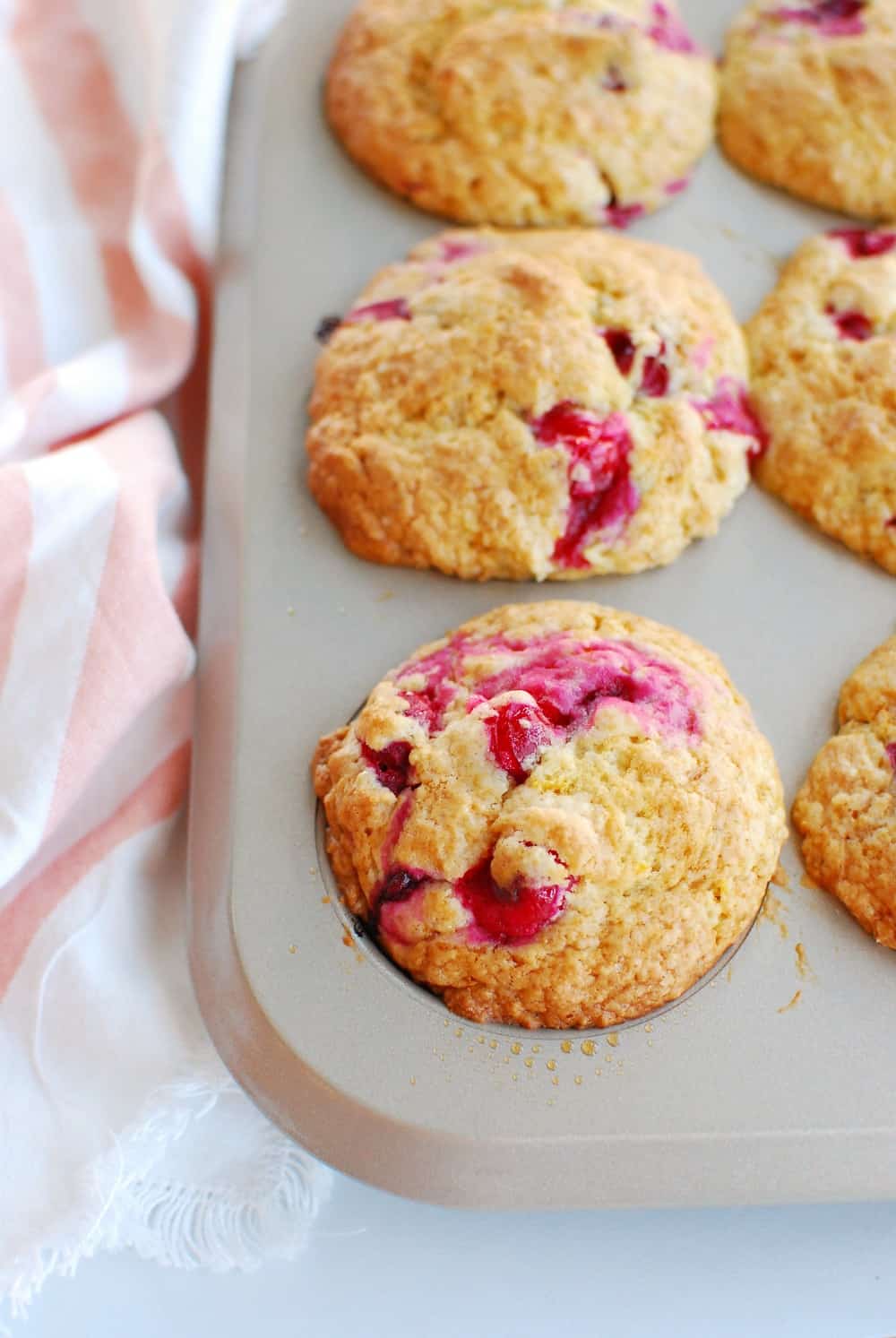 Allergens in this recipe
Disclaimer:  I try to note potential allergens in all recipes – but as you know, manufacturers can change ingredient formulations or I may miss something.  Always double check ingredients and labels prior to consuming if you have an allergy.
This recipe is naturally dairy free and egg free.
This recipe does contain wheat/gluten (in the flour).
Depending on the type of dairy-free yogurt you use, it may also contain nuts or soy.  For example, I used cashewmilk yogurt, so my version contained nuts.
Here's suggested modifications based on these needs:
To make this soy free: Be sure to choose a soy-free vegan butter (for example, the red container of Earth Balance is soy free and what I used here) and a dairy-free yogurt that does not use a soy base.
To make this nut free: Be sure to choose a nut-free dairy-free yogurt alternative (like an oat milk or soy milk yogurt).
To make this gluten free: I have not tried this recipe with gluten free flour, but I imagine using a high-quality gluten-free all-purpose substitute would work well.
More Recipes with Frozen Cranberries
If you bought a bag of frozen cranberries, you'll probably have some more left after these muffins.  In that case, try one of these other delicious ideas from fellow bloggers: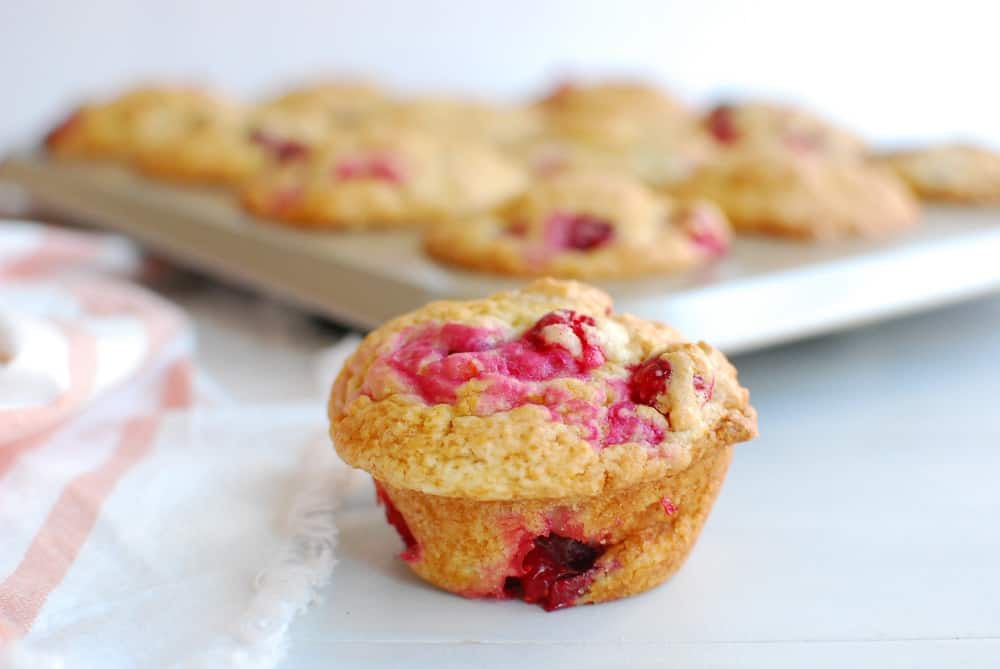 I hope you enjoy these tasty vegan cranberry muffins!  If you get a chance to try them, please be sure to leave a recipe rating or comment below.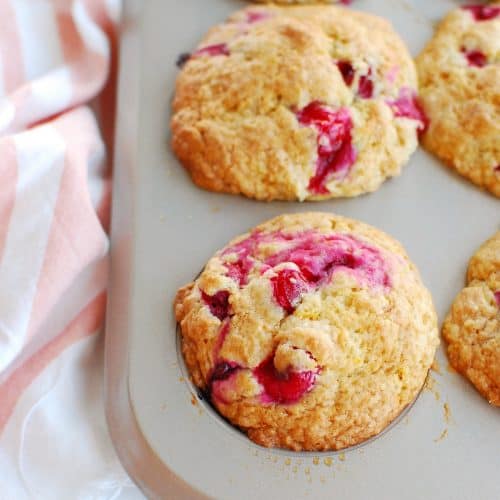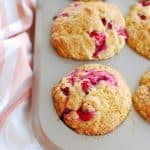 Vegan Cranberry Orange Muffins
These vegan cranberry orange muffins are the ultimate breakfast or snack treat! They're light and fluffy and packed with the perfect balance of tart and sweet flavor.
Ingredients
1/2

cup

vegan butter, softened

3/4

cup

granulated sugar

1/2

cup

vanilla dairy-free yogurt

2

cups

all-purpose flour

2

tsp

baking powder

1/2

tsp

baking soda

1/2

tsp

salt

2

tbsp

orange zest

1/2

cup

orange juice

1/2

cup

water

1 1/2

cup

cranberries
Instructions
Preheat the oven to 375 degrees. Grease a 12-count muffin tin.

Mix together the vegan butter, sugar, and yogurt. Stir in the flour, baking powder, baking soda, and salt.

Add the orange zest, orange juice, water, and cranberries. The batter will be thick. Spoon the batter evenly into the muffin tin.

Bake for 25 to 30 minutes, or until the top is golden brown and a knife pulls out clean. Let cool in the muffin tin, and enjoy!
Recipe Notes
Nutrition analysis (approximate per muffin):  212 calories, 8 g fat, 2 g saturated fat, 300 mg sodium, 32.5 g carbohydrate, 1 g fiber, 15 g sugar, 2.5 g protein, Vitamin A: 1%, Vitamin C: 14%, Calcium: 5%, Iron: 6%
Share:  What's your favorite kind of muffin?  If you tried these vegan cranberry orange muffins, what did you think?