These dairy free waffles are what breakfast dreams are made of!  If you've ever tried cinnamon French toast sticks from the freezer aisle at the grocery store, you'll be transported to that same flavor profile with these cinnamon waffles.  They're made with simple ingredients and taste amazing!
Disclosure:  This post contains Amazon affiliate links.  As an affiliate, I earn a commission on qualifying purchases.
How to make cinnamon waffles
These dairy free waffles are super easy to make.  Here's the ingredients you'll need to gather from your kitchen to follow the recipe below:
Vanilla almond milk
Lemon juice
Brown Sugar
Cinnamon
Vanilla
Canola Oil (or avocado oil, or coconut oil, etc)
Ground flaxseed
Flour
Baking Powder
Salt
You'll start by mixing together the almond milk and lemon juice in a bowl and letting that sit for a few minutes.  This is essentially the dairy-free version of "buttermilk."
Then you'll stir in the sugar, cinnamon, vanilla, oil, and flaxseed.  Once all that is mixed together, add in your flour, baking powder, and salt.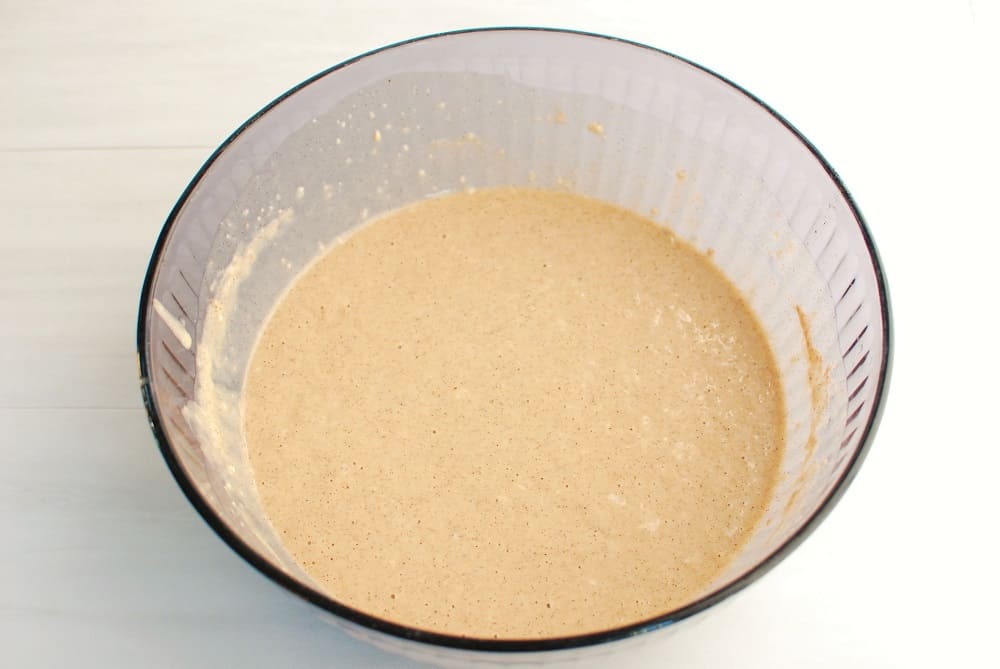 It's as simple as that – now just make it in your waffle maker!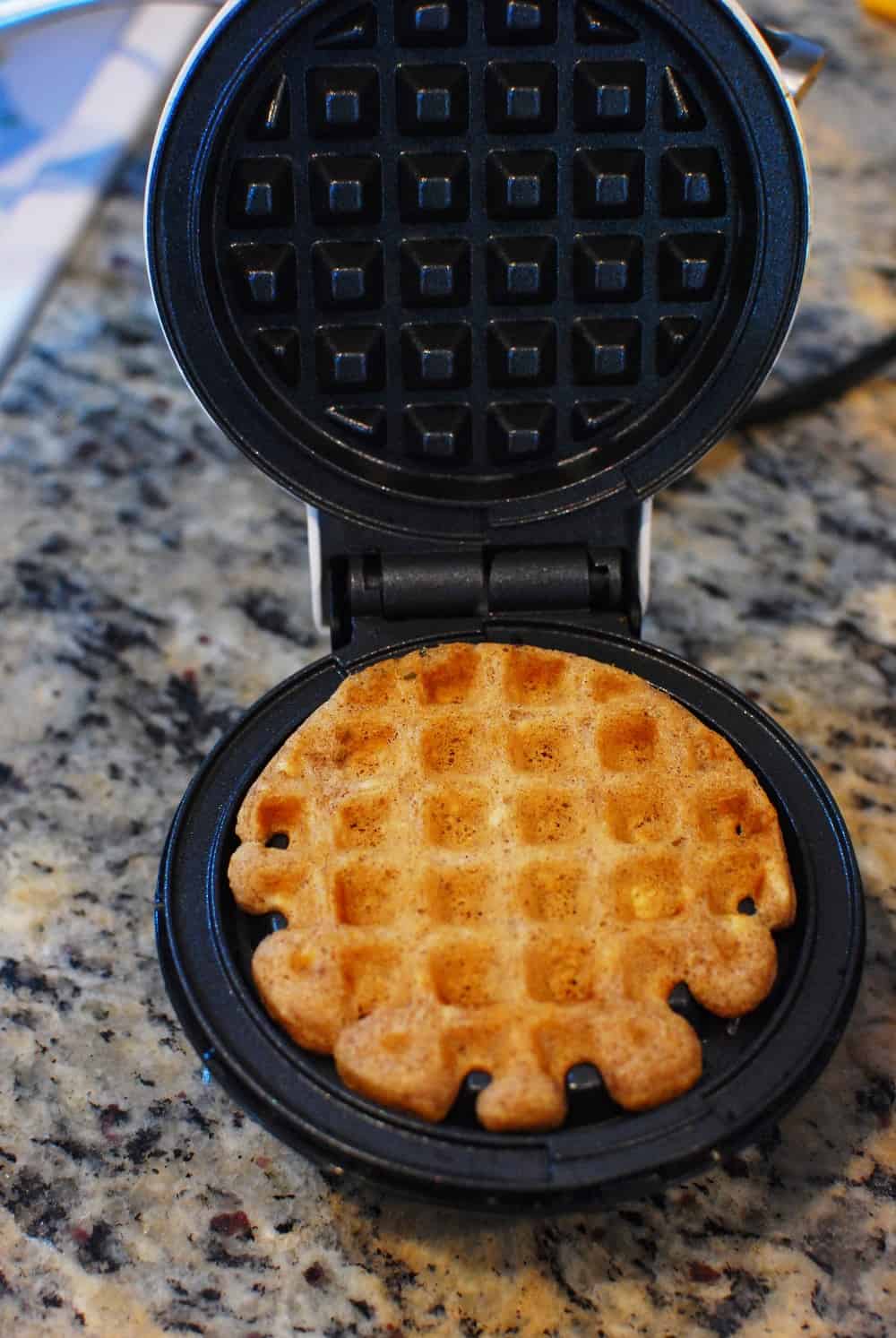 Recommended appliances
I highly recommend investing in either 4-slice waffle maker or a DASH mini waffle maker for this recipe.
We have both a Belgian waffle maker and a DASH mini waffle maker at home, and I can tell you that we haven't had luck with these cooking correctly in the Belgian waffle maker that makes thick waffles.  I'm not sure if it's the lack of eggs or something else in the batter, but when we've tried in the Belgian one, the outside gets too dark before the whole waffle has a chance to cook properly and crisp up.  It ends up being just a weird slightly burnt yet still soft waffle.
But when we make these with our DASH?  Pure perfection, y'all.  They crisp up on the outside perfectly.  Even if they still feel a little soft when you take it out, let it sit on the plate for a minute and it will crisp up.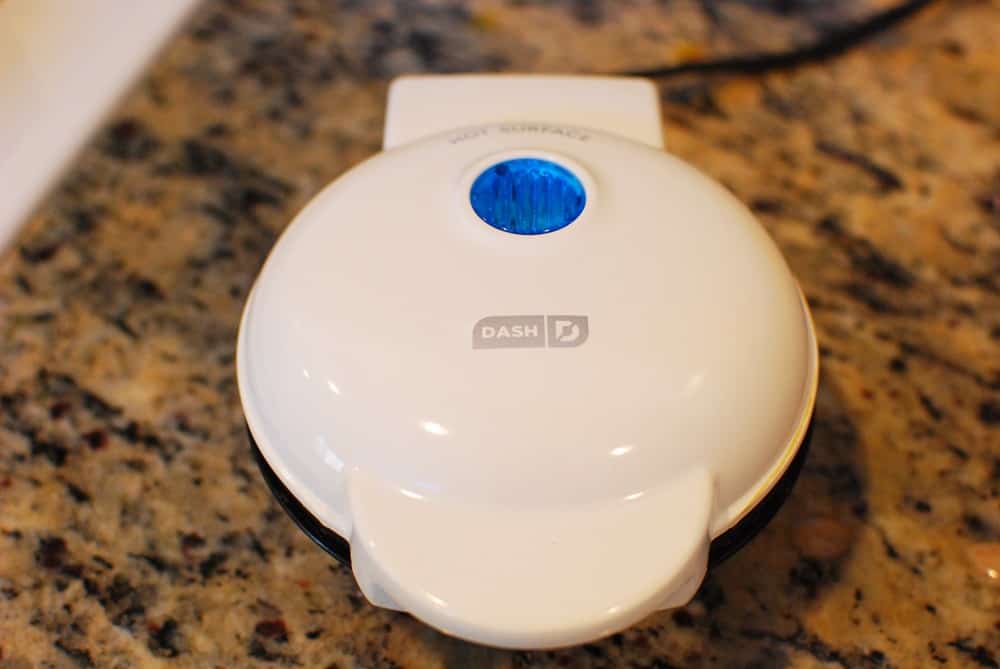 Now, each one takes 5 minutes in the DASH to cook – so you can imagine, if you're making around 18, you're going to be standing there for over an hour.
Since those waffle makers are only $10 a piece, I just bought two of them to cut down cooking time.  And I'll probably by a third for the future, haha.  This makes it far more reasonable to cook off a big batch at a time.
But again, a 4-slice waffle maker should work really well too, and would be faster! (I'm debating on buying that one I linked to!).  Just skip the big Belgian one.
Recipe Tips
Waffle Makers and Nonstick Spray: Even though you might be inclined to spray your waffle maker with nonstick cooking spray, know that most have a nonstick surface that doesn't need this.  In fact, using too much nonstick spray over time can lead to a tacky buildup on the waffle maker.  You may still have to use it depending on the type and age, but know that most will work fine without it.
Freezer Instructions: Probably my favorite thing about this recipe is that it makes perfect freezer toaster waffles!  That's right, after you make them, just freeze them in a zip top bag.  When you're ready to have breakfast another morning, pop one into the toaster and cook it until it's warm and crisp!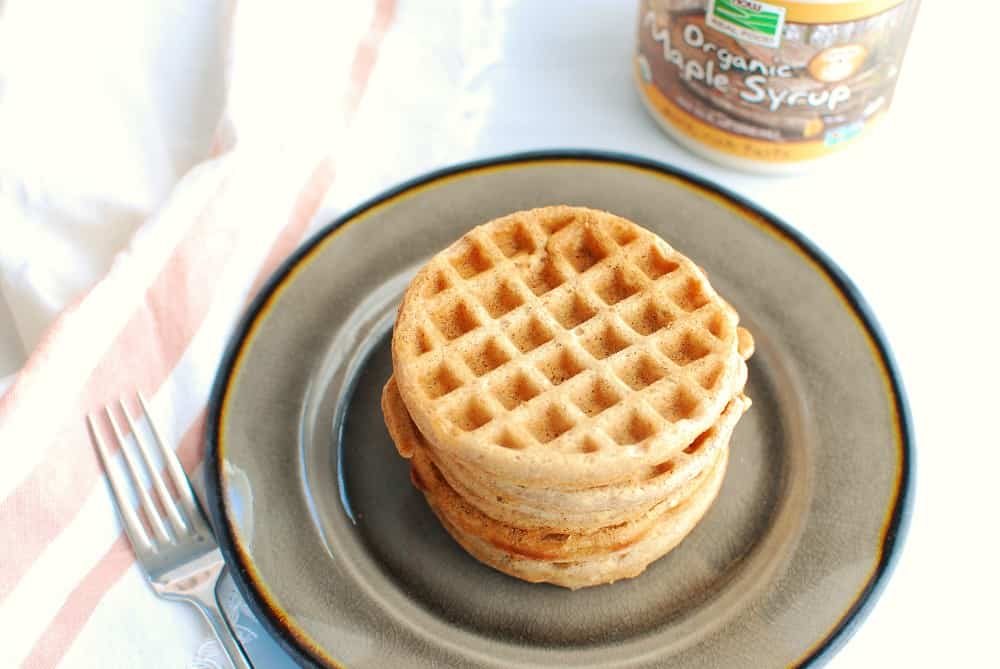 Allergens in this recipe
Disclaimer:  I try to note potential allergens in all recipes – but as you know, manufacturers can change ingredient formulations or I may miss something.  Always double check ingredients and labels prior to consuming if you have an allergy.
This recipe is naturally dairy free, egg free, and soy free.   It is also vegan-friendly, provided the sugar you choose is a vegan-friendly variety (i.e. not processed with a bone char filtering system).
This recipe does contain nuts (in the almond milk) and wheat/gluten (in the flour).
You can easily modify this to be nut-free by using vanilla oat milk instead of almond milk.
If you need to modify it to be gluten free, you can try using a 1:1 gluten free flour substitute.  I haven't personally tried this yet, so I'm not sure if the texture will be the same with the gluten free blend.  If you try it, please do comment below and let us know how it came out!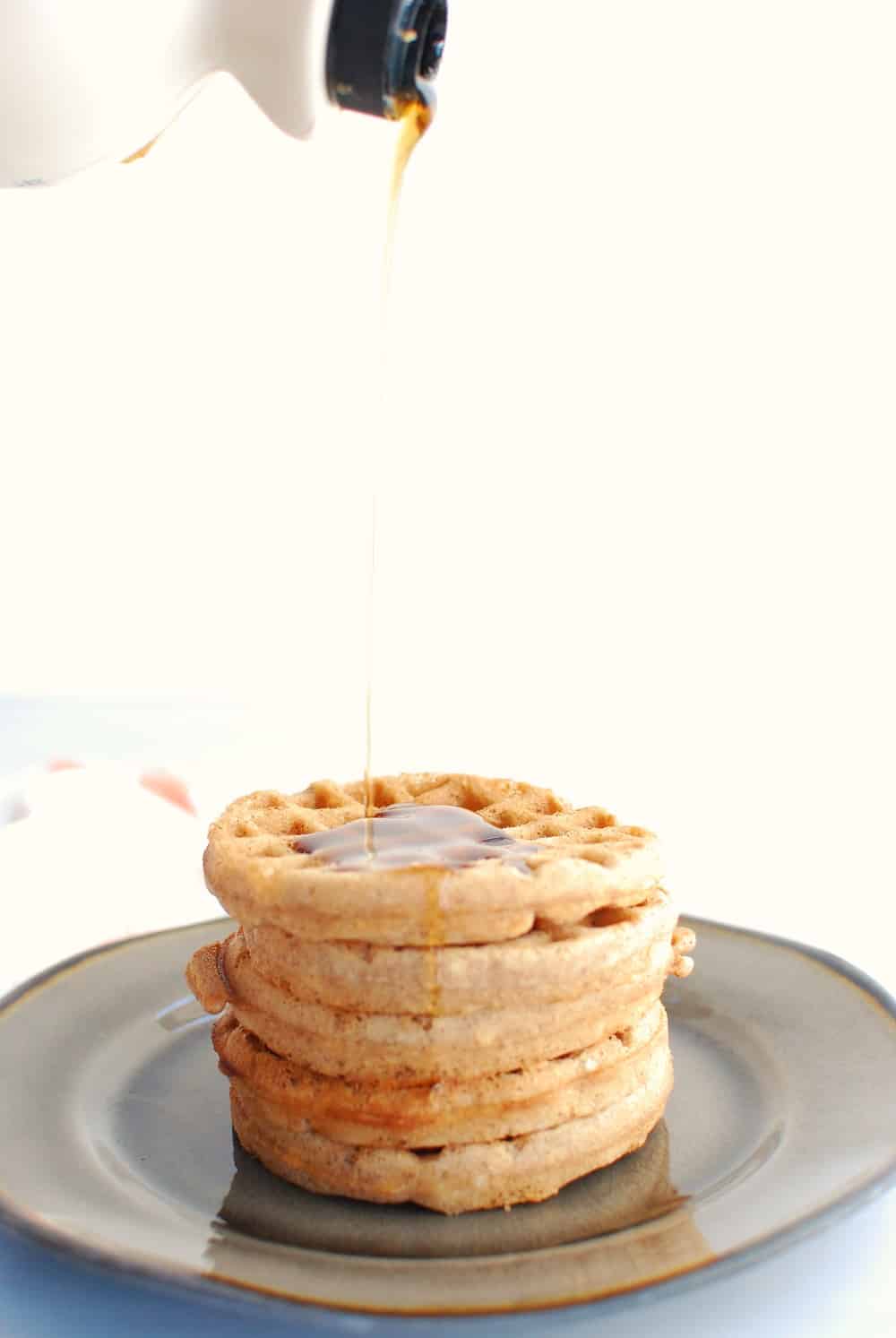 Alright, there you have it – everything you need to know about making the most delicious cinnamon waffles ever!  I hope you get a chance to try this recipe, and if you do, please do leave a recipe rating or comment.
PS – Need more breakfast ideas?  Try a dairy free frittata or these vegan orange cranberry muffins!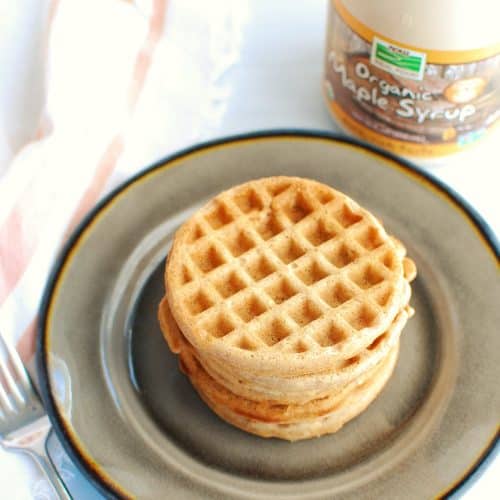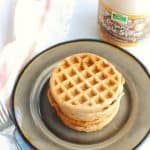 Dairy Free Cinnamon Waffles
These dairy free cinnamon waffles are what breakfast dreams are made of!  They're packed with amazing cinnamon sugar flavor.
Ingredients
1 3/4

cup

vanilla almond milk

2

tbsp

lemon juice

1/2

cup

brown sugar

2 1/2

tsp

cinnamon

1/2

tsp

vanilla

1/2

cup

canola oil

(or another oil of choice)

1

tbsp

ground flaxseed

2

cups

flour

1

tbsp

baking powder

1/2

tsp

salt
Instructions
In a large bowl, combine the almond milk and lemon juice. Let it sit for a few minutes.

Add the brown sugar, cinnamon, vanilla, canola oil, and ground flax to the bowl. Give everything a good stir.

Add the flour, baking powder, and salt to the bowl. Stir until everything is combined.

Preheat your mini waffle maker(s) or 4-slice waffle maker. If using the mini waffle makers, set a timer for 5 minutes per waffle. If using a 4-slice, follow the indicator light on the waffle maker to indicate doneness. Repeat until all batter is cooked. Enjoy!
Recipe Notes
Nutrition analysis (approximate per waffle):  139 calories, 6.5 g fat, 0.5 g saturated fat, 160 mg sodium, 18.5 g carbohydrate, 1 g fiber, 7.5 g sugar, Vitamin A: 1%, Vitamin C: 1%, Calcium: 10%, Iron: 5%
Share:  What's your favorite kind of dairy free waffle?  If you tried these cinnamon waffles, how did you like them?