Hot chocolate is always a popular beverage in the winter months, especially during the arctic blasts that always seem to take hold across the Northeast each January. As winter rages on, try out this dairy free hot chocolate recipe that will surely satisfy your sweet tooth! Its creaminess and simplicity will have you wanting to cozy up near a fire (or under blankets) and relax before the start of another hectic week.
Disclosure:  This post contains Amazon affiliate links.  As an affiliate, I earn a commission on qualifying purchases.
Disclaimer:  I try to note potential allergens in all recipes and product recommendations – but as you know, manufacturers can change ingredient formulations or I may miss something.  Always double check ingredients and labels prior to consuming if you have an allergy.
How to make dairy free hot chocolate
This dairy free hot chocolate is a little different than many other recipes.  It's ultra-rich and thick and creamy, because it's made with chocolate chips rather than cocoa powder.  My husband says it's "like drinking chocolate cake or a brownie", haha.
Here's what you'll need to make this recipe:
Dairy-free milk alternative (I recommend unsweetened almond milk)
Dairy free chocolate chips (see below for specific brands you may want to check out)
Sugar
Vanilla extract
Pinch of salt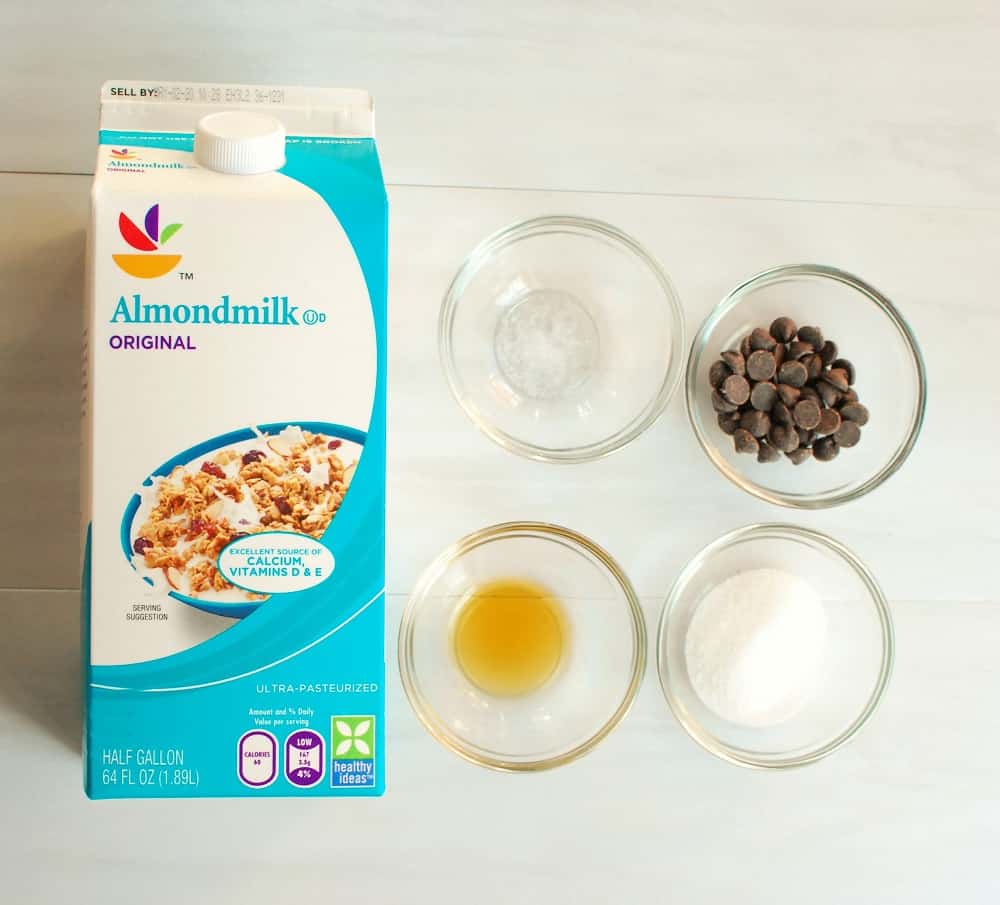 First, you'll start off by grabbing a small saucepan, turning on your stovetop, and pouring your milk alternative of choice into the pan.  Bring the milk to a simmer – but avoid bringing it to a full boil.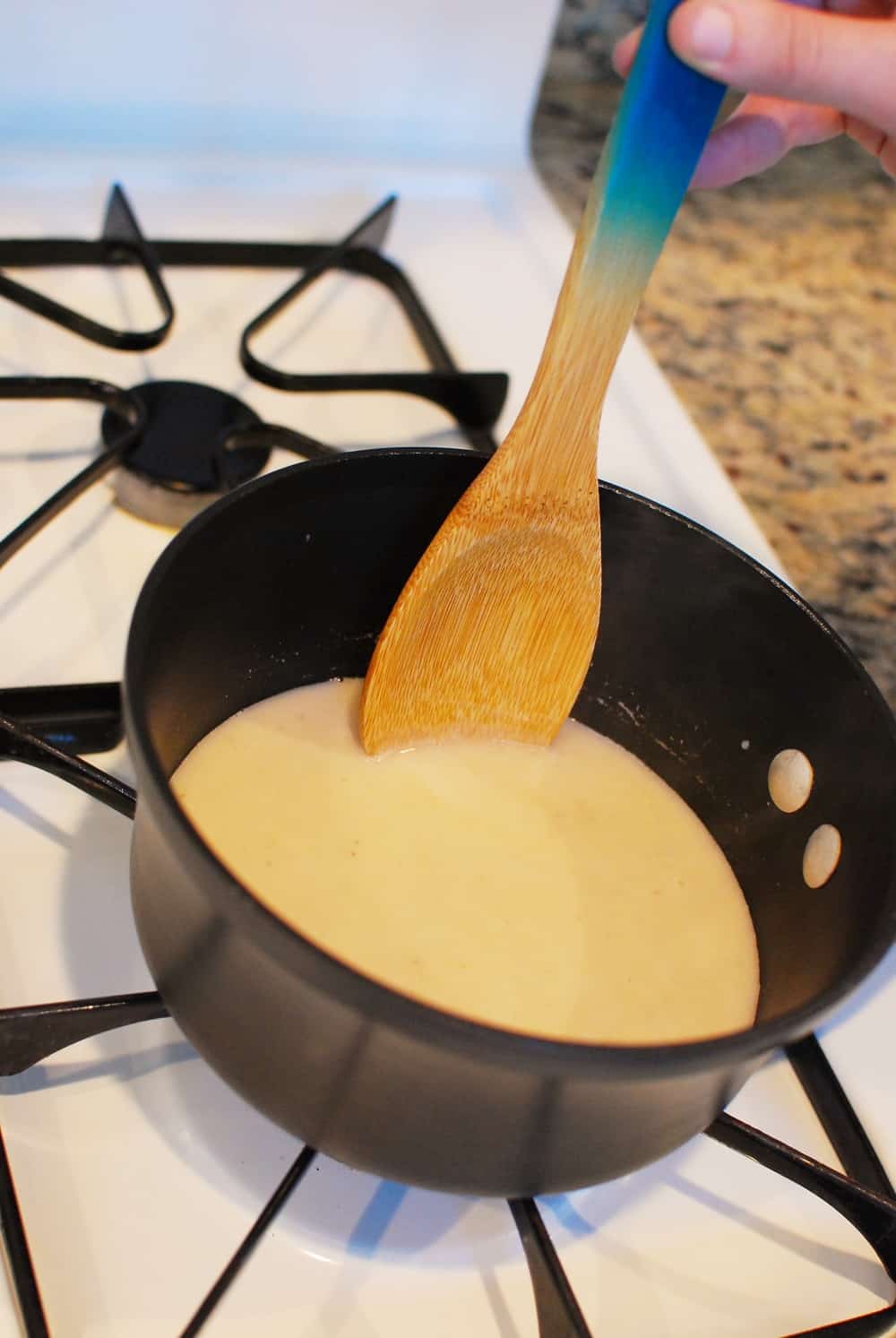 Once you're there, you'll want to add in the sugar, salt, vanilla, and dairy free chocolate chips.
Grab a whisk or a spoon and slowly stir the mixture, making sure that the chocolate does not sink to the bottom of the pan for too long while in solid form (this will help you to avoid the devastating circumstance of burning chocolate!).
Once the ingredients have been fully melted in with the milk, remove the pan from the stovetop and let it cool for a few minutes. Now just pour it into your favorite mug (who doesn't love cute mugs?! I have a hefty collection of them myself) and enjoy!
Dairy Free Chocolate Chip Brands
Finding dairy free products can definitely be a challenge. This can be a very frustrating and time-consuming process, but don't worry! Here are some dairy free chocolate chip brands that we were able to find that are perfect for this hot chocolate recipe:
Enjoy Life: This is generally my go-to brand – the dark morsels are SO good; a great option if you like a thick and rich hot chocolate.  You can order these online on the company website for only $5 per bag, and they're top 8 allergen free!
365 Everyday Value *Vegan* Chocolate Chips: Find these at the closest Whole Foods store near you! Keep in mind only the vegan variety is currently dairy free; the regular chocolate chips are not.
Nestle Simply Delicious: This is a specific allergy-friendly line from Nestle that offers in three flavors – dark chocolate, semi-sweet chocolate, and white chocolate.  Only the Simply Delicious line is dairy free, so be sure to check labels.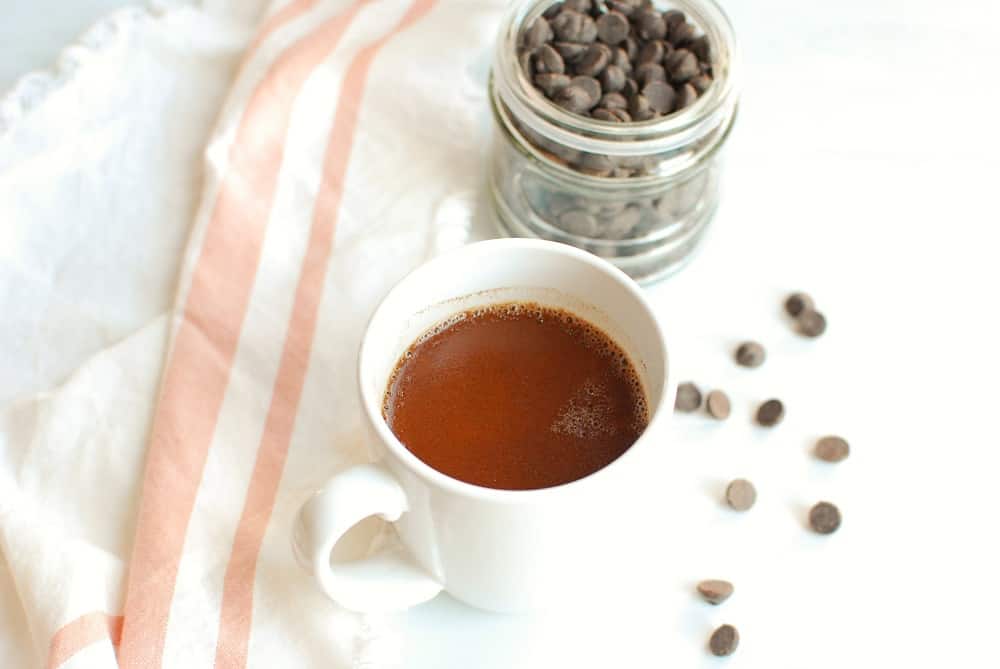 Allergens in this recipe
This recipe is naturally dairy free and egg free.
Other allergens will depend on the type of milk substitute that you use.  For example, if you use almond milk, it will contain tree nuts but should be gluten free and soy free.  If you use certain brands of oat milk, it may contain gluten (depending on the brand) but should be nut free and soy free.  If you use soy milk, it will contain soy but should be nut free and gluten free.
If you decide to make your own whipped topping or use a store-bought whipped topping, don't forget to account for those ingredients/allergens as well.
As always, it's important to keep a look out on nutrition facts labels for the allergen you or your family may be trying to avoid.  (For more information on how to effectively read food labeling for allergen detection, check out this helpful resource).
Whipped Cream Topping
This hot chocolate is delicious on its own – I don't feel the need to add any whipped cream or marshmallows or anything.  But if you love a good dollop of whipped cream on top, by all means – go for it!
These days, you can find dairy-free whipped cream options at the grocery store.  We like Redi-Whip Non-Dairy Toppings (which are dairy-free and soy-free at the time of publish).
You can also make your own coconut whipped cream.  You'll need:
1 can of coconut milk
1-6 tbsp of powdered sugar
Optional: Sprinkle of cinnamon or nutmeg
You'll need to think ahead a bit, and put a can of coconut milk in the fridge for at least a day or two in advance.  Then you'll scoop out the cream that solidifies on top, and use a whisk attachment on a mixer to whip it up.  Mix in powdered sugar according to your taste preferences, and add a sprinkle of cinnamon or nutmeg if you'd like.
Now you can add a dollop of whipped cream to your hot chocolate and viola! Your drink is complete.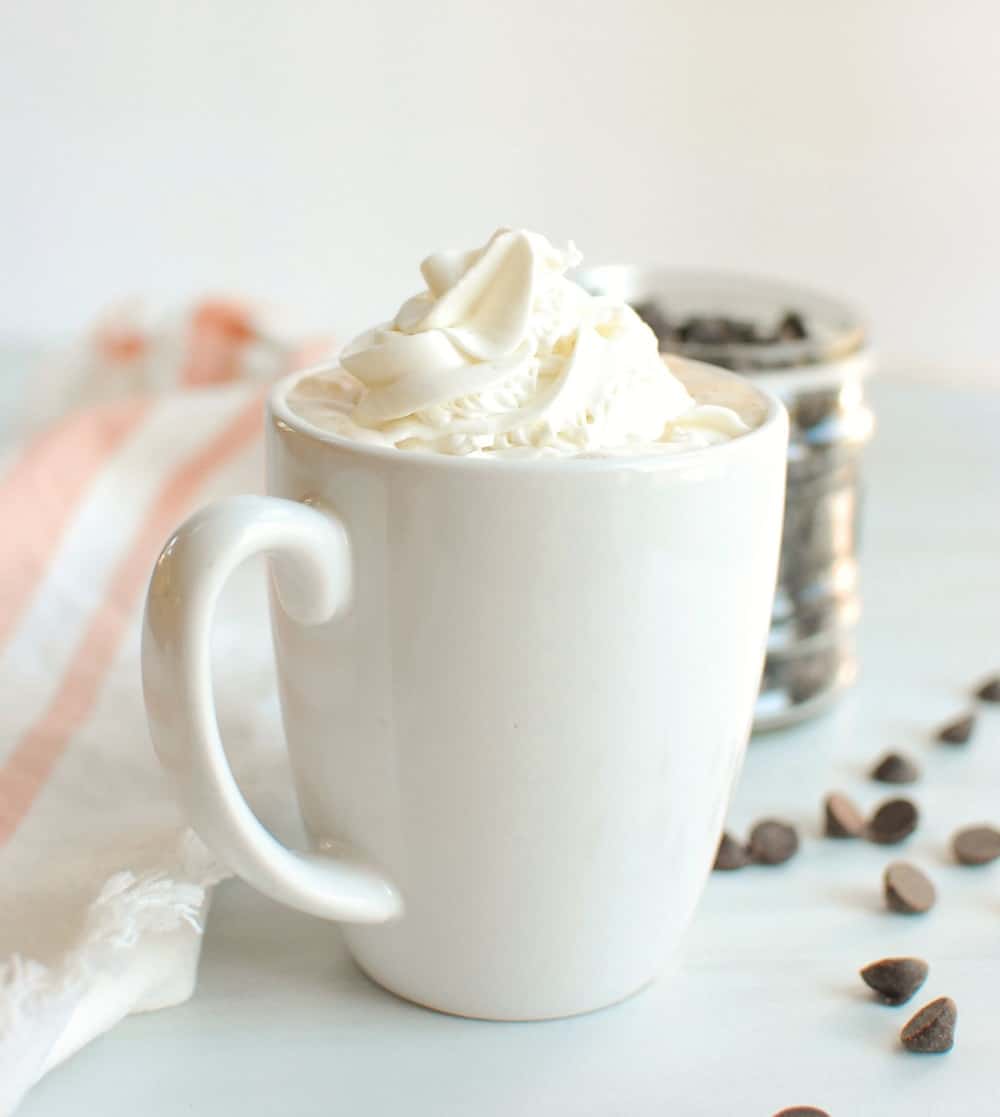 Store bought dairy free hot chocolate brands
Sometimes you may not want to make the additional effort of making things from scratch, and that's okay! Thankfully, it's pretty easy to find dairy free hot cocoa mixes.  If you or your kids have a craving for a warm and sweet beverage and want a quick fix, try these pre-made dairy-free hot chocolate mixes (again, always double check ingredients as formulations may change):
Alright – I hope you enjoy this dairy free hot chocolate recipe!  If you're looking for more recipes to get your chocolate fix, definitely try our one minute mug brownie.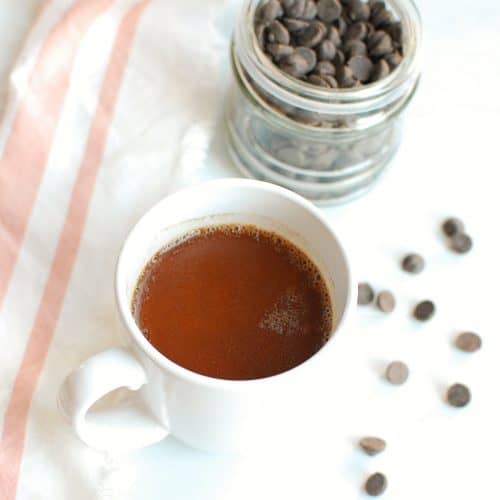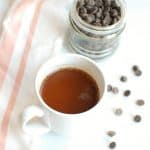 Dairy Free Hot Chocolate
When the weather gets cold, warm up with this delicious dairy free hot chocolate!
Ingredients
For the hot chocolate:
1

cup

unsweetened almond milk

(or another milk alternative)

3

tbsp

dairy free dark chocolate chips*

(I recommend Enjoy Life Dark Chocolate)

1 1/2

tbsp

sugar*

1/2

tsp

vanilla extract

Pinch

salt
Instructions
In a small saucepan, heat the almond milk over medium-low heat.

When it's simmering, stir in the chocolate chips, sugar, vanilla extract, and salt. Stir the mixture continuously until the chocolate is fully melted into the milk mixture.

Remove from heat and let cool for a few minutes, then pour into a mug. If desired, top with dairy-free whipped cream. Enjoy!
Recipe Notes
Notes: *Reduce the sugar to 1 tbsp if using dairy-free semi-sweet or milk-chocolate chips, OR if you're using oat milk or sweetened almond milk.
Nutrition analysis:  325 calories, 20.5 g fat, 10.5 g saturated fat, 325 mg sodium, 44.5 g carbohydrate, 6 g fiber, 34 g sugar, 4.5 g protein, Vitamin A: 10%, Vitamin C: 0%, Calcium: 47%, Iron: 50%
Share: Do you have a favorite add in to your dairy free hot chocolate? If you tried this recipe, let us know what you think!
Special thanks to Nicole McFarland, a student at Simmons University, for her help with this post!