If you're craving a big bowl of creamy soup, look no further than this dairy free broccoli soup.  It's ultra-creamy and rich – but you don't need any cheese or heavy cream for this recipe.  You'll love this nutritious, allergy-friendly take on a classic winter comfort food.
How to make dairy free broccoli soup
This recipe is really easy.  You'll use all the standard ingredients in broccoli cheddar soup that you're used to – broccoli, carrots, onion, broth, etc. – just without any of the normal milk, cream, and/or cheese, of course.
Instead, you'll get the creaminess and thickness in the soup through two steps:
Adding flour to the remaining olive oil after you sauté your onion, creating a roux that helps thicken the sauce
Using oat milk (in addition to broth) for the base of the soup, which adds that classic creamy dairy-esque quality. Plus, homemade oat milk is crazy easy and crazy cheap (my how-to is below), so you can be ready to whip some up for this recipe anytime.
Then to add a little savory, almost-cheesy flavor to this soup, you'll add some nutritional yeast.
If you've never tried nutritional yeast before, definitely get your hands on some.  The taste is not exactly the same as cheese, but definitely elicits some of the same taste sensations.  Most grocery stores actually carry it in the natural food section these days, or you can easily order it online.  (Bonus – it's a good source of certain B Vitamins).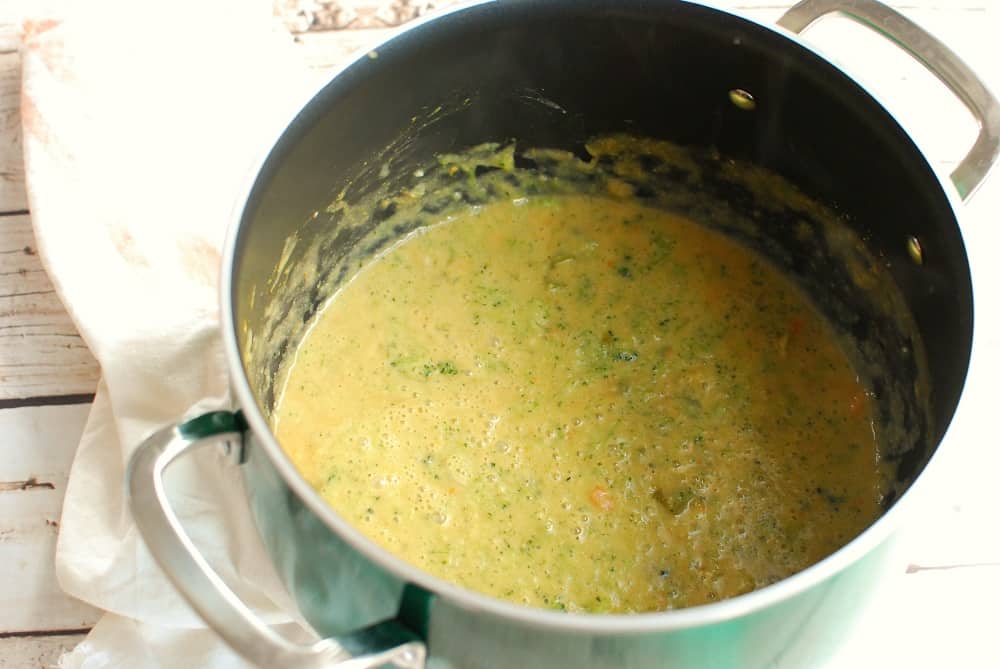 Homemade oat milk for this recipe
If you don't have any oat milk on hand, it's actually extremely easy to make some for this recipe (and for your other cooking)!
Just combine 4 cups water, 1 cup rolled oats, and a pinch of salt in a blender.  Blend for 30 seconds, then pour the mixture through a fine mesh strainer or cheesecloth into a pitcher.  Discard the pulp.  The liquid that's left in the pitcher is your oat milk!
Now if you want to use that for drinking later, you may want to add a little vanilla and a sweetener like honey or maple syrup – but for cooking, this plain basic recipe works perfectly.
Recipe Tips and FAQ
You can use frozen or fresh broccoli to make this, and definitely include the stalks too (it's a great way to use a part of the veggie that's sometimes tossed).  The day I made it for these photos, we had a few broccoli stems left from fresh broccoli (made some roasted veggies the other night) and then florets that were frozen.  I used both!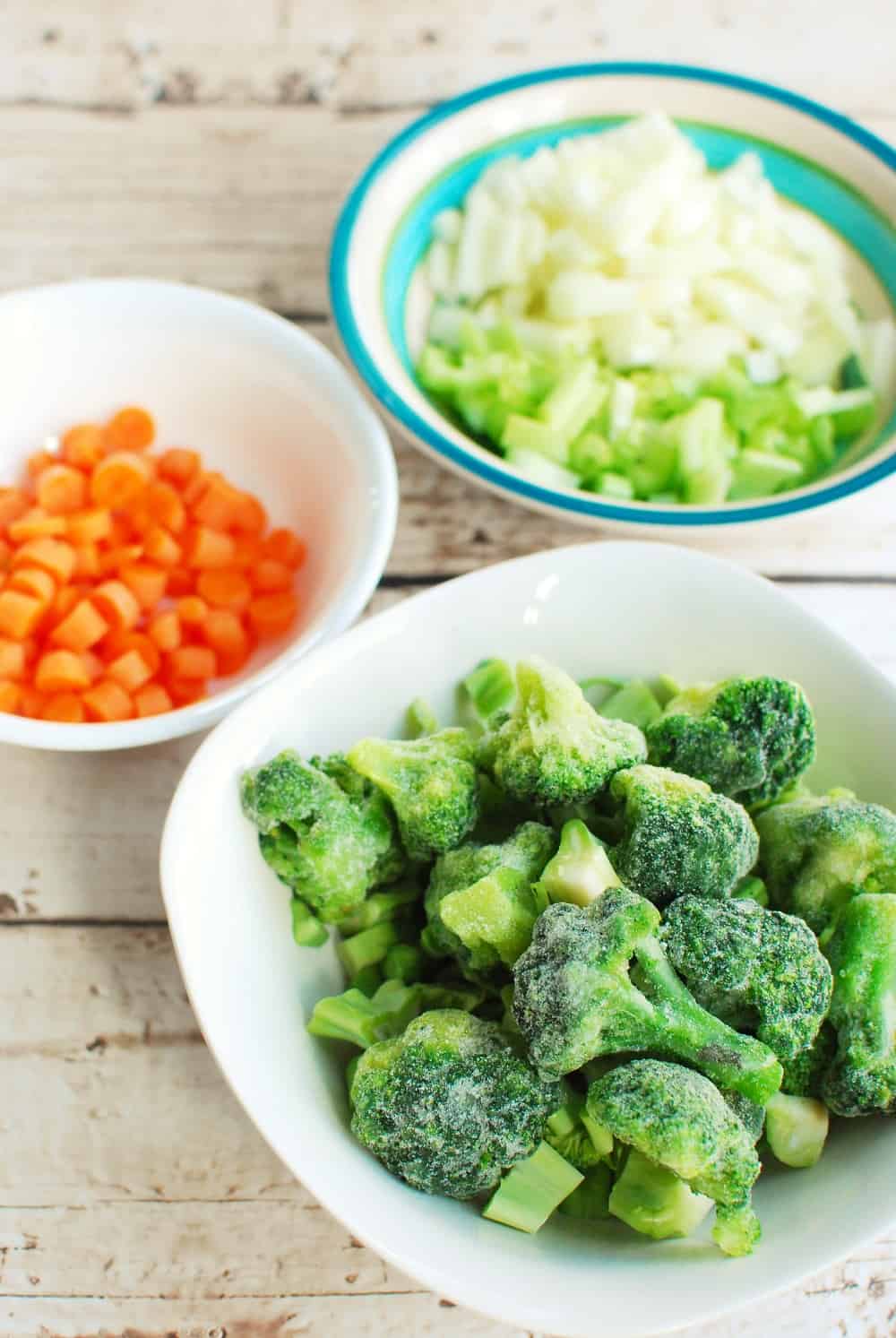 I like this recipe really thick, but if you prefer a thinner soup, just add a little more broth or oat milk when making it.
If you don't have oat milk and don't have the ingredients on hand to make your own, try using a combination of almond milk and coconut milk.
The sodium content in this recipe is admittedly a bit high, but that's natural with most soups.  Plus, with dairy free broccoli cheddar soup, when you're missing out on cheese, you do need to boost the salt a bit to compensate for the salt that would have been in the cheese.  That said, you can easily salt to your own taste.  Add a little at a time and see what works for you.
If there's a brand of dairy-free cheddar shreds that you like, you can mixing in 1 cup of those, instead of the nutritional yeast.
Allergens in this recipe
Disclaimer:  I try to note potential allergens in all recipes and product recommendations – but as you know, manufacturers can change ingredient formulations or I may miss something.  Always double check ingredients and labels prior to consuming if you have an allergy.
This recipe is dairy free, egg free, nut free, and soy free (just double check the broth for soy, as occasionally some contain soy).  A winner for many food allergy families!
This recipe does contain wheat/gluten, because of the flour (and some oat milks contain gluten).
Here are a few suggested modifications if needed:
To make gluten-free:  Try subbing out the all-purpose flour for rice flour, and also make sure to choose a gluten-free oat milk.  You can also try leaving out the flour all together, cutting the olive oil down to 1 tablespoon, and instead adding some potatoes to the soup.  When pureed at the end, they will help thicken the broth.
To make vegan:  Swap out the chicken broth for vegetable broth.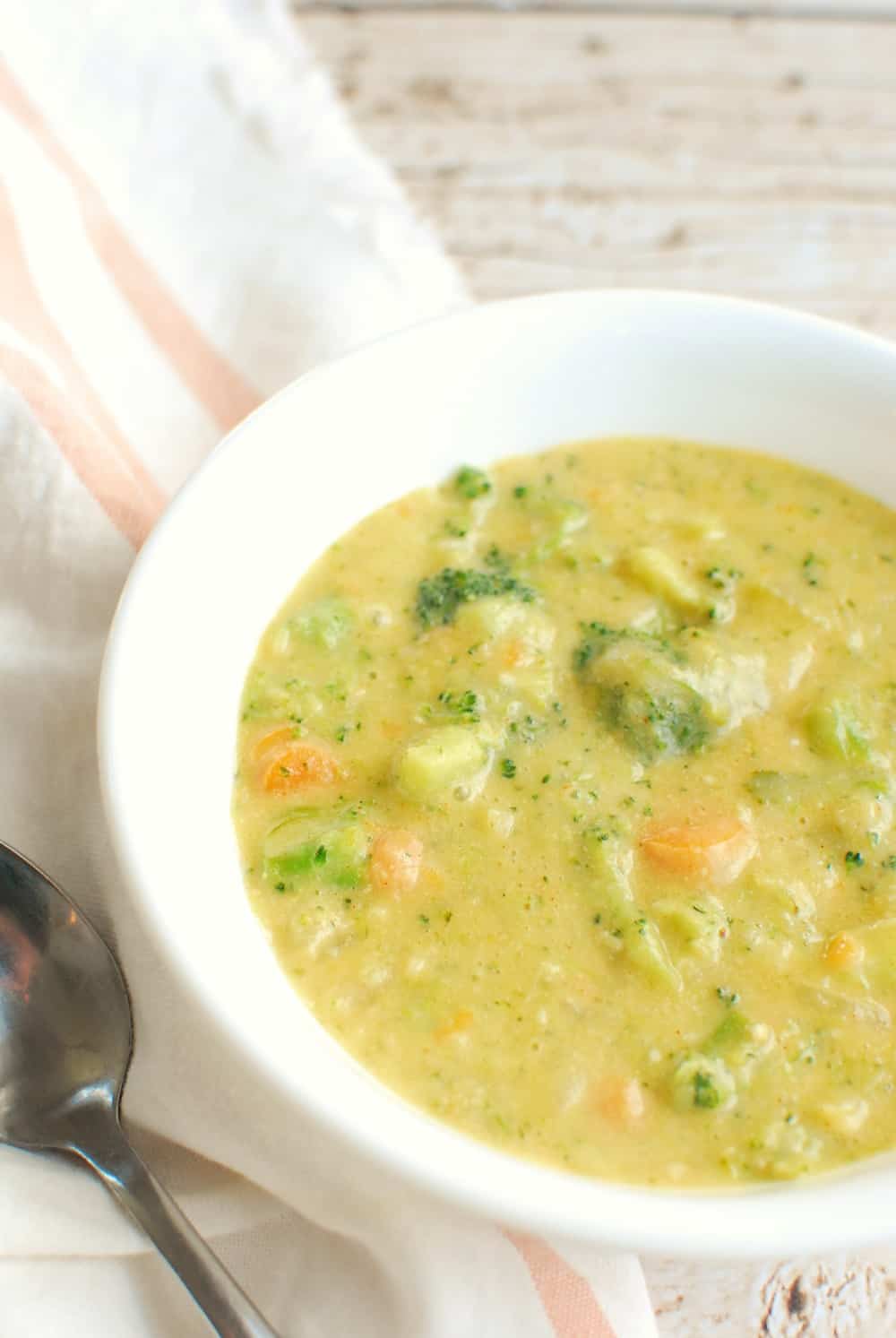 Other Dairy Free Soups
Looking for more dairy free soups to whip up?  Try one of these options:
I hope you enjoy this dairy free broccoli soup as much as my family does.  If you get a chance to try it, feel free to leave a recipe rating or comment below.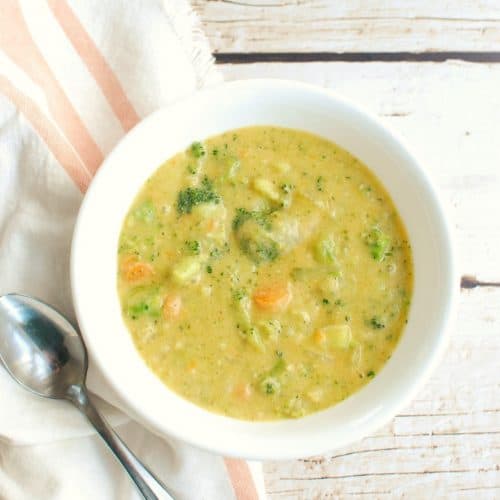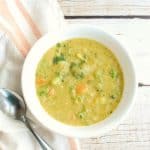 Dairy Free Broccoli Soup
Cozy up to a big bowl of this dairy free broccoli soup for a delicious and healthy dinner.
Ingredients
3

tbsp

olive oil

1

small onion, chopped

1/2

cup

chopped celery

2

cloves

garlic, minced

2

tbsp

all-purpose flour

2

cups

chicken broth

1 1/2

cups

plain oat milk

1/2

cup

chopped carrots

3

cups

chopped broccoli

(florets and stalks)

3/4

tsp

salt

1/4

cup

nutritional yeast

1

tbsp

Dijon mustard

1/4

teaspoon

paprika
Instructions
In a large pot, heat the oil over medium heat. Add the onions and celery and cook for 5 minutes, until they start to get tender.

Stir in the garlic and cook for 1 minute. Add the flour and stir for another minutes stirring frequently.

Slowly stir in the chicken broth, adding a little bit at a time and letting the mixture fully combine before adding a little more.

When all broth has been added, then add the oat milk, carrots, broccoli, and salt. Simmer the mixture for 10 minutes, until the broccoli and carrots start to get tender.

Stir in the nutritional yeast, Dijon mustard, and paprika. Cook for one more minute, then remove from heat.

Use an immersion blender to puree some of the soup, until it reaches the texture of your liking (I like to leave some chunks of broccoli in there). Enjoy!
Recipe Notes
I prefer this to be super thick and creamy. If you want a thinner soup, use ½ cup to 1 cup extra chicken broth or oat milk.
You can adjust the salt to your taste based on how much sodium is in your chicken broth and oat milk. I use about 3/4 tsp, but you can experiment with anywhere from 1/2 to 1 tsp.
Nutrition analysis (approximate per serving):
208 calories, 13 g fat, 1.5 g saturated fat, 1070 mg sodium, 17 g carbohydrate, 4 g fiber, 5 g sugar, 7.5 g protein, Vitamin A: 61%, Vitamin C: 6%, Calcium: 15%, Iron: 5%
Share:  What's your favorite kind of soup?  If you tried this dairy free broccoli soup, what did you think?