If you're on a dairy-free diet but are missing your morning bagel and cream cheese, you're in luck!  This dairy free cream cheese is a perfect spread for bagels or crackers.  The scallions and onion powder give it a punch of flavor that tastes great spread on a bagel or toast, and the cashews create the smooth base for this vegan cream cheese.
Regular versus dairy free cream cheese
Now I'm going to give you a little truth up front – if you're expecting Philadelphia, this isn't it.  I have yet to find a substitute, homemade or store bought, which tastes exactly like your standard dairy-based cream cheese.
But now, the good news!  This spread is rich, tangy, savory, and tastes absolutely delicious.  Aside from eating it just slathered on a bagel, I make this awesome vegan bagel sandwich that includes this spread along with avocado, cucumber, scallions, spinach…it's insanely good.
I'm going to venture to say this homemade version is way better than most of the cream cheese alternatives you find at the store – both as far as flavor and nutrition.  Some of the store-bought varieties are filled with odd ingredients, and many have a strange, almost artificial taste to them.  (Or maybe that's just me?!)
This is one of my favorite recipes in my upcoming cookbook, a Dairy Free Cookbook for Beginners – be sure to grab your copy for the other 100 awesome recipes in the book!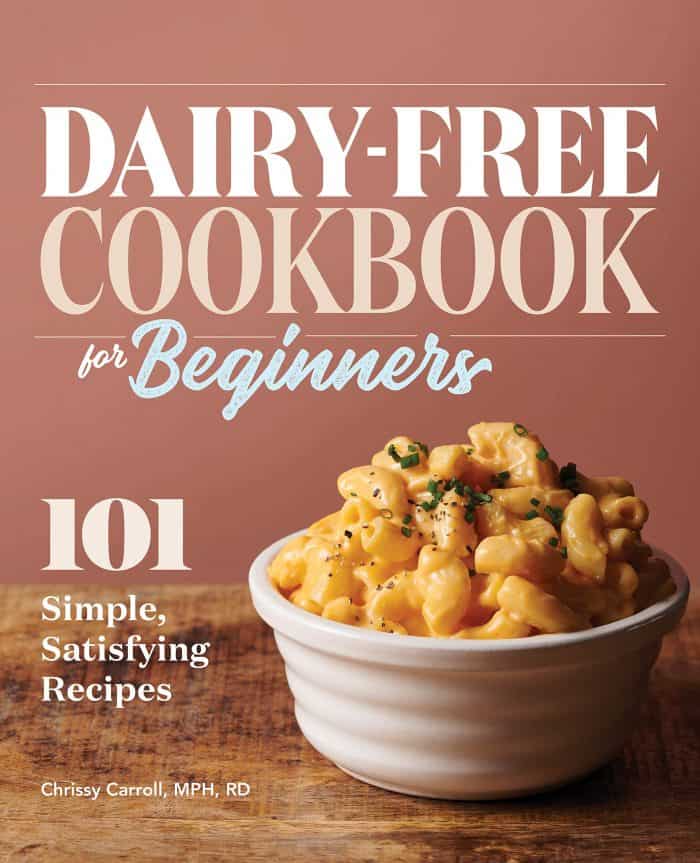 How to make dairy free cream cheese
All you need to make this recipe is a few simple ingredients:
Soaked raw cashews
Coconut cream
Vinegar
Lemon juice
Salt
Onion powder
Scallions (or chives)
All you need to do is combine these ingredients in a food processor or high-speed blender, and process them into a smooth spread!
I use a little mini food processor, which works well for this amount.  I recommend periodically scraping down the sides and processing a few times to get the smoothest texture you can.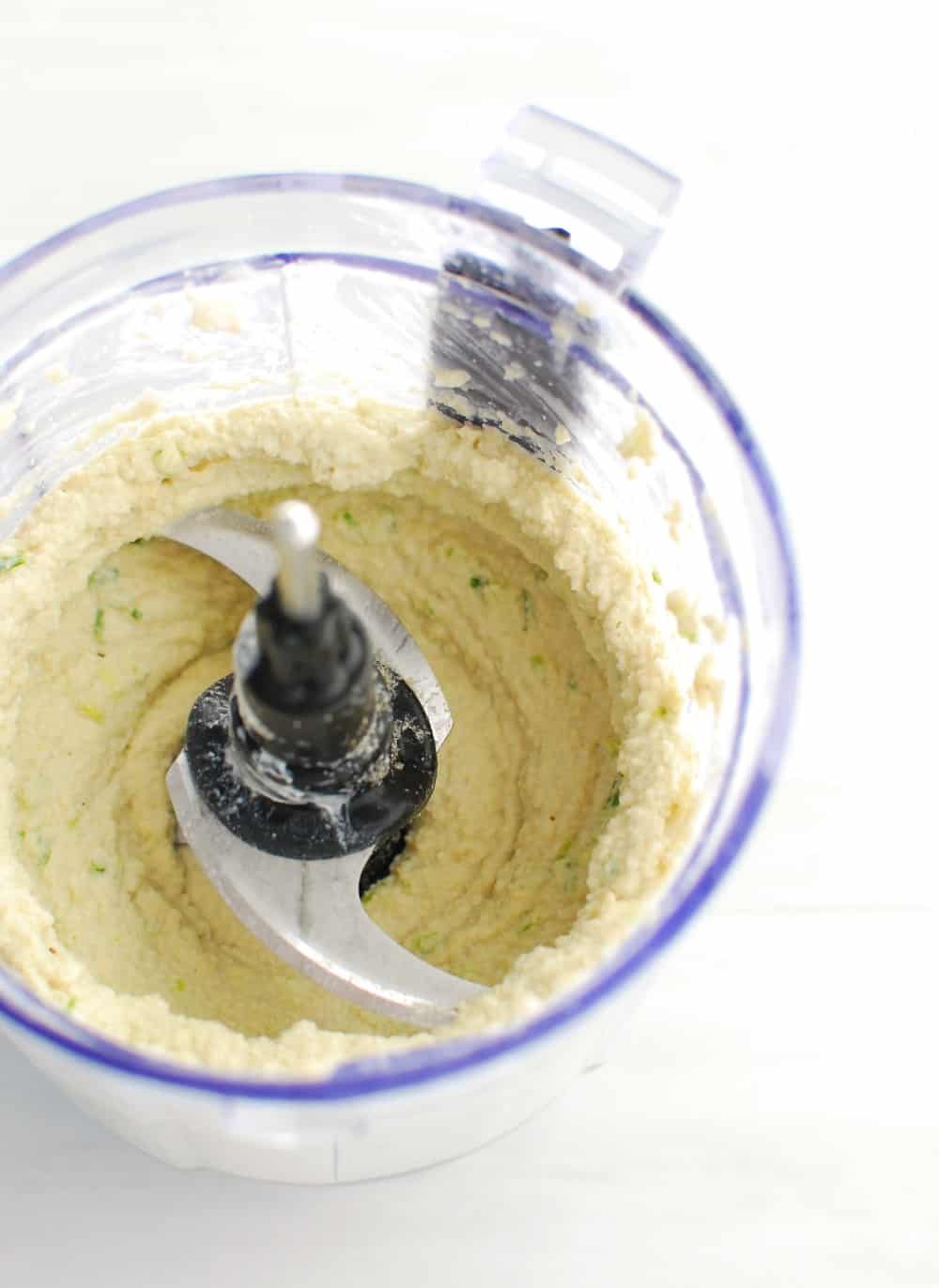 Recipe tips and FAQ
Here are common questions that might come up as you make this recipe:
What's the difference between coconut milk and cream?  Coconut cream has less water in it.  Some regions regularly carry canned coconut cream, but in others, it can be tough to find it.  However, coconut milk is far easier to find, and for the most part, you can refrigerate it which brings the cream to the top.  My only caution is that some brands do not separate as well as others.  I have had the least luck with Goya and the most luck with Thai Kitchen and 365 Whole Foods brand.
Can you leave out the onion powder and scallions?  Yes, but I really recommend them if you're using this as a spread.  They add flavor and make this spread delectable on bagels.
What if you didn't soak any cashews in advance?  If you don't have time to do the overnight prep, soak the cashews by bringing them to a boil in a pot of water, then let them sit for 30 minutes.
What if you don't have any coconut milk/cream on hand?  Substitute the coconut cream for 3 to 4 tablespoons of plain dairy-free yogurt.
Can you make this with another type of nut?  You can try, but it won't have exactly the same flavor or texture.  Cashews grind down very fine and absorb flavors well, which makes them a great vessel for this cream cheese.  However, I've also had good success with brazil nuts if you have those on hand.
How long can you store this?  It stores well in the fridge for up to 4 days.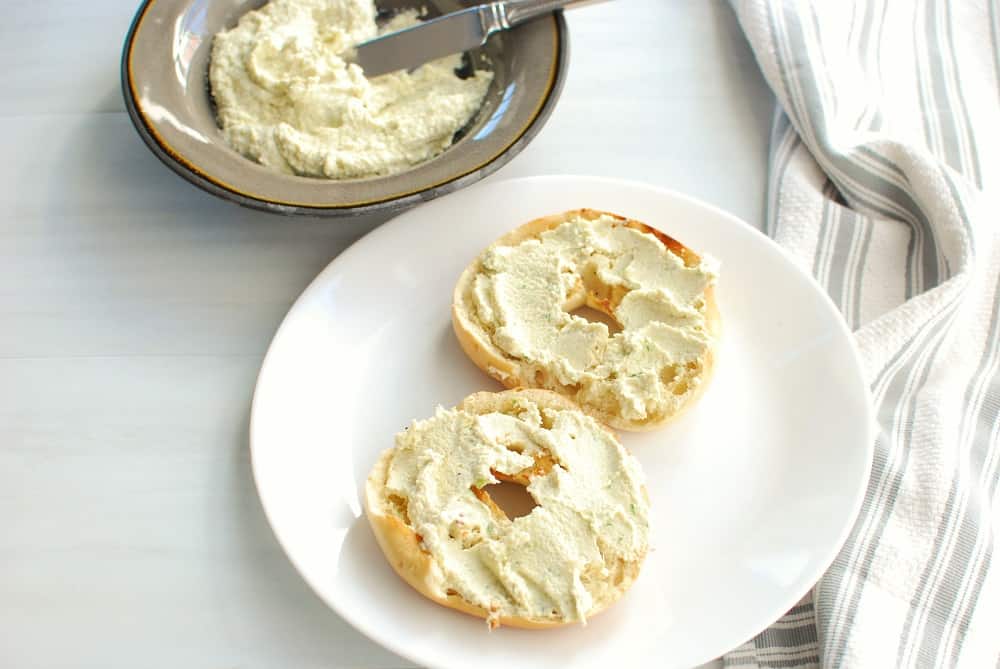 Ways to Use This
I've been talking up bagels in this post so much that I'm craving one right now!  But in addition to those, here are a few other ways to use this:
Spread it on sliced celery or use it as a dip for bell pepper strips
Stir it into mashed potatoes for a boost of flavor
Spread it on crackers
Make mini tea sandwiches with the dairy free cream cheese, cucumbers, and bread
Use it to add texture and flavor to your favorite sandwich
Make a savory flatbread with this spread, caramelized onions, and sautéed mushrooms
Make a breakfast sandwich with this spread and scrambled eggs (yum)
Spread a little on ham or turkey and roll it up for a little snack
I hope you enjoy this dairy free cream cheese as much as I do!  If you get a chance to try it, I'd love for you to leave a recipe rating or comment below.  (PS – if you're looking for more dairy free breakfast ideas, be sure to check out my dairy free cinnamon waffles or cranberry orange muffins.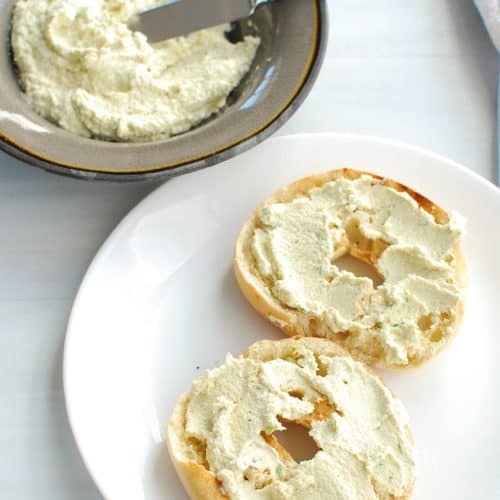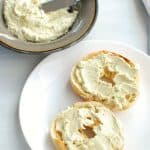 Dairy Free Cream Cheese
This dairy free cream cheese is the ultimate savory spread for your bagels in the morning!
Ingredients
1

cup

raw cashews, soaked

1/4

cup

coconut cream

(from a can of refrigerated coconut milk, or a can of coconut cream)

2

tsp

white vinegar

2

tbsp

lemon juice

1/4

tsp

salt

1

tsp

onion powder

2 to 3

scallions, chopped
Instructions
Start with prepping a few ingredients the day before: Place the cashews in a Mason jar and fill with enough water to cover the nuts. Soak in the refrigerator for 8 to 24 hours. Drain and rinse the cashews. If using coconut milk to obtain the coconut cream, place it in the refrigerator at least 8 hours in advance, preferably more, to allow the coconut cream to separate to the top.

Drain the cashews, then add them to a small food processor or high-speed blender. Open the coconut milk, spoon out ¼ cup of the cream on top, and add to the food processor with the cashews. Add the vinegar, lemon juice, salt, onion powder, and scallions.

Process for 30 seconds at a time, opening to stir as needed, for 1 to 3 minutes, until the mixture reaches a nice, smooth texture. Serve or store in the refrigerator for up to 3 to 4 days.
Recipe Notes
Notes: This makes 1 cup of cream cheese. A serving of this would be around 2-3 tablespoons.
Nutrition analysis (per 2 tablespoons): 120 calories, 9.5 g fat, 3.5 g saturated fat, 80 mg sodium, 6 g carbohydrate, 1 g fiber, 1.5 g sugar, 3.5 g protein, Vitamin A: 1%, Vitamin C: 5%, Calcium: 1%, Iron: 7%
Share:  Are you a fan of bagels in the morning?  If you tried this dairy free cream cheese, what did you think?