When the fall temperatures start dropping, warm up with this fragrant vegan pumpkin soup.  It's got the perfect blend of sweetness from the pumpkin and apple, savory elements from the onion and broth, and richness from the coconut milk!  Plus, from start to finish, this soup is ready in under 30 minutes.
As an RD, I also just have to give a plug for this soup as a nutritious choice!  Each serving is just 230 calories and has a great blend of carbs, fat, and protein to keep you satisfied.  You can enjoy this along with some fresh baked bread and a salad for a balanced meal — or double up on the soup serving for a full meal without anything else on the side.
Disclosure:  This post may contain affiliate links.  As an Amazon affiliate, I earn a commission from qualifying purchases.  It does not affect your user experience in anyway.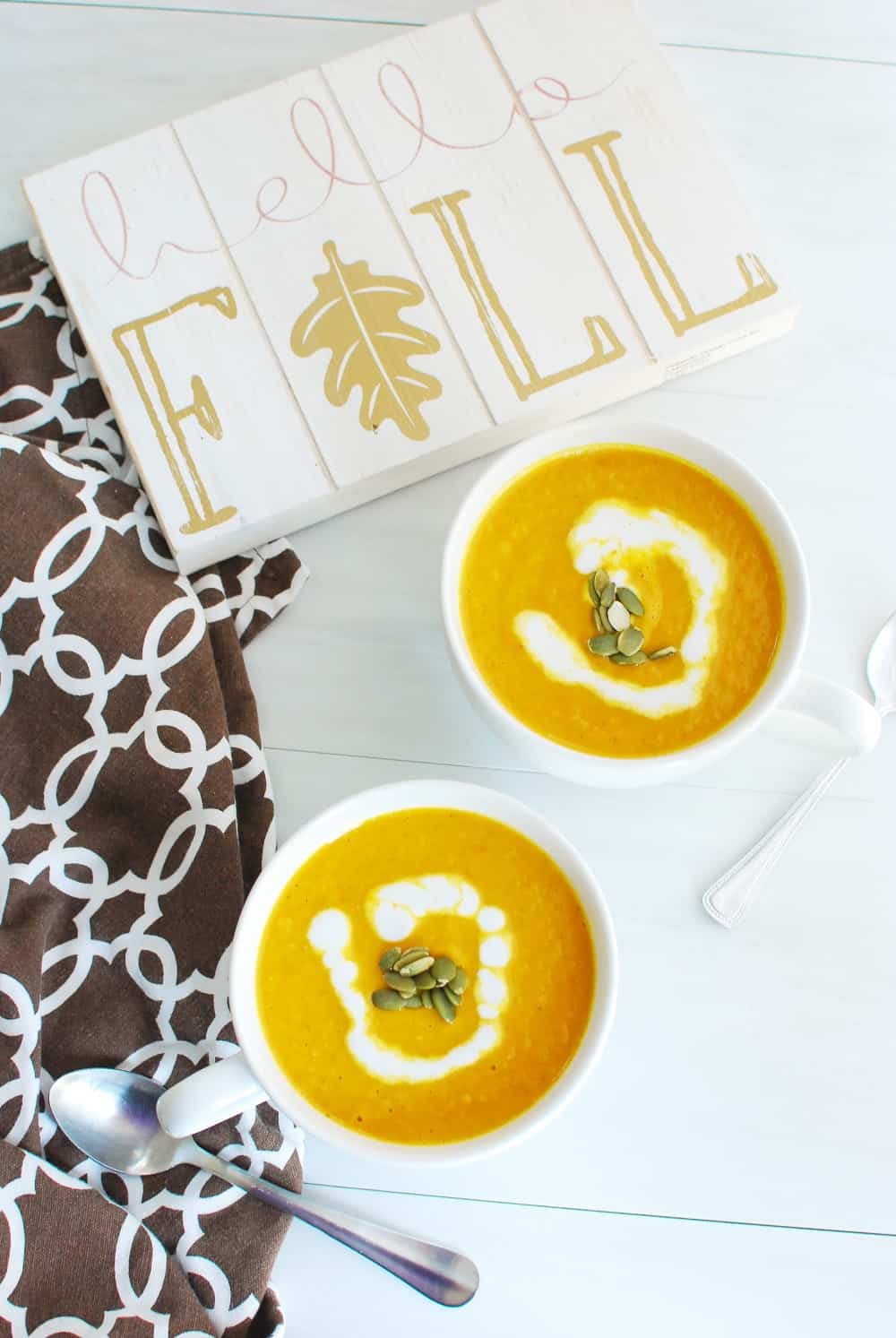 How to make vegan pumpkin soup
I feel like I say this all the time, but this recipe is super easy!  You've probably got most – if not all – of what you need in your pantry and fridge.  Here are the ingredients you'll need:
Olive oil
Onion
Garlic
Apple
Curry powder
Salt
Pepper
Pumpkin puree
Vegetable broth
Canned coconut milk
You'll start off by heating your oil in a pot, then sauté the onion.  After that, add the garlic and cook for another minute.  Then stir in the spices!
Let that get all nice and fragrant for a few minutes.  PS – is it just me, or does anyone else love the smell of curry powder when it's cooking?!  It's a total comfort food smell to me.
After that, you'll add in the pumpkin puree and the vegetable broth and just simmer for 10 minutes.  Remember, you want the plain canned pumpkin – not the pie filling stuff.
Then take it off heat, pour in the coconut milk, puree it all up, and boom – you've got the easiest, most delicious vegan pumpkin soup.
I love my immersion blender because it makes it crazy simple to do pureed soups without the need to deal with pouring hot liquid into a blender.  If you don't have one, they're relatively cheap and a great investment for your kitchen.  But of course, if you don't want to buy one, just wait for your soup to cool down a bit and then you can pour it in a regular blender to puree.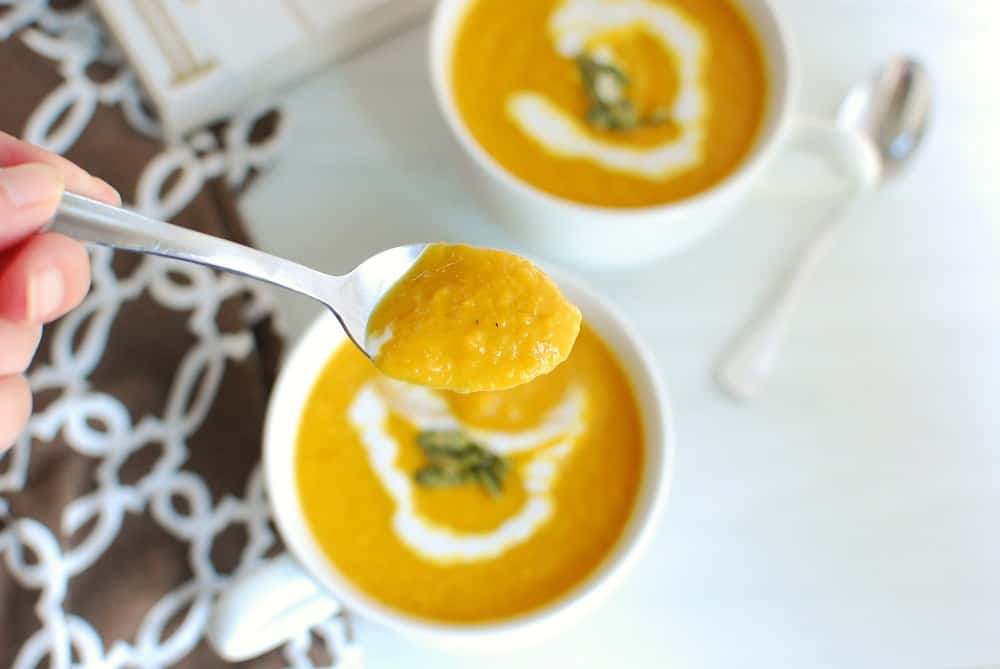 Allergens in this recipe
Disclosure:  This is for informational purposes only, and should not be construed as medical advice.  Always check the ingredient list yourself to confirm accuracy, in the event I made a mistake.
This recipe is a slam dunk for most people with food allergies!  It meets the following criteria:
Dairy free
Egg free
Soy free*
Peanut free
Fish free
Shellfish free
Gluten / wheat free*
*You'll want to double check your vegetable broth to ensure it meets these criteria. Occasionally vegetable broth may contain soy or gluten, so just double check the ingredients on the brand you choose if you have concerns about these ingredients.
This vegan pumpkin soup contain coconut, so "technically" it has a tree nut.  That said, many people with tree nut allergies like almonds can tolerate coconut.  Obviously, follow whatever instructions your doctor has provided for you if you do have a tree nut allergy.
Can you freeze this soup?
Yep!  If you have leftovers you want to freeze, just portion it out into freezer safe containers.
Don't freeze the entire recipe in one giant Tupperware, though.  It makes it a big pain in the booty to reheat later, because it takes forever for it to defrost and heat up.
Instead, I recommend creating single-serve portions in smaller dishes.  That way it will reheat easily in the microwave when you need a quick lunch or dinner.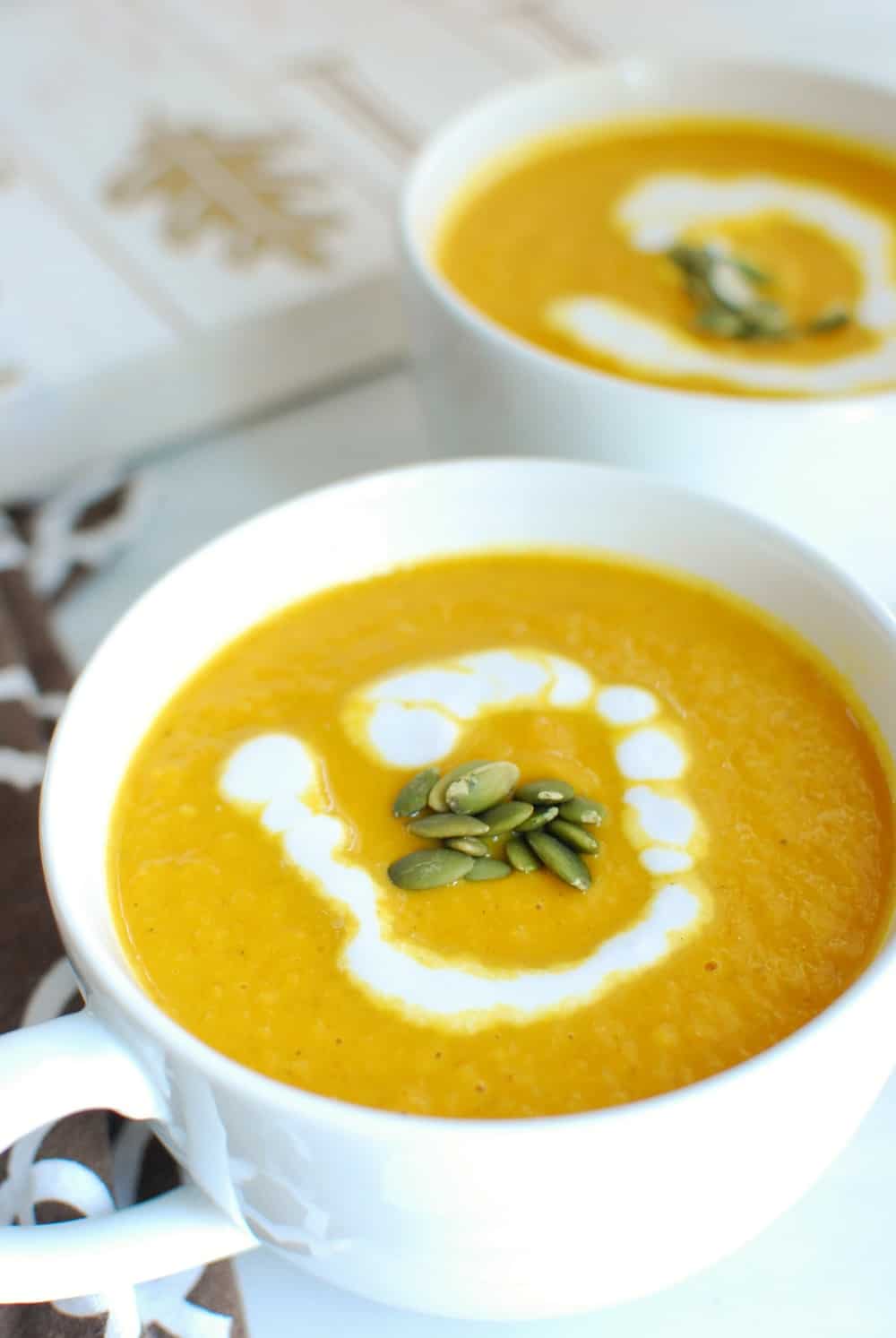 Looking for more vegan soup recipes?
Try one of these tasty recipes I've stumbled across on the interweb.  I've tried to list potential allergens in each, but please remember to always double check as ingredient lists may change or I may have missed one.
I hope you get a chance to try this vegan pumpkin soup soon – if you enjoy it, be sure to leave a recipe rating or comment to let me know.  And as always, don't hesitate to reach out with more recipes that you'd love to see dairy free or allergy friendly versions. 🙂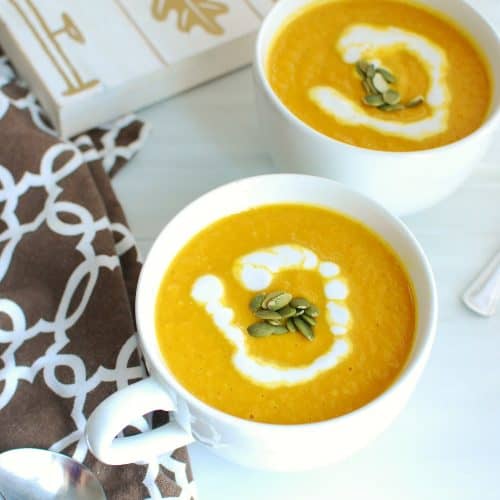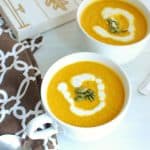 Vegan Pumpkin Soup
This vegan pumpkin soup is the perfect blend of sweet pumpkin and apple, fragrant curry powder, savory broth, and rich coconut milk!
Ingredients
Pumpkin Soup:
1

tbsp

olive oil

1

medium yellow onion, chopped

2

cloves

garlic, minced

1

small apple, peeled and chopped

1

tsp

curry powder

1/4

tsp

salt

1/4

tsp

pepper

15

ounce

can pumpkin puree

2

cups

vegetable broth

1

cup

canned coconut milk
Optional for Garnish:
pumpkin seeds

additional coconut milk
Instructions
Heat 1 tbsp olive oil in a pot over medium heat. Add onion and cook for 3-4 minutes, until it starts to become tender.

Add the garlic and cook for another minute. Add apple, curry powder, salt, and pepper. Cook for 2-3 minutes.

Stir in the pumpkin puree and vegetable broth. Simmer for 10 minutes over low heat.

Pour in the coconut milk and remove from heat. Use an immersion blender to puree the soup, then ladle into bowls to enjoy. Optionally, garnish with another drizzle of coconut milk and pumpkin seeds.
Recipe Notes
Nutrition analysis (approximate per serving; doesn't include any garnish):
230 calories, 13 g fat, 9.5 g saturated fat, 490 mg sodium, 20 g carbohydrate, 4.5 g fiber, 11.5 g sugar, 10 g protein, Vitamin A: 336%, Vitamin C: 15%, Calcium: 5%, Iron: 10%
Share:  What's your favorite kind of soup recipe?  If you tried this vegan pumpkin soup, what did you think?