Get a head start on the week by prepping these delicious dairy free granola bars.  Rich peanut butter and sweet honey are combined with oats and rice cereal – and of course, there's a little chocolate in there for ya too.  You'll love this easy recipe!
PS – If you don't feel like cooking, I've also got a list of store-bought dairy free granola bars towards the bottom of this post!
Disclosure:  This post contains affiliate links.  As an Amazon affiliate, I earn a commission on qualifying purchases.  It does not change your user experience in any way.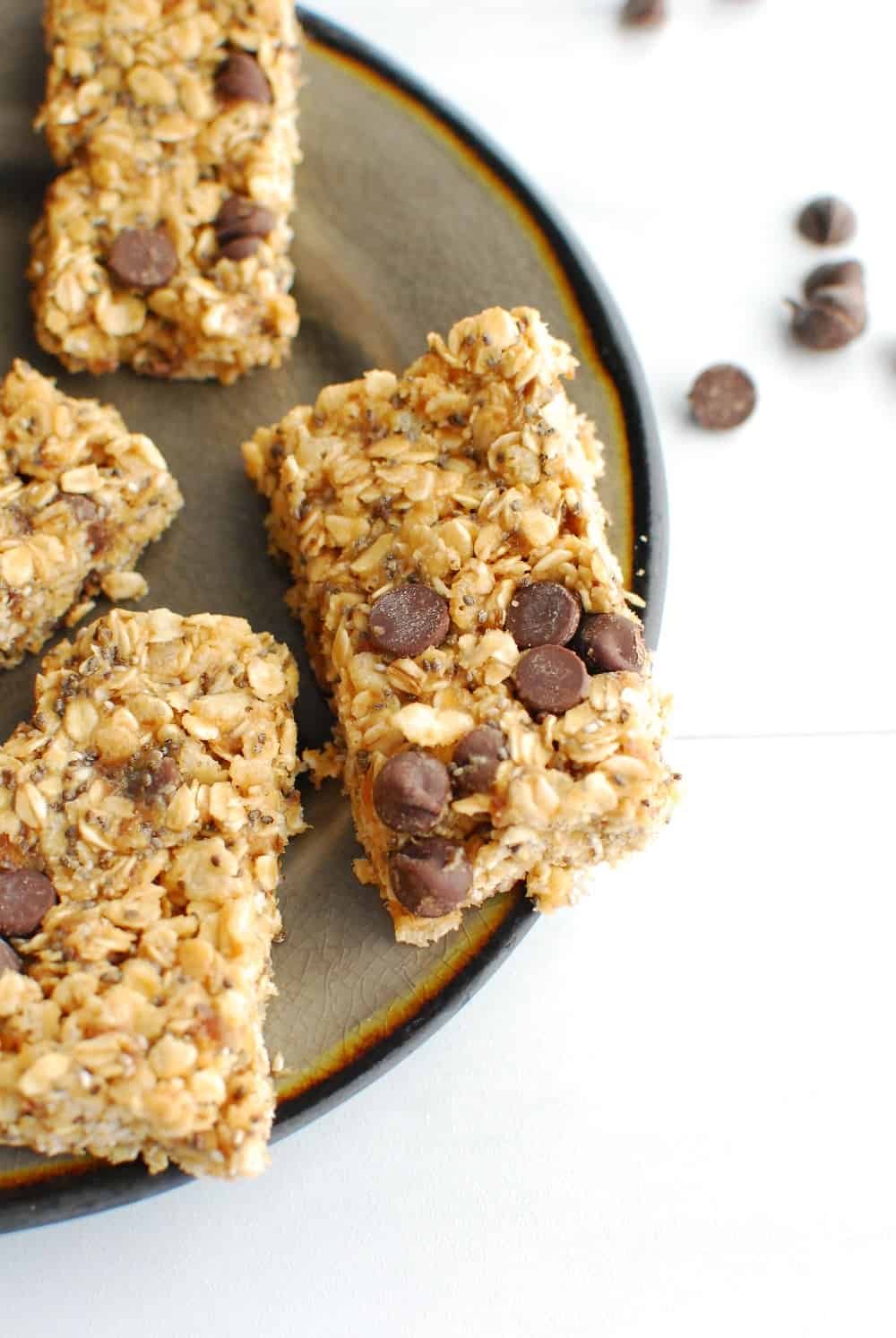 How to make dairy free granola bars
These bars are no bake, so you just mix up the ingredients, press into a pan, and refrigerate until you're ready to eat.  Here's what you'll need:
Dates
Peanut butter
Honey
Coconut oil
Vanilla
Rolled oats
Rice Krispies Cereal (or another crispy rice cereal)
Chia seeds
Salt
Dairy free chocolate chips (I highly recommend Enjoy Life chocolate chips!)
I'm guessing you probably have just about everything here in your pantry already, except maybe for the dates.  You can usually find dates at the grocery store in the produce section or in the dried fruit aisle.  For this recipe, I used Mariani pitted dates which are always in stock at my supermarket.
Once you've got your dates, your going to pulse them in a food processor with a little hot water.  This creates a "date paste" which will not only increase the sweetness of these bars, but also help them stick together.
Now, you'll mix that date paste with the peanut butter, honey, coconut oil, and vanilla.  Once that's all combined, stir in the rest of the ingredients!
As you can see, we're going full on peanut butter and chocolate in these bars, baby.  None of that oatmeal raisin granola bar stuff here.  (Who chooses that over chocolate or peanut butter?!?!?)
Alright, back to it – next, line an 8×8 pan with wax paper and pour your mixture in there.  Press down on it with your hands to get it as smushed down in the pan as possible.
Then just pop them in the refrigerator for a few hours!  After that you can cut them up into squares or bars and enjoy.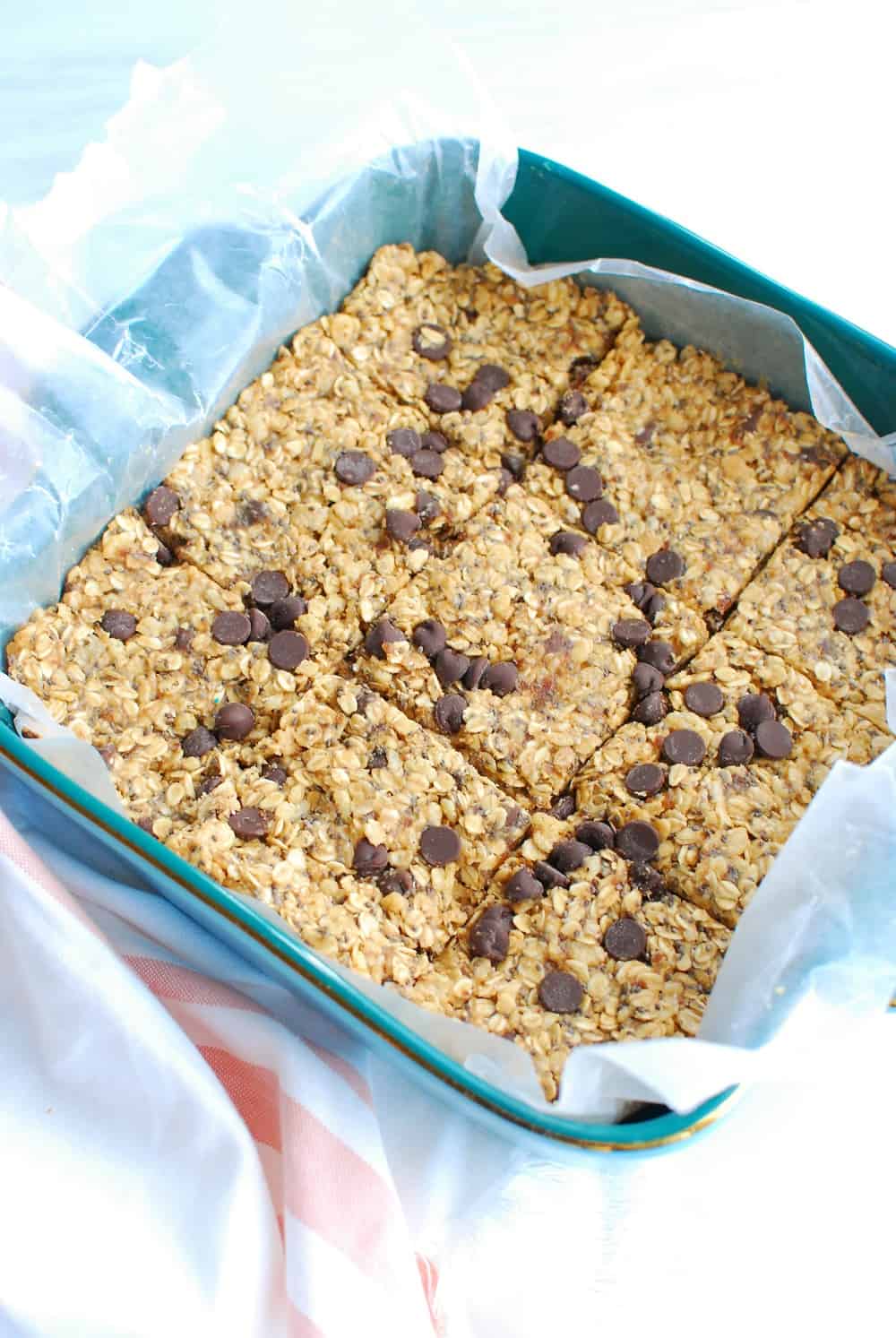 How to store homemade granola bars
You'll want to keep these stored in the refrigerator.  I just typically leave them in the pan and throw some plastic wrap or tin foil over the top – but you can also move them to a Tupperware container if you'd like.
You can leave them in the fridge for up to 4-5 days – but I can pretty much guarantee there won't be any left at that point. 😉
Allergen information and modifications
This recipe is naturally dairy free, egg free, and soy free.  It does contain peanuts.  Depending on the cereal choice, it may contain gluten as well.
Here are some suggestions for dietary modifications based on your needs:
Gluten Free:  For those of you who are gluten free, keep in mind that Rice Krispies cereal – the traditional blue box Kellogg's brand – is not gluten free.  It's what I usually use because I'm not gluten free and I usually have it on hand.  But if you are gluten free, just look for some of the other varieties of crispy rice cereal that meet your needs.  At the time of publication, Nature's Path Gluten Free Crispy Rice Cereal or Barbara's Brown Rice Crisps Cereal would both be good options (but always double check the label).
Peanut Free:  A key ingredient in these is peanut butter, but you could substitute another similar consistency nut butter (like almond butter) if you cannot eat peanuts but can eat tree nuts.  I have tried making these with sunflower seed butter before and just didn't like the taste as much, but maybe your taste buds will feel differently? 🙂
Vegan:  This recipe contains honey so it's not strictly vegan, but you can easily make it vegan-friendly by swapping that out with agave nectar.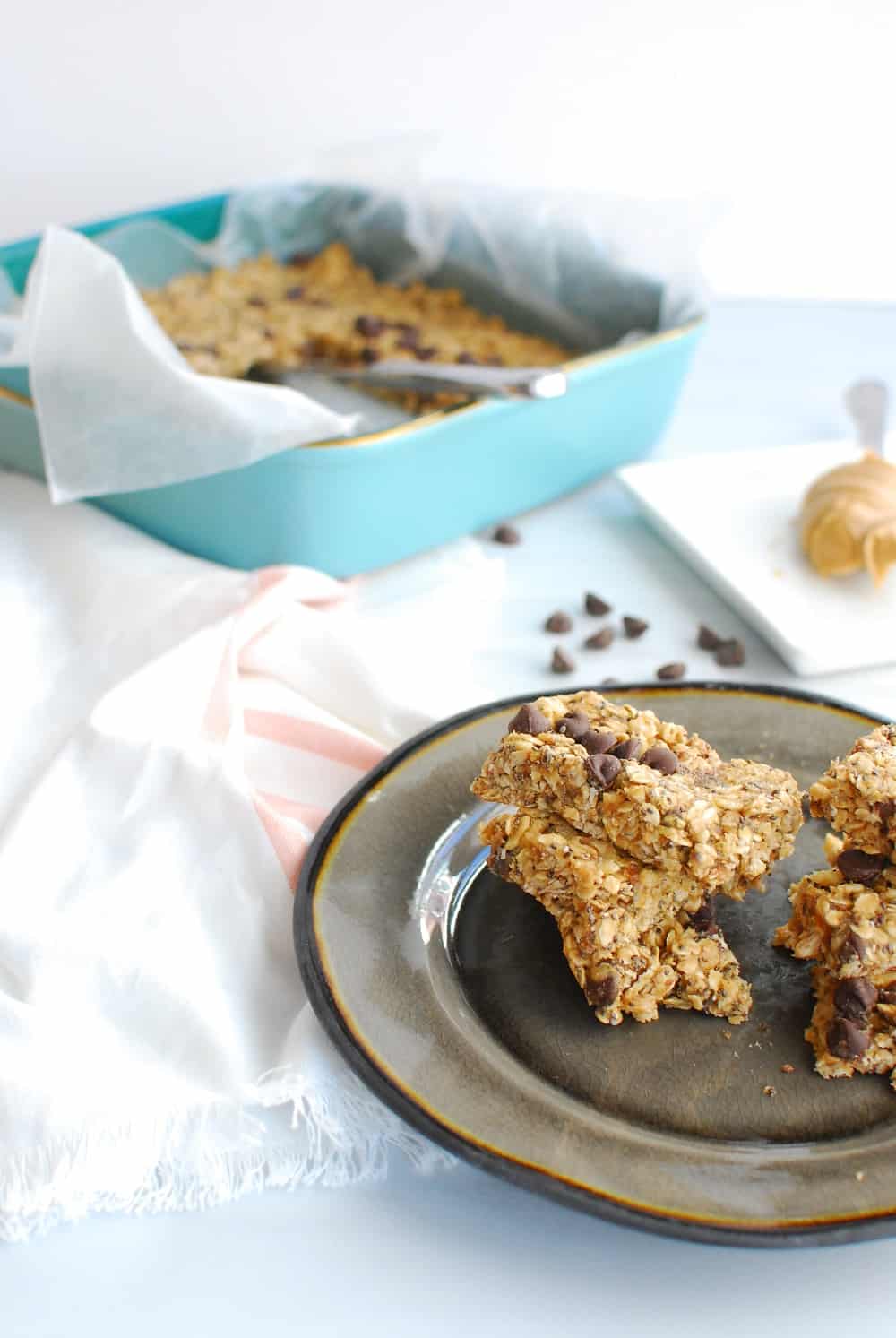 Store Bought Dairy Free Granola Bars
Don't feel like cooking today?  No problem.  Save this recipe for later and take note of these tasty store-bought (or online purchased) dairy free granola bars.
Disclaimer:  I try to note potential allergens in all the bars – but as you know, manufacturers can change formulations or I may miss something.  Always check labels prior to consuming if you have an allergy.
I hope even though these delish store bought options are out there, that you'll give my homemade granola bars a try!  If you do, be sure to leave a comment and recipe rating to let me know what you think.
And if you enjoy these dairy free granola bars, don't forget to try my dairy free donuts or vegan peanut butter cookies!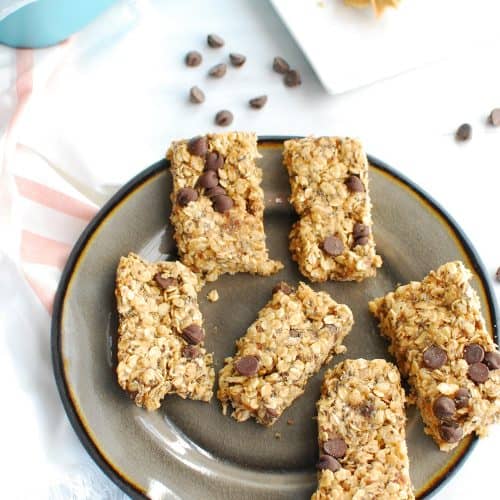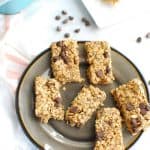 No Bake Dairy Free Granola Bars
These dairy free granola bars are a perfect snack. Rich peanut butter and sweet honey are mixed with oats and rice cereal, and a little chocolate of course!
Total Time
2
hours
15
minutes
Ingredients
1/2

cup

pitted dates

(about 12 small)

2

tsp

hot water

2/3

cup

peanut butter

1/3

cup

honey

2

tbsp

coconut oil, softened

1

tsp

vanilla

1 3/4

cups

rolled oats

3/4

cup

crispy rice cereal

(check brand to ensure gluten free)

1/4

cup

chia seeds

1/2

tsp

salt

1/2

cup

dairy free chocolate chips
Instructions
Place the dates and hot water in a food processor. Pulse several times until the dates start to break down into a paste-like consistency.

Mix the date paste in a large mixing bowl with the peanut butter, honey, coconut oil, and vanilla. Stir in the rolled oats, rice krispies cereal, chia seeds, and salt.

Fold in the chocolate chips. If desired, you can put in half the chocolate chips and then press the other half on the top – your call.

Pour the mixture into an 8x8 pan lined with wax paper. Press the mixture down firmly. Refrigerate for at least 2 hours, then enjoy!
Recipe Notes
This recipe makes 18 small bars, 12 medium size bars, or 9 large square granola bars.
Nutrition analysis (per bar, assumes 18 servings):
172 calories, 9 g fat, 3 g sat fat, 114 mg sodium, 21 g carbohydrate, 3 g fiber, 12 g sugar, 4 g protein, Vitamin A: 1%, Vitamin C: 1%, Calcium: 3%, Iron: 8%
Share:  Oatmeal raisin vs. chocolate chip peanut butter granola bars – which do you prefer?  If you tried these dairy free granola bars, what did you think?