Get ready for the absolute easiest dessert you can make – a vegan mug brownie!  This dairy free dessert comes together in just a few minutes (it only takes 1 minute to cook in the microwave!), and is the epitome of rich chocolate delight.
PS – I realize the photos of this aren't the prettiest, but just trust me on this one – the taste is amazing!
How to make a vegan mug brownie
This is one of those recipes that is dangerously easy to make, and for two reasons:  1) you probably already have all the ingredients you need on hand, and 2) it takes just a few minutes to make!
Here's what you'll need:
Sugar
Flour
Cocoa powder (unsweetened)
Salt
Chocolate chips (look for vegan-friendly versions, like Enjoy Life)
Oil (soy oil, canola oil, olive oil, or coconut oil – but coconut does change the flavor a bit)
Vanilla almond milk or oat milk
You'll just mix up these ingredients in a mug.  Here's what it looks like before: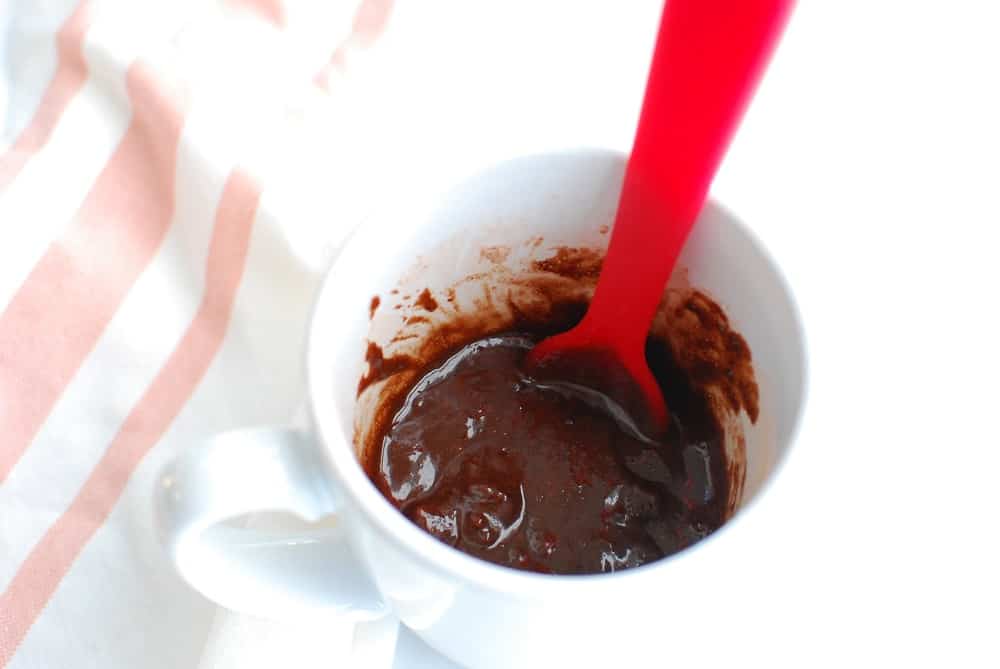 Then pop it in the microwave for a minute, and boom – a delicious vegan mug brownie ready to eat.
Quick warning – let it cool for a minute before you dig in.  Yes, it will smell chocolatey and delicious and you'll want to immediately dive in with a spoon.  But it comes out very hot and letting it cool for a minute or two is essential! 🙂
If you want, you can also top this off with a vegan-friendly ice cream, like a coconut milk ice cream.
Allergens in this recipe and modifications
As written, this recipe is dairy free and egg free.  The remaining common allergens in this recipe will depend on the specific ingredients you choose, like the type of oil and the type of milk alternative.
Here are some suggestions for modifications based on your needs:
Soy Free – When I make this recipe for myself now (as I don't have to currently avoid any foods), I use vegetable oil which is typically soy oil.  Highly refined soybean oil is not considered an allergen by FDA standards, because most of the protein has been removed from the product.  That said, many people with soy allergies either choose to avoid this or need to avoid this because they are very sensitive.  If that's the case, simply sub out olive oil or canola oil instead.  Also, be sure to double check that your chocolate chips are soy free too.
Nut Free – I like using vanilla almond milk in this recipe, but you can easily switch that out for vanilla oat milk and it works just fine.
Gluten Free – I admittedly have not tested this vegan mug brownie with a gluten free flour blend, but I'd imagine that it should substitute well for the all-purpose flour.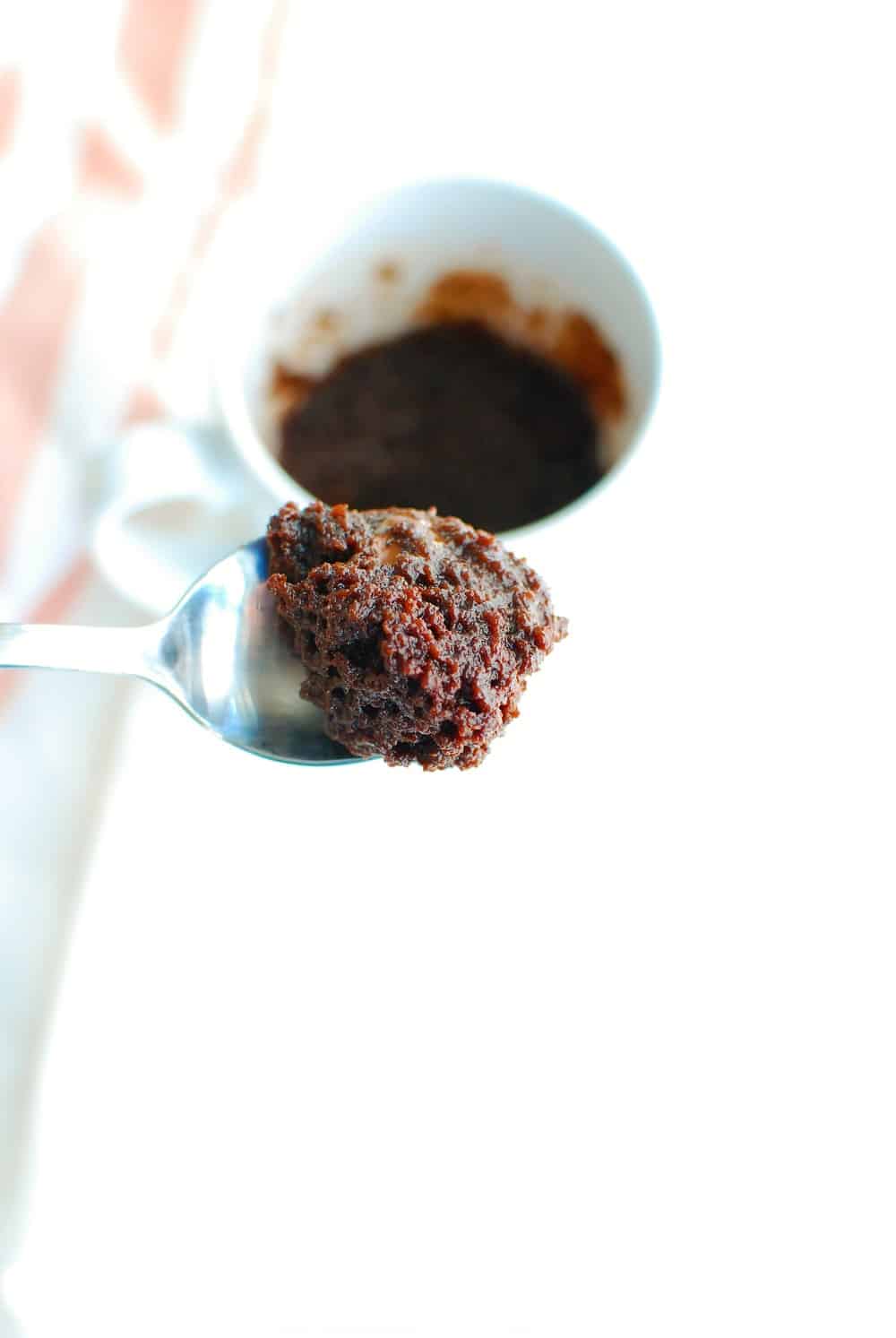 A note on white sugar for vegan eaters
If you are a strict vegan that avoids all animal byproducts, you'll want to keep an eye out for a vegan-friendly brand of white sugar.  Some brands of white sugar are processed using a filtering system that involves bone char from animal bones.  If you want to avoid that, simply look for vegan-friendly brands of white sugar that are processed differently.
Looking for other vegan desserts?
I'm hoping to add some more mug desserts to the site soon because they're just so darn easy to make!  In the meantime, though, check out these other vegan mug recipes from fellow bloggers:
Also, be sure to check out some of the other dairy free dessert recipes I've got on the blog.  Here are a three of my favorite vegan-friendly options:
Enjoy this vegan mug brownie!  If you get a chance to try it, I hope you'll leave a comment and let me know how you liked it.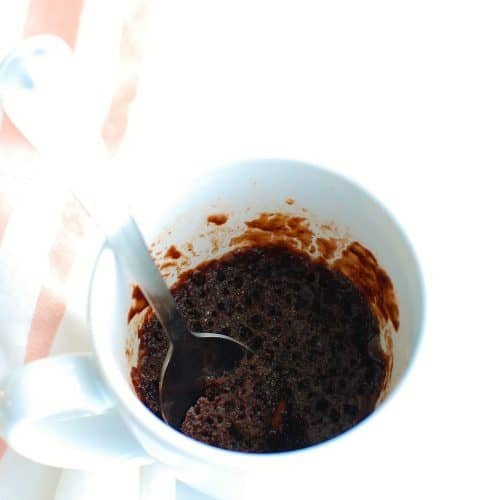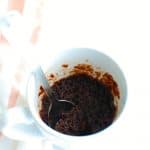 Vegan Mug Brownie
Get ready for the absolute easiest dessert you can make – a vegan mug brownie!  This dairy free dessert comes together quickly and tastes amazing.
Ingredients
2

tbsp

sugar

2

tbsp

all-purpose flour

1

tbsp

cocoa powder

Pinch

of salt

1

tbsp

vegan chocolate chips

(like Enjoy Life)

1

tbsp

oil

(I use vegetable oil, but you can substitute olive oil or canola oil)

1.5

tbsp

vanilla almond milk

(or vanilla oat milk)
Instructions
Add the sugar, flour, cocoa powder, and salt to a microwave-safe mug. Stir around until dry ingredients are well combined.

Add the chocolate chips, oil, and almond milk (or oat milk). Stir until combined. Place in the microwave for 1 minute. Let cool and enjoy!
Recipe Video
Recipe Notes
Microwave oven power can vary. You may need to adjust the time up or down by about 15 seconds.
Nutrition analysis (approximate per serving):
365 calories, 19 g fat, 5 g sat fat, 171 mg sodium, 51 g carbohydrate, 3.5 g fiber, 34 g sugar, 3.5 g protein, Vitamin A: 1%, Vitamin C: 0%, Calcium: 6%, Iron: 11%
Share with me:  What's your favorite dairy free dessert?  If you tried this vegan mug brownie, what did you think?