Craving a frozen treat – but looking for a dairy free option?  Try this homemade vegan pineapple ice cream!  It's made with just three ingredients and has the consistency of soft serve ice cream.
How to make vegan pineapple ice cream
This recipe is more like a "nice cream" than a traditional "ice cream", meaning that it has a higher ratio of fruit compared to the cream alternative.  But it tastes amazingly sweet and delicious, and has that awesome soft serve texture.
All you need to make it is…
1. Frozen pineapple – I always love to buy fresh pineapple when it's on sale and freeze the extra we can't eat in the next few days)
2. Coconut milk – You want the full fat kind that comes in a can (not the drinkable kind that comes in a carton near the almond/oat/etc milks). I recommend making this recipe when you have another dish you're making with coconut milk (like a yummy curry!) because you can just set aside a small amount from the can to use for this.
If you don't have coconut milk on hand, you can also easily use coconut yogurt instead!  Use the same amount (2 tbsp) and then add a splash of whatever milk alternative you've got on hand too.
3. Maple syrup – Technically this is optional, and if you're pineapple is super sweet you can skip over it. But I love the subtly sweet boost this adds.
Once you've got those three ingredients, you'll just combine it in a food processor or blender, mix it up, and bam – a delicious (and somewhat nutritious) frozen treat.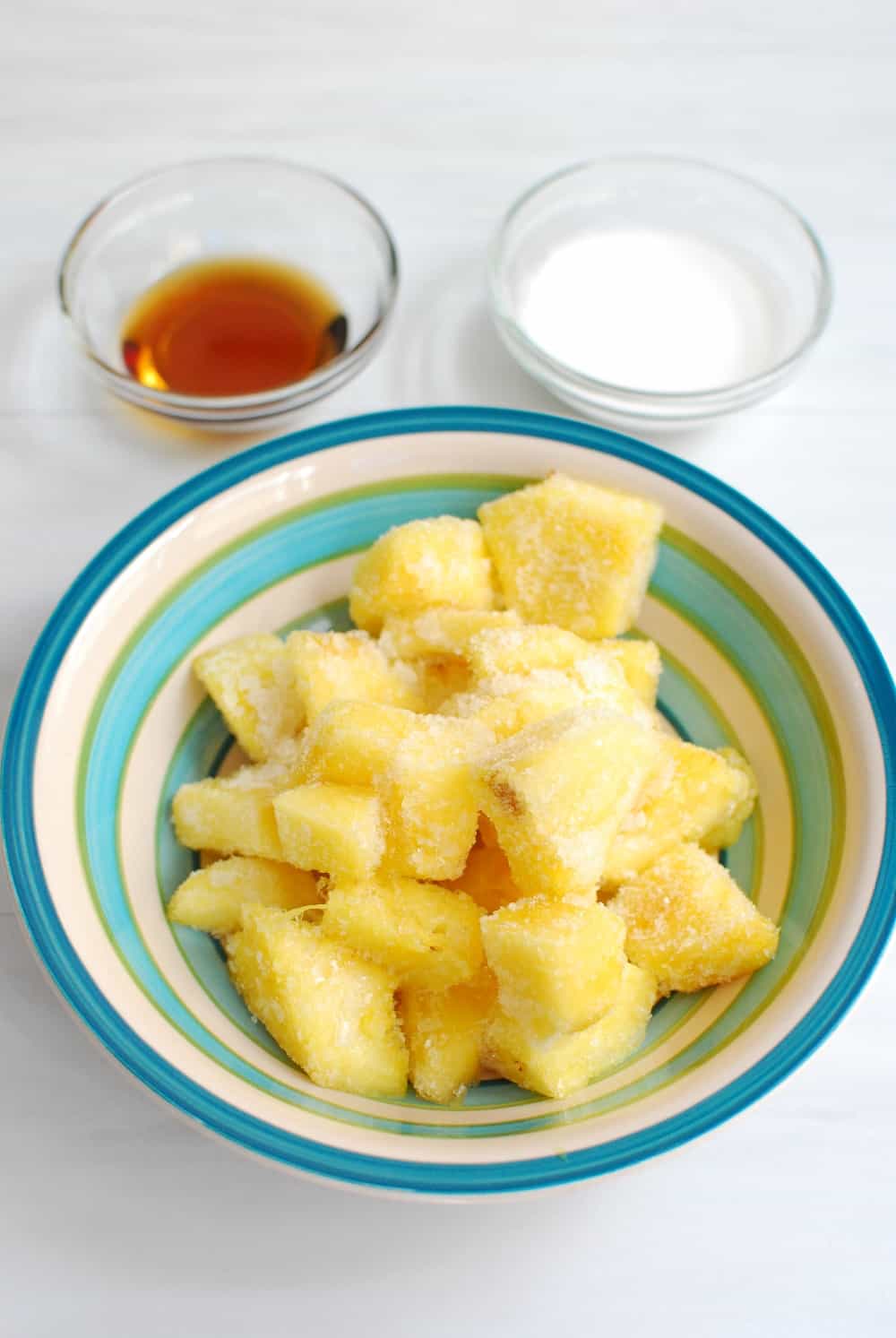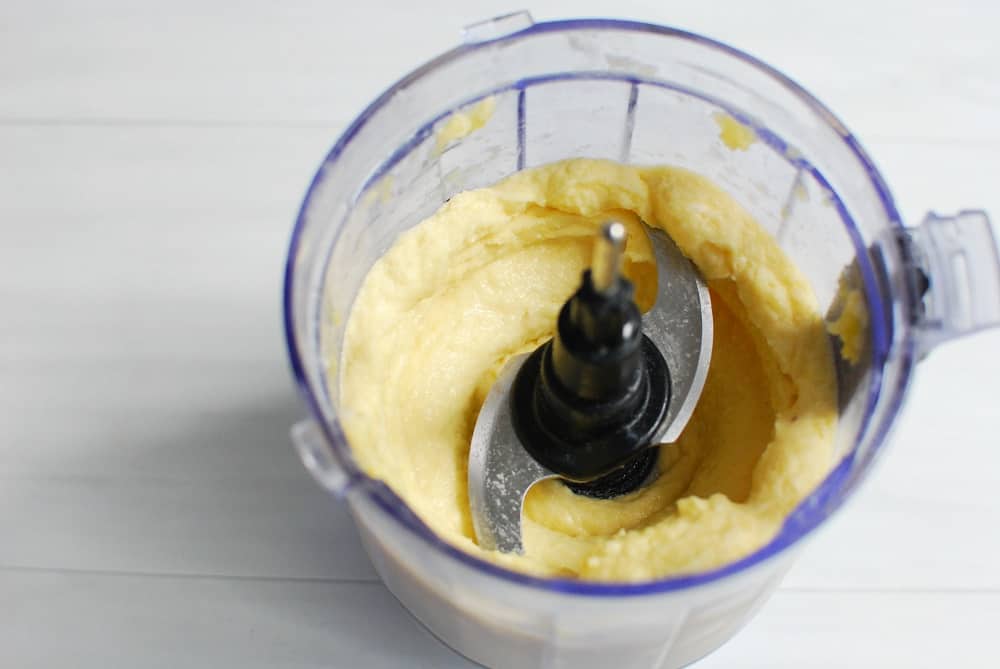 Why I love this snack
Not only is this quick and easy to make, but it creates an "ice cream" that clocks in at just 138 calories with more than 100% of your daily Vitamin C needs (hello, immune helper)!
Plus, kiddos love it too.  You can tell my son had no qualms about devouring this when we made it today: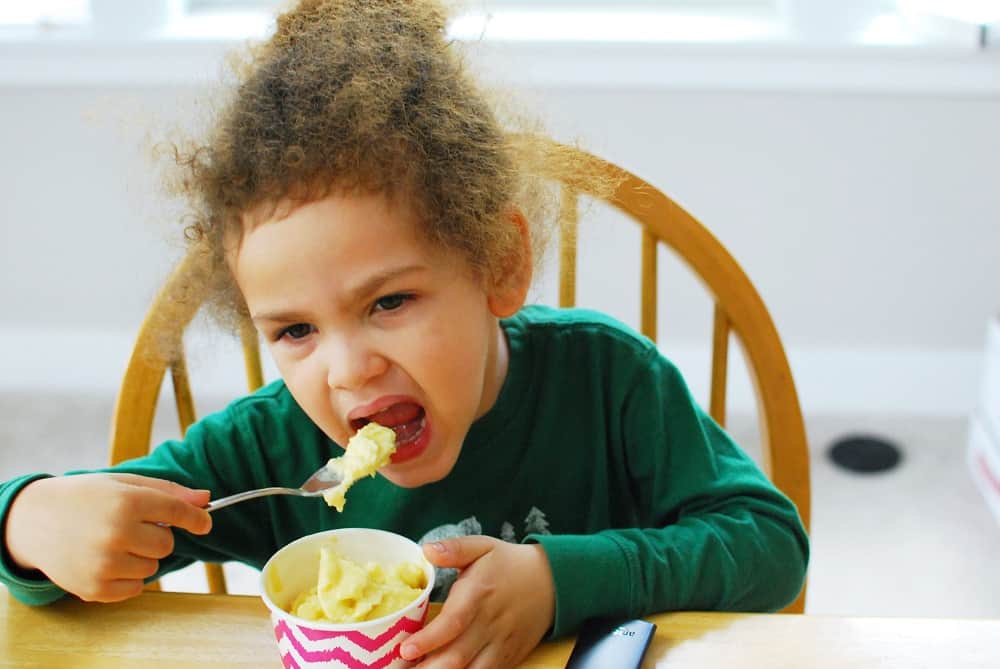 Allergens in this recipe
You've probably guessed by now that this recipe is free from most major allergens!
The debate about whether coconut is a tree nut is ongoing, but many people with tree nut allergies can safely consume coconut.  Obviously, you'll want to check with your doctor on this one if you're not sure about your own personal situation.
If you do have an allergy to coconut, you can substitute oat milk in this recipe – the texture will be more sorbet-like but it still tastes amazing.
Otherwise, though, this is free of dairy, soy, egg, wheat/gluten, peanuts, and (other) tree nuts.  Great for food allergy families and MSPI mamas!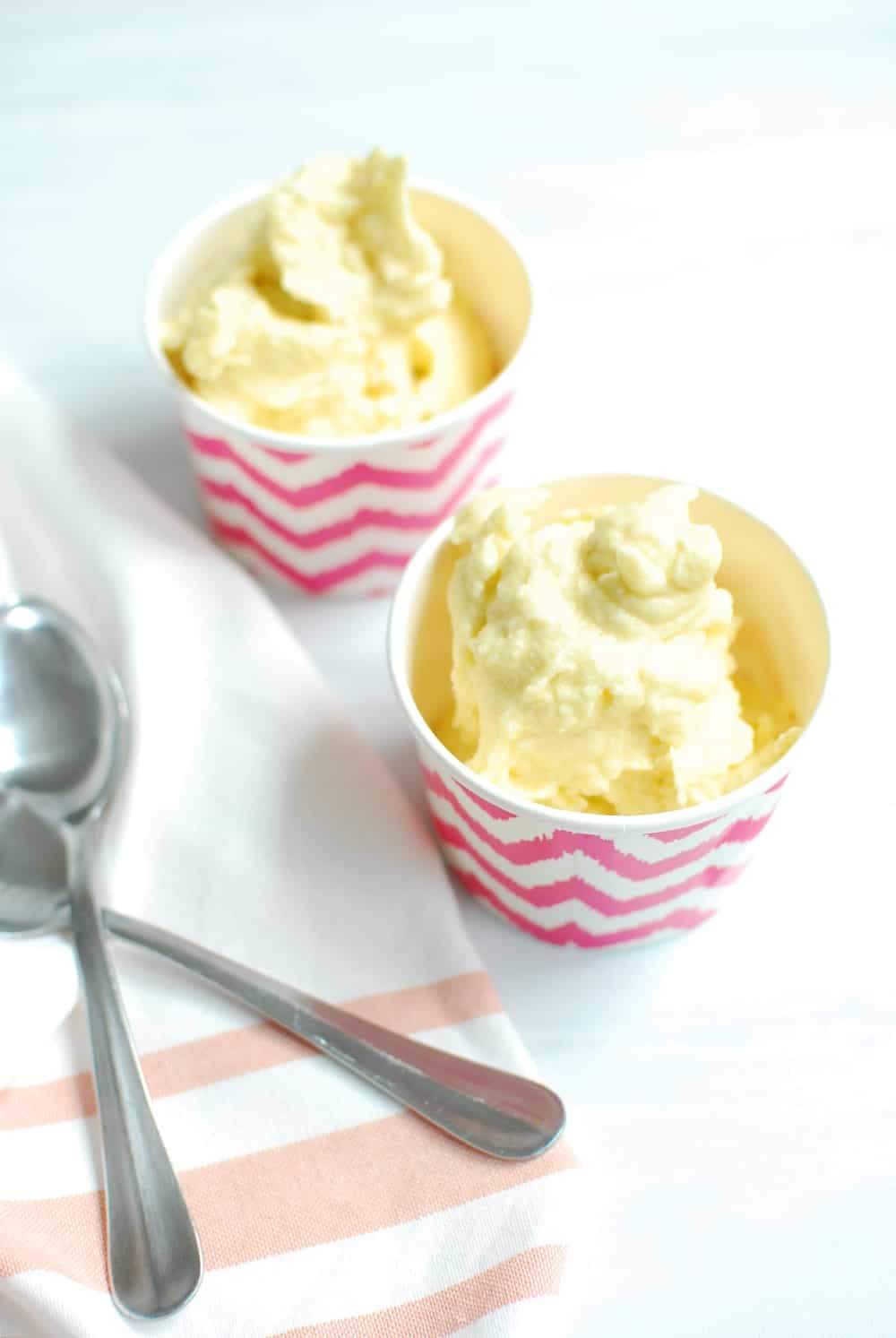 Looking for more vegan ice cream recipes?
Try one of these tasty options that I found from other awesome food bloggers. I noted any allergens I spotted but be sure to check carefully before you make it to ensure if fits your needs, as recipes may change or I may have missed something!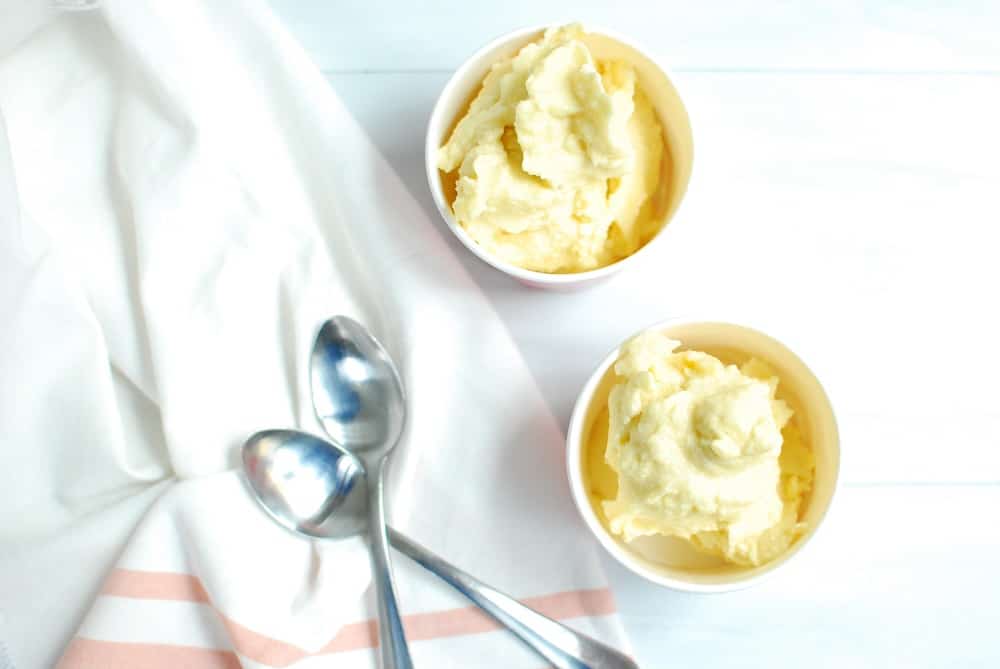 I hope you enjoy this vegan pineapple ice cream – be sure to leave a comment or recipe rating if you try it! 🙂  And if you need more dairy free dessert recipes, don't forget to try my dairy free sugar cookie bars or dairy free donuts!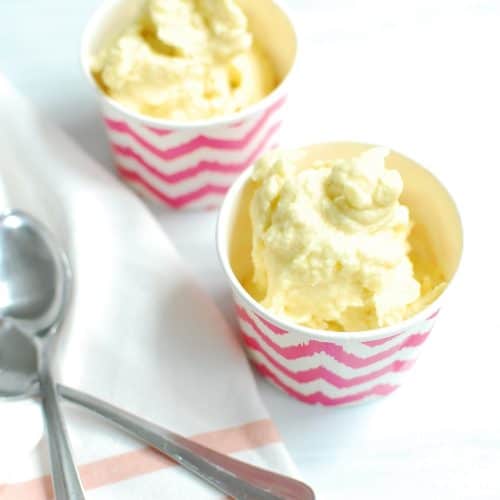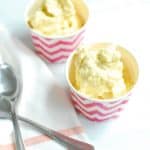 Homemade Vegan Pineapple Ice Cream
This homemade vegan pineapple ice cream is made with just three ingredients and has
the consistency of soft serve ice cream!
Ingredients
2

cups

frozen pineapple

2

tbsp

canned coconut milk

1

tbsp

maple syrup

(optional)
Instructions
Combine everything in a mini food processor (recommended) or blender. Turn on for about 10-15 seconds.

Turn off, scrape down the sides, and push any remaining pieces of fruit back down. You may have to do this 1 or 2 more times but eventually a nice creamy consistency should form. Enjoy!
Recipe Notes
I have made this in both the Ninja mini food processor or Ninja blender cup.  I recommend a mini food processor for best results.  If using a blender, a higher quality blender is recommended.  If you're using a lower quality blender and are having trouble, let the pineapple sit for about 10-15 minutes to slightly thaw, which should allow it to blend.
Nutrition analysis (approximate per serving):
138 calories, 3.5 g fat, 3 g sat fat, 5 mg sodium, 29 g carbohydrate, 2 g fiber, 22 g sugar, 1 g protein, Vitamin A: 2%, Vitamin C: 132%, Calcium: 3%, Iron: 6%
Share:  What did you think of this homemade vegan pineapple ice cream?  What's your favorite dairy free frozen treat to enjoy?