Ready for a quick dessert that the whole family will love? Try this dairy free banana ice cream! This treat is not actually ice cream – it's often called "nice cream" – as it's made without dairy, instead using frozen bananas that are processed into a creamy soft-serve texture. No ice cream machine necessary; all you need is a small food processor bowl or powerful blender.
Disclosure: This post contains Amazon affiliate links. As an affiliate, I earn a commission on qualifying purchases.
Ingredient Notes
Technically, all you need to make banana "ice cream" is bananas – but I like to add a little extra flavoring: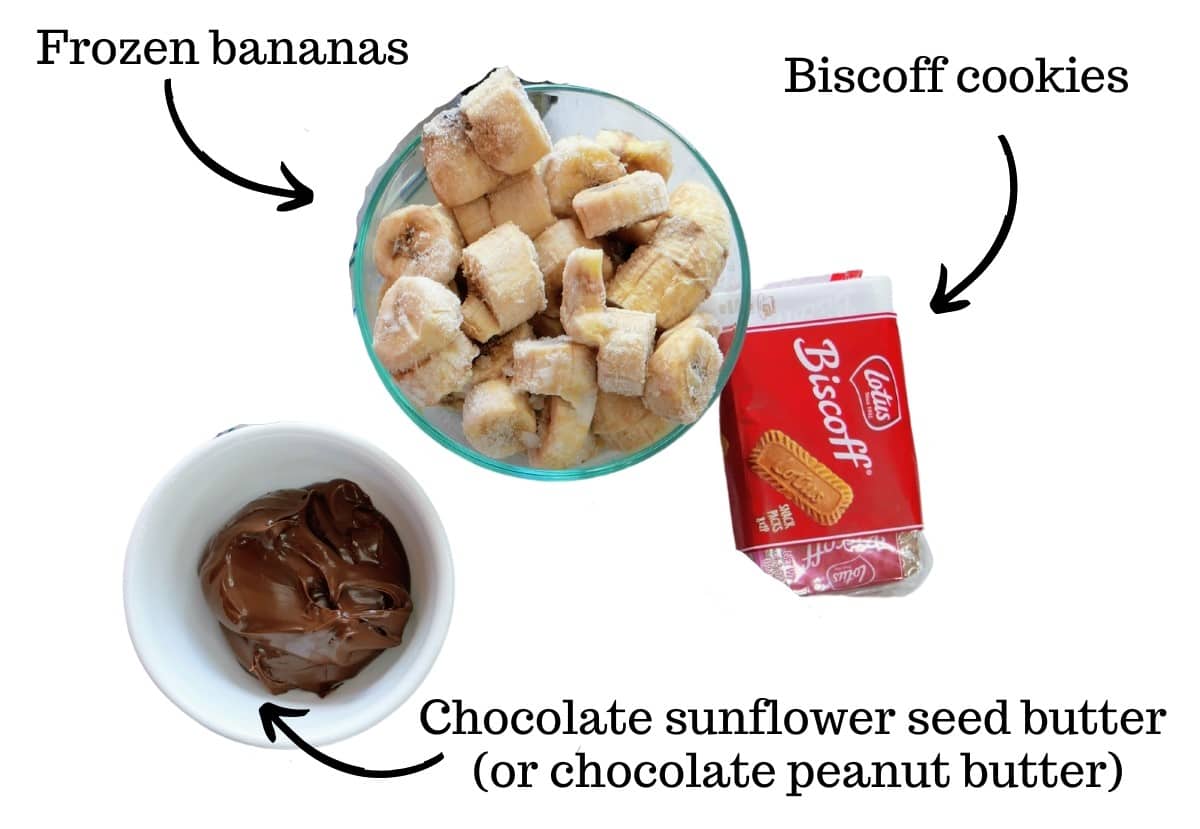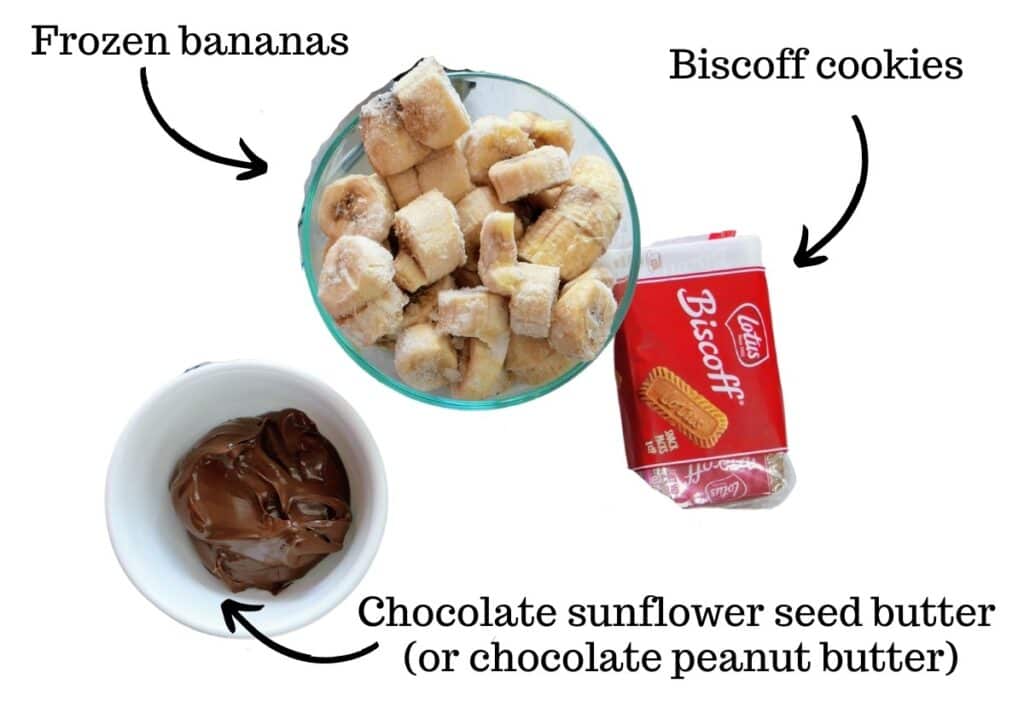 Bananas: You'll want to use ripe bananas; those that have a bunch of brown spots. These will taste sweeter when processing into ice cream. I always try to grab clearance bananas from the grocery store that are browning, then immediately freeze them at home so I've always got them ready to go!
Chocolate Sunflower Seed Butter: Who doesn't love a little chocolate in their life? I usually have Chocolate Sunbutter on hand so it's a great mix-in to this recipe (88 Acres also makes a delicious version). You can also use chocolate peanut butter, dairy-free chocolate hazelnut spread (Nutiva is the brand I've used in the past), or a dairy-free chocolate syrup.
Biscoff cookies: Does anyone else look forward to a Delta flight solely for these cookies?! 😉 I love that you can grab Biscoff cookies at the grocery store or online now, and they taste great crumbled on top of this banana nice cream.
Instructions
You'll find the full recipe amounts and instructions in the recipe card below, but here's a helpful overview with photos and tips.
Start by peeling, slicing, and freezing your bananas. I recommend doing this the night before, but if it's the same day, just be sure to let them freeze for at least 4 hours.
Pop the frozen bananas into a small food processor bowl (or powerful blender cup).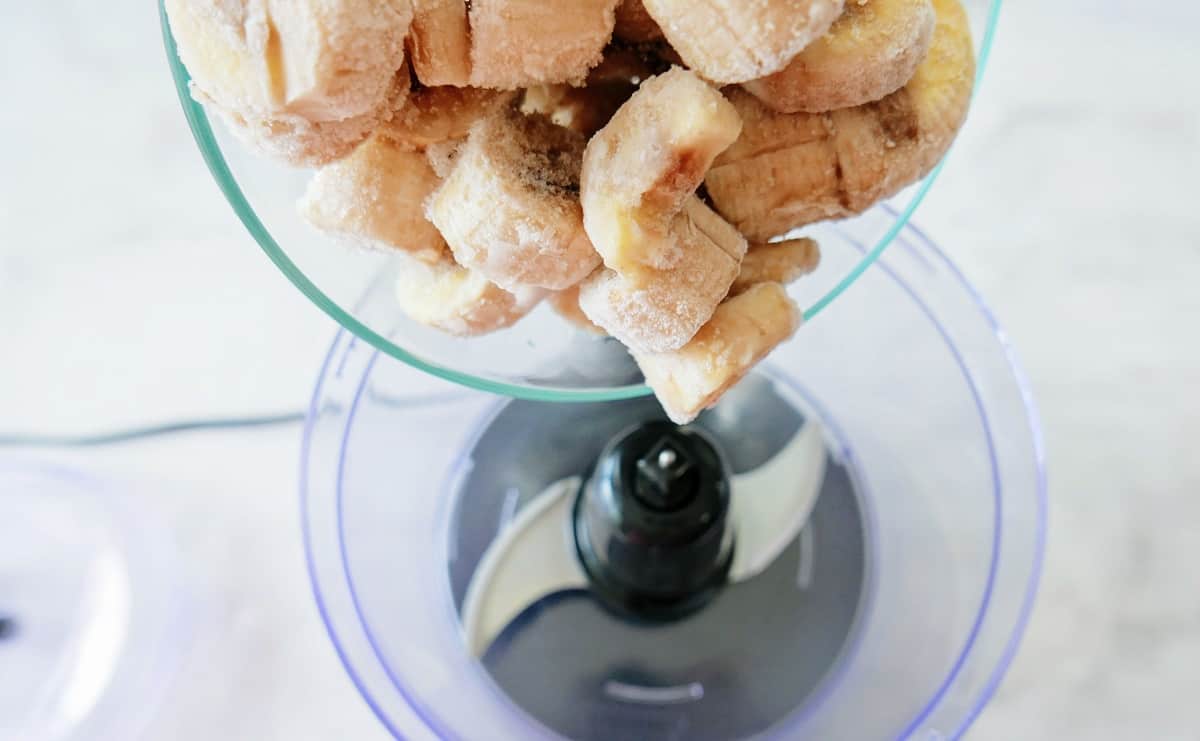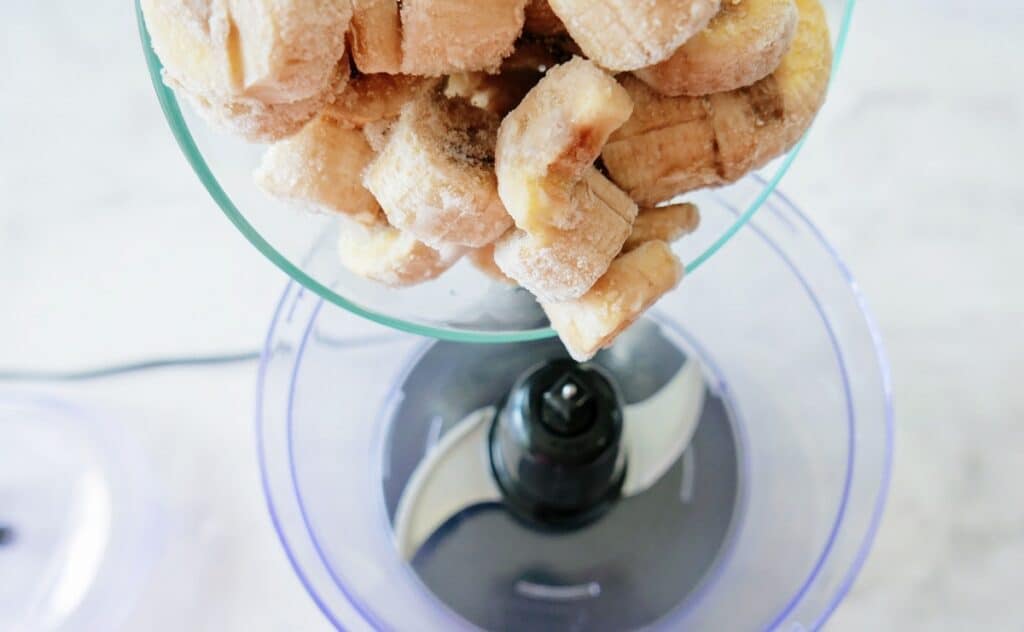 Process until the mixture is smooth and creamy, like the texture of soft serve ice cream. This may take a few minutes, and you might need to open the lid periodically to scrape down the sides. But give it a few minutes and you'll notice it forms the most delightful texture!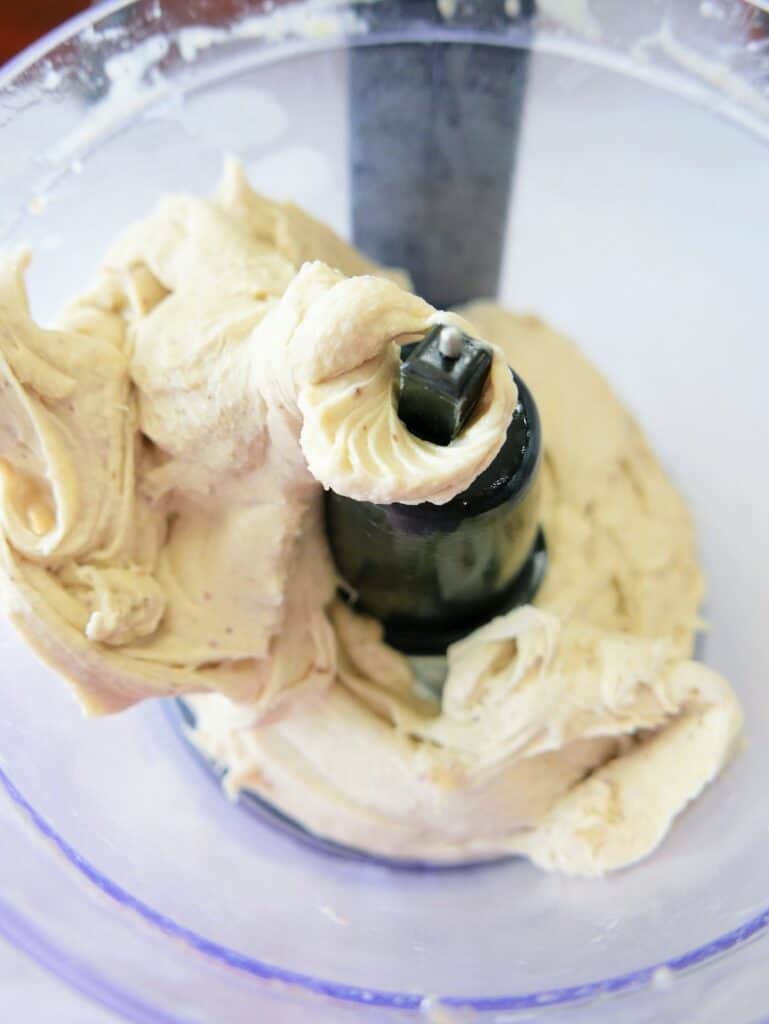 You can serve this as-is at this point, or add in a few mix-ins or toppings. I like to swirl in chocolate sunflower seed butter, then sprinkle crushed Biscoff cookies on top. But you can get creative here with whatever you like!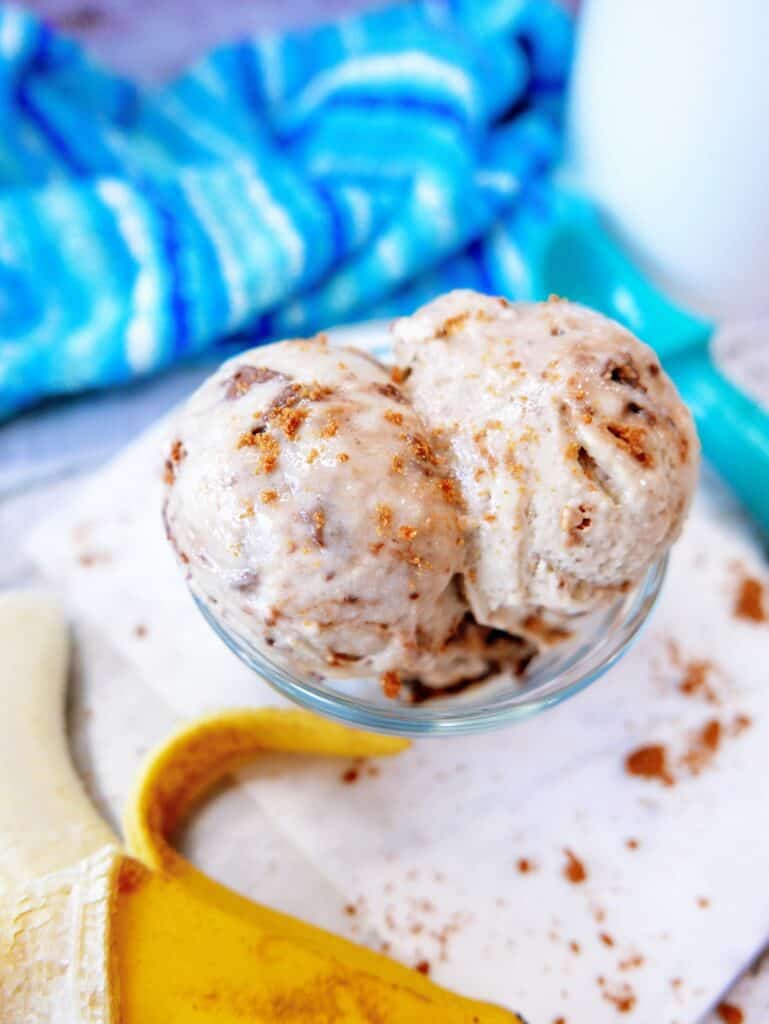 Recipe FAQ
Here are some common questions that may come up as you're preparing this recipe:
How should you freeze bananas for nice cream?
Peel the ripe bananas and slice them into chunks before freezing. For best results, place the chunks on a baking sheet lined with parchment paper, freeze until solid, then transfer to a large zip top bag in the freezer for storing until ready to use.
Can you freeze banana nice cream?
Banana nice cream is best enjoyed directly after preparing. If you have a lot leftover, you can freeze it and then let it thaw slightly before scooping it out with a hot ice cream scoop. However, the texture is best directly after making it.
Allergens in this Recipe
Disclaimer: Always double check ingredients and labels yourself prior to making a recipe. While I try to check all ingredients for allergens, there's always the chance I may miss something, or manufacturer formulations can change.
As written, this recipe is dairy free, egg free, and nut free.
This recipe does contain wheat/gluten and soy in the Biscoff cookies. Those can easily be left out to eliminate those allergens.
More Dairy Free Ice Cream Recipes
If you're looking for more dairy free ice creams / nice creams, be sure to give one of these a try:
I hope you enjoy this dairy free banana ice cream as much as we do! My kiddo and I love to eat it on summer days. If you get a chance to try it, feel free to leave a recipe rating or comment below.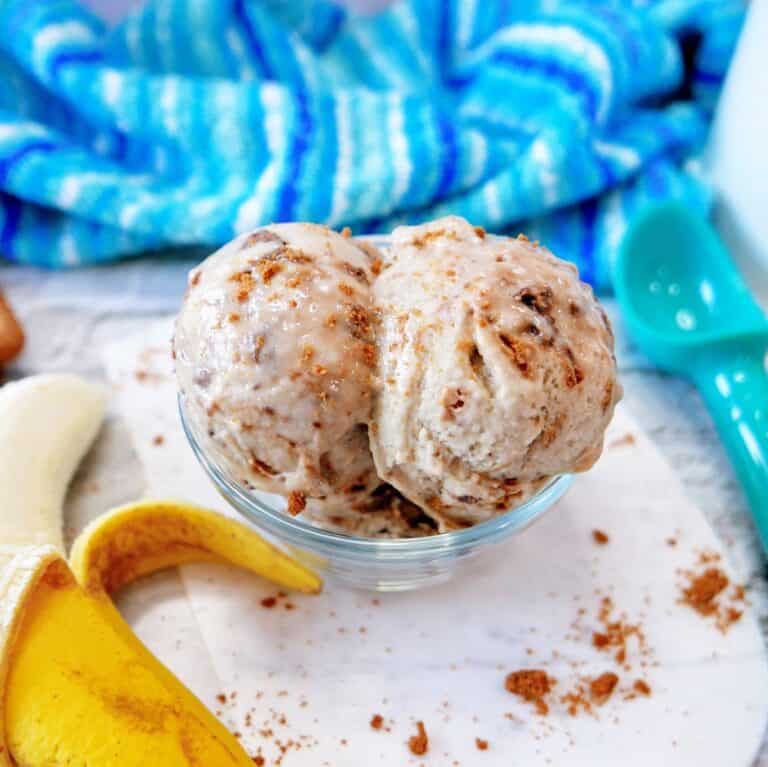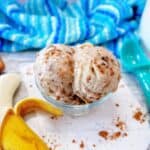 Dairy Free Banana "Ice Cream"
This dairy free banana "ice cream" is a simple recipe made with frozen bananas – no ice cream maker necessary.
Ingredients
3

large ripe bananas, peeled, sliced, and frozen overnight

2

tbsp

chocolate sunflower seed butter

(optional)

5

Biscoff cookies, crushed

(optional)
Instructions
Place the frozen banana chunks in a small food processor bowl, and process until smooth and creamy. This may take a few minutes; scrape down the sides a few times and keep processing – eventually it will reach soft serve texture.

Swirl in the chocolate sun butter (if using). Divide into three servings and top with the crushed Biscoff cookies. Enjoy!
Recipe Notes
If your bananas were on the less ripe side when you froze them, you may need to add a splash of oat milk (or another dairy-free milk) when processing.
This recipe makes 3 smaller servings or 2 larger servings. Feel free to serve a portion that you prefer. The nutrition analysis below is based on 3 smaller servings.
Nutrition analysis (approximate per serving): 215 calories, 7.5 g fat, 2 g saturated fat, 85 mg sodium, 37.5 g carbohydrate, 4 g fiber, 20 g sugar, 4 g protein, Vitamin D: 0%, Calcium: 1%, Iron: 6%, Potassium: 11%
Feel free to pin this post to save for later!