Whether you're thinking ahead for Christmas-time or you just want to snack on a sweet treat today – these dairy free sugar cookies are a delicious snack!  They're easy to make, and you can roll out the dough and use cookie cutters for fun shapes.
How to make dairy free sugar cookies
These are probably one of the easiest dairy free dessert recipes you could find.  I guarantee almost all of these ingredients are probably already in your kitchen:
Earth Balance dairy/soy-free spread (or another dairy free butter of your choice)
Sugar
Egg
Vanilla
Salt
Flour
Baking Powder
You'll mix the ingredients together and then you'll need to refrigerate the dough prior to rolling.  This helps the butter spread to firm up, so when you roll it out, it doesn't get too mushy.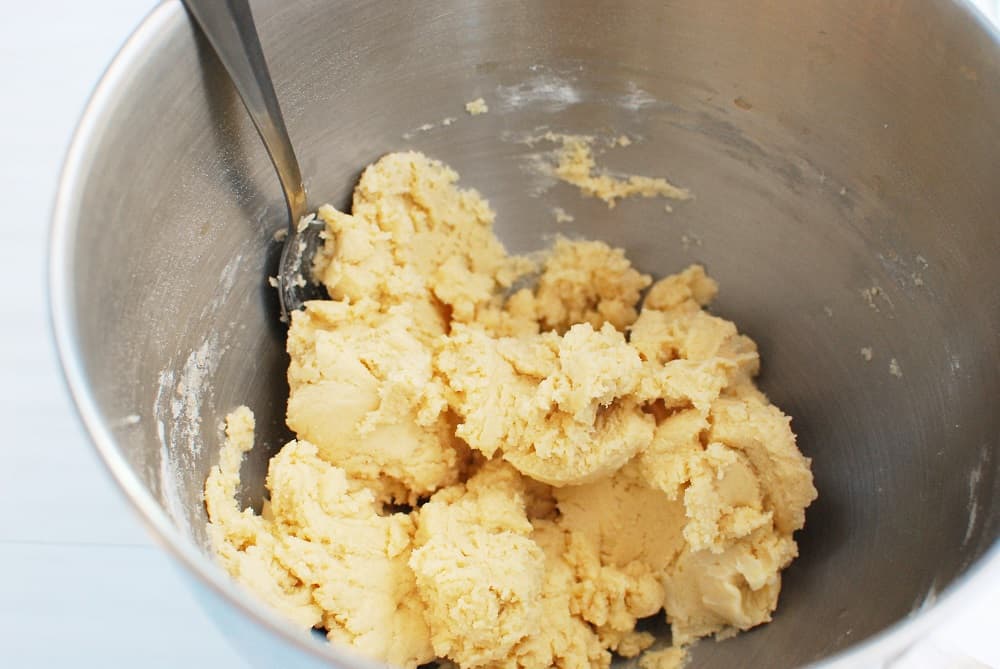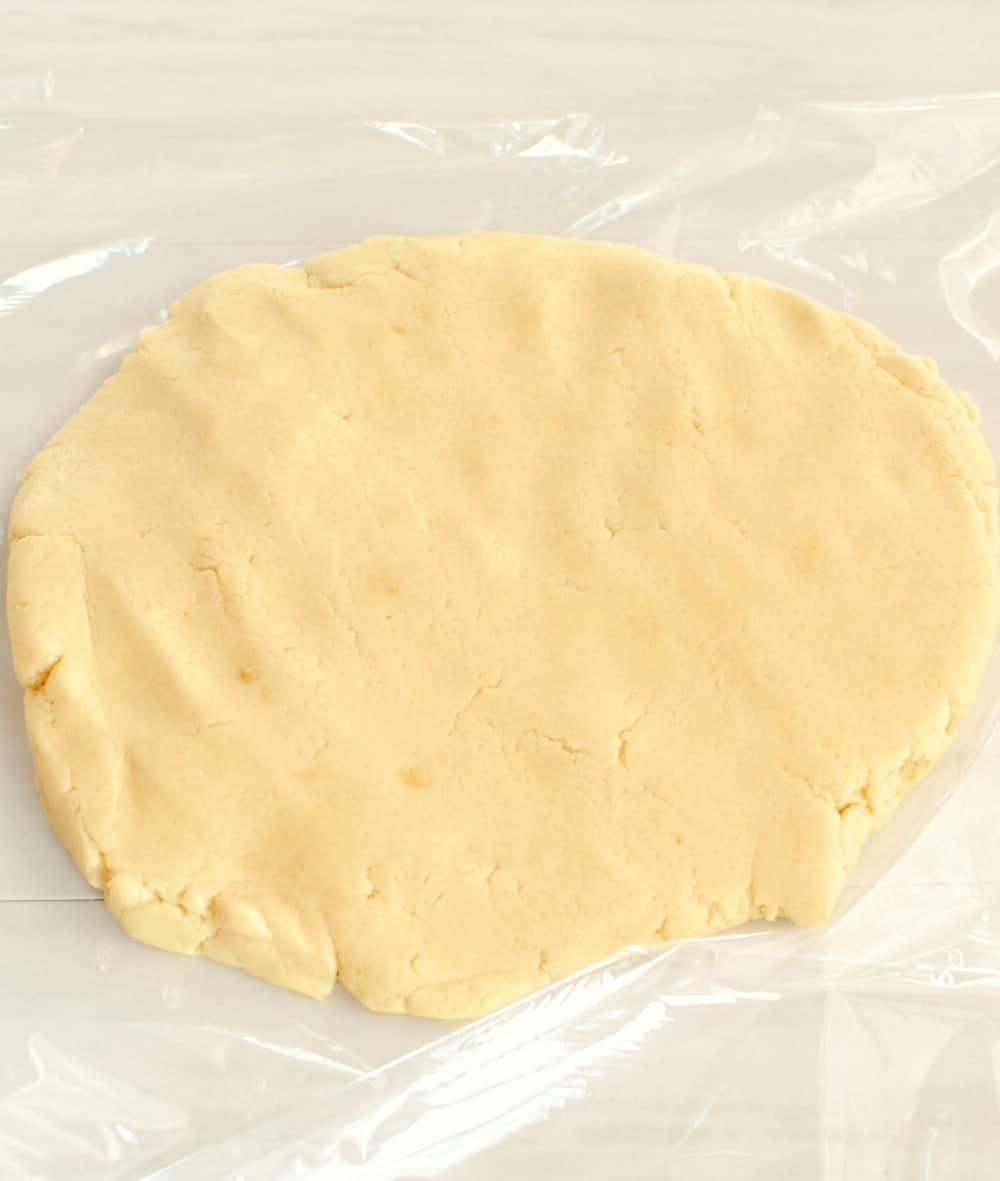 After you refrigerate the dough for at least 30 minutes, you can roll it out on a floured surface and use cookie cutters to make your shapes.
PS – How stinkin' adorable are these cookie cutters I used?!  I found these on clearance at Target for 90% off in the Christmas clearance section.  They were Hearth & Hand with Magnolia brand and came in these fun shapes like goats, hammers, houses, etc.  Any other Fixer Upper fans in the house?!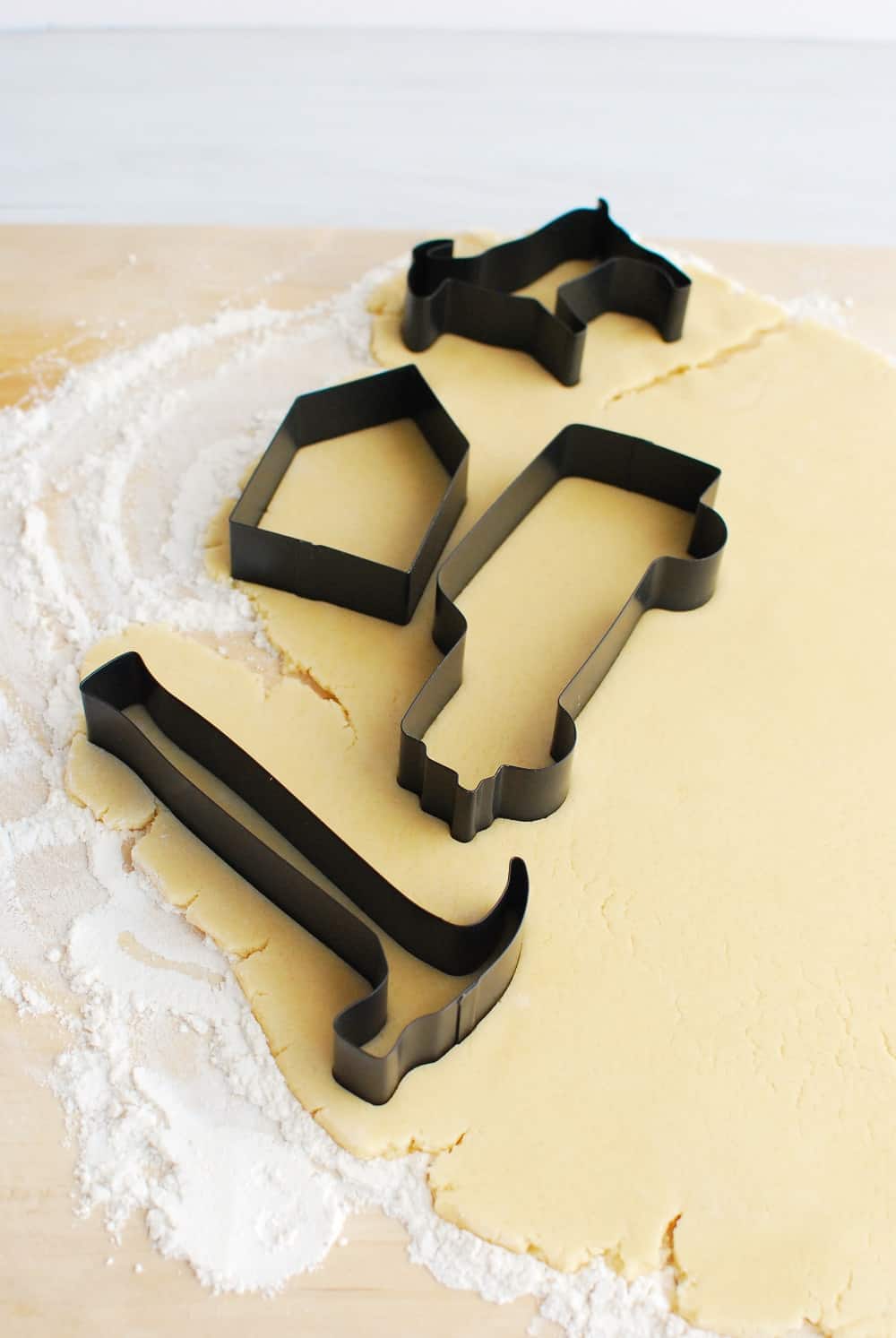 Allergens in this recipe
These dairy free sugar cookies are naturally free of dairy, soy, and nuts.  If you're soy-free, be sure to choose the red container of Earth Balance as that is the one that does not contain soy.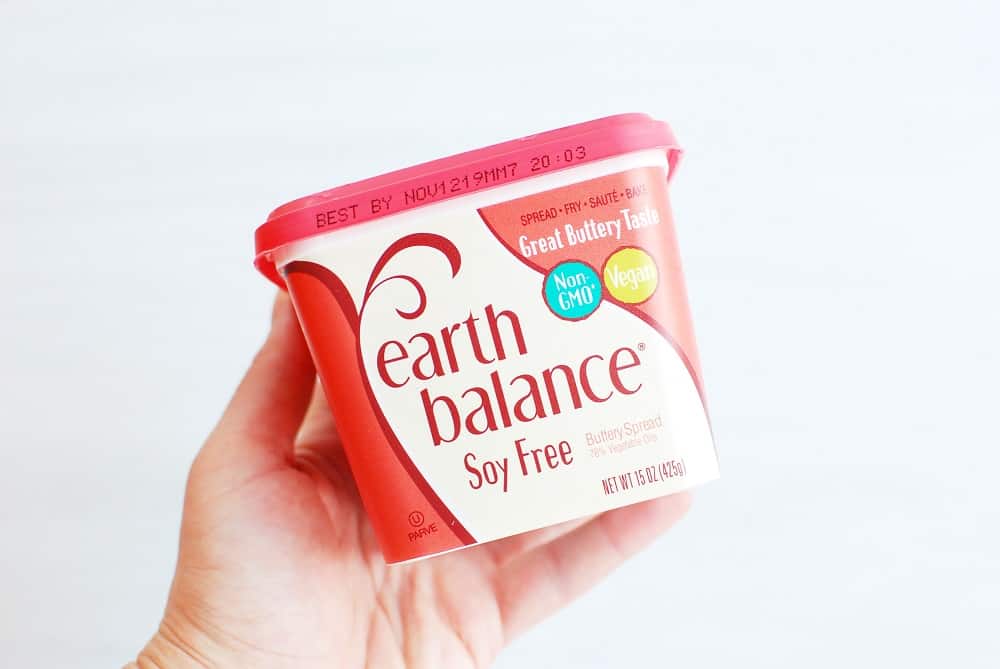 These cookies do contain egg and wheat (gluten).  If you need modifications for those, you can try one of the options below – though I have not tested these yet.
Gluten free:  Use a gluten-free flour blend rather than all-purpose flour.  Most good quality blend should work.
Egg free:  I've seen some recipes utilize the following combo for an egg-free version – 1 tbsp milk alternative + 1/2 tbsp cornstarch + 1/4 tsp extra baking powder.  Again, I haven't tried it in this recipe, so if you test this as egg free – let me know what works for you!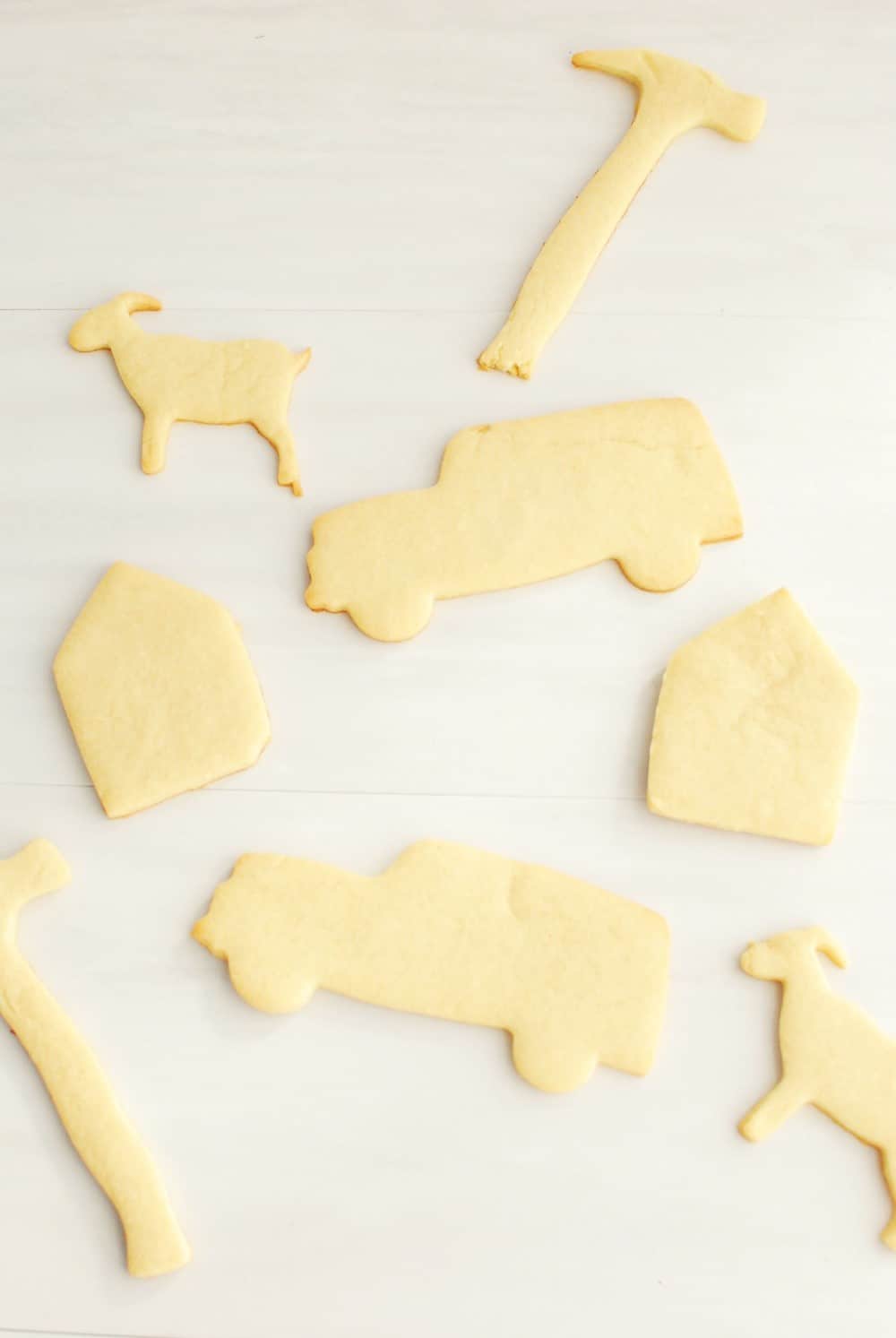 Can you freeze the sugar cookie dough?
Yes!  My favorite way to do this is to make the dough and then instead of shaping into a disc, shape into a log.  You can wrap this in plastic wrap and then store it in a zip top bag in the freezer.
When it comes time to bake the cookies, just defrost for a little bit in the fridge (ideally you want it still fairly firm when you are ready to bake). Then slice into cookie rounds and bake.  It's not quite as cute as the cutout ones but it's easy and quick!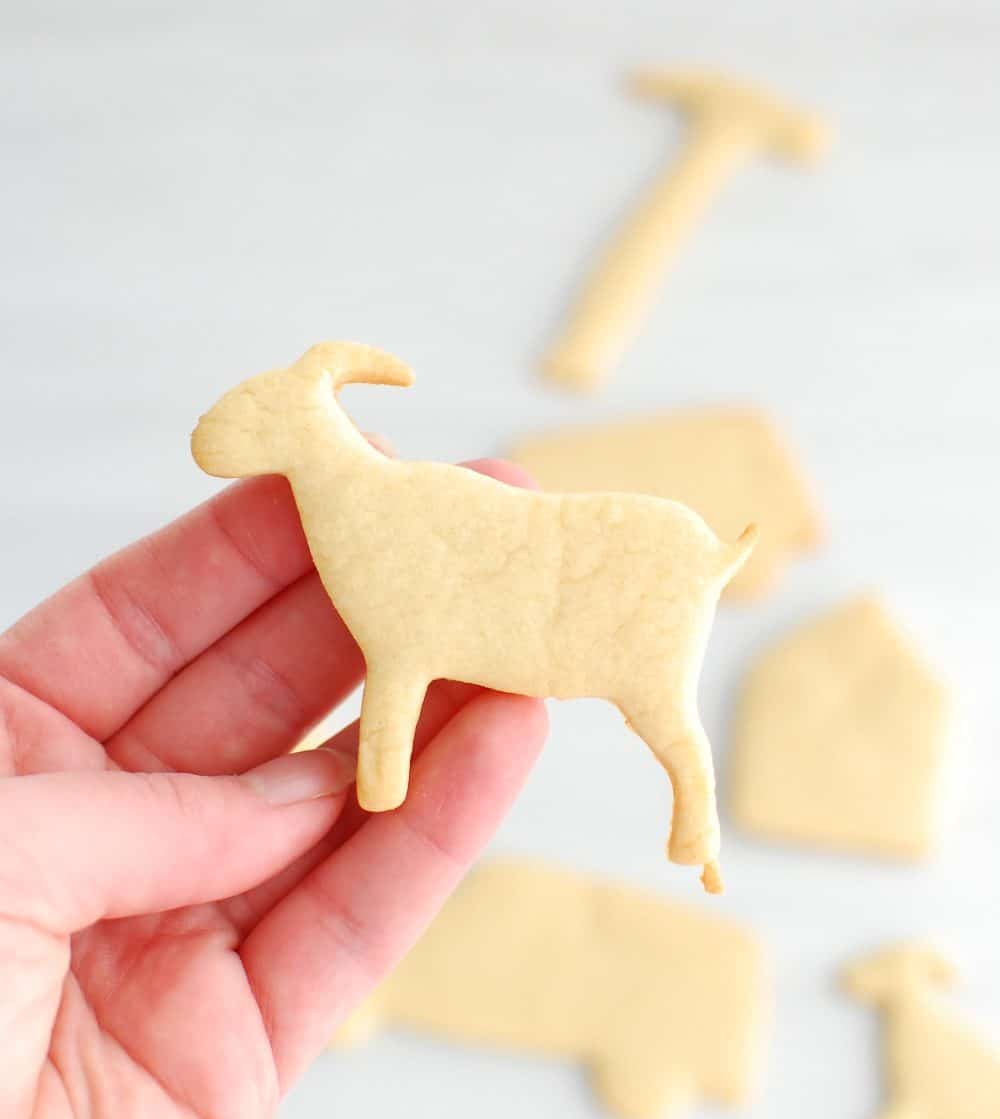 Is there a dairy free icing for these sugar cookies?
Are we the only weirdos that don't usually bother with icing on our sugar cookies?! LOL.  Don't get me wrong, I love making frosting for my sugar cookie bars – but for cut out cookies I usually skip over it.
Clearly I'm in the minority though based on some opinions from friends, haha – so if you want to make icing to go with these, go for it!
All you need to do to make icing is mix 1 cup of powdered sugar with 1/2 tsp vanilla.  Then add non-dairy milk 1 teaspoon at a time until the icing reaches the texture you like (I generally go with around 1 tbsp per cup of powdered sugar).
One more tip – wait until your cookies cool completely prior to icing them, otherwise it tends to slide off and not look as pretty.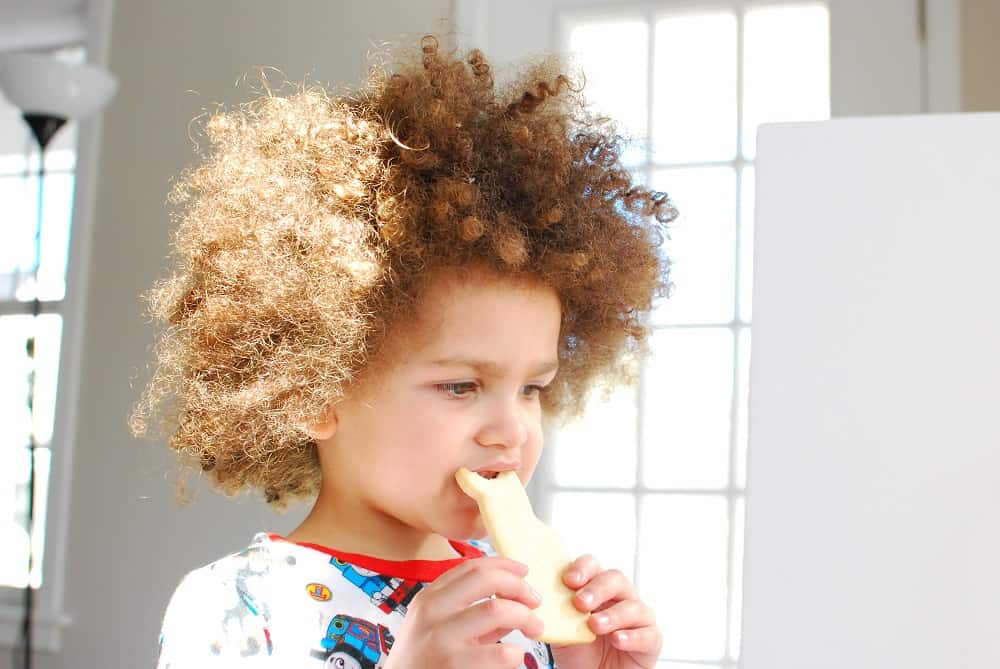 I hope you enjoy these dairy free sugar cookies!  If you get a chance to try them, please let me know in the comments how you liked them.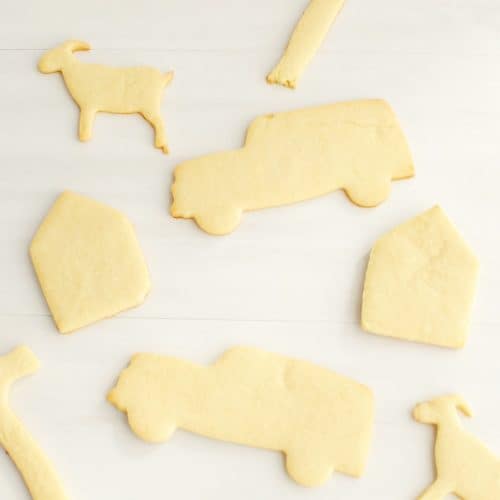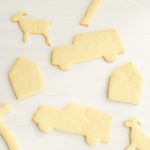 Dairy Free Sugar Cookies
These dairy free sugar cookies are perfect for cookie cutters! Enjoy at Christmas time - or really anytime!
Refrigerate Dough
30
minutes
Ingredients
1/2

cup

Earth Balance dairy-free soy-free spread

(or another vegan butter)

1/2

cup

granulated sugar

1

egg

1

tsp

vanilla

1/4

tsp

salt

1 1/2

cups

all-purpose flour

1/2

tsp

baking powder
Instructions
Cream Earth Balance and granulated sugar using a stand mixer, hand mixer, or whisking well. Mix in the egg and vanilla.

Add in salt, flour, and baking powder, and stir until everything is combined.

Flatten dough into an eight-inch disc, and wrap in plastic wrap. Place in fridge for at least 30 minutes.

Preheat oven to 350 degrees. On a lightly floured surface, roll out dough. Use a cookie cutter to cut out shapes. Place on a baking sheet lined with a silicone baking mat (or parchment paper). Bake for 9-10 minutes.
Recipe Video
Recipe Notes
I prefer using my KitchenAid for combining all the ingredients, but you can certainly do this by hand as well.
This recipe makes approximately 20 cookies, but the specific yield will depend on the size of your cookie cutters.  Smaller cookie cutters = more cookies; larger cookie cutters = fewer cookies.
Nutrition analysis (approximate per cookie):
98 calories, 5 g fat, 1 saturated fat, 89 mg sodium, 12 g carbohydrate, 0 g fiber, 5 g sugar, 1 g protein, Vitamin A: 0%, Vitamin C: 0%, Calcium: 1%, Iron: 3%
Share:  If you tried these dairy free sugar cookies, what did you think?  What are the most fun cookie cutters you've seen lately?