Try this Halloween charcuterie board for a fun, festive dessert platter that everyone will love!  Whether you just want to make Halloween fun for your own kiddos at home, or you're hosting a few other families, these spooky treats are sure to please everyone.  Bonus:  you'll find both healthy and more indulgent options!
Disclosure:  This post contains Amazon affiliate links.  As an affiliate, I earn a commission on qualifying purchases.
How to make a Halloween charcuterie board
Let me first be upfront – the traditional definition of charcuterie is a French term for the segment of cooking focused on prepared meats, like sausages and other processed meat products.  Most uses of the term in the United States refer to a board of food, often (though not always) focused on savory elements, including those prepared meats, along with cheese and crackers.
Clearly, this is not a traditional charcuterie board – but more of a fun, cleverly arranged dessert platter.  Since we use the term here in the US to refer to platters of food like this, I'm rolling with it.  Plus, on a dairy free diet, a traditional charcuterie board is tough – as cheese is obviously out (and most dairy free cheeses aren't fantastic as a solo snacking option).
So instead, let's get creative with this dessert board.  It's festive and easy to modify for various allergens, including dairy.  (Of course, you can easily modify this to be a combination of both sweet and savory, or switch things up and go completely savory).
To start, you can use any large cutting board or platter that you have on hand to make this.  I scored this cute ghost platter at Target last year after Halloween when it was 90% off – such a great deal!  This skeleton platter looks like a fun choice too.  Outside of Halloween time, though, I just use a big wooden cutting board that I save specifically for charcuterie.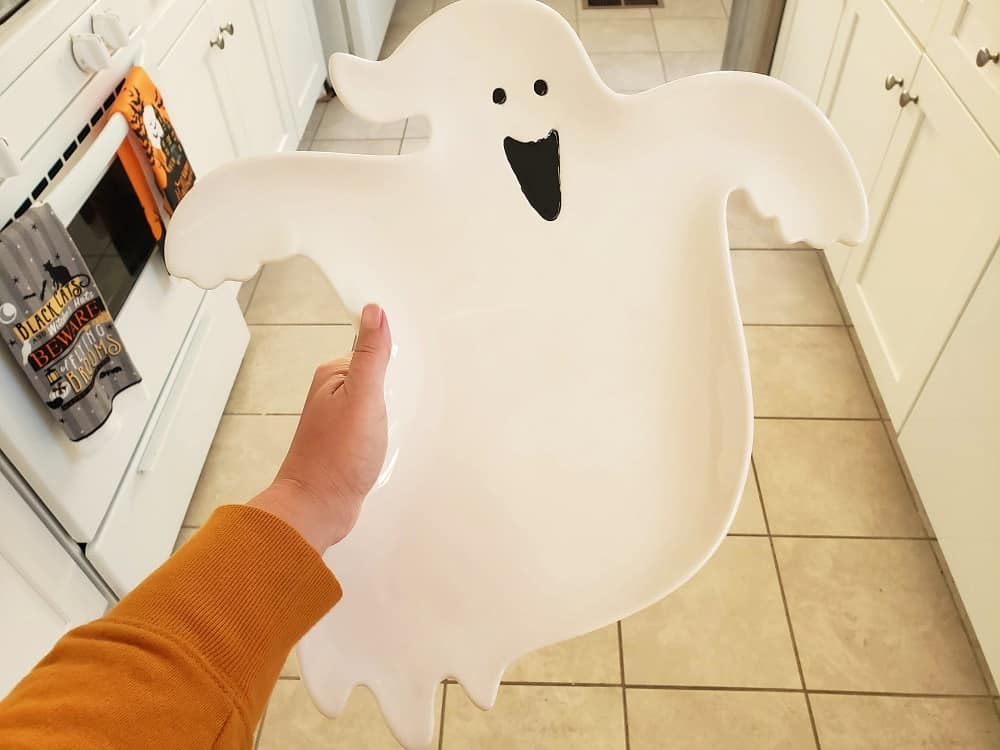 Once you've got your platter, just start thinking through a few fun treats that you'd like to include.  You'll find how to make everything on this board below, but you can easily include other cute ideas you've seen on Pinterest or on TV.
The 5 treats on this board
Here's a list of each of the five treats that are included on this board.  Specific ingredient proportions are in the recipe card at the bottom of this post! 🙂
1. Halloween Dark Chocolate Pretzel Rods
These are super easy to make – you'll just melt dairy-free dark chocolate, dip your pretzels in, then add some orange, black, and white sprinkles to them!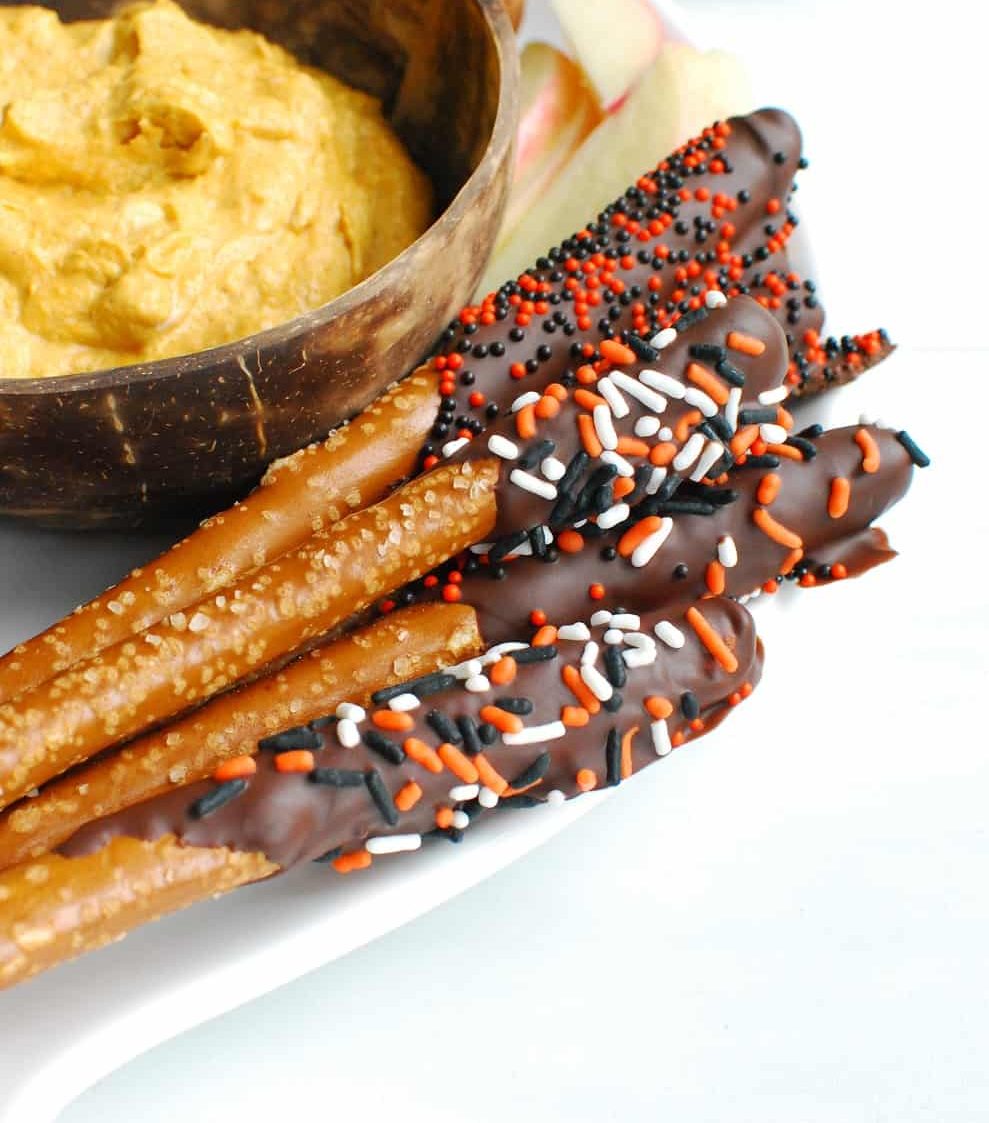 2. Clementine Pumpkins
Cute, healthy, and easy – a triple win for a kids snack!  You'll just take the clementines, peel them, and add a little celery stalk to the middle that looks like a "pumpkin stem."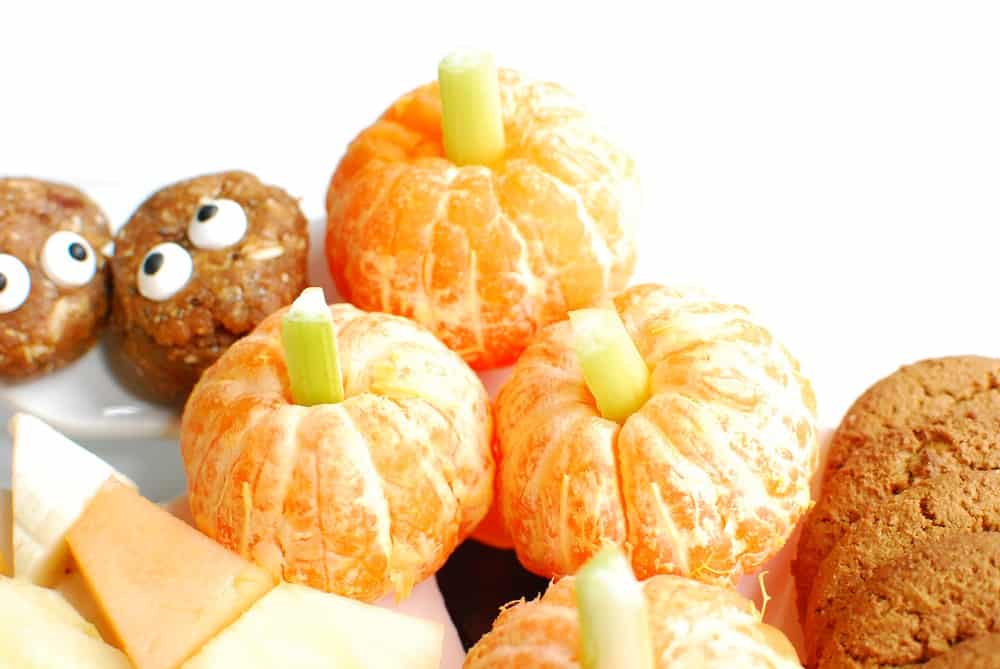 3. Pumpkin Dip + Gingersnaps/Apples
A Halloween board wouldn't be complete without some kind of pumpkin treat!  This pumpkin dip is very easy to make, with just four ingredients – CocoWhip, pumpkin puree, instant vanilla pudding mix, and pumpkin spice.
Contrary to what you might think, most instant vanilla pudding mix is actually dairy free.  The dairy comes when you add the milk to it during cooking, but the dry powdered stuff generally doesn't have dairy.  Double check the labels of course, though!
You'll mix up the four ingredients for this recipe and then you can pop it in a bowl and serve it with some gingersnaps and sliced apples for dipping.  You can also feel free to use homemade dairy free sugar cookies or graham crackers.
As always, double check the label whatever you're using as a dipper – though most brands of gingersnaps and graham crackers at my supermarket are dairy free.
4. "Candy Corn" Fruit Skewers
These little fruit skewers use pineapple, cantaloupe, and banana to give the classic yellow, orange, and white colors in candy corn.  When chopping up the fruit, try to angle the sides a bit on each so that the final little skewer comes together in the traditional triangle shape found in the candy.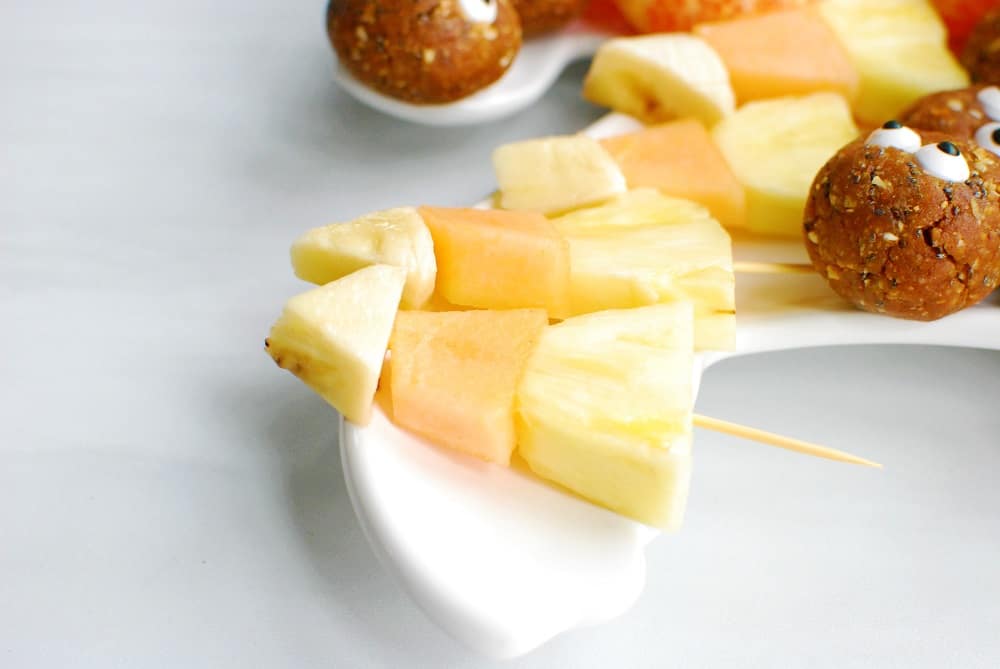 5. Spooky Energy Bites
These energy balls are a great option for a dessert board because they're sweet but actually packed with nutritious ingredients.  This is a go-to recipe for my son, Halloween or not!
To make them, you'll need an apple, oats, natural peanut butter, dates, cinnamon, and chia seeds.  That all just gets blended up in a food processor until well combined, then roll into balls.
And of course, stick on some edible eyeballs. I'm convinced if you add edible eyeballs to anything, it immediately becomes a Halloween treat. 😉  Plus, kids seem way more excited about eating it!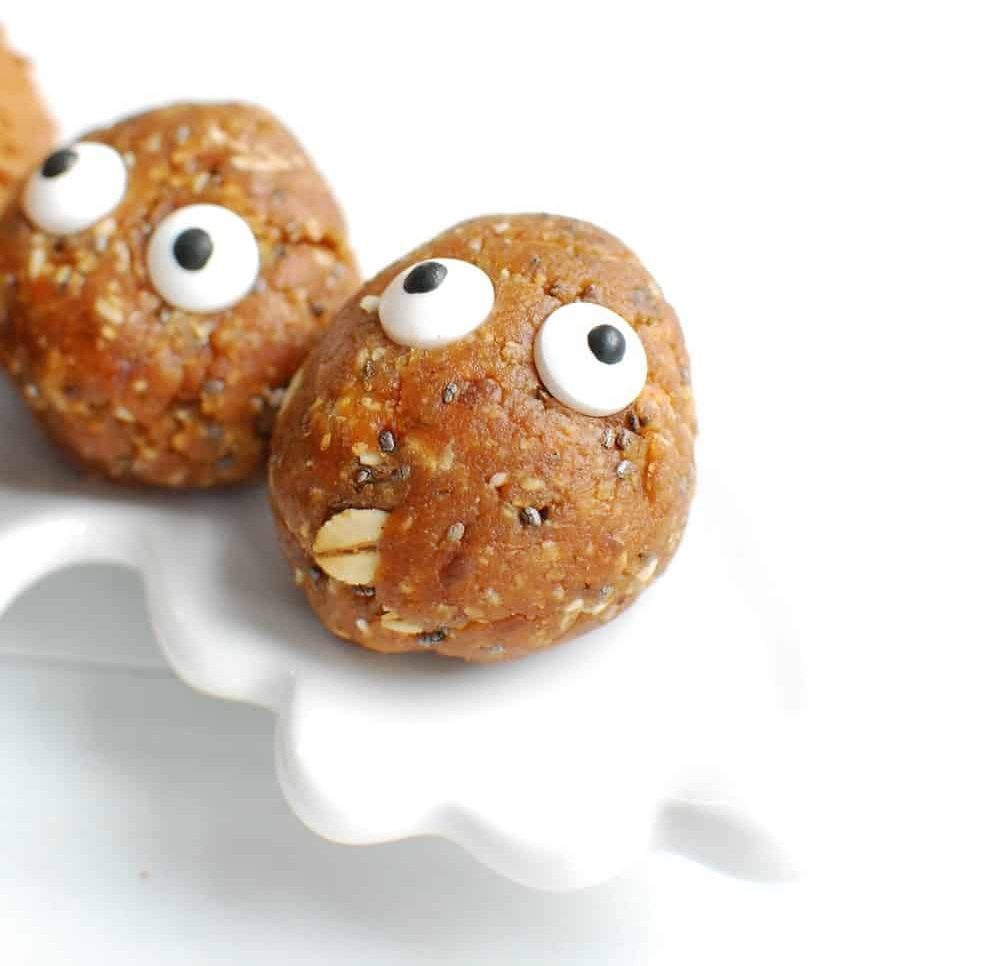 Allergens in this board
Disclaimer:  Always double check ingredients and labels yourself prior to making a recipe.  While I try to check all ingredients for allergens, there's always the chance I may miss something or manufacturer formulations can change.
This Halloween dessert board is dairy free.
It does contain other allergens like wheat, soy, and nuts.  However, these can easily be adjusted for by choosing different brands or making simple ingredient substitutions.
Here's the breakdown for each item on the board, and how you might adjust for any other allergy needs:
Dark chocolate pretzel rods – These contain wheat (in the pretzels) and soy (in the sprinkles).  To make wheat-free/gluten-free, try a gluten-free pretzel rod.  To make soy-free, you'll need to order specialty soy free sprinkles.  I haven't found any Halloween colored ones that are soy-free yet, but I do love all the varieties of soy-free Supernatural Sprinkles on Amazon.
Clementine pumpkins – Top 8 allergen free.
Pumpkin dip (with gingersnaps or sliced apples) – As long as your instant vanilla pudding mix did not contain allergens, the dip itself should be free of major allergens except coconut (most people with tree nut allergies can tolerate coconut, but some can't, so I just wanted to bring attention to it).  Outside of the dip, you'll need to check your dippers to see which allergens are in it.  For example, the gingersnaps I purchased from the store did contain wheat and soy.  If you cannot tolerate those, try purchasing Enjoy Life Snickerdoodles which are top-8 free (at the time of publish) and make a great alternative for dipping.  And sliced apples are always a great allergen-friendly choice that pair well with pumpkin dip.
Fruit skewers – Top 8 allergen free.
Energy bites – These contain peanuts, and may contain gluten if certified gluten-free oats are not purchased.  To make gluten-free, just make sure to purchase certified gluten free oats.  To make nut-free, use sunflower seed butter instead of peanut butter.
Other Halloween food ideas
I focused on some of the easy recipes that my family loves – and what would fit on my board!  But there's so many more options you could include on this Halloween charcuterie board.  Here's a few, divided by sweet and savory – some are themed and others can be a good option year round:
Sweet:
Dark chocolate that you've shaped using molds like pumpkins, skeletons, etc.
Any fresh or dried fruit
"Ghost strawberries" – strawberries dipped in dairy-free white chocolate (Walmart now sells this!)
"Monster mouths" – apple slices spread with nut butter, then with almonds or macadamia nuts stuck in the nut butter, and another slice wedged on top. The idea is to create something that looks like a mouth with teeth.
Jack-o-lantern smoothie cups – You can make some delicious orange smoothies using whatever ingredients you prefer. Take clear plastic cups and draw jack-o-lantern eyes and a mouth on them.  Pour in the orange smoothie into the cup.
Savory:
Deviled egg "brains" – easy to make and definitely has the gross-out factor for kids of looking like real brains!
Flavored popcorn – My personal favorite (which is a recipe in my dairy free cookbook!) is chili lime popcorn. Get creative with any homemade flavors you enjoy.  You can even carve a small pumpkin on the platter and have the popcorn be coming out of it's mouth.
Pumpkin seeds – Whether you want to do basic salted roasted pumpkin seeds or mix in some flavorings, these are always a great savory addition.
Nut free trail mix – This is admittedly a blend of sweet and savory, but if I have extra of this on hand, I love adding it to a dessert board for munching.
Beef or turkey jerky
Salami or pepperoni (double check labels to ensure dairy free)
Crackers or pita chips (double check labels to ensure dairy free)
I hope you enjoy this board!  If you get a chance to make it, please feel free to leave a recipe rating or comment below.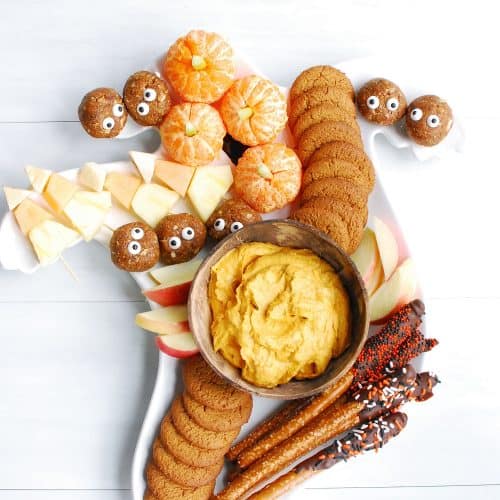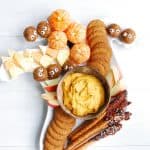 Halloween Charcuterie Board (for Dessert)
Try this Halloween charcuterie board for a fun, festive dessert platter that everyone will love!
Ingredients
For the Dipped Pretzels:
1

cup

dairy free chocolate chips

(i.e. Enjoy Life)

15

pretzel rods

Sprinkles
For the Clementine Pumpkins:
For the Pumpkin Dip:
1/2

container SoDelicious CocoWhip

(half of 9 ounce container)

3/4

cup

pumpkin puree

(plain)

3

tbsp

instant vanilla pudding mix

1/2

tsp

pumpkin spice

Gingersnaps or sliced apples, for serving
For the Candy Corn Fruit Skewers:
Pineapple

Cantaloupe

Banana
For the Energy Bites:
1

medium apple, peeled and diced

1

cup

rolled oats

1/2

cup

natural peanut butter

1/2

cup

whole pitted dates

1

tsp

cinnamon

1

tbsp

chia seeds

Edible eyeballs
Instructions
For the pretzels:
Prepare a baking sheet with wax paper.

Melt the chocolate in a microwave safe bowl, 30 seconds at a time, stirring between each time in the microwave. It should take about 1:30 to 2:30 total time to melt.

Dip the top third of the pretzel rod in the chocolate. If your bowl has high sides, you may want to pour the melted chocolate on a plate and roll the rods instead.

Shake the sprinkles onto the chocolate dipped pretzel rod, then place on the baking sheet. Repeat with the rest of the rods, then place in the fridge for about 30 minutes until they firm up.
For the clementine pumpkins:
Peel as many clementines as you'd like to use. Slice a celery stalk in half lengthwise, then slice into small 2-inch pieces. Stick a piece of celery into the center of each clementine to form the "pumpkin".
For the pumpkin dip:
Use a hand mixer or stand mixer to combine the coco whip, pumpkin puree, vanilla pudding mix, and pumpkin spice. Refrigerate until ready for use. When ready, serve with gingersnaps.
For the candy corn skewers:
Chop fruit up into relatively equal size 1-inch pieces. Line up a piece of pineapple with a piece of cantaloupe above it, and banana above that. Cut edges to angle into a triangle. Place on skewers in that order.
For the energy bites:
Add everything to a food processor and process until well combined. You may have to stop the processor and run a spoon down the sides a few times. Once well combined, roll into balls. If desired, add edible eyeballs. Place in the fridge until ready for use.
Recipe Notes
Some instructions don't contain specific amounts because you can make as much or as little as you'd like for your board.
If you would prefer making a bigger batch of pumpkin dip, use the following measurements:  one box instant pudding mix, one 9-oz container of CocoWhip, 15-oz can of pureed pumpkin, and 1 tsp pumpkin spice.
Share:  What's your favorite treat on this Halloween charcuterie board?