Do you have a kiddo with a nut allergy?  Or maybe you're nursing a baby that has several intolerances, and you need some satisfying snacks?  If so, you'll definitely want to try this nut free trail mix!  Pumpkin seeds and sunflower seeds are lightly glazed with maple syrup, then tossed with chewy dried fruit and rich dairy-free chocolate chips.
And not only is this recipe free of peanuts and tree nuts, but as long as you choose safe ingredients – it's also top 8 allergen free.
Disclaimer: I've identified potential allergens below but as always, check the ingredients and labels to verify for yourself.  There's always I chance I may miss something or that a manufacturer has changed formulations. 
How to make maple glazed nut-free trail mix
This recipe is super easy, and you can also create many variations on it depending on what you've got lying around at home.  Here's what you'll need:
Maple syrup
Salt
Pumpkin pie spice (or cinnamon, or skip this)
Shelled pumpkin seeds
Roasted shelled sunflower seeds
Dried cranberries
Golden raisins
Dried apricots
Allergen-free chocolate chips
You'll start by glazing the seeds in maple syrup.  To be honest, this is completely optional, and you can easily skip this and still have a yummy trail mix with plain seeds.  But I just love the extra flavor this adds.
To glaze the seeds, first add the maple syrup to a small pot.  Heat that baby up, and when it starts to bubble, mix in the salt and pumpkin pie spice.  The "pumpkin spice" aspect is pretty subtle here – it adds just a smidge of that flavor to the seeds.  You can easily leave it out if you don't have any on hand, or substitute cinnamon instead.
From here, stir in your pumpkin seeds and sunflower seeds.  Continue cooking those for a few more minutes – about 3-5 – stirring often, until the maple syrup has thickened up and is really coating the seeds.
Keep in mind it's a *very* small time frame from maple glazed to burnt tasting, so you'll want to be actively next to your stove for this part.  My kiddo always seems to want me to watch something he's doing righttttt in this moment ("mom, loooooook at me!"), haha, so I know the disappointment in overcooking all too well. 😉  Keep a close eye.
Remove those from heat and spread them onto some parchment paper on a baking sheet.  Then just let them cool down and firm up.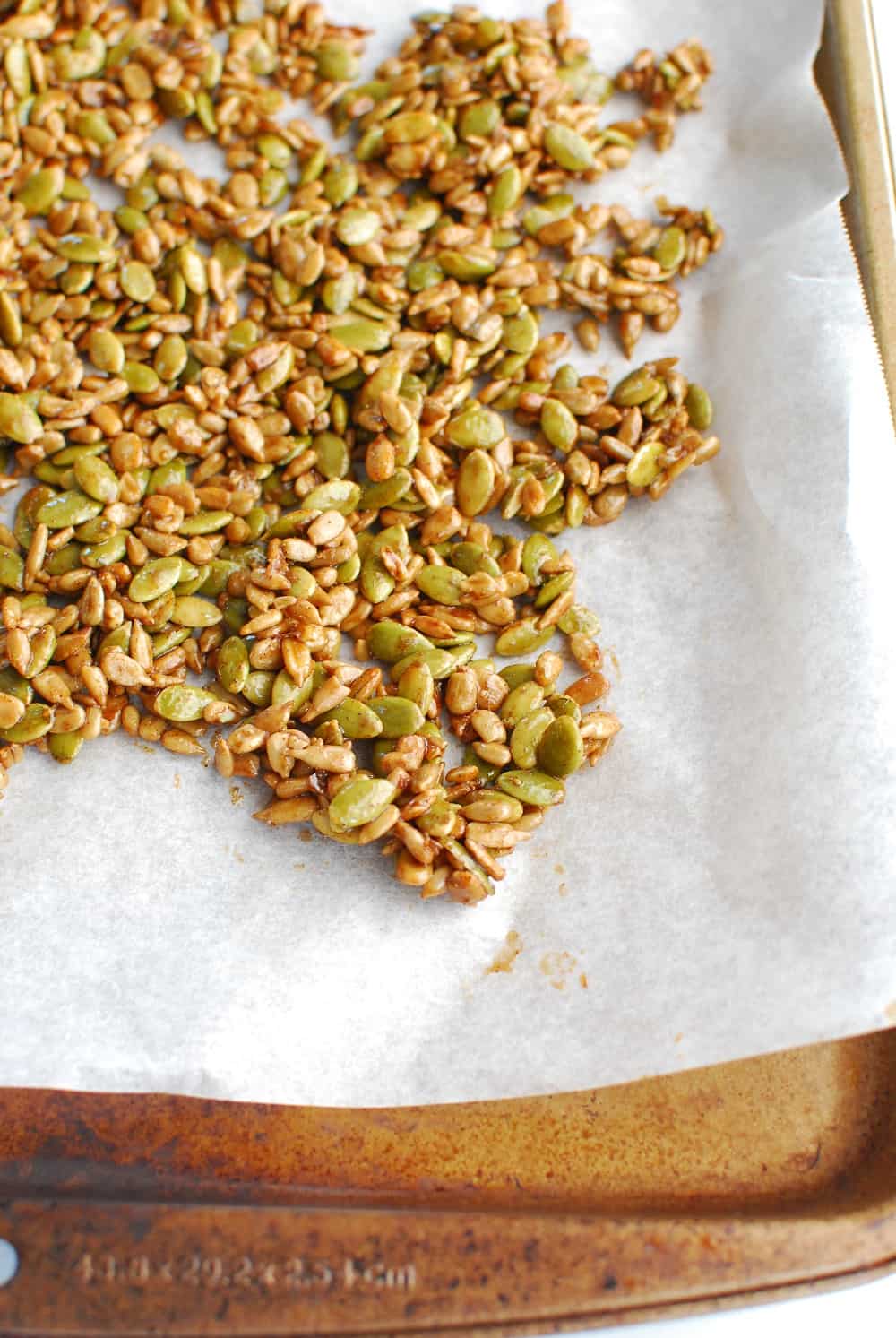 They should feel solid when cool, and perhaps slightly tacky – but they should not feel overly wet or sticky.
If they're still wet after cooling, they needed to be cooked a bit more.  If that happens, don't fret – you don't want to use them in the trail mix like this as the wet maple syrup will make things a little yucky, but you can store the seeds in the fridge like that and then sprinkle them on a salad or into a dairy-free yogurt.
If you've got the right texture on your cooled seeds though – yahooooo!   Mix 'em up with the dried fruit and the allergen-free chocolate, and you've got a tasty trail mix that everyone (kids and adults!) will love.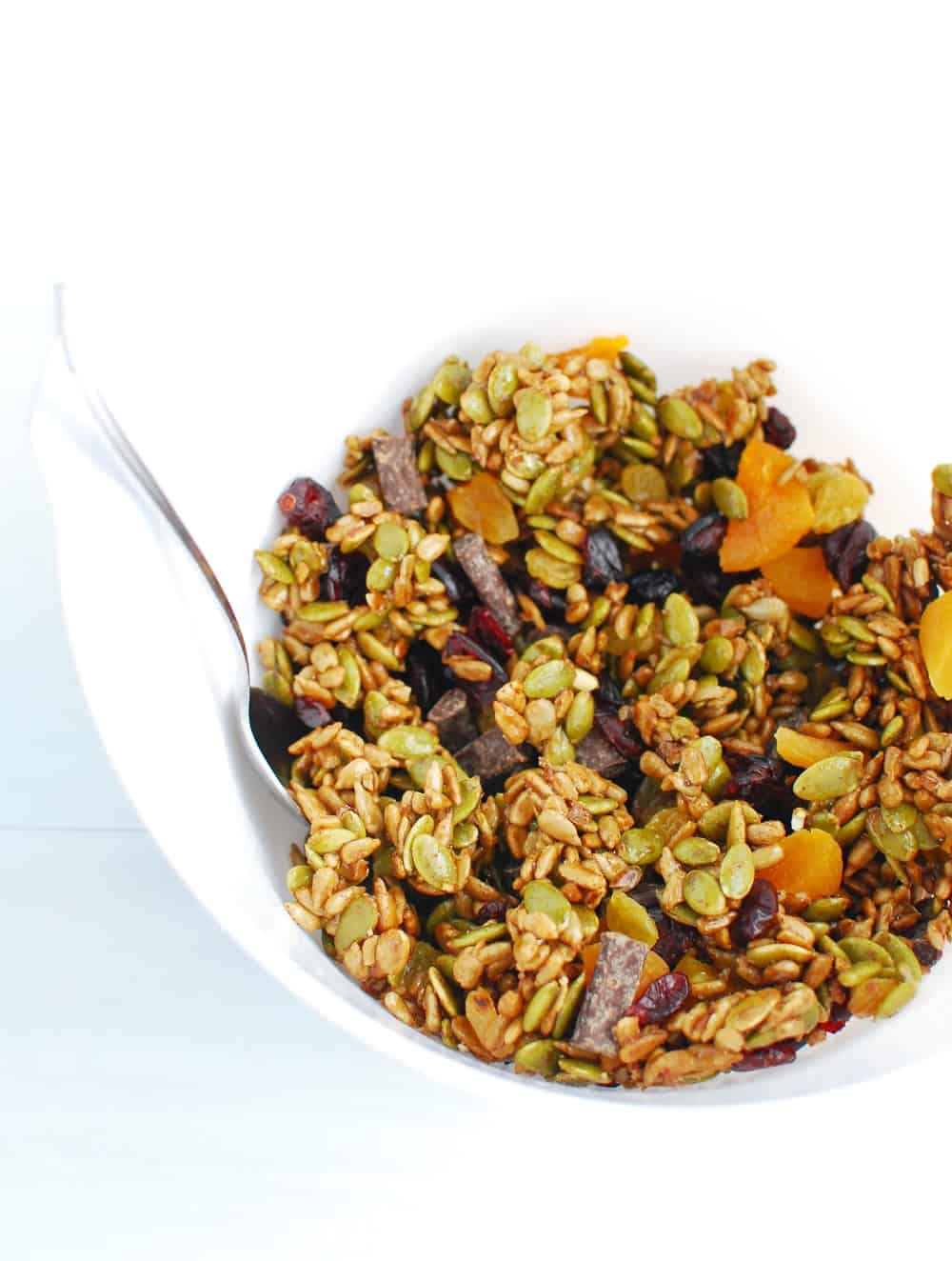 How to store this trail mix
As long as you've glazed the seeds correctly (i.e. they are firm; not sticky or wet) – you can store this trail mix at room temperature in an air tight food storage container or zip top bag.  For best quality, use within a week.
Allergens in this recipe
As long as the products you are choosing do not contain any odd added ingredients, this recipe should actually be top 8 allergen free!  This includes a few caveats:
Double check your dried fruit if sensitive to soy. A while back, I came across dried cranberries that had soy lecithin in them.  This was a few years back and at the grocery store the other day, I didn't see any that contained soy.  But always worth a second glance to verify.
Be sure you choose allergen-free chocolate chips, like Enjoy Life or the new Nestle Simply Delicious line. Most regular chocolate chips on the market contain milk so you'll want to make sure you buy chocolate chips that are specifically dairy free if this is a concern.
If you have serious allergies, check for cross contamination labels. For example, some seeds may be processed alongside nuts.
But as long as the ingredients you choose fit your needs, this should be dairy free, soy free, egg free, nut free, and wheat/gluten free!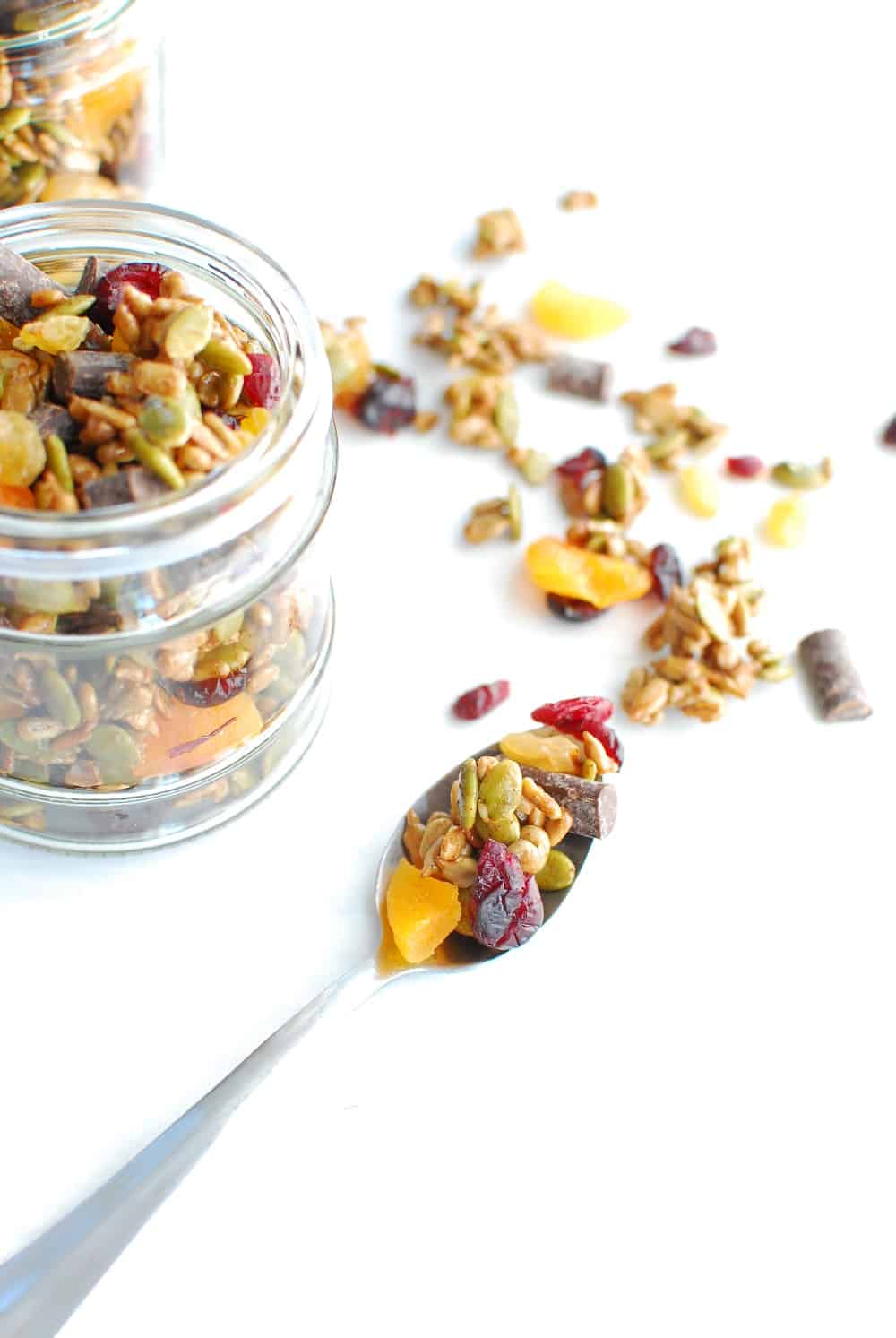 Why I love this trail mix
This nut free trail mix is great whether you're using it to fuel a hike, satisfy a snack craving, send in a nut-free snack for your kiddo's school, serve an after-school snack – or pretty much any situation!
Y'all know I do a lot of sweet treats on this blog (what can I say, I love dessert!), and while this does have a little added sugar from the maple syrup and dried cranberries – most of the sugar is natural from the dried fruit, making this a bit healthier than some of the other snacks here on the site.
Plus, this has actually got a nice blend of healthy fats and carbohydrates with a little bit of protein – which gives it some sticking power (perfect for kiddos going through a growth spurt, or hungry nursing mamas!).
Trail Mix Variations
There's obviously no official trail mix recipe out there, so you can mix up the ingredients according to your own flavor preferences and allergy needs.
Here's some other ingredients to consider that are typically dairy-free and nut-free, besides what was already in this recipe (be sure to check labels for allergens; many below would not be top 8 free):
Dried mango
Dried pineapple
Dried apples
Coconut chips (if you can tolerate coconut; some people with tree nut allergies avoid and others do not)
Banana chips
Cacao nibs
Air popped popcorn
Beef jerky
Pretzels
Certain cereals – rice squares, puffed rice, toasted oat cereal, etc.
Toasted hemp hearts
Dried peas or chickpeas
Mini marshmallows
Sesame sticks (if you can tolerate sesame)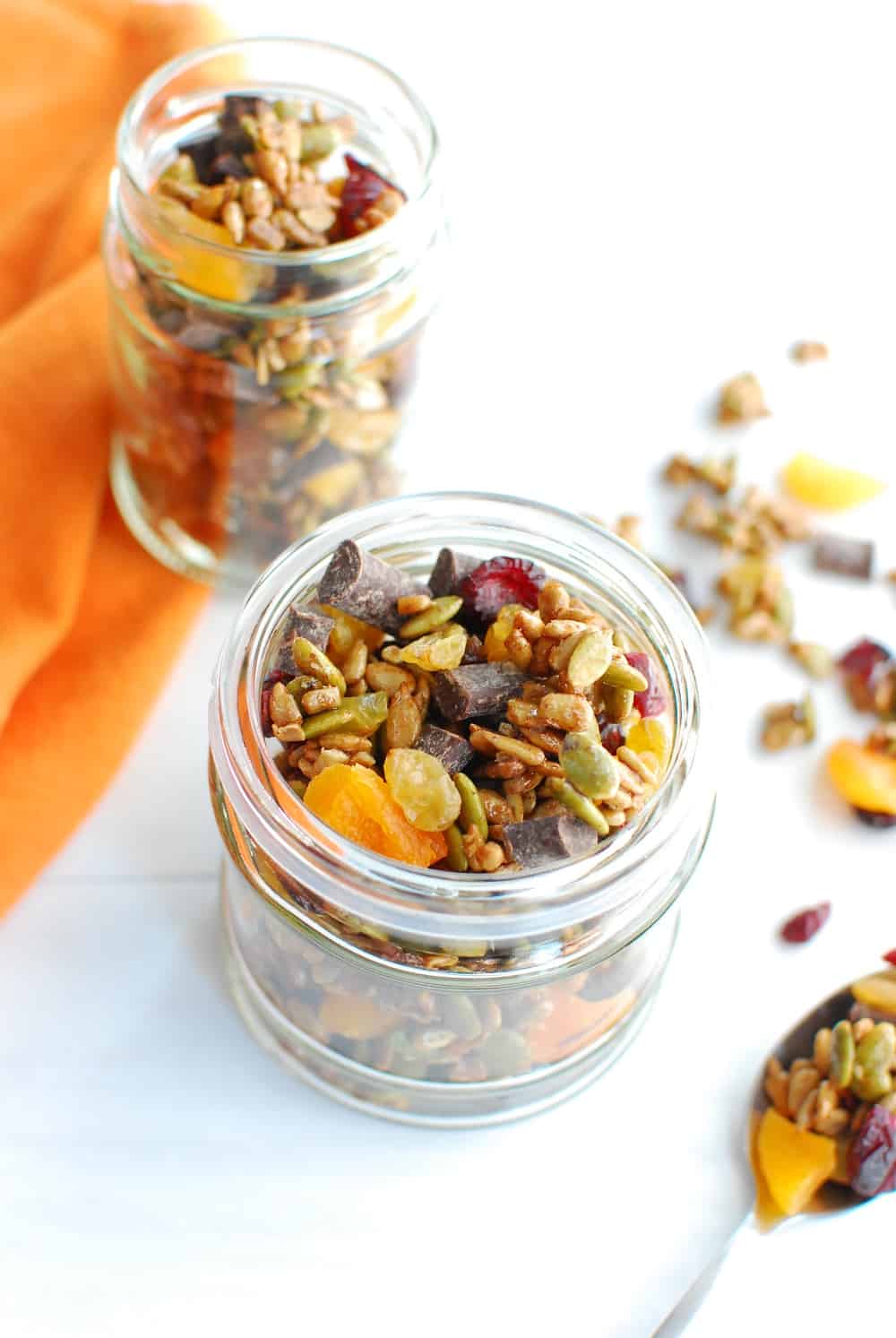 I hope you get a chance to try this recipe – if you do, be sure to leave a recipe rating or comment below and let me know what you think!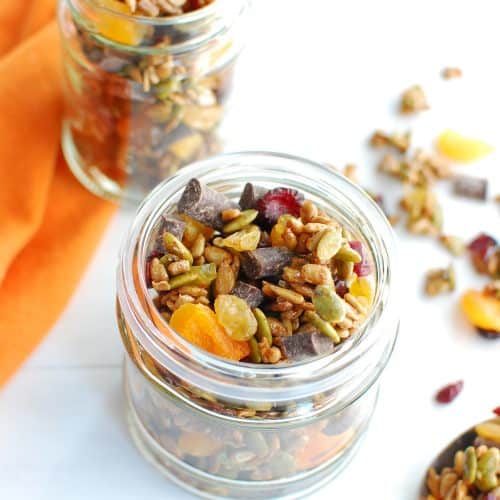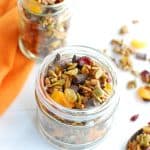 Nut-Free Trail Mix (Dairy Free, Gluten Free, Vegan)
Make your own nut-free trail mix with maple-glazed seeds, dried fruit, and chocolate chips!  Perfect
for kids and adults alike.
Ingredients
1/4

cup

maple syrup

1/8

tsp

salt

1/2

tsp

pumpkin pie spice

1/2

cup

shelled pumpkin seeds

1/2

cup

roasted shelled sunflower seeds

1/3

cup

dried cranberries

1/3

cup

golden raisins

6

dried apricots, chopped into smaller pieces

1/4

cup

allergen-free chocolate chips or chunks

(i.e. Enjoy Life)
Instructions
Prepare a baking sheet with parchment paper. Set aside.

Add the maple syrup to a small pot over medium heat. When it starts to bubble, stir in the salt and pumpkin pie spice. Reduce heat to medium low, and add the pumpkin seeds and sunflower seeds.

Continue to cook for 3-5 minutes, stirring often. Be sure to watch this closely as it's a fine line between a nice maple coating and burning the mix. When there appears to be no more "extra" syrup in the pot and everything is sticking to the seeds, remove from heat and pour the mixture onto the parchment paper. Let cool.

Once cool, the seeds should have a firm glaze on the outside. Break apart any clusters as needed, and mix in a bowl with the remainder of the ingredients. Enjoy!
Recipe Notes
Makes approximately 7 servings of 1/3 cup each.
Store in an airtight bag or container at room temperature for up to a week.
Nutrition analysis (approximate per serving):
225 calories, 10.5 g fat, 2.5 g saturated fat, 111 mg sodium, 29 g carbohydrate, 3 g fiber, 21 g sugar, 5 g protein, Vitamin A: 0%, Vitamin C: 1%, Calcium: 3%, Iron: 9%
Share:  What are your favorite ingredients for trail mix?  If you tried this nut free trail mix, what did you think?