Looking to add a little fall flavor to your morning toast, english muffin, or biscuit?  Try this delicious dairy free whipped honey butter with pumpkin!  It's got the perfect amount of pumpkin flavor, along with warmth from the cinnamon, richness from the vegan butter, and sweetness from the honey.
As Mama June once said (prior to all her legal issues) – mo' butter, mo' better. 😉
Why I love this recipe
The inspiration for this recipe came from Texas Roadhouse.  If any of you are dairy free for nursing – and used to eat dairy – you probably remember that they have that amazing honey butter to spread on your bread.  I thought it couldn't be that hard to replicate at home with dairy free butter, and I was right!
This dairy free whipped honey butter with pumpkin is similar to that, except with the fall twist – and of course, this version is free of any milk!  And while you can make this without the pumpkin to be more of a classic replication, I do love the addition of the quintessential fall flavor at this time of year.
How to make dairy free whipped honey butter with pumpkin
You only need 5 ingredients to make this recipe:
Dairy free butter (I recommend Earth Balance)
Canned pumpkin puree (not pumpkin pie mix but the plain pumpkin stuff)
Honey
Cinnamon
Vanilla
You'll just beat together all the ingredients in a bowl until it's light and fluffy, and then slather it on whatever you want!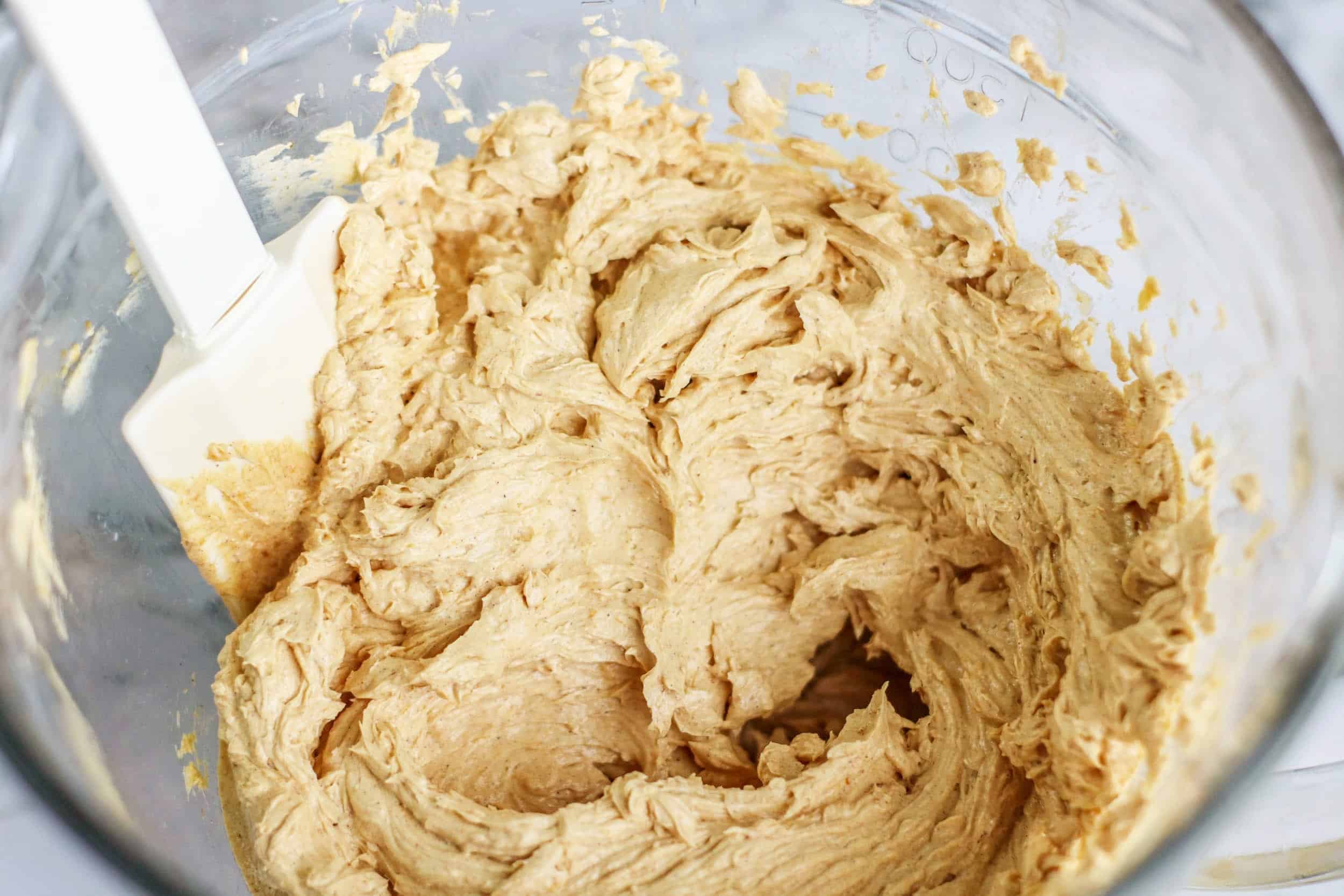 As a heads up, you can either use a stand mixer with the whisk attachment, use a hand mixer, or beat this by hand with a whisk.  If you let the dairy free butter sit out for a few minutes, it's usually pretty easy to whisk by hand because it softens up quickly.
Once it's made, you can store it in the fridge for several days and use it as you please.  If you want something really cute to do for Thanksgiving, you can also pipe it into silicone molds and then place the fun little shapes out on the table for people to use to butter their rolls!  (Keep in mind, dairy free butters do get softer more quickly than regular butter, so if you do this just know they'll soften rapidly.  You can put 'em in a bowl over ice though if you plan to put them out on the table for serving).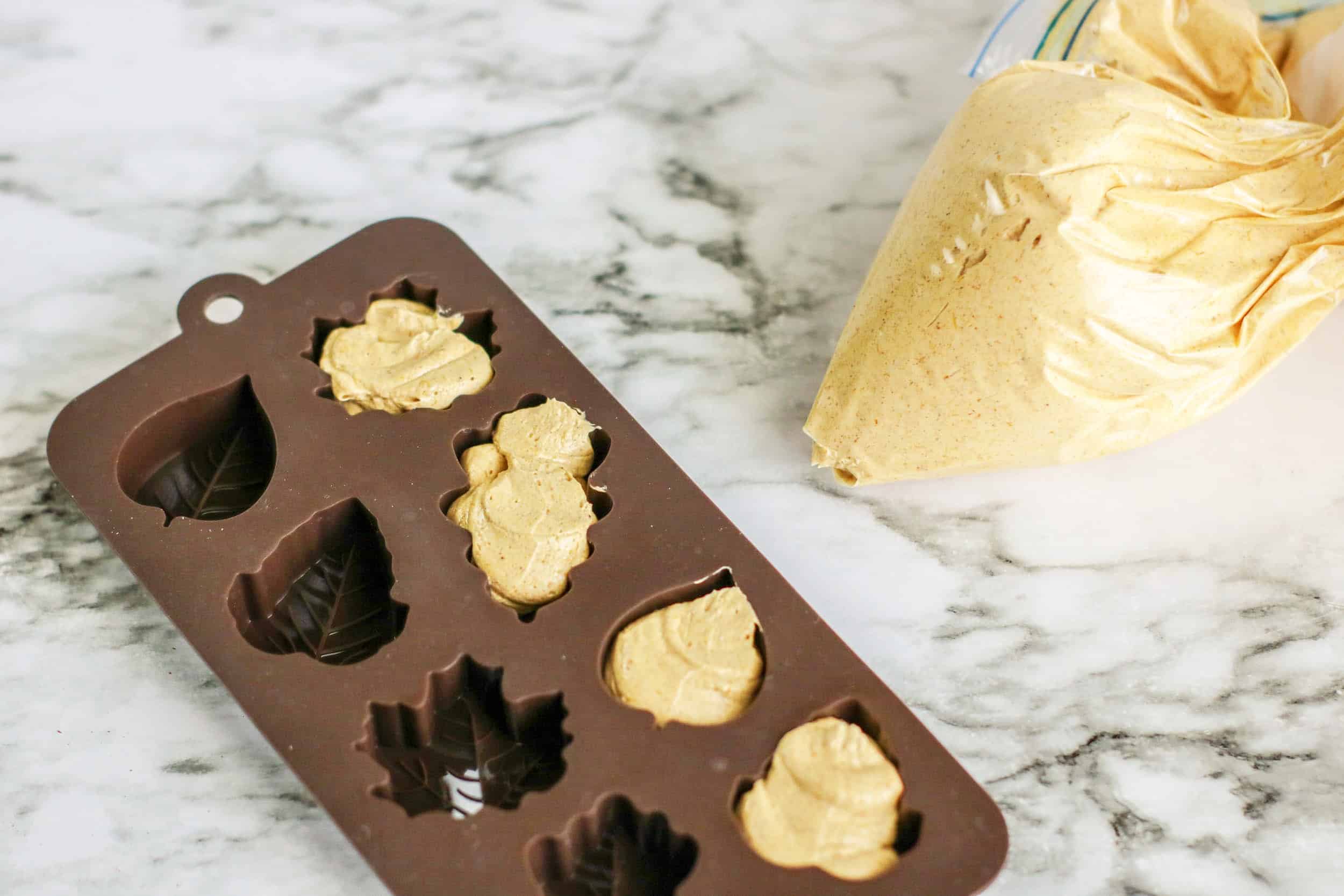 A note on honey
If you are planning to serve this to a kiddo under one year old, or if you are vegan, you'll probably want to skip the honey.
For kids under one year, they worry that spores from a certain type of bacteria can harm a baby's system (whereas older kids and adults have the digestive maturity to eliminate them).
And for vegan folks, you may decide to skip over honey since it is an animal product.
In that case, you can substitute either agave syrup or maple syrup in this recipe!  I'd vote for maple given the fall theme, but you do want to adjust down the maple a smidge as it's more liquidy than honey.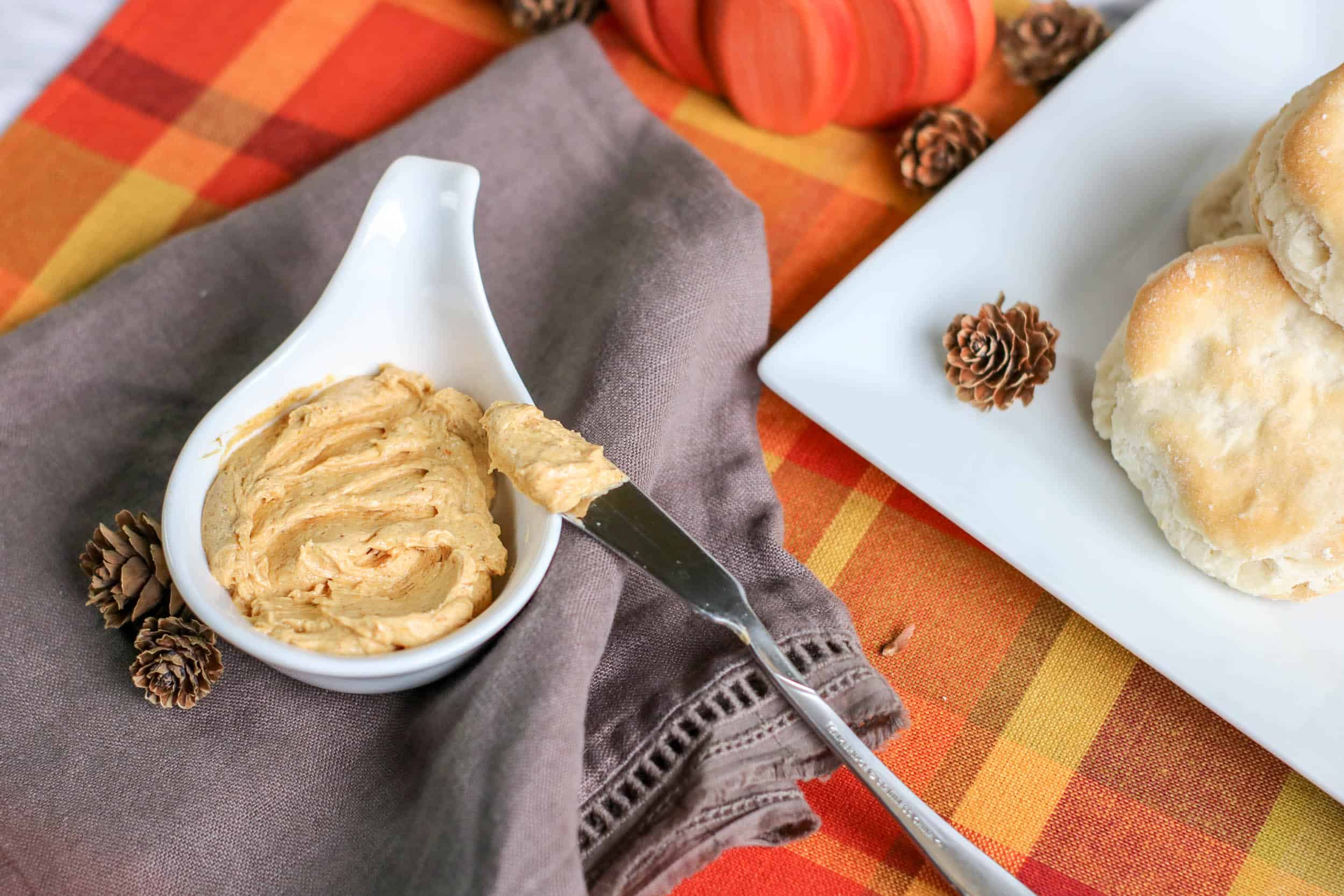 Allergens in this recipe:
As long as you choose a dairy free butter that does not contain any allergens, this recipe can be top 8 allergen free!
For example, I almost always choose the red container of Earth Balance, which doesn't currently contain any of the top 8 allergens (at the time of publication – always read labels prior to consuming!).  This is literally always in my fridge for dairy free baking – and I'm happy to have another use for it now too with this dairy free whipped honey butter!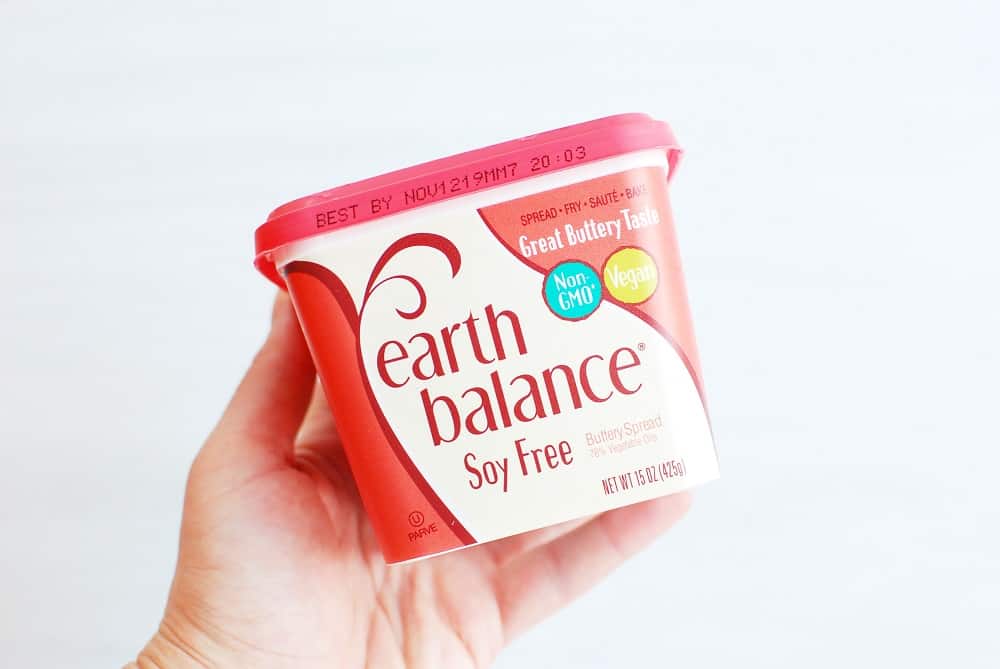 Keep in mind if you choose another dairy free butter, it may contain other allergens like soy – so be sure to check if you're concerned.
What to serve this on
I love a good 'ol piece of toasted dairy free bread or a dairy free bagel with this whipped pumpkin butter!  Especially with a cup of coffee on a cool morning – it's like epitome of fall!
If you're looking for store-bought options, most breads and many bagels on the market are dairy free – just check their labels.  If you need to be soy free as well, I recommend something like Dave's Killer Bread and Bagels which are free of both.
If you want to make something to serve this on, try one of these tasty recipes!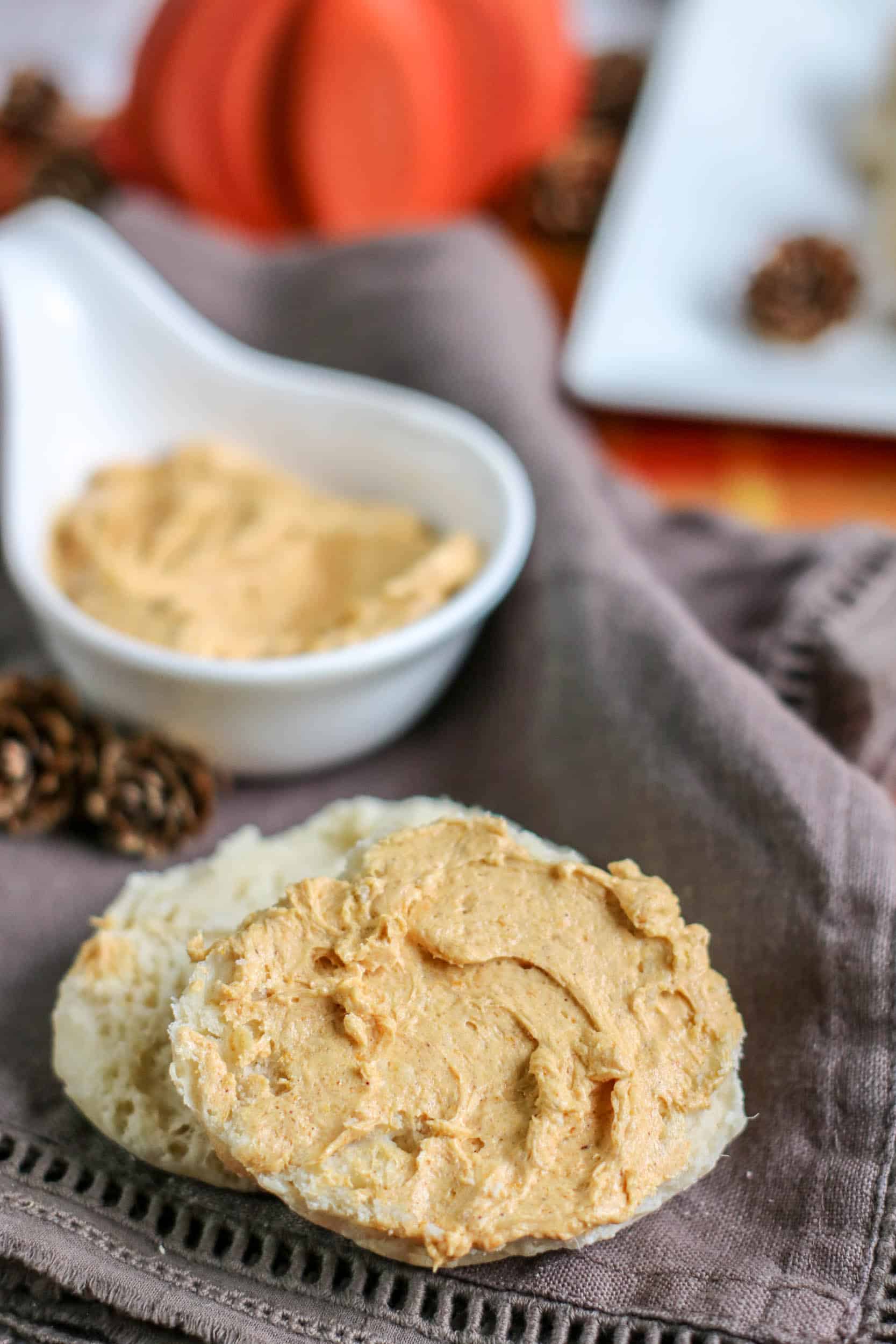 I hope you get a chance to try this recipe – if you do, be sure to leave a recipe rating or comment!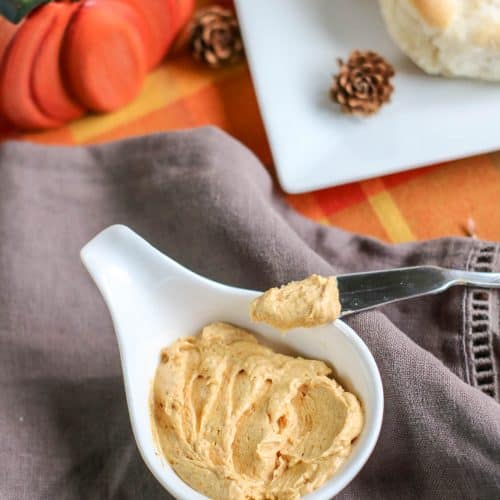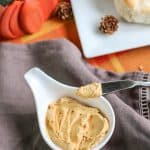 Dairy Free Whipped Honey Butter with Pumpkin
This whipped honey butter with pumpkin is made using vegan butter so it's completely dairy free!
Ingredients
10

tbsp

Earth Balance or another dairy free butter

(1/2 cup + 2 tbsp)

2

tbsp

canned pumpkin puree

2

tbsp

honey

1/2

tsp

cinnamon

1/2

tsp

vanilla extract
Instructions
Combine all ingredients in a large bowl. Beat until light and creamy.

Serve immediately, or store in a jar in the fridge and use as desired within 5 days. As an alternative, you can pipe into a silicone mold for fun "butter" shapes.
Recipe Notes
This recipe makes 11 servings of approximately 1 tbsp each.
Nutrition analysis (approximate per serving):
104 calories, 10 g fat, 2.5 g saturated fat, 95 mg sodium, 3.5 g carbohydrate, 3.3 g sugar, 0 g protein, Vitamin A: 9%, Vitamin C: 0%, Calcium: 0%, Iron: 0%
Share:  Did you try this dairy free whipped honey butter with pumpkin?  What did you think?  What are some of your other favorite fall dishes?