Do you love a sweet dinner roll?  Try these insanely good vegan Hawaiian rolls!  They're perfect as a side to your dinner, as your bread for a tasty sandwich, or even as a starter for some sweet treats.
You're probably familiar with Hawaiian Rolls from King's Hawaiian, the company that you'll find in most grocery stores today.  The company's origins started in Hilo, Hawaii back in the 1950's, where the fluffy sweet roll became a local favorite.  These traditional rolls from King's Hawaiian are made using both butter and eggs – so unfortunately, they're a no go for anyone on a dairy free or vegan diet.
But with this homemade vegan Hawaiian roll, you can get that same tropical flavor without any dairy or eggs!
How to make vegan Hawaiian rolls
This is not a quick recipe, as it does require time to let the dough rest and rise.  But it is an easy one – I promise!  Here's what you'll need:
Yeast
Sugar (see note below)
Warm water
Oat milk
Apple cider vinegar
Pineapple juice (note that pineapple juice is not used in traditional Hawaiian rolls, but I love the flavor element it adds here)
Vegan butter (I love Earth Balance; the red container is soy free as well)
Salt
All-purpose flour
You'll start by dissolving your yeast and sugar in just a little warm water in the bowl of a stand mixer.  You only use a small amount of water in this recipe, so it might look a bit different than other recipes if you're used to this step of proofing the yeast.  Don't worry, it works fine.
While the yeast is sitting in the water, you'll make a faux "buttermilk" by mixing some apple cider vinegar in oat milk.  Let that sit around for a few minutes.
After about 5 minutes, you'll add the oat milk mixture to the yeast in your stand mixer, along with the pineapple juice, vegan butter, salt, and a few cups of flour.
Use the dough hook attachment to get everything combined, and add additional flour gradually as needed.  You want the dough to be pliable and smooth – but not sticky and not dry.  I generally need about 3 1/2 cups of flour to make this recipe.  But because everyone measures flour differently (i.e. dunking the cup in versus spooning it out vs. weighing) – start with a lesser amount and gradually add more in, leting the dough be your guide above all.
Here's what the dough looks like: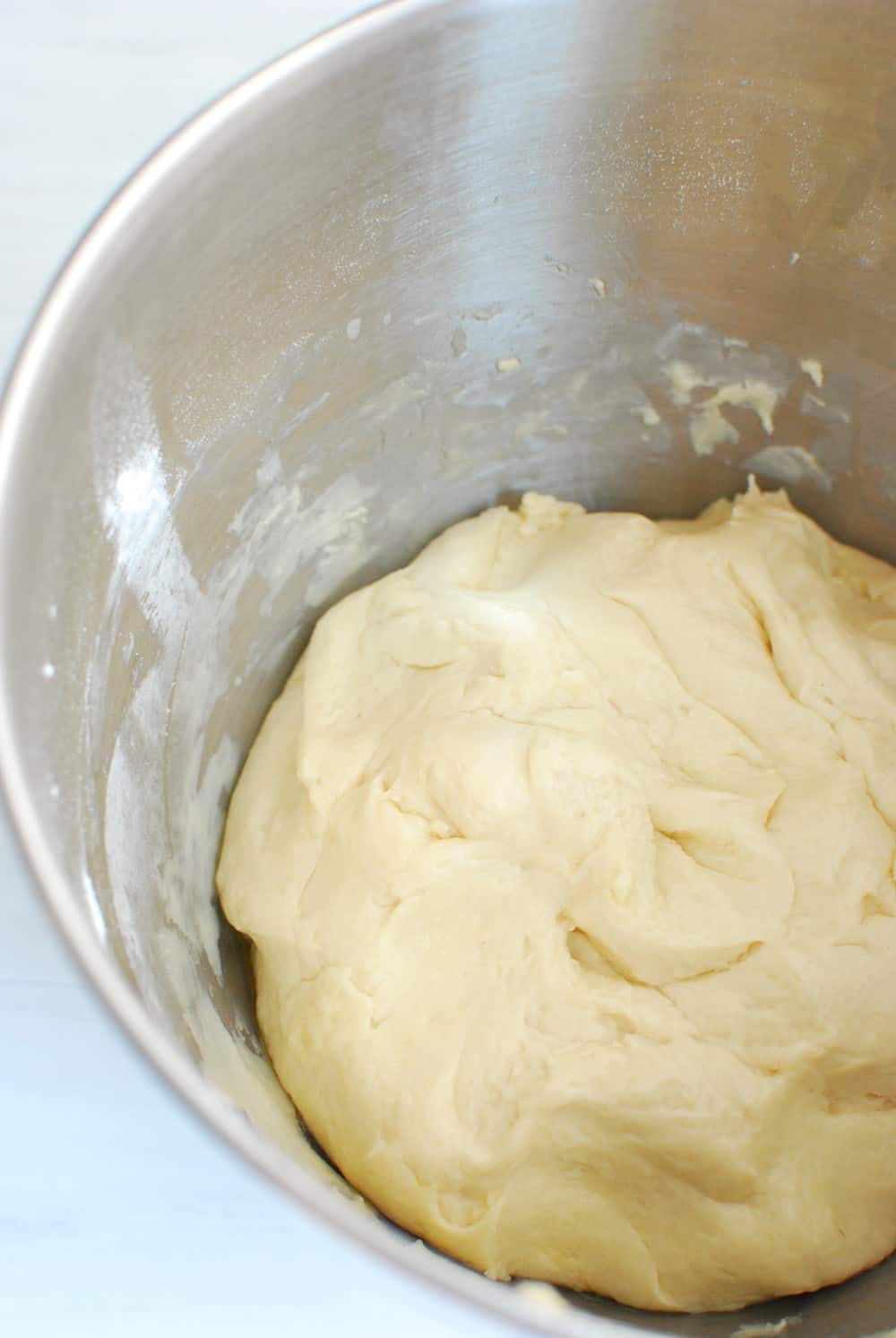 When the dough is ready, plop it out (yes, "plop" – official cooking term, haha) into one hand and drizzle a little olive oil into the bowl with the other hand.  Rub it around the bowl; you just want to coat the bowl a bit.  Now place the dough ball back in the bowl, cover it with a towel, and let rest for an hour.
After an hour, you'll shape the balls.  I generally do 15 balls for dinner rolls / slider-size buns.  But you can do 10 rolls if you're looking to make larger sandwich buns.
Place 'em in a greased 9×13 pan, and then cover with the towel and let them rise again for 30 minutes or so.
Here's what they look like before being cooked: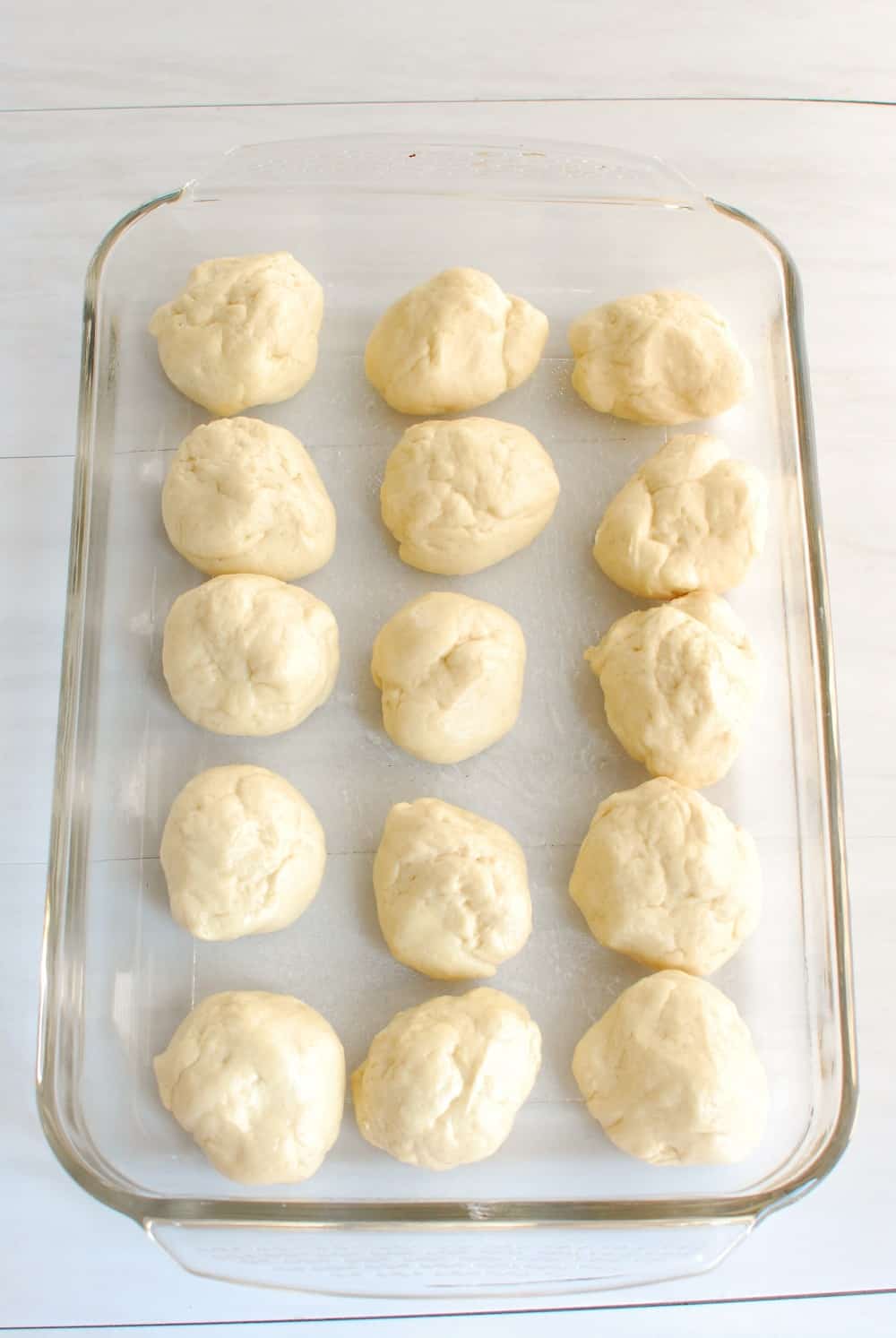 I know, I know – so much time waiting – but I promise, they're worth it!
After that time has passed, get your oven going, bake 'em, and then try to stop yourself from eating them all up! 😉
Note that these won't have that deep golden-brown top like traditional rolls, which I believe comes from butter in the recipe and the egg wash.  But they will taste amazingly similar!
Here's what they look like after being cooked: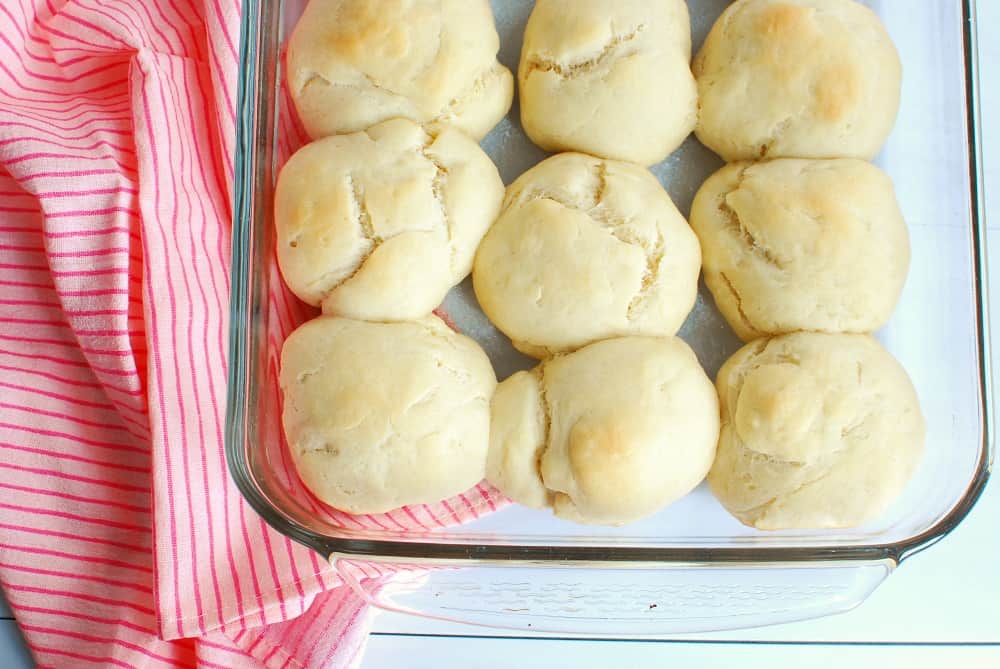 A note on sugar for vegan eaters
If you are a strict vegan that avoids all animal byproducts, you'll want to keep an eye out for vegan-friendly brands of granulated.  Some brands of sugar are processed using a filtering system that involves bone char from animal bones.  If you avoid all animal products and want to avoid that as well, simply look for vegan-friendly brands of sugar that are processed differently.
Allergens in this recipe
Disclaimer:  This information is provided for informational purposes and should not be construed as medical advice.  Please always evaluate ingredients and thoroughly evaluate a recipe to make sure if fits your own allergy needs.
This recipe is great for many food allergy families, as it's dairy free, egg free, nut free, and soy free.
This recipe does contain gluten, as it uses all-purpose flour.  I have tried this with a gluten free all-purpose blend and unfortunately, they didn't come out as good.  I'd imagine if you have a lot of experience baking, you could figure out the ideal mix of flours along with any necessary xanthan gum.  Hopefully I'll figure that out in the future so I can add it to this recipe, but just keep that in mind if you are gluten free!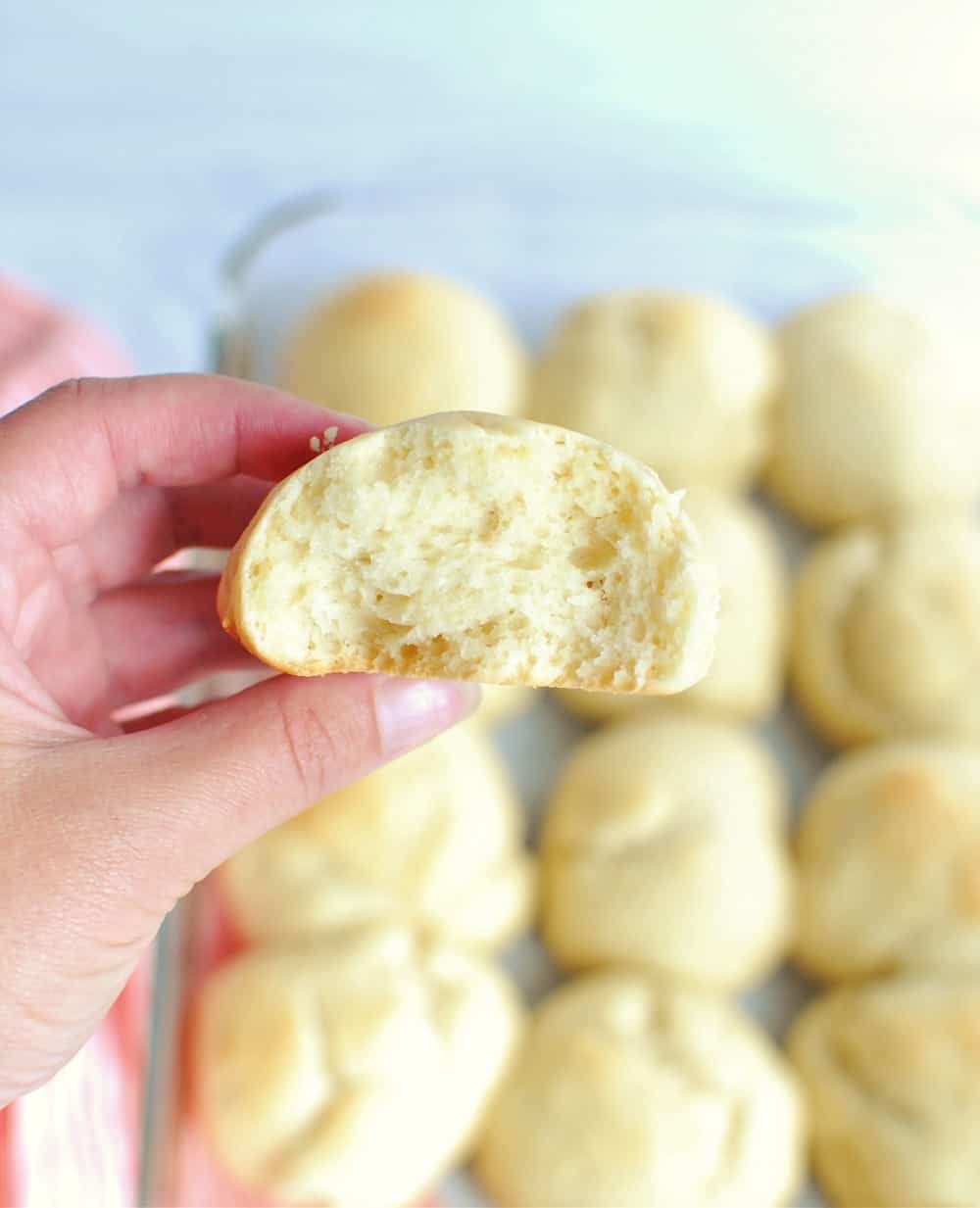 Ways to use Hawaiian rolls
The simplest option to enjoy these as tasty dinner roll on the side of your main meal.  But that's not the only way you can use them!  One of my favorite things about these is that they can hold up for savory dishes or sweet dishes (and even desserts).  Here are a few ideas:
Vegan ideas:
Slice up these rolls into croutons, bake them, and then toss them in a delicious panzanella salad with fresh tomatoes, chopped peaches, and balsamic vinaigrette.
Slice each roll in half, dip it into a vegan French toast batter (like one using aquafaba), and then make delicious French toast with them.
Make BBQ jackfruit, and enjoy it on these rolls.
Try a new take on smores by roasting vegan marshmallows, then putting them on the roll with dairy-free chocolate.
Make a "nice" cream sandwich with these rolls!
Use them to make this crazy good maple pecan vegan bread pudding.
Non-vegan ideas:
I have a lot of readers that are not necessarily vegan, but who are dairy free for allergy reasons and thus still may eat meat.  I like to share helpful ideas for everyone here.  If you are fundamentally against eating animal products, just go ahead and skip right over this section and scroll down for the recipe!
If you are a reader from the other category and are just looking for dairy free meals (and not necessarily vegan), here are a few other ideas:
Make pulled pork sandwiches on them!  They're so good with BBQ pulled pork and some pineapple.
Enjoy a ham sandwich on these sweet rolls.
Make a BLT to eat on them.
Use them to make monkey bread!  Just sub out Earth Balance for the butter in this recipe.
Make cranberry chicken salad and enjoy on these rolls for a delicious party sandwich.
Make a Mississippi roast (swap butter for vegan butter) and enjoy the beef on these rolls.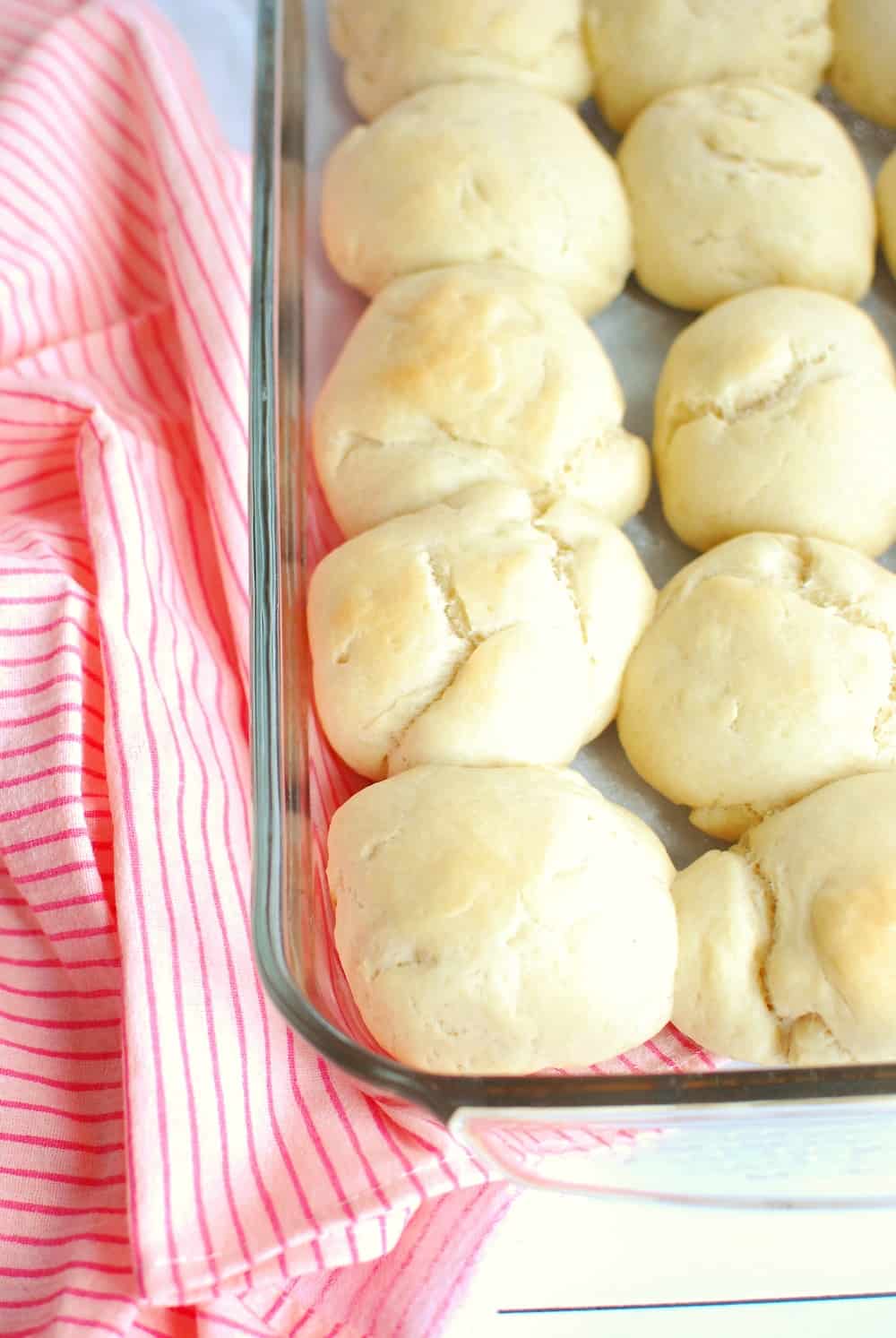 I hope you enjoy these as much as my family does!  If you get a chance to try them, be sure to leave a recipe rating or comment and let me know your thoughts.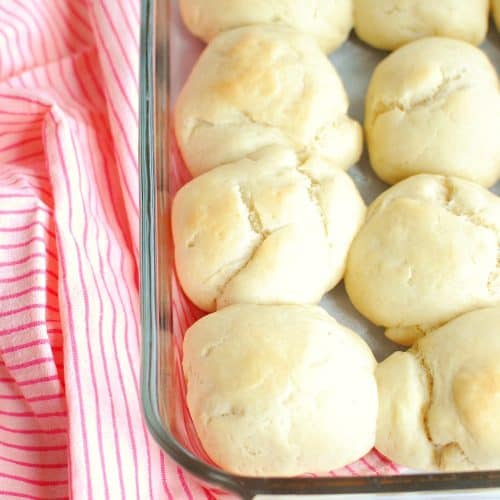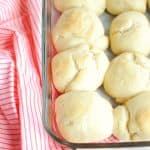 Vegan Hawaiian Rolls
These vegan Hawaiian rolls make the perfect slightly sweet bread - with no milk or eggs necessary!
Ingredients
1/4

cup

warm (not hot) water

2 1/4

tsp

yeast

4

tbsp

granulated sugar, divided into 1 tbsp + 3 tbsp

1/2

cup

oat milk

1/2

tbsp

ACV

1/2

cup

canned pineapple juice

1/2

cup

vegan butter, softened

1

tsp

salt

3 1/2

cups

all-purpose flour (approximate)*
Instructions
Add the warm water, yeast, and sugar to the bowl of a stand mixer. Let sit for 5 minutes.

Meanwhile, add oat milk and apple cider vinegar to a cup and let sit to the side for a few minutes.

After 5 minutes, add the remainder of the sugar, along with the pineapple juice, vegan butter, salt, and oat milk mixture to the mixing bowl.

Add 3 cups of flour and turn the mixer on low using the dough hook attachment. Continue adding more flour, a little bit at a time, until the dough ball has formed, is not too sticky, and has a smooth pliable texture. Don't add so much that it gets dry and crumbly. It generally takes 3 1/2 cups of flour, but because of differences in how people measure flour, you might find you need a little less or a little more. Let the dough guide you!

Keep the stand mixer on medium-high for a few minutes to knead the dough. Turn the mixer off, hold the dough in your hand, and drizzle a little olive oil in the bowl. Rub the bowl just to grease it, and return the dough back to the bowl. Cover the bowl with a towel and let rest for about an hour.

Shape the dough into 15 balls, and place in a greased 9x13 baking sheet. Cover and let rest for another 30 minutes.

Preheat oven to 375 degrees while rolls continue to rest. When preheated, bake for 18-21 minutes, or until rolls are a light golden brown. Enjoy!
Recipe Notes
For larger sandwich size rolls, shape into 10 rolls instead of 15.
Nutrition facts (approximate per serving):
182 calories, 6 g fat, 1.5 g saturated fat, 221 mg sodium, 27.5 g carbohydrate, 1 g fiber, 4.5 g sugar, 3.5 g protein, Vitamin A: 0%, Vitamin C: 1%, Calcium: 2%, Iron: 8%
Share:  Do you enjoy making your own bread recipes?  If you tried these vegan Hawaiian rolls, what did you think?