If you need a chocolate fix, you have come to the right place.  These dairy free brownies are the fudgiest and most perfect chocolate indulgence out there!  Plus, they're easy to make with less than 10 ingredients that you've probably already got hanging around your kitchen.
How to make dairy free brownies
While some store-bought box brownie mixes are surprisingly dairy free (I know Duncan Hines was always my go-to!), most homemade recipes do contain melted butter.  That can be a challenge for those of you who need to stick to a dairy free diet.
This homemade brownie recipe doesn't contain any dairy at all though – woohoo!  Here's what you'll need to make it:
Olive oil (or canola oil)
Granulated sugar
Eggs
Vanilla extract
All-purpose flour
Unsweetened cocoa powder
Salt
Dairy free chocolate chips or chocolate chunks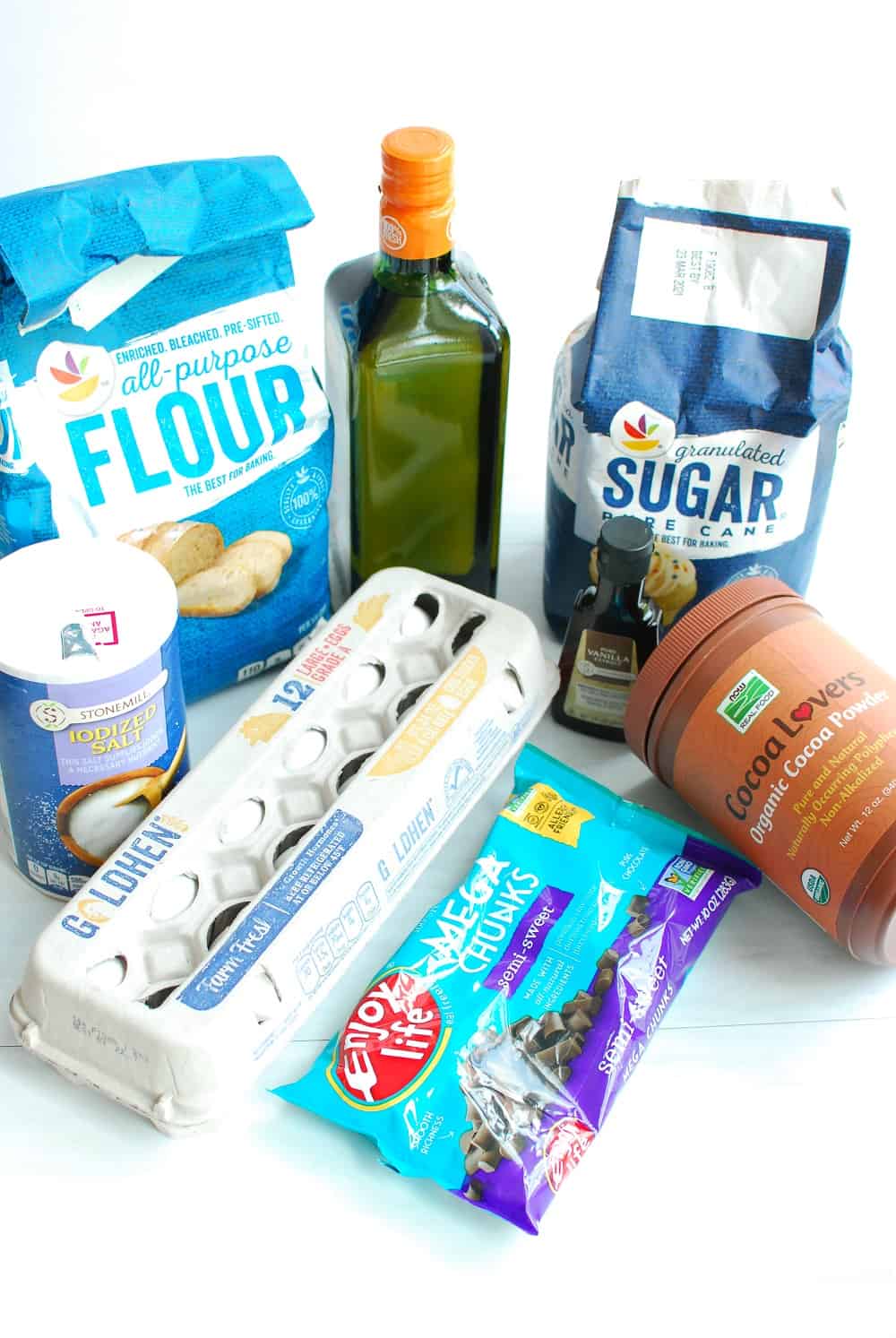 Once you've gathered your ingredients, you'll just mix up your oil, sugar, eggs, and vanilla.  Then you'll mix in your flour, cocoa power, and salt, until everything is just combined.  Fold in your chocolate chips, and you're ready to bake these bad boys!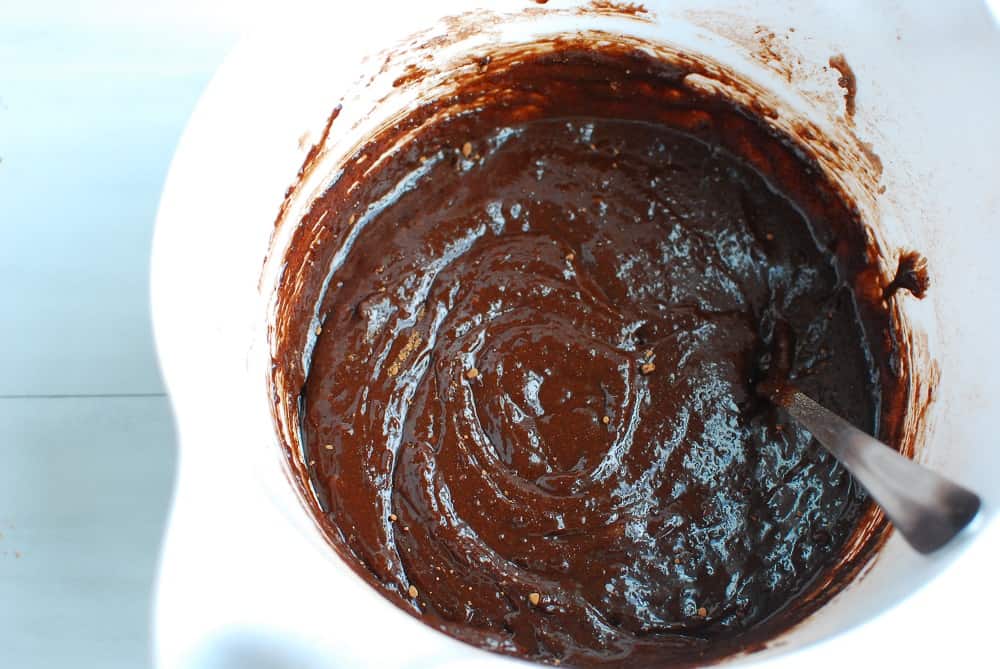 Tips for selecting olive oil
One quick tip when it comes to ingredients:  If you are using olive oil, you'll want to look for one that is light tasting (often labeled "light").  Very pungent olive oils will come through with a slightly olive taste in the finished product.  But the lighter olive oils don't.
You don't have to sample a ton of them or anything, just give yours a little taste and see how "olivey" it is.  If it doesn't jump out at you, it's fine to use!
Of course, you can also use canola oil, or vegetable oil (if you're not soy free) in these too.
Which chocolate chips are dairy free?
Even though chocolate itself in its purest form is naturally dairy free, most major brands of chocolate on the market have milk added to it.  You'll want to be sure to read labels for chocolate chips to ensure they're truly dairy free.
There are two brands I typically recommend for baking:
(Side note, is anyone else crazy excited that Nestle now has dairy free vegan white chocolate chips?!?!  Game changer for other desserts, y'all!).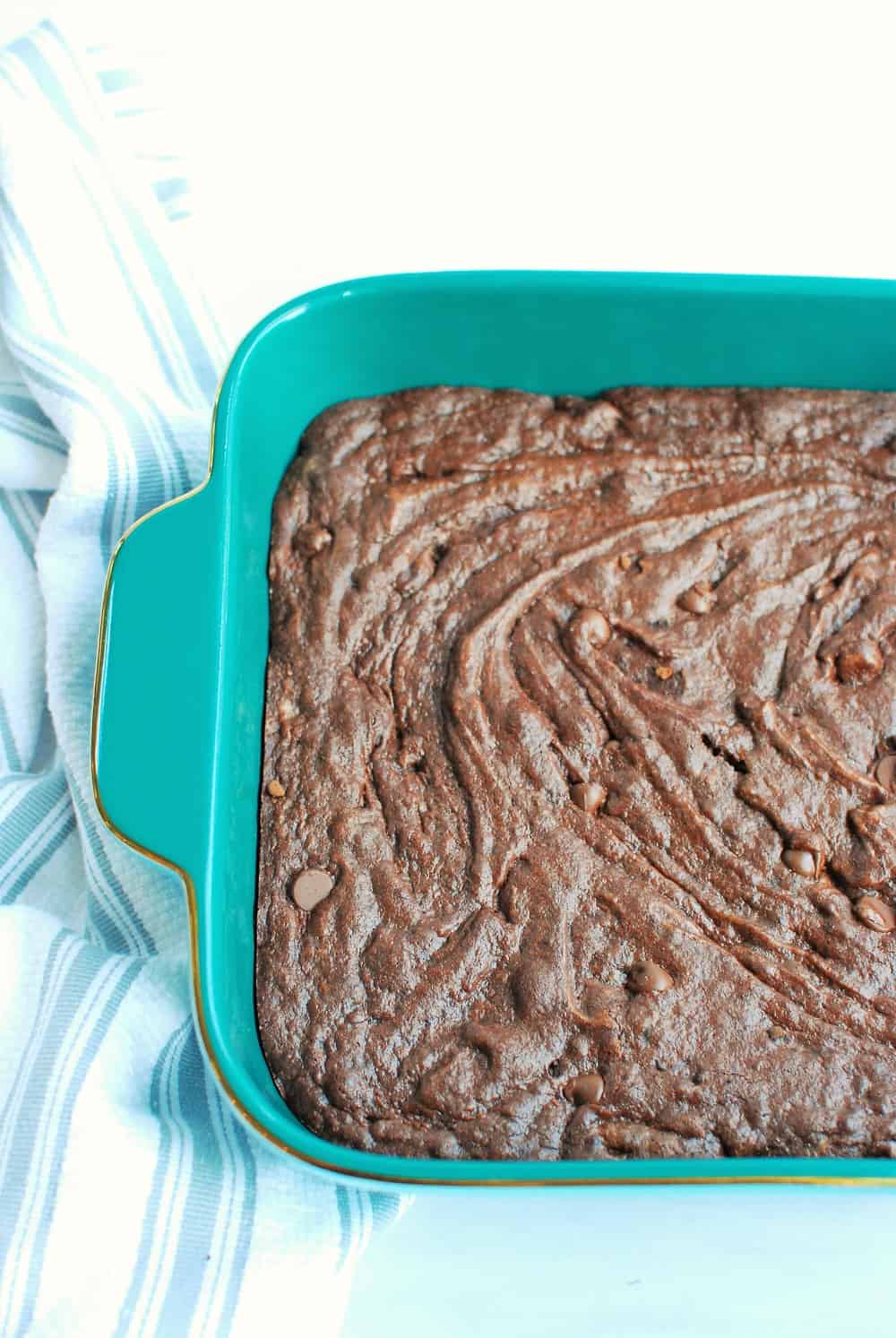 Allergens in this recipe
This recipe is naturally dairy free, soy free, and nut free – as long as you choose a brand of chocolate chips that fit these requirements.
If you need to adjust for other allergens, here are a few ideas for modifcations:
To make these gluten free – Use a gluten free all-purpose flour blend.
To make these egg free – I recommend using aquafaba (the liquid from a can of beans) for brownies.  I've always had a lot of luck with this for brownie recipes, though I haven't tested it in this one yet.  If you do decide to try it, just drain the liquid from some black beans or chickpeas, and use about 1/3 cup to replace the two eggs.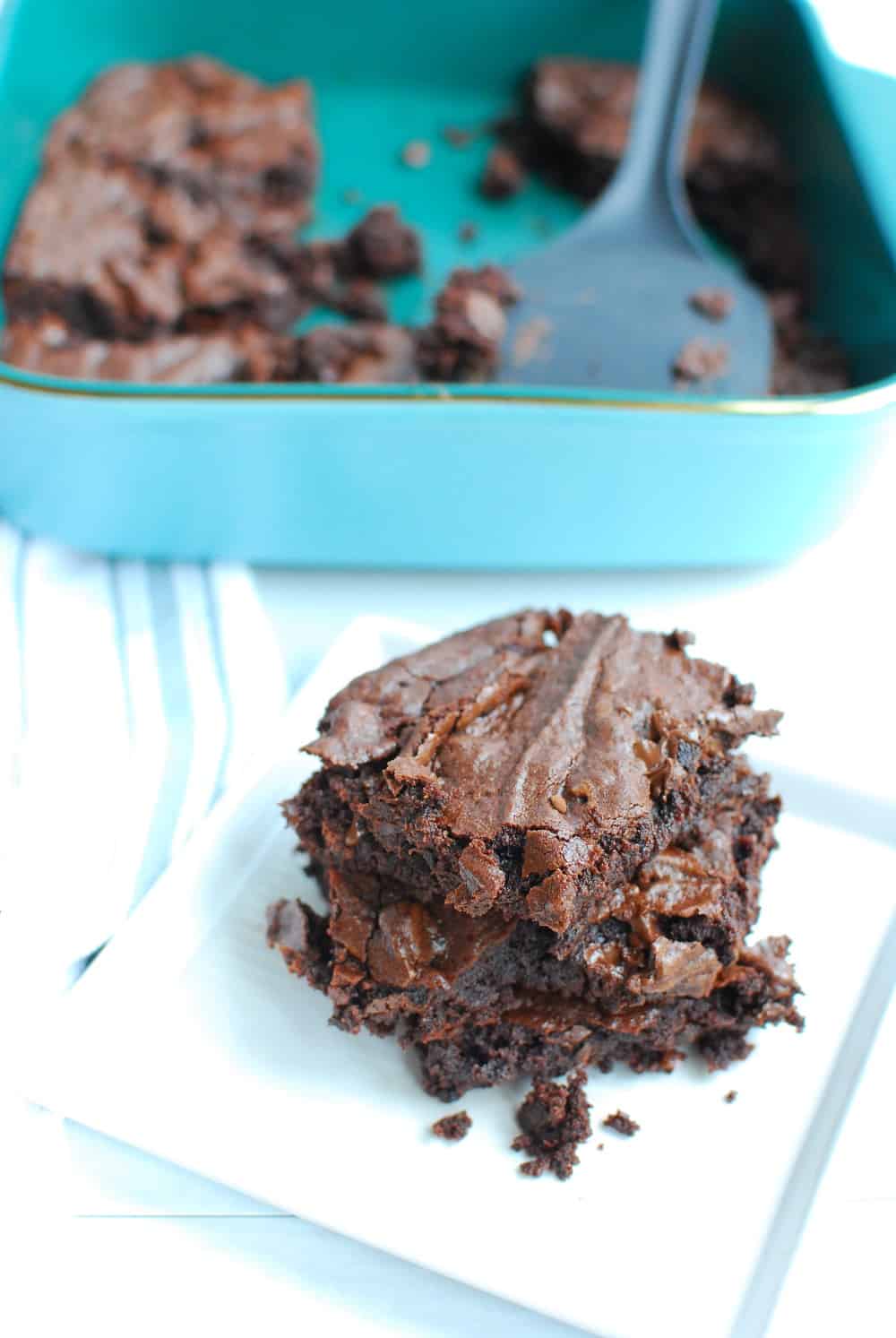 Store bought dairy free brownies
If you decide you don't want to bake from scratch, you'll be happy to know there are some great store-bought products available that are dairy free!  Here's a few options for you to check out:
Disclaimer:  This is for informational purposes only. As you know, manufacturers can change formulations or I may miss something.  Always check labels prior to consuming if you have an allergy.
Certain Duncan Hines Mixes – As of the time of this post, it looks like their Chewy Fudge and Dark Chocolate Fudge were both dairy free.
Annie's Double Chocolate Brownie Mix – This does not contain dairy ingredients (at the time of publish).  However it does list a cross contamination warning, so if you have a serious life-threatening allergy you may want to consider that prior to purchasing.
Nature's Bakery Brownies – If you don't want to bother with a mix, these brownies come pre-made and are currently dairy free.  They are made with whole wheat flour and minimal ingredients, and are marketed as a "healthier" brownie.
Local vegan bakeries – If you're looking for a completely indulgent done-for-you product, check out any local vegan bakeries.  We have a few in our neck of the woods and the brownies are incredible!
More dairy free desserts
Looking for more dairy free desserts to satisfy your sweet tooth?  Try one of these tasty options:
Vegan mug brownie – If you don't want to bake a whole batch of brownies and instead just want a single-serving to indulge your craving, try this mug brownie!
Dairy free sugar cookie bars – This is probably the most popular dessert recipe on the blog.  It's super easy to make and tastes amazing!
Vegan pumpkin chocolate chip cookies – If you're getting excited about the upcoming fall weather, you'll want to bookmark these delicious pumpkin cookies to make.
I hope you enjoy these brownies as much as I do!  If you get a chance to try them, be sure to leave a comment or recipe rating.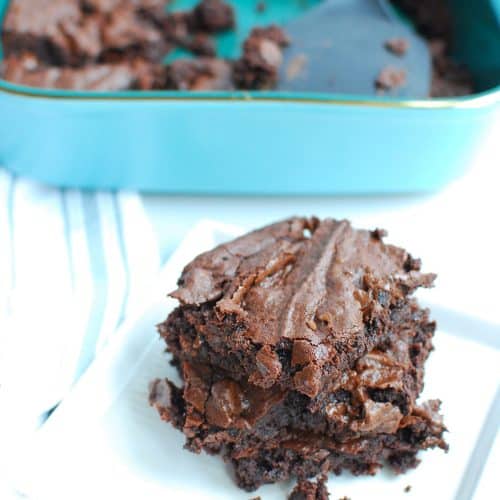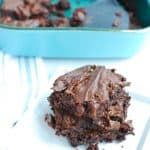 Dairy Free Brownies
If you need a chocolate fix, you have come to the right place.  These dairy free brownies are the fudgiest and most perfect chocolate indulgence out there!
Ingredients
1/2

cup

olive oil

1 1/8

cup

granulated sugar

2

large eggs

1 1/2

tsp

vanilla extract

1/2

cup

all-purpose flour

1/2

cup

unsweetened cocoa powder

1/4

teaspoon

salt

1/3

cup

dairy free chocolate chips or chunks
Instructions
Preheat the oven to 350 degrees. Grease an 8x8 pan.

In a large mixing bowl, beat together the oil, sugar, eggs, and vanilla. A hand mixer or stand mixer works best, or you can stir by hand for a few minutes.

Add the flour, cocoa powder, and salt. Stir until combined. Fold in the chocolate chips.

Pour into the pan and bake at 350 degrees for 19-22 minutes, or until a knife inserted into the center pulls out clean. Let cool then cut into 12 servings. Enjoy!
Recipe Notes
You can use other vegetable oils instead of olive oil. As a warning, coconut oil does tend to give these a slight coconut taste, so I prefer olive oil for the fudgy chocolate taste.
Nutrition analysis (approximate per serving):
220 calories, 12 g fat, 2.5 g sat fat, 63 mg sodium, 28 g carbohydrate, 1.5 g fiber, 22 g sugar, 2.5 g protein, Vitamin A: 1%, Vitamin C: 0%, Calcium: 1%, Iron: 6%
Share:  What's your favorite dairy free dessert?  If you tried these dairy free brownies, what did you think?