I'm not trying to rush the end of summer by any means – but come September, bring on the flannel shirts, leggings, and pumpkin everything.  Who's with me?!  If you're a fellow lover of all things fall, you'll want to be sure to bookmark this roundup of the best vegan pumpkin desserts.
All of the desserts in this roundup are dairy free and egg free, and many are free of other allergens too.  Whether you're dairy free to nurse your kiddo, following a vegan diet for ethical reasons, or dealing with family food allergies – you can be sure to find a good vegan pumpkin dessert in this roundup!
10 Vegan Pumpkin Desserts That Are Perfect For Fall!
Disclaimer:  I've tried to include the potential allergens for each recipe for quick reference – but this should not be construed as medical advice.  Please always double check the recipe itself as they may change, or I may have missed an ingredient.
Don't get me wrong, I love my recipe for regular cinnamon sugar dairy free donuts – but now I'm totally wanting to try these vegan pumpkin donuts!  They're an easy fall recipe – and they're baked, not fried. (contains coconut, almond, and wheat)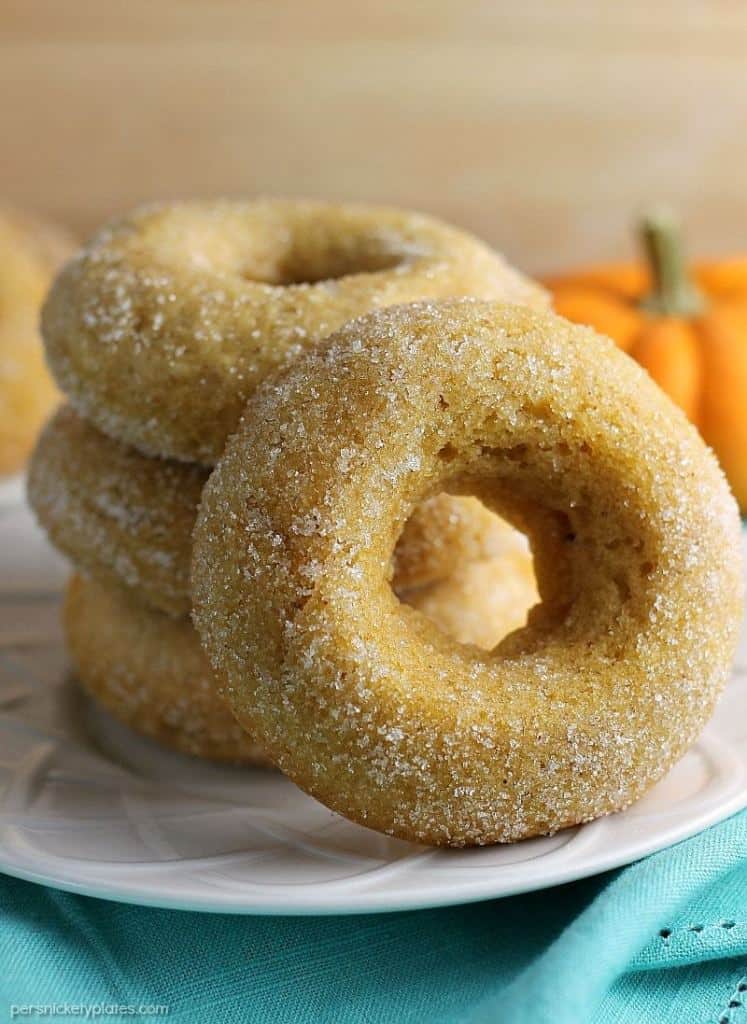 I know Larisha personally, and let me tell you – she dose an amazing job with all of her recipes!  This absolutely perfect vegan pumpkin pie is so good no one will believe you there's no eggs or dairy.  Just double check your frozen crust to ensure it doesn't contain dairy or lard (or make your own vegan pie crust). (contains coconut, pecan, and wheat if using a standard pie crust)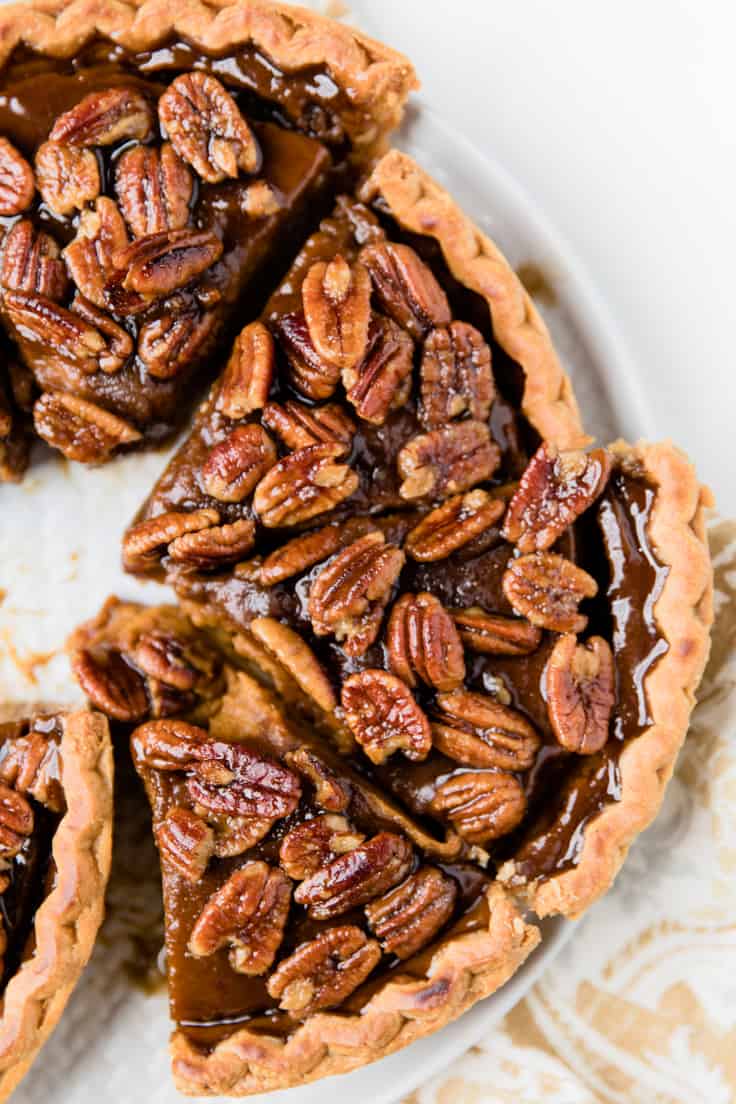 If you haven't yet checked out this recipe here on the blog, definitely add it to your list to try!  These cookies have the perfect amount of pumpkin flavor and decadent chocolate. (contains wheat)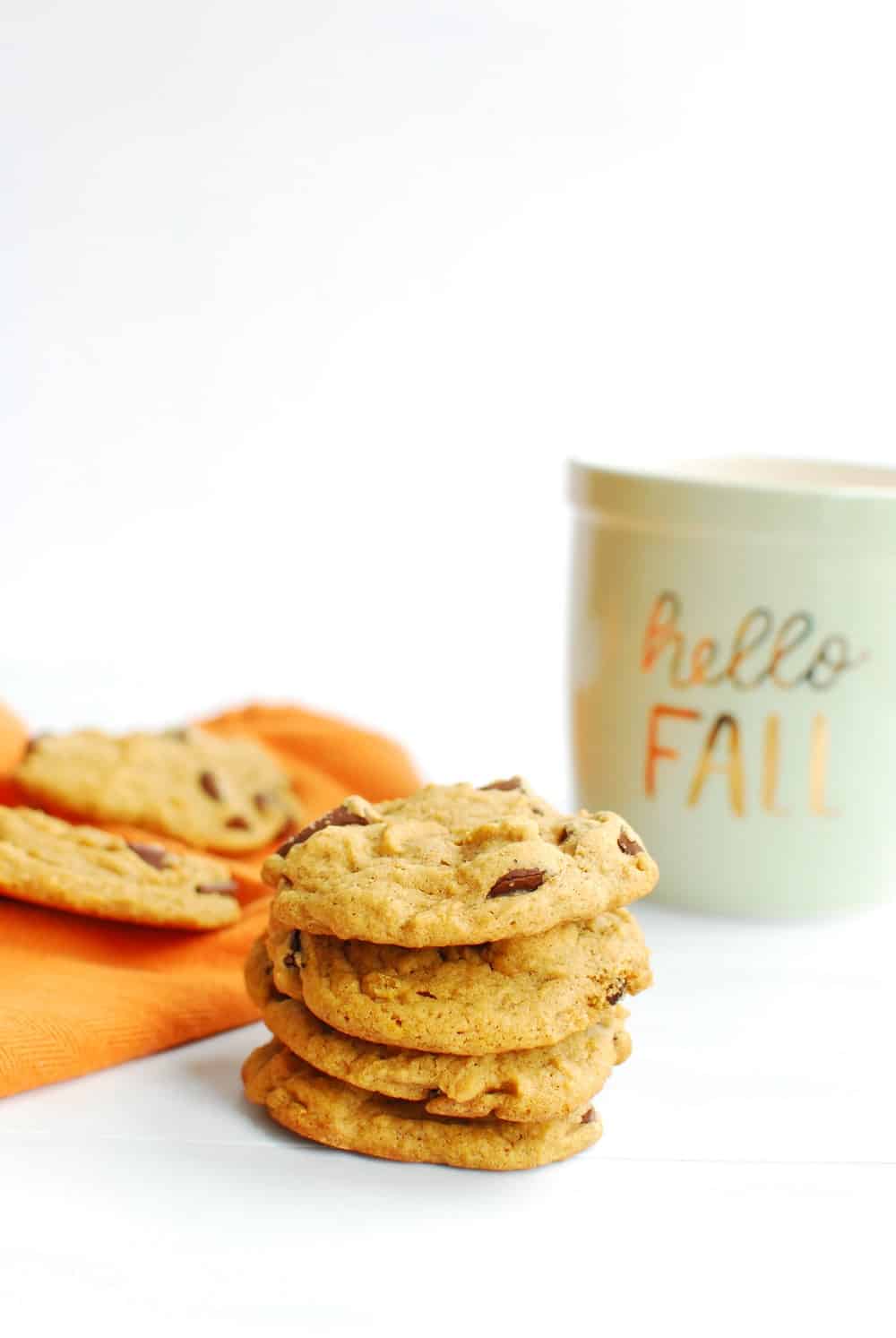 Celebrate fall with some pumpkin cupcakes! These Pumpkin Spice Cupcakes with Pumpkin Buttercream Frosting are gluten free, dairy free, vegan, and nut free. They are an easy and allergy friendly way to add pumpkin spice to your dessert menu. (does not appear to contain any allergens – but double check!)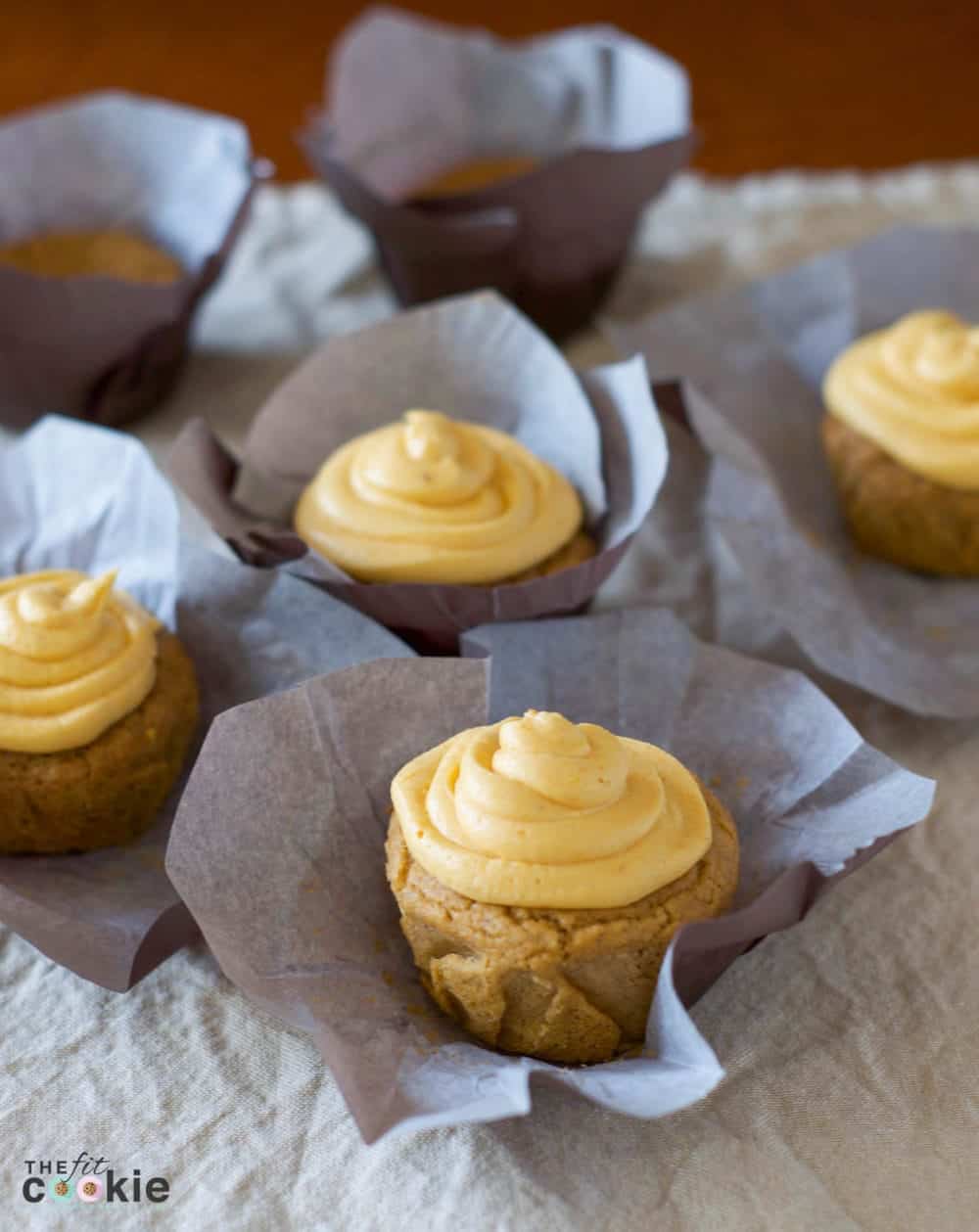 This recipe is much easier than traditional fudge – there's no candy thermometer to mess with or stovetop to deal with cooking. All you need is a one bowl food processor, then you'll pop them in the freezer. And as an RD, I love that this recipe incorporates nutritious ingredients – coconut butter, almond butter, maple syrup, pumpkin, and even beans! (contains almonds, coconut, pecans)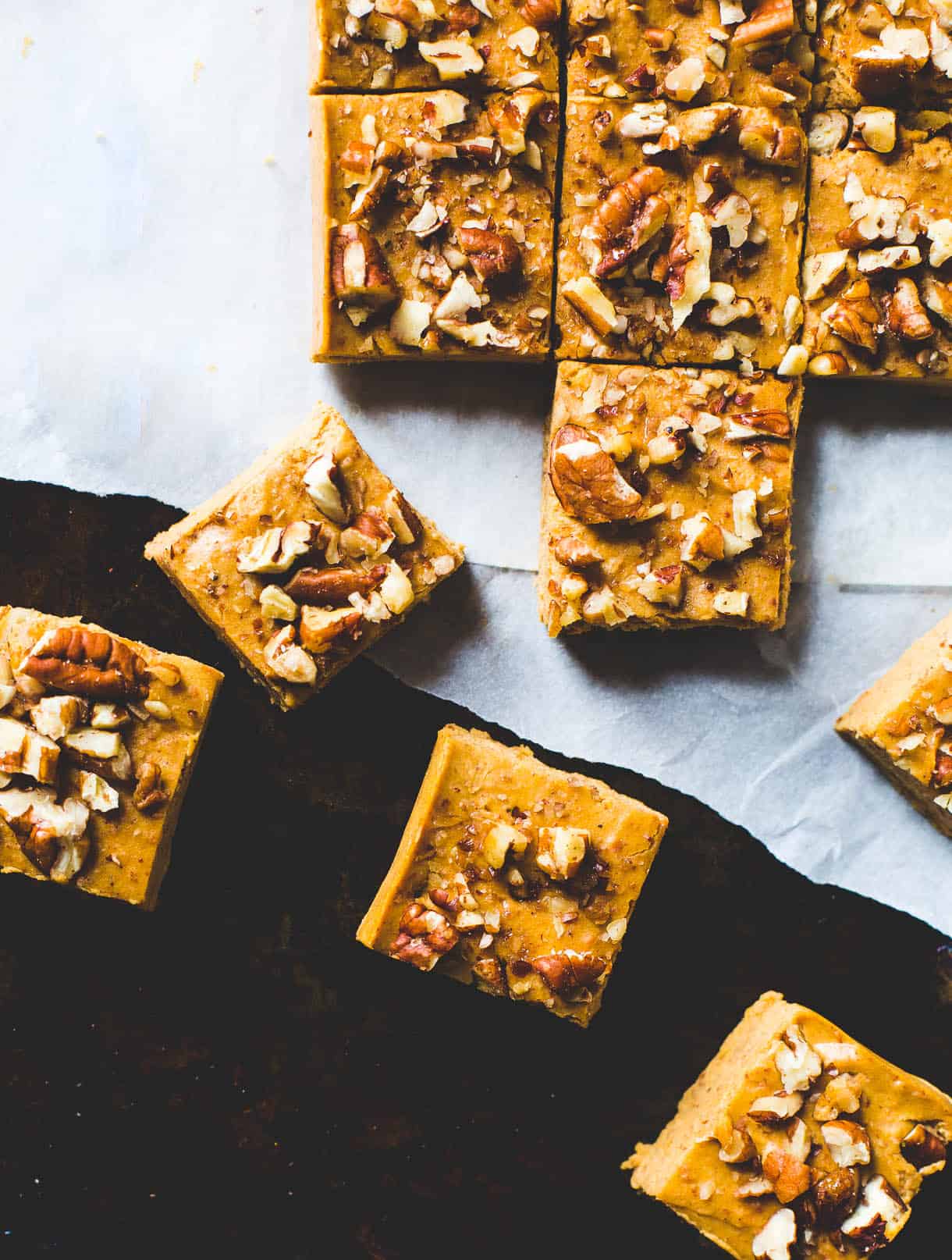 This pumpkin chai latte is lightly sweetened with maple syrup and is full of warm, cozy fall spices!  You can use any dairy free milk of you're choosing for this recipe, so go with whatever works for your family. (allergens depend on milk alternative)
This dessert hummus mimics the flavors of pumpkin pie. It is topped off with cinnamon-sugar toasted pecans and tastes great with vegan grahams crackers! (contains pecans; check allergens for whatever you're dipping in it – for example, vegan graham crackers contain wheat and sometimes soy)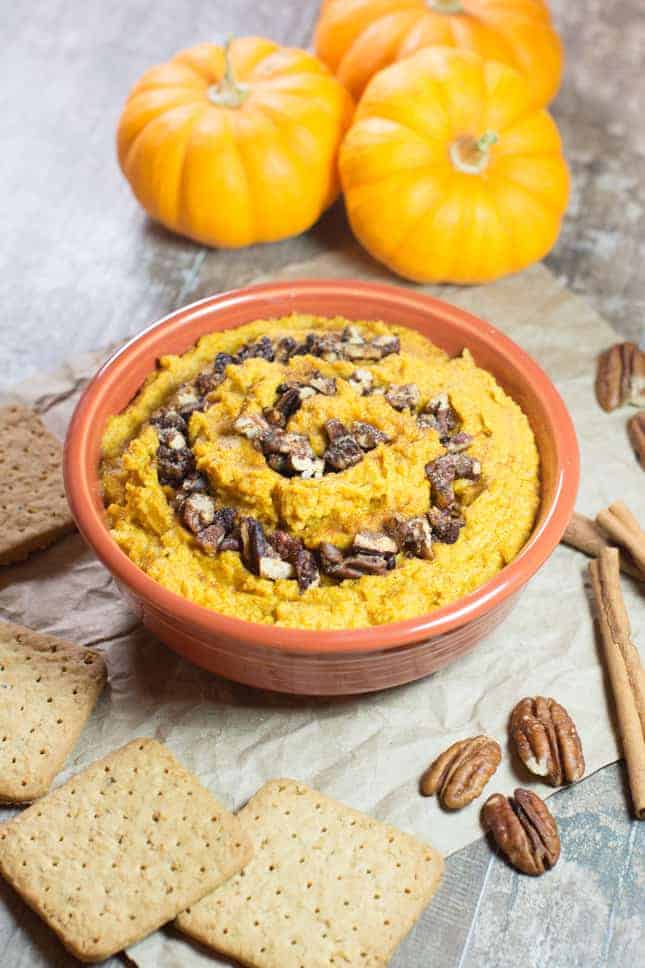 This pumpkin layer cake is a has a lovely warmth thanks to the chai spices and a tasty thin layer of pumpkin cashew filling.  It's all topped off with creamy dairy free cinnamon buttercream frosting. (contains coconut, cashews, pecans, wheat/gluten; may contain other allergens depending on certain ingredient choices)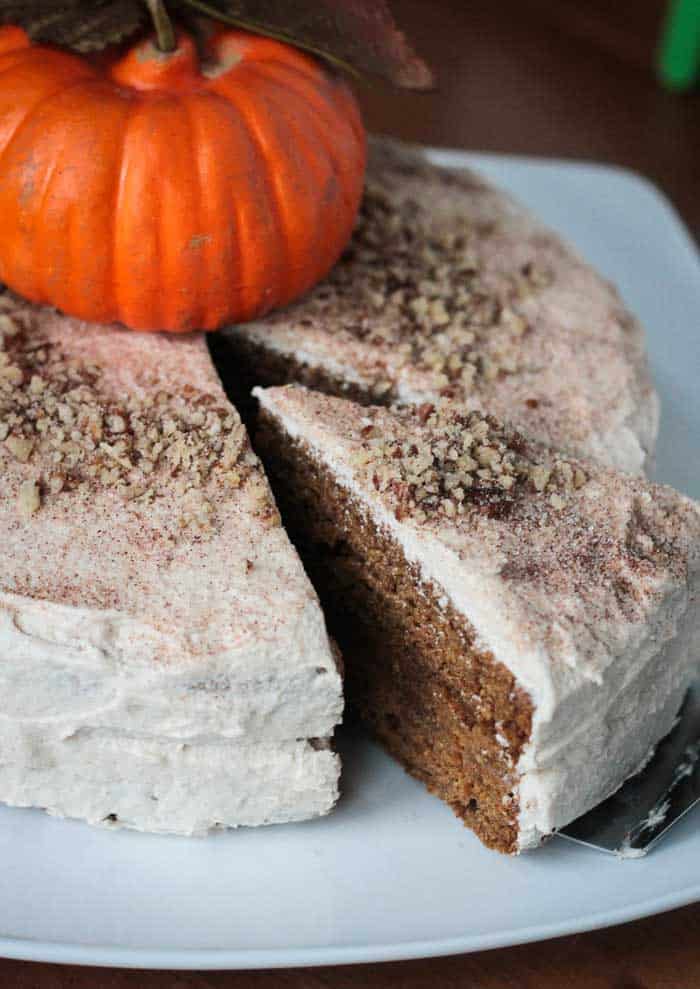 This vegan pumpkin pudding recipe uses a few pantry staples and a saucepan to make a quick and easy pumpkin spice treat. Whether you layer it into a parfait, or enjoy it from a bowl, it is a crowd pleaser! Use some whipped coconut cream and vegan chocolate chips to make a little Halloween ghost on top. Boo!  (I did not see any allergens in the pudding; check allergens for whatever toppings you choose)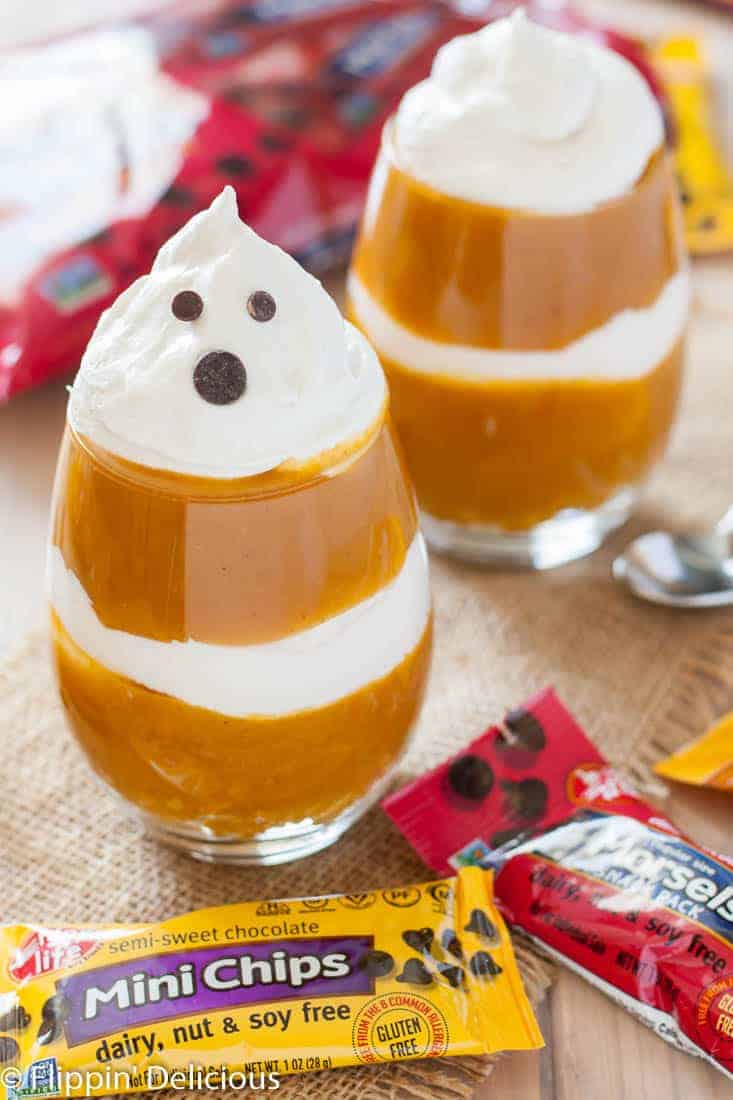 This easy & healthy No-Bake Vegan Pumpkin Cheesecake Recipe only takes 10 minutes of hands-on preparation and is paleo, gluten-free & dairy-free! It's the best vegan pumpkin cheesecake ever and the perfect fall dessert! (contains coconut, almonds, cashews)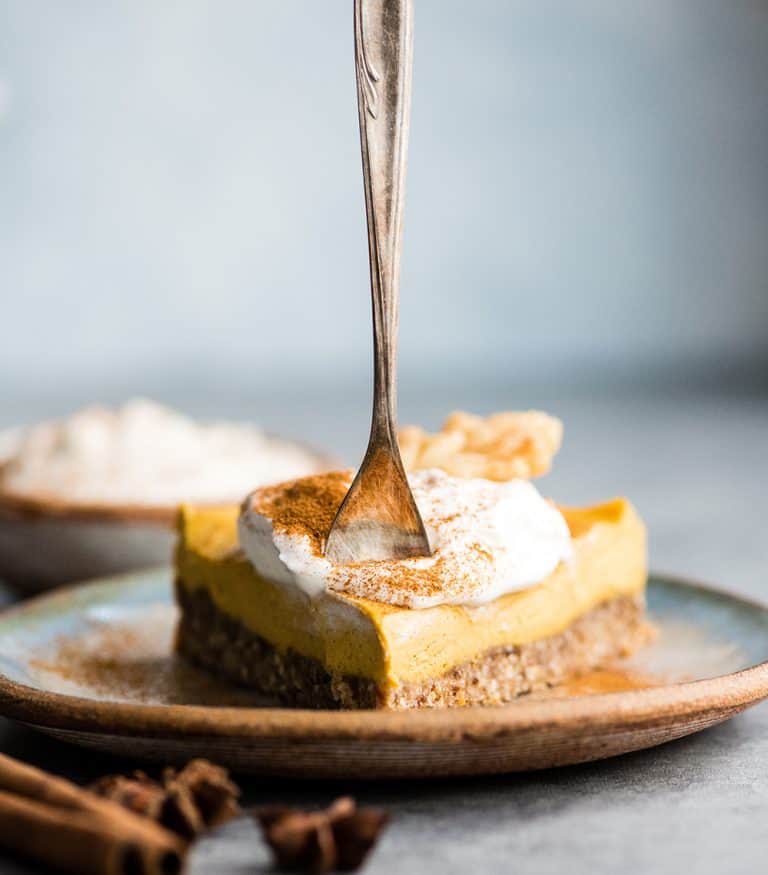 Share:  Which of these vegan pumpkin desserts are you hoping to try?  What's your favorite pumpkin treat?