Craving all the best fall treats?  Try this vegan apple butter!  Made in the slow cooker, this recipe is simple to throw together in just a few minutes in the morning.  By evening, you'll be able to dig into a rich, thick, velvety apple butter spread (plus your house will smell amazing).
What is apple butter? 
Apple butter is essentially a more concentrated form of applesauce.  The mixture is cooked down longer and there is less water content in the final product, making it a thicker spread.
Despite its name, apple butter generally does not contain any dairy (or eggs), making it a great vegan-friendly choice.
However, occasionally people add regular dairy-based butter as an anti-foaming agent when preparing jams, jellies, and butters.  If you're purchasing from a farmer's market or small local market, always ask about this.  Most commercial store-bought versions are safe, though (but again, always worth a glance at the label).
Of course, with the recipe below, it's so easy to make on your own that there's really no need to buy from the store (aside from convenience of course)!  Making it yourself also allows you to dramatically cut down on added sugar; this version only has 1/4 cup maple syrup to sweeten the whole batch.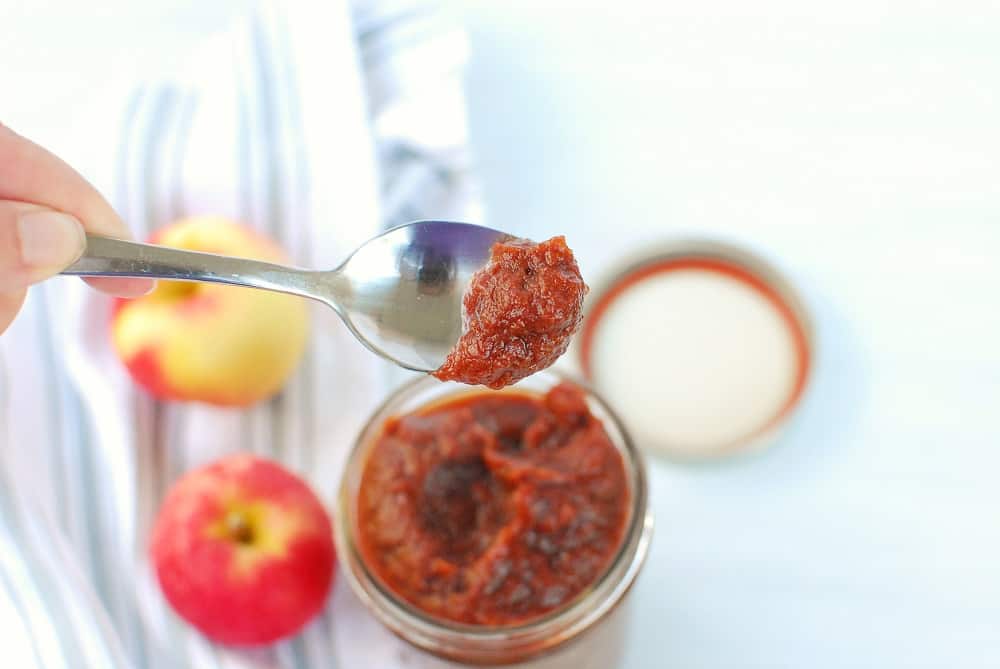 How to make this recipe
This vegan apple butter is one of my favorite recipes because it's as simple as measure, dump in the crockpot, and sit back until it's done!  You'll find all the specific instructions in the recipe card at the bottom of the post, but here's a quick overview of how to make this.
All you'll need are these simple ingredients:
Apples
Salt
Cinnamon
Cloves
Ginger
Nutmeg
Vanilla
Lemon juice
Pure maple syrup
You'll start by chopping up your apples.  Don't even worry about peeling them.  After ten hours in the slow cooker, the skin will be super soft and blends just fine into the final product.  I actually love leaving the skins on because it adds extra fiber and nutrients to this!
Then you'll toss the apples along with everything else in your slow cooker.  If you don't have all the spices on hand, that's completely OK.  I like the slightly warm, spiced flavor they add together – but you can also just use cinnamon and it will still taste delicious.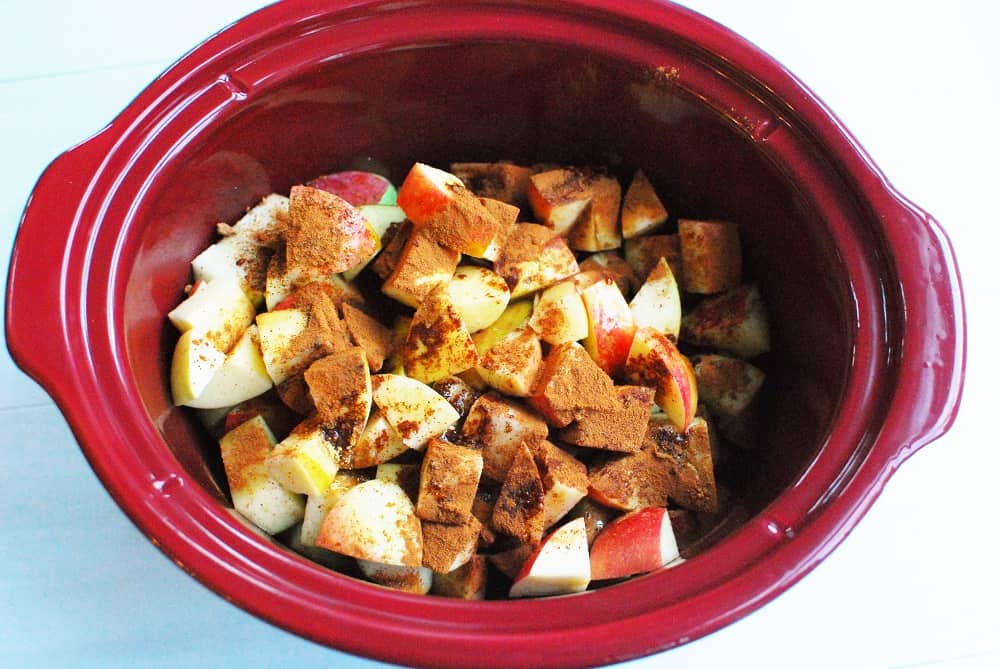 Now just let all that cook up for ten hours!  At the end of that time, everything will be super soft and cooked down.  See the difference between the pic above before cooking, and this one after cooking?!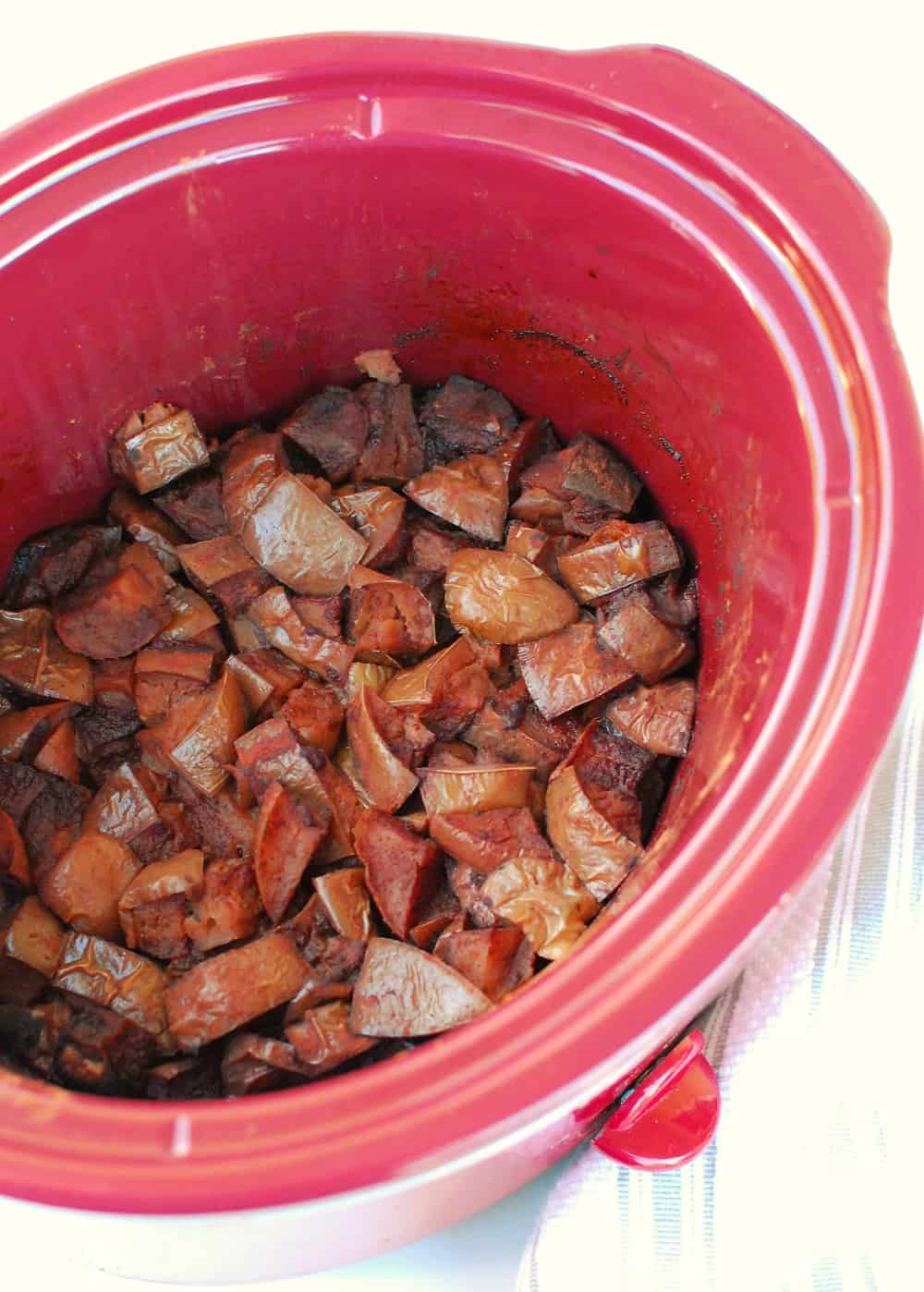 Now all you need to do is run an immersion blender through it, or let it cool a bit and put it into a regular blender.  You don't want to put piping hot stuff into a regular blender with the lid on, as the pressure from the heat can cause the lid to pop off and result in spraying hot apple butter everywhere.
Once you blend it up you'll have this delicious, rich apple spread that tastes amazing!
Recipe FAQ
Here are some common questions that may come up as you prepare this recipe:
What kind of apples should I use?
You can use any apples for this recipe.  Many cooking resources recommend softer apples for apple butter because they break down faster.  However it makes no difference when you're putting them in a slow cooker for ten hours (versus trying to make it on the stovetop).  The slow cooker breaks them all down just fine.
Of course, you may have preferences based on taste, like veering towards sweeter apples or tart apples.  I like a mixture of both, especially in this low sugar recipe.  I used a combination of Cortland, Gala, Ginger Gold, and Zestar for this recipe, as that's what we picked at the farm this month!
Other good varieties include:
Golden Delicious
Fuji
McIntosh
Braeburn
Idared
Jonamac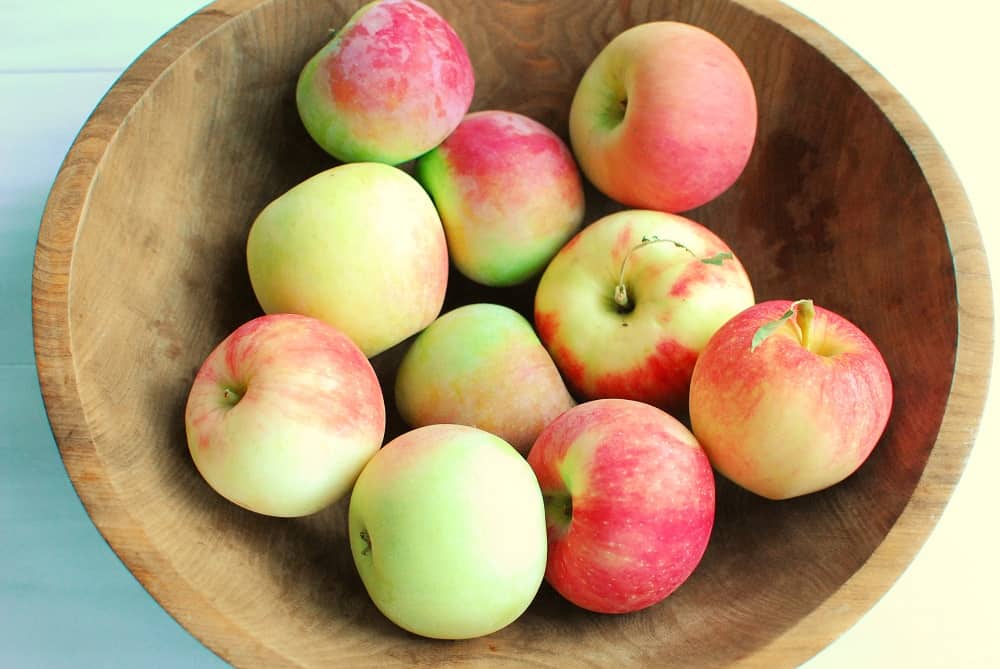 How long can you store this?
This is a refrigerator apple butter; since it's not canned properly it won't last a long time.  I recommend using it within 5 days.  It makes a big batch, so you can always share some with neighbors or friends, or freeze some.
Can you freeze apple butter?
Yes!  Just ladle it out into small plastic or glass jars, leaving a little space at the top for it to expand when freezing.  It will keep it's quality for up to a few months in the freezer.
Ideas for serving:
If you've made this and are now wondering how to use it, here are a few of my favorite ideas:
Spread some vegan butter on a slice of toast, then top with apple butter and a sprinkle of salt.
Use apple butter to add flavor to pancake batter, or top your pancakes with it (go for double the apple goodness by using it to top these vegan apple pancakes).
Mix apple butter with barbecue sauce for a sweet and tangy mixture that tastes amazing – I like it on these vegan BBQ cauliflower and chickpea tacos.
Try making apple butter cookies (this recipe looks great!).
Create a vegan charcuterie board, and use apple butter as a lovely sweet element that can be spread on breads or crackers.
Stir it into oatmeal. I love to also add fresh chopped apples and nuts.  Kind of like 'apple pie' oatmeal!
Add it to a "milk"shake, made with coconut milk ice cream and vanilla almond milk.
Spread it on a flatbread to make a pizza. One of my favorite versions is topped with vegan cheese, sliced apples, figs, arugula, and red onion.
Use it as a spread on sandwiches or veggie burgers.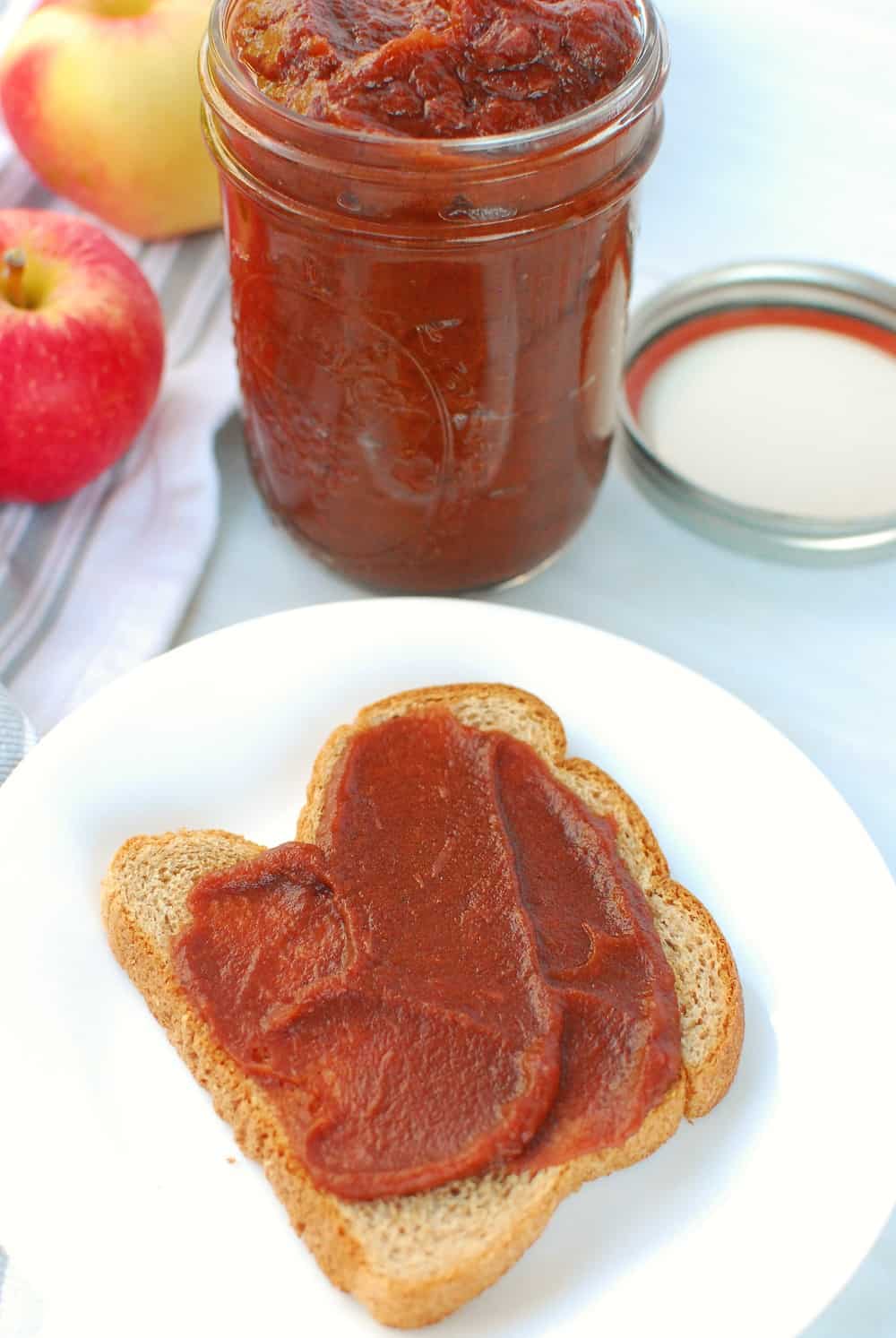 I hope you enjoy this recipe as much as my family did!  We always end up eating a ton of toast and pancakes with it the week I make it.  If you get a chance to try it, please feel free to leave a recipe rating or comment below.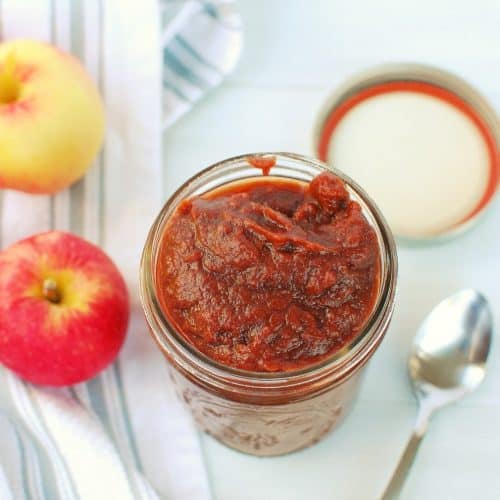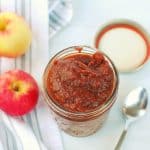 Vegan Apple Butter
This vegan apple butter is the perfect fall spread; delicious for topping toast, pancakes, or even mixing with barbecue sauce.
Total Time
10
hours
15
minutes
Ingredients
3

pounds

apples, chopped

1/4

tsp

salt

2

tsp

cinnamon

1/4

tsp

ground cloves

1/4

tsp

ground ginger

1/4

tsp

ground nutmeg

1/2

tsp

vanilla extract

2

tbsp

lemon juice

1/4

cup

maple syrup
Instructions
Combine everything in the slow cooker and cook on low for 10 hours. When done, puree with an immersion blender (or let cool and use a regular blender). Store in jars in the refrigerator for 5 days, or freeze for a few months.
Recipe Notes
Apples do not need to be peeled – leave the skins on to add extra fiber!
3 pounds of apples is about 6 large or 8-10 smaller apples. Getting an exact weight is not a big deal, so if you don't have a kitchen scale, just estimate based on these numbers.
This is a lightly sweetened recipe; if you prefer a very sweet apple butter, add extra maple syrup at the start.
This makes approximately 3 cups of apple butter. For the purposes of the nutrition analysis, we assume a serving is 2 tablespoons, and that this recipe makes 24 servings.
Nutrition analysis (approximate per 2 tablespoons): 41 calories, 0 g fat, 25 mg sodium, 11 g carbohydrate, 1.5 g fiber, 8.5 g sugar, 0 g protein, Calcium: 1%, Iron: 1%, Vitamin D: 0%, Potassium: 2%, Vitamin C: 5%
Share:  What's your favorite way to use apples in the fall?