Get indulgent with dessert this week and whip up this bacon apple crisp.  A sweet, tender apple filling is topped with an oat and almond mixture, with pieces of crispy, salty bacon woven throughout.  This will be your new favorite fall dessert!
Making homemade apple crisp
This recipe is simple and easy – beginner cooks should have no problem making it!  You'll find full directions in the recipe card at the bottom of the post, but here's a quick overview.  First, you'll need these ingredients for the filling:
Apples
Brown sugar
Almond flour
Lemon juice
Cinnamon
You'll mix all those up in a bowl and set aside for now.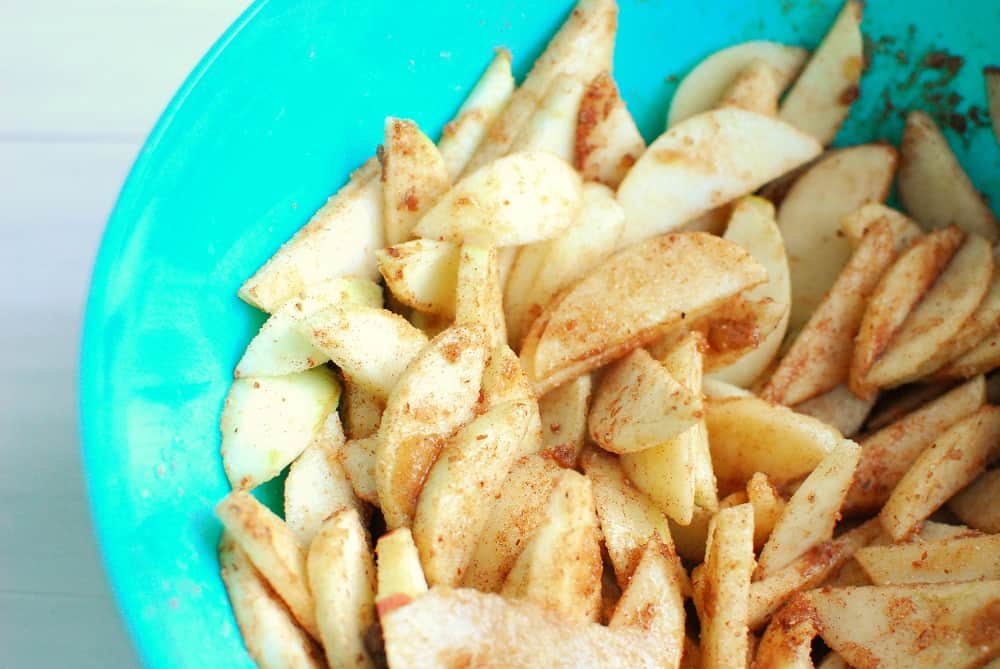 Then move on to making your topping.  For that, you'll need:
Bacon
Oats
Almond flour
Brown sugar
Pecans
Cinnamon
Salt
Avocado oil
You'll want to cook your bacon in a large cast iron skillet, as you'll use that same skillet to bake the completed dessert.  Bacon itself adds an incredibly rich and salty aspect to this otherwise sweet recipe.  But when you bake it in the same skillet that you used to prepare the bacon, the saltiness and flavor of some of the rendered fat adds a whole additional layer of depth.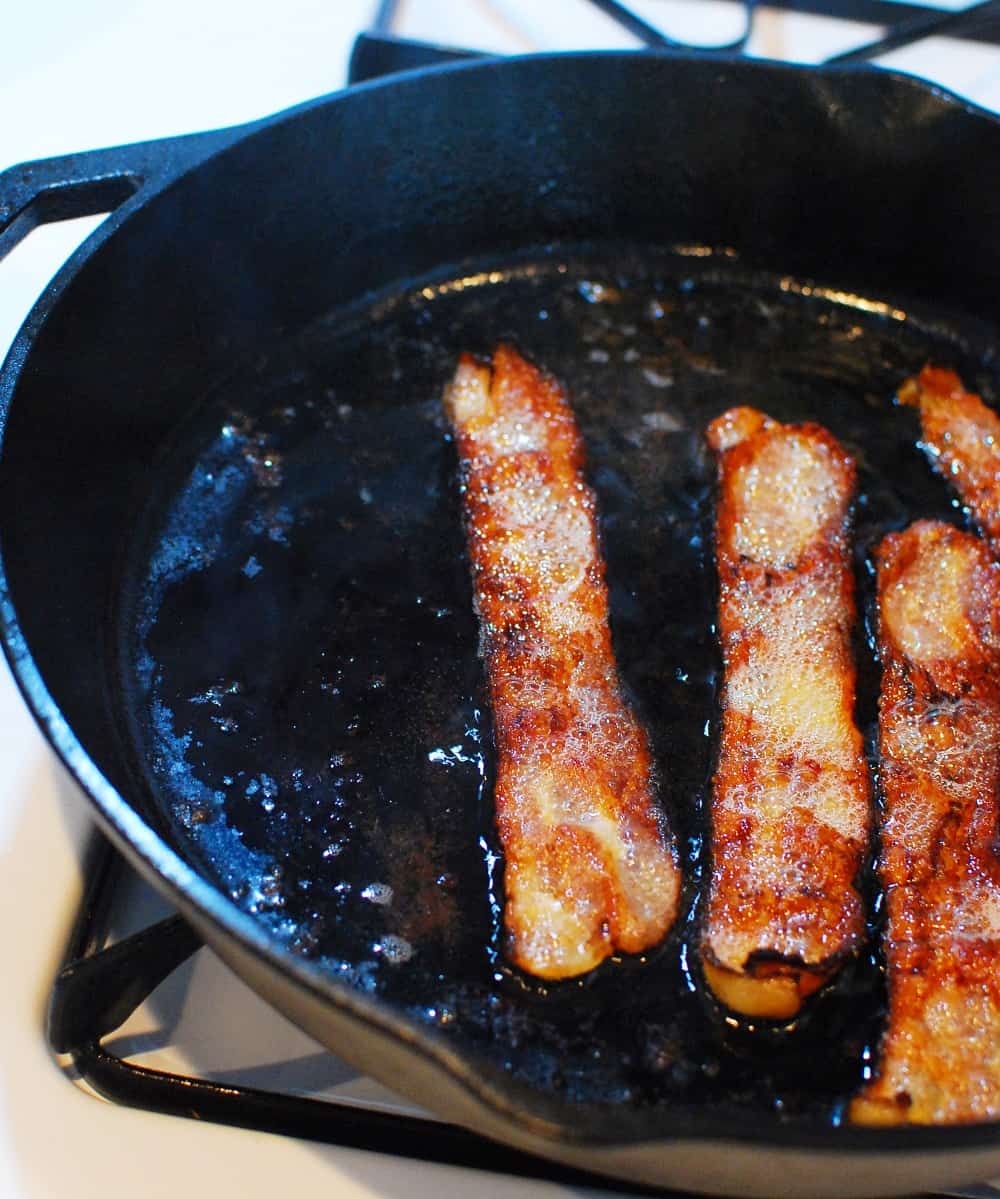 After you cook the bacon, you'll crumble it up and mix it with the other topping ingredients.
Then you'll put your filling in the cast iron skillet and add the topping.  Bake it and dig into deliciousness!
If you'd like, you can top it off with a scoop of your favorite dairy-free ice cream (or regular ice cream, if you are able to eat that).  It's pure delight!
Recipe FAQ
Here are some common questions that may come up as you prepare to make this recipe:
What are the best apples for apple crisp? 
According to Bon Appetit, the best apples for apple crisp (and other baked apple recipes) are those which hold their structure and don't turn into a pile of mush.  These include:
Granny smith
Jonagold
Braeburn
Honeycrisp
Mutsu
Pink Lady
What can you use instead of avocado oil?
I realize avocado oil is not something many people have on hand.  It's great to have a bottle as it's a neutral oil that has a high smoke point, which makes it great for both cooking and baking.  If you don't have it on hand though, you can use other oils like canola oil, vegetable oil, or even a light-tasting olive oil.
What if you don't have a cast iron skillet?
Buy one!  Just kidding, haha (though really, it is an incredible kitchen tool to keep on hand – I love my Lodge cast iron skillet).  You can still make this in a casserole dish just fine.
How should you store leftovers?
You can keep leftovers in the refrigerator for up to 5 days.  You can reheat it quickly in the microwave, though the topping gets a little soft that way.  If you want a crisp topping, reheat it in the oven in a small ramekin.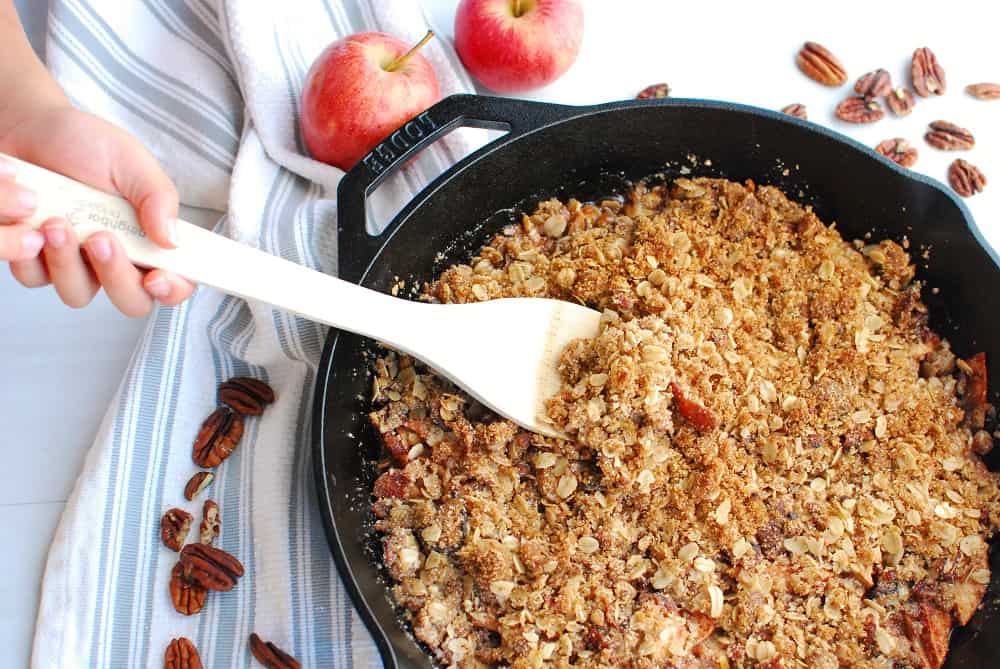 Allergens in this recipe
Disclaimer:  Always double check ingredients and labels yourself prior to making a recipe.  While I try to check all ingredients for allergens, there's always the chance I may miss something or manufacturer formulations can change.
This bacon apple crisp recipe is dairy free, egg free, soy free, and wheat/gluten free.  (Just double check your bacon to ensure it does not contain these, but it would be odd for it to contain any.)
It does contain tree nuts, as it uses both almond flour and pecans.  If you are allergic to tree nuts, you can easily address this by substituting all-purpose flour for the almond flour and just leaving out the pecans.  This change would mean the recipe would then contain wheat/gluten.
Keep in mind if you use any type of dairy free ice cream to top it off, you'll need to check for allergens in those too, as many contain nuts.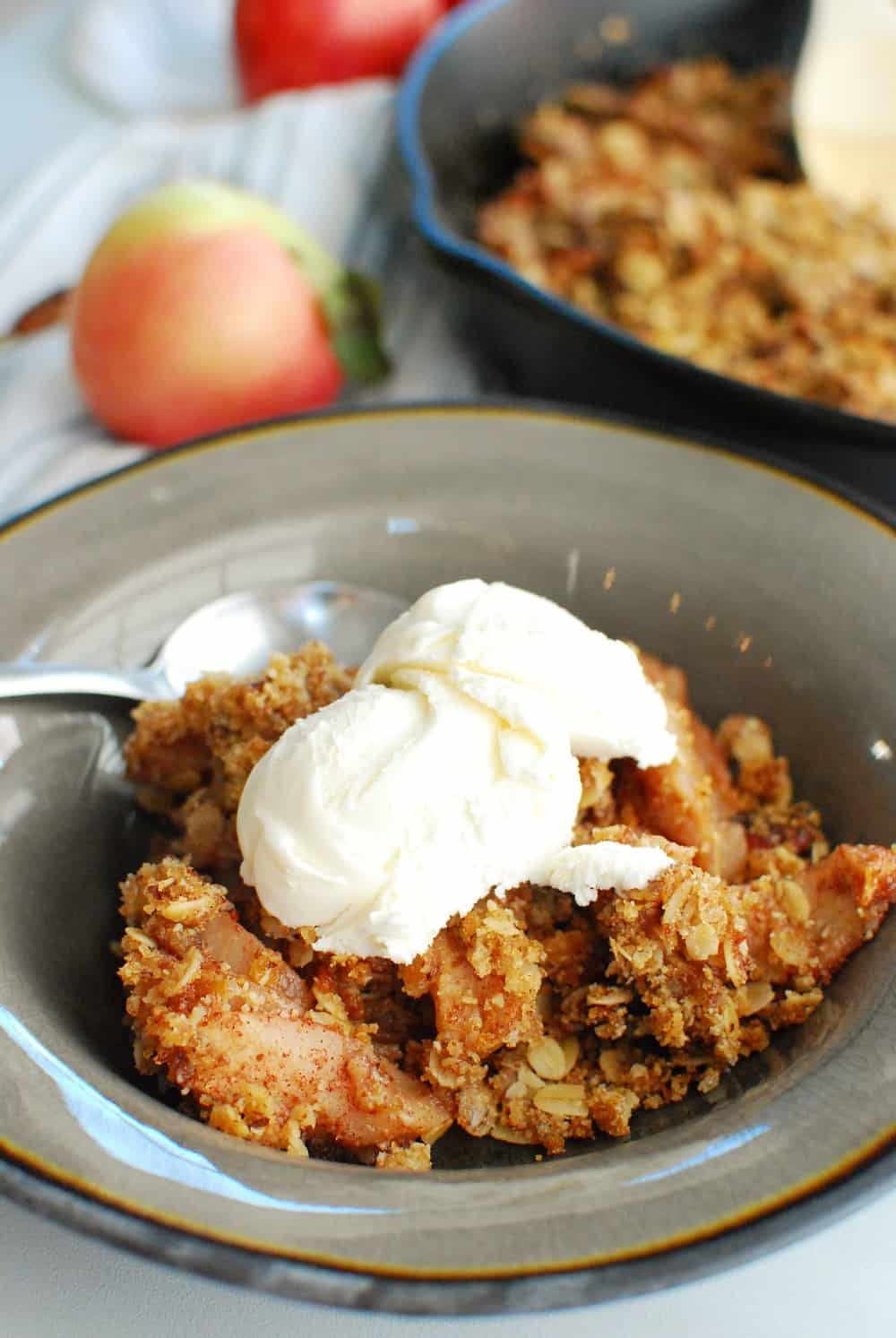 I hope you enjoy this incredible bacon apple crisp recipe.  I'm a bit embarrassed at how much of the skillet I ate. 😉  If you get a chance to try it, please feel free to leave a recipe rating or comment below.
PS – Looking for more apple recipes?  Try homemade apple butter, apple pancakes, or dairy free apple pie.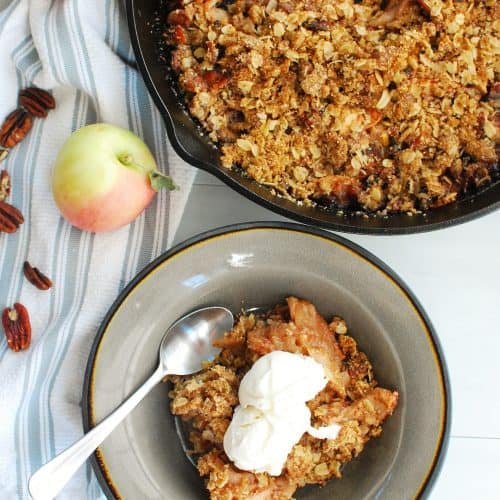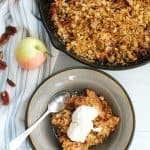 Skillet Bacon Apple Crisp
This bacon apple crisp is the ultimate sweet and salty combination; a perfect indulgent fall dessert!
Ingredients
For the Filling:
6

medium apples, peeled and sliced

1/4

cup

brown sugar

1

tbsp

almond flour

1

tbsp

lemon juice

1

tsp

cinnamon
For the Topping:
4

strips bacon

3/4

cup

rolled oats

(certified gluten free if needed)

1/2

cup

almond flour

1/2

cup

brown sugar

1/4

cup

chopped pecans

1/4

tsp

cinnamon

1/8

tsp

salt

1/3

cup

avocado oil

(or another neutral oil, like canola oil)
Instructions
Preheat the oven to 350 degrees F.

Prepare the filling by combining the apples, brown sugar, almond flour, lemon juice, and cinnamon in a large bowl. Set aside for now.

Heat a large cast iron skillet over medium heat. Add the bacon and cook until lightly crisp. Remove the skillet from heat, then remove the bacon from the skillet and set aside on a paper towel. When cool, chop or crumble.

Prepare the topping by combining the chopped bacon, oats, almond flour, brown sugar, pecans, cinnamon, salt, and avocado oil in a large bowl.

Look at the skillet you used to cook the bacon – you want to keep a thin layer of bacon grease in there, but if there's a lot in the pan, drain off some of the excess. Then, pour the filling into the skillet, and add the topping over it.

Bake in the oven at 350 degrees for about 40 minutes, or until the filling is soft and bubbly and the topping is golden brown and crisp. Let cool slightly, then enjoy!
Recipe Notes
Nutrition analysis (approximate per serving): 333 calories, 17.5 g fat, 2 g saturated fat, 115 mg sodium, 43 g carbohydrate, 3.5 g fiber, 33 g sugar, 4.5 g protein, Calcium: 5%, Iron: 5%, Vitamin D: 0%, Potassium: 7%
Share:  Do you use bacon in any other dessert recipes?