During fall, these apple butter pancakes are sure to be your favorite breakfast treat! Made with hearty whole wheat flour and flavored with sweet and tart apple butter, you'll love this tasty dairy free pancake recipe.
Ingredients
Here's what you'll need to make this recipe, along with some helpful notes and tips about some of the ingredients:
Whole wheat flour – Whole grains give a nice hearty texture to these pancakes, and also increase the fiber content. You can certainly substitute all-purpose flour if you'd prefer a lighter pancake.
Baking powder
Brown sugar – I like to sweeten the pancake batter itself, but this is optional – you can certainly leave it out if you'd prefer.
Salt
Oat milk – This is a great choice as it helps keep these pancakes both dairy free and nut free. However, you can use whatever milk alternative you'd prefer.
Vanilla extract – This helps add additional flavor to the pancakes. If you have vanilla oat milk (or almond milk) on hand, though, you can simply use that for the oat milk and skip the extra vanilla.
Egg
Olive oil – Because I always have this on hand, I veer towards it – but any oil like canola, vegetable, or avocado oil works!
Cinnamon – If you're using homemade apple butter with a lot of spices, you can halve the cinnamon in this recipe.
Apple butter – Despite it's name, apple butter doesn't usually contain dairy. You can use your own homemade apple butter, or purchase a jar at the store. Quick tip – occasionally people add dairy-based butter as an anti-foaming agent when preparing jams, jellies, and fruit butters – so be cautious and ask about this at farmers markets. That said, almost all major store-bought versions are safe (but again, always worth a glance at the label).
Step by Step Instructions
This recipe is incredibly easy to make.
You're going to start by mixing together the dry ingredients in a bowl. Then create a well in the center and add all your liquid ingredients. Use a whisk to really mix up the egg, then stir everything together. The batter will look like this: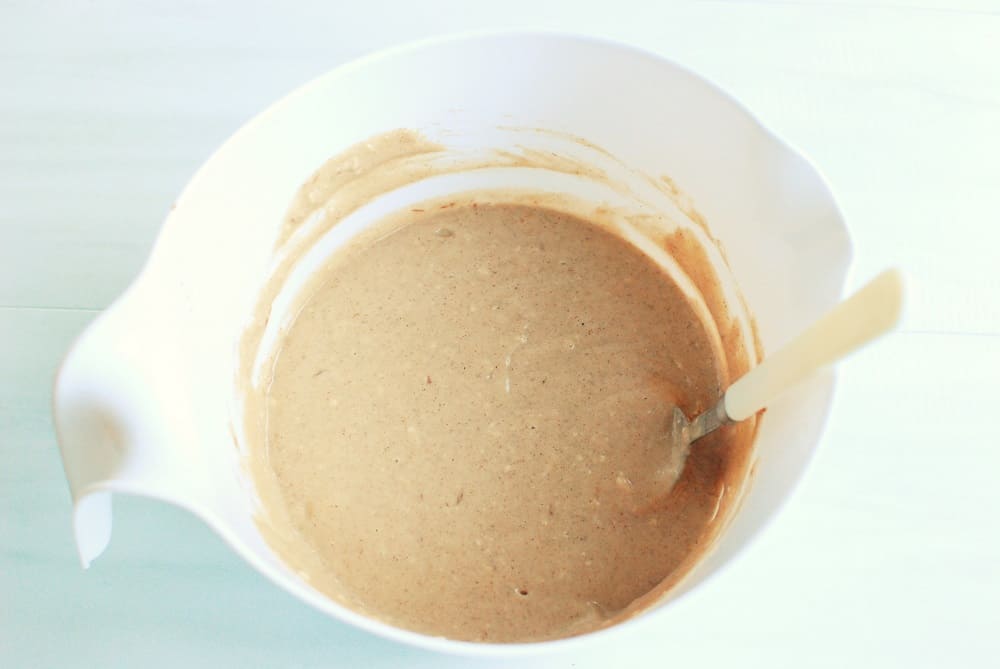 Here's the important part to any great pancake – let the batter rest for a few minutes while you heat up your griddle!
Most people make the mistake of immediately pouring the batter onto the griddle, but letting it sit for about 5-10 minutes helps the liquids fully hydrate the dry ingredients, allowing the starches to swell and the protein to relax a bit. This is what creates that wonderful tender, fluffy pancake texture.
When the griddle is ready, pour the batter on and cook for a few minutes on each side. Because of the sugars in the apple butter, these pancakes do have the tendency to brown quickly, so keep a close eye on them. If they are browning too quick, drop your griddle temperature a bit.
Now stack 'em up, top with pure maple syrup, and enjoy!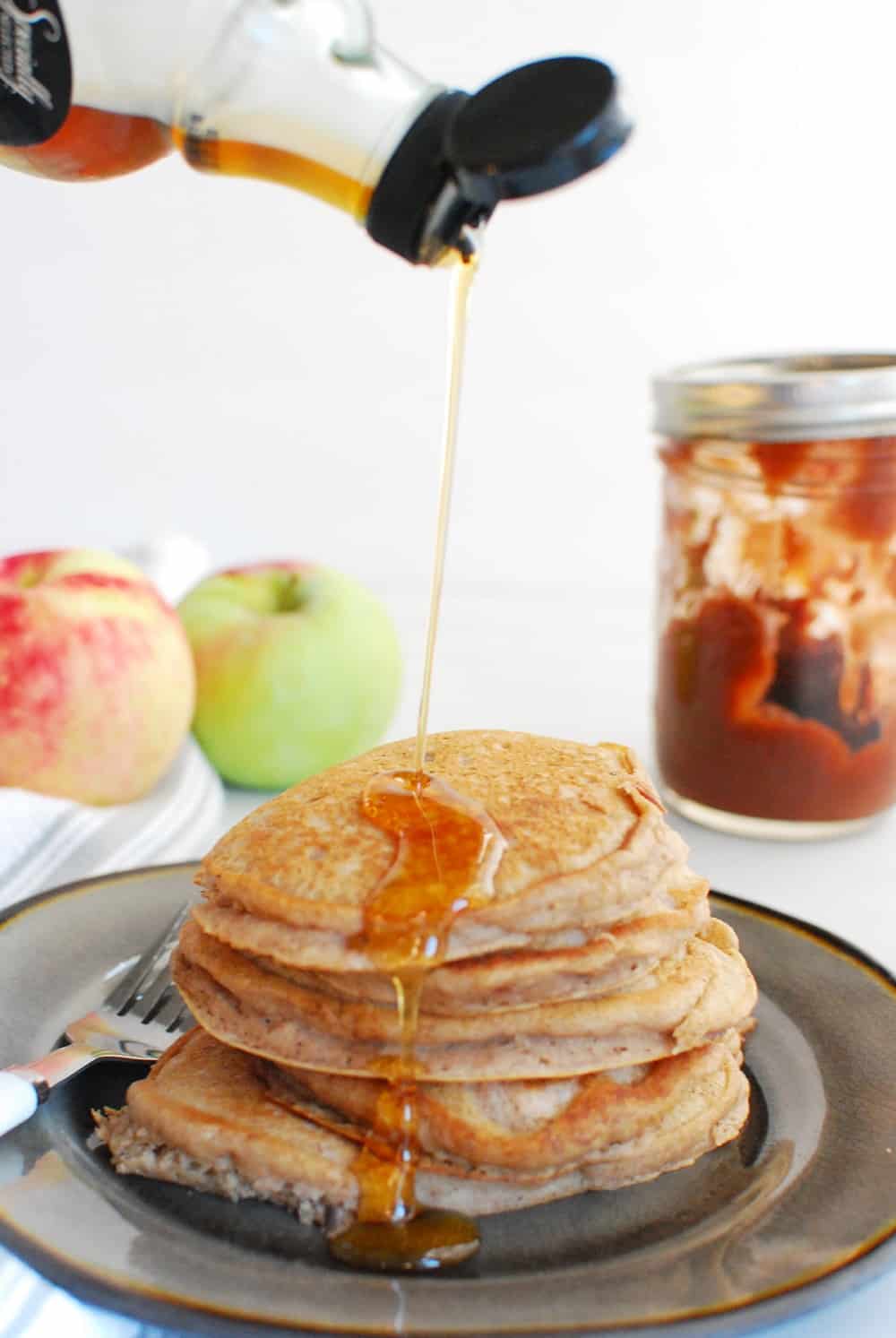 Recipe FAQ
Here are some common questions that may arise as you prepare this recipe:
What are some dairy-free apple butter brands? If you don't feel like making your own apple butter, here are a few brands that (at the time of publish) were dairy free: Musselman's Apple Butter, Eden Foods Organic Apple Butter, Mrs Miller's Amish Homemade All Natural Apple Butter, and Dickinson's Country Apple Butter. (Always check labels prior to purchase.)
Can you use a skillet instead of a griddle? Yes. Cook the pancakes over medium-low heat. Be sure to lightly grease the skillet for each round of pancakes.
Can you freeze leftover pancakes? Yes. Place the pancakes in a single layer in a zip top bag to freeze. When you're ready to enjoy one, take it out and put it on a microwave safe plate. Microwave for about 30 seconds and enjoy.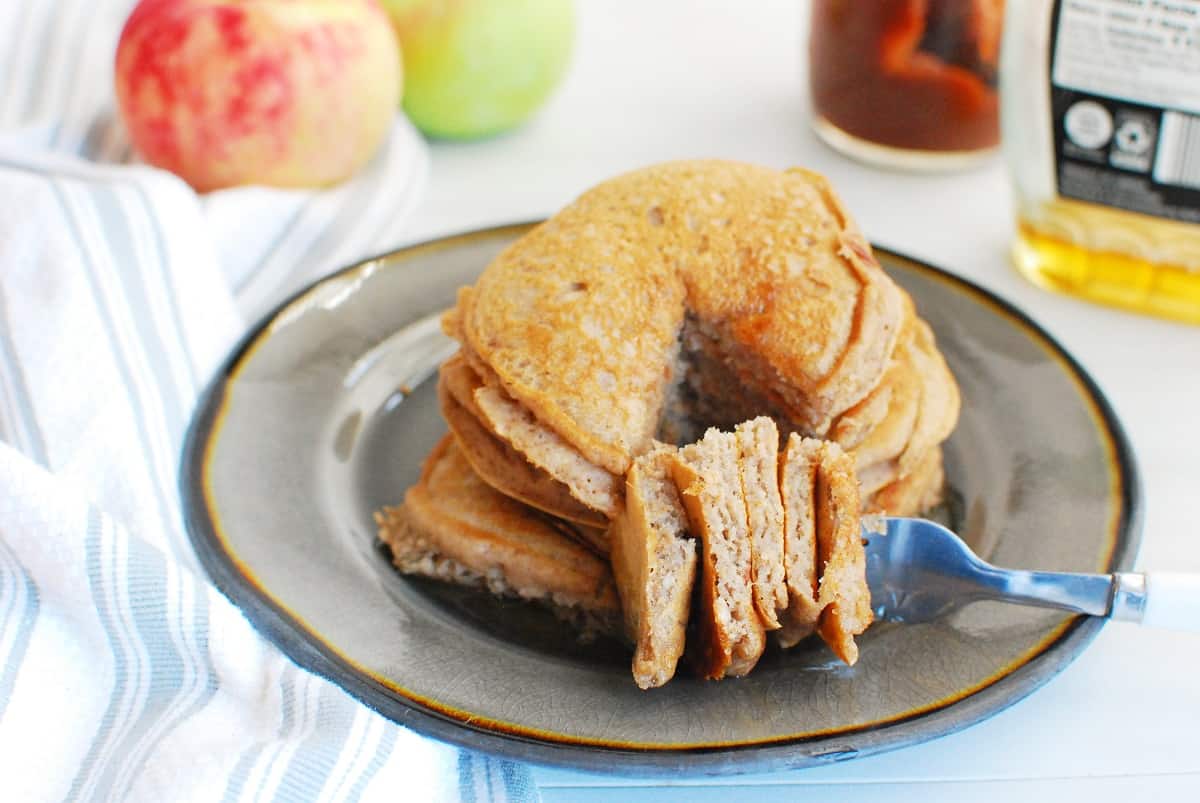 Allergens in this recipe
*Disclaimer – Always double check ingredients to confirm a recipe meets your allergy needs. While I try to note potential allergens below, there is always the chance I may miss something or that manufacturer formulations may change.
As written, this recipe should be dairy free, soy free, and nut free. (But again, check the label on your milk alternative and apple butter to confirm).
This recipe does contain wheat/gluten and eggs. Here are modifications:
To make this recipe gluten free, use a 1:1 gluten free all purpose flour substitute, or use buckwheat flour (despite it's name, buckwheat is gluten free). Also, double check to ensure your oat milk is gluten free.
To make this recipe egg free, leave out the egg and increase the apple butter to a half cup. These will be denser than the standard recipe but should still create tasty pancakes.
I hope you enjoy these apple butter pancakes! If you get a chance to try the recipe, feel free to leave a recipe rating or comment below. And if you're looking for more dairy free pancake recipes to try, be sure to make our gingerbread pancakes and chopped apple pancakes.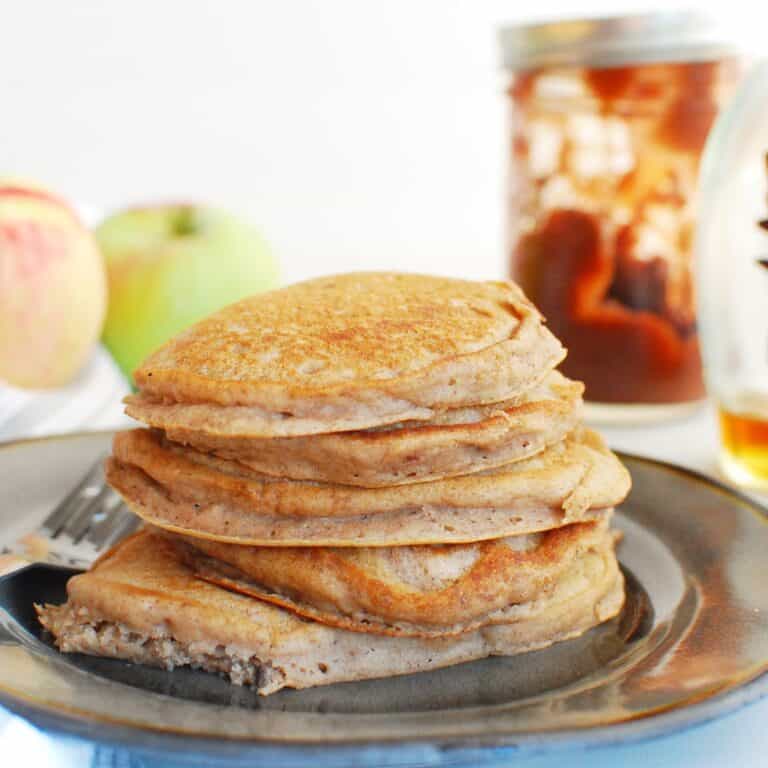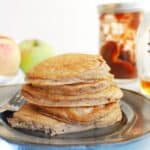 Hearty Apple Butter Pancakes
Perfect for fall, these apple butter pancakes are a delicious and hearty morning treat!
Ingredients
1 ¼

cup

whole wheat flour

(or all-purpose flour)

1

tbsp

baking powder

2

tbsp

brown sugar

¼

tsp

salt

1

cup

oat milk

(or any milk alternative)

1

egg

½

tsp

vanilla extract

2

tbsp

olive oil

½

tsp

cinnamon

⅓

cup

apple butter
Instructions
In a large mixing bowl, combine the flour, baking powder, brown sugar, and salt.

Create a well in the center and add the oat milk, egg, vanilla, olive oil, cinnamon, and apple butter. Whisk the egg in the center, then stir to combine all the ingredients.

Let the pancake batter rest for 5-10 minutes while you preheat a griddle to 350 degrees.

Pour the pancake batter onto the griddle to the size you prefer. Cook for about 2-3 minutes on the first side, then flip and cook another 2-3 minutes, until the pancake is golden brown and cooked through. Enjoy!
Recipe Notes
As an alternative to a griddle, you can cook these in a non-stick skillet over medium low heat.
These pancakes are a bit more sensitive to high heat, and can burn on the outside quicker than normal pancakes. If you notice they're browning too quickly, reduce the heat on the griddle to 325 degrees (or on your skillet to low).
Nutrition analysis (approximate per pancake): 124 calories, 4 g fat, 0.5 g saturated fat, 225 mg sodium, 20.5 g carbohydrate, 2 g fiber, 6 g sugar, 3 g protein, Vitamin D: 2%, Calcium: 10%, Iron: 6%, Potassium: 2%
Share: When it comes to pancakes, do you like traditional plain ones or do you like experimenting with flavored ones like this recipe?
Feel free to pin this post so you can save it for later.