Ready for a delicious breakfast? Look no further than this vegan bagel sandwich! A hearty bagel is packed with a dairy free cream cheese spread and fresh veggies for the best way to start your morning.
*Disclaimer – Dietary and allergen information provided below is for general information only. Always double check ingredients on products and in the recipe to confirm they meet your needs. While I try to note potential allergens below, there is always the chance manufacturer formulations may change or I may miss an ingredient.
Ingredients
You only need a handful of ingredients to make this sandwich:
Bagel – I recommend everything, sesame, or poppyseed bagels for this sandwich, as the toppings on those bagels help add flavor. While not every bagel brand is vegan, many are (see recommendations in next section).
Dairy free cream cheese – For this sandwich, I use my dairy free scallion cream cheese recipe – it's so good! To make it, you'll need raw cashews, coconut cream, vinegar, lemon juice, salt, onion powder, and scallions. If you'd prefer, you can also use a store-bought dairy free cream cheese – but sprinkle a chopped scallion on that, as it helps add flavor.
Cucumber – Crisp cucumbers offer a different texture compared to the smooth cream cheese and hearty bagel. Plus, cucumbers are great for helping bulk up the meal into a big 'ol breakfast sandwich.
Avocado – Mashed avocado adds another layer of flavor, along with healthy fats for sticking power.
Spinach or microgreens – Really, any tender green will do here. This helps bulk up the sandwich and adds extra nutrients! As an aside, I just got this fun little microgreens kit at Walmart the other day and can't wait to have some of my own to use in this sandwich!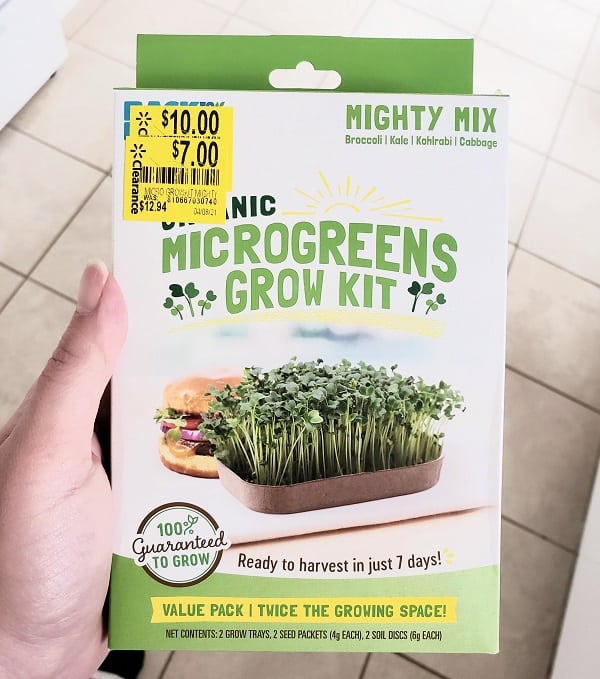 Bagel recommendations
Many bakery bagels are naturally dairy free and many are vegan, but you'll want to check the ingredients at your favorite shop or from your favorite brand to be sure.
Here's a few brands with products that would fit this recipe, and (at the time of publish) were vegan:
Dave's Killer Bread Epic Everything Bagels and Plain Bagels – Vegan; contains wheat (no dairy/soy/egg ingredients).
BFree Multiseed Bagels – Vegan, gluten-free, and free of top 8 food allergens. The brand's website no longer lists the bagels, but I'm unsure if that's due to permanent discontinuing of the product or simply product shortages given the current state of the world (I'll try to update when I find out). You can currently find the bagels here though if you want to order online.
Some Dunkin Donuts Bagels (not all types) – A past post on their site states that Plain, Everything, and Sesame bagels are vegan-friendly. Looking at the current allergen and ingredient table, this appears to still be true. These three types of bagels do contain wheat and soy. Keep in mind they do state "due to the nature of our restaurant environment and the number of allergens we handle, any of our products may contain, or may come in contact with allergens, including Eggs, Fish, Milk, Peanuts, Tree Nuts, Shellfish, Soy and Wheat."
Thomas' Everything, Onion, Whole Wheat, and Plain Bagels – Vegan; contain soy and wheat
Step by Step Instructions
Full recipe instructions and amounts are in the recipe card below, but here's a helpful overview with photos and tips.
You're going to start by making your dairy free cream cheese. If you're using store-bought you can skip this step, but I think you'll be surprised how delicious this homemade version is!
You'll need soaked cashews to make the homemade cream cheese. Luckily, if you forgot to soak them, you can put 'em in a pot with some water, bring to a boil, and then let them sit for about 30 minutes. I cheat this way all the time!
Now take those soaked cashews and combine them with your coconut cream, vinegar, lemon juice, salt, onion powder, and scallions in a small food processor.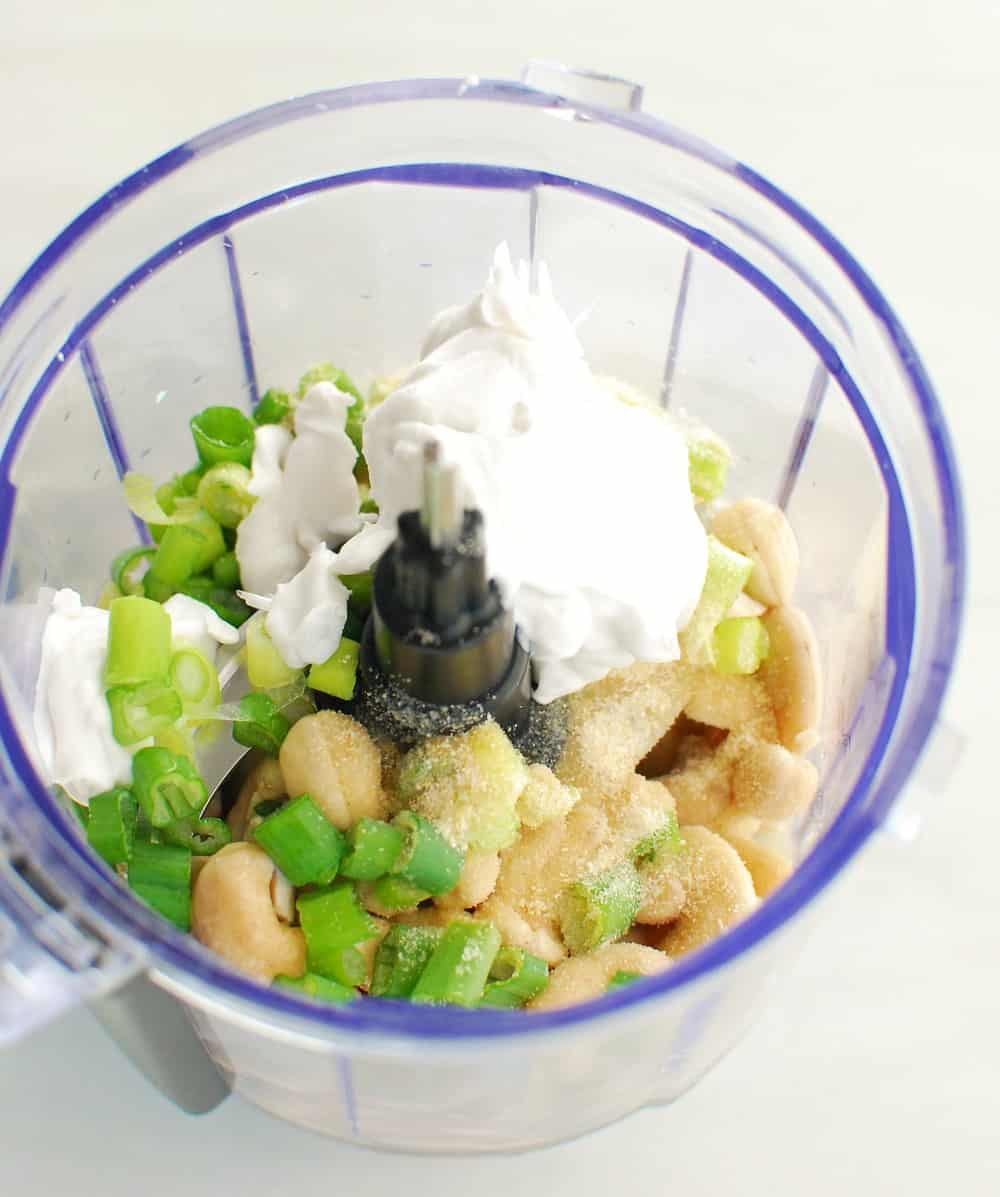 Process until it's nice a smooth. I recommend scraping down the sides of the food processor every 30 seconds or so. It should only take a few minutes total until your cream cheese is done.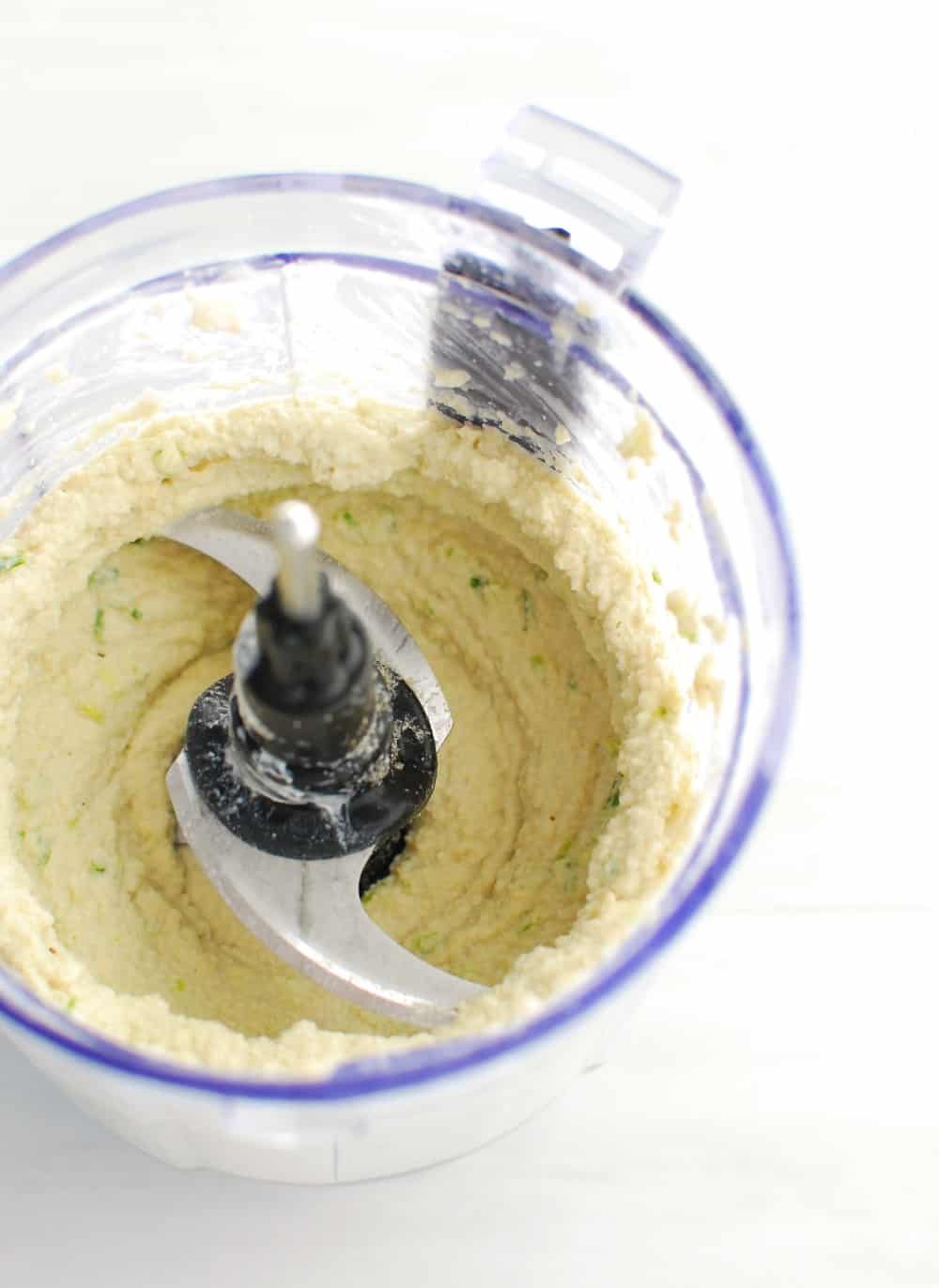 Now it's time to build your sandwich! Grab that cream cheese and spread it on, then layer your cucumbers, mashed avocado, and spinach.
Time to dig in!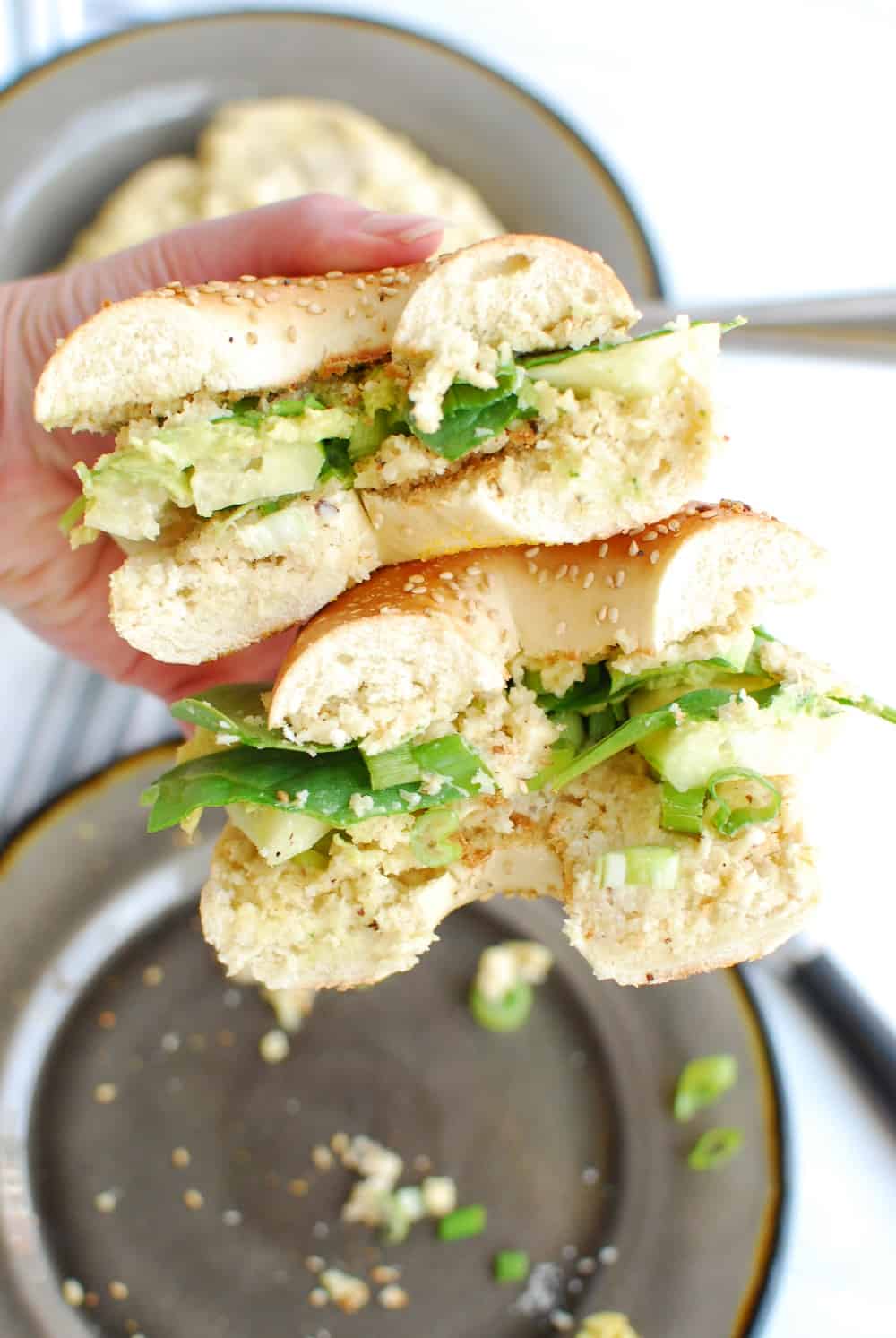 Allergens in this recipe
As written, this recipe is free from dairy and eggs as long as you choose a vegan bagel.
This recipe may contain soy, depending on the type of bagel you choose.
This recipe does contain nuts, as there are cashews used in the homemade cream cheese.
This recipe does contain wheat/gluten in the bagel. You can choose a wheat-free vegan bagel if desired to make this recipe gluten free.
I hope you enjoy this vegan bagel sandwich! It's definitely a tasty way to start the day. If you get a chance to try it, feel free to leave a recipe rating or comment below.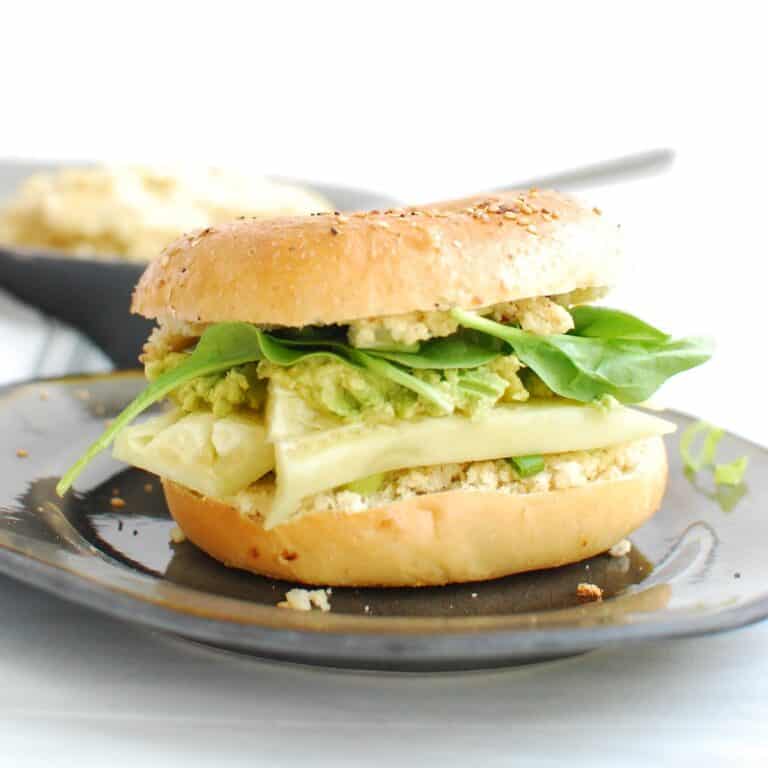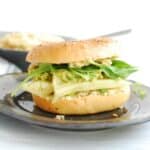 Vegan Bagel Sandwich
This vegan bagel sandwich is the most delicious way to start your morning, packed with homemade dairy-free cream cheese and veggies.
Soaking Time for Cashews
30
minutes
Ingredients
For the cream cheese (if making homemade):
1

cup

raw cashews, soaked overnight or quick soaked

1/4

cup

coconut cream

(from a can of coconut cream, or from the top of a can of previously refrigerated coconut milk)

2

tsp

white vinegar

2

tbsp

lemon juice

1/4

tsp

salt

1

tsp

onion powder

2 to 3

scallions, chopped
For the bagel sandwich:
1

vegan bagel

(everything, sesame, or poppyseed recommended)

2

tbsp

homemade dairy free scallion cream cheese

(or store-bought)

1/3

medium cucumber, peeled and sliced

1/3

avocado, peeled, pitted, and mashed

1/4

cup

raw spinach or microgreens
Instructions
To prepare the cream cheese spread (if making homemade):
If you didn't soak your cashews overnight, do a quick soak by placing them in a pot with water, bringing to a boil, then turning off the heat and letting sit for 30 minutes.

Drain and rinse the cashews. Add them to a small food processor or high-speed blender. Add the coconut cream, vinegar, lemon juice, salt, onion powder, and scallions to the food processor with the cashews.

Process for 30 seconds at a time, opening to stir as needed, for 1 to 3 minutes, until the mixture reaches a nice, smooth texture.
To prepare the bagel sandwich:
Toast the bagel and spread the dairy free cream cheese on both sides.

Layer the cucumbers on one side, then top them with the mashed avocado.

Add the spinach on top of the avocado, and then place the other half of the bagel on top of that. Slice it in half and enjoy!
Recipe Notes
You can also use store-bought dairy free cream cheese for this recipe. If doing so, sprinkle 1 chopped green onion over the cream cheese when preparing the sandwich.
You'll have leftover homemade cream cheese after making this recipe; store in the fridge for up to 5 days.
Nutrition analysis (approximate): 523 calories, 23 g fat, 500 mg sodium, 66.5 g carbohydrate, 8 g fiber, 9 g sugar, 14.5 g protein, Vitamin D: 0%, Calcium: 4%, Iron: 28%, Potassium: 15%
Share: What are your favorite ingredients to put in a bagel sandwich?
Please pin this to share with others! 🙂