Enjoy a festive Christmas breakfast with these dairy free gingerbread pancakes! They taste just like gingerbread cookies, but in thick, fluffy pancake form. Top 'em with vegan butter and pure maple syrup, or add some fresh berries and coconut whip.
What you'll need
Here's the ingredients you'll need for this recipe, with some explanations for why and ideas for substitutions. Keep in mind it looks like a lot, but most of these ingredients are just pantry staples!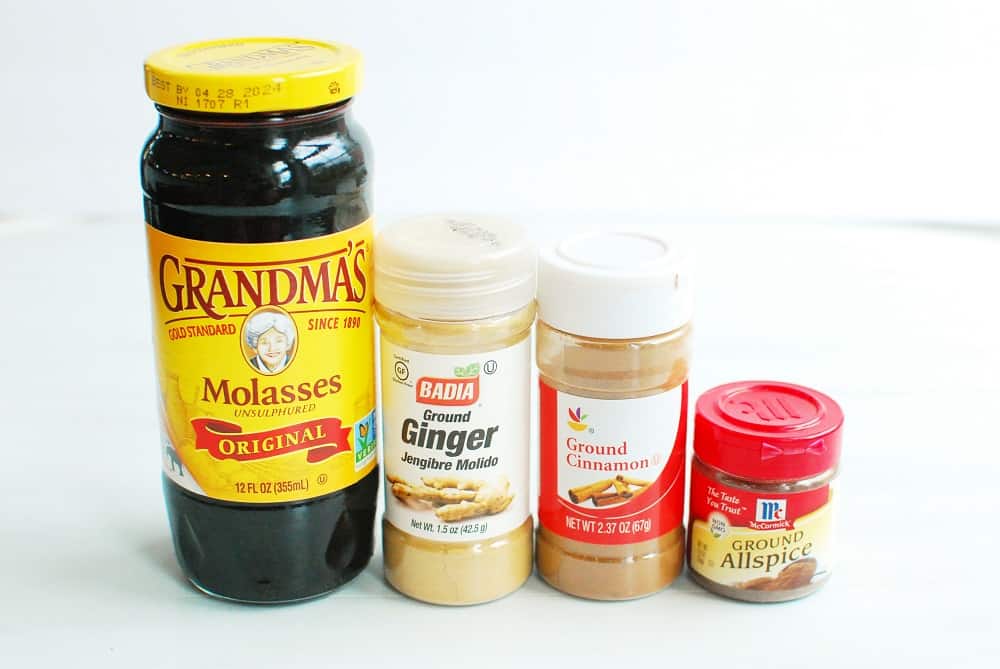 Oat milk + vinegar – This is a hack to make a dairy free buttermilk. Just combine a cup of your favorite milk alternative plus a tablespoon of vinegar, and you'll get that little bit of delightful tanginess to add to your pancakes.
Egg – There is only one egg in this recipe, but it's important to help provide structure. The yolk also adds richness.
Molasses – This dark, liquid sweetener adds a robust flavor to fall baked goods. It's sweet and warm, with almost a bit of smokiness to it, and subtle bitter undertones. It's traditional in recipes like gingerbread cookies, molasses cookies, and of course – these pancakes.
Brown sugar – This offers additional sweetness in this delicious breakfast.
Avocado oil – Just like it sounds, avocado oil comes from avocados. It's a heart-healthy oil which makes it a nice option to keep on hand. It can be pricey though, so you can feel free to substitute any of your standard oils in this recipe. Canola oil, vegetable oil, or even olive oil will work fine in this recipe. The fat in these oils helps make the pancakes moist and rich.
Cinnamon, ginger, and allspice – These aromatic spices offer the classic gingerbread flavor in this pancake recipe.
Salt – The purpose of salt isn't necessarily to make food taste salty, but to bring out the flavor of other ingredients in the recipe.
All-purpose flour – Obviously, we need flour for pancakes! All purpose flour makes for light and fluffy pancakes.
Baking powder and baking soda – The combination of both leavening agents will help the pancakes rise.
Once you've got all those ingredients, you're just going to whip up your batter and cook these on a griddle (similar to any other pancake recipe). They'll be a deeper brown color because of the spices and molasses, and have a rich gingerbread flavor.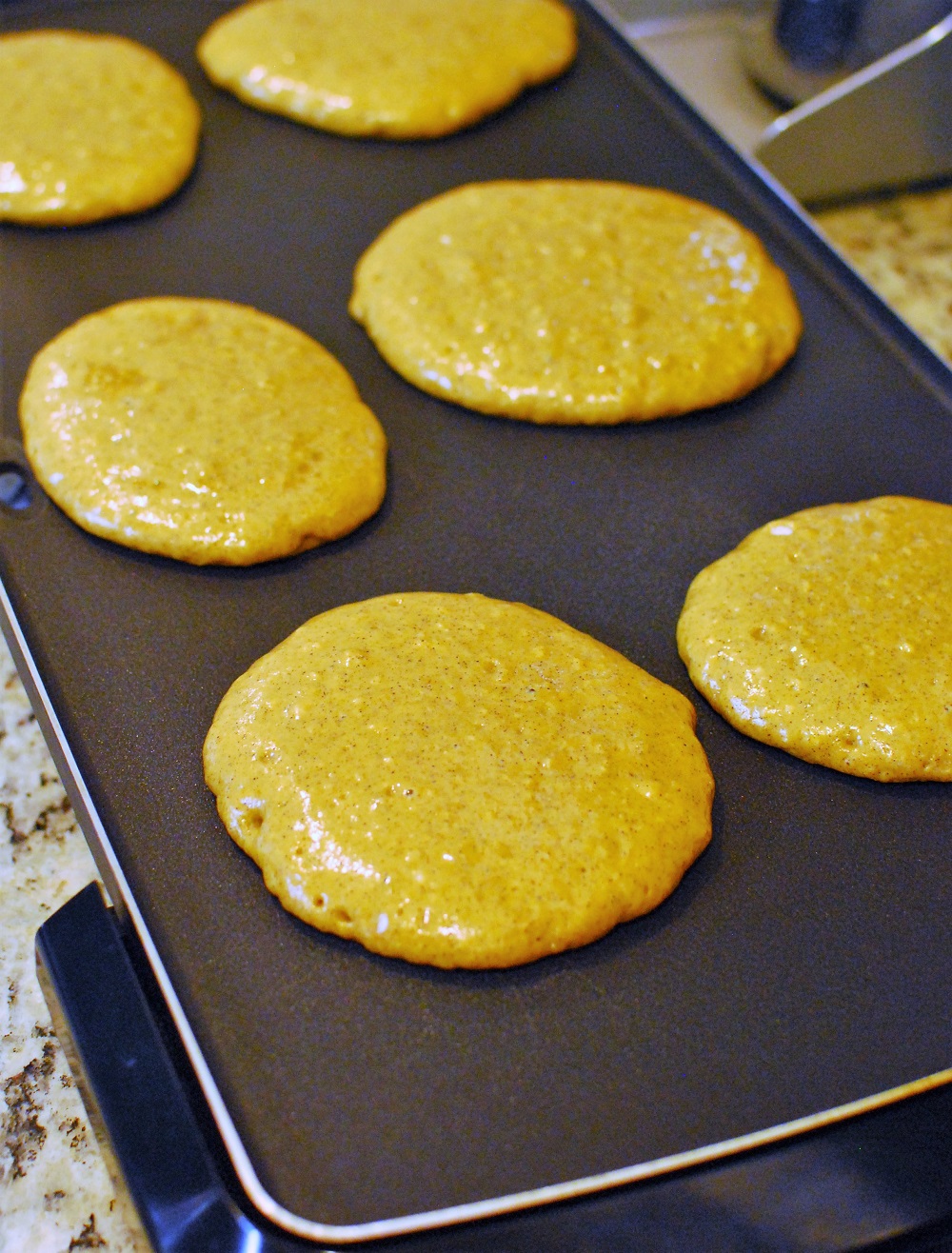 Recipe Tips
Here are some helpful tips for making this recipe – these should also help with troubleshooting any problems you run into!
Avoid blackstrap molasses for this recipe, as it can be a bit too bitter. Regular molasses works wonderfully.
Don't overmix the batter – it can cause the pancakes to be tough. You want to combine the ingredients but don't worry about making the batter smooth. It's OK if there are some little lumps.
Let the batter sit for about 5-10 minutes while the griddle is heating up. This will help make super fluffy pancakes.
While many resources call for pancakes to be cooked on a griddle at 375 degrees F, I prefer cooking these dairy free gingerbread pancakes between 325 and 350 degrees F. It helps these thick pancakes to cook all the way through without risking burning each side.
Not every griddle is properly calibrated, so be sure to keep an eye on your pancakes. If you flip one and there's any sign of burning, turn the heat down.
You can freeze any extras to heat up another morning! To freeze, place in a single layer in a gallon size zip top bag, then place in the freezer. When you're ready to reheat, just place one or two pancakes on a plate and microwave for 30-60 seconds. Easy peasy!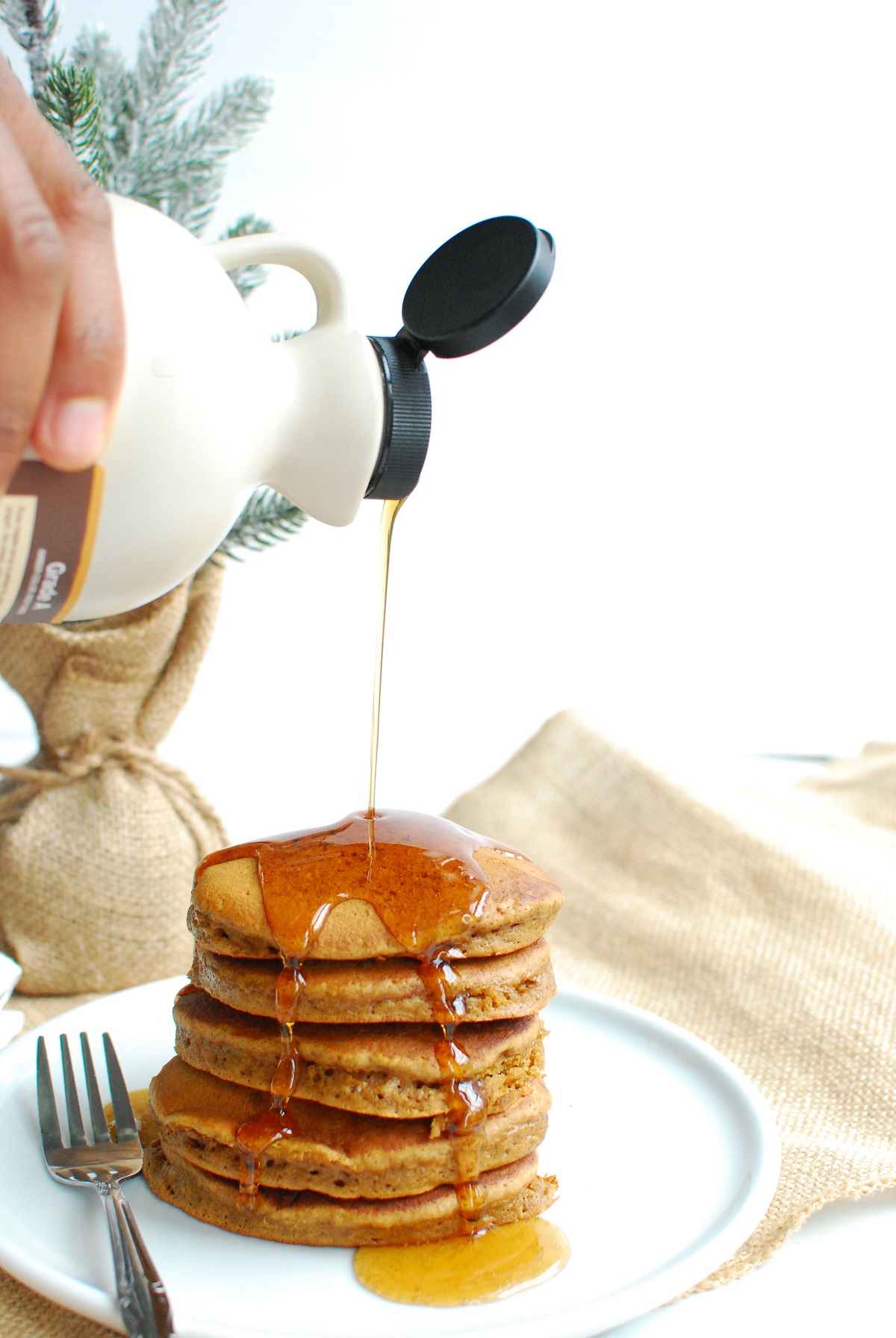 Allergens in this recipe
Disclaimer: Always double check ingredients and labels yourself prior to making a recipe. While I try to check all ingredients for allergens, there's always the chance I may miss something or manufacturer formulations can change.
As written, these dairy free gingerbread pancakes are dairy free, soy free, and nut free.
This recipe does contain eggs and wheat/gluten. I have not tested substitutions for these ingredients, but do have a few suggestions if you want to try modifying the recipe:
To make it egg free, I would imagine you could add 1/4 cup applesauce in place of the egg, however, keep in mind the pancake may be a bit denser.
To make it gluten free, you could try substituting a 1:1 gluten free all purpose flour in place of the regular flour. You'd also want to double check that your oat milk was certified gluten free.
Again, because I haven't tested these changes I can't guarantee they'll work – but these are my best guesses. If you try modifying them, please feel free to leave a comment so others can learn what worked for you!
I hope you enjoy this recipe as much as my family does during the holidays. If you get a chance to try it, feel free to leave a recipe rating or comment below. And if you're looking for more festive meals, check out our dairy free Christmas breakfast recipe roundup.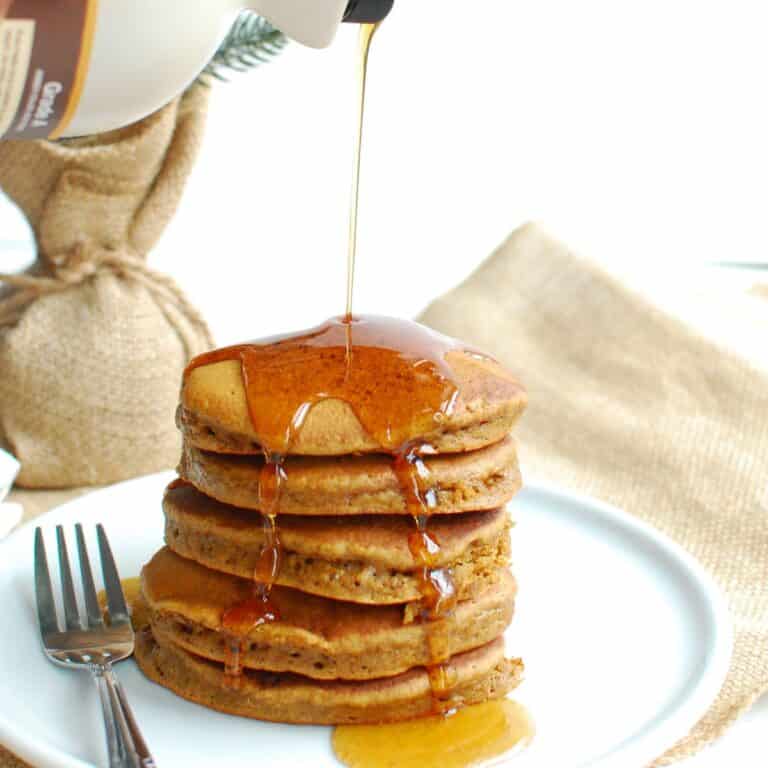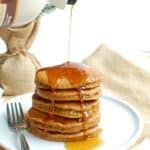 Dairy Free Gingerbread Pancakes
These dairy free gingerbread pancakes are perfect for a festive holiday breakfast!
Ingredients
1

cup

oat milk

1

tbsp

vinegar

1

egg

1/4

cup

molasses

3

tbsp

brown sugar

2

tbsp

avocado oil

(or canola oil)

2

tsp

cinnamon

1 1/2

tsp

ground ginger

1/4

tsp

allspice

1/4

tsp

salt

1 1/2

cups

all-purpose flour

1 1/2

tsp

baking powder

1/2

tsp

baking soda
Instructions
Combine the oat milk and vinegar in a measuring cup. Set aside for now.

In a large mixing bowl, whisk the egg. Then stir in the molasses, brown sugar, oil, cinnamon, ginger, allspice, and salt.

In a separate bowl, stir together the flour, baking powder, and baking soda.

Add the dry ingredients to the wet ingredients. Pour in the oat milk and vinegar combination that was set aside. Stir the ingredients together until combined.

Let the batter sit for a few minutes while you preheat a griddle. When hot, pour the batter onto the griddle to your preferred pancake size (or use a 1/4 cup measure if you want uniform size).

Cook for around 2-3 minutes, or until bubble start forming and the edges are browning. Flip and cook another 2-3 minutes, until pancakes are cooked through. Repeat with remaining batter.

Serve warm with maple syrup, or top with coco whip and fresh berries. Enjoy!
Recipe Notes
This recipe makes about 10 to 12 small-medium pancakes. For the purpose of the nutrition analysis, assume a yield of 12 pancakes.
Nutrition analysis (approximate per pancake): 127 calories, 3 g fat, 0.5 g saturated fat, 180 mg sodium, 23 g carbohydrate, 1 g fiber, 7.5 g sugar, 2.5 g protein, Vitamin D: 2%, Calcium: 7%, Iron: 7%, Potassium: 4%
Share: What's your favorite dairy free Christmas breakfast?
Be sure to pin this for later!