When Christmas rolls around, is there anything more festive than a gingerbread cookie? If you're on a dairy free diet, you may be worried that you can't enjoy this tasty treat – but not to fear! This recipe for dairy free gingerbread cookies tastes just as good (if not better!) than any conventional version out there. These will be a crowd pleaser for sure!
Ingredients
Here's a photo of all the ingredients you'll need, along with selected ingredient notes: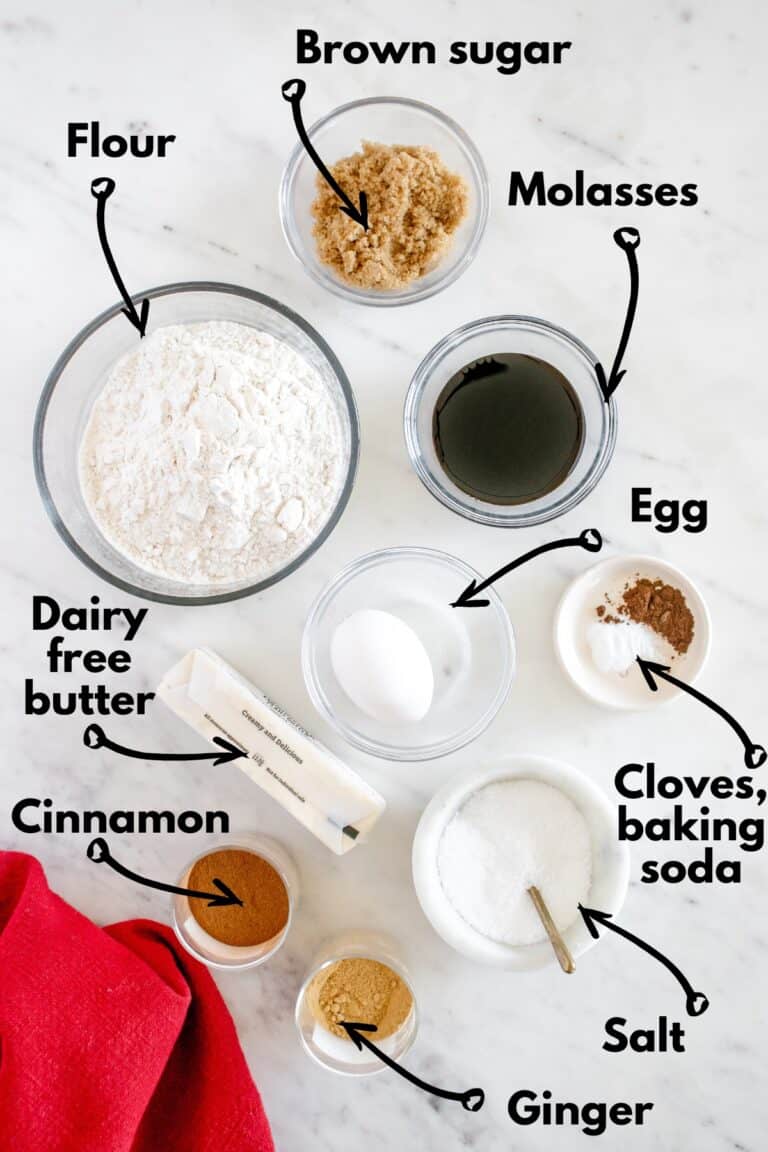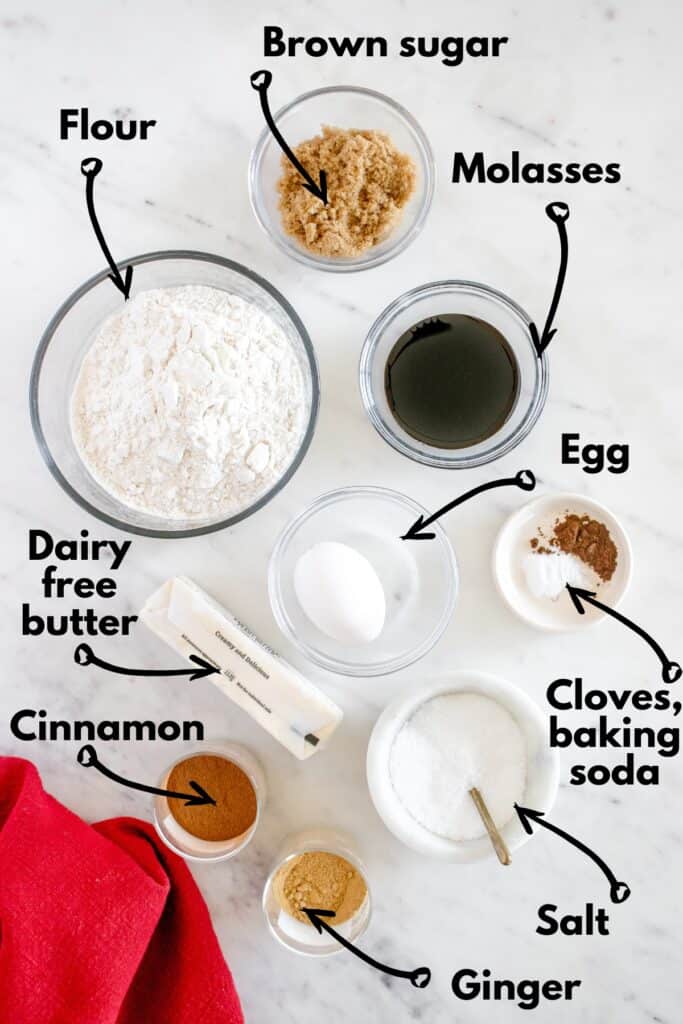 Molasses – This is a thick syrup that comes from the sugar making process. It has a distinct rich flavor with notes of somewhat burnt caramel, ever-so-slight smokiness, and moderate sweetness. It's what gives gingerbread cookies their familiar flavor, so don't skip it! (We love using molasses in gingerbread pancakes too!)
Aromatic spices – This recipe uses ginger, cinnamon, and cloves to create a perfectly spiced cookie. (If you're missing the cloves, it's OK to just add a little extra cinnamon instead.)
Instructions
You'll find the full recipe amounts and instructions in the recipe card below, but here's a helpful overview with photos and tips.
Start by preheating your oven and lining baking sheets with parchment paper. Parchment helps prevent overbrowning on the bottom of cookies, and makes clean up so easy!
Next, combine the dairy-free butter, brown sugar, molasses, egg, ginger, cinnamon, and cloves in a large mixing bowl.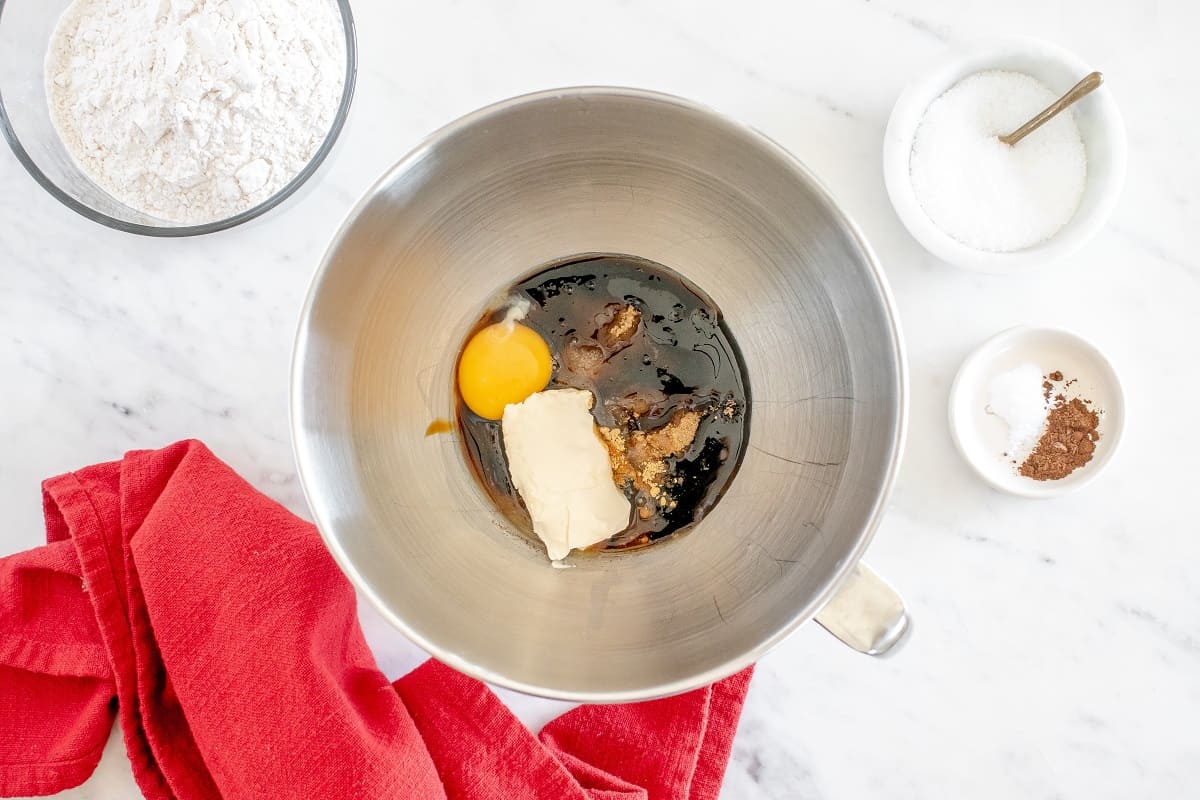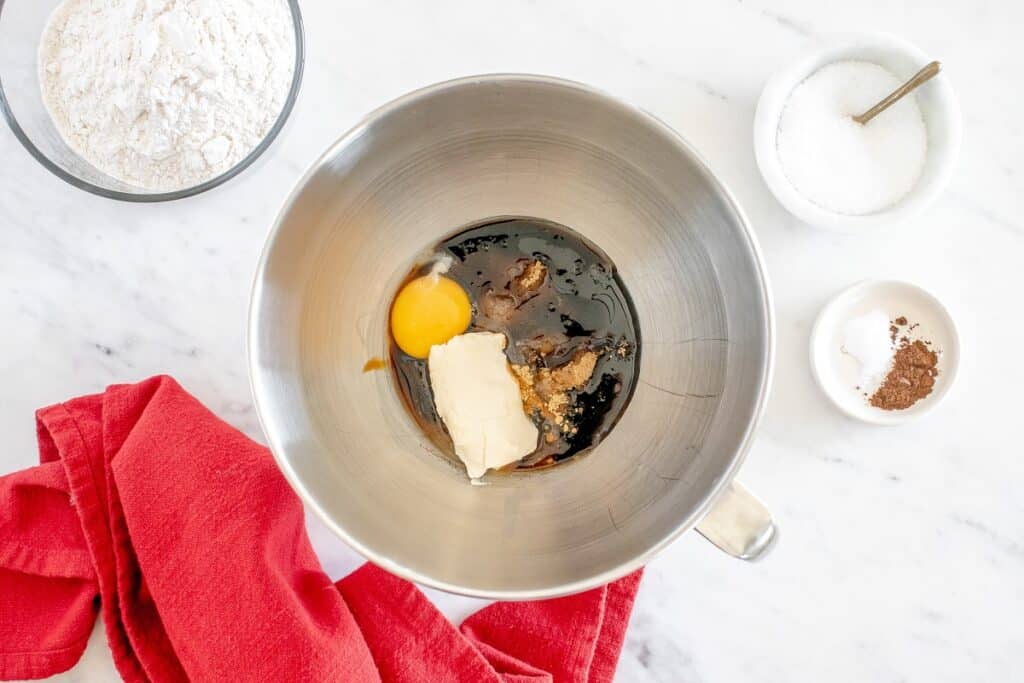 Using a stand mixer, hand mixer, or good 'ol fashioned elbow grease, beat the mixture until it is well-combined and fluffy.
In another bowl, mix together the flour, baking soda, and salt.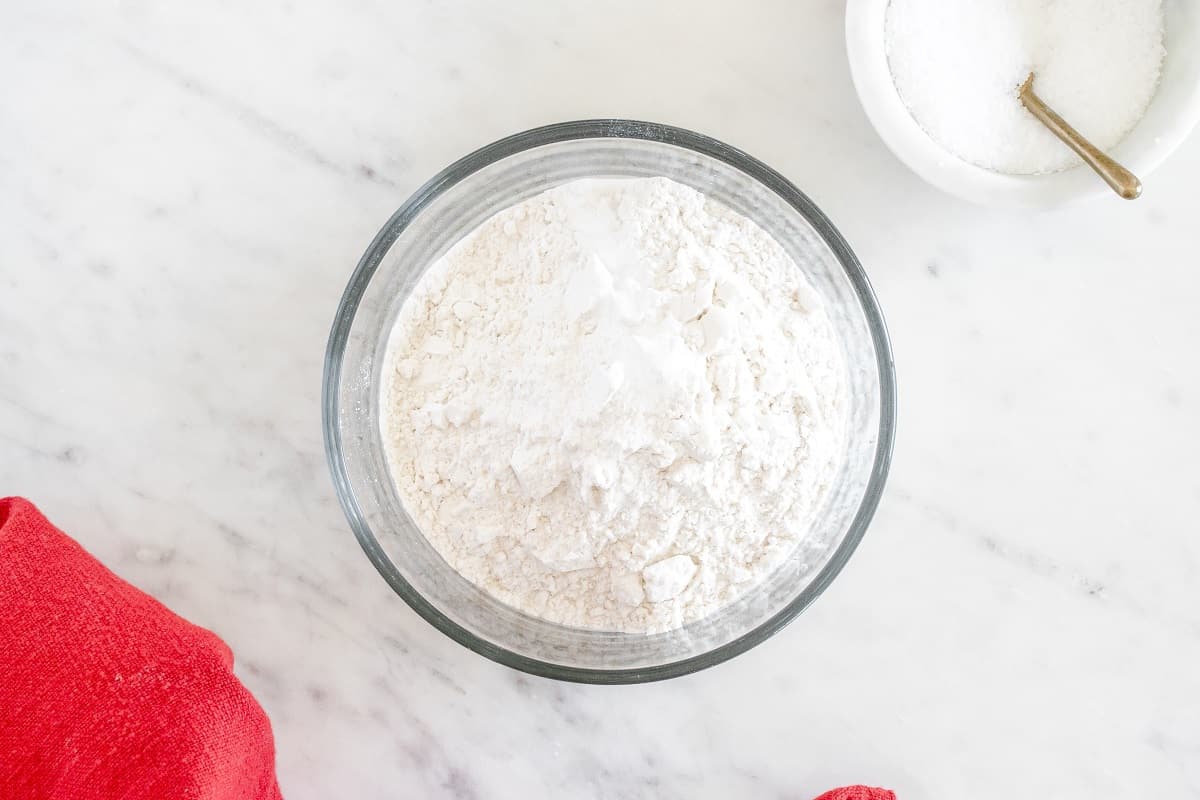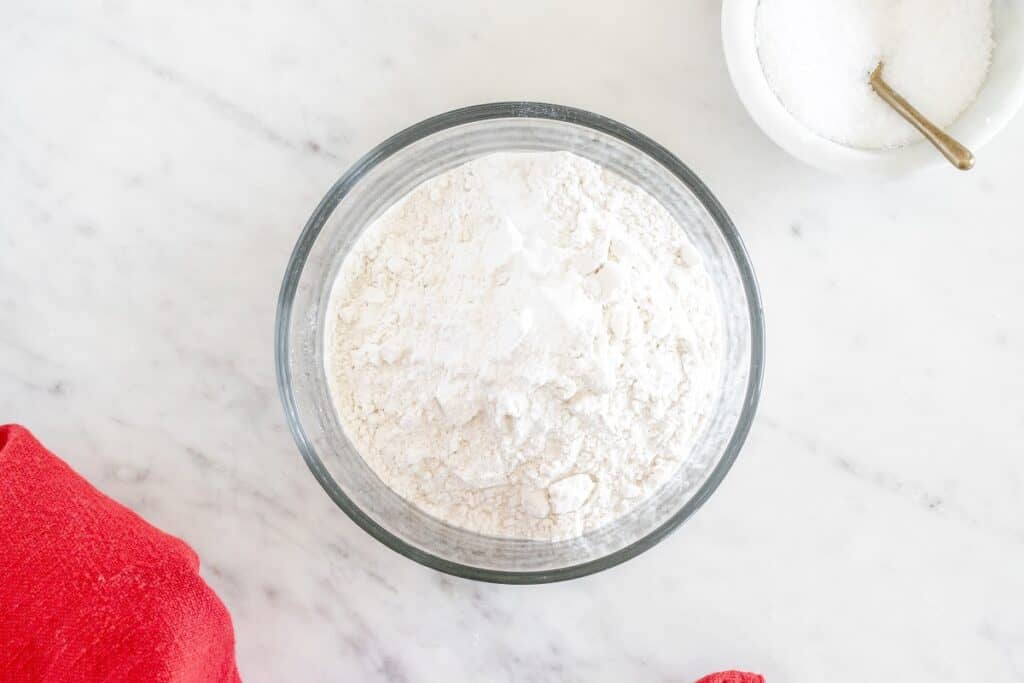 Pour the dry ingredients into the wet ingredients.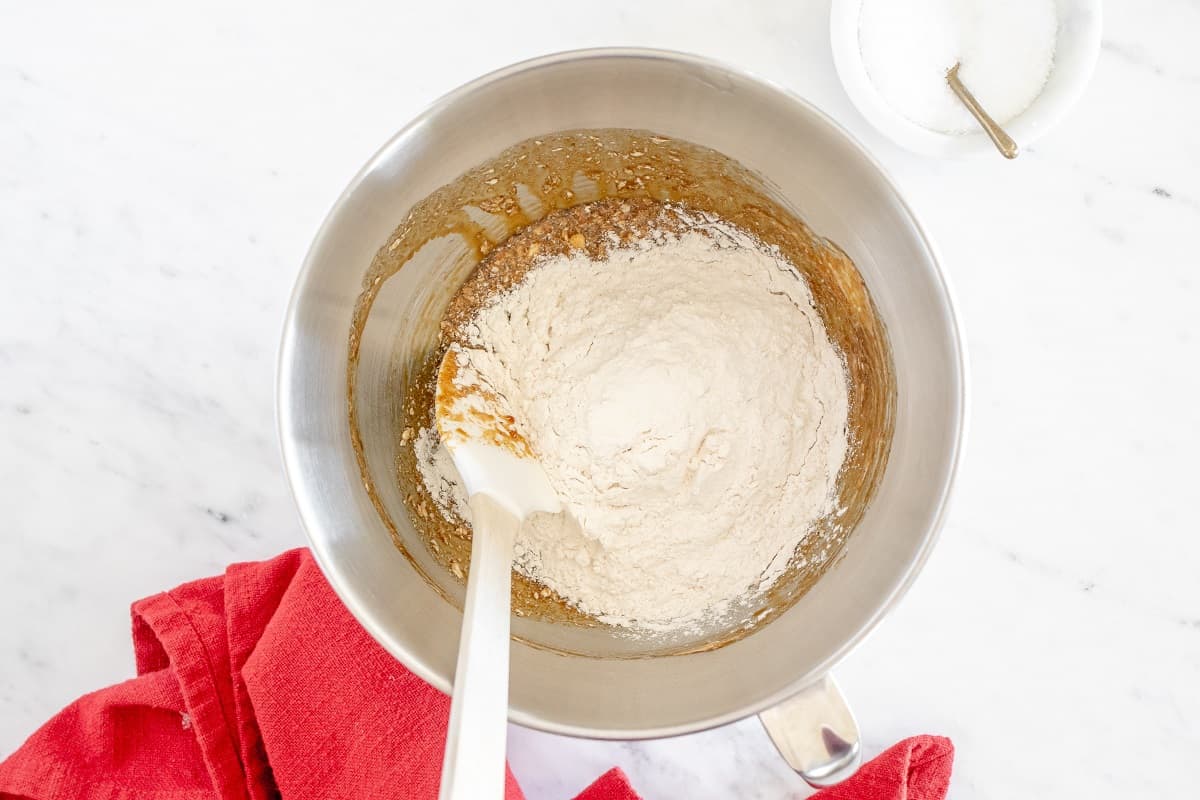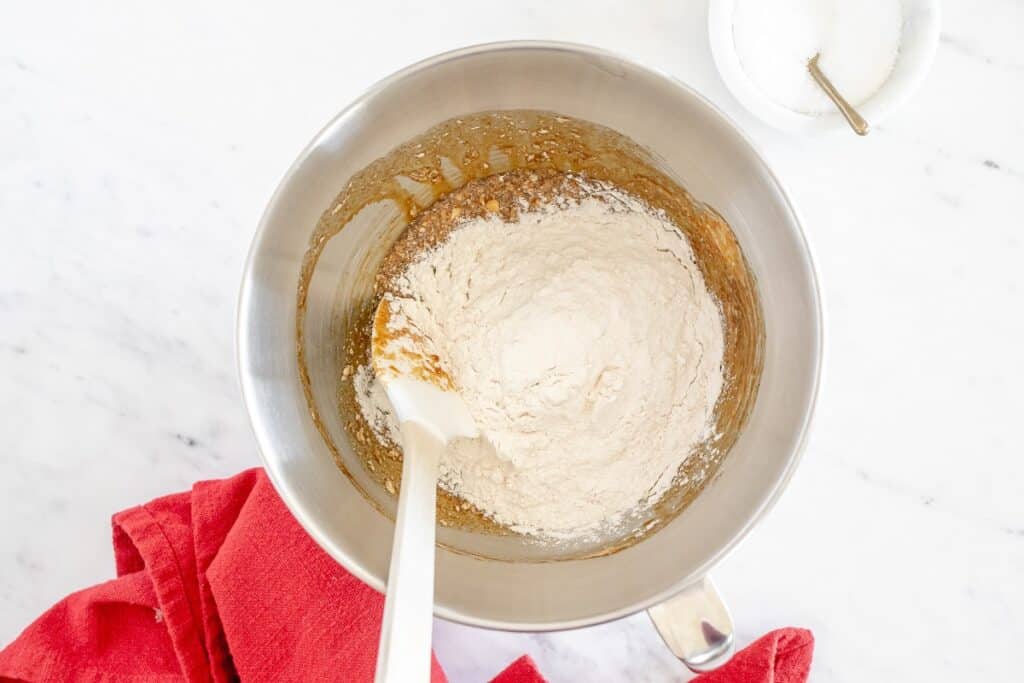 Mix until just combined.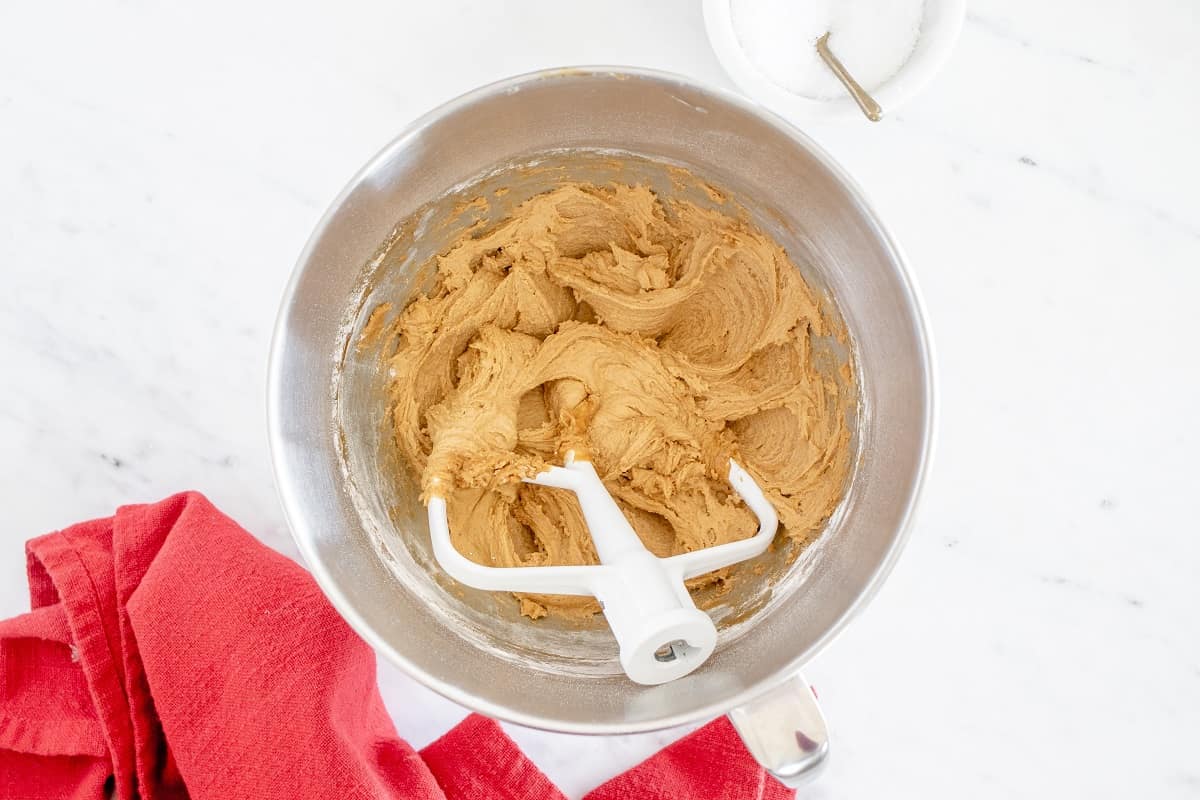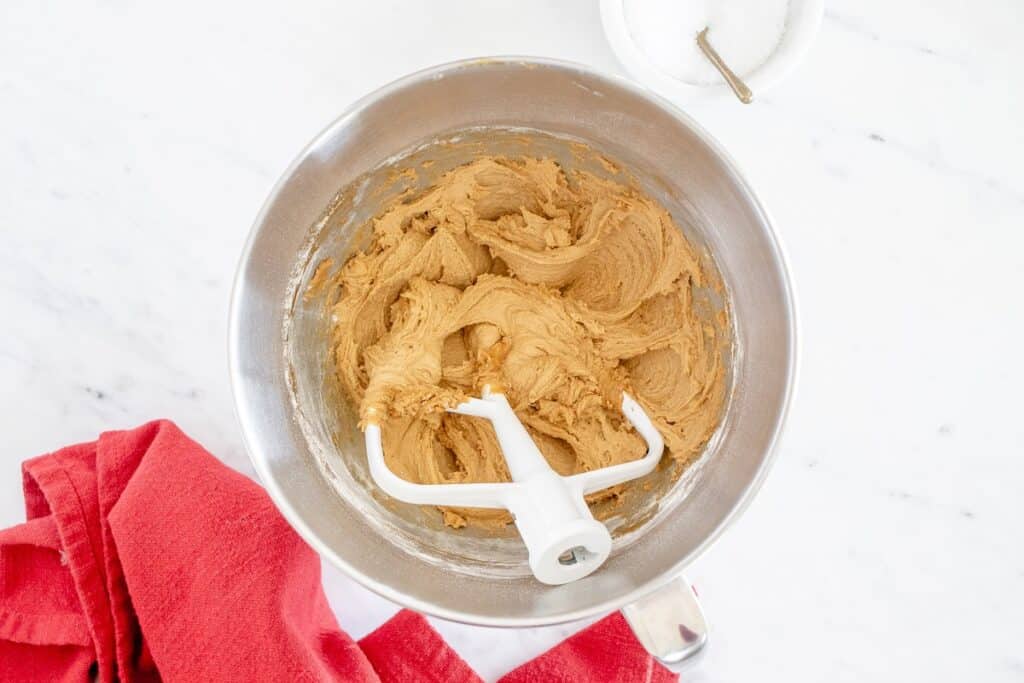 Note: If the dough is soft, chill in the freezer for 10-20 minutes before moving to the next step.
Now roll out the dough on a lightly floured surface. You want just enough flour on the surface so the dough doesn't stick when you're rolling, and also sprinkle a little on top so the rolling pin doesn't stick either.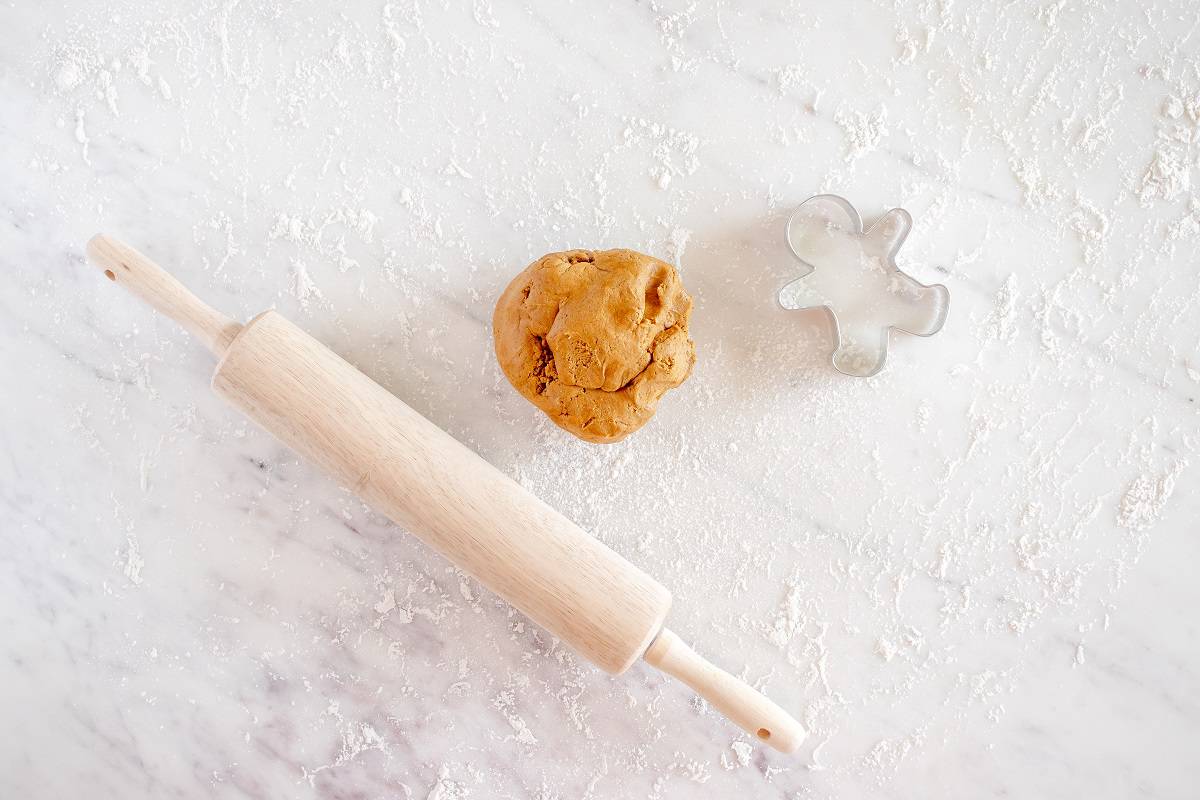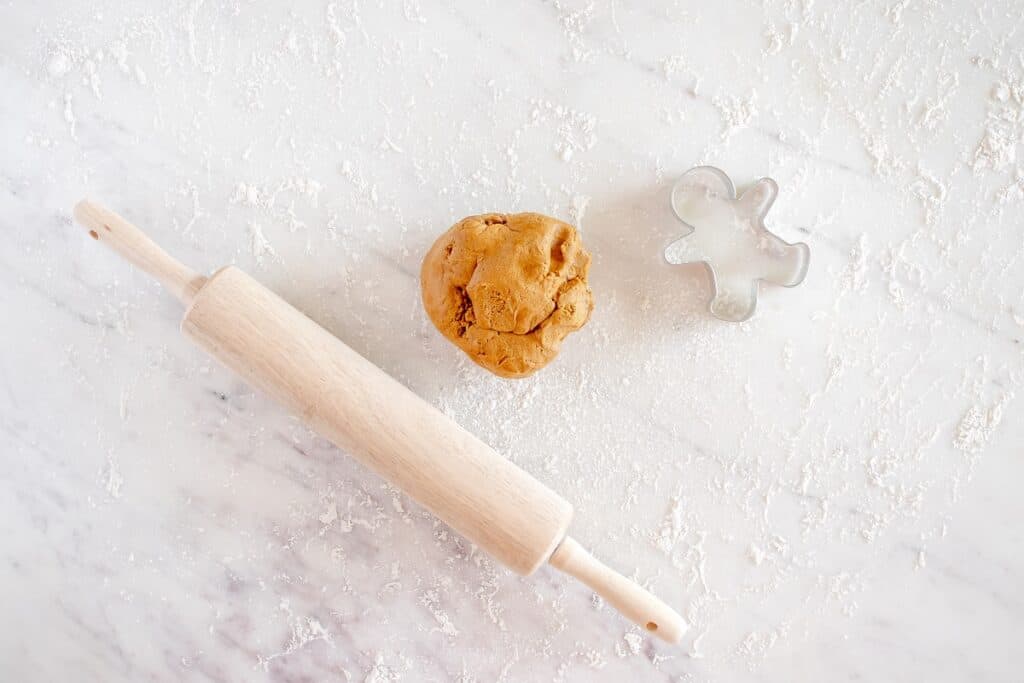 Use gingerbread cookie cutters to make your cookies, and place the dough onto the prepared baking sheets. When you have scraps of cookie dough left at the end, you can combine them together and roll it back out to get another couple cookies out of it.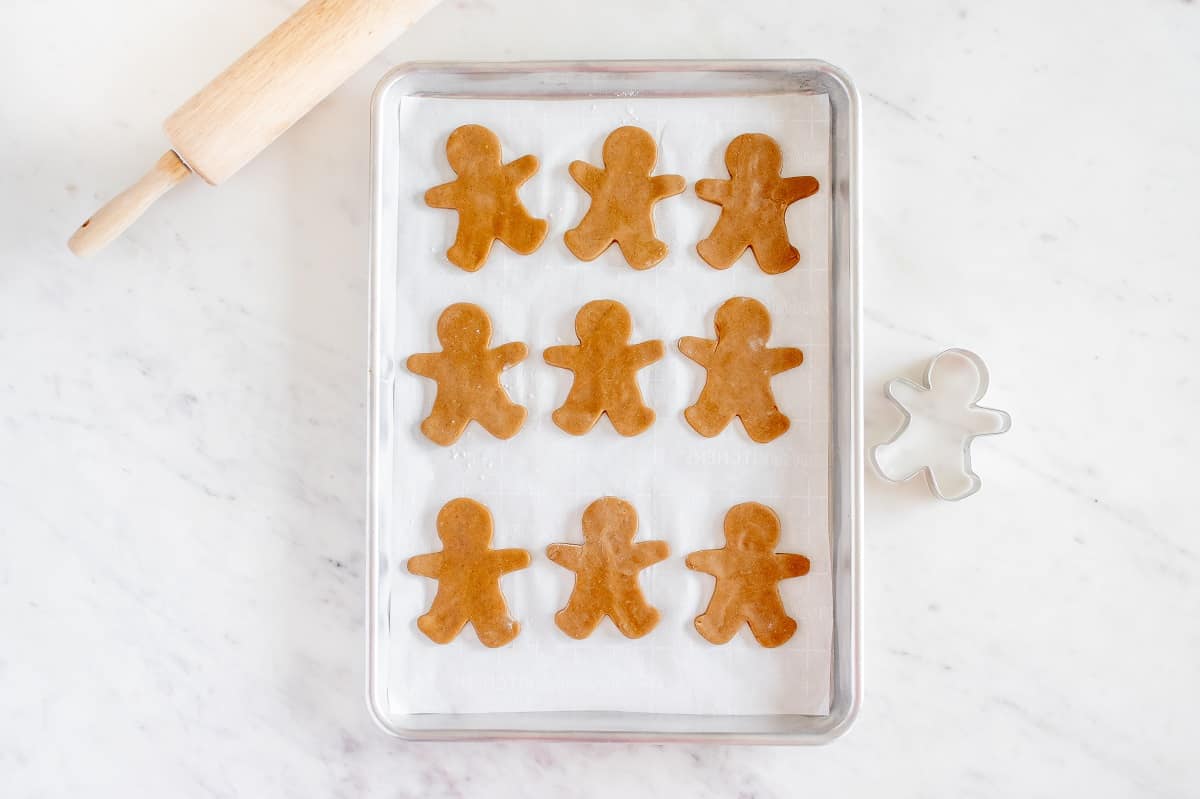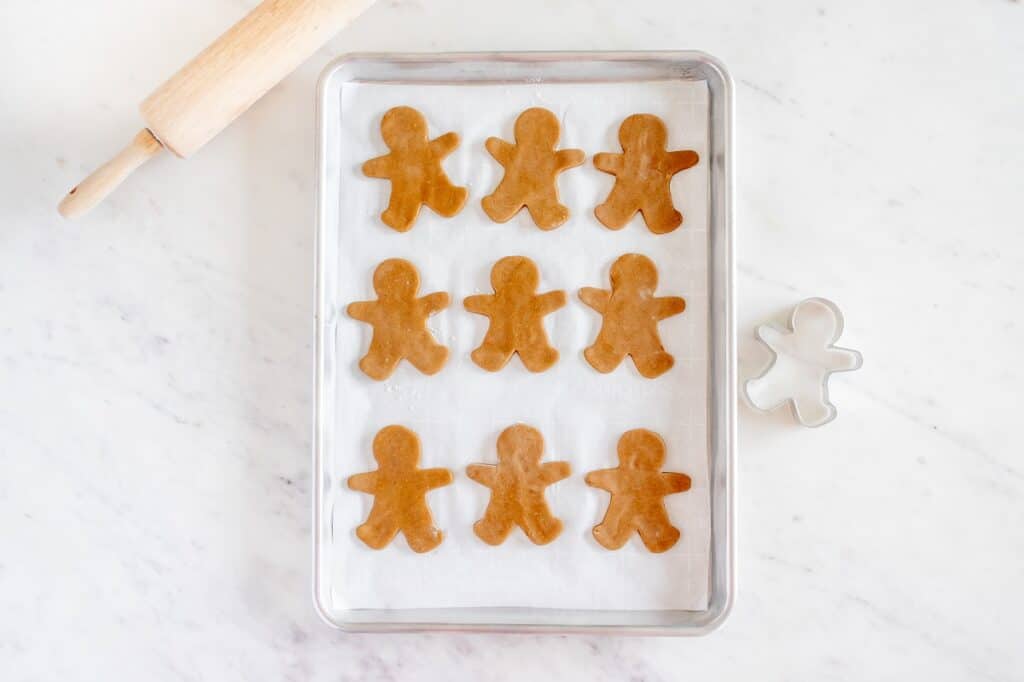 Pop those in the oven. It should take about 8-11 minutes, but keep an eye on them as the time will depend on the size of your cookie cutters. Smaller cookies are quicker to bake, while larger cookies may take a bit longer.
Let them cool, then dig in!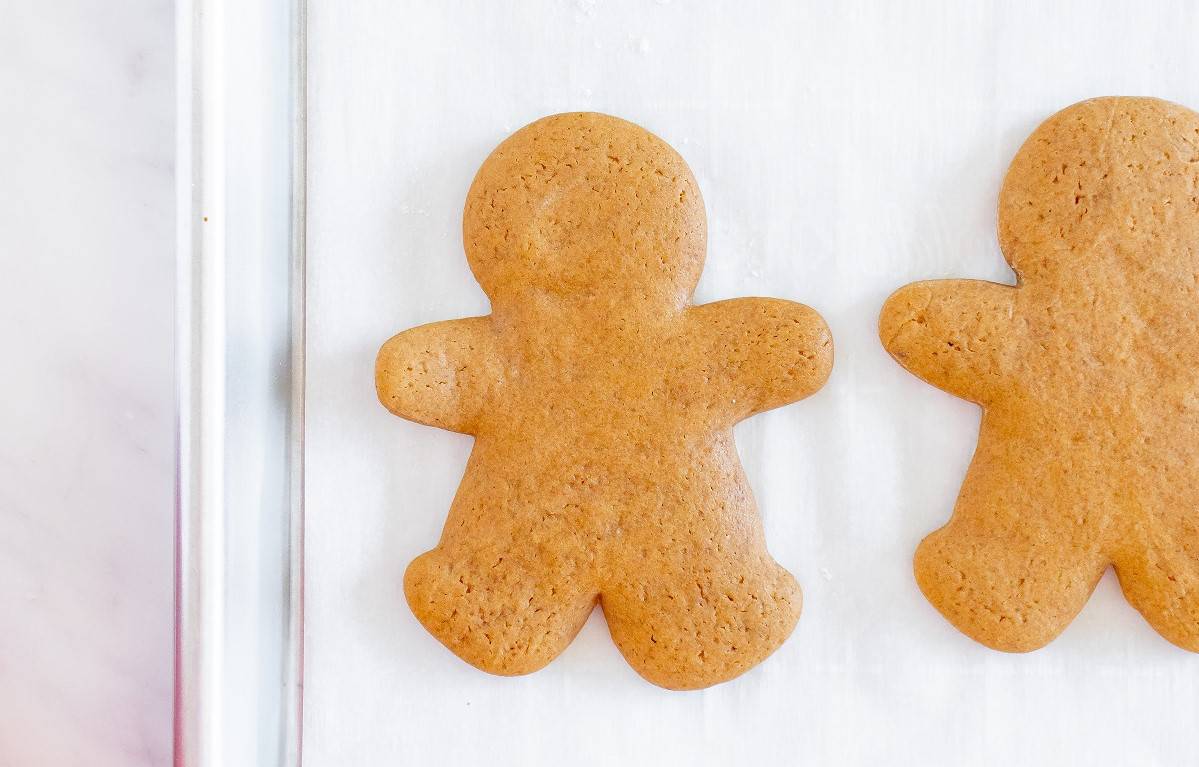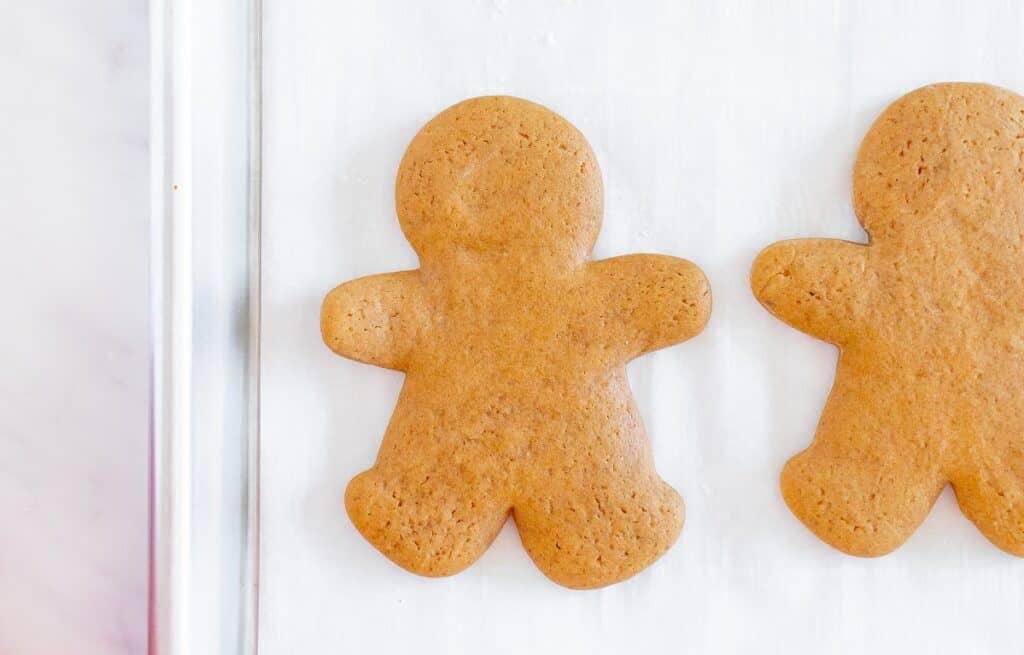 Recipe FAQ
Here are some common questions that may come up as you're preparing this recipe:
Can dairy free gingerbread cookies be frozen?
Yes! Feel free to place the baked cookies in a ziptop bag and freeze. Defrost at room temperature when ready to enjoy. Use within 2-3 months for best quality.
How should you store gingerbread cookies?
Store in an airtight container or ziptop bag at room temperature for up to a week.
How do you know when gingerbread cookies are done?
Gingerbread cookies are done when they no longer look moist on the top. It's hard to use color as a signal, because the color doesn't change much from the raw dough to the cooked final product (unlike other baked goods). You may notice a slightly darker color around the edge when it's done, though. Be careful not to overbake cookies, or they can dry out.
Allergens in this Recipe
Disclaimer: Always double check ingredients and labels yourself prior to making a recipe. While I try to check all ingredients for allergens, there's always the chance I may miss something, or manufacturer formulations can change.
As written, this recipe is dairy free and peanut free.
This recipe does contain wheat/gluten (in the flour) and eggs. I have not tested substitutions for these in this particular recipe.
This recipe may contain soy and tree nuts, depending on the type of dairy-free butter that you use. You can easily select a product that fits your needs.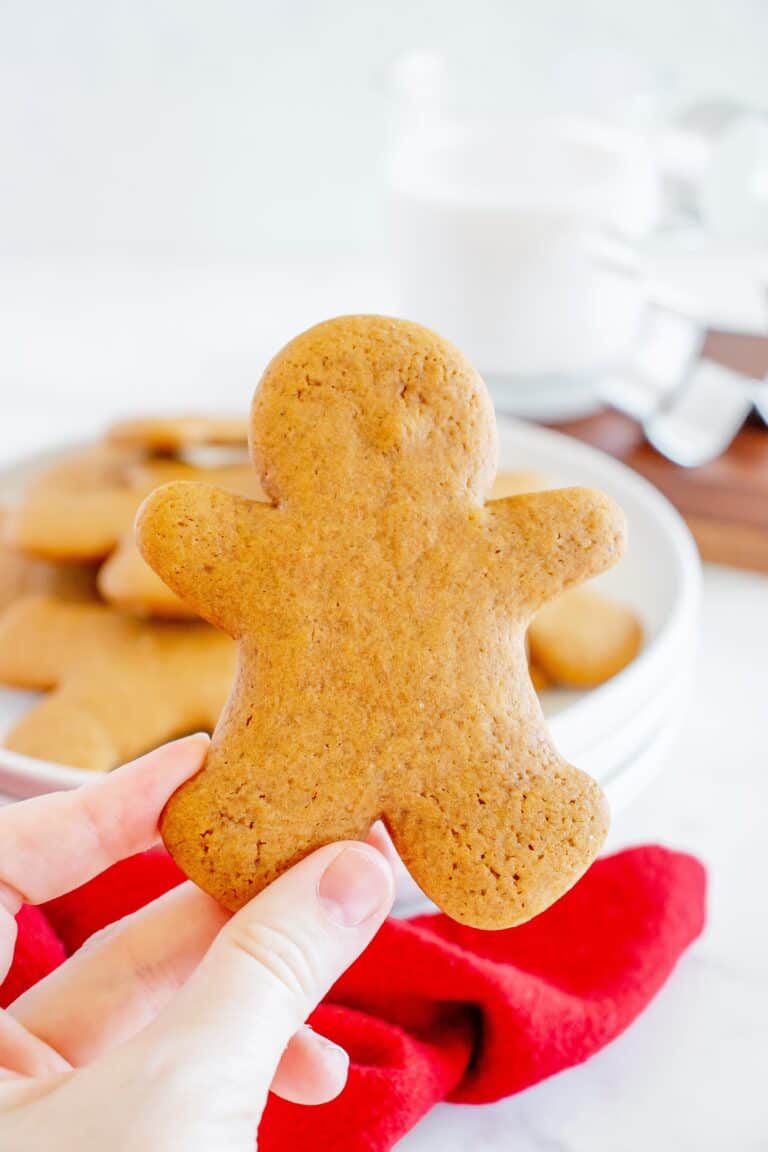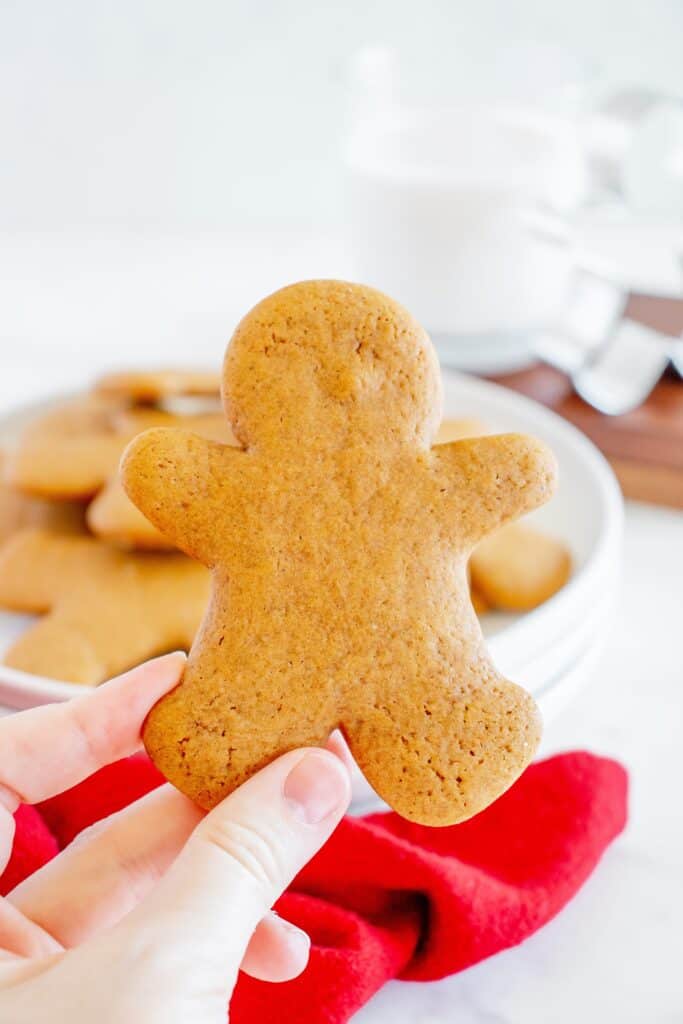 More Dairy Free Cookie Recipes
If you're looking for more crave-worthy cookies – no dairy needed! – be sure to give one of these a try:
I hope you enjoy these dairy free gingerbread cookies! While my son prefers my chocolate chip cookies, I am partial to these spiced delights during the holidays. If you get a chance to try them, feel free to leave a recipe rating or comment below.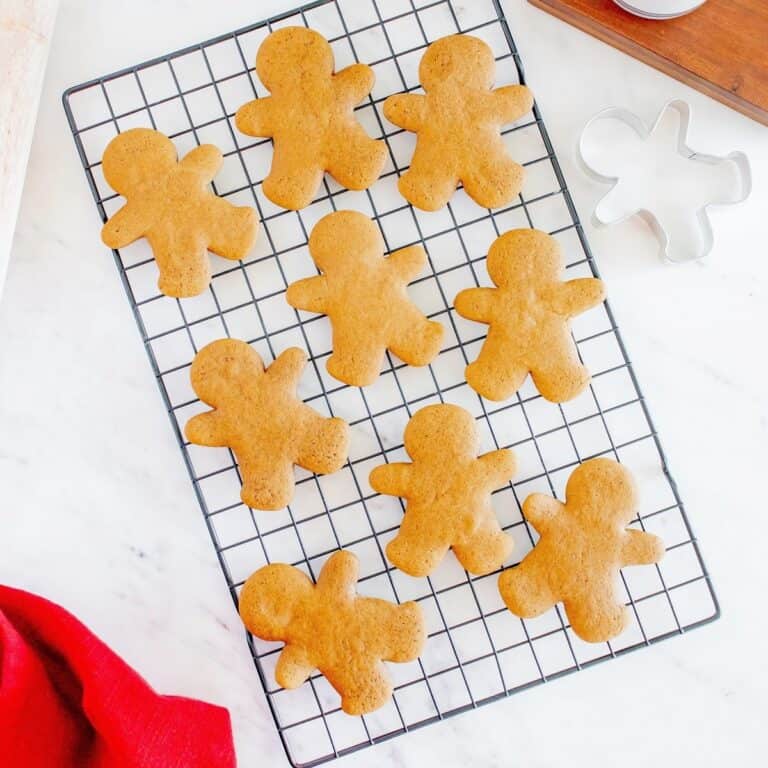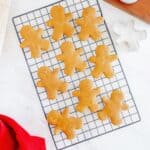 Dairy Free Gingerbread Cookies
Celebrate the holidays with these festive dairy free gingerbread cookies! Perfectly spiced and delicious.
Ingredients
5

tbsp

dairy-free butter

softened (i.e. Country Crock Plant Butter Sticks)

⅓

cup

brown sugar

⅓

cup

molasses

1

large egg

1 ½

tsp

ground ginger

1

tsp

ground cinnamon

¼

tsp

ground cloves

1 ½

cups

all-purpose flour

¼

tsp

baking soda

¼

tsp

salt
Instructions
Preheat the oven to 350 degrees F. Line two baking sheets with parchment paper.

In a large mixing bowl, combine the dairy-free butter, brown sugar, molasses, egg, ginger, cinnamon, and cloves. Beat the mixture until light, fluffy, and well-combined.

In a small mixing bowl, combine the flour, baking soda, and salt. Stir together, then pour into the wet ingredients. Mix until just combined.

Roll out the dough on a lightly floured surface until about ½-inch thick. Cut out with gingerbread man cookie cutters and place on the parchment-lined baking sheets.

Bake in the oven at 350 degrees F for about 8-11 minutes (depending on the size of your cookies), until the cookies are just cooked through. (Do not overbake).

Let cool on the baking sheet for 10 minutes, then remove to a cooling rack. Enjoy.
Recipe Notes
The yield for this recipe will vary based on the size of your cookie cutters. We get approximately 16 cookies from this, but you may end up with anywhere from 10-20ish depending on the size of the cookie cutter.
Nutrition analysis (approximate per cookie): 117 calories, 4 g fat, 1.5 g saturated fat, 100 mg sodium, 19 g carbohydrate, 0.5 g fiber, 8.5 g sugar, 1.5 g protein, Vitamin D: 0%, Calcium: 2%, Iron: 6%, Potassium: 3%
Feel free to pin this post to save for later!