Who's ready for a delicious cookie recipe?! These dairy free M&M cookies are easy to make and taste great. They're perfect when you're craving a sweet treat, or when you want to pack something special for your little one's lunch box.
Disclaimer: Always double check ingredients and product packaging to confirm a recipe meets your allergy needs. While I try to note potential allergens below, there is always the chance I may miss something or that manufacturer formulations may change.
Disclosure: This post contains Amazon affiliate links. As an affiliate, I earn a commission on qualifying purchases.
Ingredients
Here's what you'll need to make these cookies, along with some helpful notes about certain ingredients: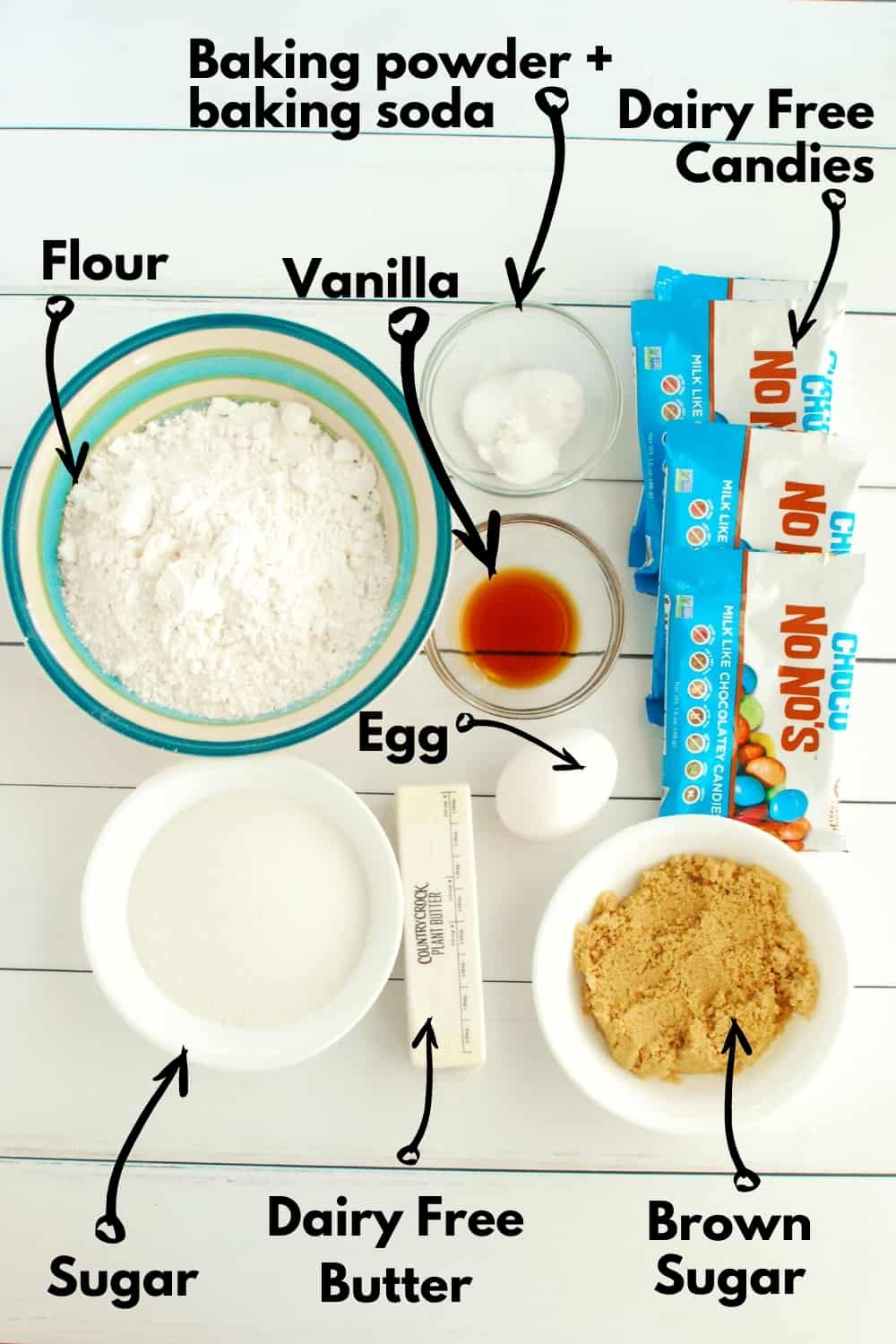 Dairy free butter – I recommend using the Country Crock Plant Butter Sticks with Avocado Oil. These have been a go-to option for me lately for dairy free baking – they work perfectly.
White sugar
Brown sugar
Egg
Vanilla
Flour
Baking soda
Baking powder
Salt
Dairy free M&M type candy – There are two main options that you can use, depending on the reasons you've embarked on a dairy free lifestyle, shown below.
Dairy Free M&M Options
Option 1: For those with food allergies, you'll want to choose the product I used here, called Choco No No's. These are made by a company called No Whey Foods, which specializes in allergen-friendly candy. According to their website, "Everything is created milk free, dairy free, peanut free, tree nut free, gluten free, soy free and egg free."
These are delicious and so similar to regular M&Ms! They come in 1.6-ounce packages. I recommend you purchase the large 12-count box, which is usually a better deal than ordering individually or by the 4-pack. As a heads up, 4 of the packs equals about a cup of candies, which is what is used in this recipe.
Yes, they are a little pricy, but worth it for a special treat when you want to make these dairy free M&M cookies.
Option 2: For those who are following a dairy free diet for other reasons – like ethical preferences or lactose intolerance – you could also use Unreal Dark Chocolate Crispy Quinoa Gems. Note that not every option from Unreal is free from dairy ingredients, so you must choose this option if you're looking for a choice that fits a dairy free diet.
However, I do not recommend the Unreal option for those who have allergies. They specifically give this information on their website:
"Are your vegan products suitable for people who have milk allergies? No. While the ingredients in our vegan-certified products are not made from animals or animal by-products, nor are they tested on animals, they are manufactured in a facility that also makes milk chocolate products. The line is completely cleaned after runs of dark chocolate and milk chocolate, but we cannot promise that our vegan treats are 100% free of any milk proteins."
Step by Step Instructions
This recipe is very simple to make. You're going to start by creaming together your dairy free butter and sugars. You want it to look light and fluffy, like this: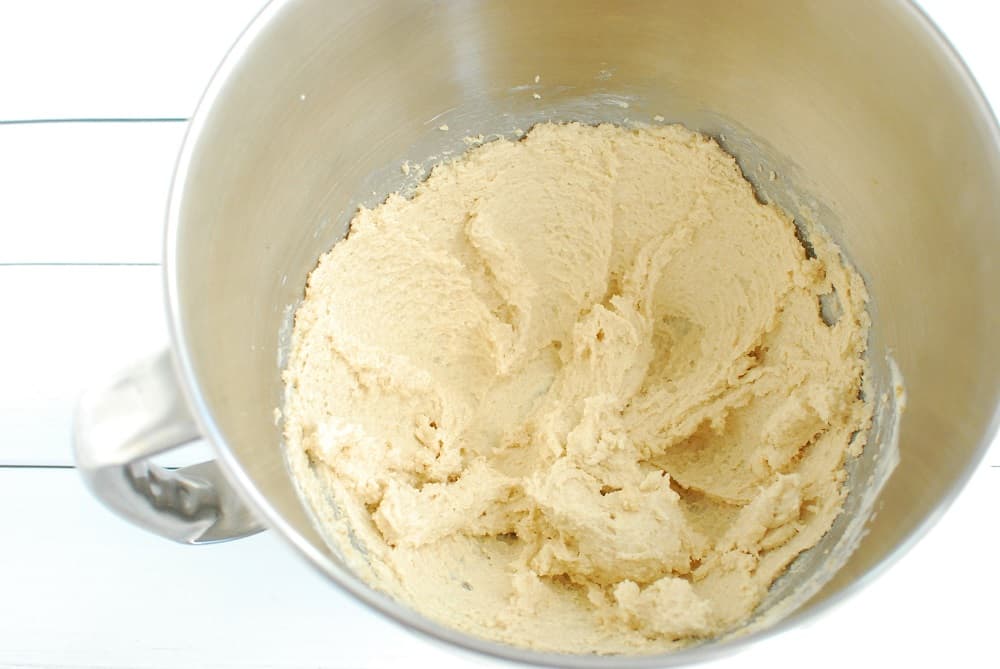 Then mix in your eggs and vanilla. Once that's done, add your dry ingredients.
Best practice is to mix the dry ingredients first in a separate bowl, but if anyone else is a busy mom like me – I'm all about quick hacks and fewer dirty dishes. Because of this, I just add the dry ingredients on top of the liquid ingredients, then give them a light stir without disturbing the liquid ingredients underneath. Then I go ahead and mix it all up.
Next, fold the candies in. Here's what the cookie dough will look like: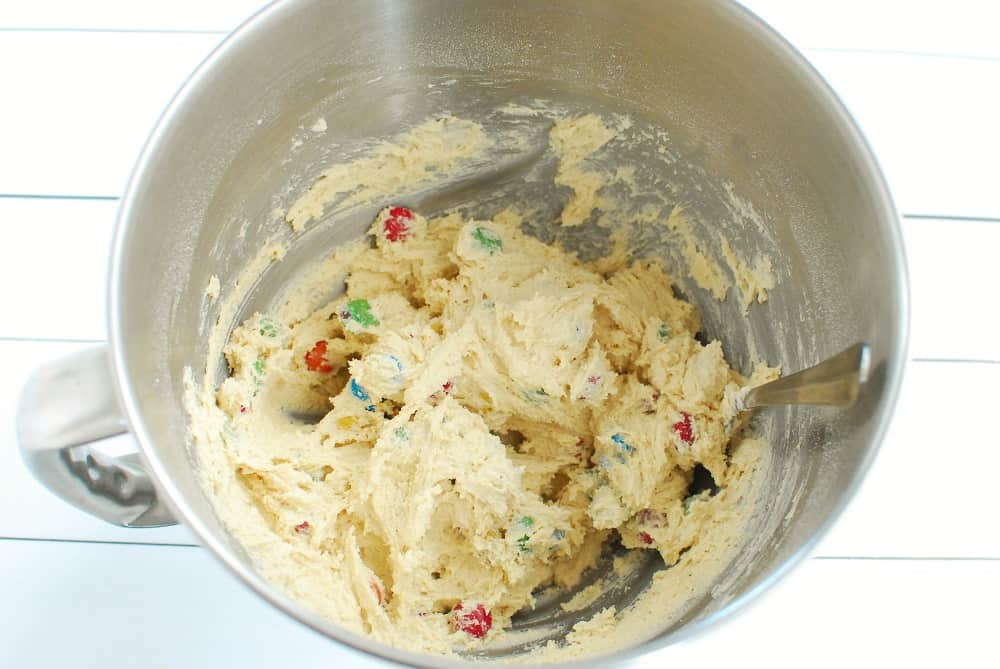 After that, all you need to do is drop heaping tablespoons of the dough onto your lined baking sheets. If you have a cookie scoop, feel free to use it! I just take a tablespoon measure and get a heaping scoop when I'm making these.
Bake 'em up and get ready to dig into deliciousness! The cookies should come out like a thick sugar cookie with the candy pieces (they won't be larger chunky cookies).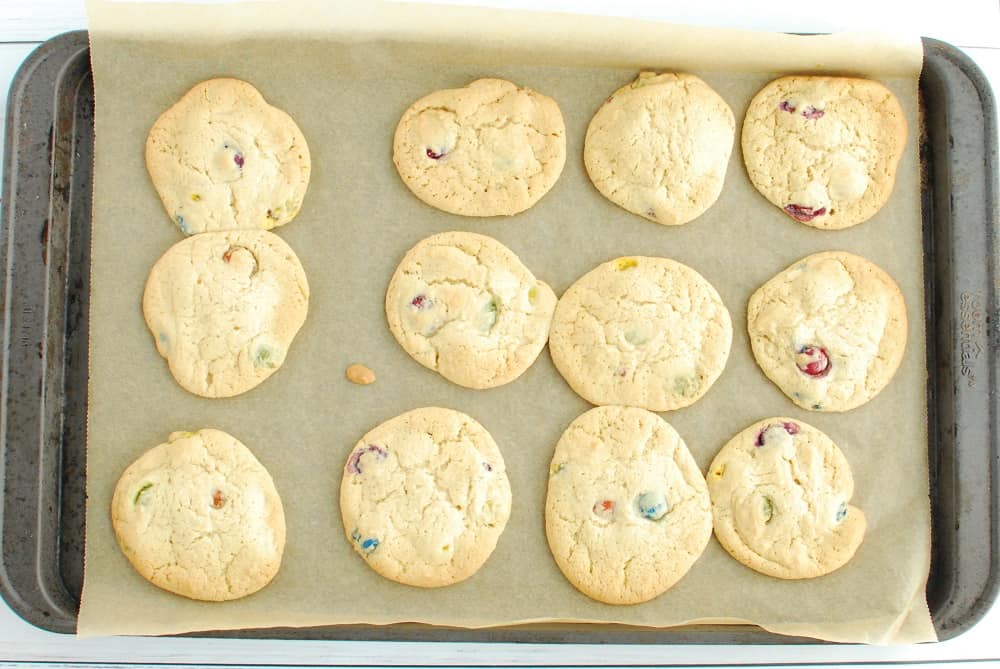 Recipe FAQ
Here are some common questions that may come up as you prepare this recipe:
How should you store these cookies? Store them in an air tight container at room temperature for up to a week (but I doubt they'll last that long!).
Can you freeze the cookie dough? Yes! Portion it into heaping tablespoons on the baking sheet, and freeze like that for 1-2 hours. Then transfer the cookie dough balls into a zip top bag and return to the freezer. You can bake them from frozen; they may need an extra few minutes in the oven.
Are there other dairy free cookies you'd recommend? Yes! Try our dairy free chocolate cookies with white chocolate chips, cut out sugar cookies, dairy free cowboy cookies, and snickerdoodles.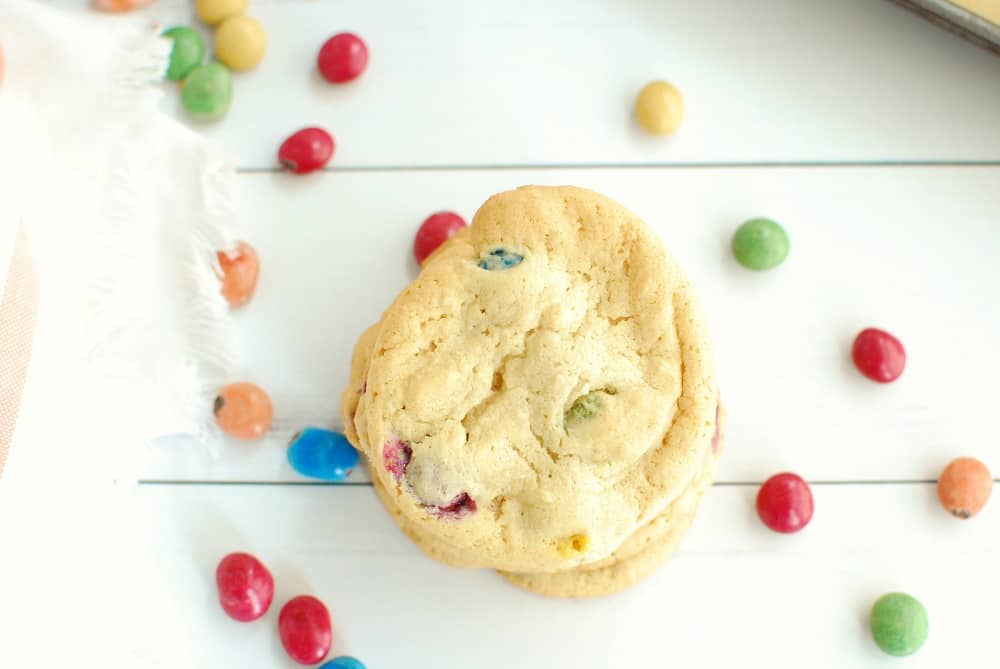 Allergens in this recipe
As written, this recipe is dairy-free. It should also be nut-free as long as the dairy-free butter you are using does not contain nuts (double check labels).
This can easily be made soy-free. The Country Crock Avocado Butter sticks that I used do have a "may contain soy" warning. Instead, if you need a dairy-free and soy-free option, use the soy-free Earth Balance sticks.
This recipe does contain wheat/gluten and eggs. While I have not tested substitutions for either of these and thus can't guarantee results with substitutions, here are my best-guess suggestions if you want to try:
To make gluten free: Substitute a 1:1 gluten free flour blend instead of the all-purpose flour. I do not recommend making other substitutions (i.e. eliminating eggs) if you do this, as gluten free flour will need the structural help of the egg.
To make egg-free: Eggs do help give these cookies structure, but I would imagine a flax egg (1 tbsp ground flax + 2 tbsp water) would work if you need to make that substitution when using all-purpose flour.
I hope you enjoy this recipe! If you get a chance to try it, please feel free to leave a recipe rating or comment below.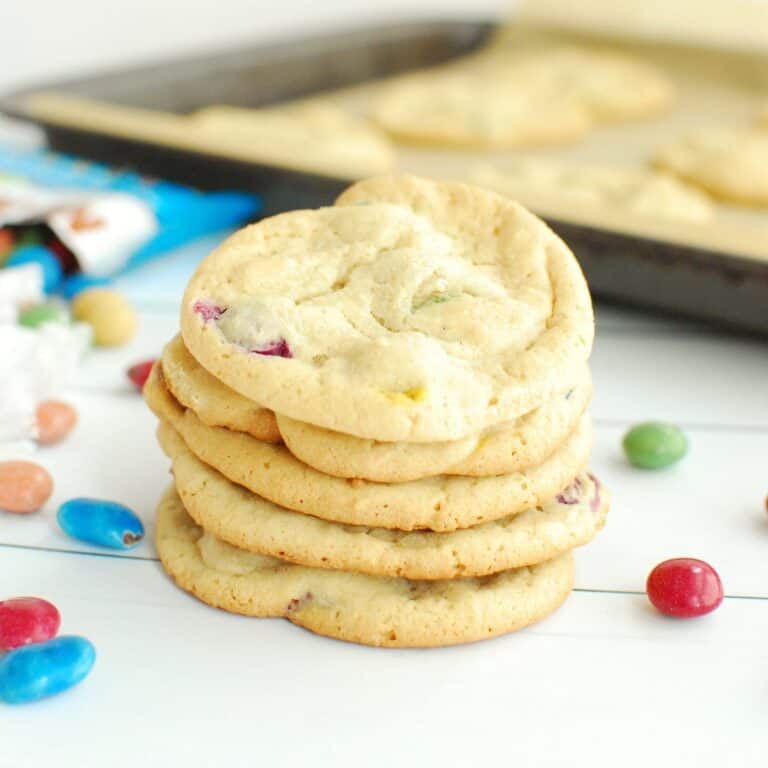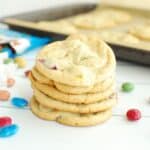 Dairy Free M&M Cookies
These dairy free M&M cookies are a delicious treat when you're craving something sweet!
Ingredients
½

cup

dairy free butter

½

cup

white sugar

⅓

cup

brown sugar

1

large egg

1

tsp

vanilla extract

1 ½

cups

all-purpose flour

½

tsp

baking soda

½

tsp

baking powder

¼

tsp

salt

1

cup

Choco No Nos

(or another dairy free M&M-type candy)
Instructions
Preheat the oven to 350 degrees F. Line two baking sheets with parchment paper.

In a mixing bowl, cream together the butter, white sugar, and brown sugar, until light and fluffy.

Add in the eggs and vanilla, and mix again until light and fluffy.

Add the flour, baking soda, baking powder, and salt to the bowl. Lightly stir the ingredients on top to mix the dry ingredients, then fully stir the bowl to combine everything together. Fold in the Choco No Nos.

Drop heaping tablespoons of the dough onto your baking sheets. Bake the cookies at 350 degrees F for 9 to 12 minutes, or until cooked through. Let cool on the baking sheet, then enjoy!
Recipe Notes
1 cup of Choco No Nos is approximately equivalent to 4 of their 1.6-oz packages.
Nutrition analysis (approximate per cookie): 130 calories, 6 g fat, 3 g saturated fat, 100 mg sodium, 18.5 g carbohydrate, 0 g fiber, 11.5 g sugar, 1 g protein, Vitamin D: 0%, Calcium: 1%, Iron: 2%, Potassium: 0%
Share: What's your favorite kind of dairy free cookie? If you tried these, what did you think?
Please pin this post to share with others! 🙂