Enjoy a delicious dinner this week by making these dairy free chicken enchiladas! Corn tortillas are stuffed with chicken and black beans, then topped off with a tangy green enchilada sauce. Your whole family will love this flavor-packed recipe!
What are enchiladas?
Enchiladas typically consist of cheese, eggs, fish, and/or meat, wrapped in corn tortillas, topped with sauce. Typically, the corn tortillas were first dipped in the enchilada sauce then fried prior to being stuffed with filling. They're an integral part of Mexican culinary cuisine, and many variations have arose from traditional versions.
Clearly, our dairy free version is not authentic, since most traditional enchiladas contain some type of cheese. To make it a quick weeknight meal, we also skipped frying the tortillas – but you can certainly add this step in for a truer take on this dish.
Ingredients
Here are the ingredients you'll need to prepare this recipe, along with selected ingredient notes: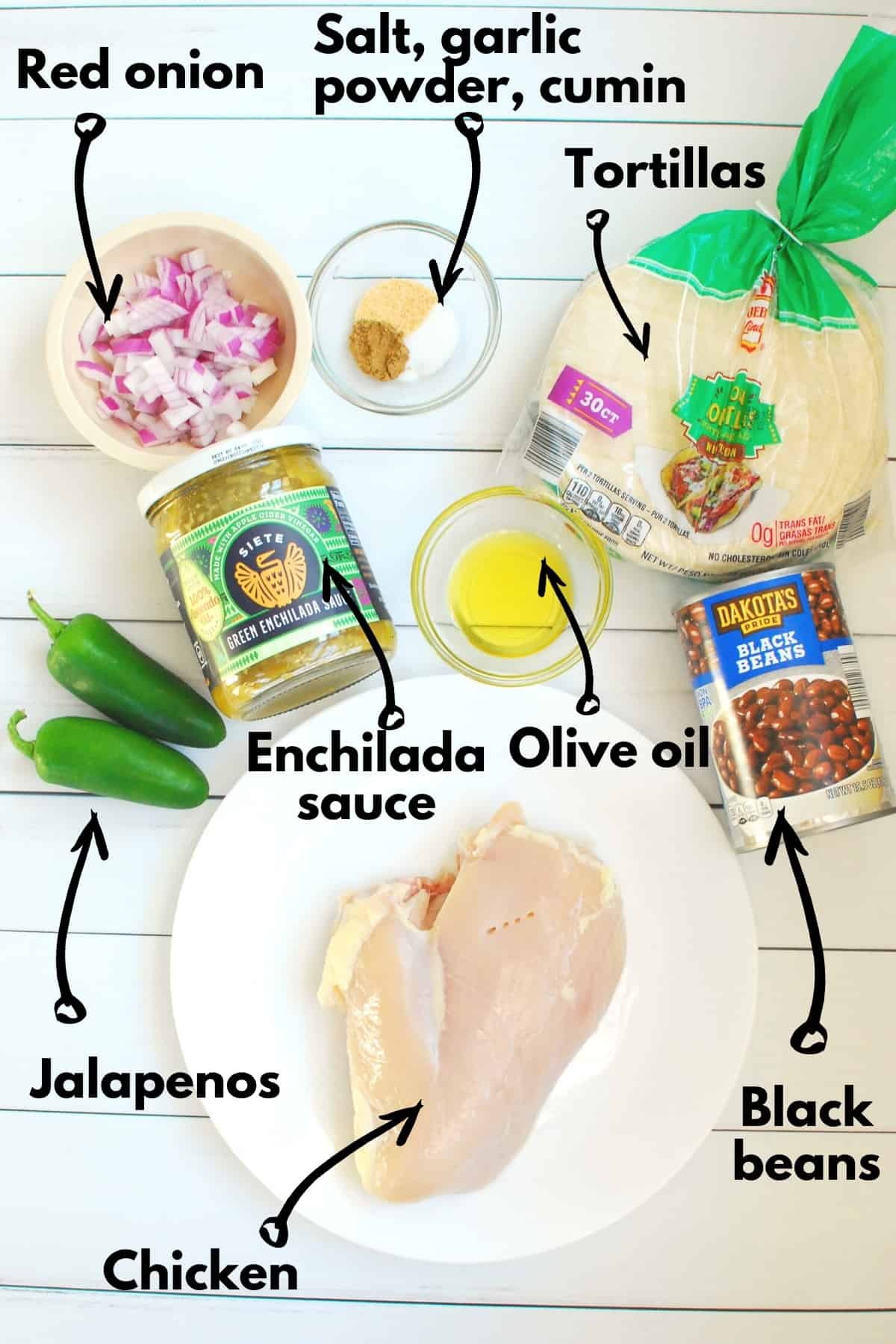 Chicken breast – I used raw chicken breast and cooked it specifically for this recipe, but if you have leftover homemade or rotisserie chicken, that makes this recipe come to the table even faster!
Enchilada sauce – Most commercial enchilada sauces should be dairy free, but always double check the label.
Tortillas – For these enchiladas, corn tortillas are the traditional choice. You can also use flour if you prefer; just be mindful that they sometimes can get a bit soggy upon baking with enchilada sauce. If you need a completely grain-free recipe, you can also use something like almond flour tortillas or cassava/coconut tortillas.
Step by Step Instructions
You'll find full recipe amounts and instructions at the bottom in the recipe card, but here are some helpful step-by-step tips and photos.
You're going to start by preparing the chicken (if you're making shredded chicken from scratch). To do so, place the chicken in a sauté pan (the type with raised sides) or a pot, and cover with water.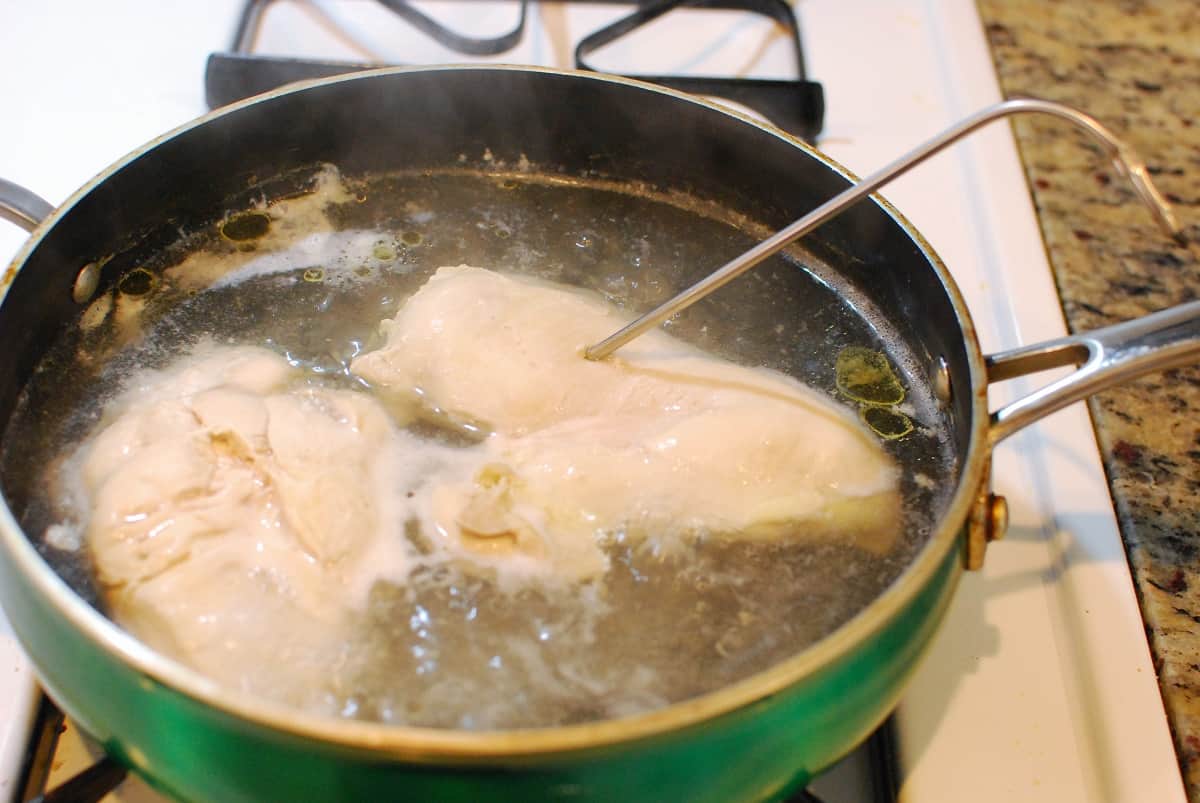 Bring that to a boil, then reduce to a simmer. It'll take around 12-16 minutes to cook, sometimes a bit longer if the chicken breast is very thick. For this reason, I recommend slicing them in half if thick.
You always want to use a meat thermometer to double check that the chicken has reached 165 degrees F. This will help you reduce food safety issues and also prevent you from overcooking the chicken.
When the chicken is done, just shred it on a cutting board using two forks.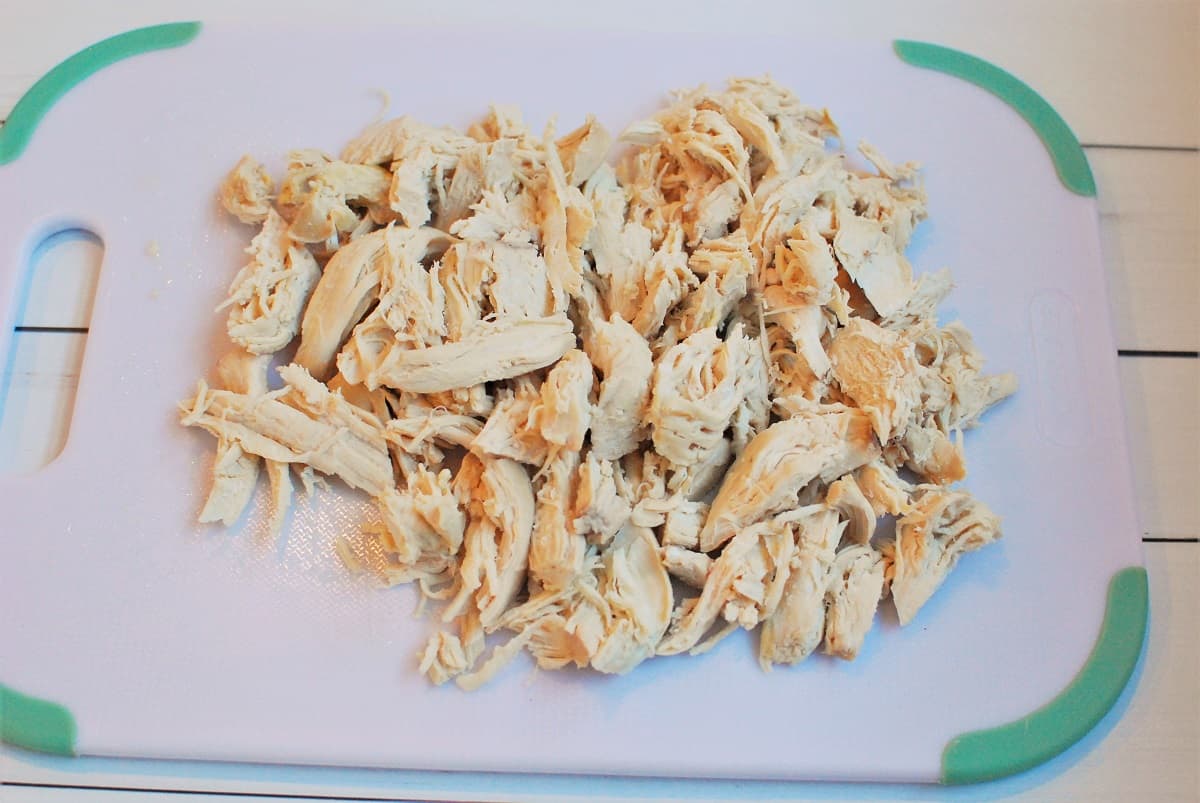 Pop that in a bowl while you prepare your veggies.
You're going to sauté your onions and jalapeno for a few minutes until they start to get tender, then mix in your seasonings.
Now go ahead and mix those veggies with your shredded chicken and a can of black beans in a mixing bowl. Add a half cup of the enchilada sauce, and toss everything together. This is your filling.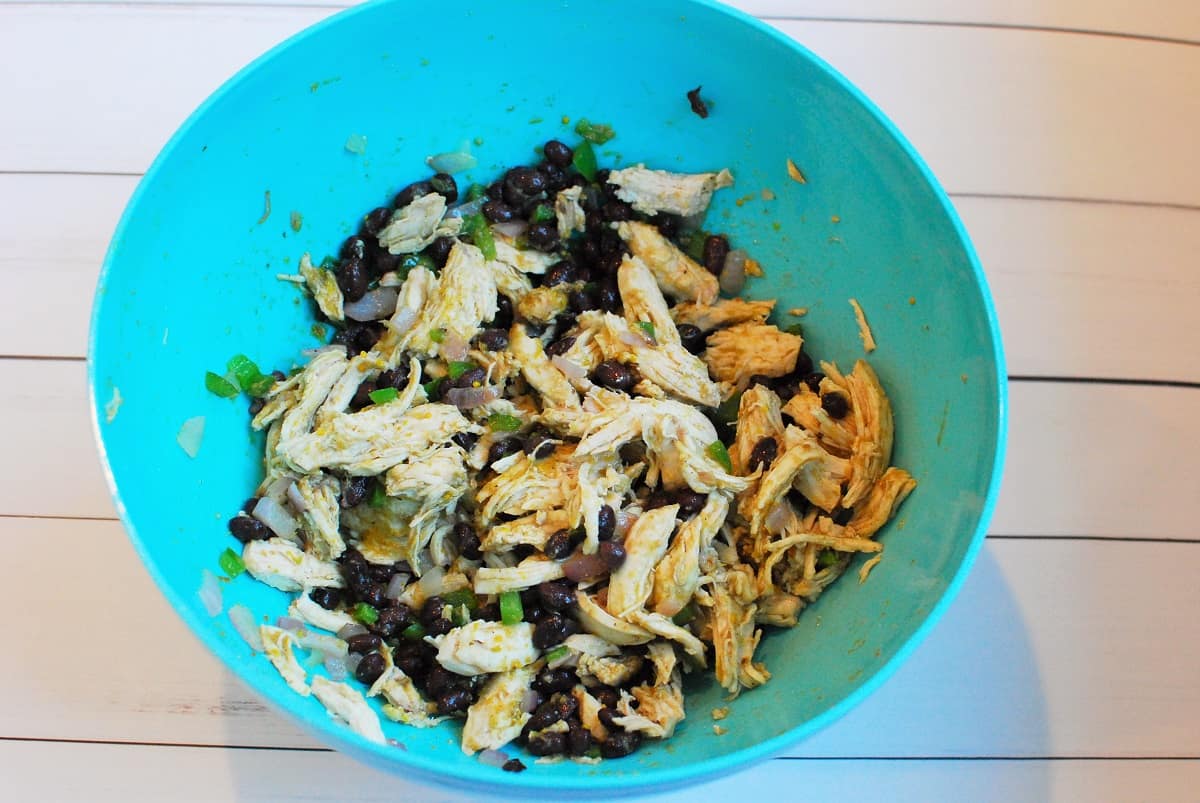 Take your corn tortillas and place some filling in the center. Roll the tortilla up and place it seam side down in your baking dish.
Repeat until you are out of filling. I have ten corn tortillas listed in the recipe, but you might have enough filling to get one or two extra (I got eleven when I made the ones I photographed below).
Top them all off with the rest of your enchilada sauce.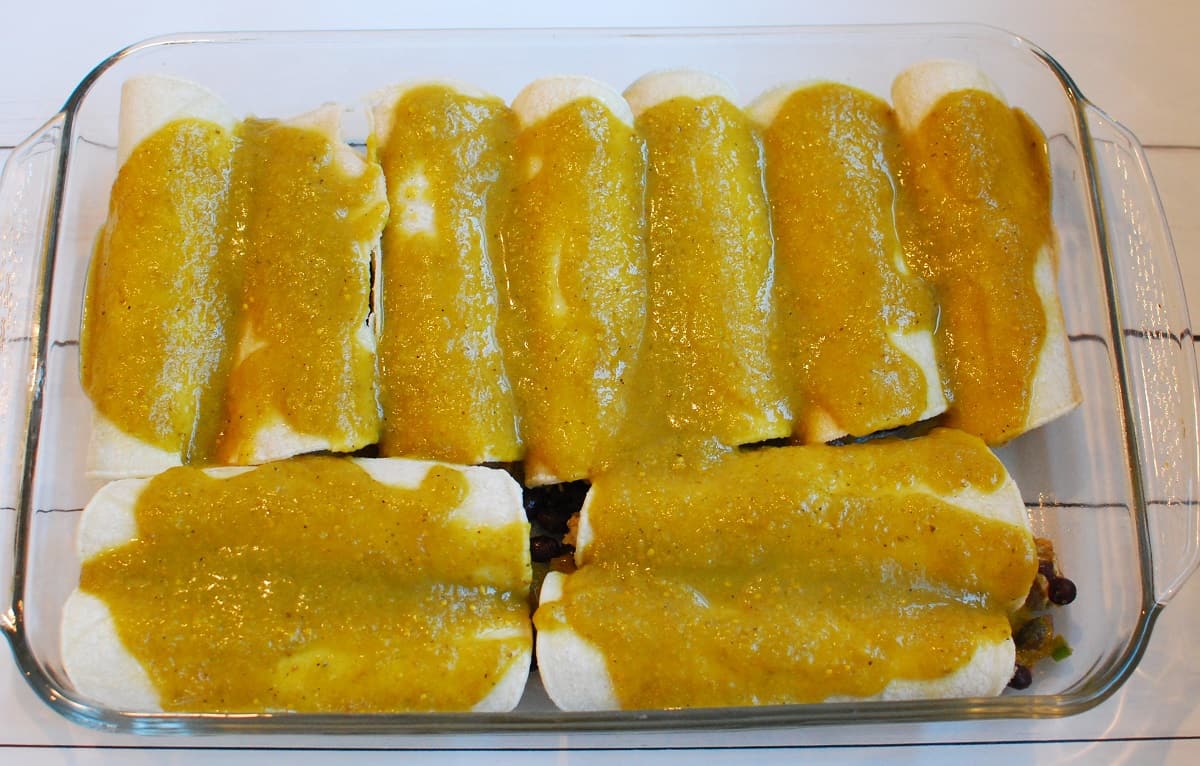 Next, bake this until everything is nice and hot.
Now you're ready to dig in! You can eat it as-is, or you can add some of your favorite toppings. I personally like these topped with cilantro and dairy free queso. You could also use avocado or some pico de gallo.
Recipe FAQ
Here are some common questions that may come up as you prepare this recipe:
Can these be made ahead of time? Yes, you can bake them ahead of time and then reheat a serving in the microwave when you're ready to eat. However, for optimal flavor and texture, it's better to make them when you plan to eat them.
Can you add dairy free cheese to this recipe? Sure, if you'd like to add some shredded dairy-free cheese, feel free to mix that into the filling and/or sprinkle on top.
What are some good side dishes for enchiladas? You don't necessarily need a side dish for this recipe, as it can be dinner on its own. But if you'd like a side, try serving this alongside a mango avocado salad, chips and guac, refried beans, seasoned rice, or street corn.
Allergen information
* Disclaimer: Always double check ingredients and product packaging to confirm a recipe meets your allergy needs. While I try to note potential allergens below, there is always the chance I may miss something or that manufacturer formulations may change.
As written, this dairy free enchilada recipe should be dairy free, egg free, and fish/shellfish free.
Depending on your choice of enchilada sauce, this recipe may contain wheat/gluten. Some sauces use wheat as a thickening agent. However, the sauce we used – Siete Foods green enchilada sauce – is gluten free.
Similarly, depending on your choice of tortillas and sauce, this recipe may contain soy. The corn tortillas we used and the enchilada sauce we used did not contain soy. However, you'll want to check the ingredients on any product you plan to use.
If you decide to top this recipe with dairy free queso, it would also contain nuts (cashews).
More dairy free dinner ideas
Need some more dairy free dinner inspiration? Try one of these tasty meals:
I hope you enjoy this recipe! If you get a chance to try it, please feel free to leave a recipe rating or comment.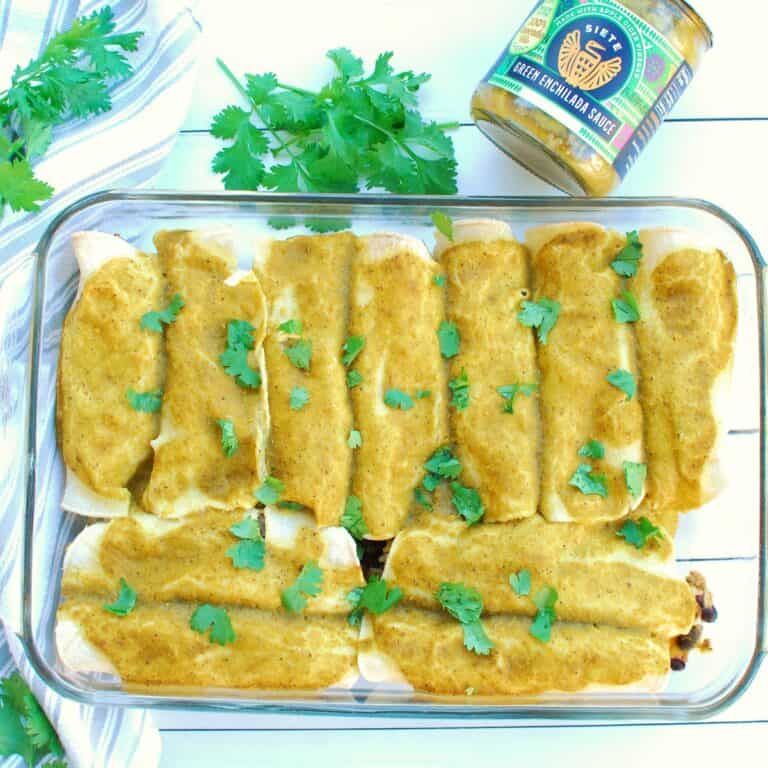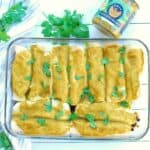 Dairy Free Enchiladas
These dairy free enchiladas are packed with flavor, easy to make, and use simple ingredients.
Ingredients
For the enchiladas:
1

lb

boneless skinless chicken breast, sliced in half if thick

(or pre-cooked chicken)

1

tbsp

olive oil

½

large red onion, chopped

2

jalapenos, finely chopped

¼

tsp

salt

¼

tsp

ground cumin

¼

tsp

garlic powder

15.5

oz

can of black beans, drained and rinsed

15

oz

jar or can of green enchilada sauce, divided

(i.e. Siete Foods)

10

corn tortillas
Optional for topping:
Cilantro

Avocado or guacamole

Dairy free queso

(i.e. Siete Foods)
Instructions
Preheat the oven to 350 degrees F. Grease a 9x13 baking dish and set aside for now.

If using precooked chicken, skip ahead to the next step. Otherwise, add the uncooked chicken breast(s) to a sauté pan or pot. Add water until the chicken is just covered. Bring to a boil, then reduce to a low simmer for 12-16 minutes, flipping halfway through, until chicken is cooked through and reached an internal temperature of 165 degrees F.

Remove the chicken breast to a cutting board and shred. Place in a bowl and set aside for now.

Discard any liquid left in the sauté pan, then add olive oil over medium heat. Add the onion and jalapeno and cook for about 5 minutes, until the veggies start to get tender. Stir in the salt, cumin, and garlic powder. Remove from heat.

To the bowl with the shredded chicken, add the sauteed veggies, can of black beans, and ½ cup of the enchilada sauce. Stir everything to combine well.

Add the filling to each tortilla, then roll up the tortillas, placing them seam side down in the 9x13 baking dish. Top with remaining enchilada sauce and bake at 350 for 20-30 minutes, or until everything is hot throughout. Enjoy with optional toppings as desired!
Recipe Notes
This recipe makes about 10 enchiladas. For the purposes of planning, assume 2 enchiladas is a serving.
Nutrition analysis (approximate per enchilada, does not include optional toppings): 209 calories, 7.5 g fat, 1.5 g saturated fat, 450 mg sodium, 22.5 g carbohydrate, 5.5 g fiber, 2.5 g sugar, 13.5 g protein, Vitamin D: 1%, Calcium: 5%, Iron: 8%, Potassium: 7%
Share: What's your favorite weeknight dinner?
Feel free to pin this post to refer to later and share with others 🙂