When you went dairy free, did you think lasagna was off the table?  You're in luck, because I've got an insanely delicious dairy free lasagna that even your cheese-loving pals will enjoy!  It's made with just eight ingredients and tastes amazing.
How to make dairy free lasagna
If you take a quick glance at the recipe, it might seem like a lot of steps – but I promise, this is easy to make!  A lot of things are done simultaneously so it doesn't take a ton of time to prep this.
To make this, you'll only need 8 simple ingredients:
Olive oil
Mushrooms
Spinach
Lasagna noodles
Onion
Ground beef (can skip this if you're vegetarian)
Pasta sauce
Fauxcotta (a ricotta substitute)
Once you've got all your ingredients, there's three prep steps for this dairy free lasagna:
1) Prep your lasagna noodles – I get the water going at the start and add them in when it's boiling, that way they're cooking while I'm prepping the next two things
2) Prep your veggies – For this, you'll sauté the mushrooms and spinach in the olive oil.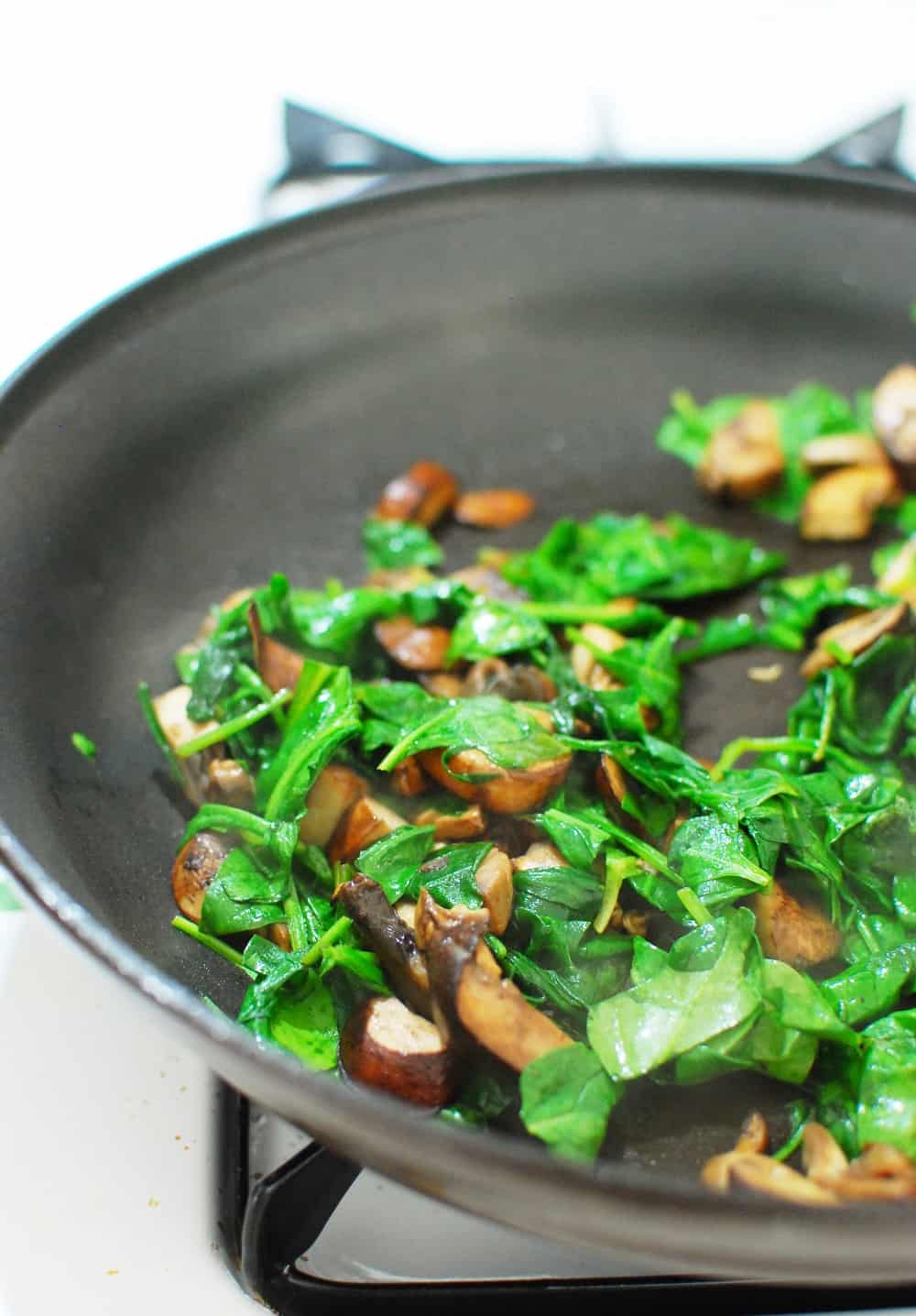 3) Prep your meat sauce – You'll saute the ground beef and onion (shown below) then mix it up with pasta sauce.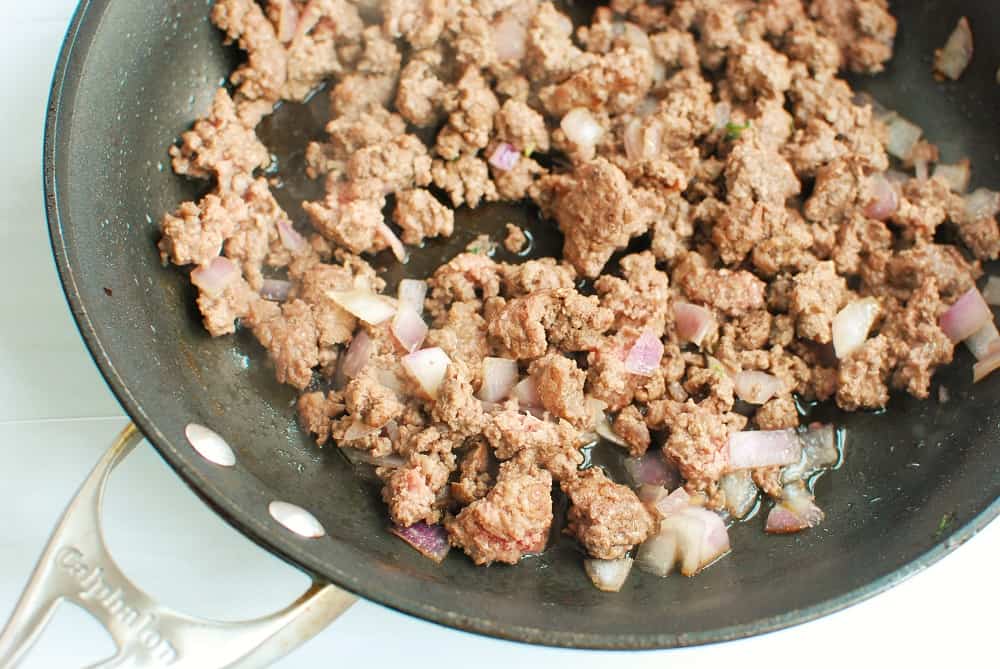 After that, you'll just layer the ingredients and bake!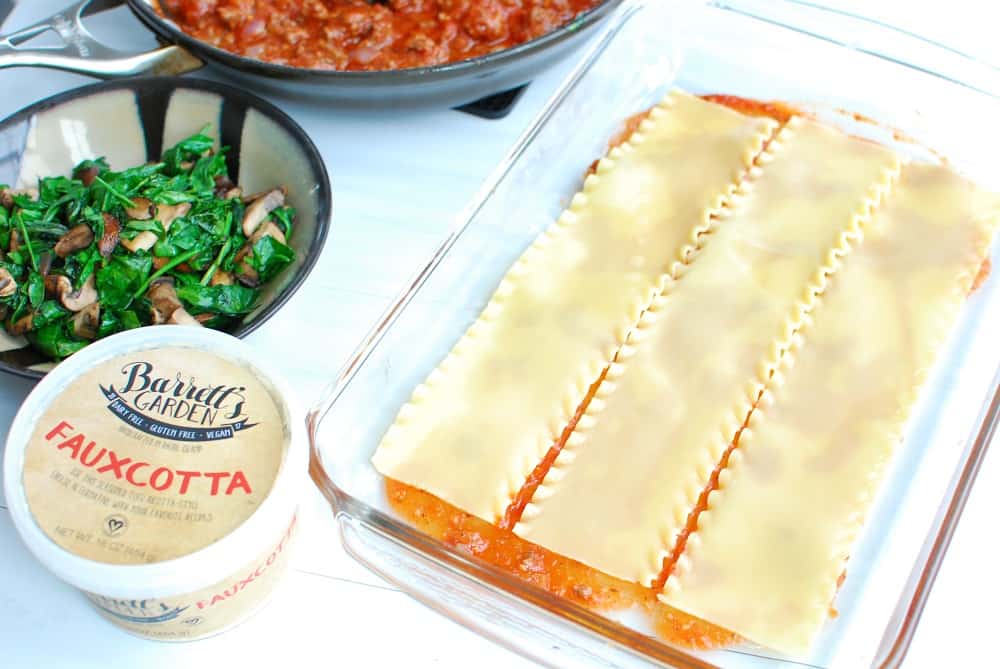 Here's how I like to layer them:
Layer 1:
Little pasta sauce that you've set aside, spread on the bottom of the dish
3 noodles
1/2 fauxcotta
1/2 spinach/mushroom mixture
1/3 meat sauce
Layer 2:
3 noodles
1/2 fauxcotta
1/2 spinach/mushroom mixture
1/3 meat sauce
Layer 3:
What is Fauxcotta and where do I get it?!
Fauxcotta is a ricotta substitute made by Barrett's Garden.  It's a tofu base that's pre-seasoned with Italian herbs like oregano and basil.  I think it's extremely similar to ricotta when used in lasagna or stuffed shells!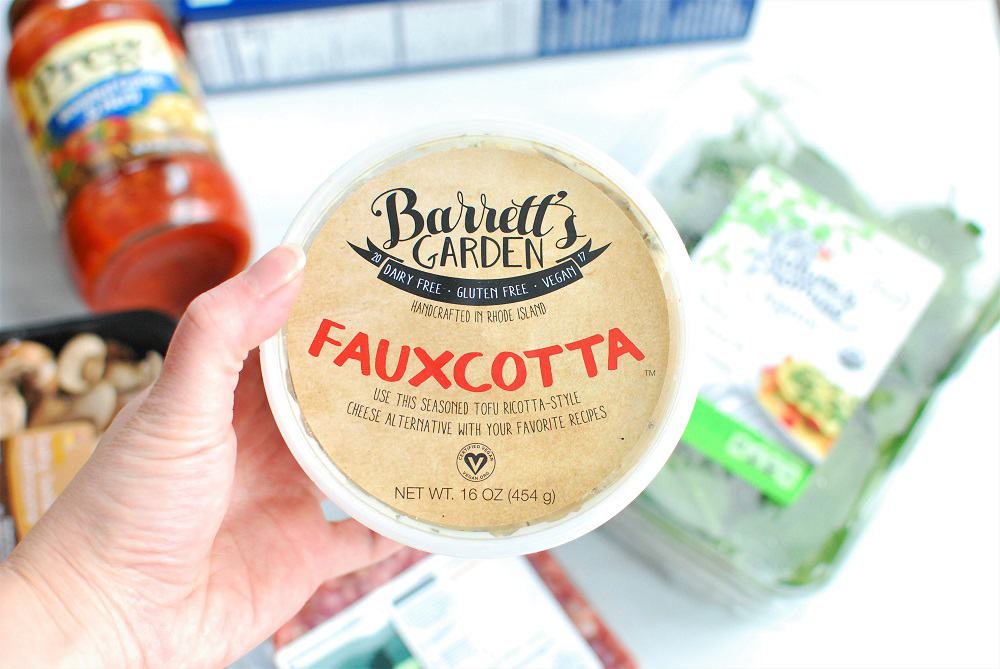 Currently, the product is primarily available in the Northeast.  If you visit the Barrett's Garden website and click on "about" it will bring up the locations where you can find it.  If you happen to be local in Central Massachusetts, we grabbed ours at Matchstick Market in Clinton (a weekly market with plant-based foods, artisanal products, and local artists – really cool).
If you can't find any near you, you can try using one of the other ricotta substitutes on the market that you can find locally.
Dairy free pasta sauces
I used a jarred dairy free sauce to make this recipe easy, but you can also certainly use your own favorite homemade sauce.
You do have to be careful with jarred sauces as some do contain dairy.  Here are some of the options on the market that appear to be dairy free at the time of this post.  This is by no means a comprehensive list, but just a few examples that I've come across!
*Important:  Please always check the label when you purchase, as manufacturers can frequently change formulations and add new allergens.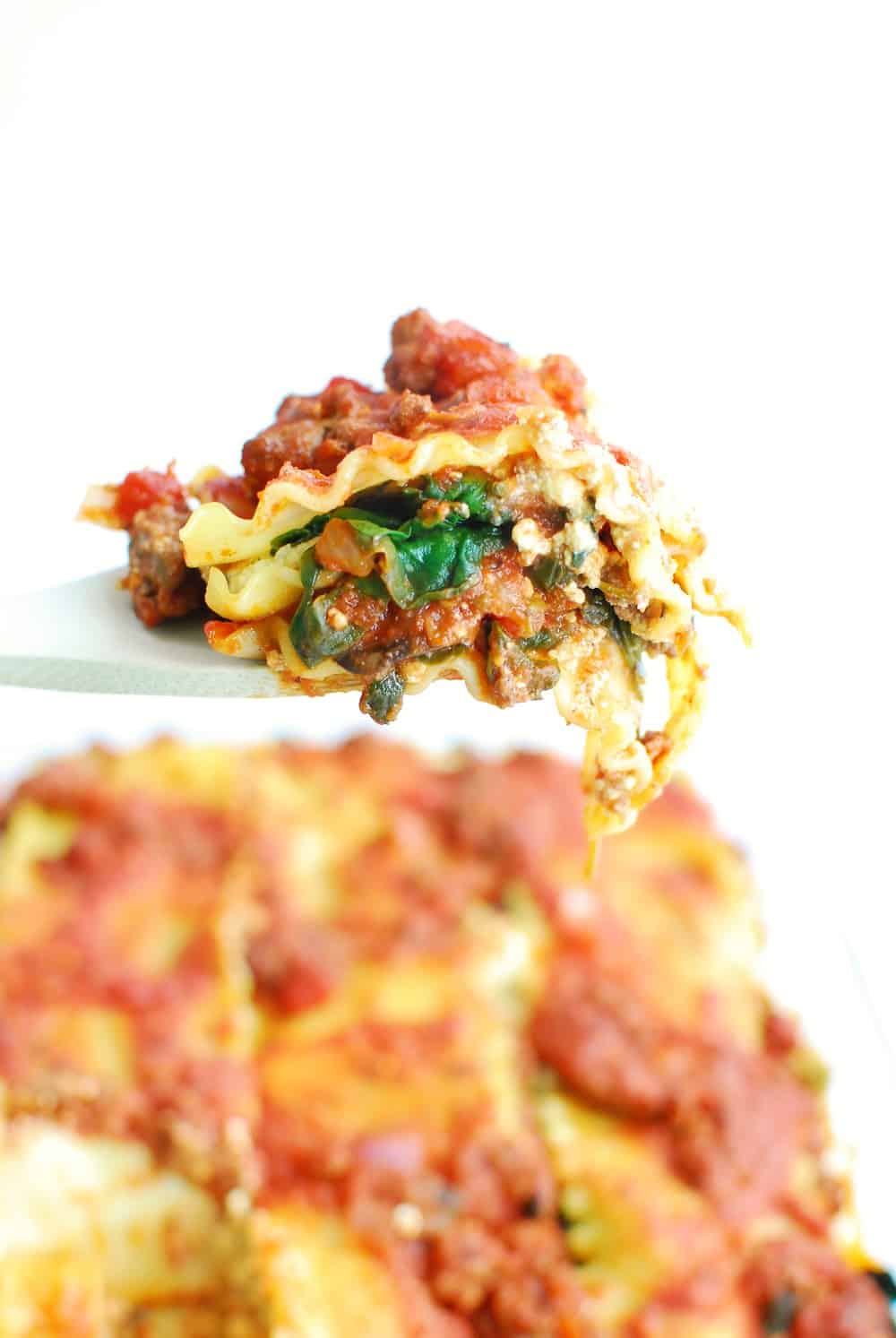 Allergens in this lasagna
This lasagna is free of dairy, nuts, and fish.  It also does not naturally contain egg, though some people who are sensitive to eggs will want to note that certain pasta products are made in shared facilities with egg – just something to double check on the label.
The recipe does contain soy and gluten (but you can find modifications below).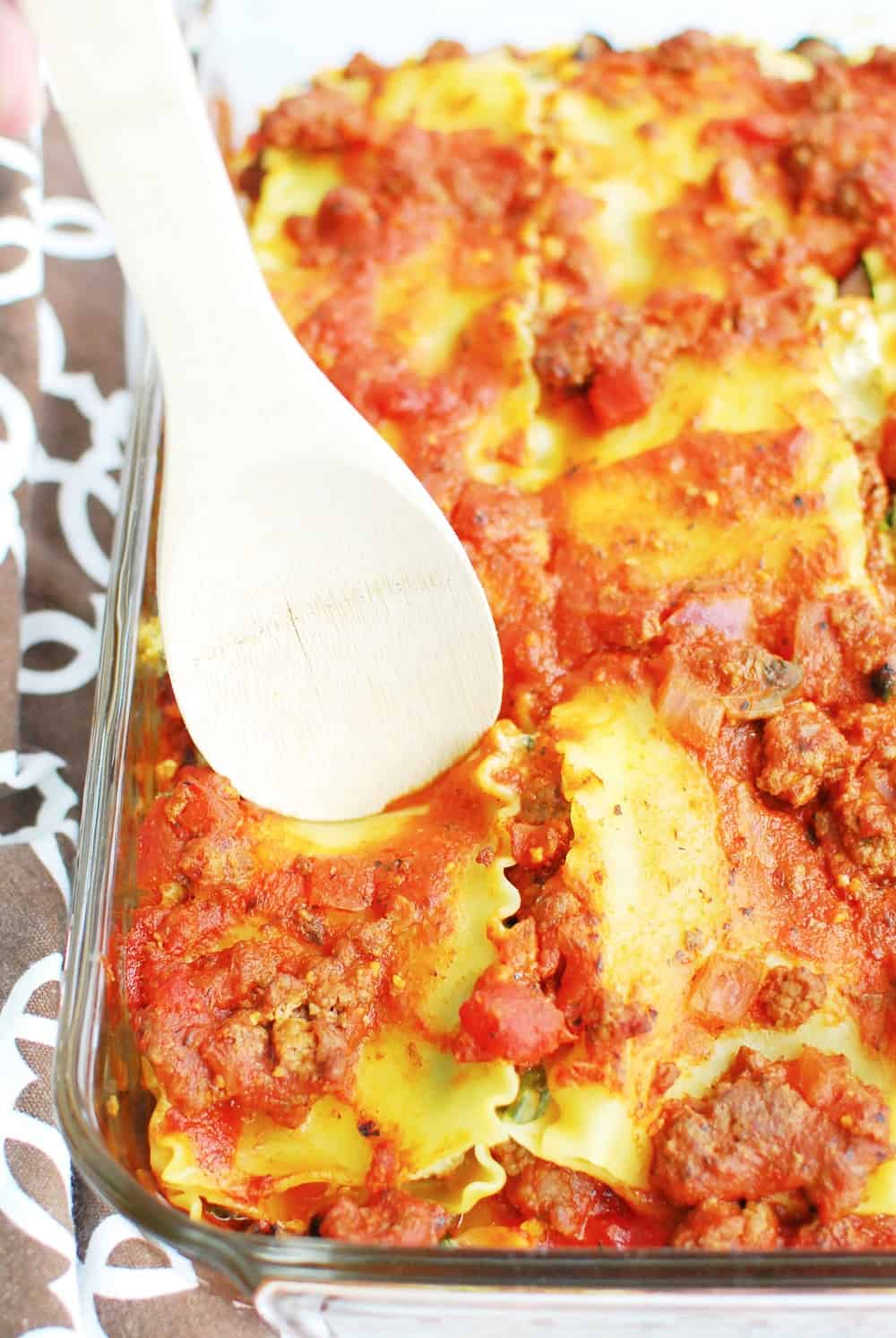 Dietary Modifications
Here are easy ways to modify this recipe if you need to fit certain allergy eliminations or dietary preferences:
Gluten free – Use gluten free pasta noodles rather than traditional lasagna noodles.  An easy substitute! (All the other ingredients I chose for those were gluten free).
Vegetarian – Just leave out the beef!  The spinach and mushroom add lots of heartiness to this – the recipe will work just fine without meat.
Soy free – The ricotta substitute (Fauxcotta) used in this lasagna is soy based, and is by far the closest thing I've found to regular ricotta.  However, that presents a bummer for those of ya'll allergic to soy!  Here are two recipes you might be able to use as a substitute:
I hope you enjoy this dairy free lasagna recipe as much as my family did!  If you give it a whirl, be sure to leave a recipe rating.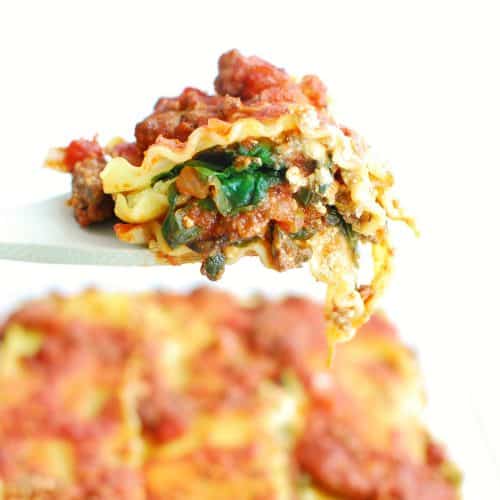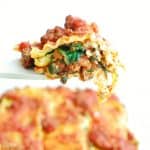 Dairy Free Lasagna
Need a dairy free dinner that will please even the pickiest eaters? Try this insanely delicious dairy free lasagna recipe!
Total Time
1
hour
5
minutes
Ingredients
1

tbsp

olive oil

2

cups

chopped baby portabella mushrooms, chopped roughly

5

ounces

baby spinach, chopped roughly

9

lasagna noodles

1

pound

ground beef

(recommend 85/15)*

1/2

red onion, diced

24

ounce

jar of pasta sauce

(double check dairy free)

16

ounces

Barrett's Garden fauxcotta

(or another dairy-free ricotta substitute)
Instructions
Preheat oven to 350 degrees. Also, fill a large pot with water and set it over high heat on the stove, as you'll use this to boil the lasagna noodles.

Heat 1 tbsp olive oil in a large skillet over medium heat. Add mushrooms and cook for about 5 minutes, until tender.

Stir in spinach and cook for another 2 minutes, until the spinach is lightly wilted. Set the veggie mixture aside in a bowl.

By this point, your water should be boiling. Place the lasagna noodles in and cook according to package directions. Drain them when done.

Meanwhile, while noodles are cooking, you'll prepare the meat sauce. Wipe out the skillet you used for the veggies, and return to medium heat. Add your ground beef and red onions. Brown the ground beef, around 5-7 minutes. If needed, drain any excess fat from the skillet (this will depend on the fat percentage of the meat used).

Set aside 1/3 cup pasta sauce, and then dump the remaining sauce into the skillet with the meat. Cook for 2 minutes, then remove from heat.

In a 13x9 baking dish, spread the 1/3 cup pasta sauce on the bottom. Add your first three lasagna noodles. Layer first with 1/2 the fauxcotta, 1/2 the spinach/mushrooms, and 1/3 meat sauce. Add your next layer of lasagna noodles and repeat. Then add the final layer and top with the remaining meat sauce.

Cover with foil and bake for 35 minutes at 350 degrees. Remove the foil and continue baking for an additional 10 minutes uncovered. Let cool for a few minutes and enjoy!
Recipe Notes
The ground beef is optional; you can skip if you're vegetarian.
I used Prego Roasted Garlic and Herb pasta sauce, which at the time of this post is dairy free.
To drain excess fat from the skillet, you can just push the meat/onion mixture to one side, tilt the skillet, and remove the grease with a large spoon.
Nutrition analysis (approximate per serving):
370 calories, 16 g fat, 4 g sat fat, 584 mg sodium, 34.5 g carbohydrate, 5 g fiber, 8 g sugar, 24 g protein, Vitamin A: 40%, Vitamin C: 11%, Calcium: 31%, Iron: 24%
Share:  What's your favorite Italian recipe?  Have you ever tried fauxcotta?  If you ate this dairy free lasagna, what'd ya think?