As most of us are hunkering down in the upcoming weeks in light of everything going on, odds are we'll be doing more cooking at our houses.  This is actually a great time to get your little ones involved in the kitchen.  This post contains helpful tips about age appropriate cooking tasks, as well as recipe ideas that you and your kiddos can make together!
This website is focused on families dealing with dairy allergies and intolerances, so all the recipes and snack ideas below will fit that niche – but if your family doesn't have those restrictions, you can feel free to brainstorm more great recipe ideas that might include dairy.
Disclosure:  This post contains Amazon affiliate links.  As an affiliate, I earn a commission on qualifying purchases.
Age Appropriate Cooking Tasks
Even though we think of cooking as a skill for older kids, children as young as 2 to 3 can start helping with tasks in the kitchen.  Of course, some of the tasks are bound to be a bit messier with younger kids.  But that's OK!  Especially right now while we've all got some extra time on our hands at home.
As you can see, my kiddo has loved learning and evolving in the kitchen over the last few years: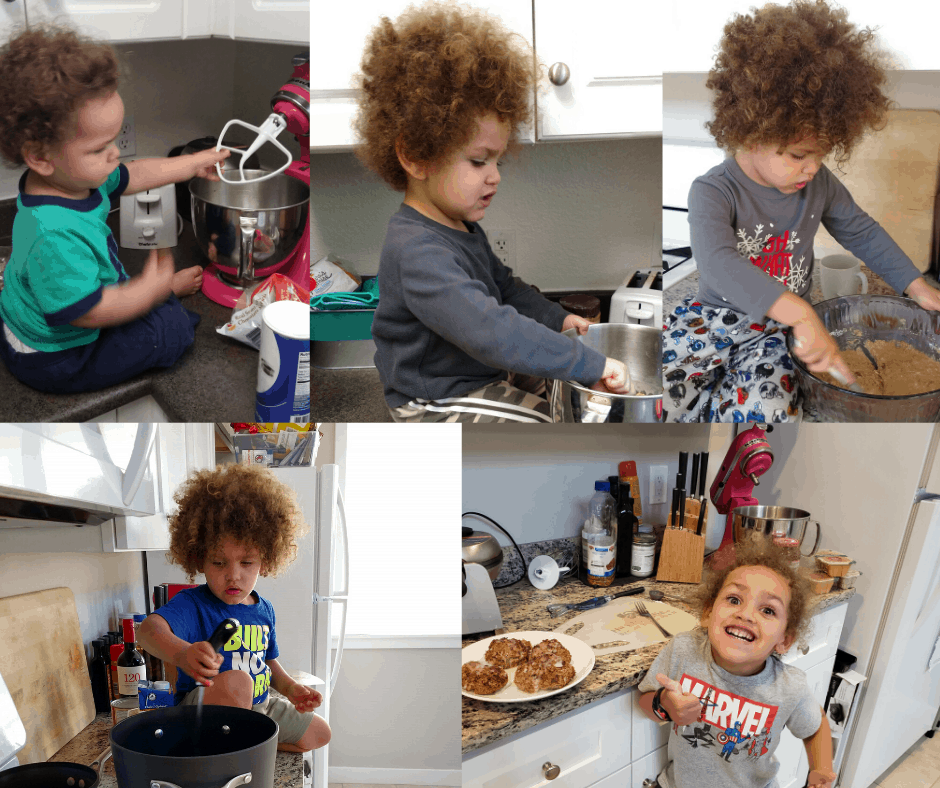 Here's a breakdown of some helpful tasks by age group.  Keep in mind most of these should be done with supervision, especially in the younger age groups.  And of course, start by teaching all age groups the importance of washing hands prior to cooking (and after touching unsafe foods like raw meat, which some of your older kids may be helping with).
Toddlers / Pre-School
Rinse a fruit or vegetable in the sink
Tear lettuce
Stir something (that's easy to stir) in a bowl
Place an ingredient in a bowl
Spin the salad spinner
Play with kitchen utensils (spatulas, big spoons, etc) while you're cooking
Pick leaves of herbs off their stems
Push a button on an appliance to turn it on or off
Add sprinkles to a cake or cupcakes
Use cookie cutters
Place cupcake liners in the tin
Peel bananas
Knead dough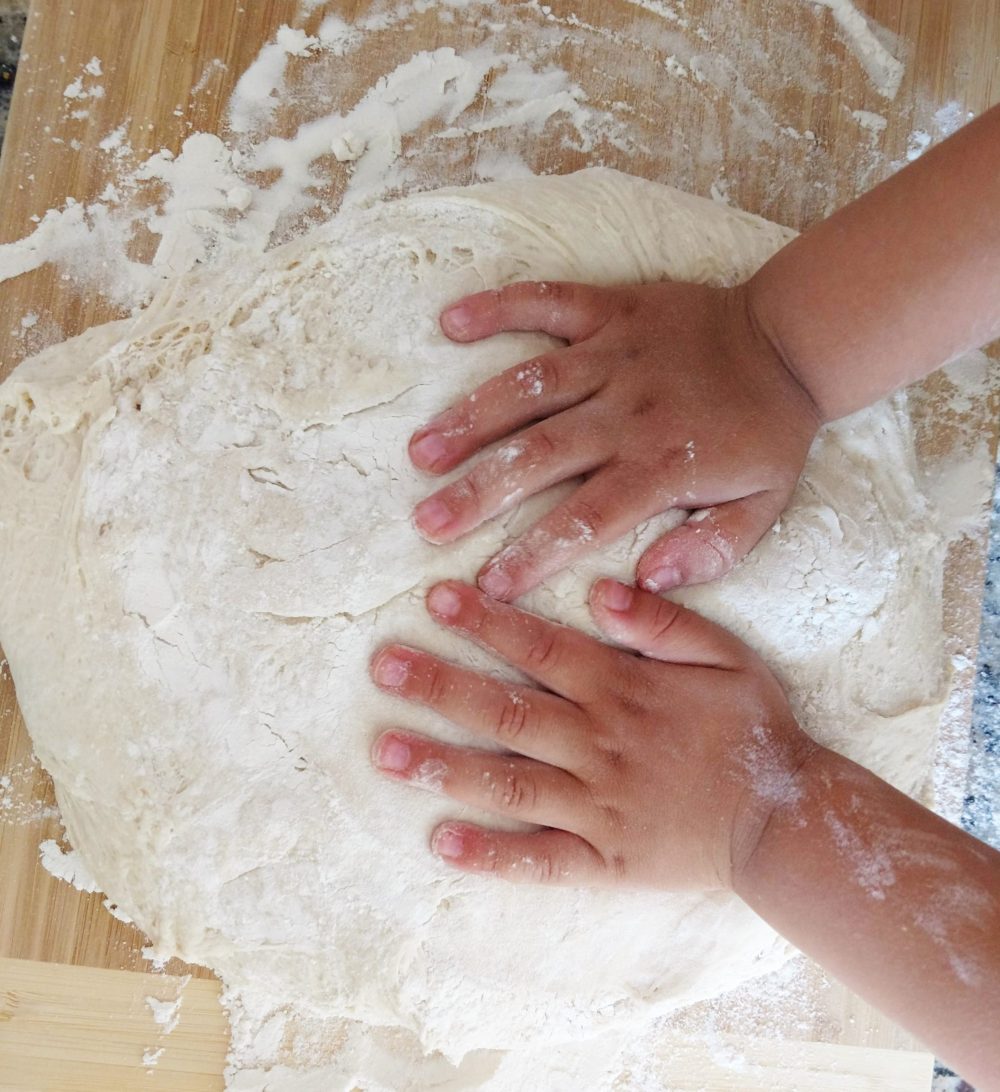 Pre-K / K
Mash cooked potatoes, cooked berries, ripe bananas, or soft avocados
Wrap potatoes in tin foil for baking
Squeezing lemons, limes, or oranges for juice for recipes
Mix together ingredients in a bowl
Spray a pan with cooking spray (make sure the nozzle is pointed in the right direction for them before they start!)
Use kid-friendly knives (with supervision) to cut very soft fruits and vegetables (my favorites are the KinderKitchen Dog Knife and the Curious Chef Children's 3-Piece Nylon Knife Set).
Form balls of dough for baking cookies
Pour beans or vegetables into a colander and rinse them
Measure ingredients (depending on skill level)
Roll out dough or pie crust (with help)
Elementary School
Crack eggs (obviously this can be done at an earlier age; just depends on how much you want to deal with shells in the mix, haha!)
Use kid-friendly knives (with supervision) to cut a wider variety of foods. As they get to older elementary school age (or middle school age, depending on skill), transition to regular knives and teach a wider variety of knife skills.
Peel fruits and vegetables
Scoop batter into muffin tins or pouring batter into a cake pan
Make an easy-to-follow recipe – like sandwiches, fruit salad, or a simple quick bread recipe
Cook easy foods on the stovetop with supervision (eggs, sautéing vegetables)
Middle School / High School
At this age, most pre-teens and teenagers have the dexterity and reading comprehension to prepare meals and recipes according to directions. They may need help depending on the dish, and depending on their own skill level.  Adjust tasks based on what they feel comfortable doing.
Other Activities Related to Cooking and Nutrition
In addition to the physical cooking skills themselves, there are also many other activities you can do related to cooking, nutrition, and meal preparation.  Many of these can be used to help reinforce school concepts or simple homesteading concepts.  For example:
Give kids old grocery store circulars and let them cut out pictures of foods and glue them to a plate.  You can do this by theme too:  favorite foods, what they'd want for a birthday meal, creating a balanced plate, etc.
Have younger kids categorize foods – based on colors, food groups, etc.
Have your kids create a "mix and match" smoothie list – filling out categories for fruits, liquids, vegetables, and "add-ins".  Then make some of the combos they come up with!
Let kids help inventory the kitchen for you, making a list of the ingredients you do have on hand.  Work together creatively to come up with meal ideas based on that.
Work on math skills for older kids, providing them with a budget and a grocery circular, and having them come up with a meal plan.
Main Dish Ideas that Kids Can Help Make
With all those tasks in mind, here are some great main course ideas that your kids can help you make in the kitchen:
Snack/Dessert Ideas that Kids Can Help Make
In my opinion, baking and snack preparation are far more fun than cooking dinner. 😉  Try one of these delicious snacks or desserts that you can make with your little ones.