If you're searching for a tasty breakfast sans milk or cheese, look no further than this dairy free frittata!  Made with summer veggies, it's the perfect healthy way to start the morning.
How to make this dairy free frittata
This recipe is very simple – it focuses on fresh ingredients, most of which you can find in your own garden, at your local farmers market, or at the grocery store!  (We've currently got some of the vegetables planted in container gardens and I'm curious to see how they pan out this summer).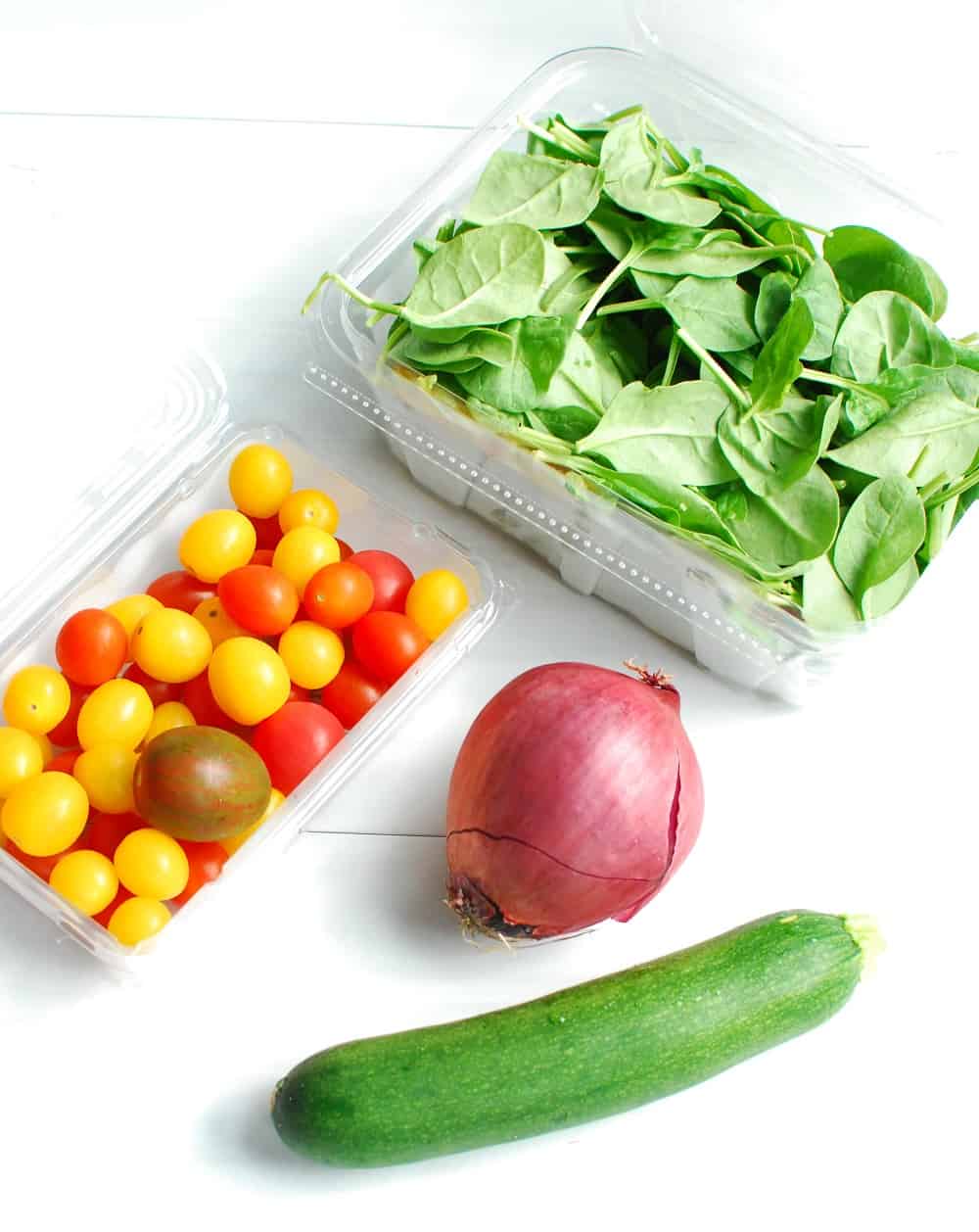 Here's what you'll need to make this:
Eggs
Broth (chicken or vegetable works depending on your dietary preferences)
Olive oil
Red onion
Zucchini
Cherry tomatoes
Spinach
Salt
Pepper
You'll whisk up your eggs with broth instead of milk.  This not only helps give your frittata the right texture – but also adds some seasoning!
Set those eggs aside for now.
Then sauté up your veggies in a cast iron skillet.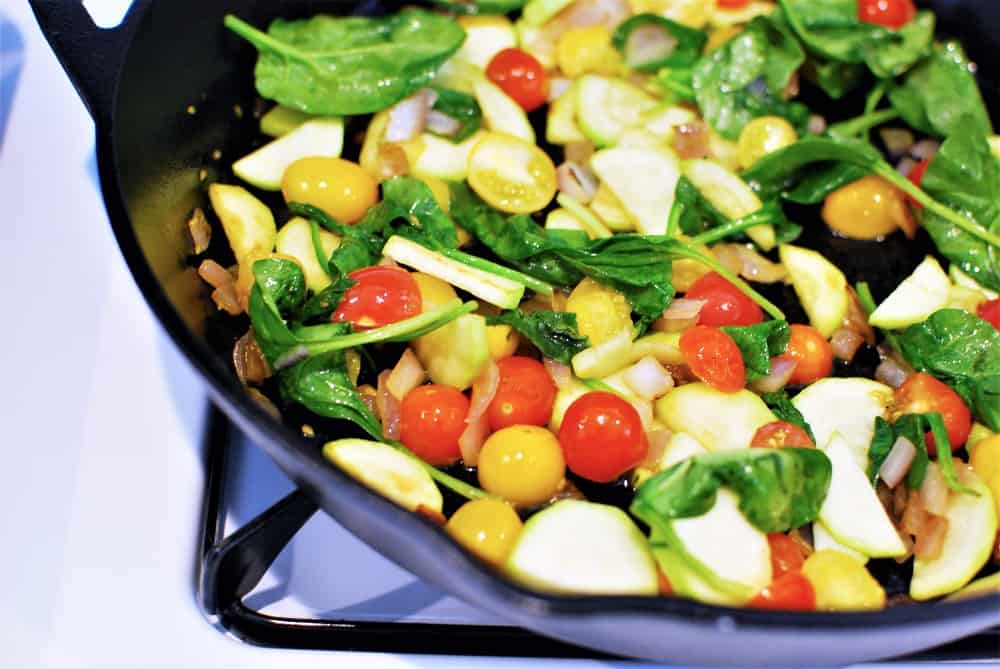 Once your veggies are tender season 'em up with a little salt and pepper, pour your eggs on top, and then transfer your cast iron skillet to the oven.  Bake it for about 15-20 minutes and a delicious, healthy breakfast awaits!
Quick Tip:  If you don't have a cast iron skillet on hand, you can sauté everything in a normal pan and then dump them into a pie dish or casserole dish when it's time to add the eggs and bake the frittata.
Other options for the egg base
I really love the flavor that broth adds to this dairy free frittata.  But if you don't have any on hand, it's easy to modify the recipe.  The easiest substitution is to just use the same amount of unsweetened almond milk for similar texture.
You can also use full fat coconut milk if you want a richer, creamier texture for your eggs.  I personally find the coconut milk adds a bit too much sweetness for my preference, but I know other people that enjoy that option.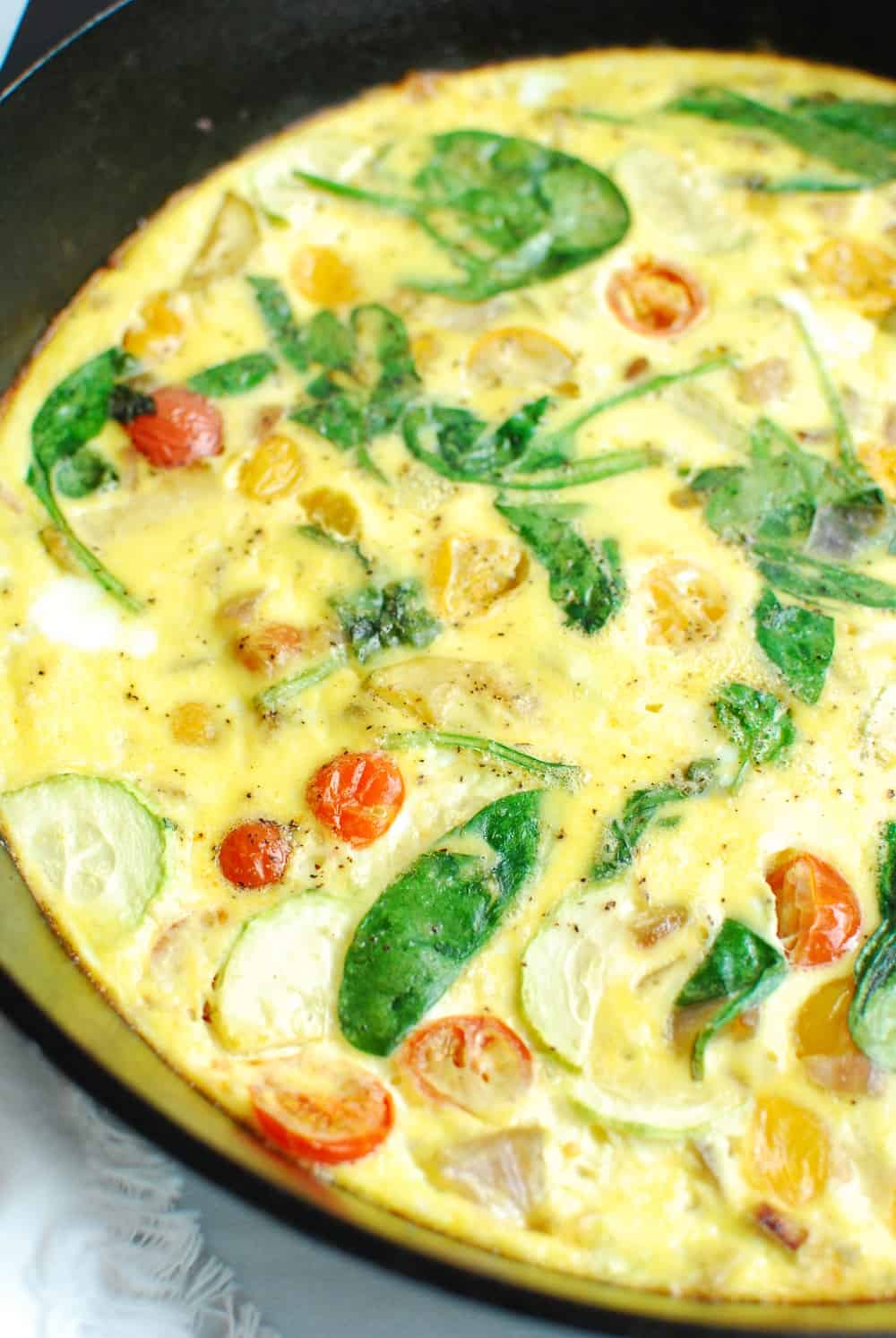 Allergens in this recipe
This recipe is naturally dairy free and nut free.  And as long as the broth you select is free from allergens, the recipe is also naturally soy free and gluten free.
Obviously, it contains eggs – and those would be very tough to substitute out here.  You could try one of the egg substitutes (like Just Egg) or a tofu scramble (which would contain soy) – either of which would likely work better as more of a scramble than a frittata.  There is a recipe over on Minimalist Baker for an egg free frittata that uses split mung beans if you are looking to try an egg free version.
How to store leftovers
If you have extra leftover, just store it in a container in the fridge.  It will stay good for up to 4-5 days, though I recommend eating it within 2-3 days for the best quality.  Just pop the leftovers on a plate and put it in the microwave for a minute or so to heat it back up.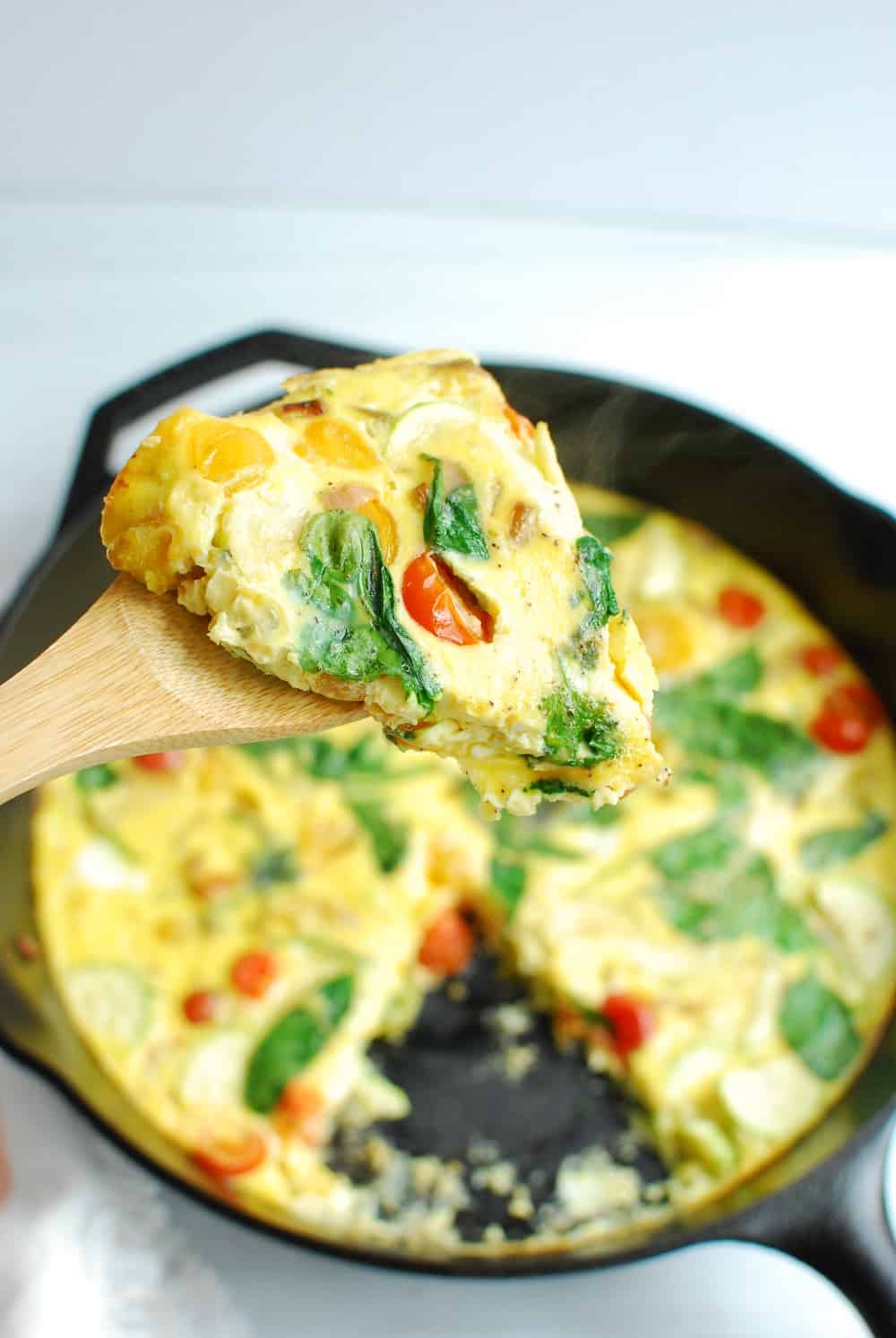 What to serve with a dairy free frittata
I love this savory breakfast because it's packed with veggies and low calorie – great for me right now while I'm trying to get in shape before my triathlon season kicks into full gear. 😉  If you want a side dish to make it a heartier meal, though, by all means – add one in!
Here are a few ideas (I've jotted down any allergens that jumped out at me but be sure to double check if you have an allergy):
Bacon – Because who doesn't love a good piece of bacon?!
Dairy free baked oatmeal bars – These bars make a nice sweet treat to round out the meal, packed with oats, cranberries, almonds, and chocolate chips!  (contains nuts)
Grapefruit breakfast brulee – This is pretty much the only way I eat grapefruit at breakfast, haha.  It's just so good and makes a perfect sweet side dish to pair with your savory frittata. (allergen free)
Fried potatoes – Poke a few holes in a potato with a fork then microwave it for about 5 minutes, until slightly tender.  Chop it into small pieces.  Heat olive oil in a skillet over medium heat and then fry up the potato for about 8-10 minutes, until golden and crisp.  Sprinkle with salt – yum!
Vegan apple muffins – These are a great option to make ahead and use as a breakfast side or snack throughout the week.  (contains wheat, nuts)
Dairy free pumpkin cinnamon rolls – At just 125 calories each, these are a healthy sweet treat!  Make a big frittata and a batch of these cinnamon rolls and you've got a great healthy brunch spread for the weekend. (contains wheat; contains nuts in almond milk but you can easily sub oat milk)
Maple pecan granola – I love a good sweet granola, so you could easily have this on the side to enjoy after your frittata.  Combine it with a little dairy free yogurt or milk alternative. (contains nuts)
I hope you enjoy this nutritious, veggie-packed breakfast!  If you get a chance to try it, be sure to leave a comment or recipe rating and let me know how you liked it.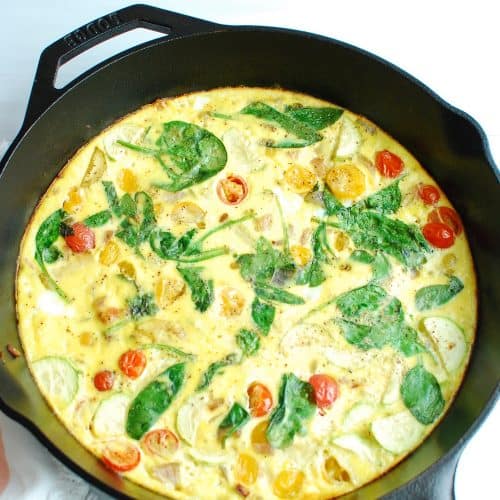 Dairy Free Frittata
If you're searching for a tasty veggie-packed breakfast, look no further than this dairy free frittata! 

Ingredients
7

eggs

1/3

cup

broth

(vegetable or chicken)

1

tbsp

olive oil

1/2

cup

red onion, diced

(about 1/2 of a large onion)

1 1/4

cups

zucchini, sliced into half-rounds

(about 1 medium zucchini)

1

cup

cherry tomatoes, halved

1

cup

raw spinach, packed

1/8

tsp

salt

1/8

tsp

pepper
Instructions
Preheat oven to 350 degrees.

Add eggs and broth to a large mixing bowl and whisk until well combined. Set aside for now.

Heat the olive oil in a large cast iron skillet over medium heat. When hot, add the red onion and cook for about 4-5 minutes until the onion starts to get tender.

Add the zucchini and cook for another 2-3 minutes. Add the cherry tomatoes and the spinach and cook for another 2 minutes or until spinach is just starting to wilt. Sprinkle veggies with salt and pepper.

Pour the egg/broth mixture over the veggies. Move the skillet from the stovetop to the preheated oven. Cook for about 15-20 minutes, or until the eggs are set. Enjoy!
Recipe Notes
Nutrition analysis (approximate per serving):
197 calories, 13 g fat, 3.5 g sat fat, 223 mg sodium, 6.8 g carbohydrate, 1.5 g fiber, 13 g protein, Vitamin A: 33%, Vitamin C: 31%, Calcium: 7%, Iron: 9%
Share:  What's your favorite dairy free breakfast?  If you tried this dairy free frittata, what did you think?