These air fryer jerk chicken wings are a delicious option for a game-day snack or a main course at dinner time. With just a few simple ingredients and less than 30 minutes, you can have these wings ready and on the table.
What is jerk chicken?
There are many takes on jerk chicken throughout Jamaica and the Caribbean. At its core though, a blend of spices and chiles is rubbed on the chicken (sometimes left to marinate overnight) and then is typically grilled. While the specific spice and chili blend can vary, allspice and scotch bonnet peppers are almost always present.
Clearly, an air fryer recipe is untraditional, as the jerk chicken won't be grilled. However, by using a traditional Jamaican seasoning paste, you can expect those same strong and fiery flavors. The forced air heat of the air fryer also allows the outside of the wings to develop almost a char-like sensation like you'd get cooking over fire.
Ingredients
Here's what you'll need to make this recipe – just a couple ingredients!
Chicken wings
Baking powder – I find this helps keep the chicken skin from getting soggy and helps it crisp up. It works better as a trick when you're making wings and tossing them in a sauce after cooking, but I still do think it helps a bit in this recipe even though you're making them with the wet rub.
Salt
Jerk seasoning rub – You want to use a wet rub (a paste), not a dry rub.
Oil – Avocado oil or olive oil are good choices
Jerk seasoning suggestions
Disclosure: This section contains Amazon affiliate links; as an affiliate I earn a commission on qualifying purchases.
I have two suggestions for jerk rubs, both from companies located within Jamaica: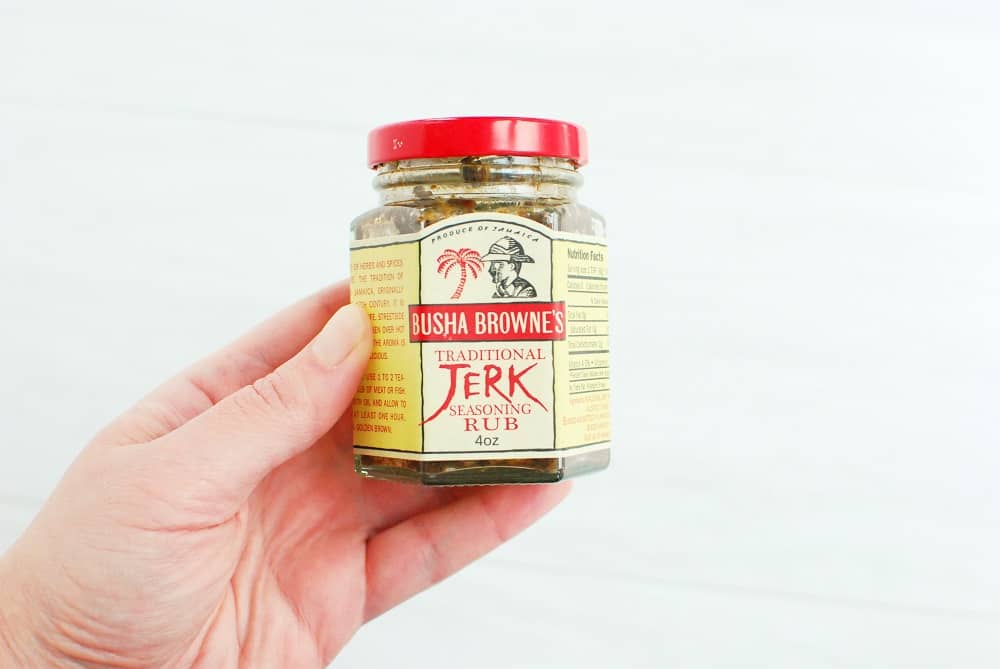 This company is based in Kingston, Jamaica. The Browne family, originally from Ireland, has a long history in Jamaica, dating back to the 1800's. A later descendant of the family, Charlie Browne, grew up in Jamaica and retrieved his family's diary of recipes. The company was co-founded by Winston Stona, a Jamaican citizen, who helped bring these recipes to the masses through the formation of Busha Browne in the 1970's.
(You can read more about the company history here.)
I'm obsessed with this jerk paste and have it in my fridge at all times. A little goes a long way, and I use it often on chicken and shrimp.
At the time of publish, the ingredients in this paste are: scallions, hot peppers, sea salt, black pepper, allspice, cane vinegar, citric acid.
This company is also based out of Jamaica. It was started in the late 1970's as a way to help increase employment opportunities for those in a rural area. The company's first product was it's jerk seasoning, which was the first jerk seasoning to be exported from Jamaica.
The company purchases local ingredients for their products, including scotch bonnet peppers grown on a cooperative farm they helped establish. (You can read more about the company here.)
At the time of publish, the ingredients in this seasoning are: scallions, scotch bonnet peppers, salt, black pepper, allspice, nutmeg, citric acid, cane sugar, thyme leaves.
I find Walkerswood to be a much spicier than Busha Browne's, so totally a personal preference as to which you'd prefer! Walkerswood does make a mild version if you'd prefer trying that too.
Instructions
Alright, now that you've got your five ingredients ready, here's how you'll make these.
Start by breaking down the chicken wings if desired. Each wing has three parts:
The drumette (which looks like a mini drumstick)
The flat
The tip
Some people leave the wing all together. Others break wings down into the drumette, and then leave the flat connected to the tip. And others will break it down into three pieces and discard the tip, keeping just the drumette and flat to use.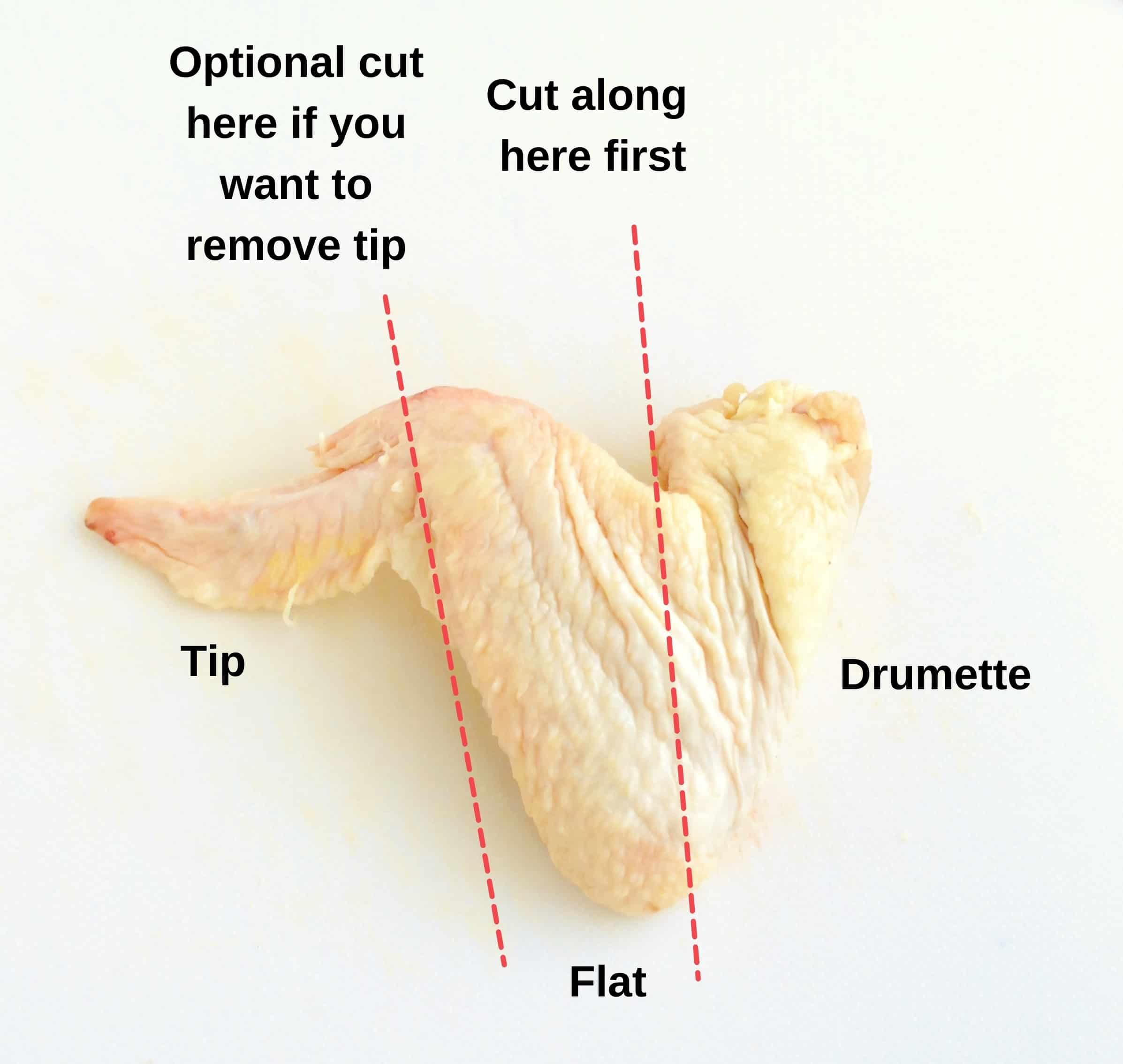 My personal preference is the second option. As you can see in the photo below, I break each wing into two parts, the drumette, and then the flat plus the tip. (What can I say, I love the crispy skin you get on the tip). You cut 'em however you want, my friends!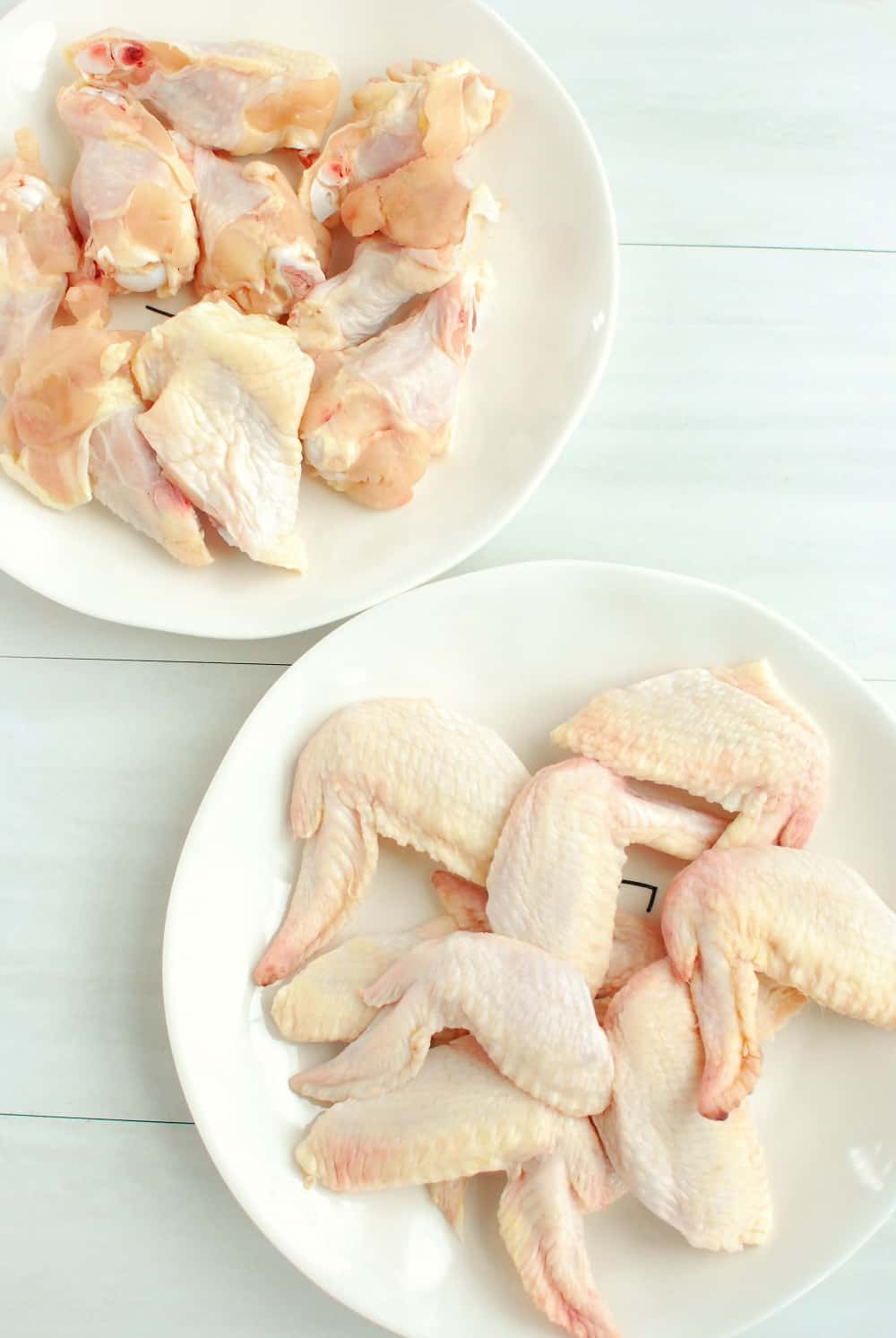 Next, toss the wings with the baking powder, salt, jerk paste, and avocado oil. I find this easiest to do in a zip top bag, because you can shake the bag around and really get the jerk paste to thoroughly coat the wings.
The place them in a single layer in the air fryer, and cook 'em up! You'll probably have to work in two batches (possibly more if you have a small air fryer).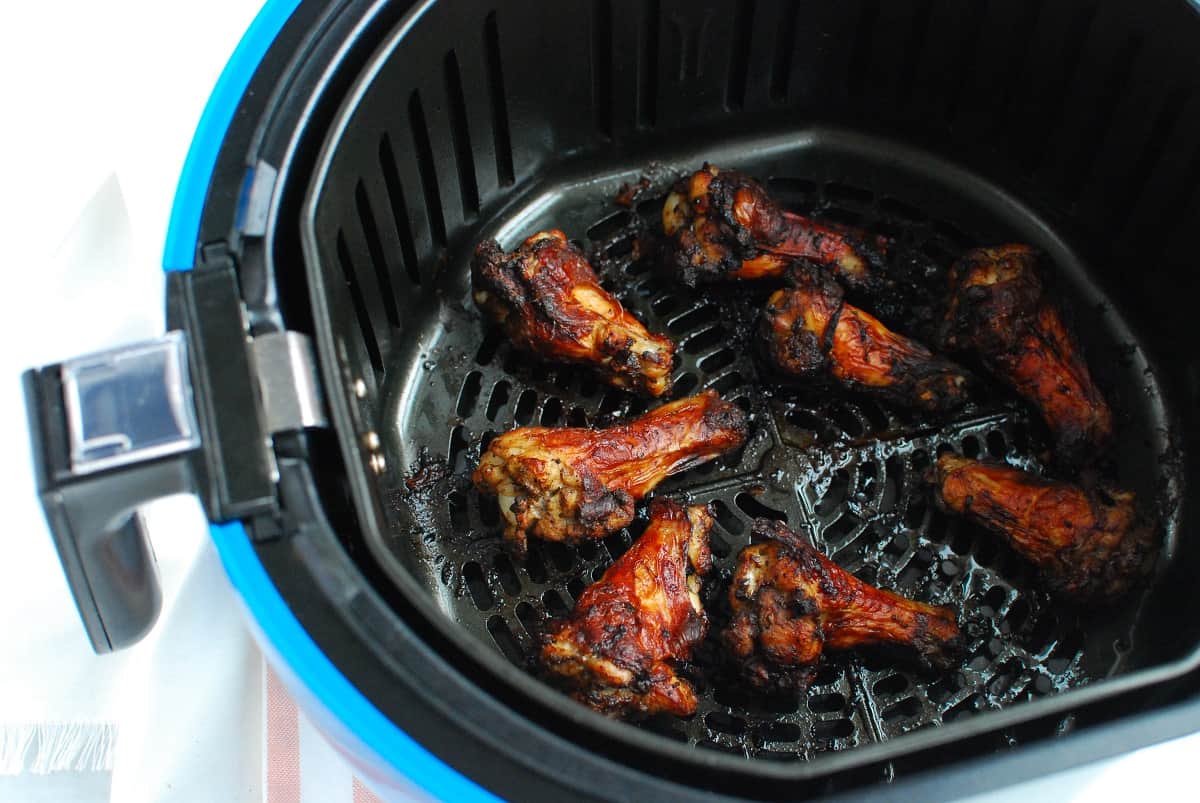 Allergens
*Disclaimer – Always double check ingredients to confirm a product meets your allergy needs. While I try to note potential allergens below, there is always the chance I may miss something or that manufacturer formulations may change.
As written, this recipe appears to be top 8 allergen free (dairy free, egg free, soy free, peanut/tree nut free, fish/shellfish free, and wheat/gluten free). Keep in mind this is based on the jerk seasoning that I used, and what I read on the label at the time of publish. As this could change at any time, please be sure to thoroughly read the ingredients prior to using.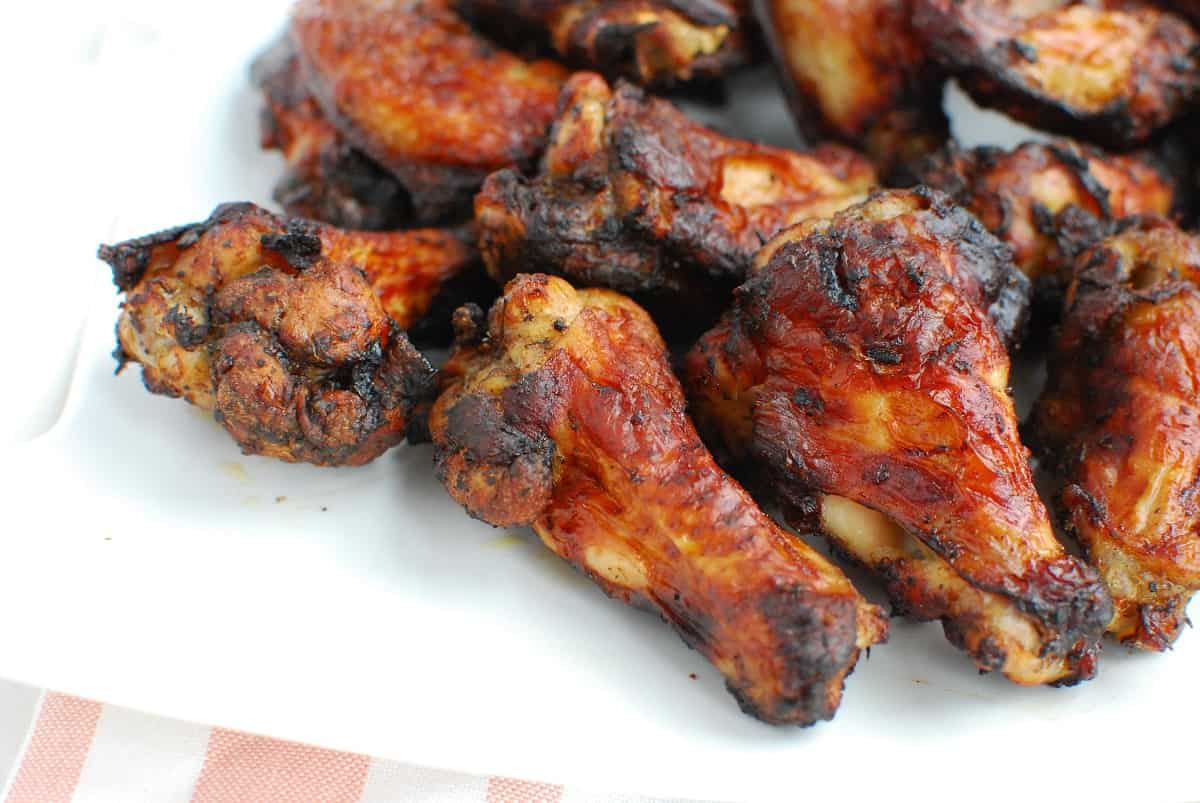 I hope you enjoy these air fryer jerk chicken wings – they are definitely a favorite around my house (though my kiddo finds them a bit too spicy for his tastes). If you get a chance to try them, feel free to leave a recipe rating or comment below.
PS – Looking for another spicy recipe to try? Give these habanero burgers a spin!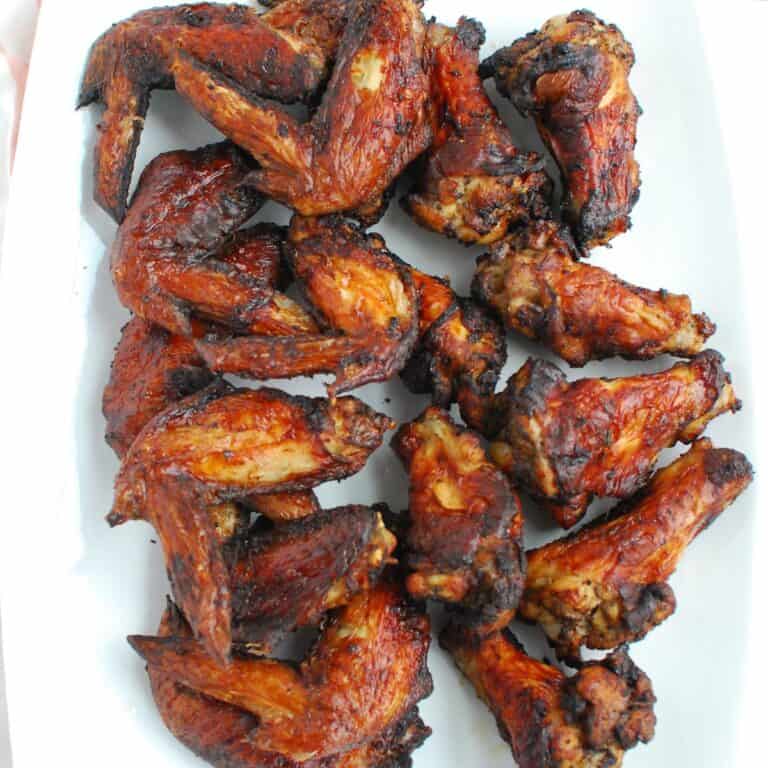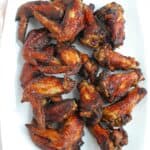 Air Fryer Jerk Chicken Wings
Spice things up with these air fryer jerk chicken wings! Made with just 5 ingredients and done in 30 minutes.
Ingredients
2

lbs

chicken wings

(broken down according to preference)

1 ½

tsp

baking powder

⅛

tsp

salt

2

tbsp

jerk paste*

½

tbsp

avocado oil

(or olive oil)
Instructions
Toss the chicken wings in a zip top bag with the baking powder, salt, jerk paste, and avocado oil. Give the bag several good shakes, and use your hands to move the wings around in the bag, helping to evenly coat each one.

Place the wings in a single layer in the air fryer basket (you will likely need to work in two batches). Air fry at 400 degrees F for 15 minutes, then flip the wings. Continue cooking for another 5 minutes, or until the internal temperature reaches 165 degrees F.
Recipe Notes
Different jerk pastes have different levels of heat. For this, I feel like 2 tablespoons of Buscha Browne's paste gives a comfortable, not overwhelming level of heat. Adjust based on your comfort level with heat, and keep in mind Walkerswood is a bit spicier if you're using that.
Nutrition analysis (approximate per serving): 455 calories, 31 g fat, 8 g saturated fat, 1070 mg sodium, 2 g carbohydrate, 39.5 g protein, Vitamin D: 1%, Calcium: 13%, Iron: 7%, Potassium: 9%
Share: What's your favorite thing to cook in your air fryer? If you tried these wings, what did you think?
PS – Don't forget to pin this post so you can share it with others! 🙂