These habanero burgers are the epitome of homemade pub-style food. A delicious beef burger patty is topped with a corn, tomato, bacon, and habanero salsa, along with mashed avocado. This is the burger you'll crave all week!
Ingredients
This recipe may look like it has a lot of ingredients, but many are seasonings or pantry/refrigerator staples. This section gives some tips about ingredients, including product options or potential substitution ideas.
Here's what you'll need for the burger patties:
Soft wheat or white bread – You'll want to make sure you choose a soft bread, not one of the really hearty breads. Many store-bought breads are dairy free these days. For example, at the time of publish, Target's Market Pantry white bread and Sara Lee honey wheat bread were both dairy free (though they contain a cross contamination warning that the facility processes milk products, so beware if anaphylactic to dairy). Always double check labels. You can also use homemade bread.
Oat milk – You can also use any milk alternative that you have on hand. Keep in mind if you use a substitute, it may affect the overall allergens in the dish.
Worcestershire sauce – Adds a savory umami flavor that works well in a burger patty.
Ground beef – Nothing like a classic beef burger patty! For this recipe, I recommend using 85/15 ground beef (but feel free to use whatever you have on hand).
Salt, garlic powder, and pepper – For seasoning.
For the habanero salsa topping, you'll need the following:
Habanero – If you can't find these, you can substitute serrano peppers or jalapeno, though both are milder.
Bacon – You can cook this in the skillet before you make the burgers; just wipe out an excess grease before making the burger patties.
Tomato – Any color or type will do.
Corn – Fresh off the cob, canned, or frozen (thawed/cooked) all work fine for this!
Lime – Adds a pop of acid.
Olive oil – Helps the salsa come together.
Honey – If you don't have honey on hand, you can substitute with the same amount of maple syrup.
Lastly, when it comes time to assemble the burgers, you'll need two more ingredients:
Dairy free burger buns – Browse the different options at your store, as not all buns are dairy free. At the time of publish, Arnold Sesame Seed Buns, Ballpark Hamburger Buns, and Sara Lee Artesano Buns were all free from dairy ingredients (though again, all contained a voluntary warning that facilities also produced milk products, so you may need another option if severely anaphylactic). Always double check labels. You could also make homemade dairy-free buns.
Avocado – Mash up the avocado to spread on your burger and bun, which not only helps hold the salsa on the burger, but also helps add a cooling component to balance the spiciness of the habanero.
Instructions
You'll find full recipe amounts and instructions in the recipe card below, but this section has some helpful step-by-step tips and photos.
Start by preparing your habanero salsa topping. Gather up all the ingredients for this part.
When you're mincing the habaneros for this, be very careful. Some people's skin can be very sensitive and can actually burn a bit if the chopped habanero touches it. Even more importantly, you need to be very cautious not to touch the minced pepper and then touch your eyes. Some people wear gloves when cutting them; I just make sure to mince them without physically touching the pepper itself.
Add all those ingredients for the habanero salsa in a bowl, and set it aside for now.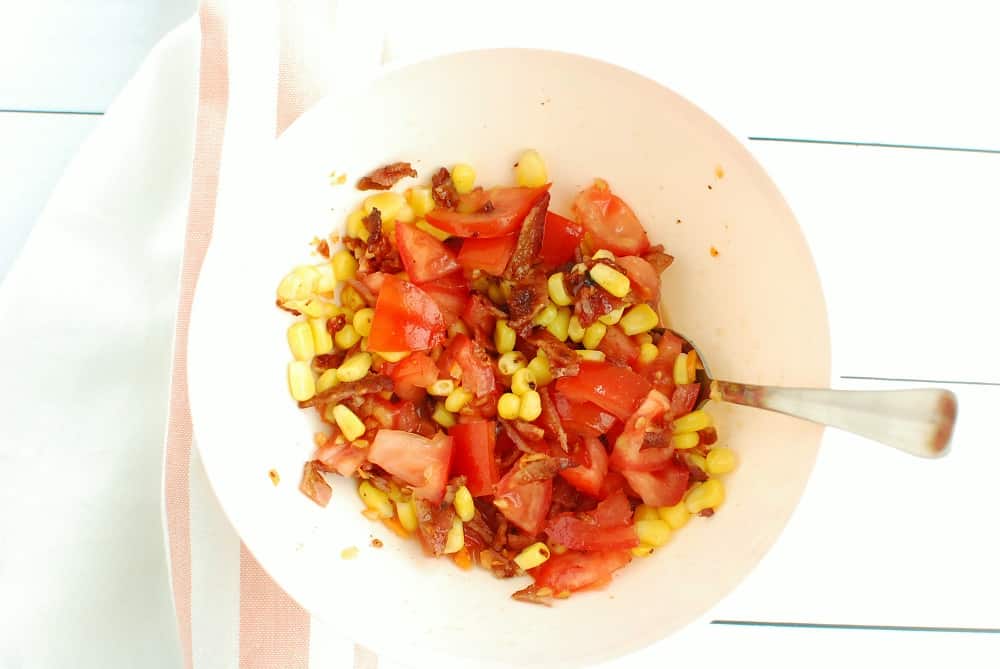 Next, make your burger patties. Here is the secret to the juiciest burger patty ever – some plain 'ol soft bread! Take the slice of bread and crumble it into a bowl.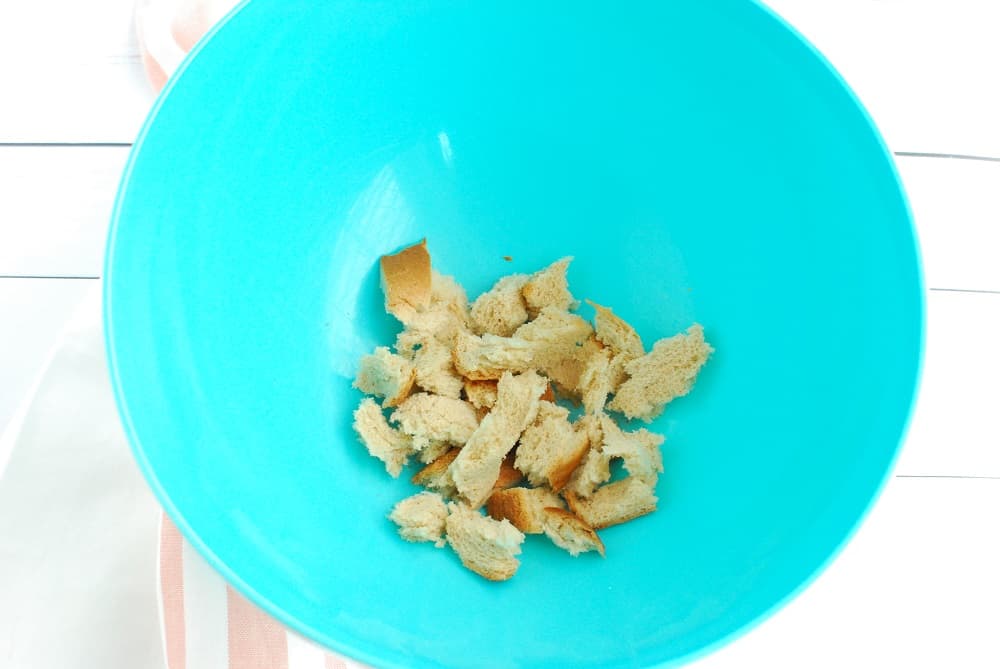 Then, add a little oat milk and Worcestershire sauce, and let that sit for a few minutes. Take your hand and just mush it all up so it forms almost a paste. Sounds weird, but I promise – it gives your burger the best texture.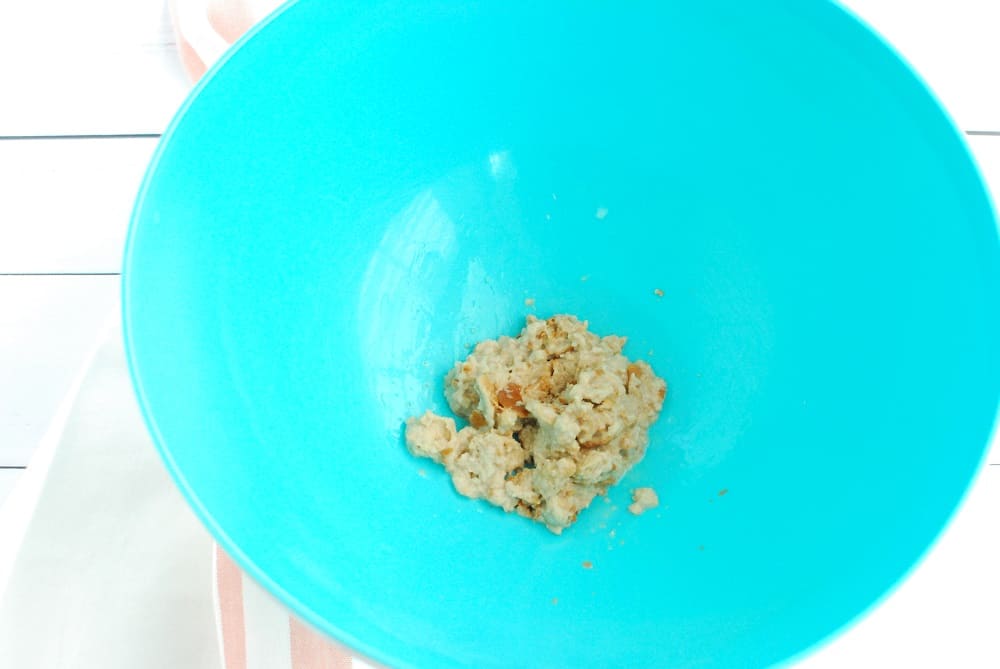 Add the ground beef, salt, garlic powder, and pepper to the bowl, and use you're hands to mix it all together. Form into four patties.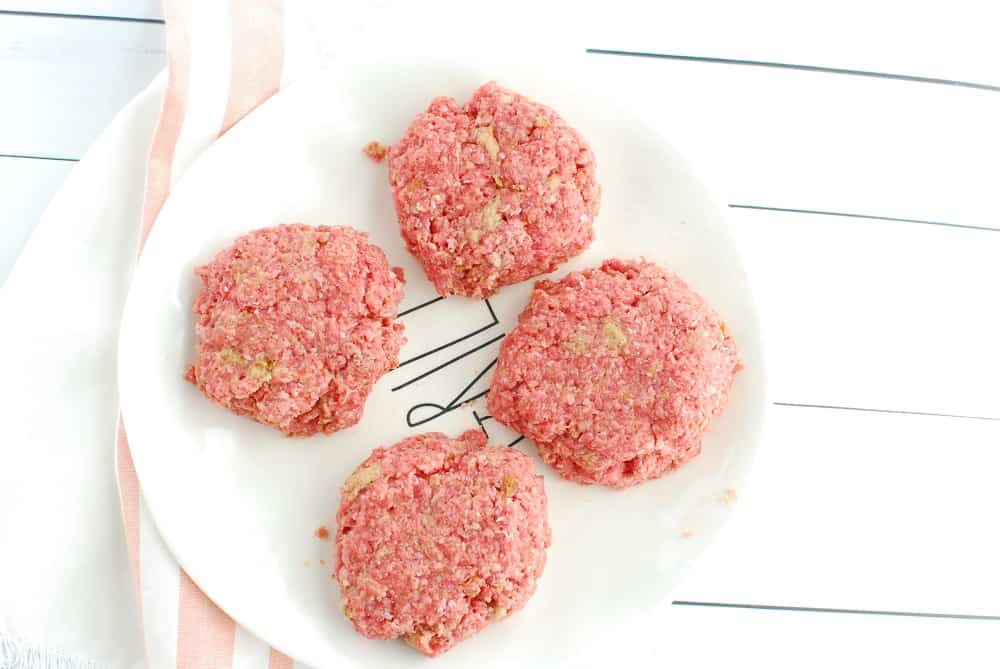 Now it's time to cook them in the skillet.
Quick tip – on the Food Network one day, I caught a chef poking their burger patties in the pan with a knife a few times before cooking. This helps the patty cook evenly and avoid puffing up in the center. Even though most sources will tell you that it's unnecessary to do when pan frying, I still find that this helps the burger cook evenly into the perfect patty. You can see the few marks on the patty in the pan here: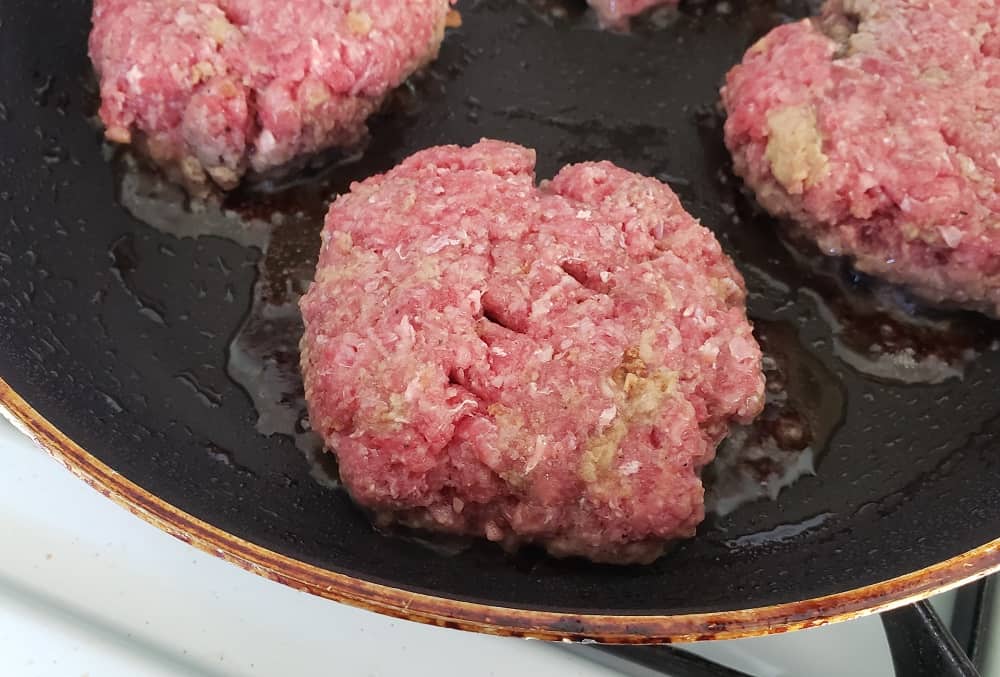 When the burgers are done, place a patty on a bun. Layer some mashed avocado on both the burger and the top bun. Add a heaping scoop of the corn salsa on top, and then add the top bun. It's messy, but the avocado on both sides should help the salsa stay in place.
Now dig in and enjoy!
Recipe FAQ
Here are some common questions that may come up related to this recipe:
Can you use frozen burger patties instead of homemade? Sure! Feel free to use those and just make the salsa to go on top.
Can you grill the patties instead of pan fry? Yep!
Can you make this spicier? Sure – if you'd like to up the heat level, add a minced habanero to the burger patty mixture itself too.
Can nursing moms eat spicy foods? Yes! While old school advice often touted eliminating things like spicy food and garlic, research now shows that including a variety of flavors and spices is beneficial for infants. Rarely, some infants may be sensitive to the very small amounts of capsaicin compounds that pass through the breastmilk (for example, a case study found occasional dermatitis associated with hot red peppers). If that occurs, feel free to avoid hot peppers – but that aside, there's no other reason you'd need to avoid spicy food.
Is this too spicy for kids? Habaneros are quite spicy. As an adult, I don't find the totality of this meal to be overly hot, since the avocado offers a cooling component and the burger offers richness to balance it out. Older kids and teens may enjoy it, but it may be too spicy for younger kids (especially if they haven't grown up eating spicy food). If making for a family, you can separate out some of the corn salsa before you add the habanero, and save that for the little ones.
Allergens in this recipe
*Disclaimer – Always double check ingredients to confirm a product meets your allergy needs. While I try to note potential allergens below, there is always the chance I may miss something or that manufacturer formulations may change.
As written, this recipe is dairy free. It should also be egg free and nut free, provided the bread and buns you choose do not contain these ingredients.
This recipe does contain wheat/gluten, fish, and soy. Here are suggested modifications if these are an issue for you:
To make fish-free: I know, this one usually surprises people – but Worcestershire sauce usually contains anchovies, so it's an issue if you have a fish allergy. If you'd like to make this fish free, you can use soy sauce or coconut aminos instead.
To make gluten-free: Substitute a gluten-free dairy-free bread and bun in place of the regular bread and bun used. Also, be sure to double check the ingredients on the Worcestershire – most are gluten free but always worth an extra look to be sure.
To make soy free: Soy is difficult to eliminate in this recipe, as both bread and bun options will typically contain soy. If you can find a dairy-free soy-free bread and bun, or want to make your own soy-free version, you can substitute those here. As some Worcestershire sauces contain soy, double check the ingredients on that – if needed, substitute with coconut aminos.
I hope you enjoy these dairy free burgers with habanero salsa! The hubby and I were huge fans – we actually ate these for our Easter dinner, haha. If you get a chance to try them, I'd love for you to leave a recipe rating or comment below.
PS – If you're looking for more ground beef recipes, be sure to try our dairy free lasagna and beef stroganoff recipes.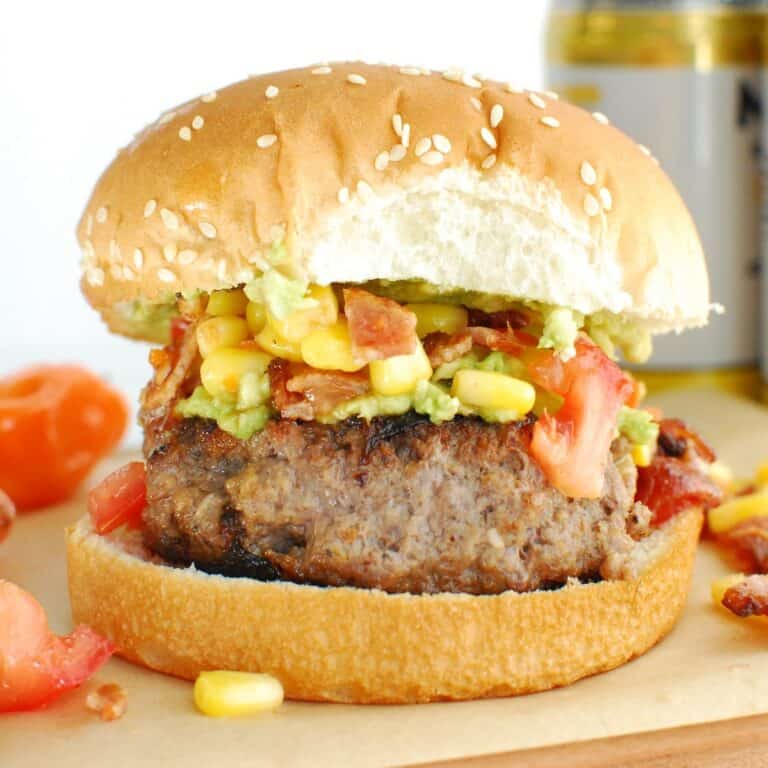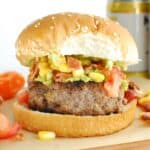 Habanero Burgers
These habanero burgers are the epitome of homemade pub-style food.  A delicious beef burger patty is topped with habanero salsa and mashed avocado.
Ingredients
For the habanero salsa topping:
3

slices

bacon, cooked and crumbled

1

habanero, minced

1

medium tomato, diced

½

cup

corn

½

lime, juiced

1

tsp

olive oil

1

tbsp

honey
For the burger patties:
1

slice

dairy-free soft wheat or white bread, crumbled

2

tbsp

oat milk

(or preferred milk alternative)

1

lb

ground beef

(I recommend 85/15)

2

tsp

Worcestershire sauce

½

tsp

salt

½

tsp

garlic powder

¼

tsp

pepper
To assemble:
4

dairy-free burger buns

1

avocado, mashed
Instructions
Prepare the topping for the burgers. In a small bowl, combine the bacon, habanero, tomato, corn, lime juice, olive oil, and honey. Set aside for now.

Next, prepare the burger patties. Start by crumbling the bread and place it in a mixing bowl. Add the milk and Worcestershire sauce, and let it sit for a few minutes. Mash it with your hand to create a paste-like consistency.

Mix in the ground beef, salt, garlic powder, and pepper. Form four burger patties.

Cook the burger patties in a skillet over medium heat. Cook for 3-5 minutes per side, or until the burgers are cooked to an internal temperature of 160 degrees.

To assemble, place the burger patty on a bun. Spread a thin layer of mashed avocado on the patty and the top bun. Drain any excess liquid that has accumulated in the bowl of habanero salsa, then add the salsa on top of the burgers. Place the bun on top. Enjoy!
Recipe Notes
If you want extra heat, add a minced habanero to the burger patties themselves too.
This burger is messy to eat, but delicious!
Nutrition analysis (approximate per serving): 578 calories, 29 g fat, 8.5 g saturated fat, 800 mg sodium, 41 g carbohydrate, 5.5 g fiber, 11 g sugar, 38.5 g protein, Vitamin D: 1%, Calcium: 9%, Iron: 32%, Potassium: 18%
Share: What's your favorite kind of burger? If you tried these habanero burgers, what did you think?
Feel free to pin this to share with others!