Vegan Irish soda bread with raisins isn't necessarily traditional, but it is delicious! More accurately called spotted dog bread, this builds on the basic Irish soda bread base but adds a little sugar, fat, and raisins for a sweeter treat.
Irish soda bread vs. spotted dog bread
Traditional Irish soda bread is just made with flour, salt, baking soda, and sour milk or buttermilk. The version many of us know and love today – a little sweet and packed with raisins – is more commonly called spotted dog bread in certain parts of Ireland.
According to chef and Irish cuisine expert Rory O'Connell, adding raisins to the bread could have been done historically in Ireland as a luxury treat. Women may have thrown some raisins, a bit of sugar, and an egg in the bread to make it sweeter, and served this to men who were working the harvest.
Since then, this sweeter fruit-studded bread has gained popularity in the US, often also incorporating butter as an ingredient too. People here commonly label this as Irish soda bread, despite the obvious deviations from the traditional recipe (you can find a vegan version of traditional Irish soda bread here).
This type of bread is no doubt delicious, and as such, I wanted to share a dairy and egg free version of spotted dog bread.
Ingredients
Here are the ingredients you'll need to make this vegan spotted dog bread, along with helpful notes about each:
Lemon juice – This recipe still uses the standard Irish soda bread base, which requires an acidic ingredient to interact with the alkaline baking soda (this reaction is what produces gas that helps the bread rise). Adding lemon juice to a milk alternative creates your own dairy free buttermilk substitute, which works well in this recipe.
Oat milk – Oat milk has a naturally sweet taste and creamy texture, somewhat reminiscent of traditional dairy milk, making it a nice choice for this subtly sweet bread.
All purpose flour – Refined all-purpose flour is less hearty tasting than whole wheat flour, and as such, it's a good choice for this recipe where we're making a sweeter bread.
Sugar – I prefer making this lightly sweetened, and as such, only use a few tablespoons of sugar. There are many recipes that use substantially more, though, so you can play around with the amount if this is too little for you.
Salt – Salt helps enhance the other flavors in the bread, and also acts as a mild preservative to help it last longer.
Baking soda – The key to an Irish soda bread; baking soda is responsible for the rise. Be sure your baking soda isn't too old as it can lose potency.
Baking powder – Because this recipe is a bit heavier with the dairy-free butter and raisins, adding baking powder helps the rise. Baking powder contains both baking soda and a dry acid, like cream of tartar – when it gets wet, it starts the chemical reaction to produce gas to leaven baked goods (and then with double acting baking powder, a second reaction occurs when it reaches high heat). Using this is unconventional for Irish soda bread, but after testing both ways, this vegan version does work better with the addition of baking powder.
Dairy free butter – You'll cut this into the dough, almost like you're making a giant biscuit. This helps add richness to the final product. I used Country Crock Plant Butter sticks with avocado oil for this recipe, but you can also use Earth Balance or another dairy free option.
Golden raisins – These just taste better to me compared to traditional raisins, but you can definitely use whichever you prefer!
Step by step instructions
You'll find full amounts and instructions in the recipe card at the bottom of this post, but here's a quick overview of how to make this.
Start by combining the lemon juice and oat milk in a measuring cup. You want to put the lemon juice in first, then fill up the oat milk until you hit 1 ½ cups.
Next, mix up your dry ingredients: the flour, sugar, salt, baking soda, and baking powder. Once those are combined, cut in the dairy free butter. You can do this with a pastry cutter or knives, but I find it's easier to work it in by hand, until the mixture resembles coarse crumbs (there may be some pea-sized bits of dairy free butter left; that's fine).
Stir in the raisins next, then add the oat milk mixture. Stir it together until just combined; you want to avoid overmixing. The dough will still be a bit wet and sticky – here's what it looks like: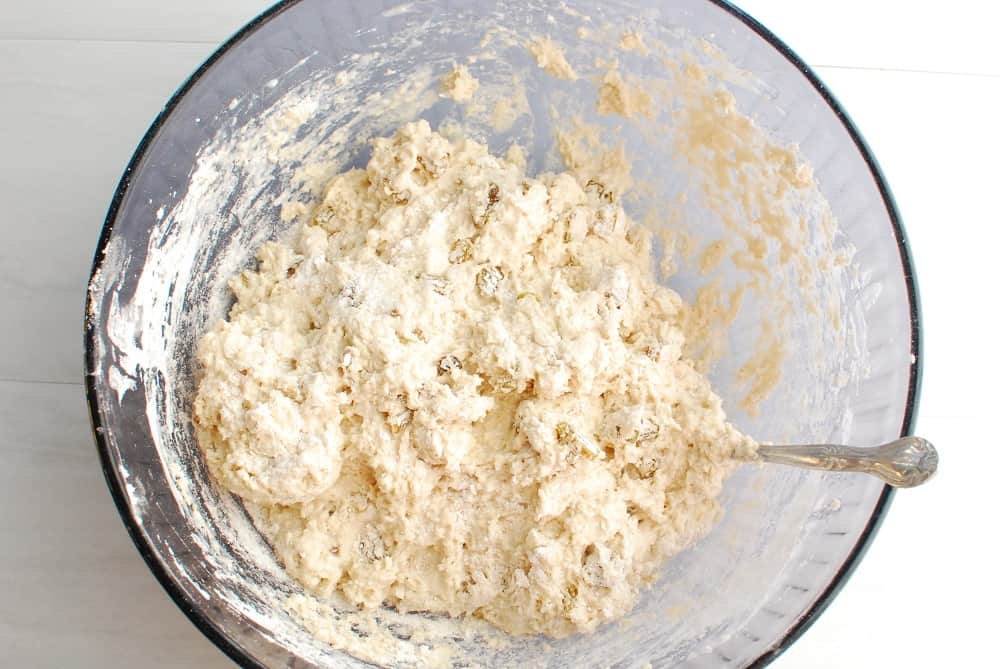 Similar to my traditional Irish soda bread recipe, I don't knead this one either. Instead, I work with the dough in the bowl, adding a little flour to the top then flipping it and adding a little more. This makes the dough easier to work with, and I can shape it right in the bowl into a wide boule shape. You want it to be round with just a slightly domed top.
You'll place that on a parchment-lined baking sheet, and then use a sharp knife to cut an X in the top, like this: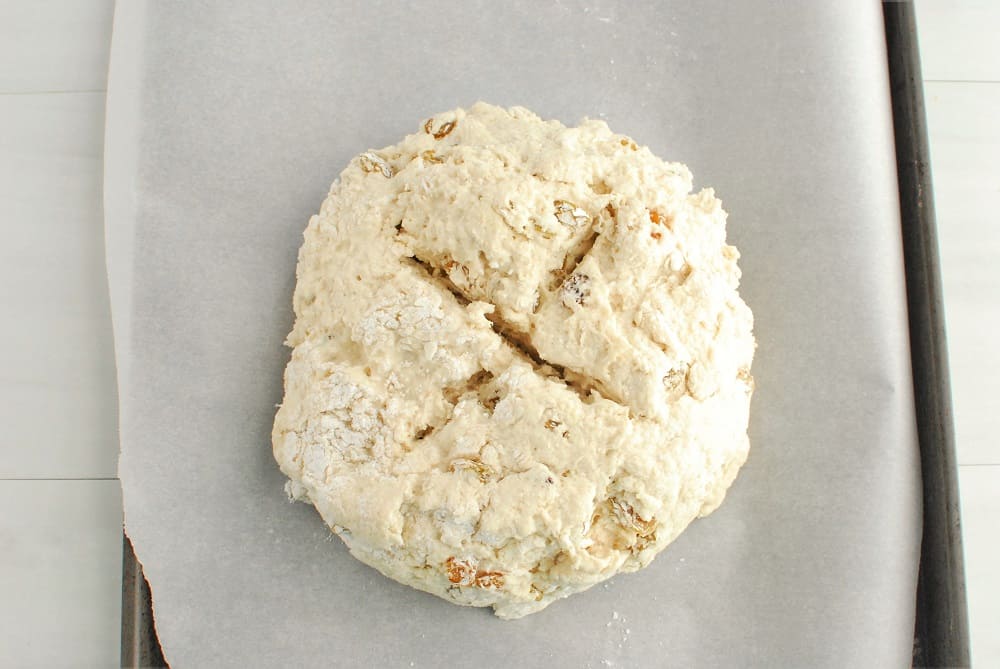 Now pop that baby in the oven and bake it! When it's done, it's really important to let this fully cool for about an hour before cutting it. This bread is crumbly when hot, and needs the time to cool down before it will slice properly.
Recipe FAQ
Here are some common questions that may come up as you prepare this recipe:
The bread is too crumbly or dense – what happened? If the bread is simply crumbly, it could be because you are trying to cut it prior to cooling. It's really important to let this version cool fully. If it's too dense, you may have overworked the bread, or used old baking soda or baking powder that lost their potency.
Can you bake this without a baking sheet? Yes, you can alternatively use a cast iron skillet or a cake pan to bake this.
How do you serve this bread? This is a subtly sweet bread, with bursts of flavor thanks to the raisins. It's best served slightly warm (either toasted or microwaved) with dairy-free butter. You can also serve it with a little cream cheese and jelly.
How do you store this? If you enjoy the crisp exterior on homemade bread, store this wrapped in a kitchen towel at room temperature. If you prefer a softer exterior, store it in a zip top bag at room temperature. Either way, this bread is best eaten in 3 days.
Can you freeze this bread? Yep! I recommend slicing, then freezing, so you can pull out individual slices and reheat in a toaster oven when you'd like to enjoy one.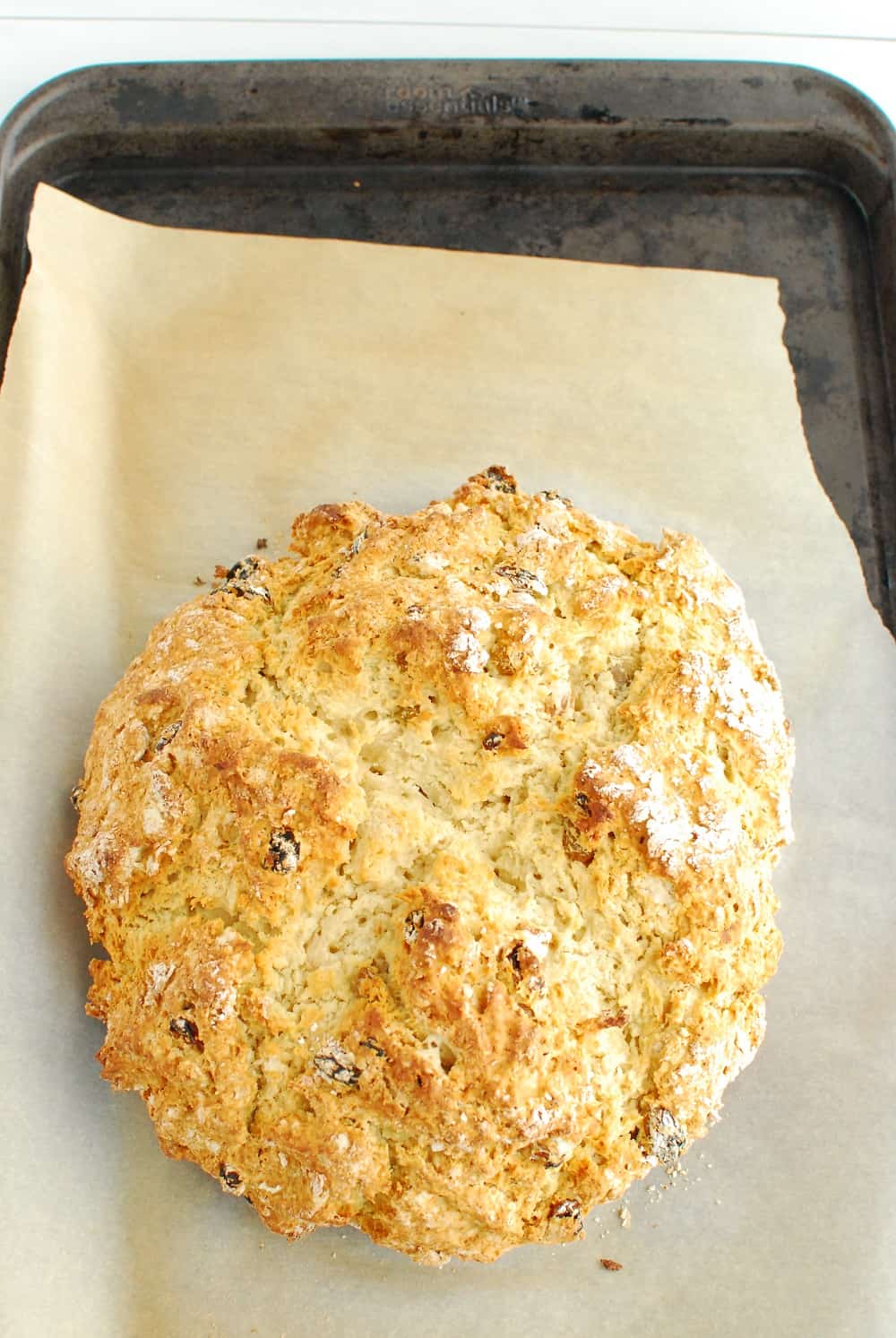 Allergens
*Disclaimer – Always double check ingredients to confirm a product meets your allergy needs. While I try to note potential allergens below, there is always the chance I may miss something or that manufacturer formulations may change.
As written, this recipe is dairy free and egg free.
Depending on your choice of dairy-free butter, this recipe may contain soy or nuts. For example, certain dairy free butters are made with almond oil, and others may contain soy lecithin. Be sure to choose a dairy-free butter that fits your needs. (As a heads up, the red container of Earth Balance is soy free and nut free at the time of publication.)
This recipe does contain wheat/gluten, as it uses all purpose flour. (If you need a gluten free recipe, I'd suggest finding one specific to those needs, as it may require additional adjustments to achieve the right texture.)
Keep in mind that if you choose substitutions for any ingredients (like using a different type of non-dairy milk) that can affect the allergens in the final product.
This recipe totally brings me back to childhood, when my mom would buy this version of Irish soda bread from the grocery store around St. Patrick's Day. I hope it brings back warm memories for you too! If you get a chance to try it, feel free to leave a recipe rating or comment below.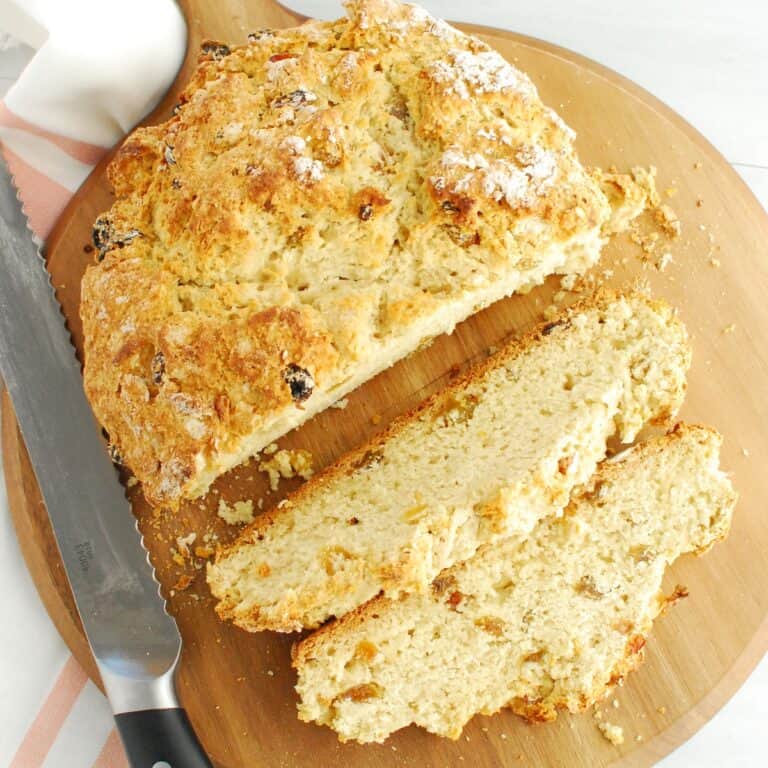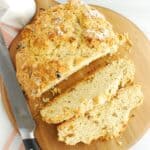 Vegan Spotted Dog Bread (Irish Soda Bread with Raisins)
Vegan Irish soda bread with raisins isn't necessarily traditional, but it is delicious!  More accurately called spotted dog bread, this builds on the basic Irish soda bread recipe but adds a little sugar, fat, and raisins.
Ingredients
1 ½

tbsp

lemon juice

1 ½

cups

plain oat milk

(see instructions)

4

cups

all-purpose flour

(plus extra for shaping the dough)

3

tbsp

granulated sugar

1

tsp

salt

1 ½

tsp

baking soda

1

tsp

baking powder

⅓

cup

dairy-free butter, cut into cubes

1

cup

golden raisins

(or regular raisins)
Instructions
Preheat the oven to 400 degrees F. Line a baking sheet with parchment paper.

Add the lemon juice to a measuring cup. Fill the rest of the measuring cup up to the 1 ½ cup mark with oat milk. Let sit for about 5 minutes.

In a large mixing bowl, combine the flour, sugar, salt, baking soda, and baking powder. Stir well.

Cut in the dairy free butter using a pastry cutter, butter knife, or simply working it in by hand, until the mixture resembles coarse crumbs.

Stir in the raisins.

Add the oat milk mixture, stirring and forming a dough until just combined. Sprinkle a little flour over the top of the dough in the bowl, then flip the dough and sprinkle a little more flour on that side. The goal is to get just enough flour on the dough to make it workable, and then shape it somewhere between a disc and boule (slightly rounded ball). It should look like a circle with a slightly domed top.

Place the dough on the parchment-lined baking sheet. With a sharp knife, score the center of the dough with an X about ½-inch thick.

Bake at 400 degrees F for about 35-45 minutes, or until the bread is cooked through. When cooked through, it should have a hollow sound when tapped and a toothpick will pull out clean.

Let cool on a cooling rack for at least an hour, then slice and enjoy.
Recipe Notes
If you try to slice this immediately out of the oven, it will crumble a bit. Let it cool fully before slicing if you're hoping for nice-looking slices.
This recipe makes one loaf, which yields around 10-12 slices. For the nutrition analysis, we assume 12 slices.
Nutrition analysis (approximate per serving):  262 calories, 5.5 g fat, 2 g saturated fat, 460 mg sodium, 48 g carbohydrate, 2 g fiber, 11.5 g sugar, 5.5 g protein, Vitamin D: 2%, Calcium: 6%, Iron: 13%, Potassium: 3%
Share: When you think of Irish soda bread, do you think of the plain brown bread or this spotted dog bread that's sweeter with raisins?
Want to save this for later? Go ahead and pin it below. 🙂