This traditional vegan Irish soda bread is an easy-to-make no-yeast bread. Whether you want to whip up a loaf for St. Patrick's Day or make it a regular part of your cooking routine, you'll love the simplicity of this recipe.
What is Irish soda bread?
Traditional Irish soda bread was a simple table bread that was made from flour, salt, baking soda, and sour milk or buttermilk.
It's long-been an inexpensive way to create bread without yeast, as the rising power comes from the interaction between the alkaline baking soda and the acid in the sour milk / buttermilk. In fact, according to the Society for the Preservation of Irish Soda Bread, the first mention of Irish soda bread was documented as early as 1836.
While here in the United States we often think of Irish soda bread as being slightly sweet and studded with raisins, that was actually more of a luxury treat (sometimes called spotted dog bread).
For this recipe, we're keeping it as close as possible to the traditional route, while making it accessible for home cooks who follow a dairy free diet.
Ingredients
Here are the ingredients you'll need to make this vegan Irish soda bread, along with helpful notes about each: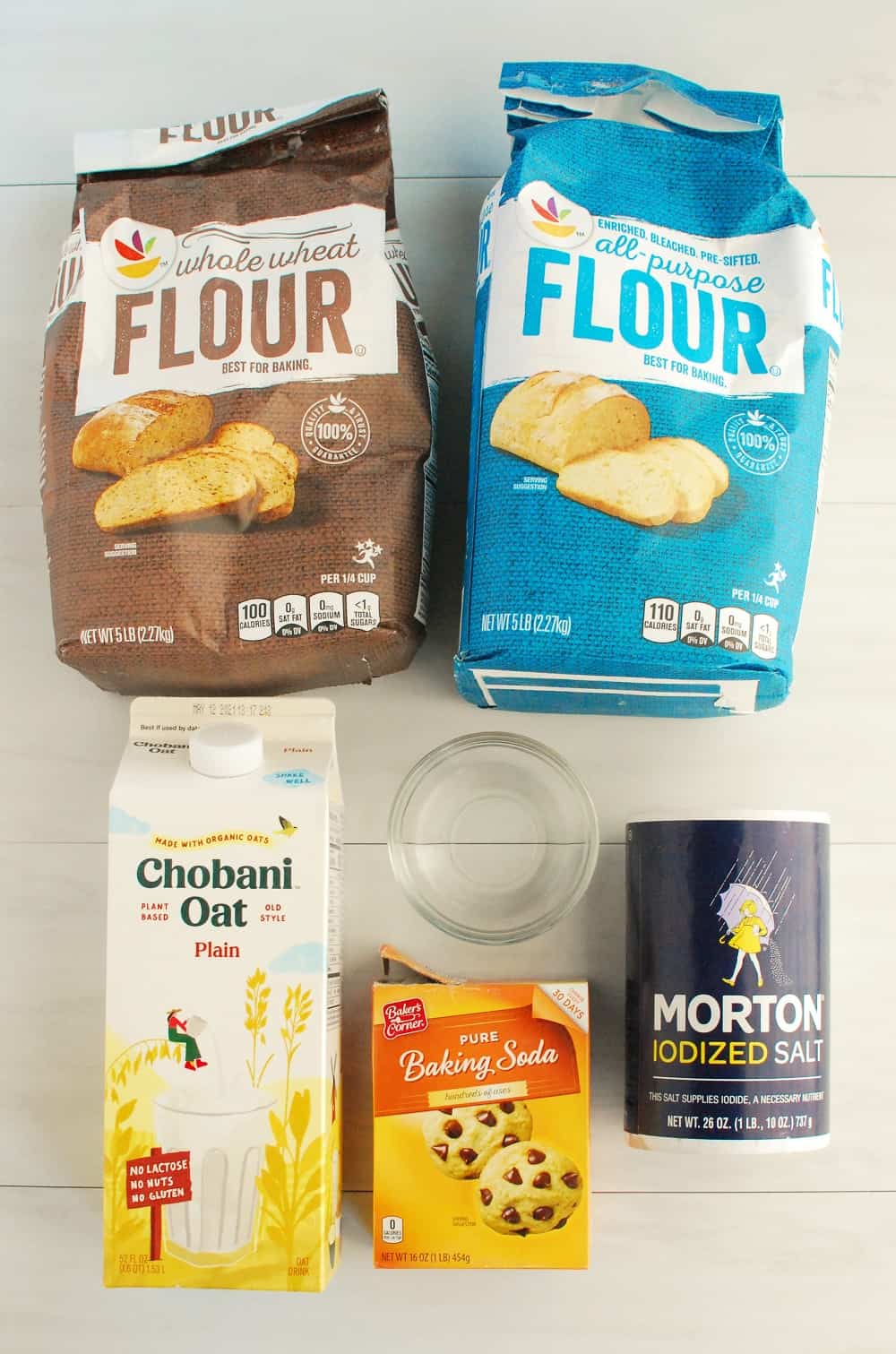 Vinegar – Since this is a dairy free recipe, we need to create the same acidic component that would traditionally be in sour milk or buttermilk. Adding distilled vinegar to a milk alternative is an easy way to do this.
Oat milk – Oat milk has a faint sweetness and creamy texture, which is reminiscent of traditional dairy milk, and works well for this recipe.
Whole wheat flour – Most traditional soda bread recipes were made with soft wheat, rather than the hard wheat that's found in most store-bought flours today. While you can purchase whole soft wheat flour, it can be a bit more challenging to find at the grocery store than regular whole wheat flour (aka hard wheat). To keep this recipe accessible, we'll use a blend of whole wheat and white flour, which helps simulate the original Irish soda "brown bread". (You can certainly use 4 cups of whole soft wheat, rather than this blend, if you can find it.)
All-purpose flour – This helps make the bread fluffier and less dense compared to using all whole wheat flour.
Baking soda – This is the key to helping the bread rise and making it light and fluffy inside. Be sure your baking soda isn't too old; it can lose its potency over time.
Salt – Salt helps add flavor to bread, and also acts as a mild preservative to help it last longer.
Step by step instructions
You'll find full amounts and instructions in the recipe card at the bottom of this post, but here's a quick overview of how to make this simple bread.
To start, add the vinegar to a measuring cup, then fill up the oat milk until you hit the 1¾ cup line. You're going to let that sit for a few minutes, which is essentially making our own dairy free buttermilk.
While that's sitting, get your dry ingredients mixed up. Combine the whole wheat flour, white flour, salt, and baking soda.
Now, add the oat milk mixture, and give everything a good stir. The dough will be a bit sticky and shaggy. Here's what it looks like: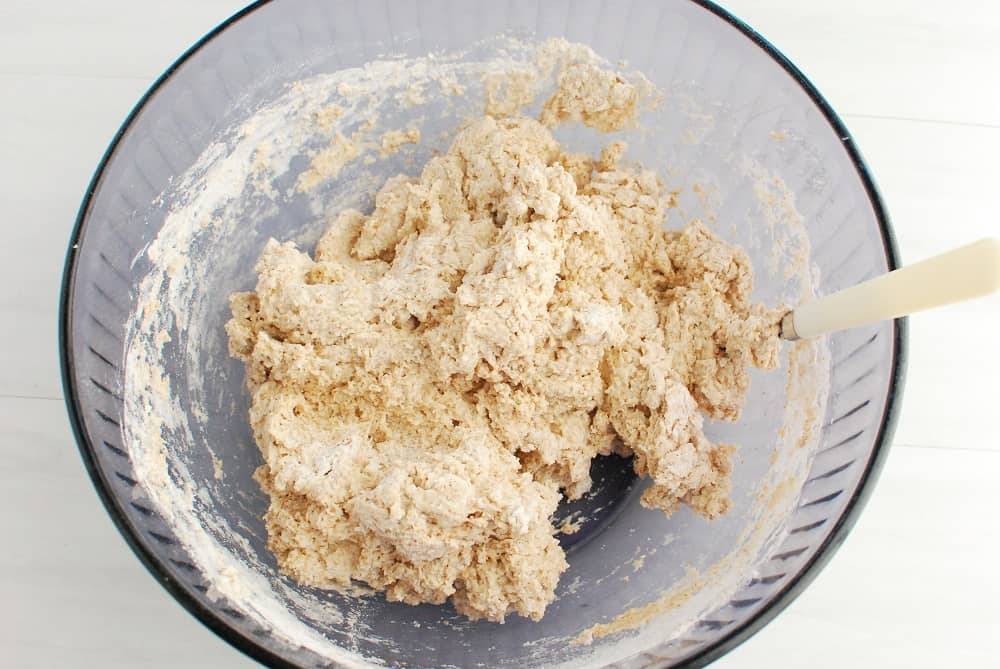 While many people take out the dough and knead it at that point, I go the traditional Irish route of no kneading. I prefer the more rustic, scraggly, crispy crust associated with this method, which also produces a light, fluffy interior. However, if you prefer a smoother crust, you can work it a bit – but keep in mind overworking will lead to tough bread.
Instead of kneading, you're going to work right within the bowl to shape it. Take a little flour and sprinkle it over the top, then flip the dough and sprinkle a bit more on. Use your hands to form a cross between a disc and a boule shape – a slightly rounded ball. It's important to not have a very round ball of dough, as it will not rise correctly. Think a squished ball; a disc with a slight dome on top.
Place on a baking sheet lined with parchment paper, and then score the top with an X. Here's what it'll look like: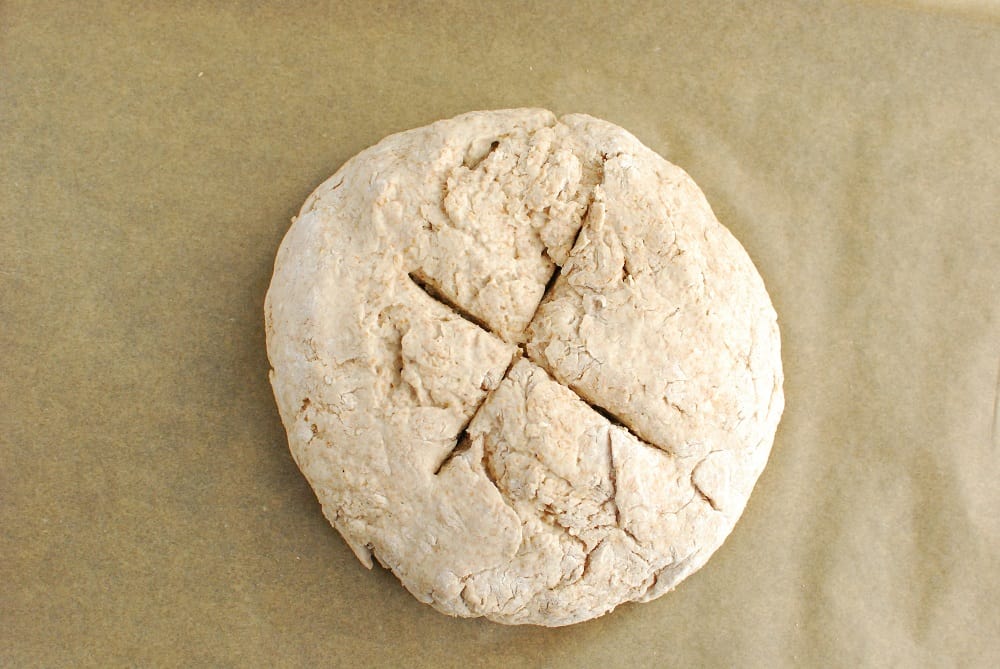 I've heard a lot of rumors about the X on the top, being put there to keep bad spirits away, to let the Devil out of the bread, or to represent a cross symbol and indicate giving thanks while breaking bread. Whether or not those are true is up to you and your beliefs, but from a culinary perspective, scoring the top helps the bread rise properly and controls the expansion.
Last step is to bake it – then let cool, slather on some dairy-free butter, and enjoy!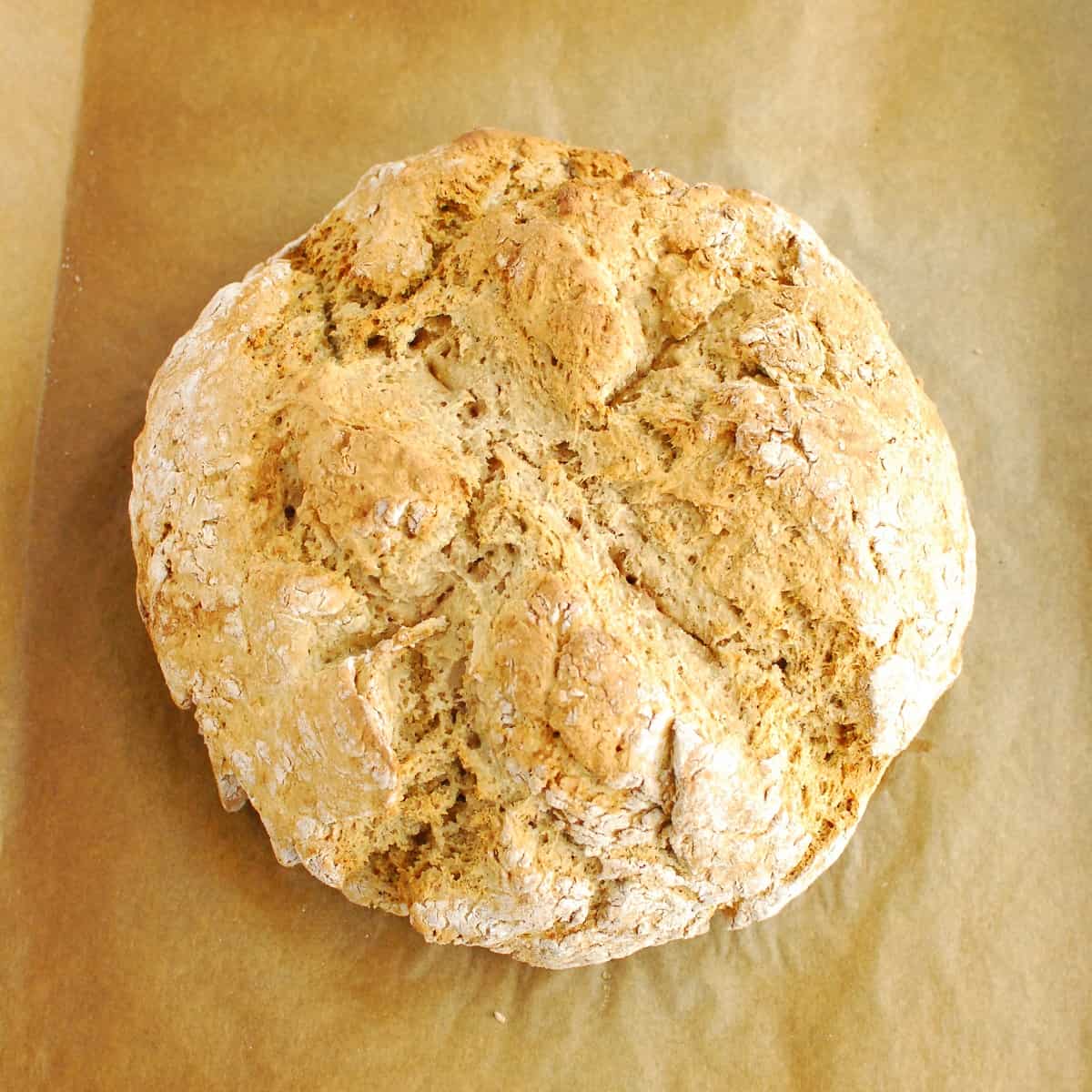 Recipe FAQ
Here are some common questions that may come up as you prepare this recipe:
The bread is too dense – what happened? If you ended up with a dense loaf, there are two primary reasons this occurred: 1) you used old baking soda that has lost its potency, or 2) you overworked the dough which made for a tough bread. Also, if you changed any of the ingredients – like using all whole wheat flour, for example – that could have resulted in a dense loaf too.
Can you use another milk alternative? I've tried this recipe with oat milk, high-protein almond cashew milk, and plain almond milk. Oat milk provided the best taste and texture, and as such, I recommend using that. If you have to substitute, I recommend a plain unsweetened almond milk. Do not use heavier milk alternatives like full fat coconut milk, as this will throw off the taste.
How do you store this? Store at room temperature wrapped in a kitchen towel if you'd like to keep the outside crisp. If you'd prefer softening up the exterior, store in a zip top bag at room temperature. The bread is best eaten in 3 days.
What goes with Irish soda bread? The bread itself is lovely with some dairy-free butter – but really, you can serve it as a part of any meal that goes well with traditional bread. Serve it alongside beef stew or tomato soup, enjoy it topped with some salty charcuterie meats, or add some roasted beets, arugula, and honey on top. Get creative!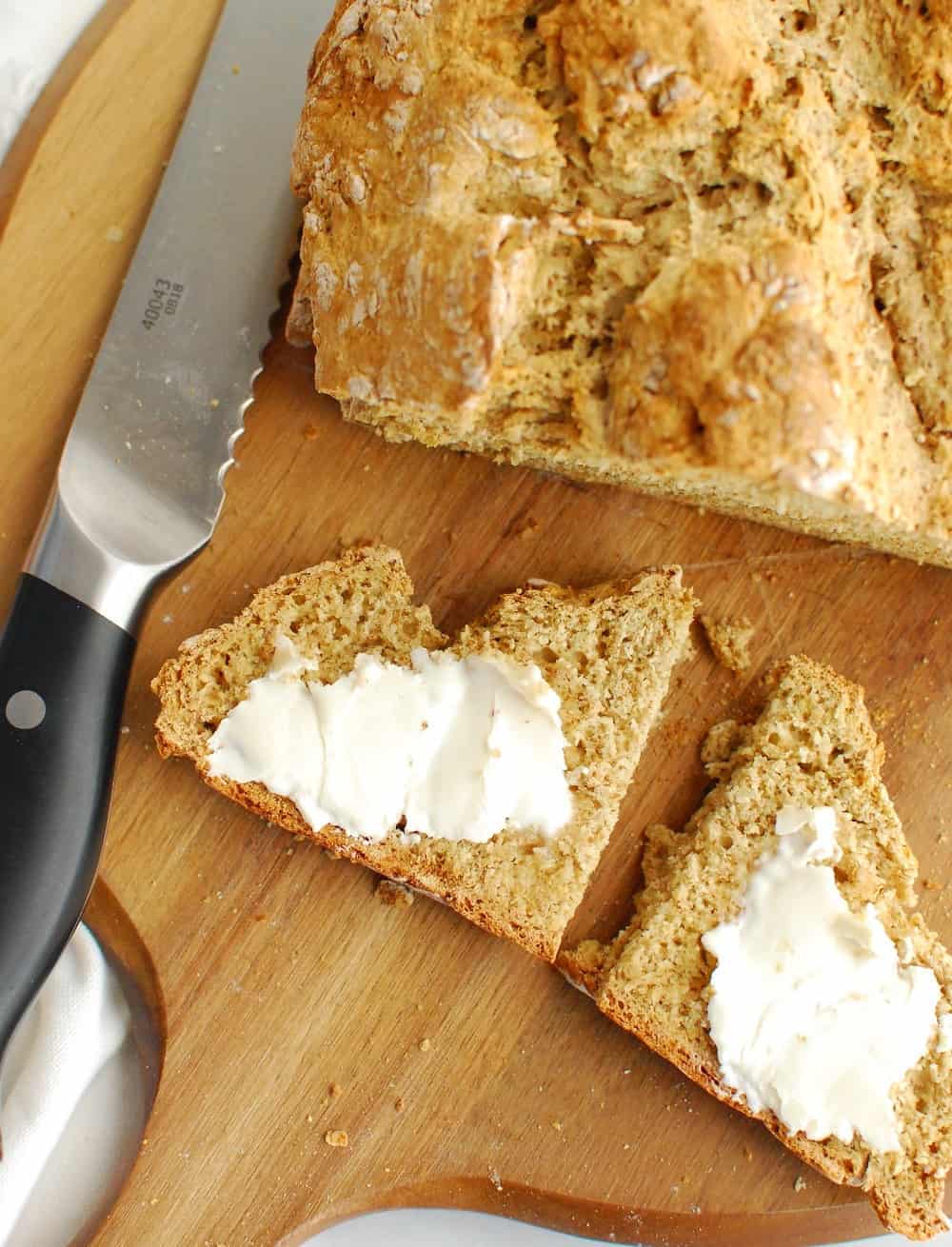 Allergens
*Disclaimer – Always double check ingredients to confirm a product meets your allergy needs. While I try to note potential allergens below, there is always the chance I may miss something or that manufacturer formulations may change.
As written, this recipe is dairy free, soy free, egg free, and nut free.
This recipe does contain wheat/gluten, as it uses standard flour. (If you need a gluten free recipe, I'd suggest finding one specific to those needs, as it may require additional adjustments to achieve the right texture.)
Keep in mind that if you alter any of the ingredients – for example, using another milk alternative – that may change the allergens.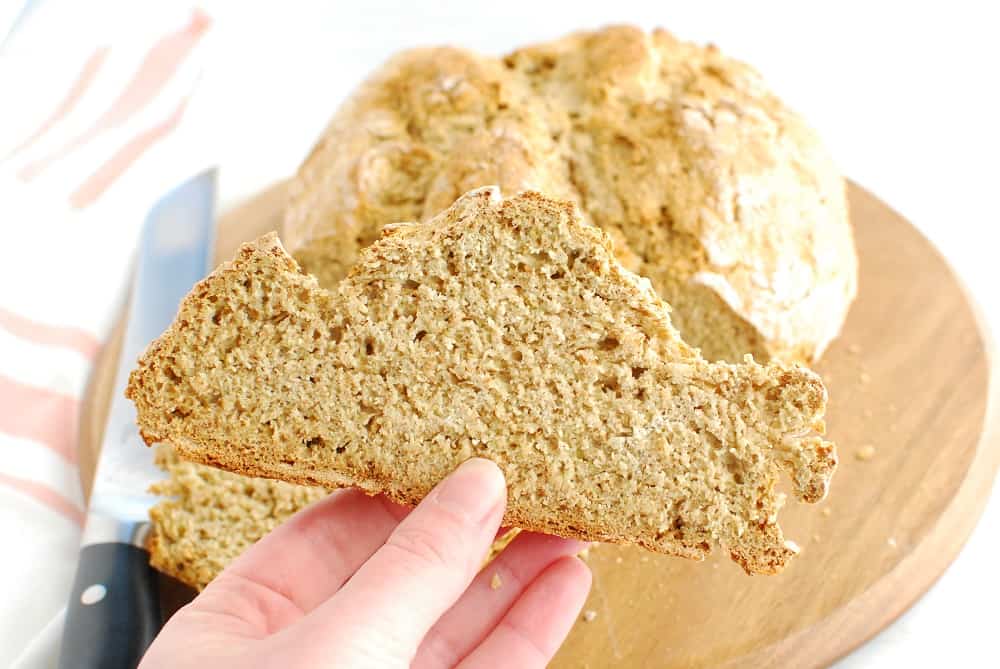 I hope you like this vegan Irish soda bread! With St. Patrick's Day coming up, we've thoroughly been enjoying this and spotted dog bread (aka Irish soda bread with raisins). If you get a chance to try this, please feel free to leave a recipe rating or comment below.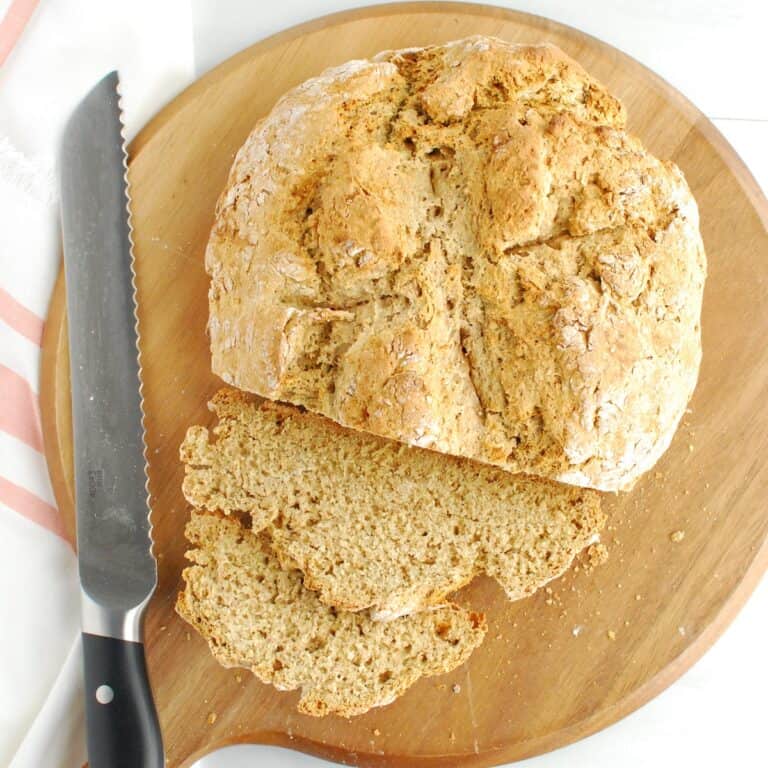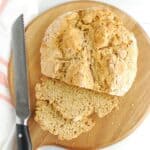 Vegan Irish Soda Bread
This vegan Irish soda bread is made with simple ingredients for an authentic style brown table bread.
Ingredients
1 ½

tbsp

white vinegar

1 ¾

cup

plain oat milk

(see instructions)

2

cups

whole wheat flour

2

cups

all-purpose flour

(plus extra for shaping the dough)

1 ½

tsp

baking soda

1

tsp

salt
Instructions
Preheat the oven to 425 degrees F. Line a baking sheet with parchment paper.

Add the vinegar to a measuring cup. Fill the rest of the measuring cup up to the 1 ¾ cup mark with oat milk. Let sit for about 5 minutes.

In a large mixing bowl, combine the whole wheat flour, white flour, baking soda, and salt. Stir well.

Add the oat milk mixture, stirring and forming a dough until just combined.

Sprinkle a little flour over the top of the dough in the bowl, then flip the dough and sprinkle a little more flour on that side. The goal is to get just enough flour on the dough so that you can work it into round shape - somewhere between a disc and a boule (slightly rounded ball). Do not knead the dough; handle as little as possible. You want it to be round with a slightly domed top.

Place the dough on the parchment-lined baking sheet. With a sharp knife, score the center of the dough with an X about ½-inch thick.

Bake at 425 degrees F for about 35-40 minutes, or until the bread is cooked through. When cooked through, it should have a hollow sound when tapped on the bottom, and a toothpick will pull out clean from the center.

Let cool on a cooling rack for at least 15-20 minutes, then slice and enjoy.
Recipe Notes
Spoon and level the flour for the best results.
This recipe makes one loaf, which yields around 10-12 slices. For the nutrition analysis, we assume 12 slices.
Nutrition analysis (approximate per serving): 163 calories, 1 g fat, 370 mg sodium, 33.5 g carbohydrate, 3.5 g fiber, 0 g sugar, 5.5 g protein, Vitamin D: 2%, Calcium: 4%, Iron: 11%, Potassium: 2%
Share: What's your favorite homemade bread to make?
Feel free to pin this post to refer to later!