Grab your potato chips and get ready for snack-time bliss, because this dairy free French onion dip is out-of-this-world good! You won't believe how easy it is to make this three-ingredient dip, and how similar it tastes to the dairy-based version. Perfect for serving as a weekend snack or an appetizer at parties.
Ingredients
This recipe is so simple – you'll only need these three ingredients: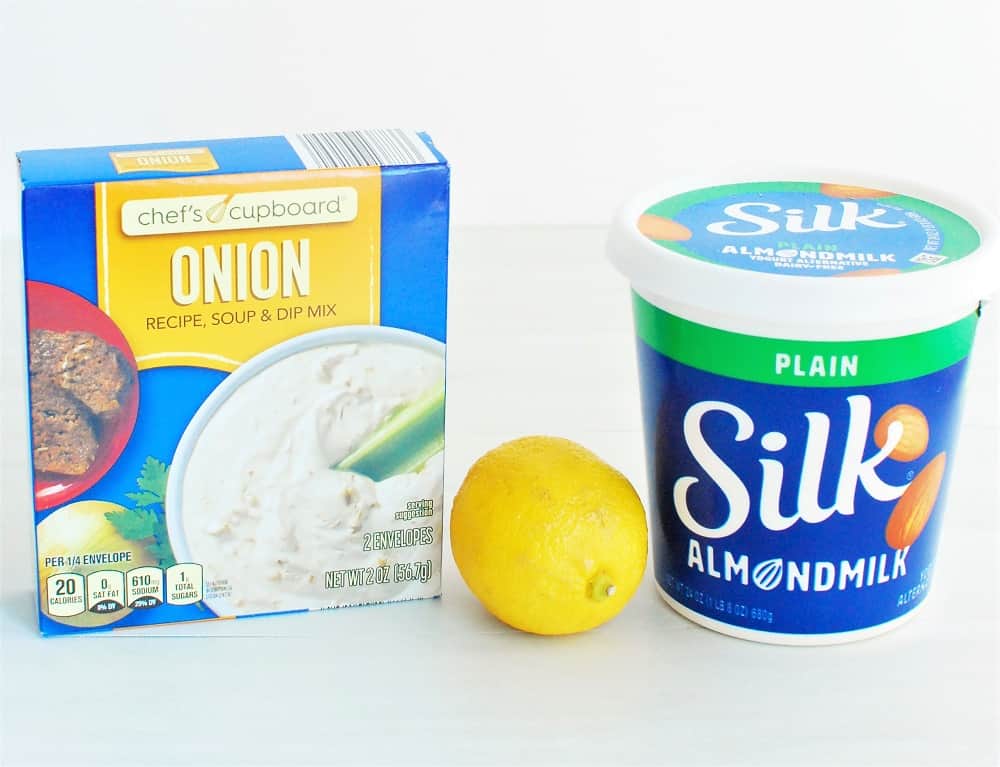 Plain almond milk yogurt alternative – I will fully admit that I dislike plain almond milk yogurt if I'm craving a sweet yogurt snack. However, it works insanely well in this dip. It's relatively thick (thanks to the higher fat content of almonds) so it makes a great base. I use Silk for this recipe.
Lemon juice – Adding lemon juice to the yogurt adds a bit of sourness, similar to what you'd get in a traditional sour cream dip.
Onion soup mix – You might be surprised that most of the dried packets of onion soup mix are actually dairy free! Definitely check the labels for each one, as different brands may contain dairy, and manufacturers can change formulations at any time. However, I've had luck finding dairy free versions from multiple stores (the one I used in this case was ALDI's brand, which at the time of purchase was dairy free).
Step by Step Instructions
You'll find the full recipe amounts and ingredients in the recipe card below, but here's some helpful step-by-step notes and photos.
You're going to start by mixing together your almond milk yogurt and lemon juice.
Then, you're going to prepare a bowl with cheesecloth. Place a double layer of cheesecloth on the bowl, then secure it with a rubber band around the outside.
Now pour your yogurt mixture onto the cheesecloth. You may need to loosen it slightly so that it dips a bit into the bowl, so you're not worried about yogurt spilling off the sides.
Here's what this will look like: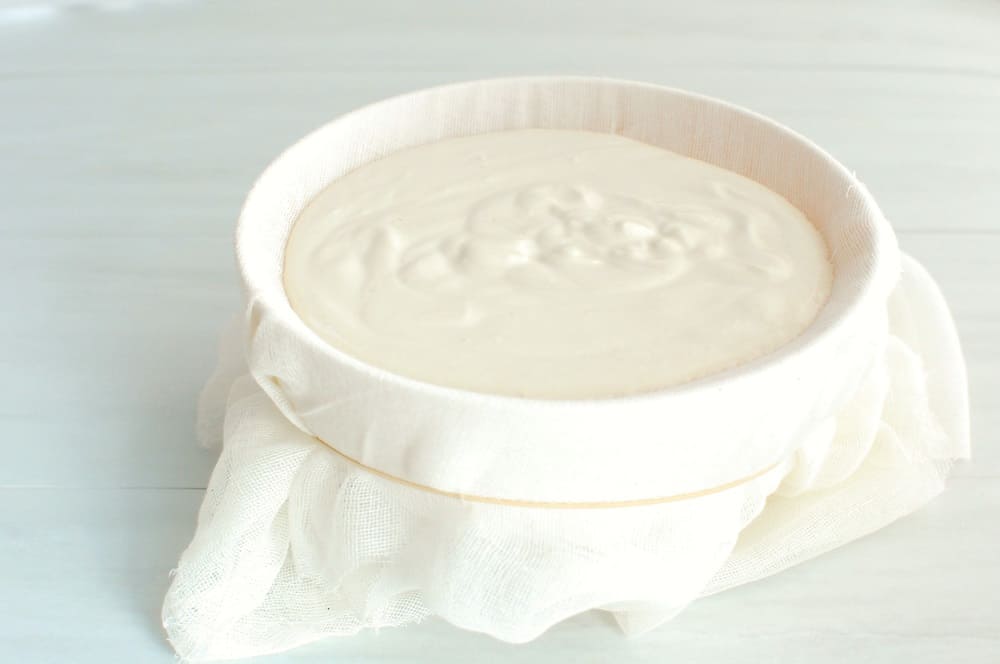 Next, place the bowl in the fridge for at least two hours. The purpose of this step is to let excess liquid drain out of the yogurt, getting it to the right texture for the dip.
Now you can take the yogurt that was left on the top of the cheesecloth and scoop it into a bowl. This will be the base for the dip. (You can discard any liquid that drained out).
Mix your dry onion soup packet with the yogurt, and boom – your dip is ready to dig into! I love serving this with potato chips, carrots, and celery sticks.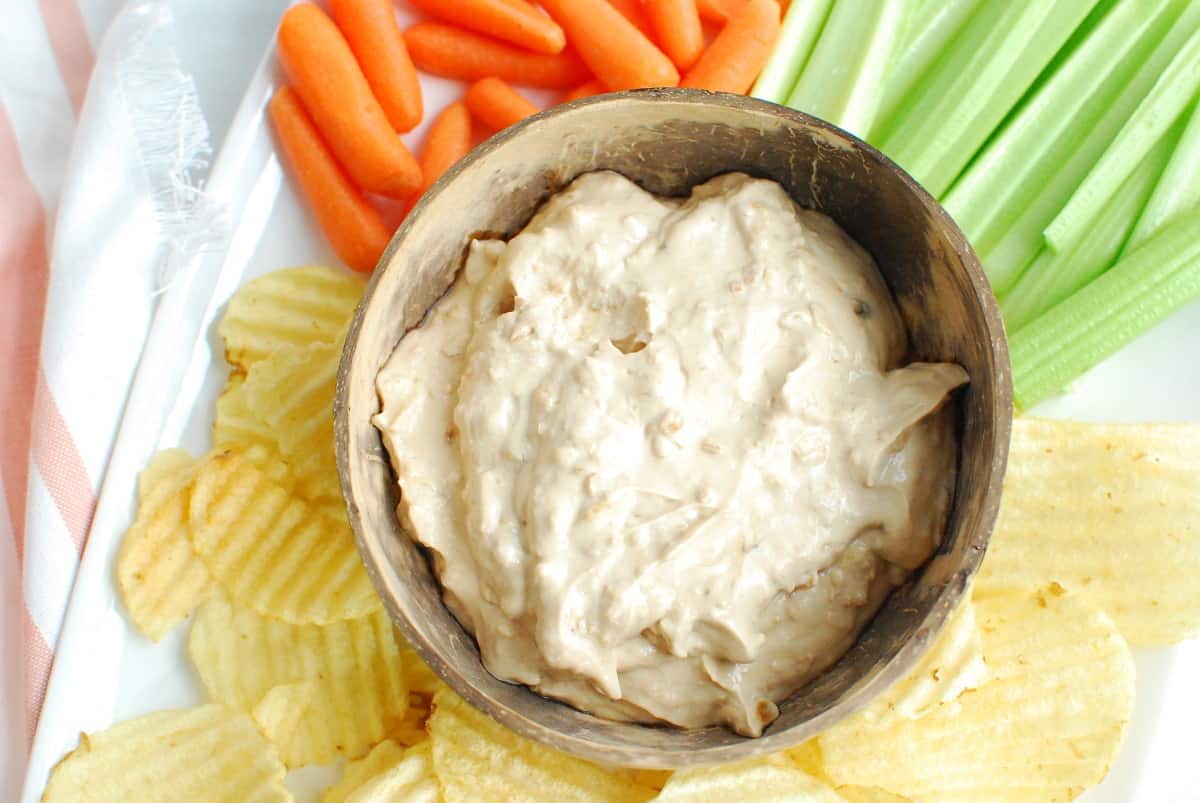 Recipe FAQ
Here are some common questions that may come up as you prepare this recipe:
How should you store dairy free French onion dip?
Store leftovers in the fridge for up to 3 days.  Of note, the flavor profile does change a bit after sitting for a day or two, so it's recommend to make this the same day you're going to use it for the best flavor.
Can you skip the cheesecloth step when making dip?
Technically you could try, but it won't taste as good.  You really want that lemon juice to sour up the mixture slightly, and then draining out the excess liquid using cheesecloth gives it the right texture.  It's too thin if you just add the onion soup mix right away.
Can you use another almond milk yogurt besides Silk?
You can try another version, and it should work as long as it has a similar texture and flavor. Silk's version is widely available and has the right texture. We haven't experimented with many other nut-based yogurts for this recipe, but you are certainly welcome to try.
Can you use coconut milk or oat milk yogurt for dairy free French onion dip?
These options are not recommended, as oat milk yogurt tends to be a bit too sweet, and coconut milk yogurt still has a hint of coconut flavor to it.  Almond milk yogurt is truly the best option for French onion dip.
Allergens in this recipe
*Disclaimer – Always double check ingredients to confirm a product meets your allergy needs. While I try to note potential allergens below, there is always the chance I may miss something or that manufacturer formulations may change.
As written, this recipe is dairy free and egg free.
This recipe does contain nuts, as the base is almond milk yogurt.
Depending on the onion soup mix you choose, this recipe could also contain wheat and soy. The ALDI brand onion soup mix that I used did not contain these allergens at the time of purchase, so the version I made did not contain wheat or soy, but again – this completely depends on the mix you choose.
Many onion soup mixes contain yeast extract, which could be derived from barley – so this could also contain gluten (even if it did not contain wheat). According to the National Celiac Association, those who follow a gluten free diet should avoid products with yeast extract unless the package is specifically labeled as being gluten free (in which case the yeast extract may be derived from other sources).
If you want to try to control certain allergens, you could try making your own homemade onion soup mix. Keep in mind most of these homemade recipes call for beef bouillon powder, which can sometimes contain milk, wheat, or soy. However, using something like Massel's beef style powder could be a good option, as they specifically say on their website that it is free from the common allergens (it's also vegan – just beef "style" – so that may be helpful if that's a concern for you too).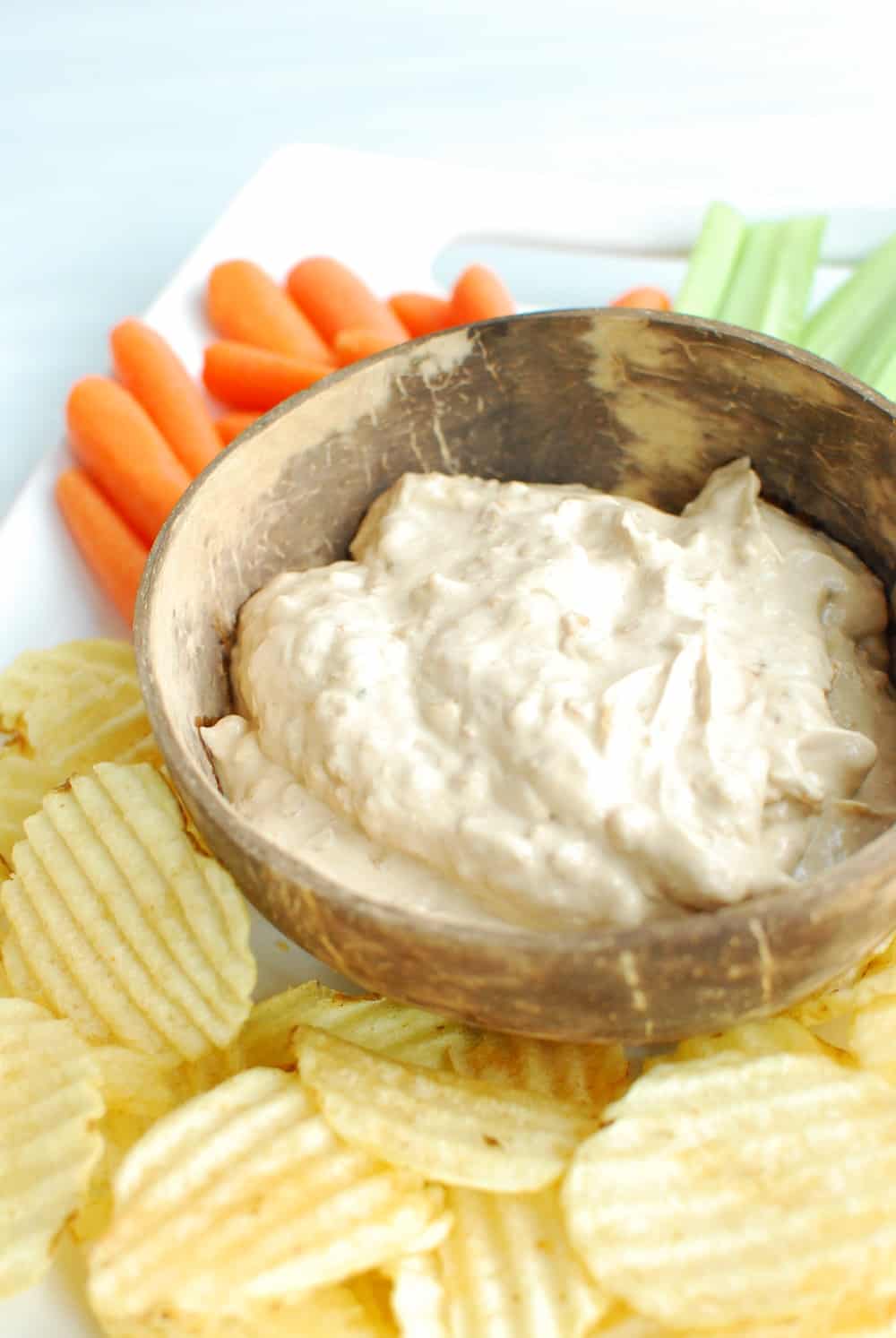 More Dairy Free Dips
If you're looking for more dairy free dips, check out these savory and sweet options:
You can also check out our roundup of dairy free dips, which has both sweet and savory options!
I hope you love this dairy free French onion dip! It is honestly one of my very favorite dairy free recipes, because it tastes so similar to the original version. You can find this recipe and other awesome dairy free recipes in my cookbook, Dairy Free Cookbook for Beginners (amazon affiliate link; I earn a commission on qualifying purchases).
If you get a chance to try it, please feel free to leave a recipe rating or comment below.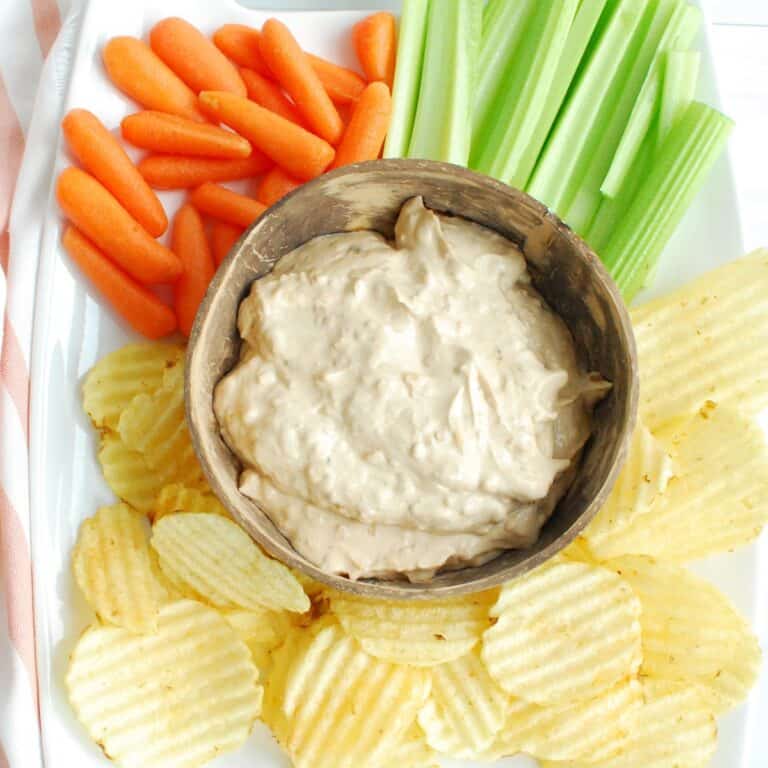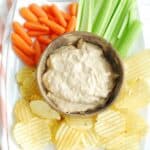 Dairy Free French Onion Dip
This 3-ingredient dairy free French onion dip is easy to make and tastes amazing paired with veggies or potato chips!
Ingredients
1 ½

cups

Silk plain almondmilk yogurt alternative

1

lemon, juiced

1

ounce

dry packet of dairy-free onion soup mix
Instructions
In a medium bowl, combine the almondmilk yogurt and lemon juice. Stir well.

Take another medium bowl and cover it with two layers of cheesecloth. Secure it with a rubber band around the outside of the bowl.

Pour the yogurt mixture on top of the cheesecloth. Place in the refrigerator and let it sit for at least 2 hours, which will allow some of the extra liquid in the mixture to drain off.

When ready, scoop the yogurt mixture that's still on top of the cheesecloth into another bowl. Discard the drained liquid.

Add the onion soup mix to the yogurt mixture, and stir well. Serve with veggies or potato chips and enjoy!
Recipe Notes
This recipe makes about 1 ½ cups of dip. We've calculated a serving at ¼ cup, so the recipe contains about 6 servings.
Nutrition analysis (approximate per serving):  78 calories, 5 g fat, 0.5 g saturated fat, 430 mg sodium, 7.5 g carbohydrate, 1.5 g fiber, 1.5 g sugar, 2 g protein, Vitamin D: 1%, Calcium: 3%, Iron: 2%, Potassium: 2%
Share: What's your favorite kind of dairy free dip?
Feel free to pin this post to refer to later and share with friends: