Football is officially starting up, and that means it's time for all the game day snacks.  Most dips are tough if you're on a dairy free diet, because many contain cream cheese or cheese.  But with this dairy free buffalo chicken dip, you get all the rich indulgent flavor with none of the dairy!
Disclosure: This post contains affiliate links. As an Amazon Associate I earn from qualifying purchases.
Why I love this buffalo chicken dip
Buffalo chicken dip is probably one of my top 10 favorite foods.  I mean, it's spicy, it's filling, it's rich – it's just so good.
When I had to be dairy free for nursing my kiddo, I remember going to a Christmas gathering and being so sad that I couldn't eat the dip.  While it took me a while to find a way to recreate that same flavor without the dairy, I think I've finally gotten it down pat.
The secret ingredient?  Mayonnaise.
Yes, I know it sounds kind of gross.  A dip with a bunch of mayo – for real?  But I promise, it tastes amazing.
The mayo mixes together with the buffalo sauce to create that indulgent flavor you're craving.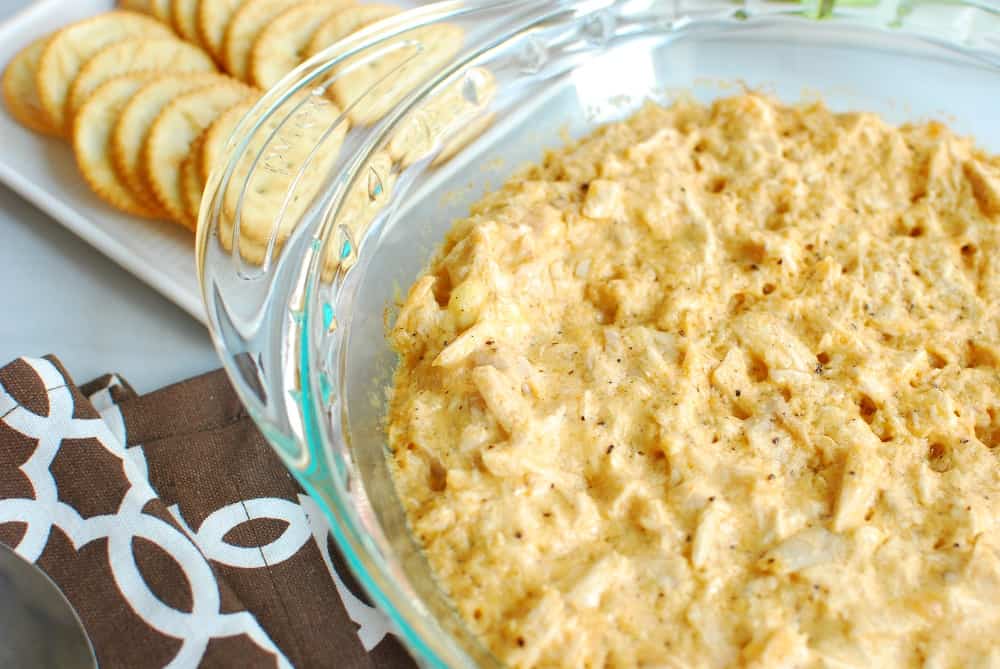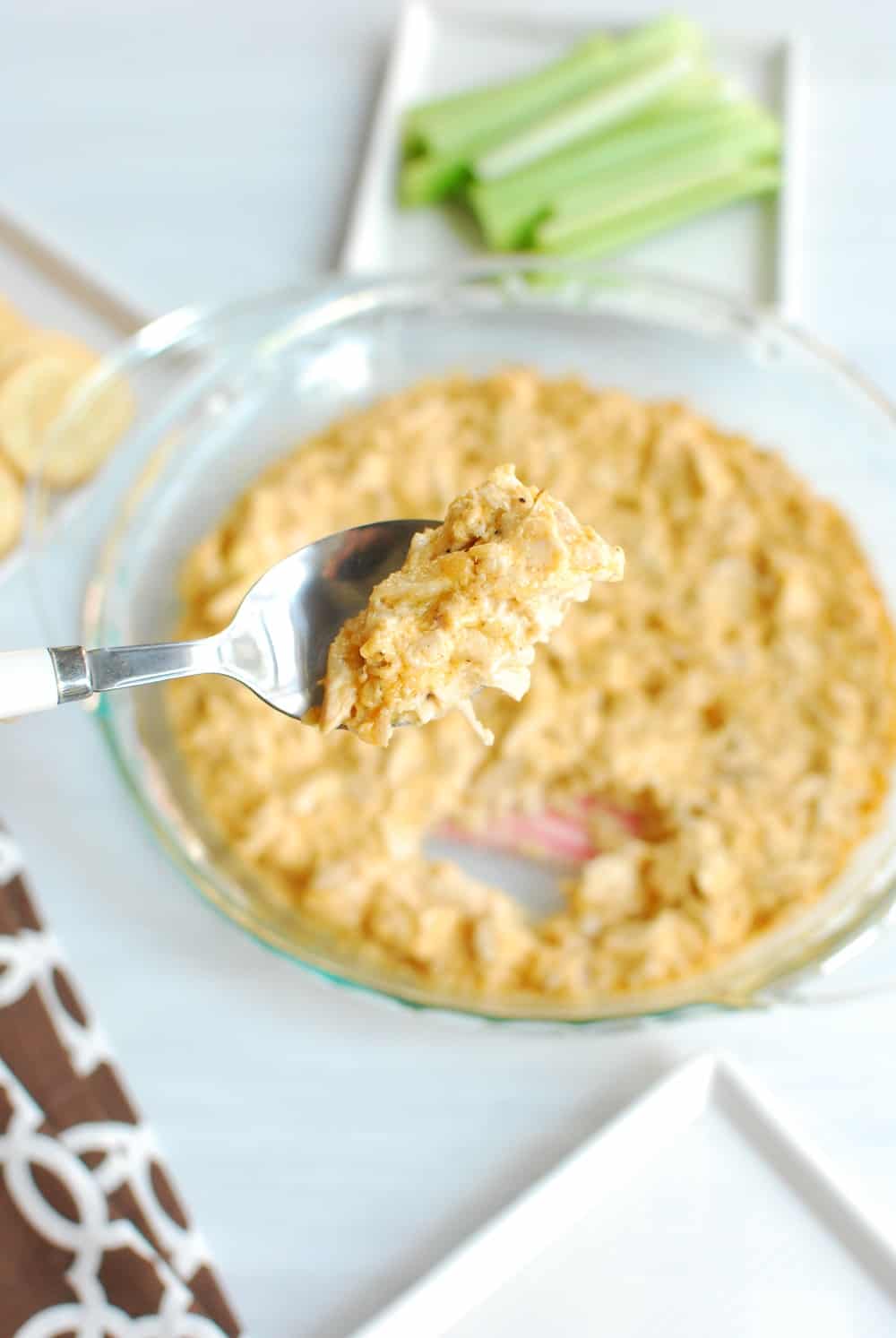 Allergens in this dairy free buffalo chicken dip
This buffalo chicken dip is dairy free, and can also be wheat/gluten free (as long as the mayo meets those requirements, which most do).
If you have other allergens that you're concerned about, you'll want to be smart about the mayo that you choose.  Here are my recommendations:
Need a soy free option? 
Try Primal Kitchen Mayo – This mayo is made from avocado oil and contains just a few simple ingredients.  It does contain eggs.
(*Side note – if you are following Whole30, you can use this mayo to make this dish Whole30 complaint.)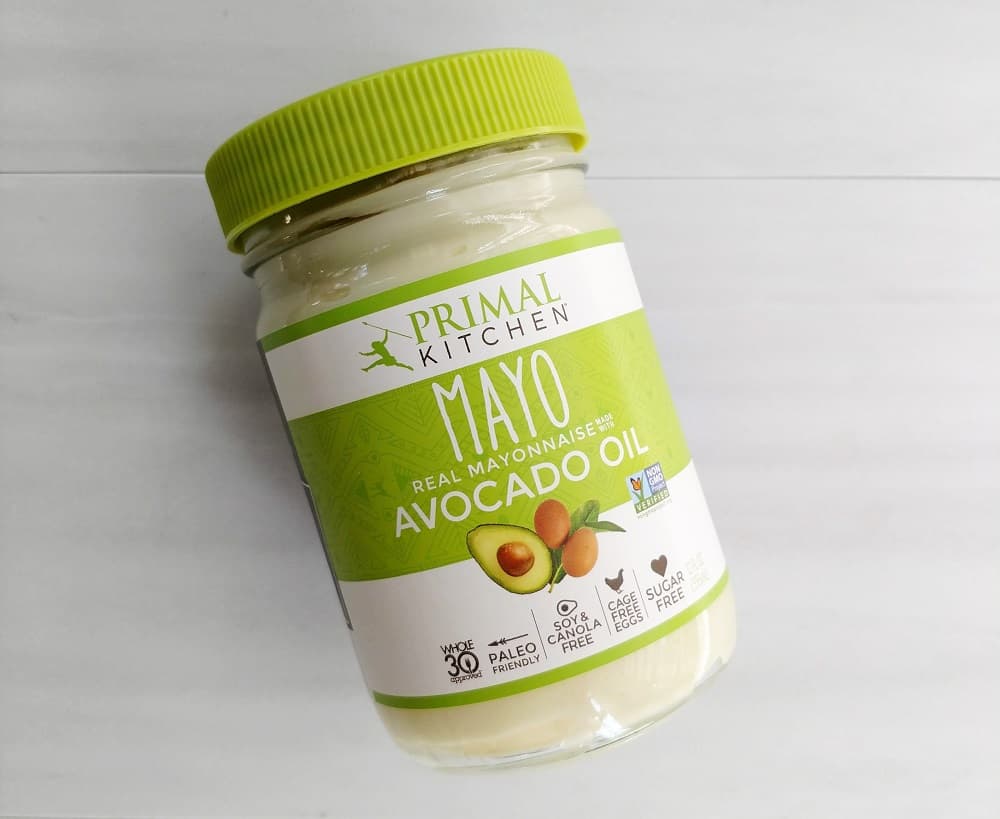 Need an egg free option? 
Try Just Mayo.  It uses pea protein to help thicken it rather than eggs.  Note that it may contain soy.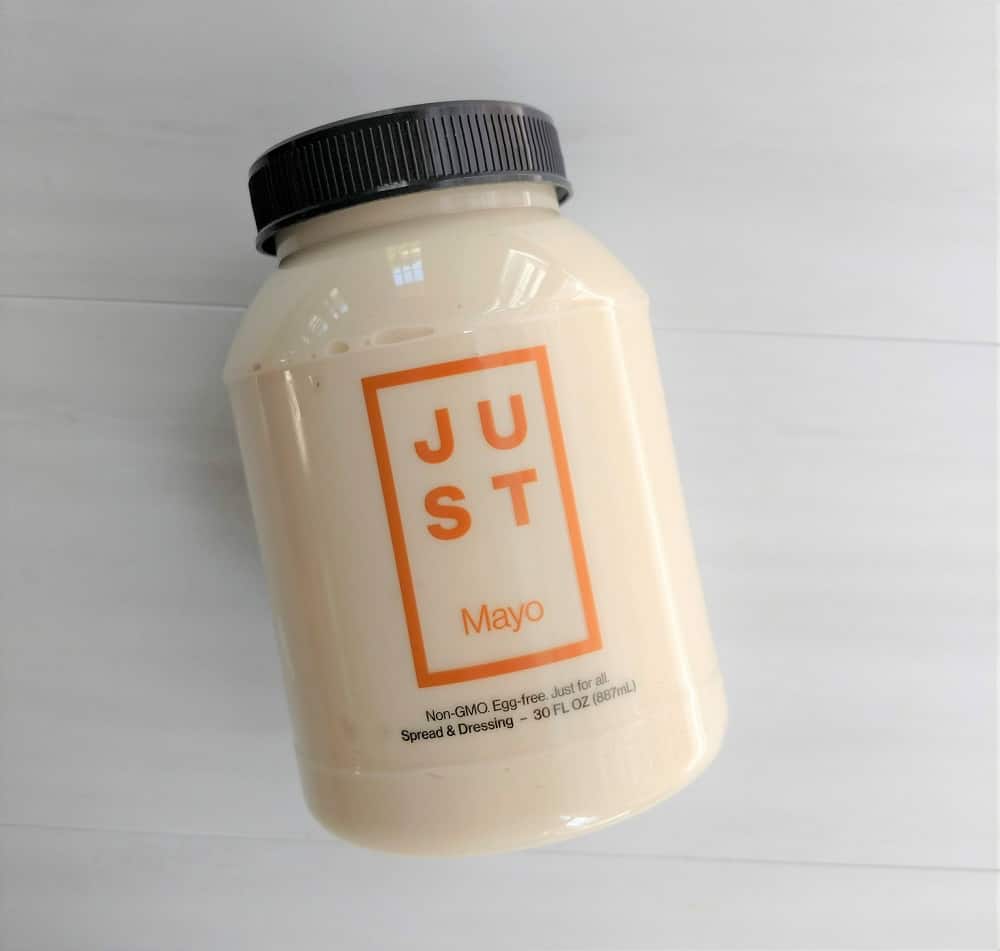 Need an option that's both soy free and egg free? 
Try an aquafaba based mayo.  These are thickened using the liquid that beans soak in.  You can make it yourself if you've got some extra cans of beans lying around, or you can try a store bought option like Chosen Foods Vegan Mayo.
What to serve with this dip
My go-to is the standard pairing of crackers.  Despite their buttery taste, most crackers on the market these days are surprisingly dairy free*.
For example, at the time of this post, the following varieties were all dairy free:
*Of course, product formulations can change so always double check the label prior to eating any of these.
You can also serve this dairy free buffalo chicken dip with:
Homemade French bread (either regular or gluten-free)
Celery sticks
Carrot sticks
Sliced cucumbers
Zucchini sticks
Sliced bell peppers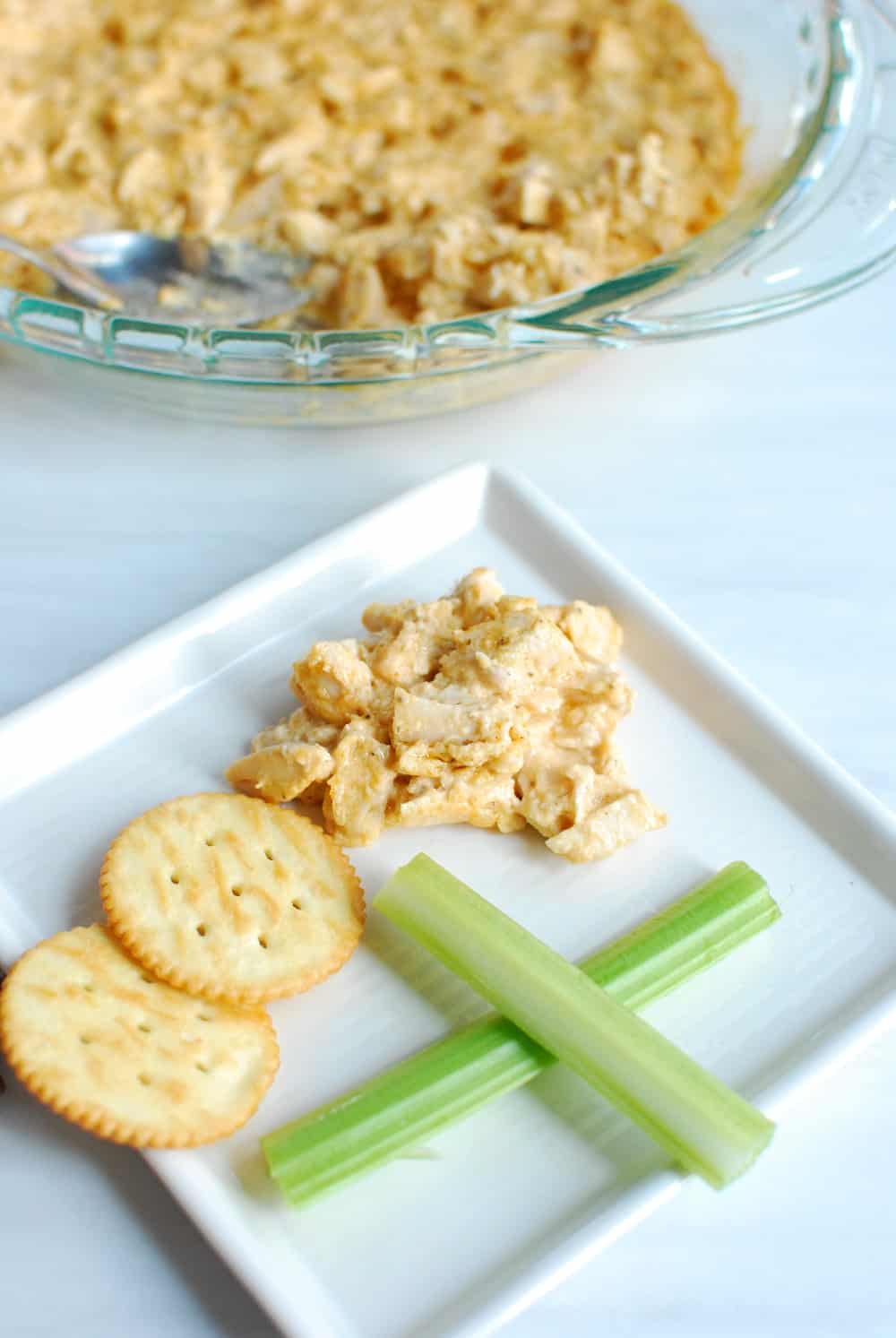 I hope you enjoy this dip as much as I do – and if you do, be sure to leave a comment or rate the recipe! 🙂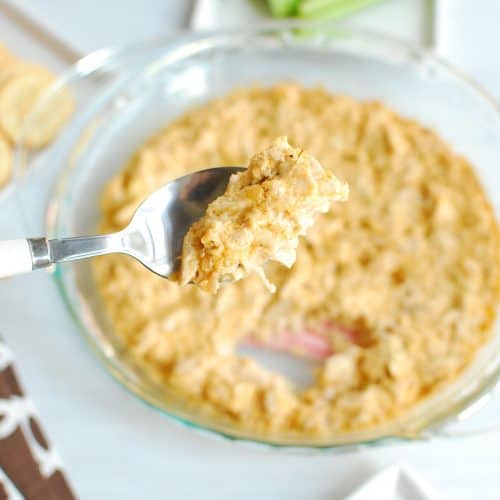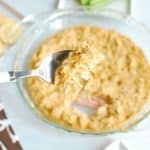 Dairy Free Buffalo Chicken Dip
Whether you're looking for a game day snack or a party appetizer, this dairy free buffalo chicken dip has all of the tasty flavor – with none of the dairy!
Ingredients
2 1/2

cups

cooked chopped chicken

1/2

cup

mayo

1/2

cup

hot sauce

1/2

tsp

garlic powder

1/2

tsp

onion powder

1/4

tsp

salt

1/4

tsp

pepper
Instructions
Preheat oven to 350 degrees.

Mix together all ingredients in a bowl. Pour into a casserole dish and bake at 350 degrees for 20 minutes, or until mixture is hot and bubbly.

Let cool for a few minutes and then serve with crackers, celery, or other desired items!
Recipe Notes
Notes:
You can use any cooked chicken that meets your needs. I generally just take extra plain chicken that I made for another recipe, chop it up well, and use that.
The mixture may look a little oily when you take it out of the oven; that's OK.  It won't taste oily.
Nutrition analysis (approximate per serving):
175 calories, 12.5 g fat, 620 mg sodium, 1 g carbohydrate, 14 g protein, Vitamin A: 2%, Vitamin C: 8%, Calcium: 1%, Iron: 3%
Share with me:  What's your favorite game day snack or party appetizer?  If you made this dairy free buffalo chicken dip – what did you think?