When you're in the mood for a spicy snack, look no further than these vegan jalapeño poppers. Stuffed with a creamy cashew filling along with mango and red onion, these are a bit unconventional but super delicious! They've got the perfect blend of sweet, spicy, and savory elements.
Ingredients
Here's a photo overview of the ingredients you'll need, with some selected ingredient notes: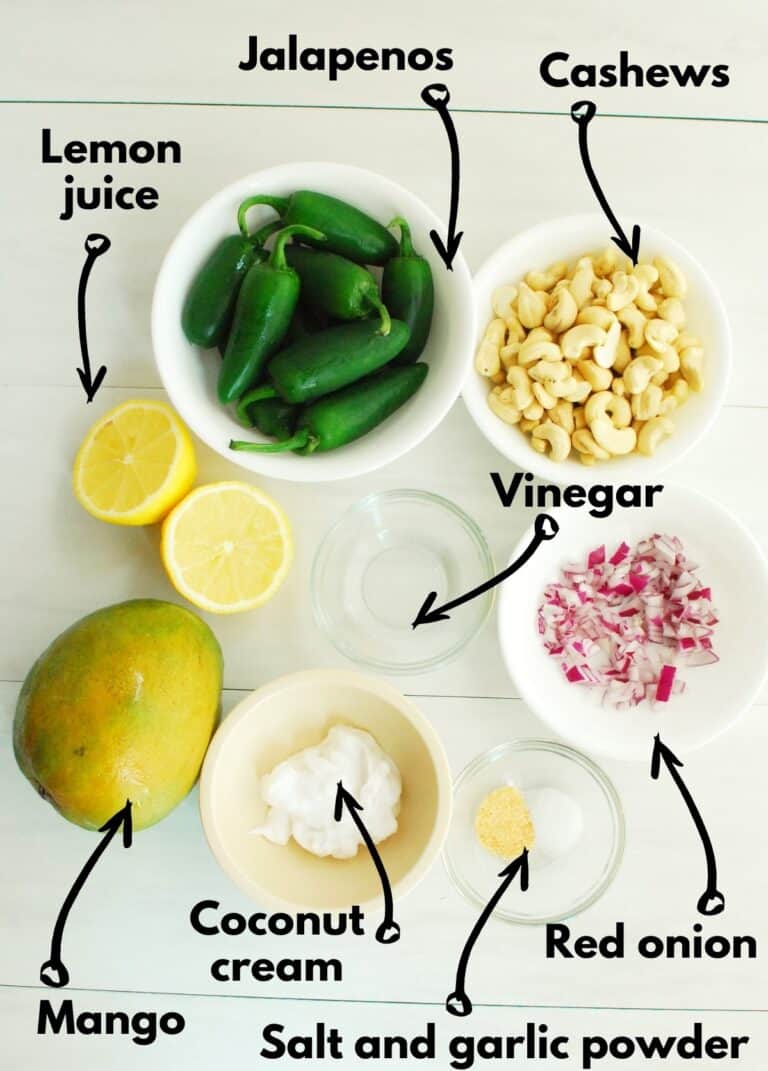 Cashews – You want raw cashews for this recipe, not roasted cashews. These are usually found in the produce section or in the bulk nut section. If you can't find them in store, they're easy to find online.
Coconut cream – Canned unsweetened coconut cream is available these days but can be hard to find in certain areas.  If you don't see it, just grab a can of coconut milk instead.  If you refrigerate it overnight, the cream will separate out to the top, and you can scoop it off to use.  This is the method I usually use!  As a quick note, do not buy "cream of coconut", as that is a different product that is sweetened.
Jalapeños – The exact number you'll need will depend on their size. We grew jalapeños in our container garden this summer, and it gave us a ton of small and medium sized ones. About 15 of that size works well. If you have larger jalapeños, you will probably only need about 12.
Step by Step Instructions
You'll find full recipe instructions and amounts in the recipe card below, but here's a helpful overview with photos.
Start prepping this recipe the night before – place the cashews in a jar and cover with water to soak the nuts. Place that in the fridge overnight. (As an alternative, you can also do a "quick soak" when you're ready to make the recipe by bringing the cashews to a boil in a pot of water, then letting sit for 20-30 minutes.)
Now take a look at whether you're using a can of coconut cream or coconut milk. If you got coconut cream – perfect, it's all ready for you. If you got coconut milk, you want to place this in the refrigerator overnight too. The cream will separate out to the top after a night in the fridge – it'll look like this: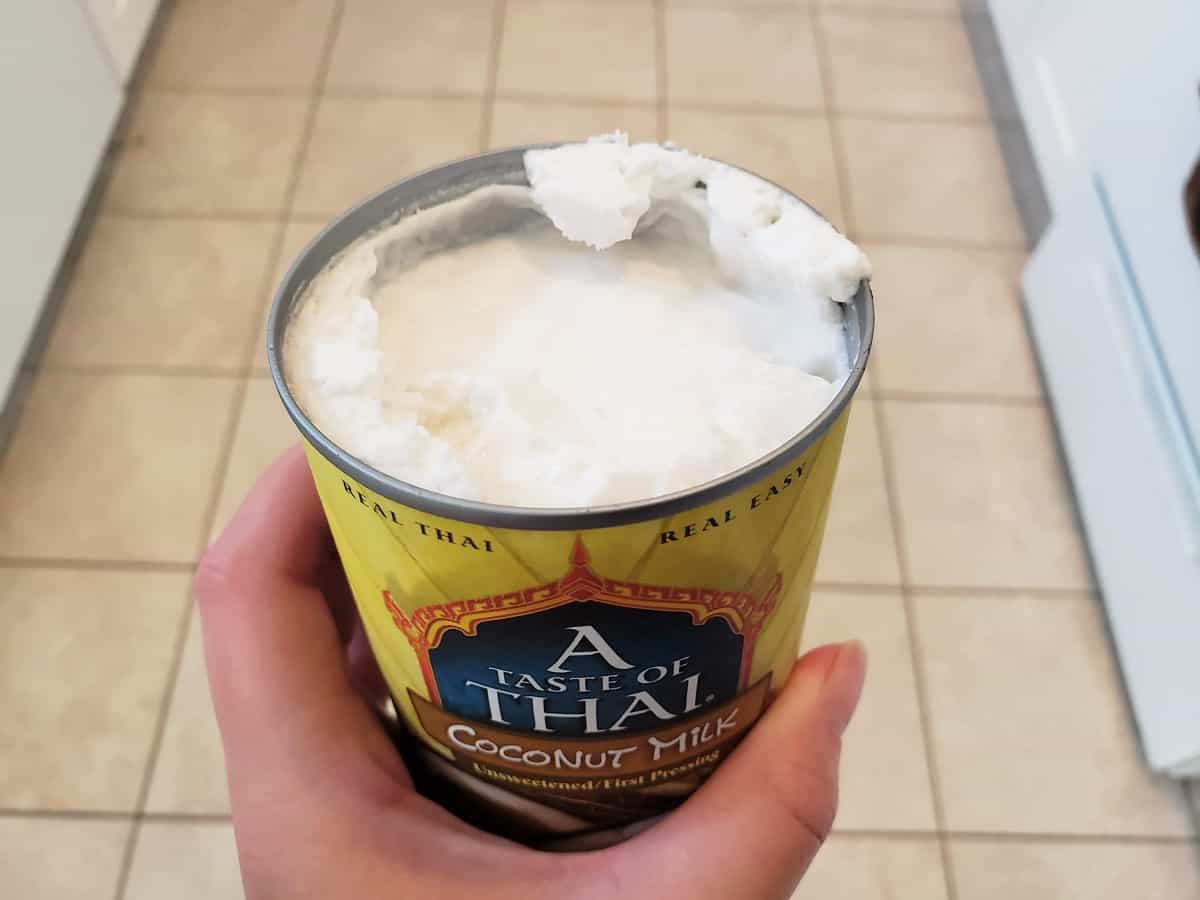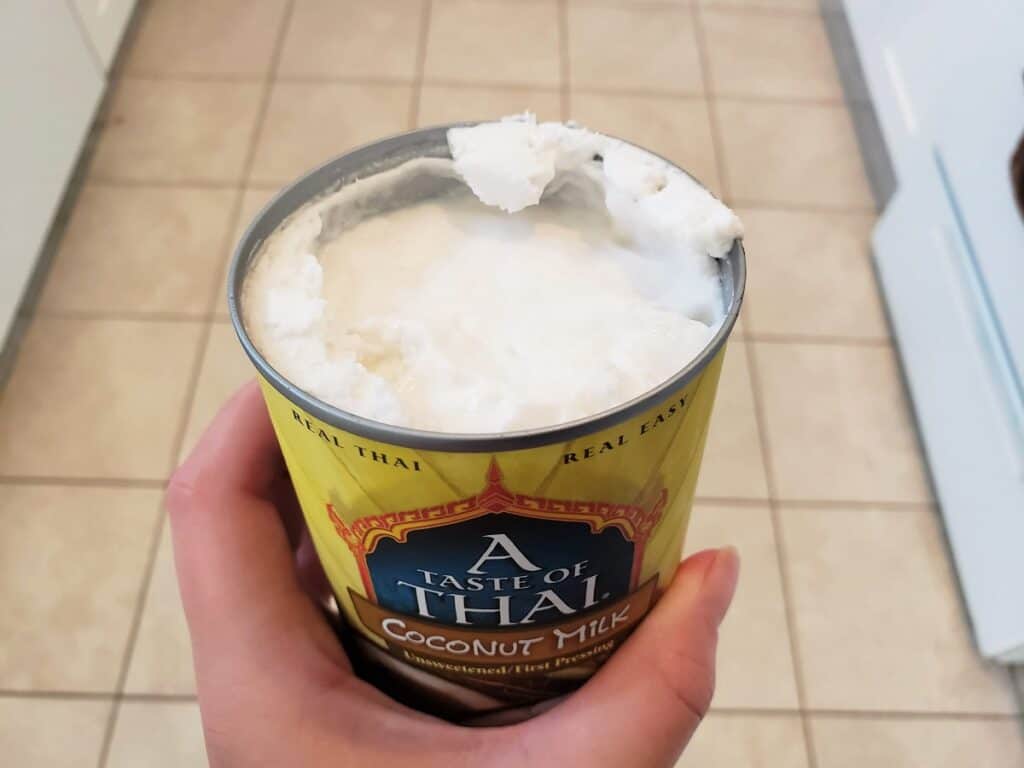 Once your prep steps are done and you're ready to make your poppers the next day, it's time to make the filling for them.
Take the drained soaked cashews and place them in a small food processor bowl (or high speed blender) with the coconut cream, vinegar, lemon juice, salt, and garlic powder.
Run the food processor for a minute or two, scraping down the sides as necessary, until the mixture is nice and smooth, like this: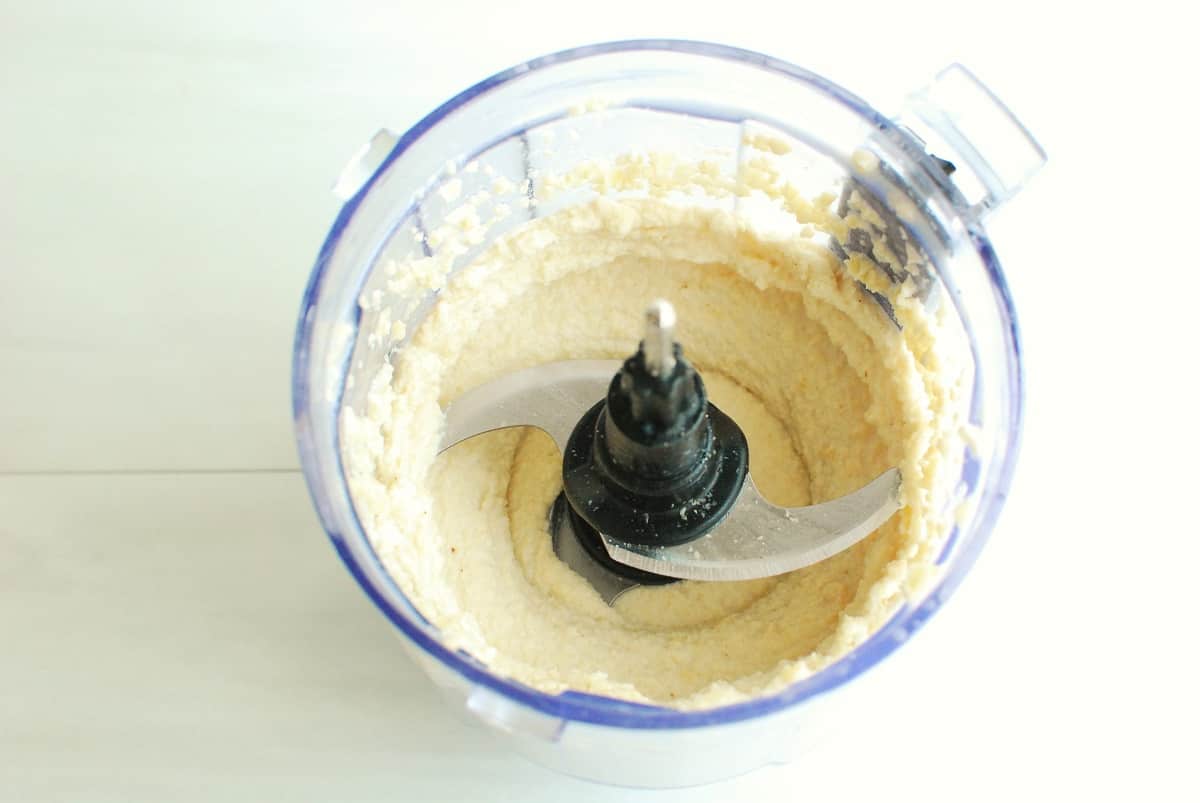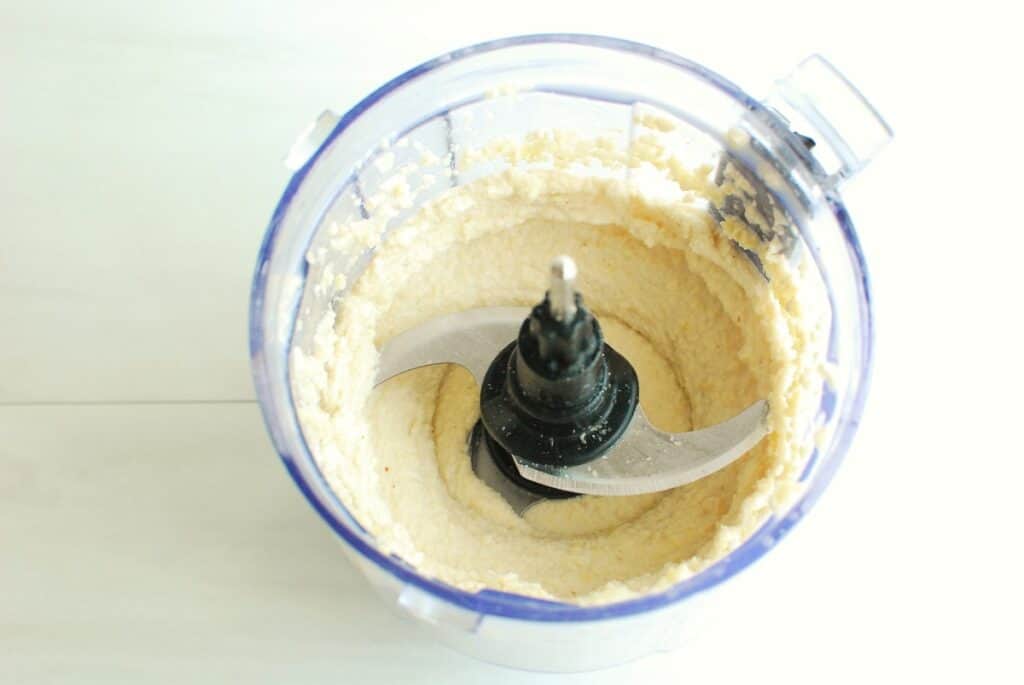 Pour that into a bowl and mix it up with the mango and red onion.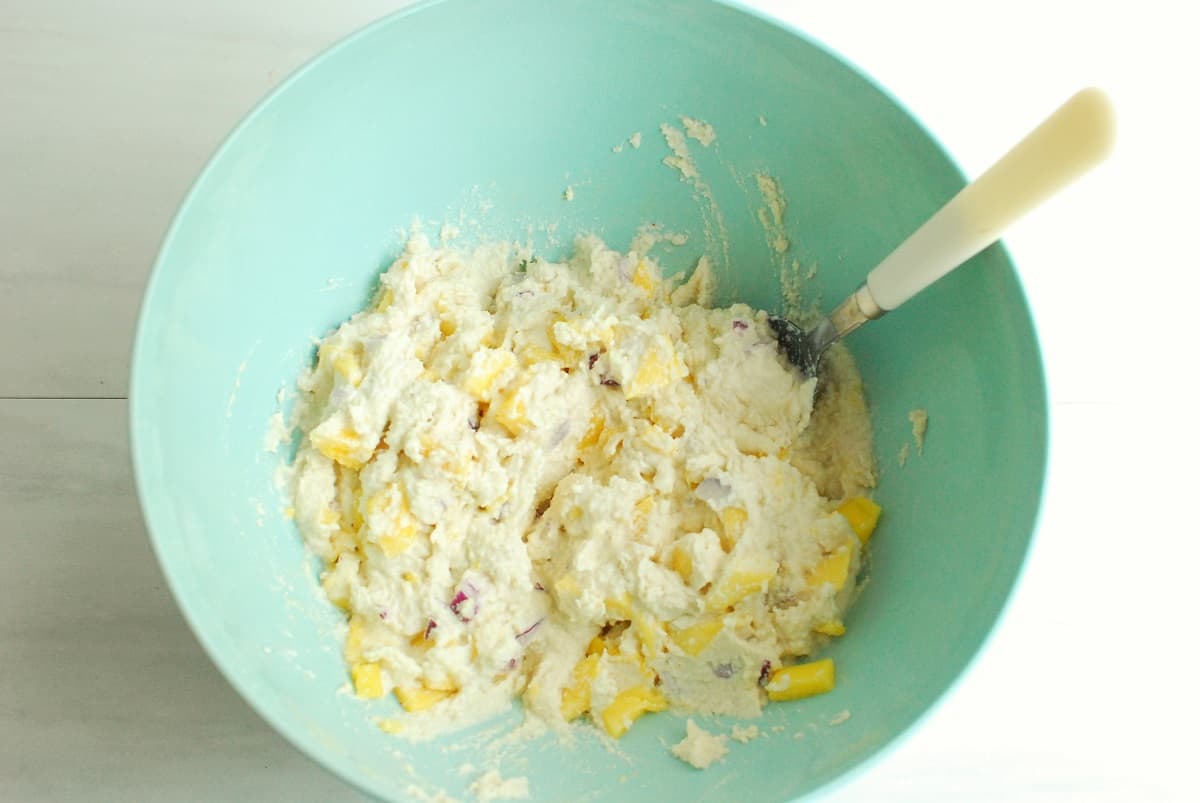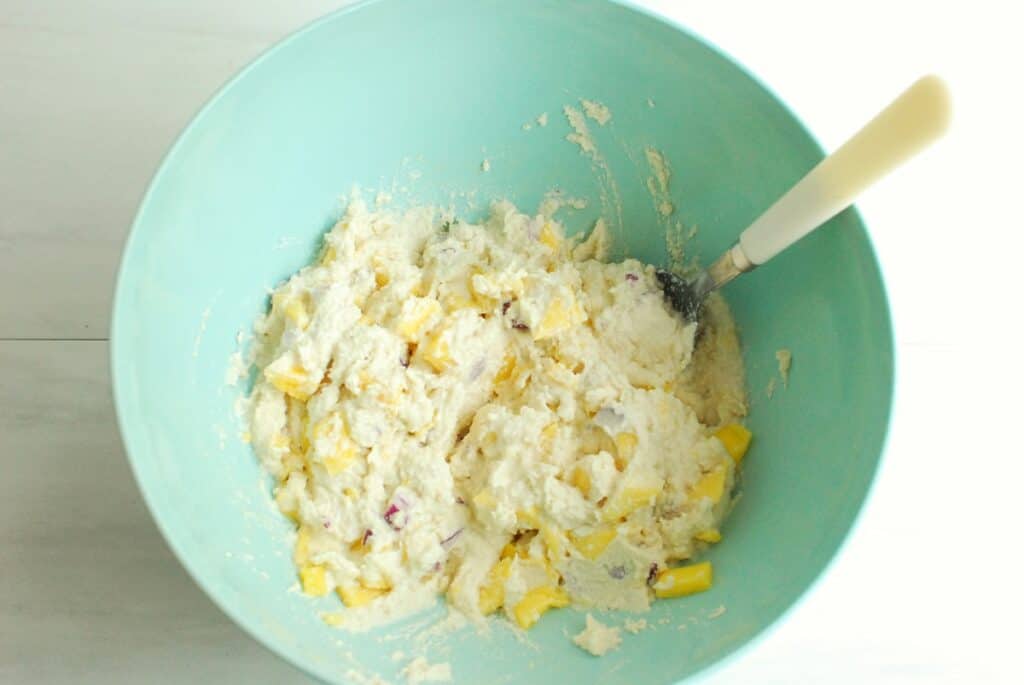 Set that aside for now while you prep your peppers.
Pro tip:  Wear gloves when you're cutting up the peppers.  The skin on your fingers is thick and you might not notice the oils, but if you accidentally touch your face or eyes, you'll experience a burning sensation.  (Ask me how I know, haha).  Wearing gloves prevents you from getting the oils on your hands, which is good because those oils are difficult to remove.
You want to cut them in half lengthwise, removing any seeds and also removing the white pith inside the pepper (fun fact, that white part is where most of the spice is located!).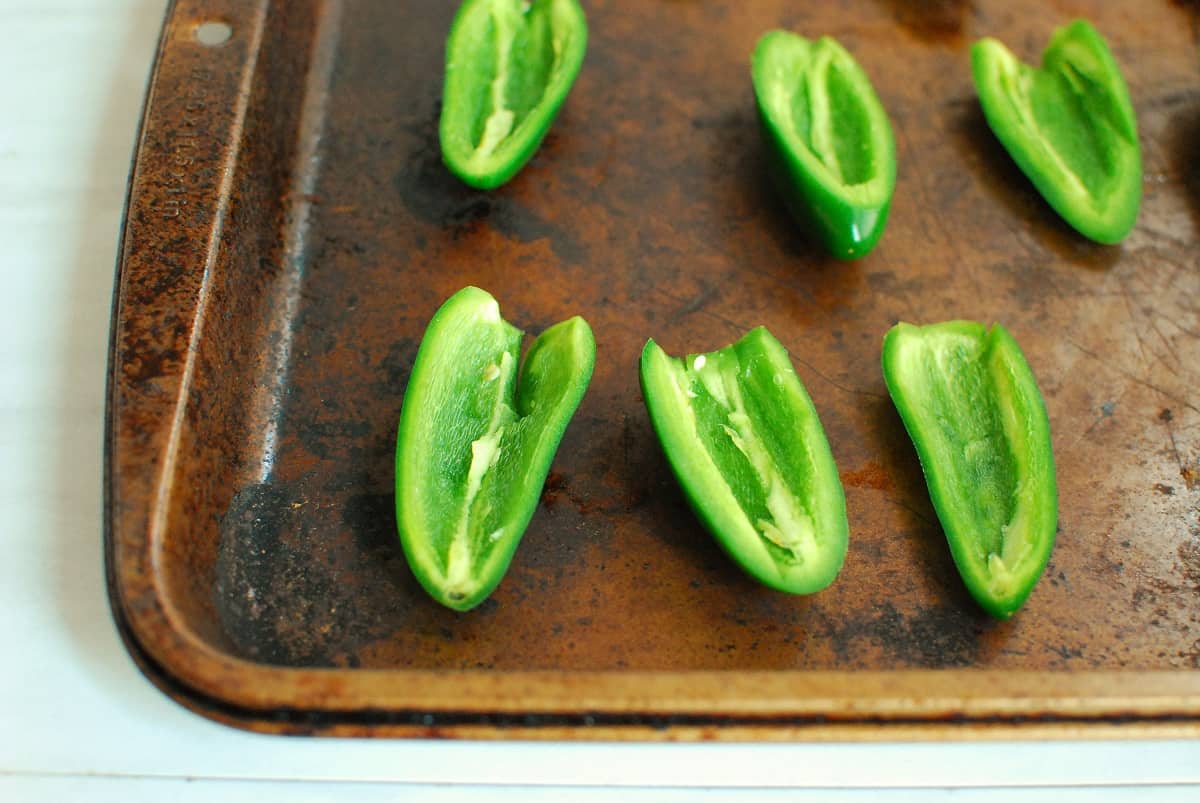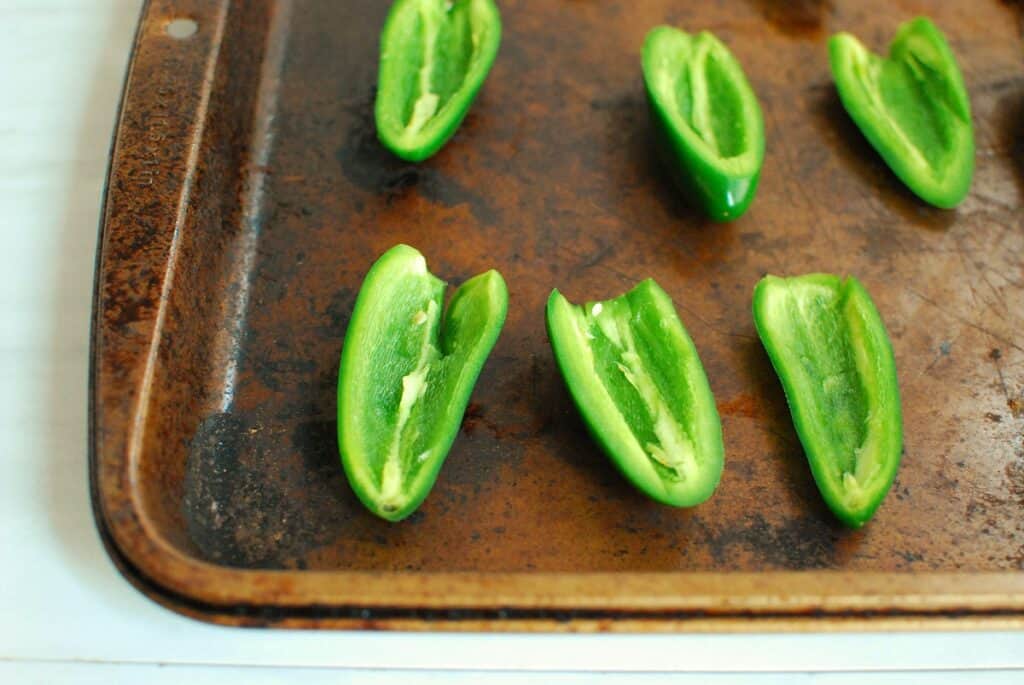 Place all those peppers on a baking sheet and load 'em up with the filling. Bake them until the jalapeños are tender, and then dig in!
Recipe FAQ
Here are some common questions that may come up as you prepare these vegan jalapeno poppers:
Can you freeze jalapeño poppers?
Yes. Prepare them as directed but stop before cooking and freeze them individually on a baking sheet.  Once frozen, transfer to a zip top bag and remove as much air as possible.  When you're ready to enjoy them, just bake from frozen at the same temperature.  They may need a few extra minutes of cooking time.
Can you substitute the cashews in the filling?
I do not recommend it.  Cashews have a slightly buttery flavor that also easily absorbs the tangy vinegar and seasonings you add to the mixture.  Other nuts do not work as well.  If you are allergic to cashews, though, try soaked sunflower seeds instead.
Can you make jalapeño poppers in the air fryer?
Yes!  If you'd prefer making this recipe in the air fryer, assemble as described and then air fry at 375 degrees F for 6-8 minutes.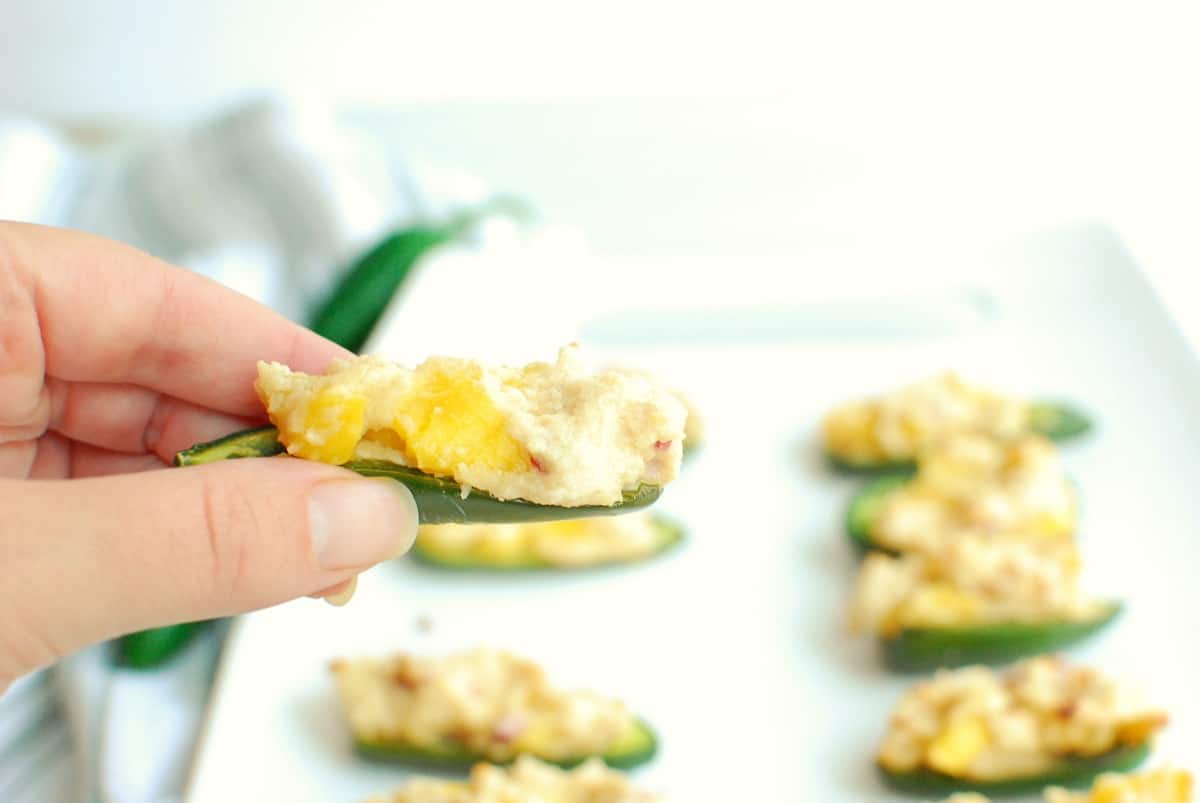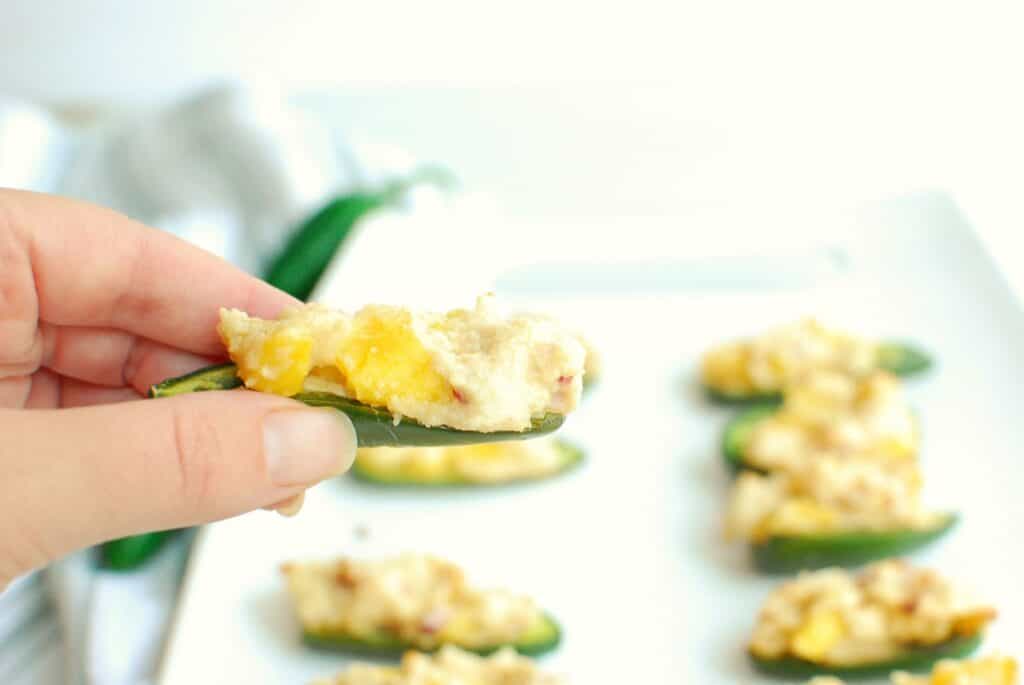 Allergens in this Recipe
* Disclaimer: Always double check ingredients and product packaging to confirm a recipe meets your allergy needs. While I try to note potential allergens below, there is always the chance I may miss something or that manufacturer formulations may change.
As written, this recipe is dairy free, egg free, soy free, and wheat/gluten free.
It does contain nuts, as the filling is made with cashews.
More Vegan Appetizers
If you're looking for more vegan appetizers, try one of these tasty ideas:
Dairy free French onion dip – Just three ingredients stands between you and this classic onion dip recipe!  Add some chips or veggies and dig in.
Vegan buffalo dip – Instead of chicken, this creative dip uses jackfruit for texture.  Yum.
Vegan tomato flatbread – Our tomatoes are just starting to ripen up in our garden, so this recipe is next on my list to make.
I hope you enjoy these tasty vegan stuffed jalapeños! If you get a chance to make them, feel free to leave a recipe rating or comment below.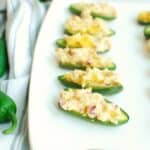 Vegan Jalapeno Poppers
These sweet and spicy vegan jalapeño poppers are great for a party appetizer or game day snack.
Total Time
8
hours
40
minutes
Servings
30
jalapeño poppers
Ingredients
1

cup

raw cashews, soaked overnight

¼

cup

unsweetened coconut cream

(from a can of coconut cream or a can of refrigerated coconut milk)

2

tsp

distilled white vinegar

2

tbsp

lemon juice

¼

tsp

salt

¼

tsp

garlic powder

1

medium mango, peeled, pitted, and finely chopped

⅓

cup

red onion, finely diced

15

small to medium jalapeños

(or about 12 large jalapeños)
Instructions
Place the cashews in a Mason jar and fill with enough water to cover the nuts. Soak in the refrigerator overnight.

If using a can of coconut milk instead of coconut cream, place the can in the refrigerator overnight as well, to allow the coconut cream to separate to the top (do not shake the can when ready to use; carefully open on top).

When you're ready to make the jalapeño poppers, preheat the oven to 400 degrees F.

Drain the cashews, then add them to a small food processor bowl (or high speed blender). Add the coconut cream, vinegar, lemon juice, salt, and garlic powder.

Process for 30 seconds at a time, opening to scrape down the sides as needed, for 1 to 3 minutes, until the mixture reaches a smooth texture.

Pour the cashew mixture into a mixing bowl. Stir in the mango and red onion. Set aside in the fridge for now.

Wearing gloves, cut the jalapeños in half lengthwise. Remove the seeds and white pith of the pepper using either a spoon or paring knife. Remove any stems that are still left on the peppers.

Place the pepper halves on a baking sheet. Scoop a spoonful of the cashew filling into each pepper halve.

Bake at 400 degrees F for 15 minutes, or until the peppers are tender and filling is warm. Enjoy!
Recipe Notes
If you don't have time to do the overnight cashew prep, do this quick method instead: place the cashews in a pot of water, bring to a boil, then let sit for 20-30 minutes. Drain and they're ready to use.
Nutrition analysis (approximate per popper): 41 calories, 2.5 g fat, 1 g saturated fat, 20 mg sodium, 4 g carbohydrate, 0.5 g fiber, 2 g sugar, 1 g protein, Vitamin D: 0%, Calcium: 0%, Iron: 2%, Potassium: 2%

Share: What's your favorite appetizer? If you tried this recipe, what did you think?
Feel free to pin this post to save for later and share with others.