Embrace fall with these easy, 3 ingredient pumpkin muffins! They're incredibly simple to make and come together in under 30 minutes. This is a great breakfast treat, snack, or dessert.
* Disclaimer: Allergen information is provided for informational purposes only and accuracy is not guaranteed, as manufacturers can change formulations frequently. Always double check ingredients and product packaging to confirm a recipe meets your allergy needs.
Ingredients
Here are the three ingredients you'll need for this recipe:
Pumpkin – For this recipe, you want plain canned pumpkin, not pumpkin pie filling. The cake mix is already sweetened so you don't need to use a sweetened pumpkin filling. As an alternative to canned pumpkin, you can also use homemade pumpkin puree.
Pumpkin pie spice – Ah, one of my favorite blends of warm, aromatic spices.  Pumpkin pie spice typically contains a mixture of ground cinnamon, cloves, and nutmeg, and sometimes ginger or allspice too. 
Yellow cake mix – You'll want a standard size box of cake mix, which is generally 15.25 ounces. Some brands do make larger sized boxes of cake mix (for example, I know Annie's Yellow Cake Mix is 21 ounces), which will throw off the proportions in the recipe. However, slight variations – like a 15 or 16 ounce box – is fine.
Assuming you want a dairy free recipe – as my blog name implies! – you'll be happy to know that most boxed yellow cake mix is dairy free.  However, some can contain dairy, so always check the ingredients.  I used Betty Crocker Butter Yellow Cake Mix for this recipe, which as you can see from the box only lists wheat as an allergen at the time this post was published.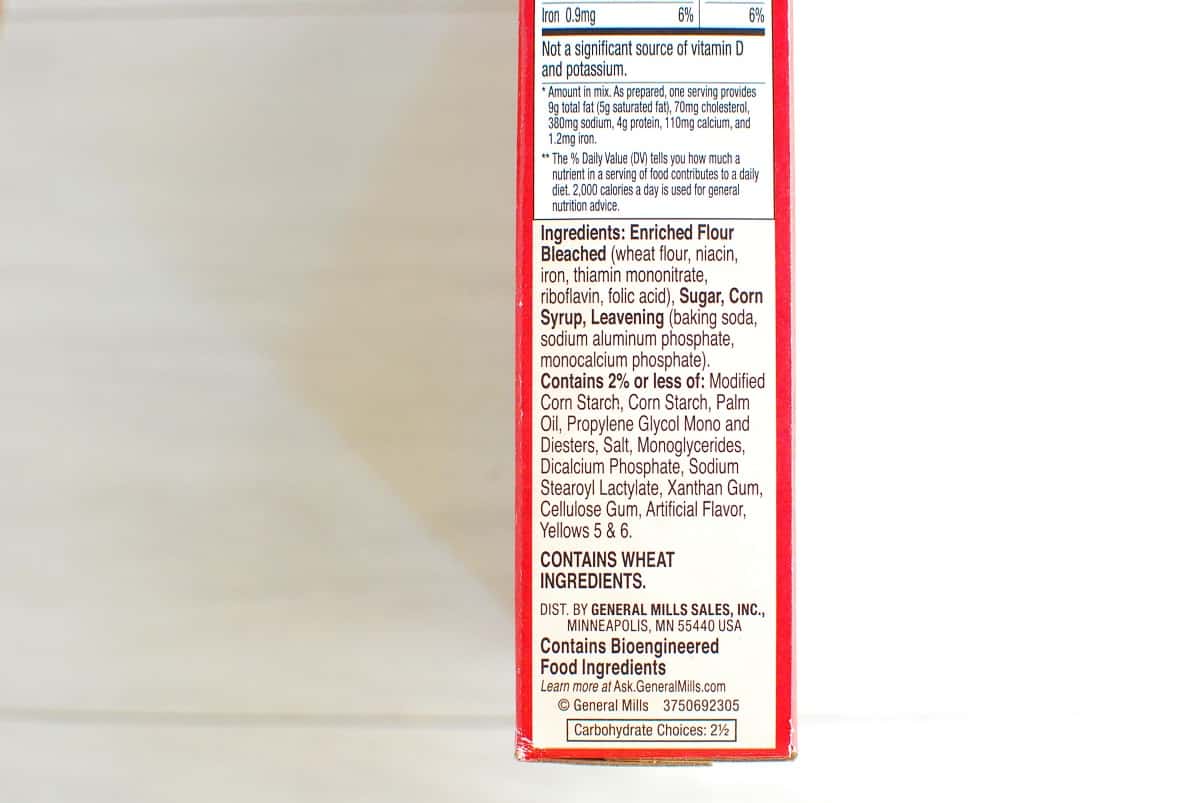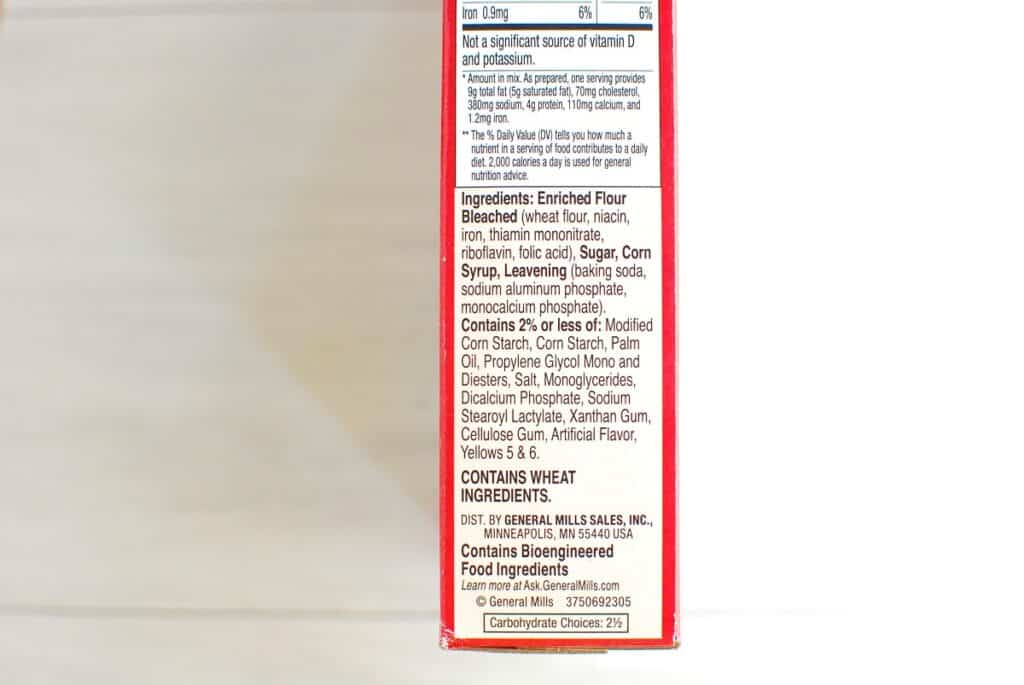 Step by Step Instructions
You'll find full recipe amounts and instructions at the bottom of this post, but here's a helpful overview with photos.
Start by mixing together your cake mix and pumpkin pie spice.  You want to distribute the spice evenly throughout the mix.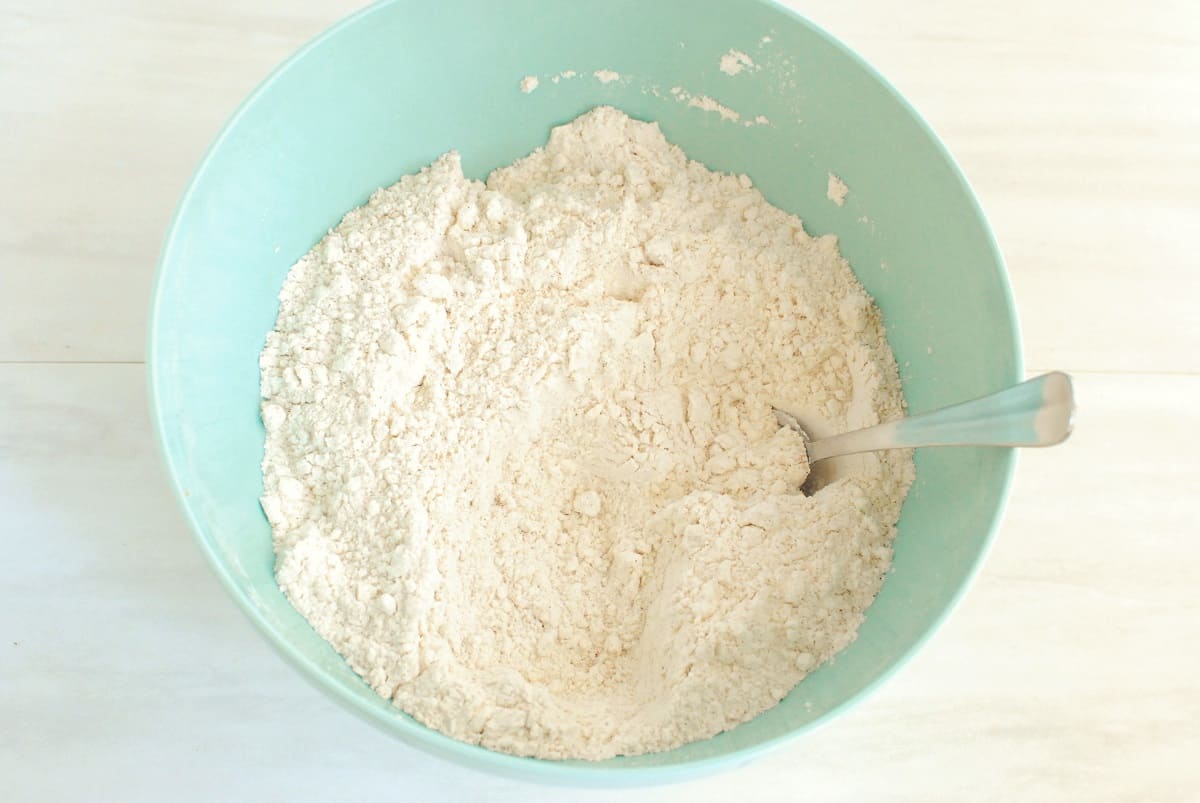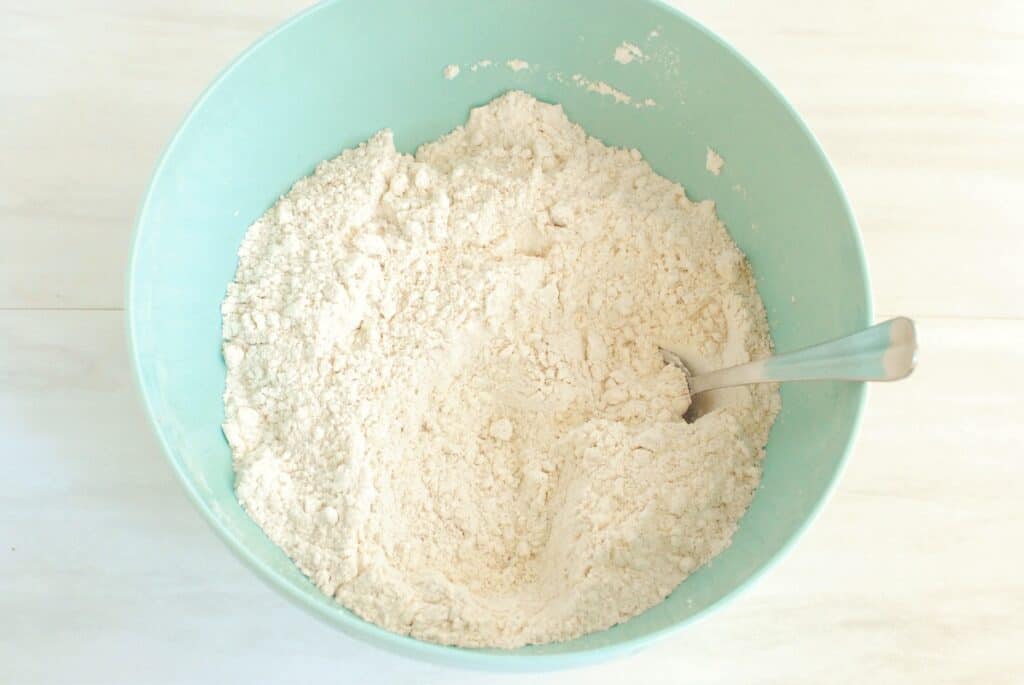 Then, mix in the can of pumpkin puree.  Your batter will look like this: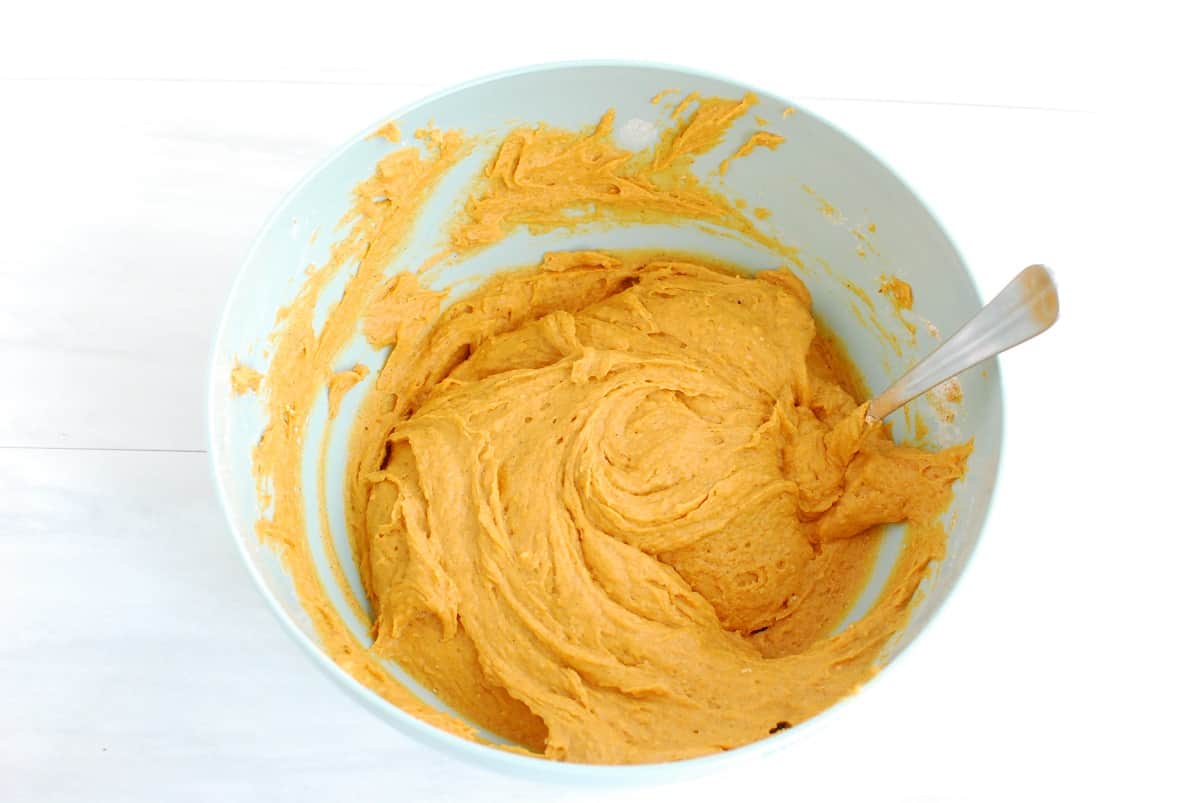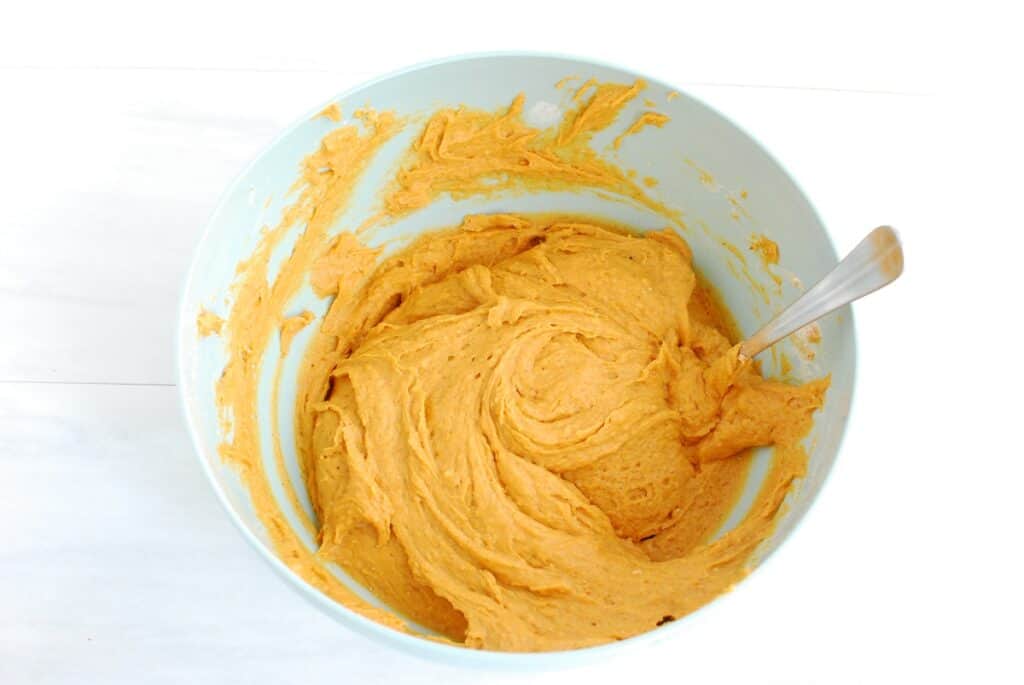 Portion that out into a greased muffin tin. Fill each about ¾-full. It'll look like this: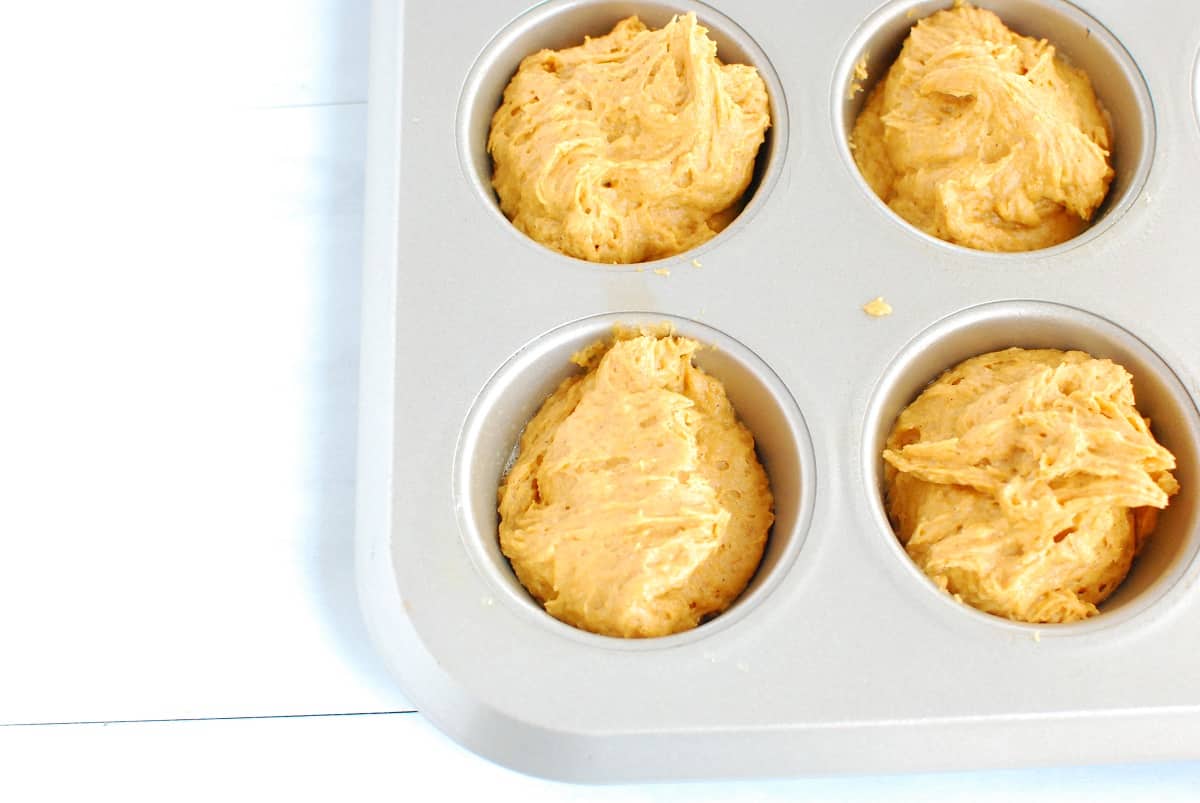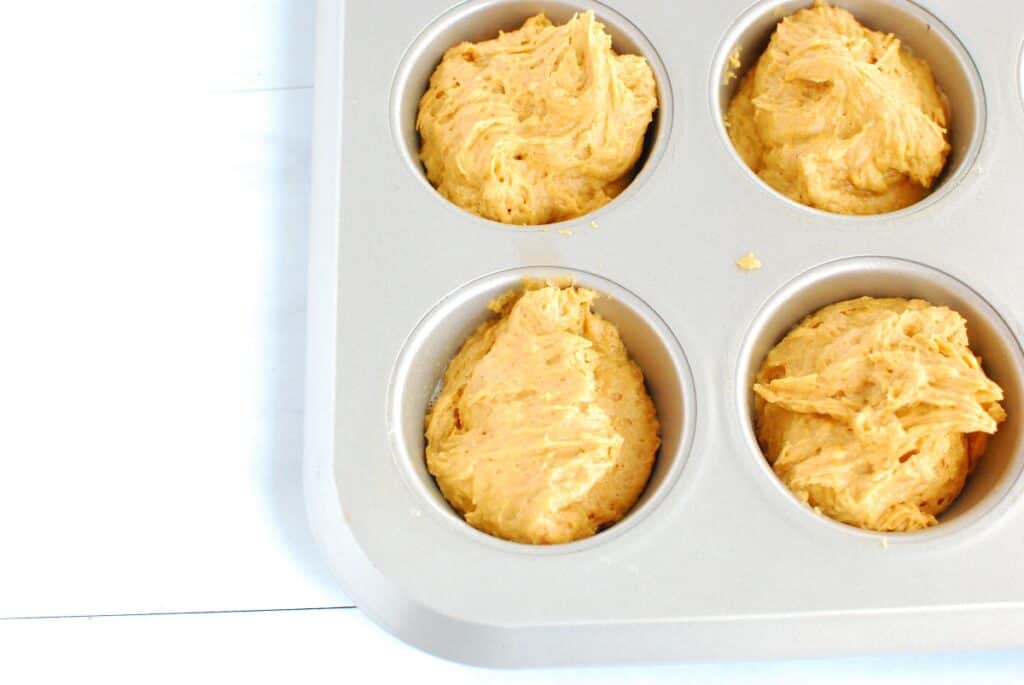 Now bake those for 15-20 minutes, and you've got a delicious fall treat!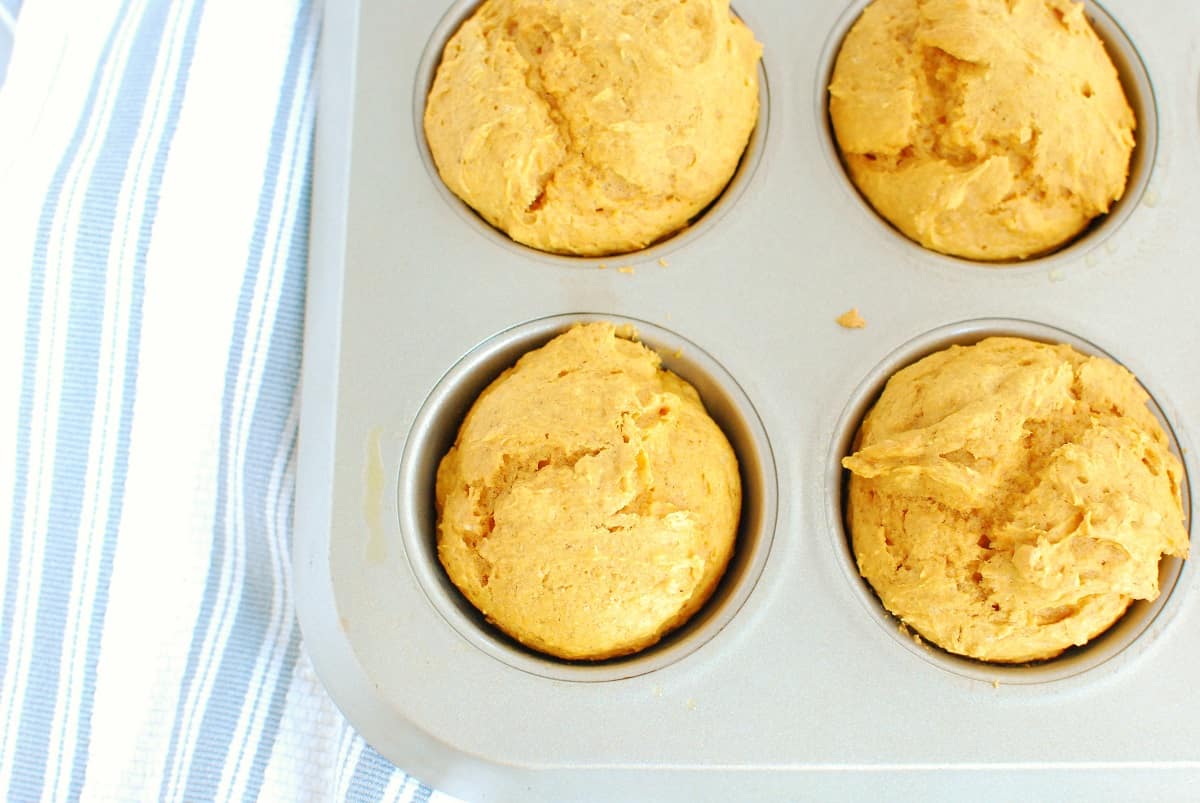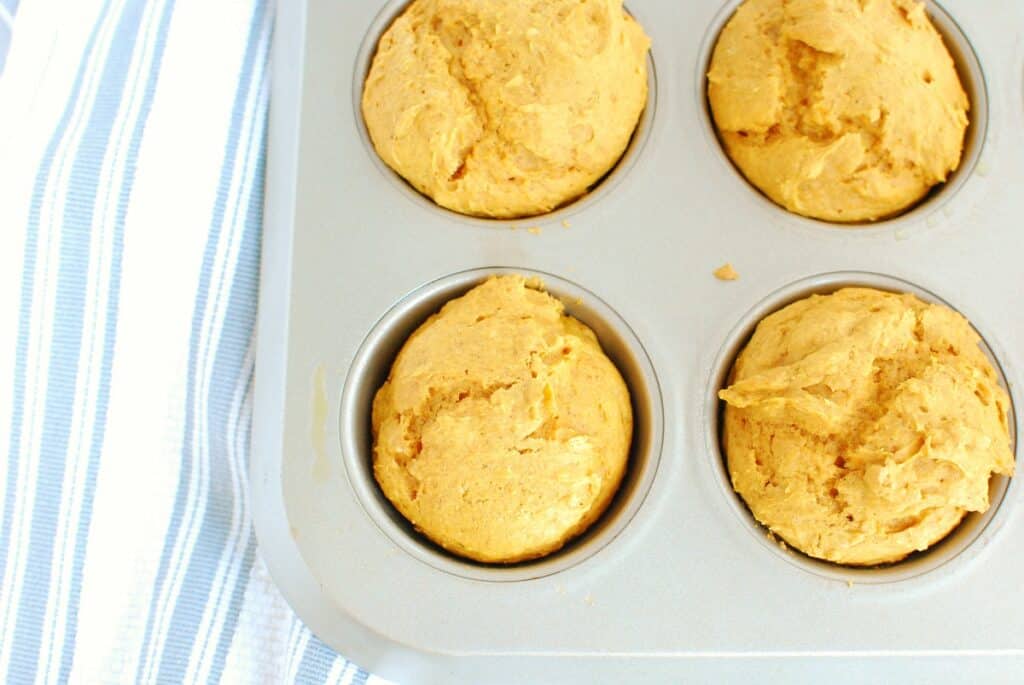 Recipe FAQ
Here are some common questions that may come up as you prepare these 3 ingredient pumpkin muffins:
What is a substitute for pumpkin pie spice?
If you don't have pumpkin pie spice on hand, just substitute with a mixture of cinnamon, nutmeg, and cloves or allspice.  For 1 ½ teaspoons of pumpkin pie spice, use 1 teaspoon cinnamon, ¼ teaspoon nutmeg, and ¼ teaspoon cloves or allspice.
Can you use homemade pumpkin puree instead of canned pumpkin?
Yes.  Use about 1 ½ to 1 ¾ cups of homemade puree in place of a 15-ounce can.  The exact amount can vary slightly based on the viscosity of the homemade type.  Start with the lower amount and add more if the batter looks too dry.
Can you freeze pumpkin muffins?
Yes!  Freeze in a zip top bag.  When you're ready to enjoy a muffin, remove one from the freezer and microwave it for about 30 seconds.
Can you add chocolate chips?
Yes!  Feel free to add a cup of chocolate chips to this recipe when you are mixing the pumpkin puree with the cake mix and spice.  Bake as directed.  (Note:  Double check that your chocolate chips are dairy free – I recommend Enjoy Life.)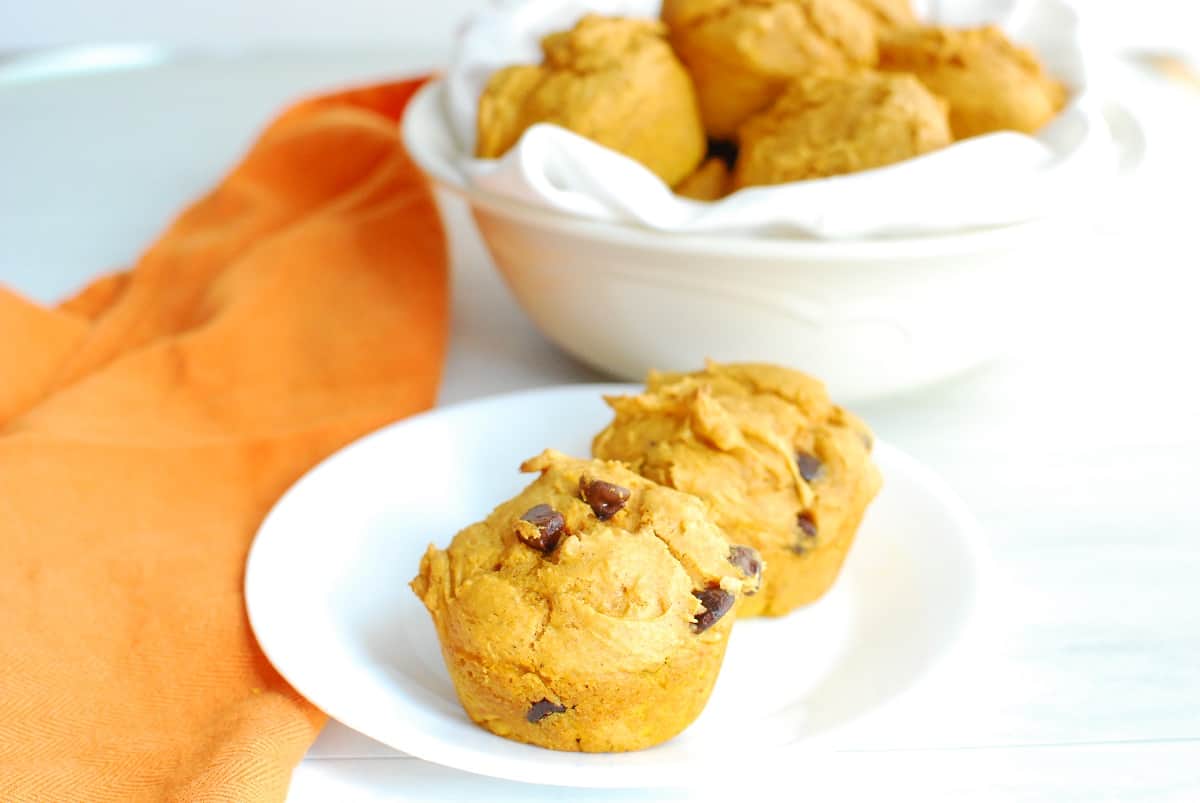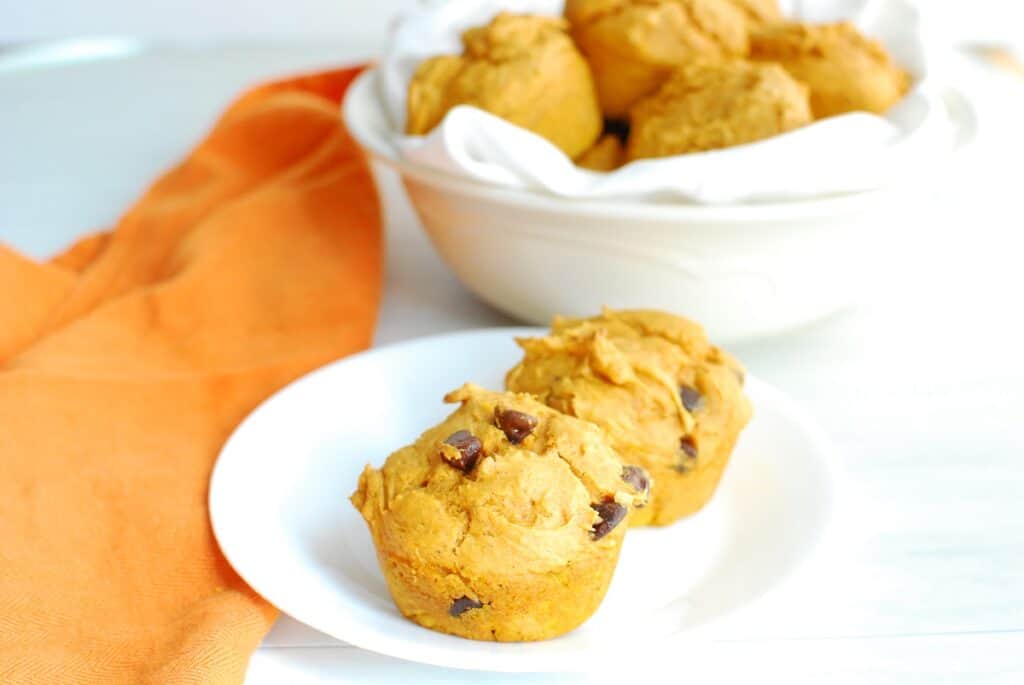 Allergens in this Recipe
As written (with the products I selected), this recipe is dairy free, egg free, soy free, and nut free.
Always double check the products you choose at the grocery store, though, to ensure they are suitable for your allergy needs (and do so each and every time, as manufacturer formulations can change). Also note that for severe allergies, you may need to inquire about products produced on shared lines.
This recipe does contain wheat/gluten in the cake mix. You may be able to substitute a gluten-free cake mix instead, however, I'm not sure the structure will hold up the same with the lack of the eggs in the recipe. If you try it, please share how it worked out.
More Fall Desserts
If you're looking for more delicious fall desserts, be sure to try one of these delicious recipes:
I hope you enjoy these 3 ingredient pumpkin muffins. If you get a chance to try them, please leave a recipe rating or comment below.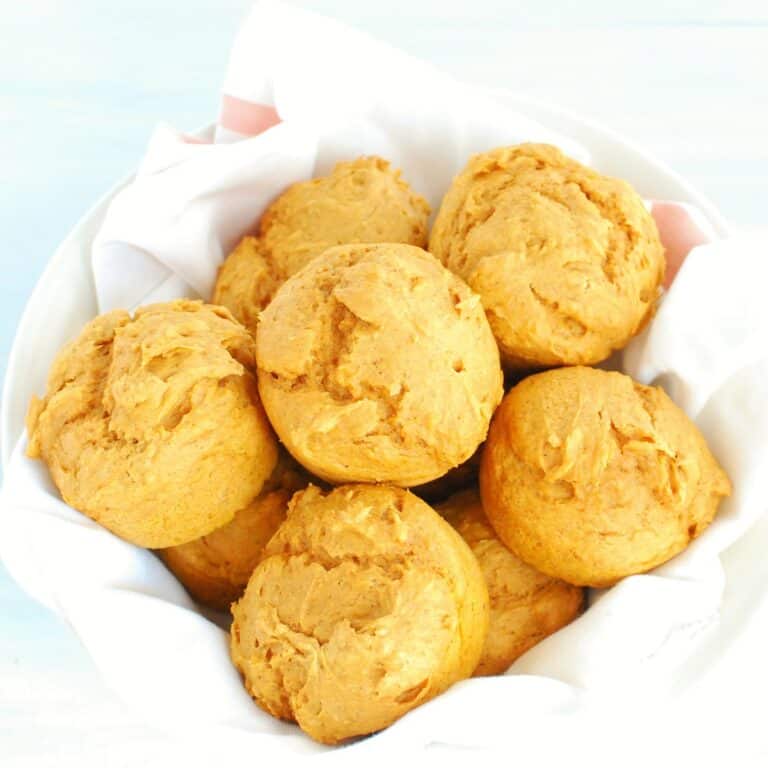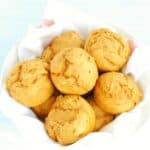 3 Ingredient Pumpkin Muffins
These 3 ingredient pumpkin muffins are a delicious and easy-to-make fall treat!
Ingredients
15 ¼

ounce

box yellow cake mix

(dairy free)

1 ½

teaspoons

pumpkin pie spice

15

ounce

can pumpkin puree
Instructions
Preheat the oven to 350 degreees F. Grease a 12-count muffin tin.

In a large mixing bowl, combine the yellow cake mix and pumpkin pie spice. Stir in the pumpkin puree until the mixture is smooth (do not overmix).

Portion the batter out into the muffin tin so that each one is about ¾-full. Bake at 350 degrees for 15-20 minutes, until muffins are cooked through and a toothpick pulls out clean from the center. Let cool in the muffin tin for about 5 minutes, then remove to a cooling rack to let finish cooling. Enjoy!
Recipe Notes
You can also make this with a box of spiced cake mix and leave out the pumpkin pie spice, however I think it tastes best when made with yellow cake mix.
Feel free to add 1 cup of chocolate chips to the batter if desired.
Nutrition analysis (approximate per muffin): 146 calories, 1.5 g fat, 1 g saturated fat, 33 g carbohydrate, 1 g fiber, 17 g sugar, 1 g protein, Vitamin D: 0%, Calcium: 7%, Iron: 7%, Potassium: 2%
Share: What's your favorite easy muffin recipe? If you tried this recipe, what did you think?